Can I replace kitchen cabinet doors myself? What about DIY cabinet doors? We are sharing all about our semi-homemade cabinets and what we DIY'd versus what we bought.
If you aren't familiar with our kitchen renovation then let me share a bit of the backstory. Our kitchen renovation took us about two years because we are very slow DIY'ers. We don't usually work on weeknights and, to be honest, we hadn't saved money for a big kitchen renovation.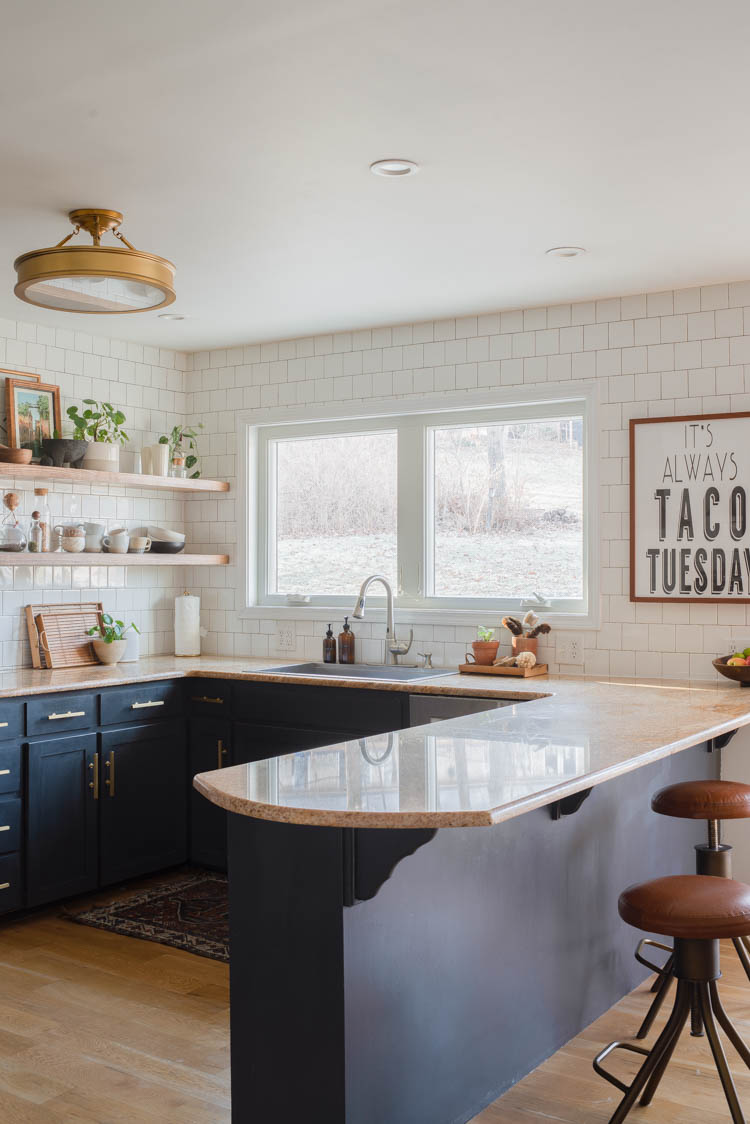 I started making small improvements to the space and one thing led to another, and "bam," we were in the midst of a budget-friendly kitchen renovation. Because we hadn't saved a ton of money for the renovation and we didn't want to take out a loan, we were looking for budget-friendly options for almost everything in the kitchen.
When it came to the original kitchen cabinets, I knew we couldn't afford to replace them and, honestly, I didn't really consider that anyways. We were keeping the original footprint of the kitchen, so it seemed like a waste to replace the peninsula when it wasn't in the budget and the cabinets were ok.
The kitchen cabinet doors on the other hand were not ok. The kitchen doors on some cabinets were broken (mostly a few of the drawer fronts) and honestly, they felt extremely dated. It didn't make sense to get replacement cabinet doors for the broken ones because I just didn't like the old ones to begin with.
DIY Kitchen Cabinet Doors Drawer Fronts
After talking options over with my Grandpa, we decided to make DIY kitchen cabinet door fronts and buy new kitchen cabinet doors for the cabinets. For the drawer fronts, I wanted just a simple slab-style drawer front. This means that the wood doesn't have any details and it's just a straight cut. The slab-style drawer fronts are super simple to make, so we decided to save money by making those.
Making slab drawer fronts out of poplar was a pretty easy job. Poplar is a great choice if you plan to paint the wood and, since we were planning to do that, we saved money by using poplar. We used the original drawer fronts as sizing for the replacement drawer fronts. This made our job pretty simple.
We made 13 replacement cabinet door drawer fronts and it cost us around $125.
New Kitchen Cabinet Doors
The old kitchen cabinet doors didn't have anything wrong with them. I just didn't like the inset, raised panel or that they had the hinges on the outside of the door (visible hinges definitely date a kitchen). After lots of research, I came to the conclusion that I wasn't going to get the look of a new kitchen without buying replacement cabinet doors.
I wasn't willing to budge on not having hidden hinge hardware and that type of hardware isn't meant to be mounted on a door with a raised inside panel. We gave it a shot to see if it would work in the beginning but didn't have much success.
After some back and forth about time investment to DIY cabinet doors instead of buying the cabinet doors, we decided to buy cabinet doors for our space.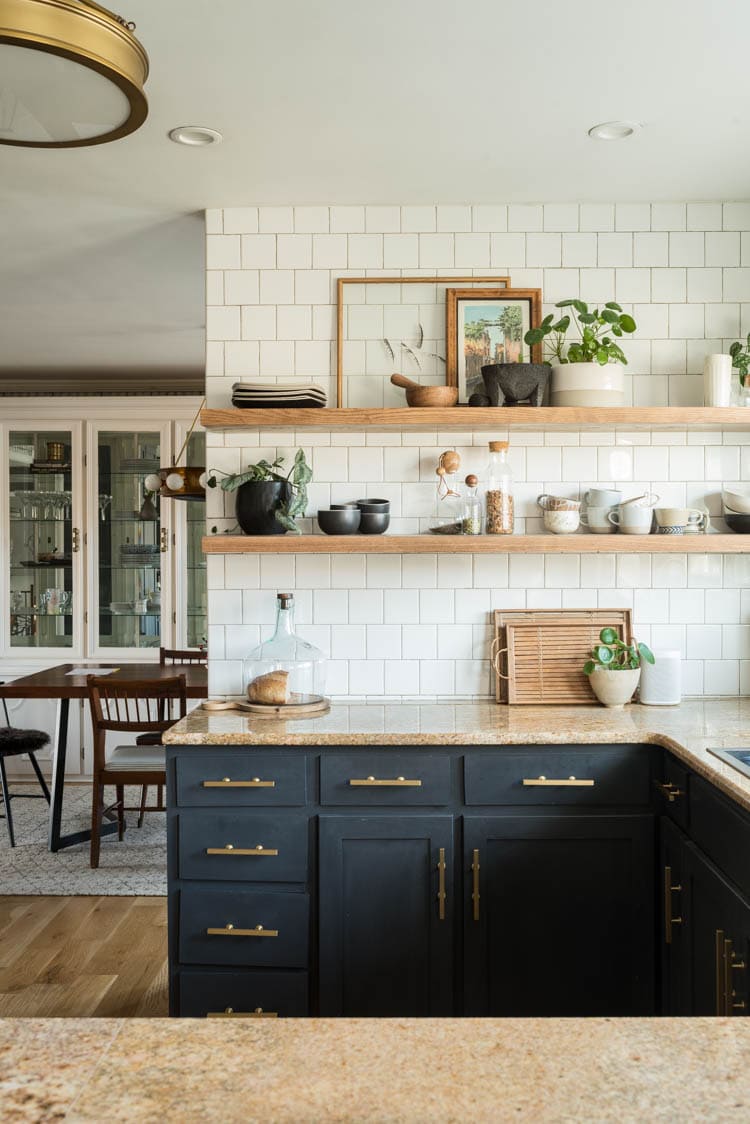 Cost of Replacing Kitchen Cabinet Doors
I wanted a flat recessed cabinet door in paint grade wood. This was one of the cheapest options for replacement cabinet doors. We ended up paying $505 for all the cabinets, which included holes drilled for all the hinges and the hinges themselves!
The price ended up being just under $23 a door. When you figure in the time to drill the hinge holes and the price of the hinges, I feel like we got a steal.
If you don't know, the hidden hinges are $5.99 for two hinges. So, we would have needed 42 hinges to hang the cabinets. The hinges themselves would have come to around $130.
Replacing Cabinet Doors Cost, Including Drawer Fronts
For our whole kitchen, we spent $630 on the kitchen cabinet doors. This doesnt include paint or drawer pulls.
I'm going to answer a few other commonly asked questions before sharing the story on building the new wall of cabinetry that houses the oven.
Is It Easy to Replace Kitchen Cabinet Doors?
Yes! If you are doing semi-homemade cabinets like we did, then you'll have to make drawer fronts first. But replacing the kitchen cabinet doors just requires good measuring and a drill.
Here's a good post about how to add a new cabinet door to an old cabinet.
Is it cheaper to make your own cabinet doors?
Yes, it is because you don't have to pay for labor. That being said, my Grandpa and I did the match on making the cabinet doors ourselves and decided the savings wasn't worth our time and effort. We felt like it was better to buy the cabinet doors because I was getting paint-grade cabinet doors and they were pretty cost-friendly. If I remember correctly, we had budgeted around $300 for the wood to make the doors ourselves and we paid just over $500.
Is it worth replacing kitchen doors?
Yes, replacing older kitchen doors with a new style will instantly change the look of your kitchen. It was one of our best decisions!
If you need more convincing, check out my kitchen reveal with all the before/afters!
Ok, let's chat about the kitchen cabinet boxes and layout and how we saved money by DIYing part of that and keeping other parts.
Semi Homemade Cabinets
I guess we will talk about the original kitchen cabinets first. We KEPT all the cabinets and drawers in the 'U' shape. There was nothing wrong with the actual cabinets and this saved us a lot of money! The drawer fronts on all the drawers and the cabinet doors were tossed out.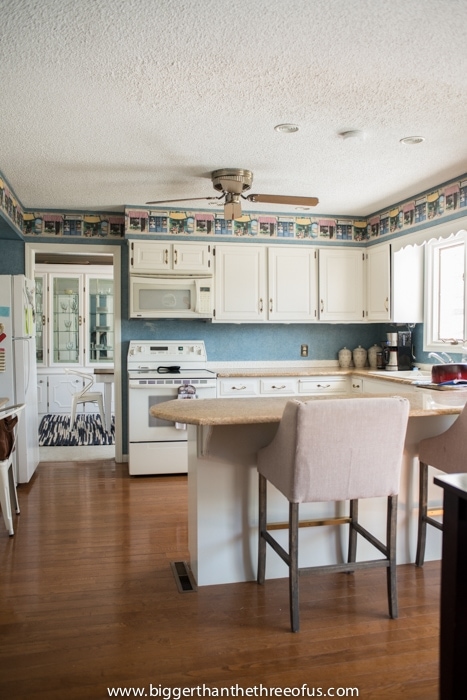 We did reconfigure a tiny party of the peninsula area by taking out the section where the oven was and opening up the wall a bit to where the formal dining room is.
Similar small changes in layout were done on this wall:
I hated the desk in the kitchen, because it was a clutter trap for us. Also, it was too low to do any kitchen prep on, so I felt like it was wasted space.
We took the desk out and then started moving appliances and cabinets around on the wall until we got to a layout that worked. During this process, I quickly realized that the original cabinetry that was in this space wasn't going to work and we'd need to figure out some sort of semi-homemade cabinets to buy or make.
My grandpa and I built the fridge enclosure, the pantry and the two cabinets that flank the stove. I think the total cost of these units, once we finished, was around $475.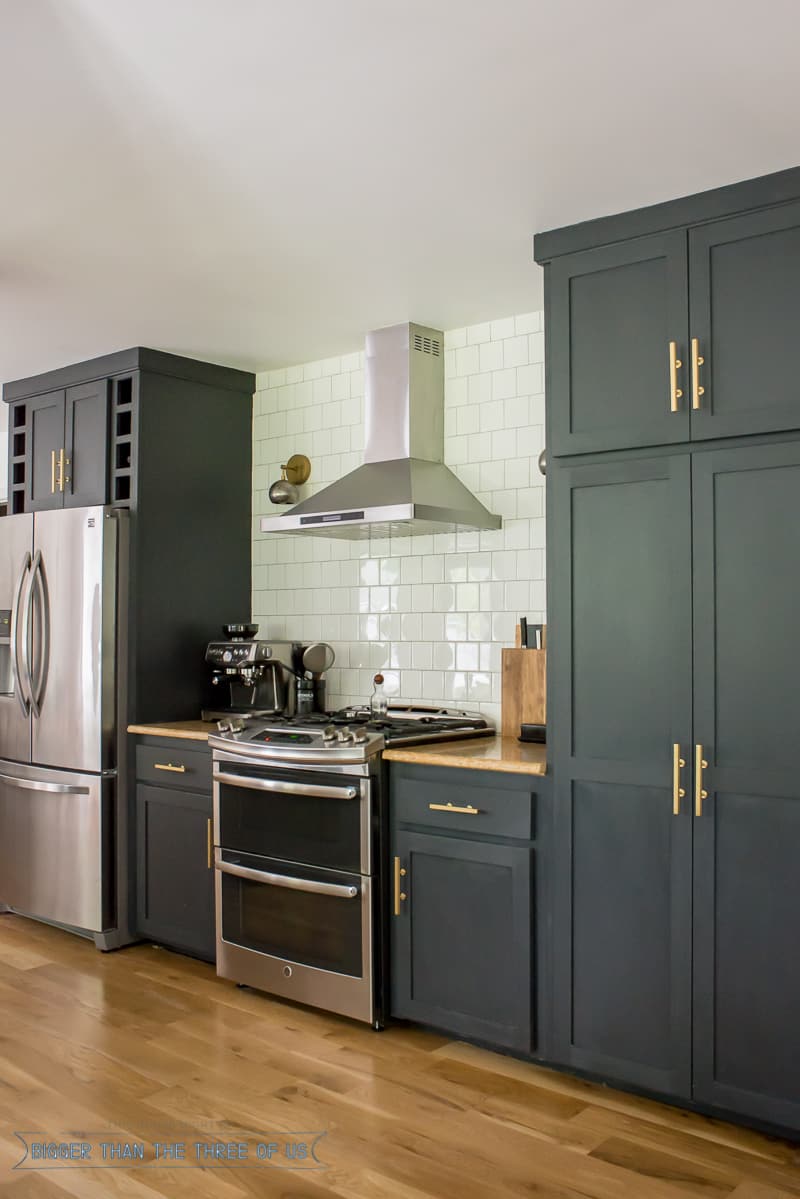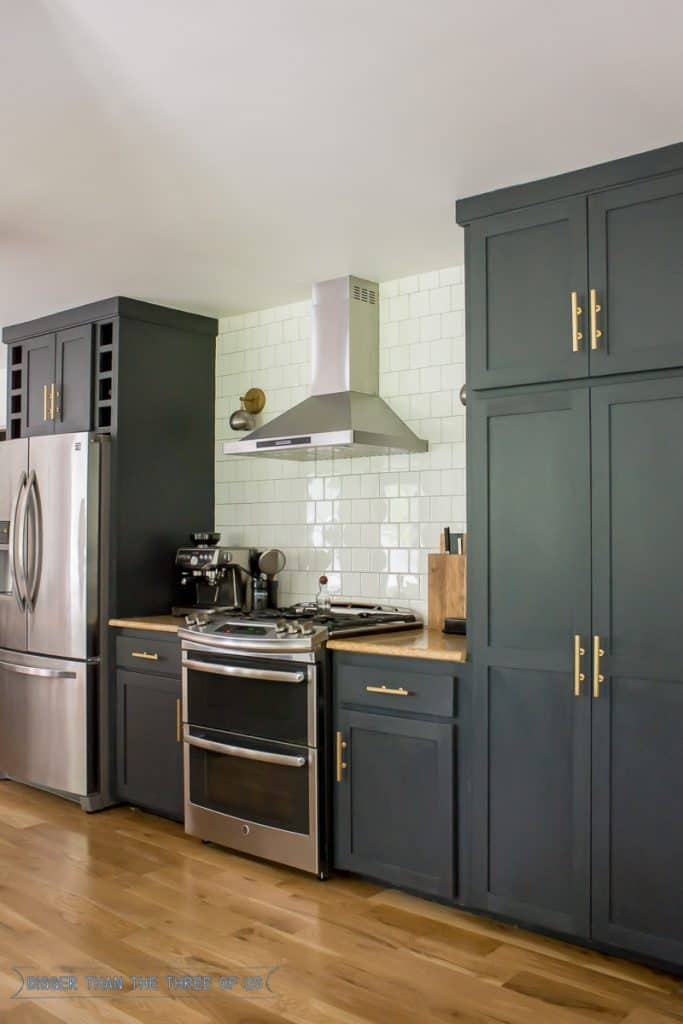 As far as a how-to on what we did, I'm not going to get into the step-by-step on it. This project was way out of Luke and I's skillset as well as tool set. I do think we could have managed to make the cabinets that flank the stove. Also, I know there are good tutorials out there for making them, but if we would have done it ourselves… our cabinets wouldn't have been adjustable nor would our shelves have been edged with wood to make them look finished.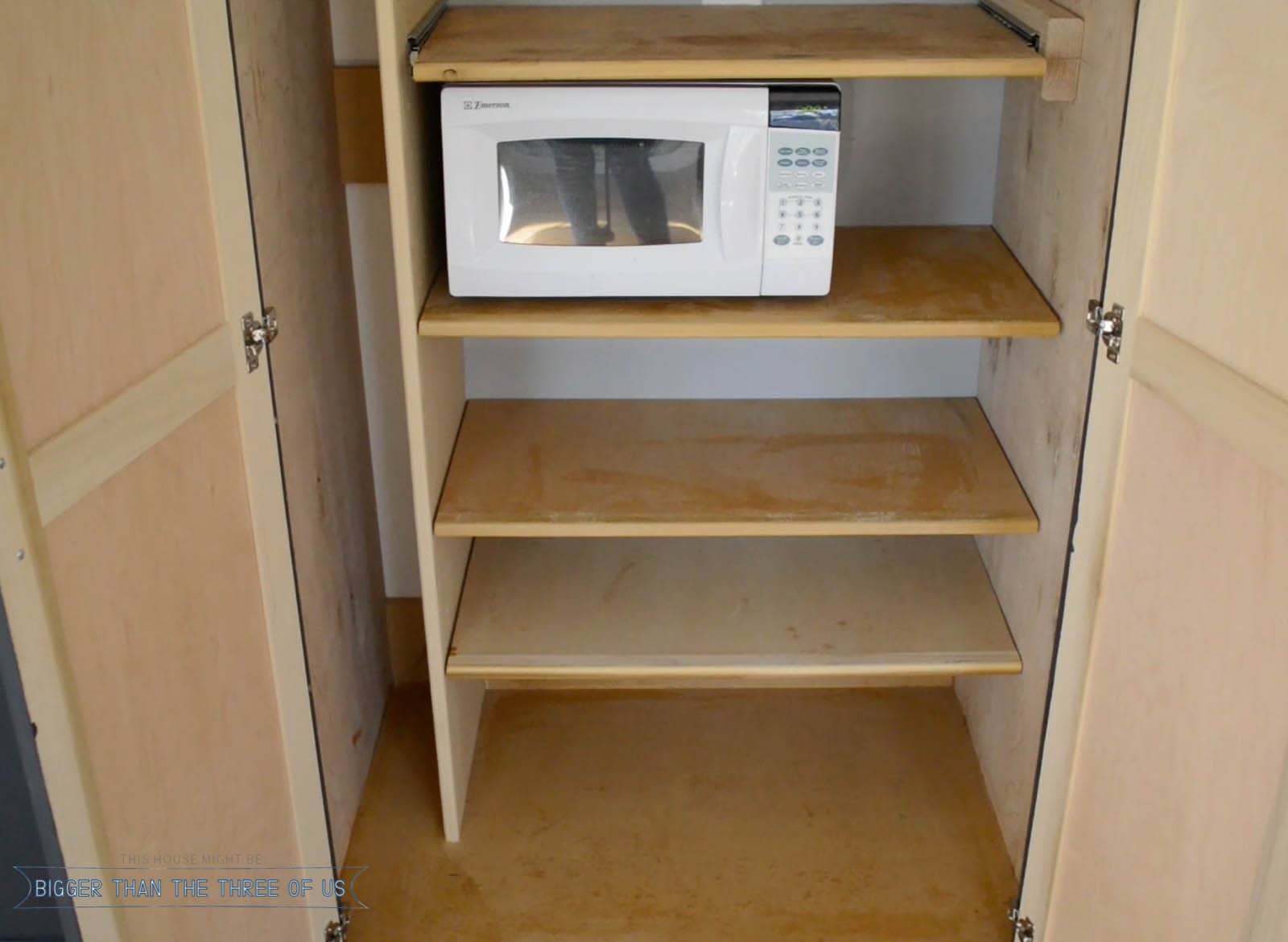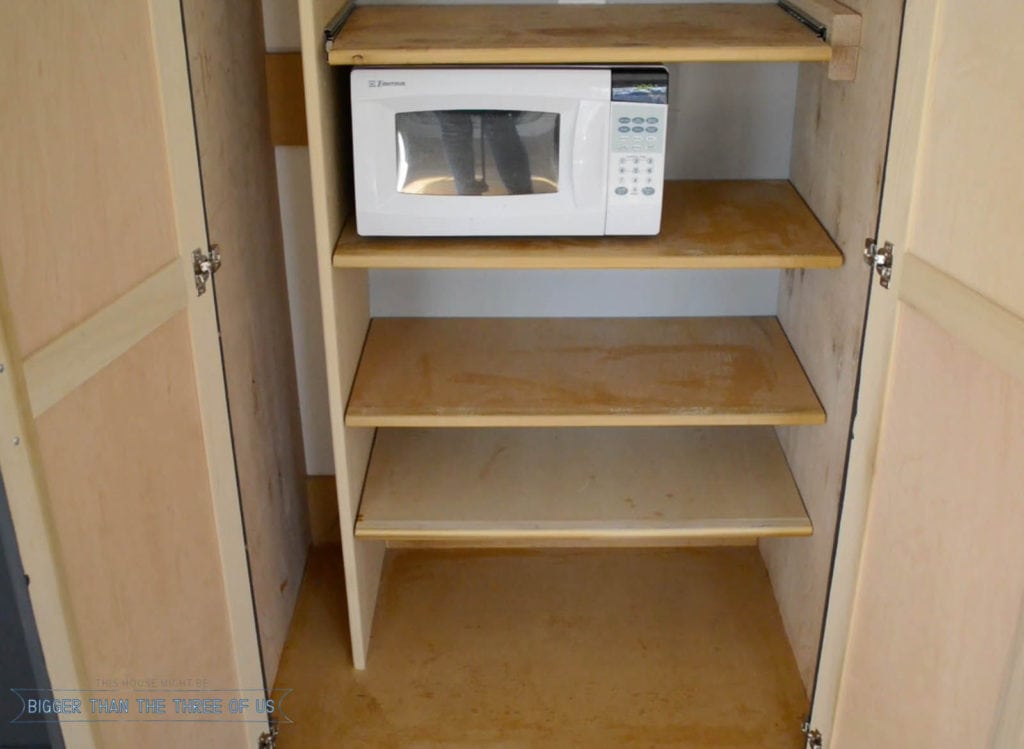 As far as the fridge enclosure with the wine cabinet and the pantry, we would have been totally lost by ourselves. The tricks to keeping it all square (and the big woodworking pipe clamps to do this) would have been way over our head. Plus, my Grandpa decided to make up plans so that both units could be carried in the house and then tipped up; meaning the back of each unit is at an angle. Then the trim covers the angle so that you don't see it was built that way. Anyways, the math on that part alone would have thrown us for a loop.
All of that's not to say that you can't do this on your own. It's to tell you that, with our building experience (the Mid-Century bed is the only thing we've built), it was way out of what we were comfortable with.
So, we built the cabinet frames and drawer fronts but had the cabinet doors made for us. The price that I gave earlier on the drawer fronts and the cabinet doors included this section of our kitchen cabinets.
I've kinda spread out the price breakdown throughout this post, so I'll tally it all below.
Cost of semi homemade cabinet doors and building new frames – $1105
DIY Drawer Fronts $125
Buying Cabinet Doors $505
DIYing Pantry, Fridge Enclosure and cabinets by oven $475
We feel great with what we DIY'd versus what we paid to have done. I think we spent our money really well here.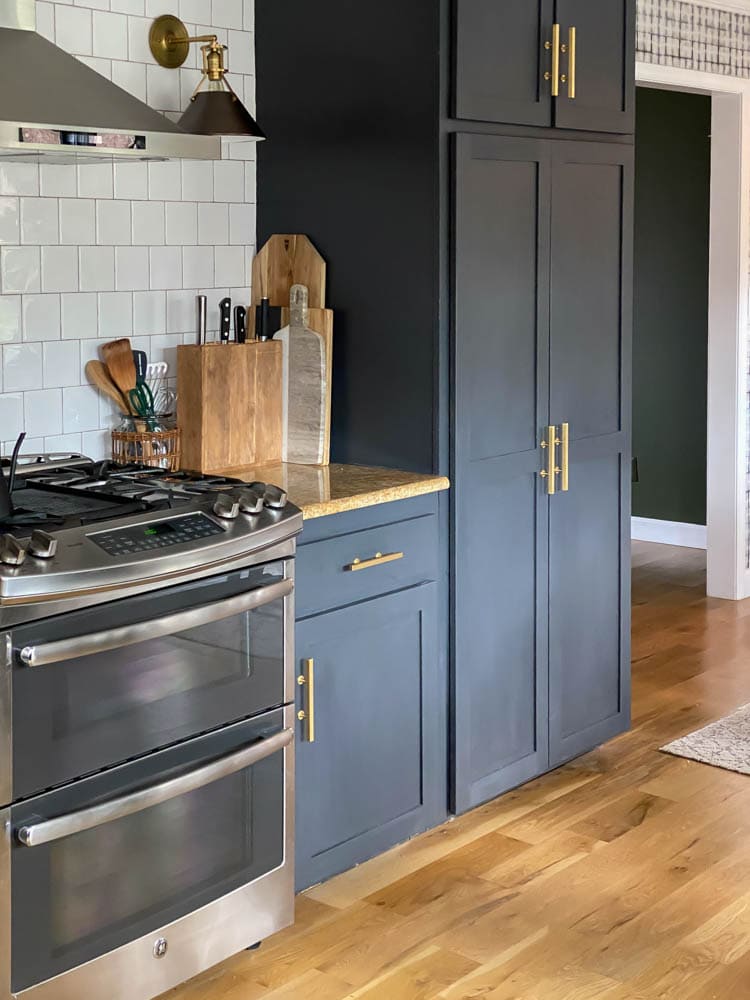 You can see the whole kitchen reveal for all the sources! The paint color is Cracked Pepper by Behr but we had it color matched so that we could use the Benjamin Moore Advance line. The brass bar pulls were a splurge but worth it.
Hit me up with any questions you have! It's been a few years since we've done this project and I'm still so happy with what we decided to do.