I know that choosing the right size for a wall sconce can be hard! Today, I'm sharing some tips for kitchen sconce sizing as well as a good rule of thumb for helping you determine where to actually hang your wall sconces.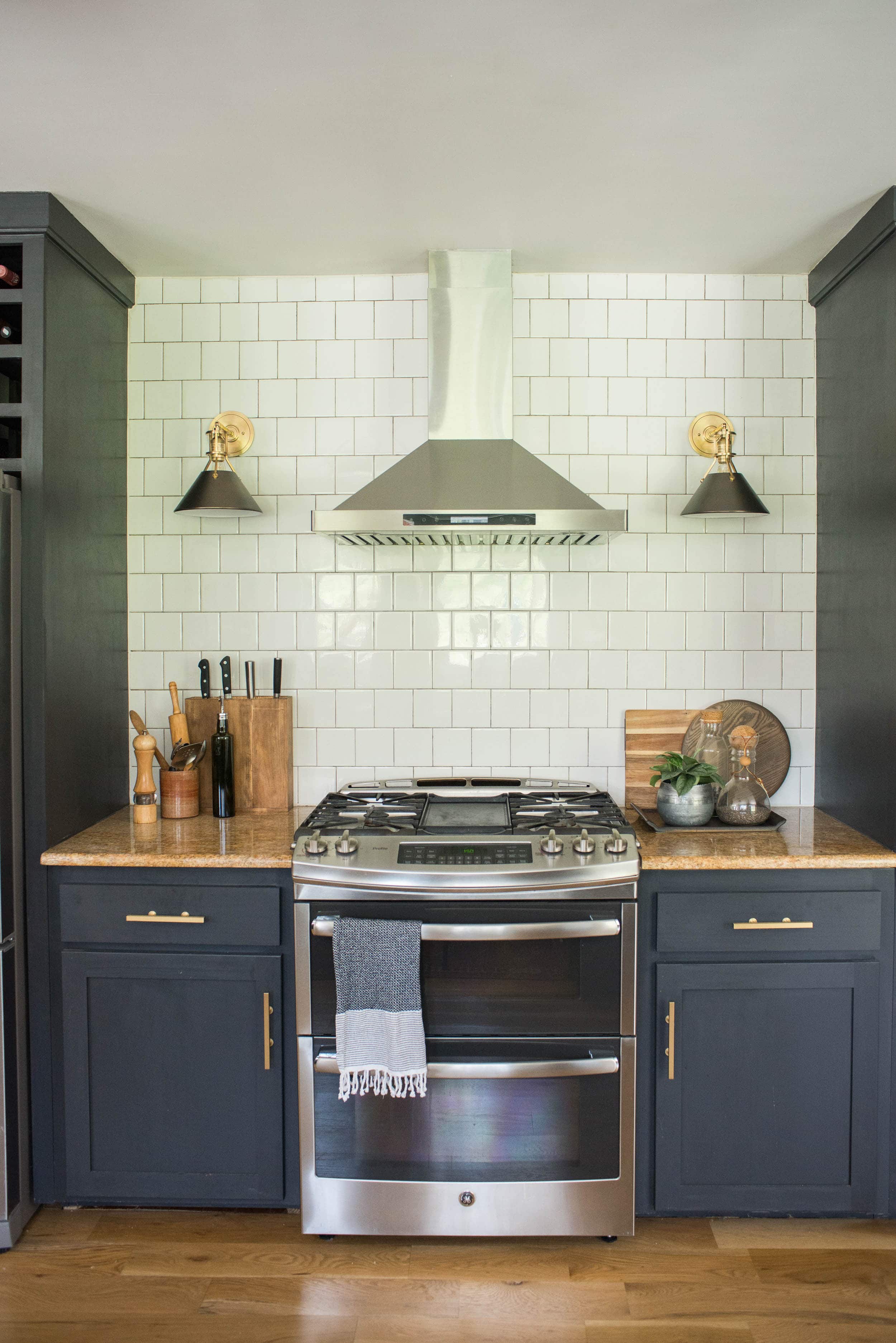 Our kitchen renovation started back in 2014; but at that time, the plan wasn't to renovate the kitchen completely. The plan was to give the kitchen a cosmetic facelift. As each new update or DIY project occurred in the space, we just kept dreaming about doing just a bit more because each project that we did was better than where the kitchen started.
If you are new here, our kitchen drastically changed from the start of the project to when I actually called it done in 2016. Check out the kitchen reveal if you want to see all the DIY projects and layout changes.
As this was my first renovation project, I had to learn what worked and didn't work by actually making decisions and living with them. Most pieces in the kitchen worked. Some I liked but didn't feel like they were the best option for our space. The kitchen sconces that I picked five years ago were two of those pieces… I liked them yet they didn't feel exactly right.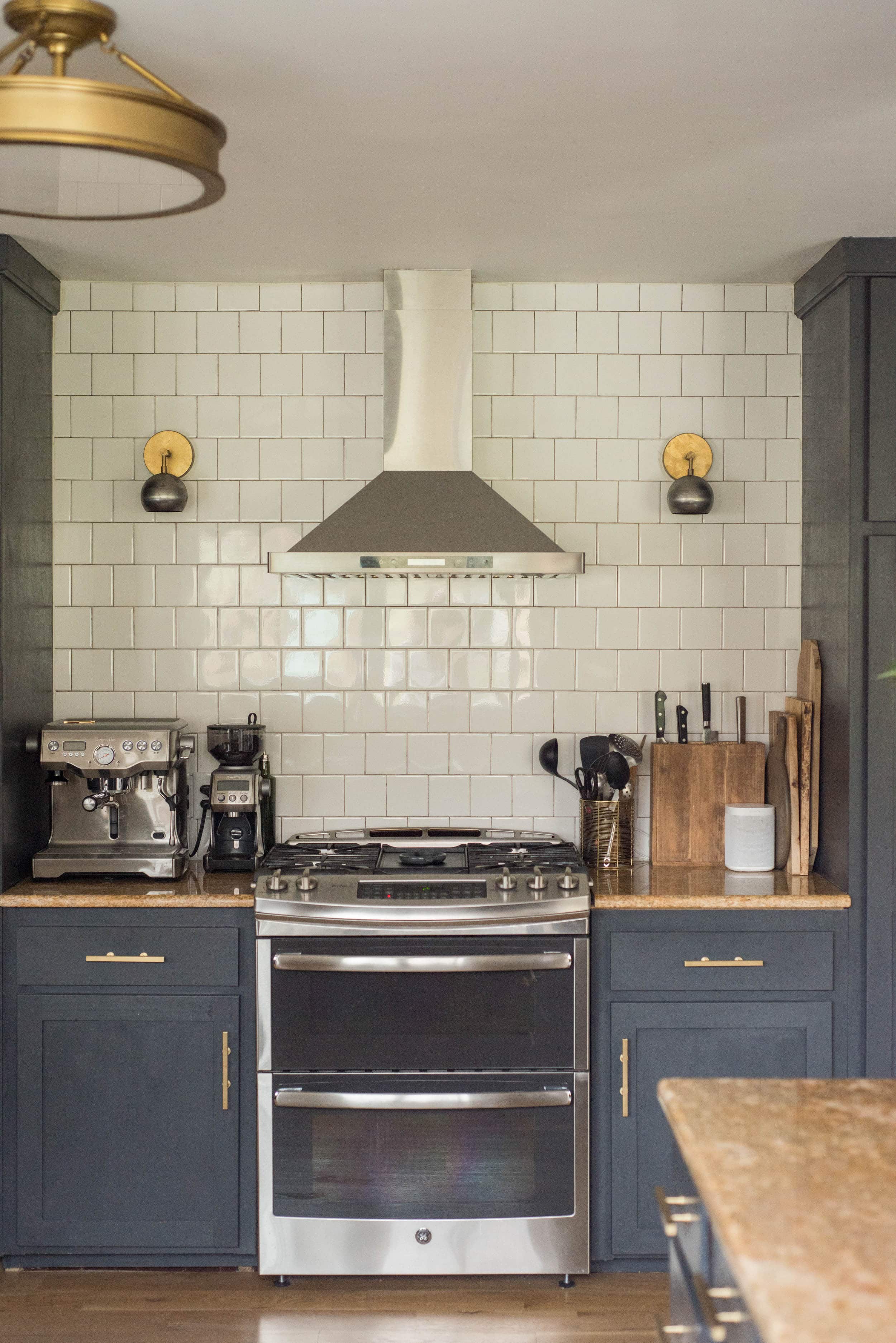 As I've renovated other parts of my house, I've been able to curate my style so much better. I've been able to understand design and make better choices, largely around scale and sizing.
*This year, I've partnered with Hudson Valley Lighting Group to share some lighting inspiration, tips and advice to help make your spaces shine (fun pun, right?!). Ha. As always, you can read more on my privacy and disclosure page.
Before, I share some tips on choosing the right size for a wall sconce, let me show you the difference in my "itty bitty" before sconce and the "just right" sized sconce now.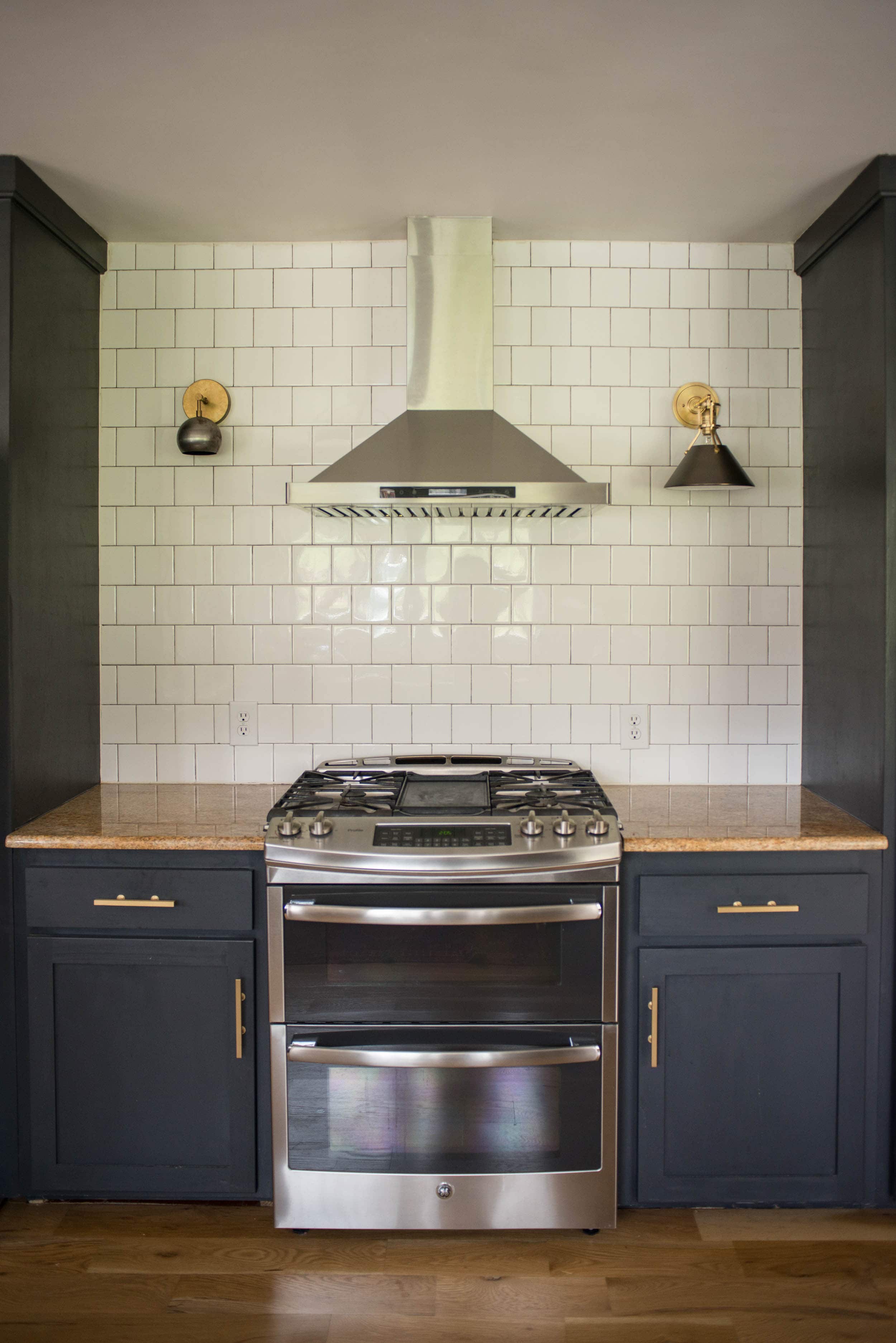 Quite the change, right? The new sconces are the Metal No.2 sconces from Hudson Valley Lighting in Aged/Antiqued Distressed Bronze. They are that perfect mix of modern classic that I look for.
When I get asked for my tips on how I've achieved the look I have in my house or what my favorite pieces to add to my house to create interest are, it's always the same answer… rugs and lighting. Both play such a big role in my aesthetic and I think they are some of the easiest pieces you can use to direct your style in the way that feels like you.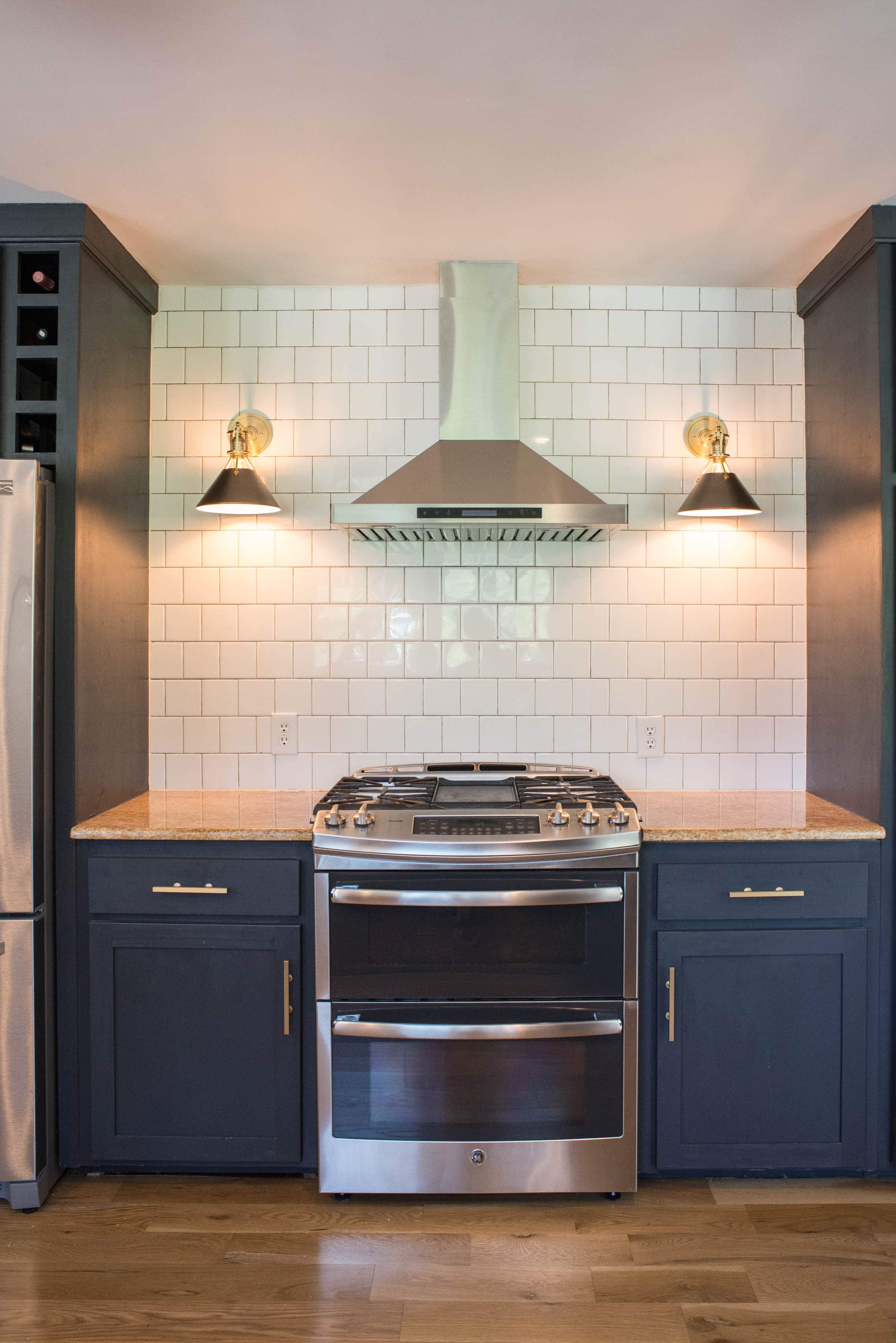 So, let's chat …
How Big Should A Wall Sconce Be?
Smaller spaces can accommodate smaller sconces. For ceilings under 7.5 foot and a smaller square footage, I think 9″ sconces can work.
For us, we had the 9″ sconces in our kitchen and they felt too small. Our kitchen is a medium-sized space with an 8 foot ceiling.
One thing to make a note of when looking at dimensions for sconces is to look at the dimension of the extension bar (how far the sconce comes out from the wall). I feel like not only the height of the sconce but the extension both play a big role in how weighty the sconce looks.
You don't have to go a ton bigger in dimensions to really see the difference visually! The new brass sconces in my kitchen, for example, are 12″.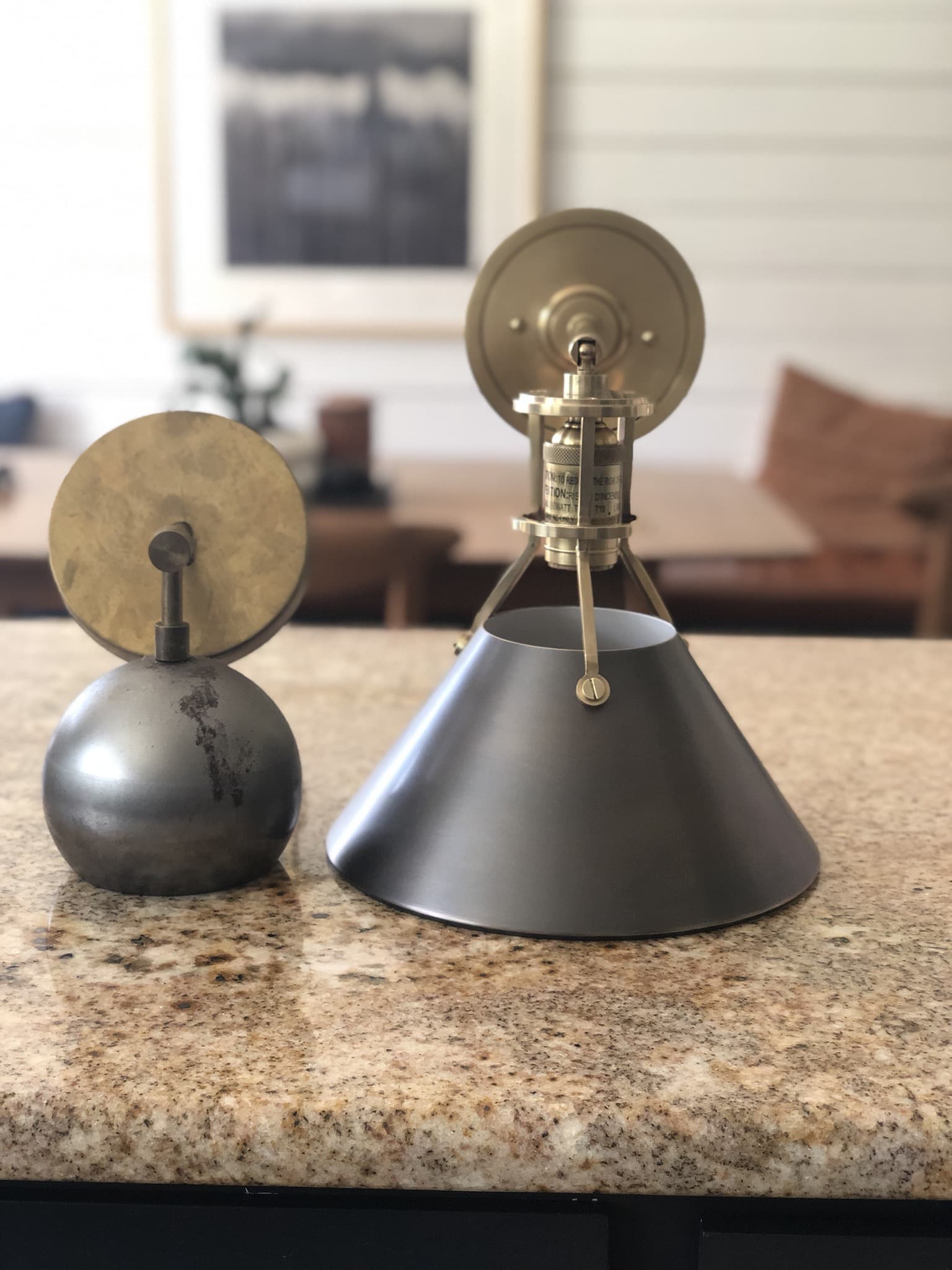 How High Should You Mount a Wall Sconce in the Kitchen?
I really like the rule of thumb that your wall sconce should be mounted 3/4 of the height of your ceiling height. For example, our ceilings are 8′ tall and our wall sconces are mounted at just above 6′. Visually, I think that it looks great. So, if you had a 9′ high ceiling, measure for your wall sconce installation to be around 6.5′.
Of course, I'd always take in to account what the sconces are flanking and what looks good visually. Like I mentioned, ours are just a tad over 6′ and that's because, visually, I felt like they looked better above the line of the range hood instead of in line with it.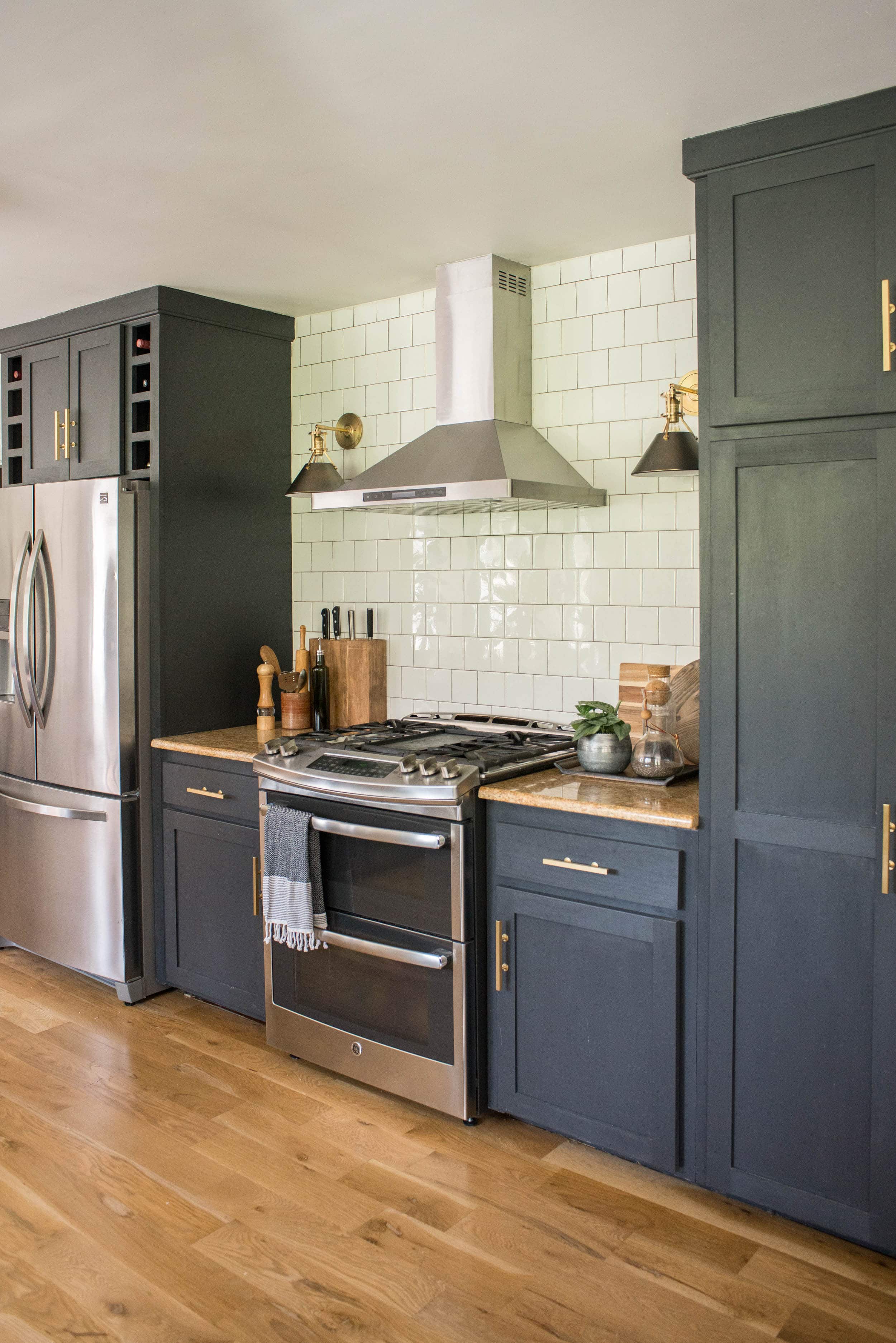 I hope this was helpful! I like to keep sizing dimensions that are tried and true in my phone for when I'm out or just for reference as I shop.
Pin for Later: