Upgrade a huge wall tapestry by mounting it on an oversized canvas. Learn how to stretch canvas in this tutorial. Plus, tips on mounting a tapestry to the canvas, framing out an oversized canvas and more!
When I found my Korhogo textile, I was honestly stumped on how to mount such a huge piece of art on the wall. At over 5×7 feet, the piece was just larger than any store-bought frame or oversized canvas that I could find. I knew that I would have to make a frame and finally just went for it.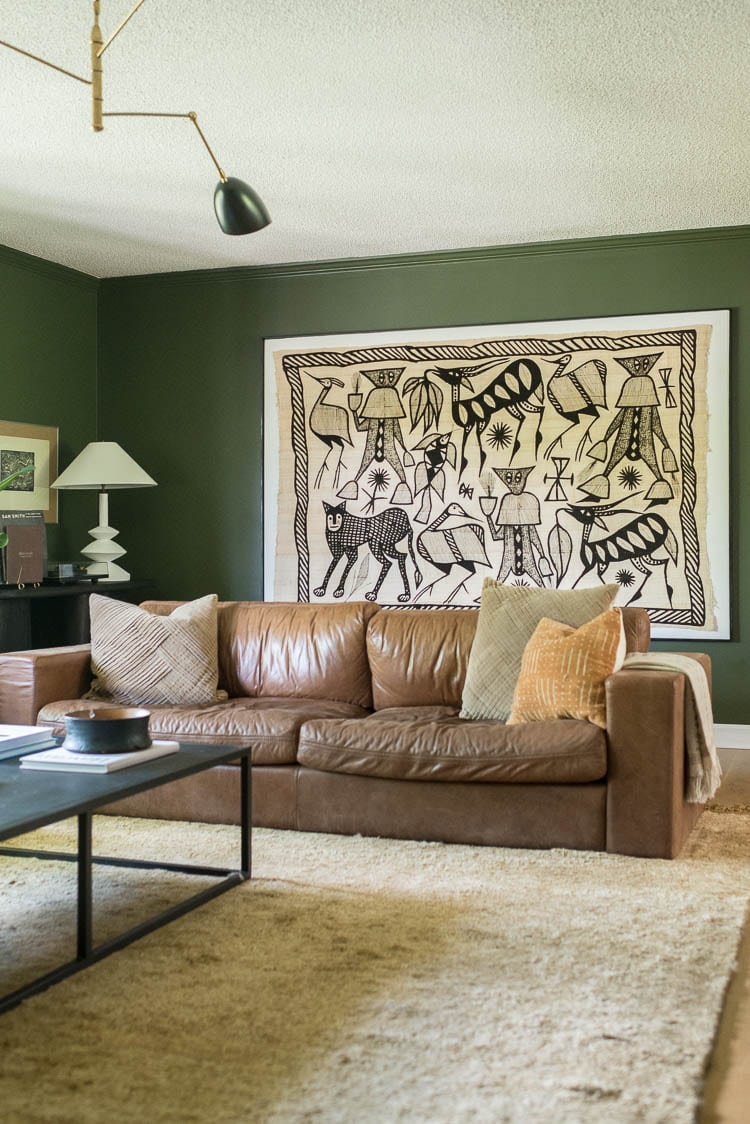 I do want to share that this is less of a step-by-step tutorial and more of a general explanation on how to build an oversized canvas, mount a big piece of artwork to the canvas and then make a float frame around the canvas. We did this project over the course of a few months, not knowing exactly what I wanted as I was doing it, so I didn't think to take down exact dimensions and photos of each step. Plus, if you are doing something like this, your textile, rug or oversized art will be a different size anyways so the exact dimensions of my piece won't help. What I did do though, is think through everything we used to make this piece so I could describe it here. I have quite a few photos that show how the frame came together, then photos of what the DIY canvas stretching looks like, etc. I think you'll definitely get an idea of how to do this project with the photos, nonetheless.
When you are thinking about supplies, you'll have to take into account how large of a canvas you are wanting to make. Our frame dimensions are 93″ x 60″ which definitely qualifies as an oversized art piece!
*Affiliate links below. Thanks for supporting this blog. Click to read my privacy and disclosure statement.
Supplies for DIY Canvas Stretching
(2) 1″ x 3″ x 8″ Common Board
(2) 1″ x 3″ x 6″ Common Board
(2) 1″ x 2″ x 8″ Common Board
(2) 1″ x 2″ x 6″ Common Board
84″ Wide Primed Cotton Canvas (*I bought 6 yards)
Trim Boards
Paint or Stain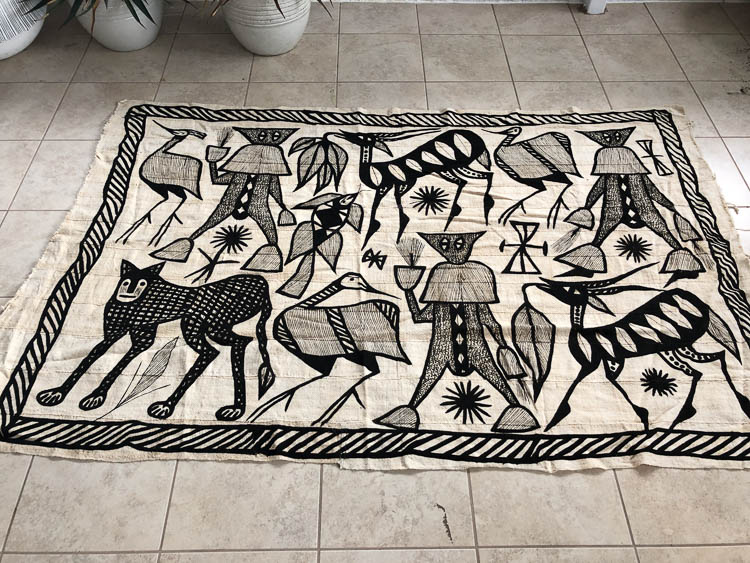 Oversized Canvas Details
To start out with this project, you need to have a tapestry, rug or piece of art that you want to frame. I knew I wanted the canvas to be around 4-6″ larger than my textile on all sides.
To actually build the frame of the canvas, we looked at a few of the backs of the cotton canvas art pieces that we had in our home and just went off of those to build the frame.
With the measurements that I shared above, we cut common boards with 45 degree angles on the miter saw to create a rectangle. We glued those together and attached them with screws. Then we started creating angled pieces to make each corner stay square. We used the Kreg Jig to put in screws for the angled pieces. At this point, the canvas still didn't feel completely sturdy so we added a middle bar* and more angle pieces from the middle bar.
*I will say that you DON'T want to add a middle wood piece like we did if you are not going to cover the canvas front with a textile or large piece of art. The wood bar DOES show through because the canvas is pulled tautly over it. I'm honestly not sure how you would get around this if you are just wanting to build a huge canvas to paint on.
We kept adding supports from the vertical sides to the horizontal sides until we felt like the frame we secure. If you had a smaller piece to frame, this is much simpler but this piece is massive so it takes a bit more work. Here's one of the best pictures I have of the frame itself.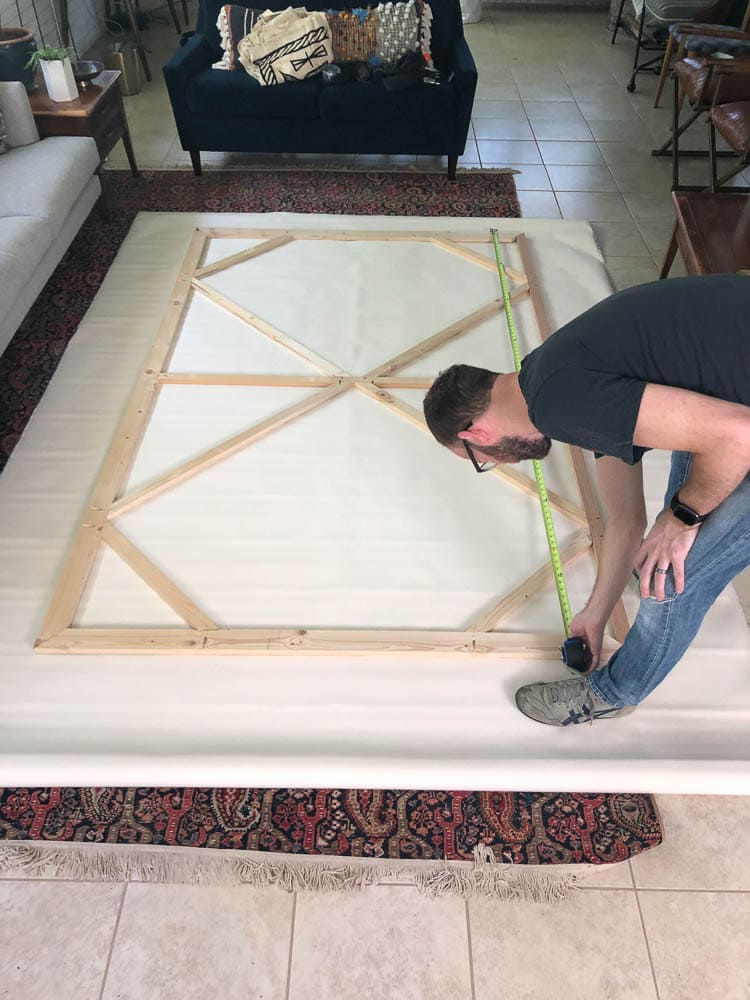 Once you have the frame, layout the canvas face down (making sure to have a clean floor). Cut and then staple the canvas around the frame, similar to how you would upholster chairs. If you want more information on how to do this, check out my post on how to reupholster chairs!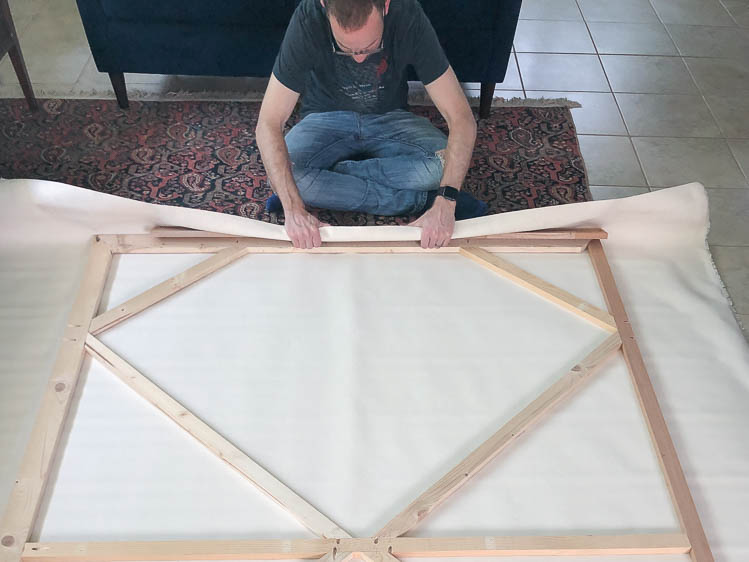 When you are learning how to stretch the canvas, a trick that we learned was to use a random board (see above) to help you pull the canvas tighter around your frame. This is a two person job. The canvas needs to be pulled tight and stapled down.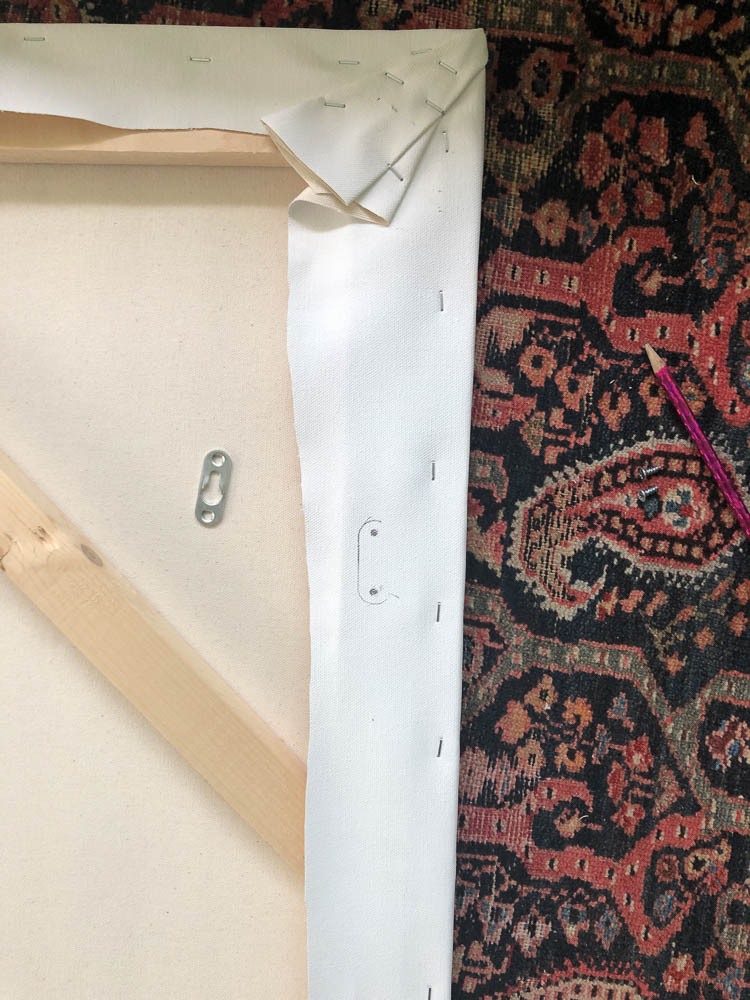 I wasn't sure how to attach the tapestry to the canvas. At first, I tried double-sided tape. That kind of worked, but eventually it kept pulling away from the canvas. After going back and forth over what to do next, I ultimately just hand-stitched the whole tapestry to the oversized canvas. The tapestry is HUGE but I had the stitching done in about an hour. It has worked great ever since I stitched it.
Next, I decided that the piece needed just a bit of depth to the edges to make it feel finished. I found some small trim pieces at Lowe's (the thinest that I could find) and framed the canvas out. Here's a great tutorial for making a canvas float frame. I didn't take pictures when I was doing mine.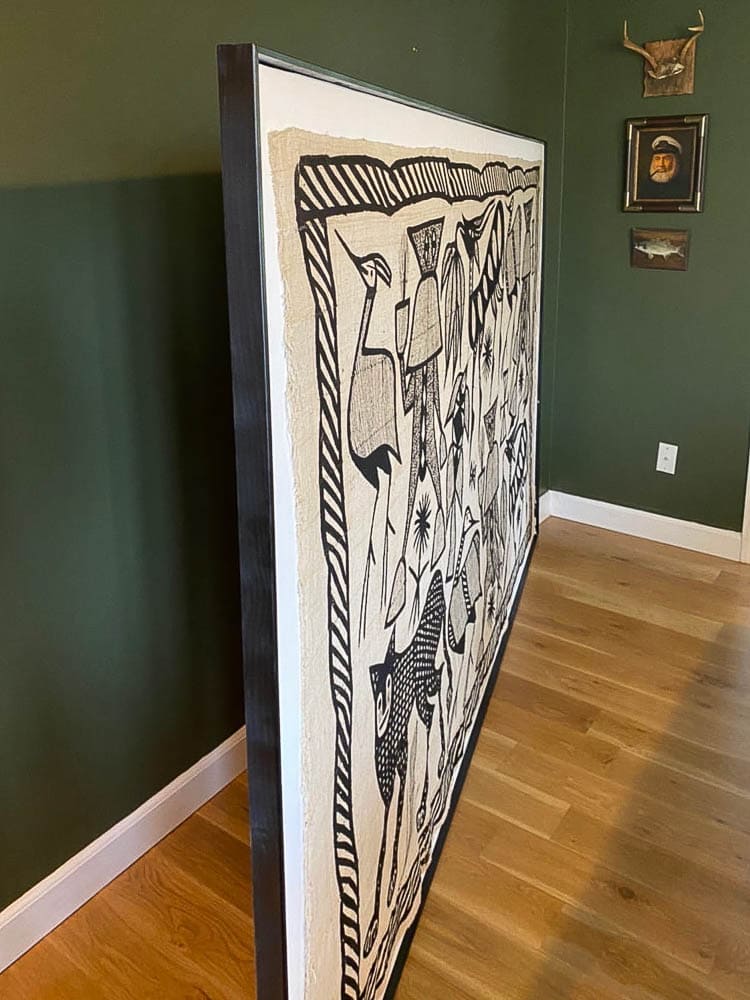 I painted my wood boards black and then attached it with a nail gun.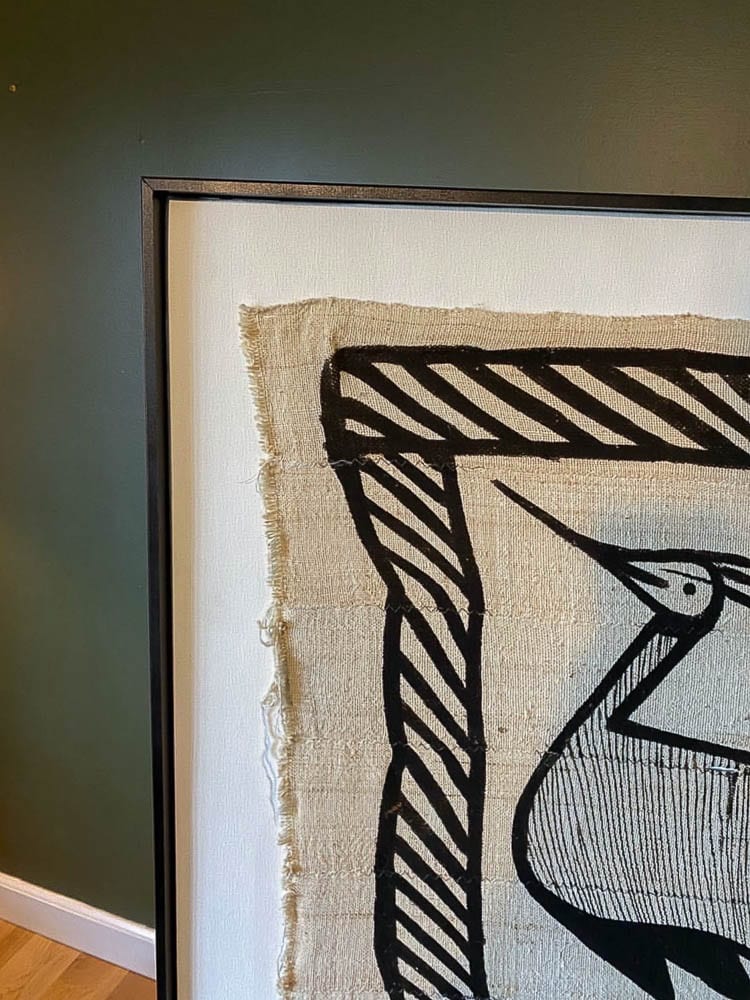 From across the living room, you can't tell that there's a float frame on the canvas but when you get closer, it adds so much dimension. I think it just helps the oversized canvas feel complete.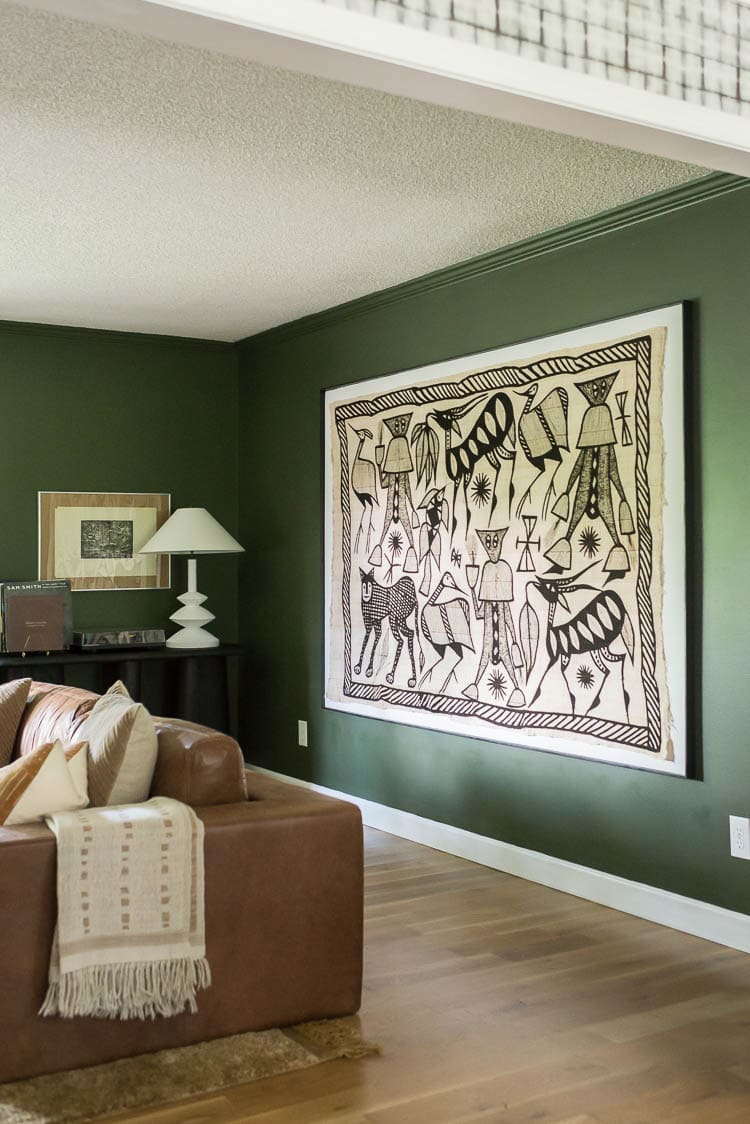 Shop Similar Korhogo Textile Pieces

I hope this was helpful in explaining how to make an oversized canvas! We just winged it and, honestly, it turned out great.
If you want a chunkier wood frame, you could do that as well. Here's a DIY Framed Wall Mural that shows a similar process with thicker wood and it looks really good.
Pin for later: