I'm sharing my green living room walls, what colors go with dark green and more about my dark green living room journey.
While a crisp white living room is always beautiful, white walls in my living room just felt blah. Once I committed to a dark green room all my decor, furniture, art, etc., started to really come together.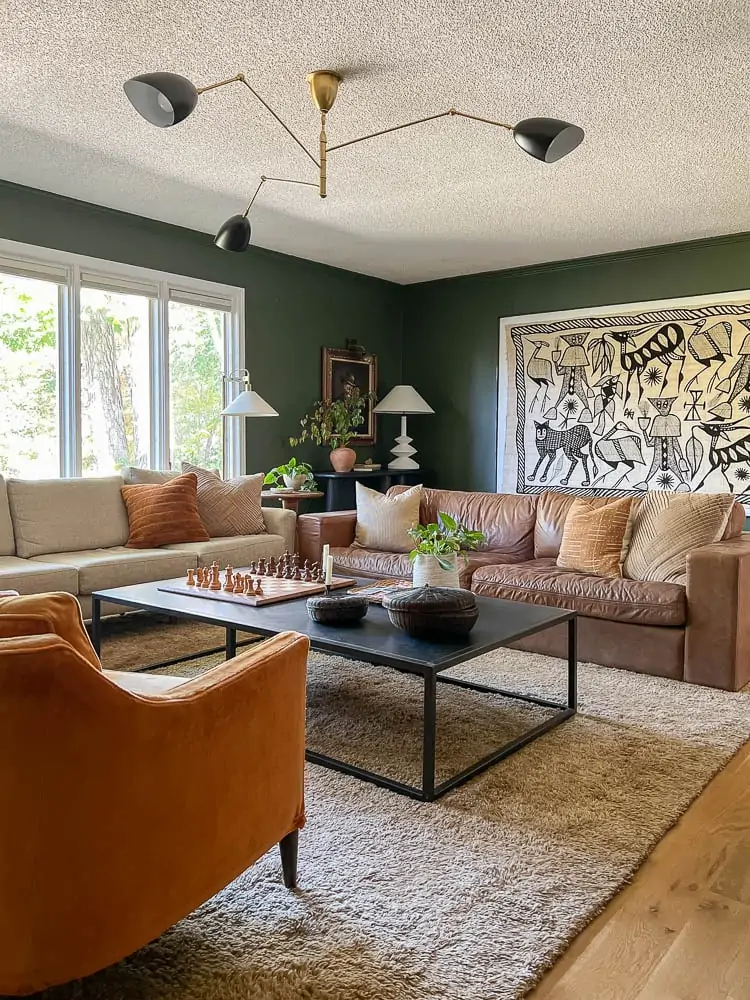 If you are a longtime reader, then you might know that five days before Christmas (while Luke was on a work trip) back in 2018, I decided to paint my living room walls green. I'm one of those people who likes to do projects when the mood strikes me. I'm motivated that way, for some reason.
However, taking down all the extra Christmas decorations to paint my living room walls was quite the project! But I did it and said goodbye to the white paint that I had on the walls.
White paint can be such a good color, but for this space, it just didn't work well. The living room faces north so doesn't get a ton of light and, although we love the white paint in the eat-in kitchen, it just never felt inviting to me in the living room.
Affiliate links below. Thanks for supporting me! Click to read my privacy and disclosure policy.
Green Living Room with Forest Green Paint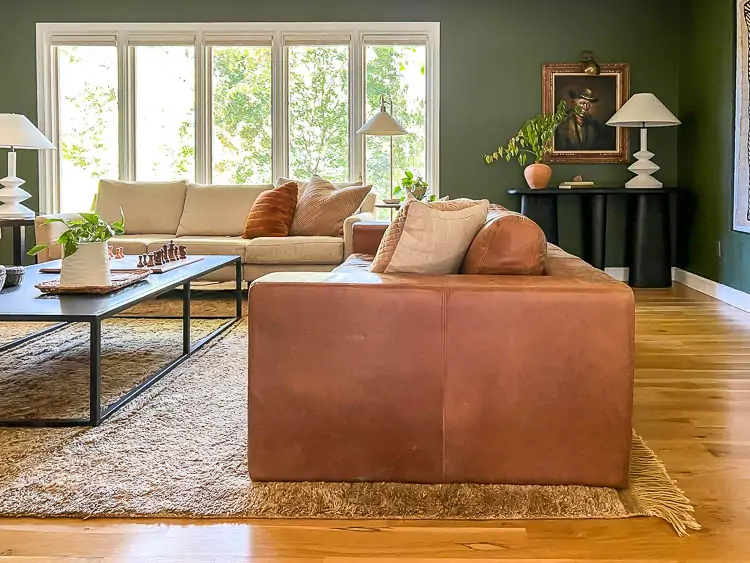 Forest Green Color
Before I painted, I'd been talking to Luke about dark colors for the walls for months. I got a few swatches and just couldn't pull the trigger. Then, I had a lightbulb moment and knew that I wanted the same depth of shade as our kitchen cabinets but I wanted it to be a dark green paint.
In 2018, I found the forest green color that I loved and, since then, I've slowly been finding my way in terms of style and function in our space.
Starting with Creating a Focal Point with Art
A big part of finding the overall style to the space was the Korhogo art piece. I finally figured out how to frame the oversized textile and it really is the grounding piece for the space.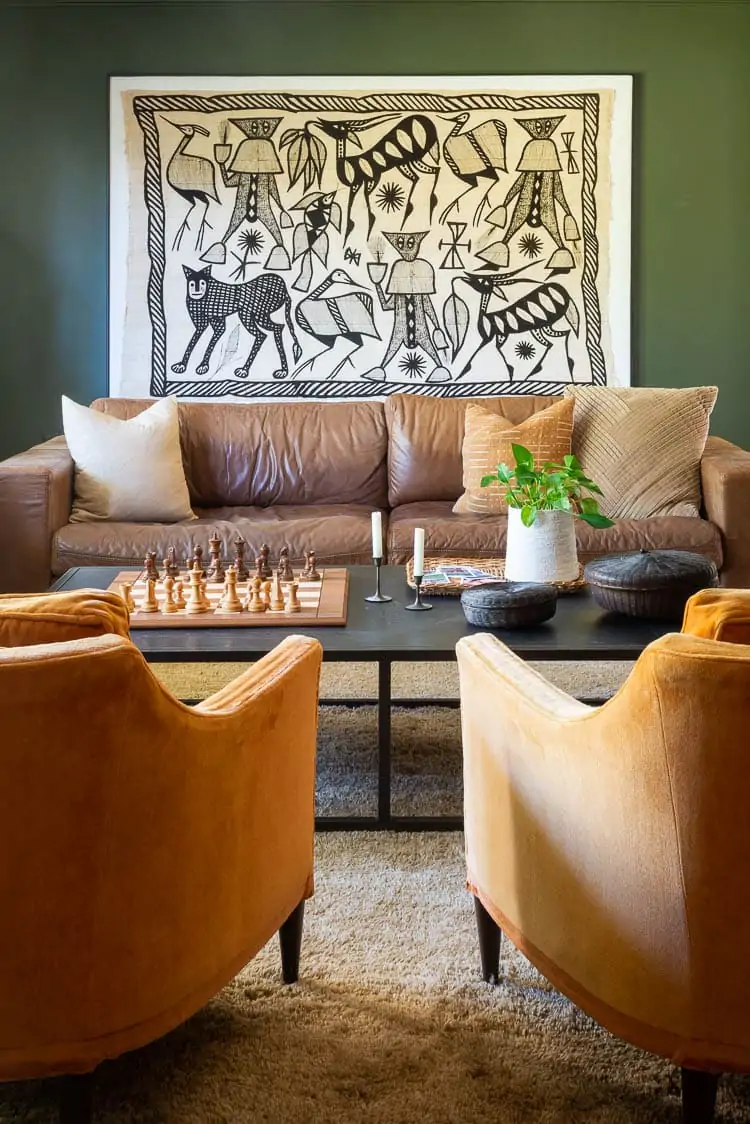 A friend of mine wrote an article about Creating Personality Without Chaos and I agree with so many points. Adding texture, mixing styles and thinking about contrast in your space can really help make your space shine. I feel like the Korhogo piece did all of those things itself.
Slowly Curating Decor For Green Walls
In 2020, I knew that I wanted to invest a bit in the space and buy a few forever pieces. I've been on this kick of really thinking about each and every item I buy (see my #20in2020 post for intentional living for more of the backstory on this).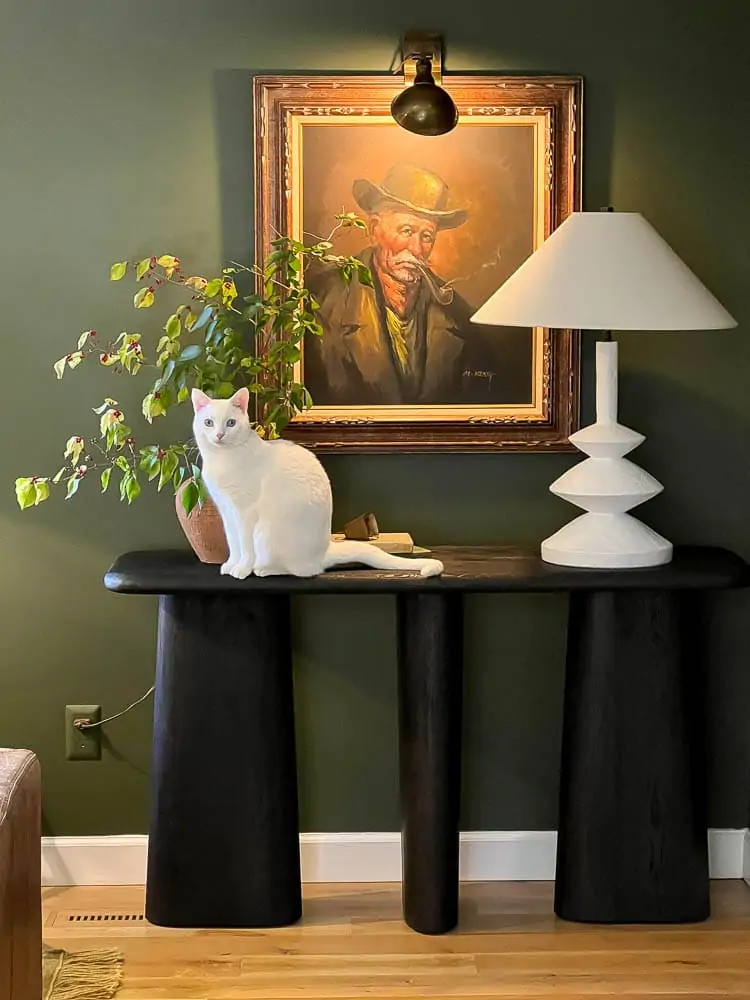 I made a list of "would love to have in the living room" and have been slowly working on sourcing and intentionally adding those items to our space.
Without going into the play-by-play of the pieces I've bought, moved or subtracted from the space (hit the #20in2020 for that), let's just say that the space has come a long way over the past six months or so.
One of my biggest back-and-forth decisions in the green living room has been chairs for the space. I bought black leather chairs from Restoration Hardware and, when they got here, I hated them. The leather was, thankfully, not close to the swatch of leather that I ordered from them so I was able to get my money back on the custom chairs. That process was scary because I spent a lot of money and I made a bit of a mistake on the look and feel of the chairs for our space.
For years, I've had my eye on the Field Lounge Chair from Blu Dot but have heard mixed reviews on the comfort level. I almost pulled the trigger on two for our living room back in April when they were running a huge sale but I didn't end up doing it.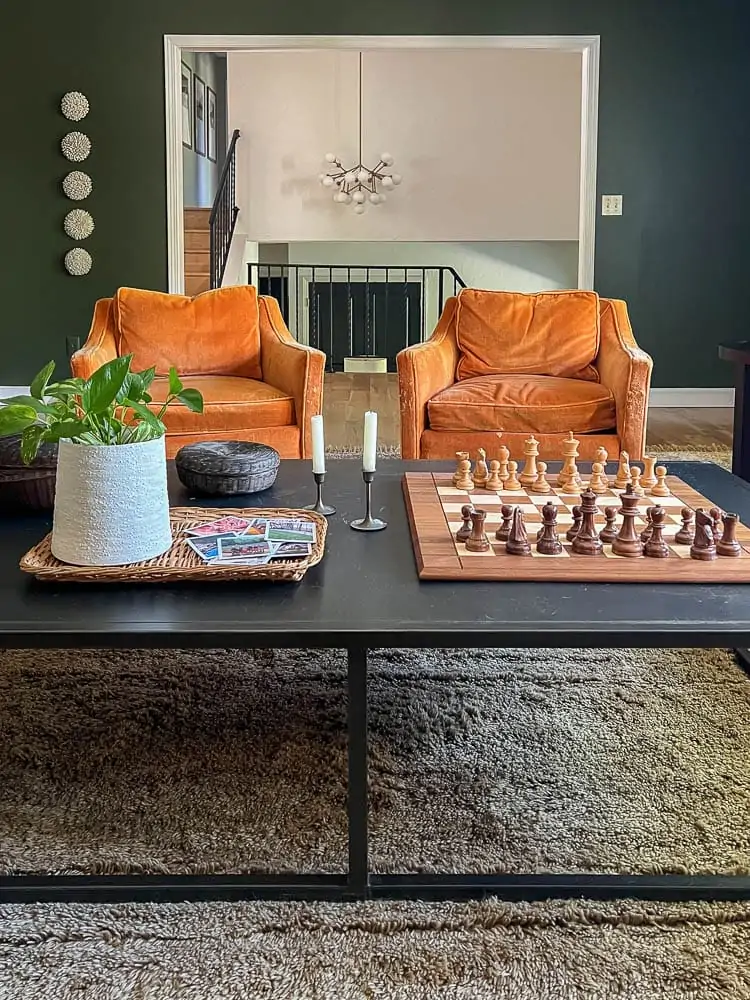 Around that time, I found two orange velvet chairs on Facebook Marketplace. They were a good deal and I liked the lines on them so I scooped them up.
I bought mid-century replacement legs off of Etsy to help give the chairs a look that was more in line with my style. I recently bought new fabric to have the chairs recovered (you can't see it well in the photos, but the arms and fronts of the chairs have definitely been scratched by a cat) and am excited to get that done next year. Guess what color fabric? I'm going with a slightly darker hue of orange than what I currently have on my chairs. Orange or rust are great colors that go with dark green.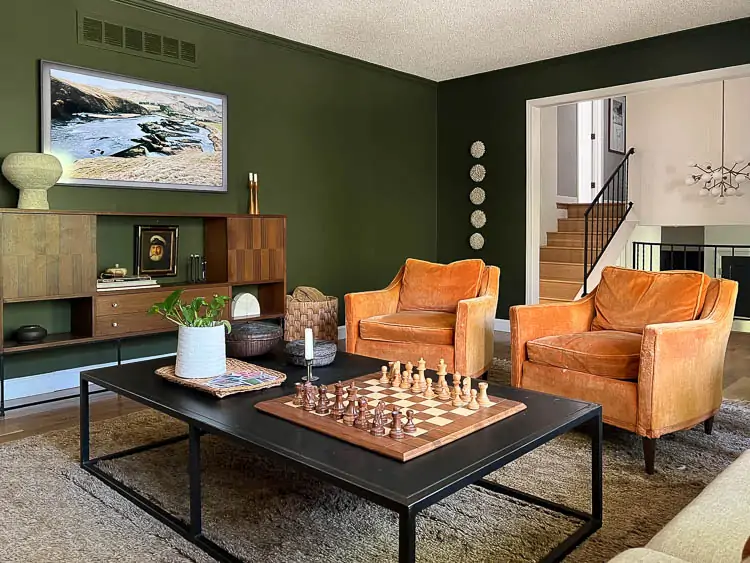 A simple DIY that I did in the space was to buy paintable outlet covers (see the outlet below on the wall) and paint them to match my dark green wall paint. Honestly, this was a great project. It's super simple and, if you have dark walls like I do, with white outlet covers... it's well worth your time to buy the paintable outlet covers so they blend in with the walls!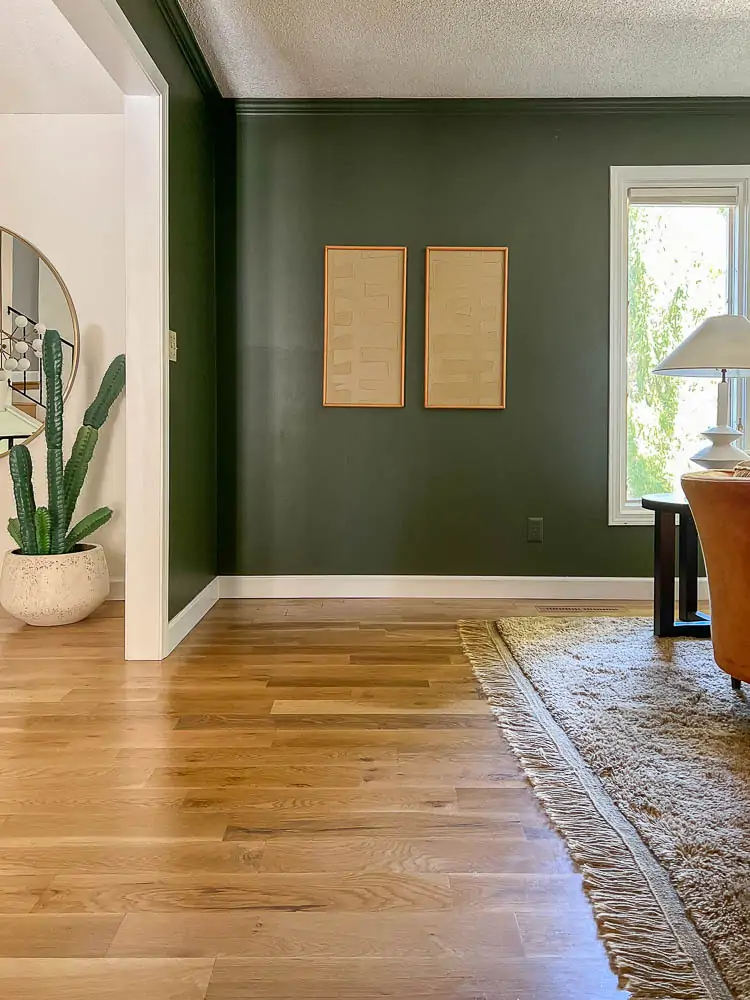 I get lots of questions on the dark green living room paint color, so let's talk about it as it's a custom mix.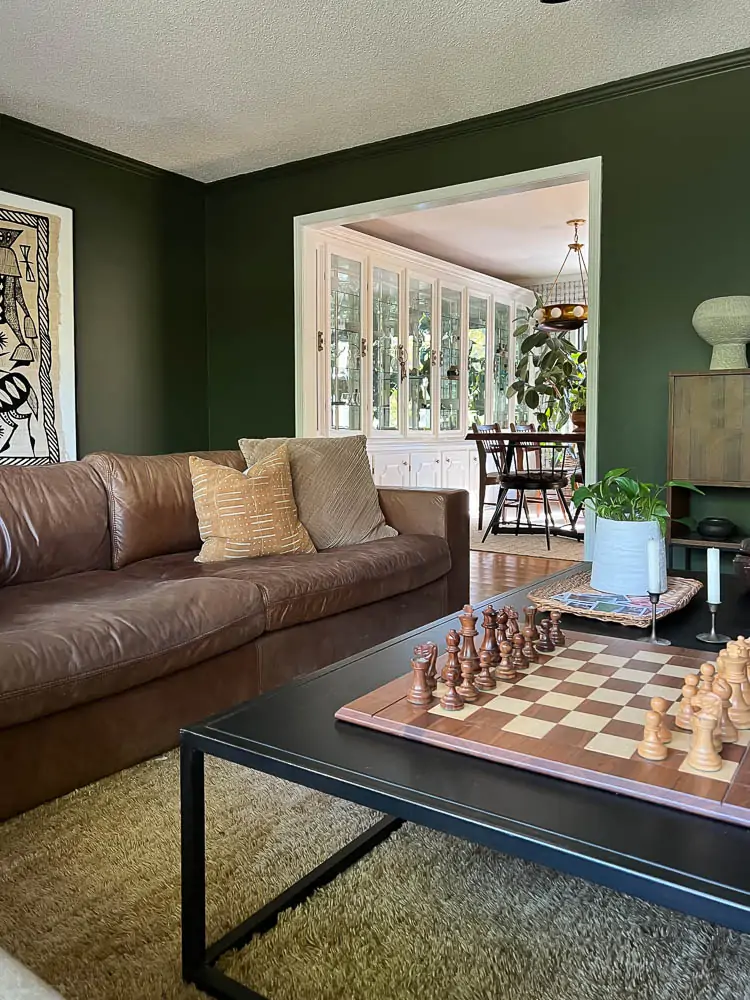 Forest Green Living Room Paint Color
The Modern Green Living Room Walls are a custom mixed color that starts with Fig Tree by Behr. I had Home Depot go a bit deeper with the color by adding two extra shots of black. I'll give you a picture of the paint formula so you can get the same color if you are interested.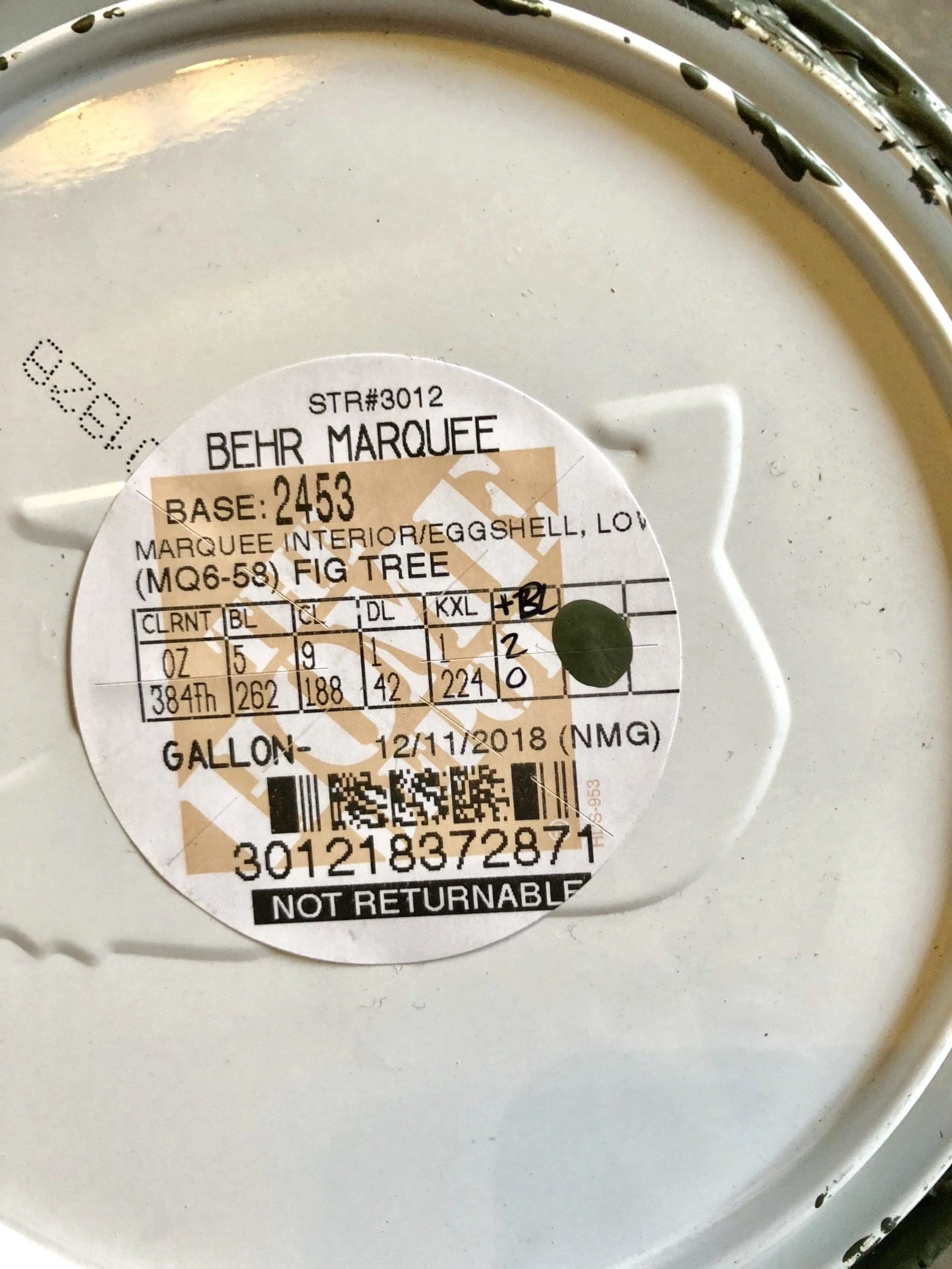 If you take that photo of the paint color formula into your Home Depot, they should be able to recreate it. I've had a few people tell me that the associates at their store were confused, but other people, have said the opposite. Ask for a manager or someone with experience in the paint department if you run into problems! It's worth trying to get the exact color because it's really the perfect forest green paint!
What Colors Go With Dark Green?
In my opinion, as you can see in my living room, I think tan, cream, black, and charcoal go really well with dark green walls. Orange or a deeper rust color are great accent colors for a dark green room. They brighten up the space a bit with a pop of interest.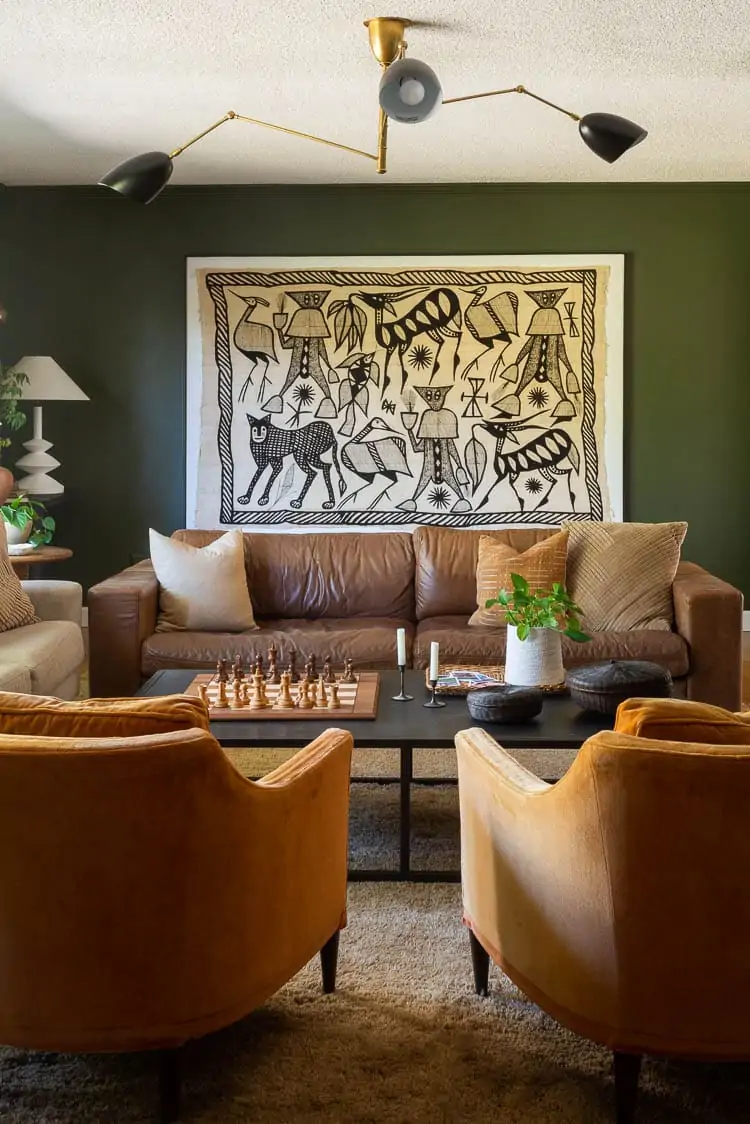 Shop My Modern Green Living Room

I'm content with my space right now but I'm definitely looking forward to the new upholstery on the chairs. Eventually, I'd also love to have two round end tables but I'm in no rush. I've found that the slower I take a space, the happier I am with it. For me, slowly adding layers over time, is where the magic sauce is.