I'm sharing unique and functional coffee table decor ideas that will help you create a truly beautiful, styled coffee table.
If you have been following along on my home journey then you probably know that I don't like to style console tables, style shelves or style dressers. Styling as a form of creative expression is not something I truly enjoy. That being said, I really do enjoy a beautifully-styled media cabinet, coffee table, etc. So, where does that leave me? Ha! It means I have to do it. I work on styling my spaces with the key mindset of making sure each space I'm styling truly represents me and is functional for how we live.
I can appreciate design inspirations that share oversized branches in a vase on a countertop but I know that people don't actually live in the space that has that beautifully-styled countertop. In my foyer for example, I would be able to get away with an oversized flower arrangement because we don't need to see over the foyer table. But for coffee table decor, an oversized arrangement wouldn't work for us because we are using the space to watch TV and to hang out.
The perfect balance for styling a coffee table, or really any tabletop, counter or shelf is when you are using pieces that are functional, beautiful and are the right size and scale for the space.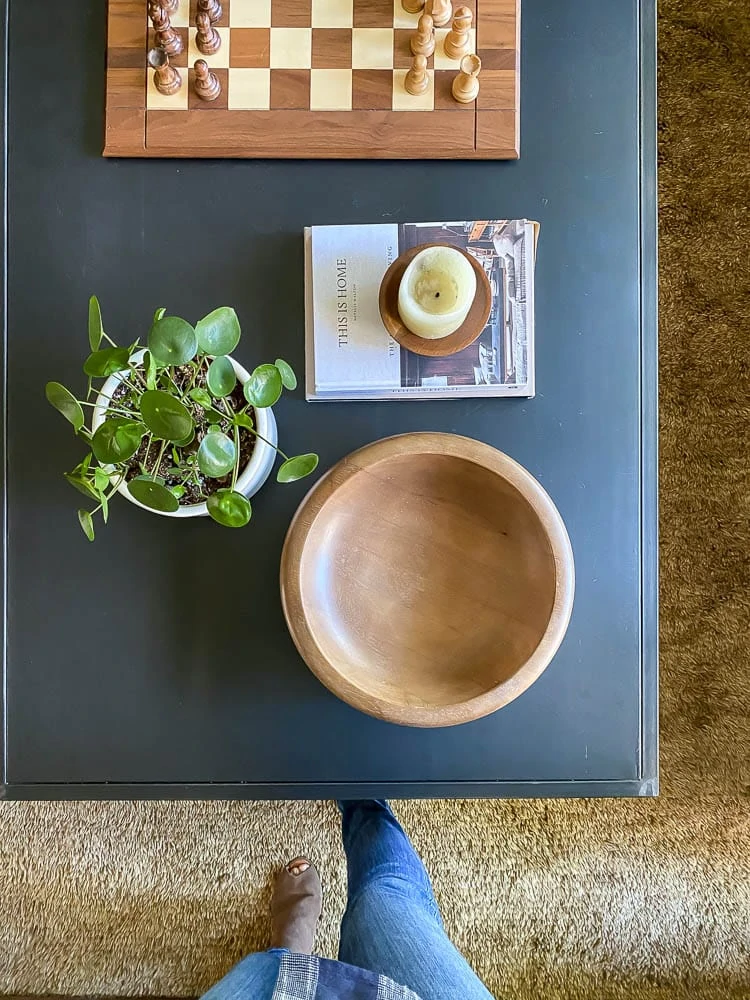 Today, I want to share coffee table decor ideas, including: what types of items you can use on the coffee table and how to style a coffee table. My hope is that you walk away feeling more confident in actually finding coffee table decor that works for you and looks amazing as well!
5 Coffee Table Decor Items
Game boards (they can be beautiful, playful and functional)
Plants (they add so much texture)
Trays (stack them or use them as a base layer)
Candles (provide extra height and a layer of warmth)
Bowls (round shapes help soften a space)
I hope that visual was helpful! It's interesting because I had started thinking about my coffee table styling recently. I've been searching for quite awhile for a vintage chessboard that would be the anchor for my coffee table. Our little guy is into chess so I thought it would be a fun nod to something he was into and also encourage us to play more often. It wasn't until I found that piece that I really felt inspired to actually make the tabletop look pretty and cohesive.
When I got the chessboard, I shared on IG without sharing what I bought and asked for people to guess what they thought I bought. Lots a great wooden games and other puzzles were thrown out. I sourced some of each recommendation that would be good fits for unique coffee table decor.
Wood Games and Other Fun Ideas for Your Coffee Table
Tic Tac Toe Board
Dominos
Checkerboard
Chessboard
Backgammon Board
Puzzle
Wood Scrabble Board
Cribbage Board
Crokinole Board
Round Marble Solitaire
Mancala Board
Chinese Checkers

I hadn't heard of a few of those so it was fun to check them out. Curious to hear; have you heard of all of those?
Often, I think because we see a beautiful space in its near-complete form, we feel like it all just naturally came together. We (I) can get discouraged when our space doesn't naturally just look as good as what we were inspired by on the first time. I put together a video on Youtube sharing how I went about styling my coffee table, the three times it took me to get to where I like it and why function and scale matter so much. My hope is that it inspires you to try a few times to style yourself. Think about textures, scale, colors, etc., and just have fun!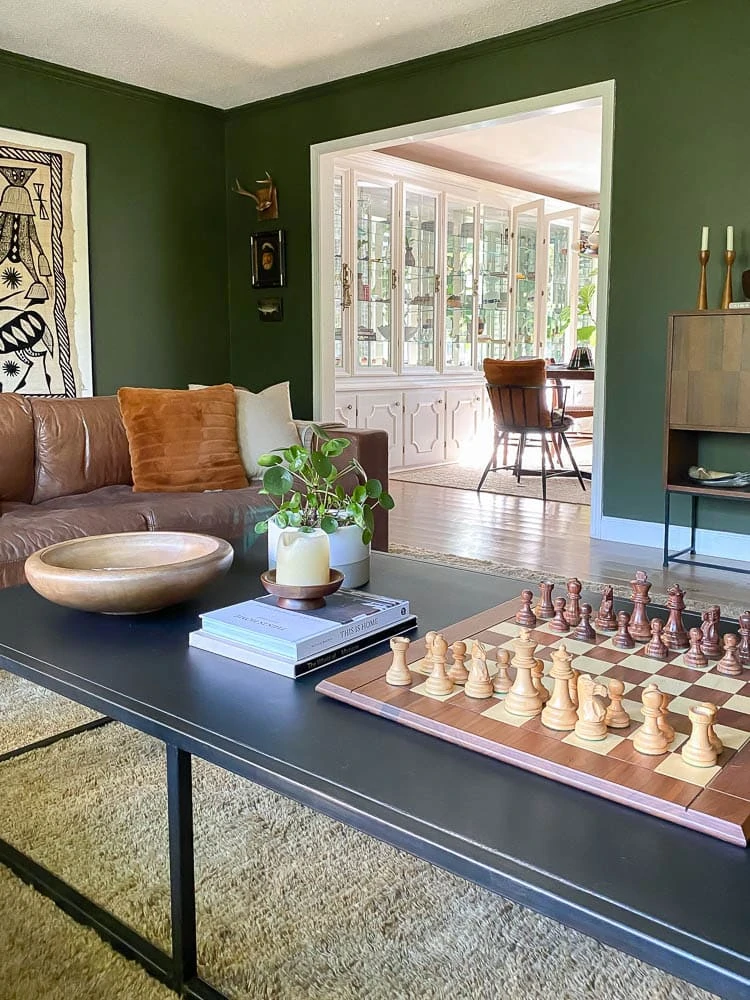 p.s. If you want sources for this space, check out the shop my home page.