I'm sharing all the details about enlarging a window in an existing wall including the process for installing larger windows, the price and the end result.
I'm always curious about how much renovation projects cost and have shared a bunch of other price breakdowns for specific projects we've tackled (cost to have wood floors installed, cost to replace gutters, cost to install a new front door versus just replacing the glass, etc.). So, hopefully this will help out those of you who are curious about enlarging a window.
Before we dive in to the process to widen the window, let's look at the before!
Before Photo of Kitchen Window Size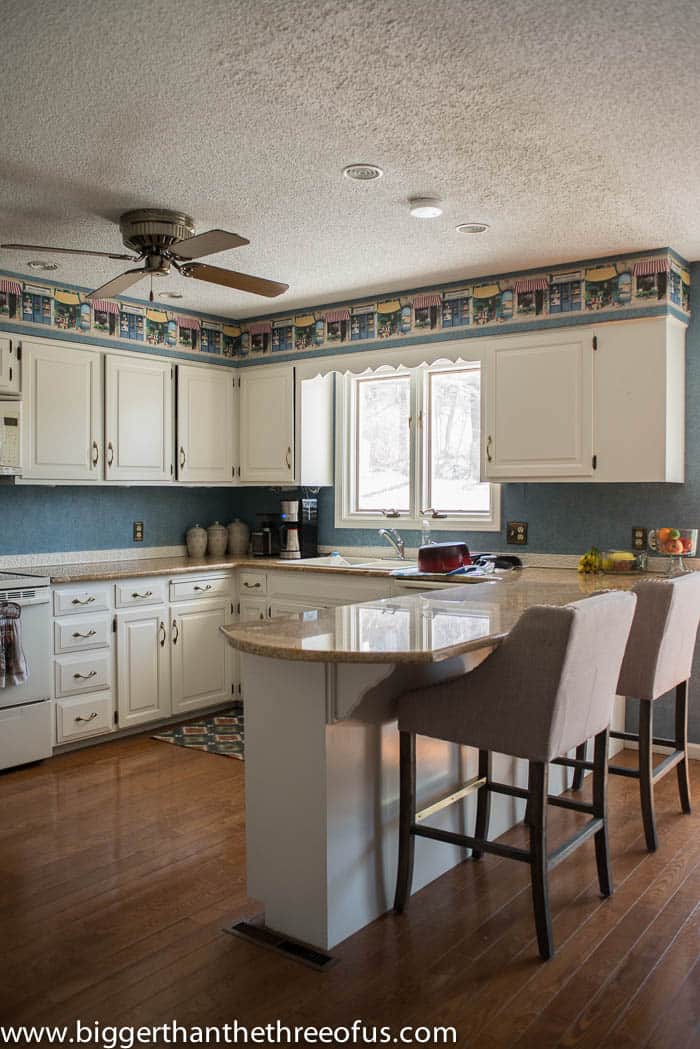 After Photo of the Enlarged Window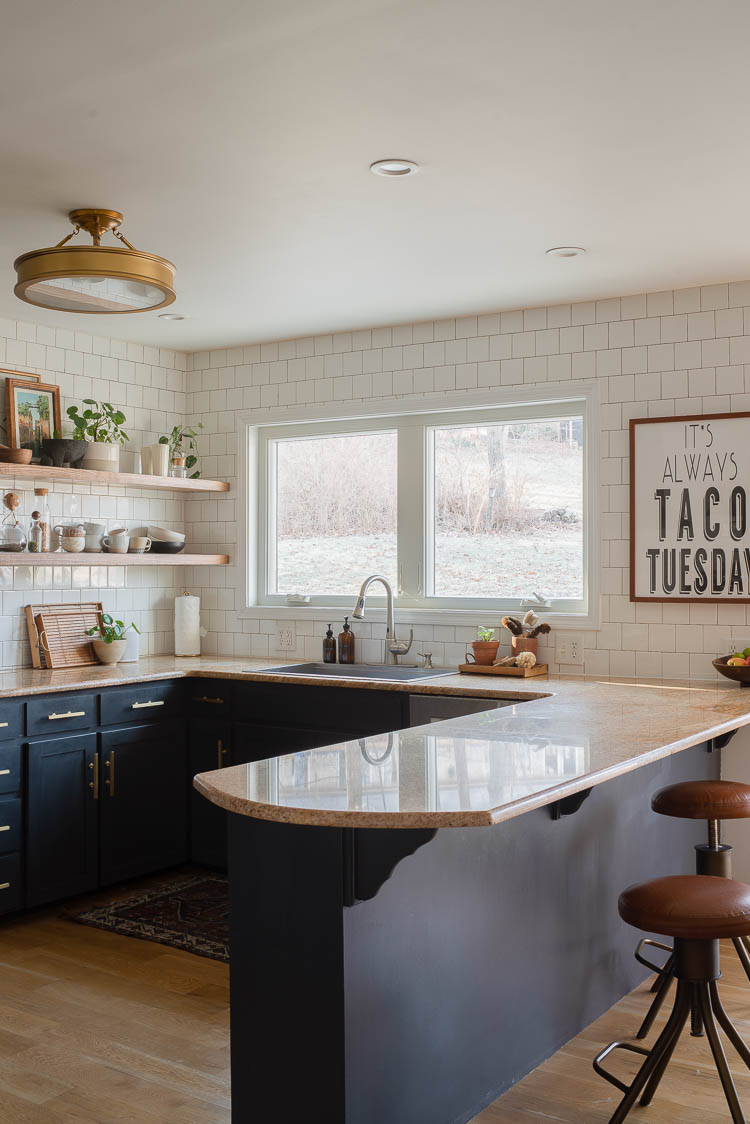 I still pinch myself that our kitchen (see kitchen reveal for all sources) has come so far and, although it's not my dream kitchen, I appreciate and love it so much.
After we started demo-ing the kitchen, I had the idea to replace the window. To help visualize what it would look like to enlarge the window, I used metallic tape and taped a window size that I liked on the wall. The window replacement size is shown below with the original windows still in.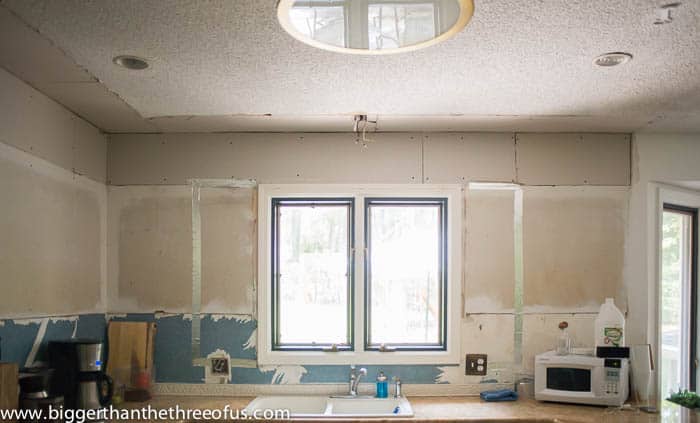 The original windows always bugged me because they weren't centered on the kitchen sink. Once we determined that we were going to replace the window in the existing wall, we knew that we wanted to have it centered at the same time.
Enlarging a Window Opening
The original window size was 38" x 36″ and the new window is 70" x 36″.
We specifically wanted a window that would match with the existing windows in our house. I really liked the idea of a French casement. I thought that with French casement, we would be able to hand BBQ stuff in or out the windows and also possibly add a bar on the outside of the window on the patio. So, we ordered a French casement window for the kitchen.
I will say that now that we've had the new window installed for 4+ years, the idea of the window being a pass-through and it actually acting as a pass-through don't really match up. The counter and sink are in front of the window, so to reach through the window to hand something out to someone outside, it's a bit of a reach and not very useful. That being said, I do think the French casement is pretty and I like how easy they are to open to let the breeze in, but I don't think I'd pay more for them knowing what I know now.
The process for widening the window is more intense than the process for just replacing windows in a brick house. We knew that going in but weren't as prepared for it as we should have been.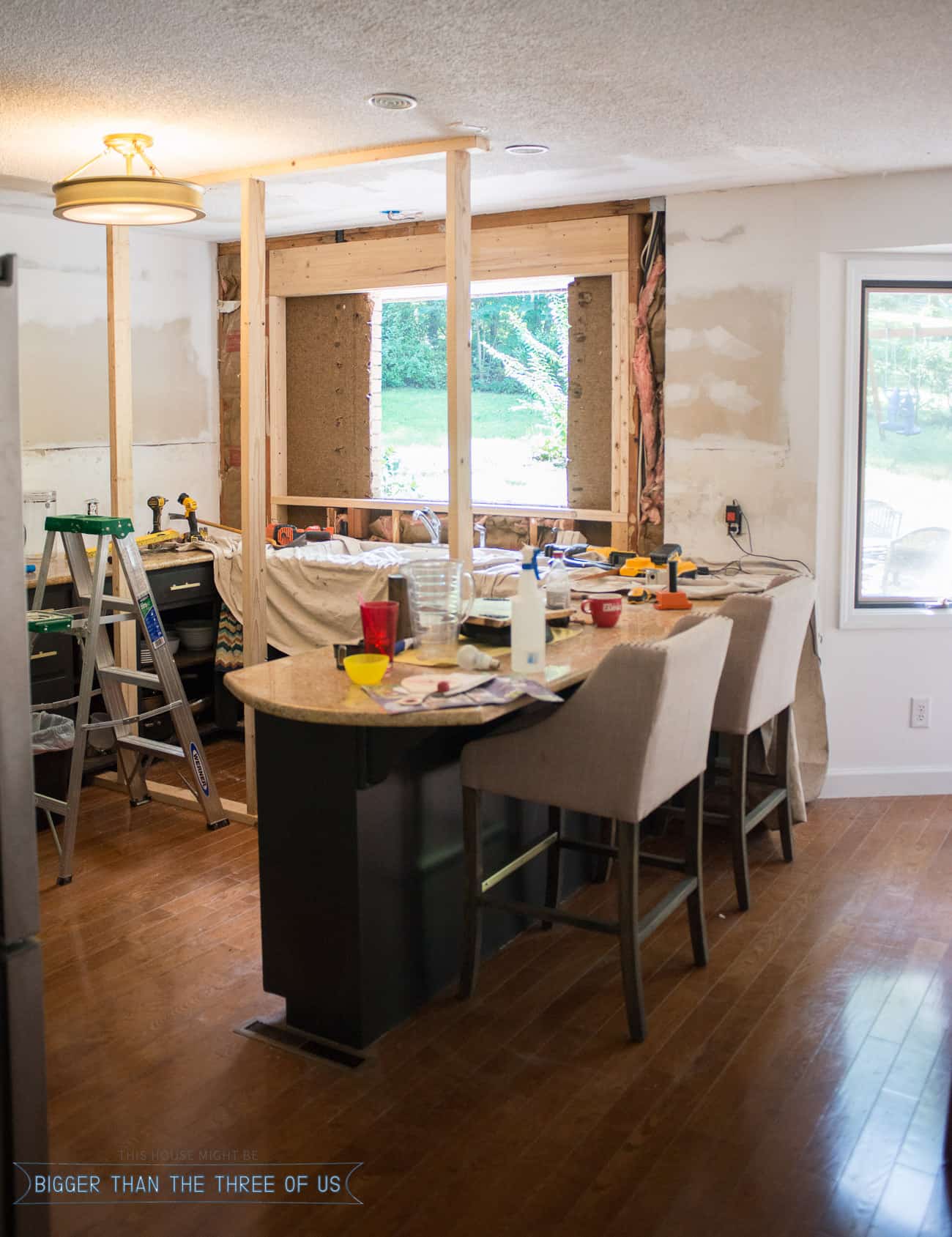 Process for Enlarging a Window in a Brick House
Take out existing window
Take out drywall around window on the inside
Put up a support beam on the inside (shown above)
Have plumbing rerouted
Have electrical lines moved
Put header in
Add 2×4 framing
Tack up plywood on the inside to protect kitchen
Start working on taking out bricks to enlarge the window opening
Put new window in
Cut and place brick to fit around new window
Mortar brick
Weatherproof window
Add drywall inside around window
Seam, mud and finish drywall
This process was similar to the same process for enlarging the basement windows to put in two egress windows. If you've been thinking about having larger basement windows installed, I'd definitely recommend that project as well.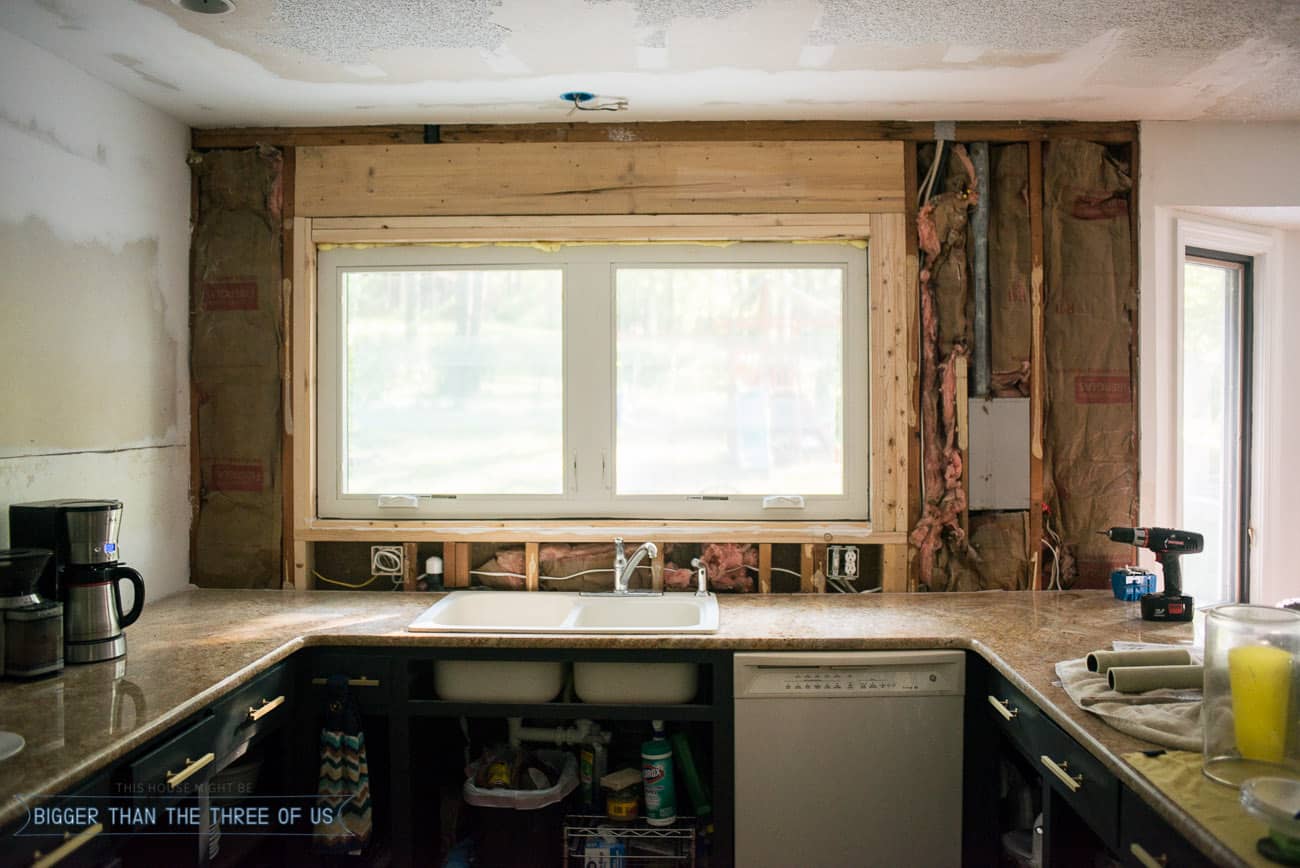 Back to the kitchen window! There were around three guys here doing the job each day and it took almost four days. A big majority of the time was spent taking the existing brick out carefully. Apparently, our brick length and color can't be sourced, so each brick had to be chiseled out carefully so that it could be reused. Since we were enlarging the window, we didn't need all the bricks but some broke as they were trying to dislodge them. Our exterior windows have a soldier style casement brick detail too, which uses a bit more bricks than just a normal brick pattern.
As we were watching them take the brick out, they exposed so much of the exterior wall, that I asked how hard it would be to add some outdoor sconces. Now, I know that it's super easy to add electrical outlets and sconces when you have exposed walls but I didn't back then. I'm happy to say that they told me that it was an easy job to do so I ran up to Lowe's and grabbed these modern patio lights. For under $15, they really can't be beat when you need a small modern patio sconce.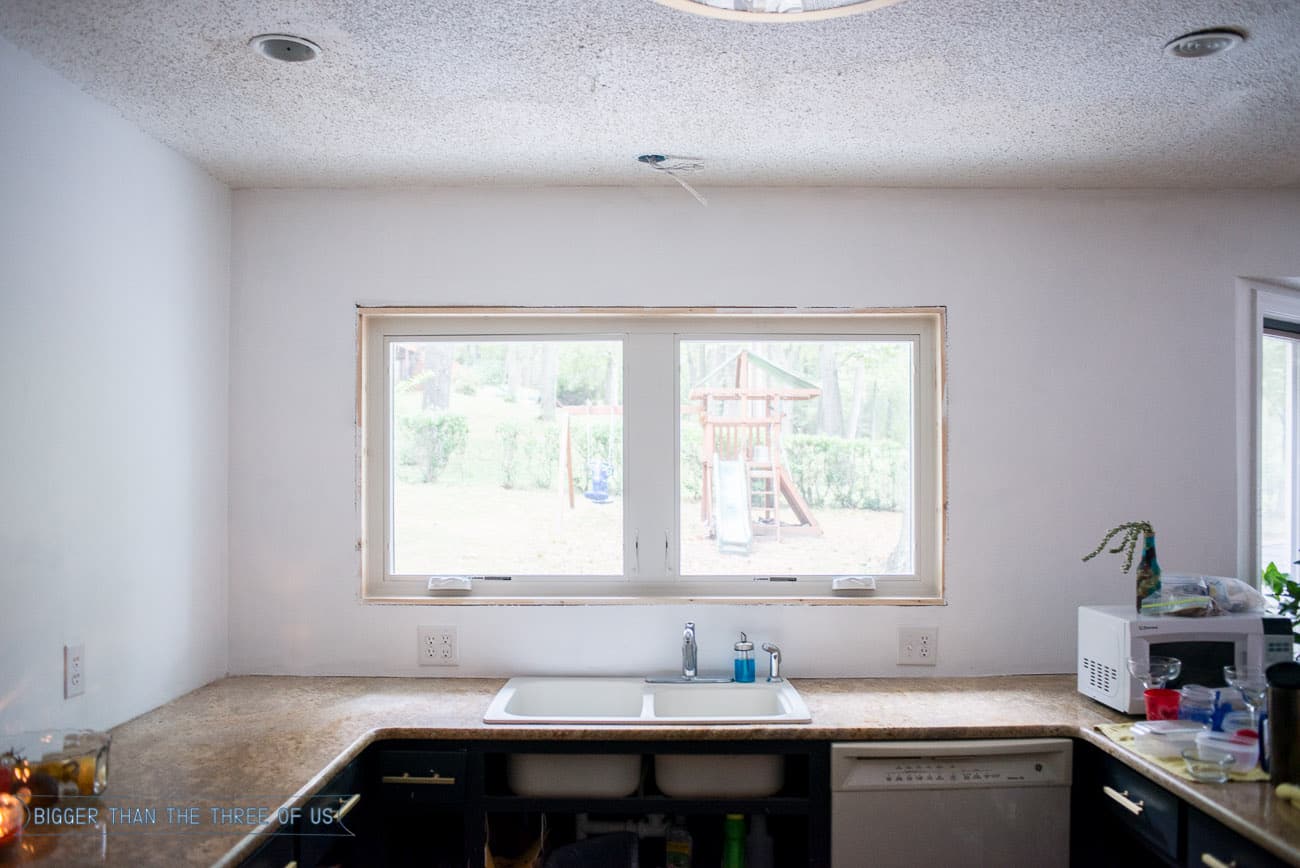 Cost to Install a Window in an Existing Wall
We ordered a fiberglass window in the french casement style and it was just over $875. The labor was right around $1400. Our total for this project came to $2275.
The price did not include finishing the trim work on the inside of the window because that's something that we felt comfortable doing ourselves and saving a bit of money on.
If you are considering enlarging windows in your house, go for it! It was a big investment for us and one that we just weren't sure about at the time. Honestly though, it's the focal point of our kitchen and the reason our small kitchen feels light, bright and big. Honestly, this is one of our best renovation decisions to date.
Like I mentioned earlier, since this project, we've enlarged our basement windows as well. We knew that the window enlargement made our kitchen feel so much bigger and more inviting and we wanted that same feeling in the basement. We are just as happy with our larger basement windows, too!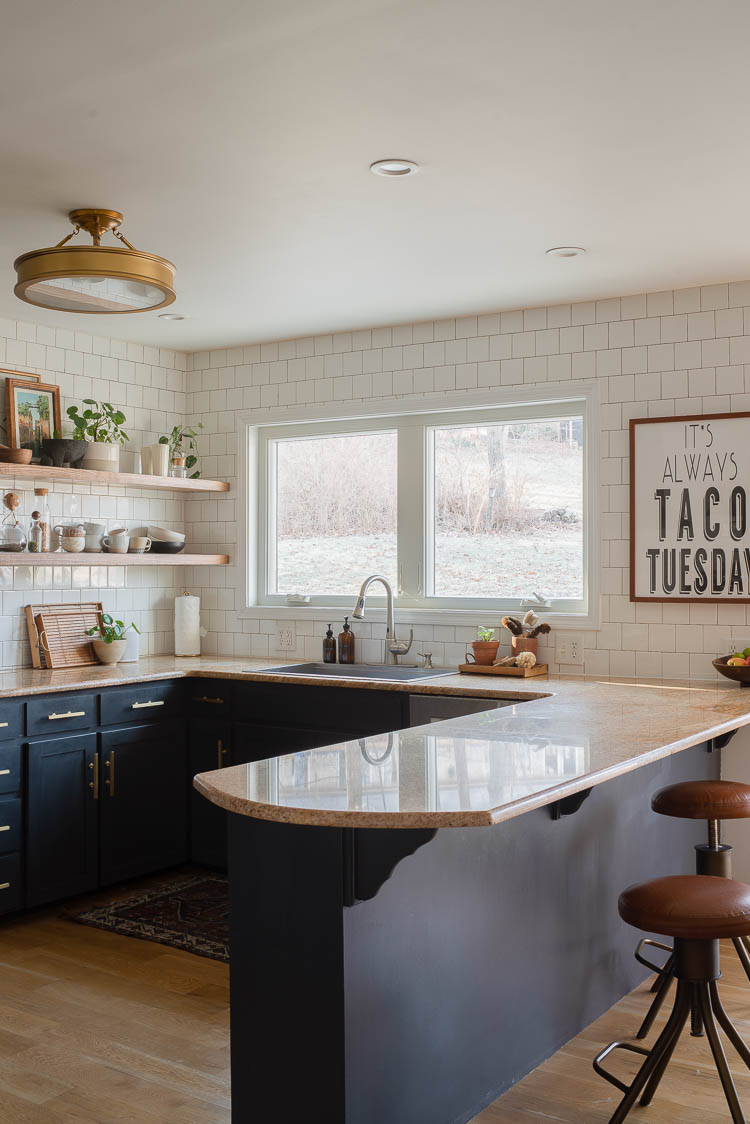 If you want to see more kitchen details, check out the full kitchen reveal for all the details on the rest of the space.
If you want price breakdowns of other projects we've done, then check out some of these:
PIN FOR LATER: Cost for Widening a Window