Sharing what our gutter replacement cost was, including the decision to have gutter guards installed.
I've gotten such great feedback from the posts that I've shared about what things cost and why we choose to replace/repair the things that we do when renovating. I think when you are trying to get a long-term plan for your house upgrades, it's so nice to have an idea of what something can cost instead of having to actually call around and get bids for your projects.
Today's post on gutter installation cost and our experience is a post to help provide details so that you know how to plan for your exterior update.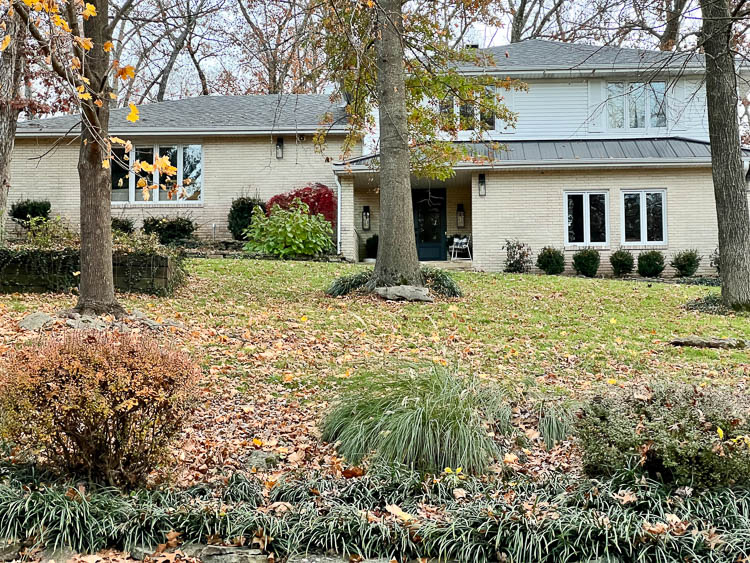 Before we jump into the gutter cost and what we picked, let's chat just a bit about considerations.
Gutter Replacement: Signs You Need to Replace Your Gutters
Gutters play a vital role in protecting your home from water damage by directing rainwater away from the foundation and roof. Over time, gutters can become damaged or clogged, leading to issues such as leaks, water damage, and even mold growth.
If you notice that your gutters are sagging, rusted, or have visible cracks, it may be time for a replacement. Ignoring these issues can lead to costly repairs down the line, making it important to address them as soon as possible. A professional gutter replacement can ensure that your home is properly protected from water damage and can improve the overall appearance and value of your property.
When it comes to gutter replacement, homeowners have a variety of options to choose from, including materials such as aluminum, copper, and vinyl. Each material has its own advantages and disadvantages, and it is important to choose the right one for your specific needs and budget. With proper installation and maintenance, a new gutter system can provide years of protection and peace of mind for homeowners.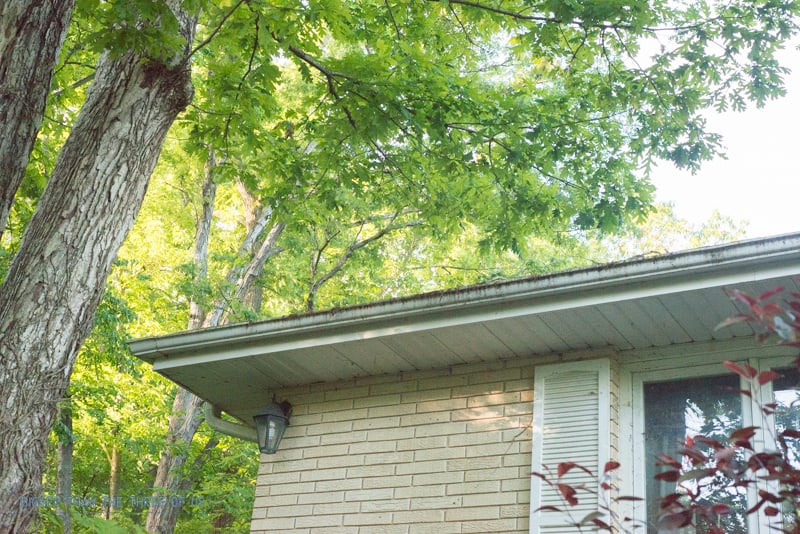 Replacing Gutters: Is it time to invest in this project?
If you have signs of gutter damage which include water issues, then I'd say, yes.
Signs of Gutter Damage
Over time, gutters can become damaged or clogged, which can lead to water damage and other issues. It's important to keep an eye out for signs of gutter damage and address them promptly to avoid costly repairs.
Some common signs of gutter damage include:
Sagging or pulling away from the roofline
Cracks or holes in the gutter
Rust or corrosion
Peeling paint or water stains on the walls
Water pooling around the foundation
If you notice any of these signs, it's important to have your gutters inspected by a professional. They can help you determine if your gutters need to be repaired or replaced and provide you with an estimate for the work.
Before we decided to replace our gutters, we did choose to have our gutters inspected and some repairs done. This helped us plan and budget to have the gutters replaced but, eventually, we decided that the cost of new gutters was worth it to us.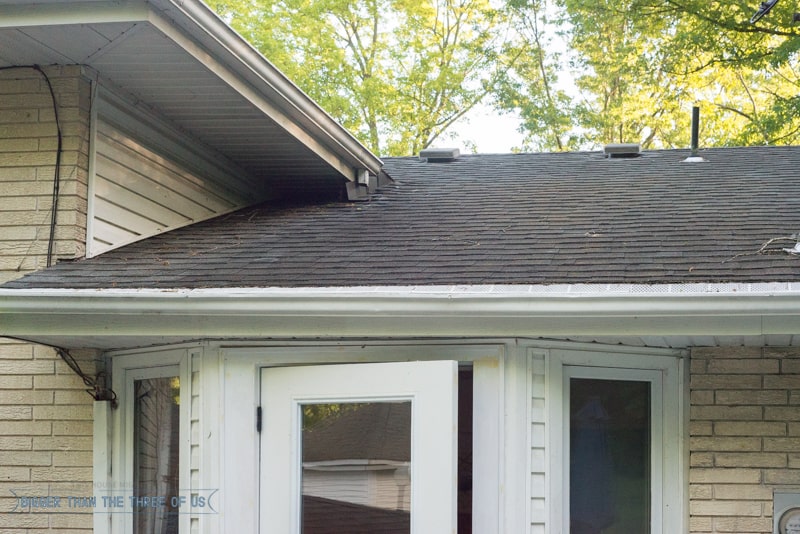 Choosing what gutters to buy
There are a few different types of gutters and also different sizes of gutters to consider.
Types of Gutters
Aluminum Gutters
Aluminum gutters are the most popular type of gutters on the market today. They are lightweight, durable, and easy to install. They come in a wide range of colors and can be painted to match the color of your home. Aluminum gutters are also resistant to rust and corrosion, making them an ideal choice for areas with high humidity or frequent rainfall.
We chose to have aluminum gutters installed, but I do really love the look of copper gutters on darker homes!
Vinyl Gutters
Vinyl gutters are another popular type of gutter. They are lightweight and easy to install, making them a great option for DIY projects. They are also resistant to rust and corrosion, making them ideal for areas with high humidity or frequent rainfall. However, they are not as durable as aluminum gutters and may crack or break over time. They are typically less expensive than aluminum gutters.
Steel Gutters
Steel gutters are a durable and long-lasting option for homeowners. They are resistant to rust and corrosion, making them ideal for areas with high humidity or frequent rainfall. However, they are heavier than aluminum or vinyl gutters and require professional installation. They also tend to be more expensive than other types of gutters.
Copper Gutters
Copper gutters are a high-end option for homeowners who want a unique and stylish look for their home. They are durable and long-lasting, with a lifespan of up to 100 years. Copper gutters are also resistant to rust and corrosion and develop a beautiful patina over time. However, they are the most expensive type of gutter and require professional installation.
Overall, the type of gutter you choose will depend on your budget, the climate in your area, and the look you want for your home. Aluminum and vinyl gutters are great options for those on a budget, while steel and copper gutters are ideal for those who want a more durable and long-lasting option.
Gutter Replacement Process
Inspection
The first step in the gutter replacement process is to inspect the current gutters. This involves checking for any damage or signs of wear and tear, such as cracks, holes, or rust. The inspection will also assess the overall condition of the gutters to determine if replacement is necessary.
We knew we had problems with our gutters because of how they sagged visually but also, we were having water problems as well. During our inspection, we chatted about upgrading our gutters in size to accommodate a larger amount of water (climate change is changing the landscape where we live!).
Removal of Old Gutters
Once the inspection is complete and it has been determined that replacement is necessary, the old gutters will need to be removed. This involves carefully taking down the existing gutter system and disposing of it properly.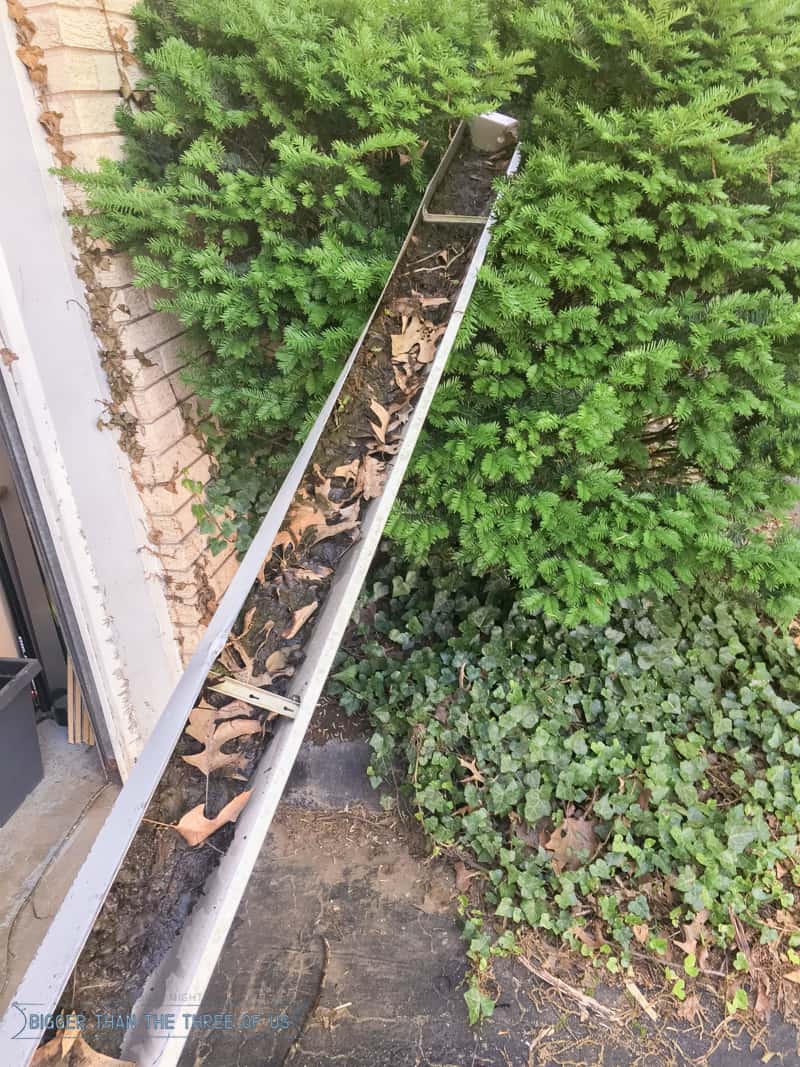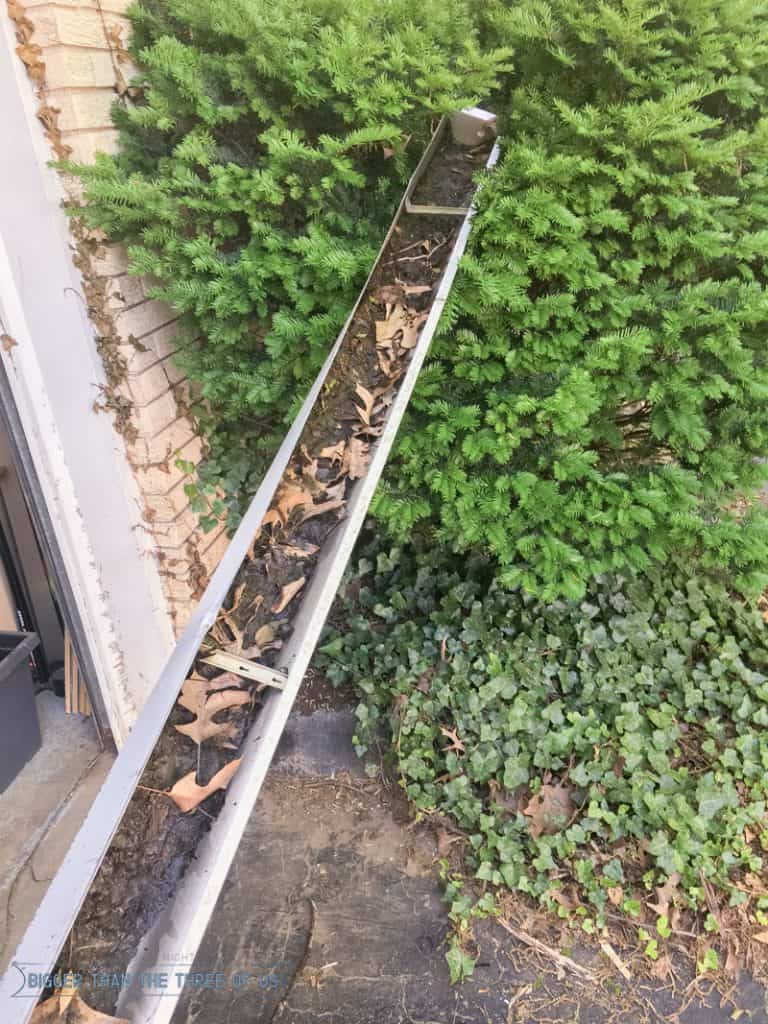 Installation of New Gutters
After the old gutters have been removed, the installation of the new gutters can begin. This involves measuring and cutting the new gutters to fit the specific dimensions of the home. The new gutters will then be secured to the fascia board using brackets and screws. Finally, downspouts will be installed to ensure proper drainage away from the home.
Overall, the gutter replacement process can be completed in a timely and efficient manner by a professional contractor. It is important to regularly inspect gutters and replace them when necessary to prevent damage to the home's foundation and structure.
Our Gutter Cost Replacement + Decision
Our gutter concerns were because of two main things.
1. We had water pouring over the seams (or where the corners met up) constantly when it rained. The water wouldn't flow down the downspout fast enough; or in some places, there didn't seem to be a downspout in a good location. This wasn't just a problem with the gutters being clogged, but more of a problem with them being bent and angled down from their age.
2. The second reason we knew that we were having problems was because we were having two spots on the inside that were having water seepage. This is never a good thing and over time this can cause lots of issues.
In our research, we knew we were considering the two main gutter material options, either vinyl or aluminum. Installation for vinyl usually runs around $3-8 per linear foot and aluminum usually runs $5-10 per linear foot. See more detailed estimates at fixr.com.
The cost of new gutters will also vary depending on what size gutters you install. When your house is built, the contractor chooses the size based on the pitch/size of the roof. So, usually, the size that you have on your roof is the correct size. We had 5" originally. We could have gone with 6" as an upgrade but the 5" was appropriate and what we stayed with.
Gutter guards are an additional price but one that I'd definitely recommend for homes with lots of trees around them. Gutter guards can be seamless ($$$$$$) or metal/plastic covers that are drilled onto the gutters.
Gutter Installation Cost Quote (for me!)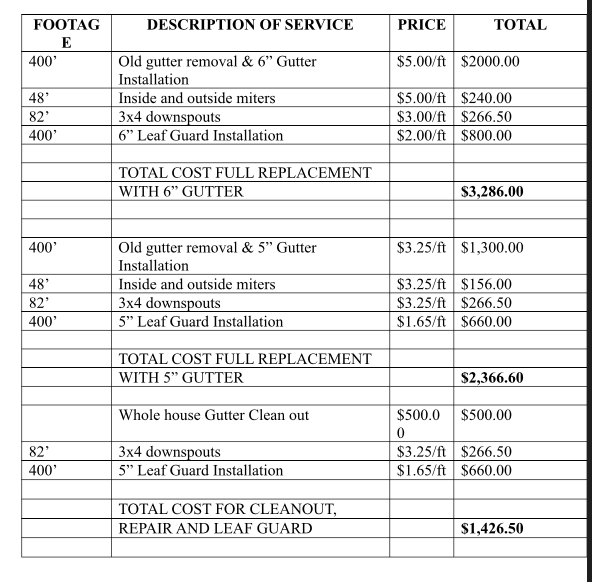 For reference on sizing, our house is a split-level, 3800 sq foot located in the Midwest. I've found that pricing definitely fluctuates depending on where you are located in the US.
As you can see on the bid, we got quotes for the cost of replacing gutters and downspouts. We asked to use the downspouts that we had on the house (if they were in good condition) to help save money.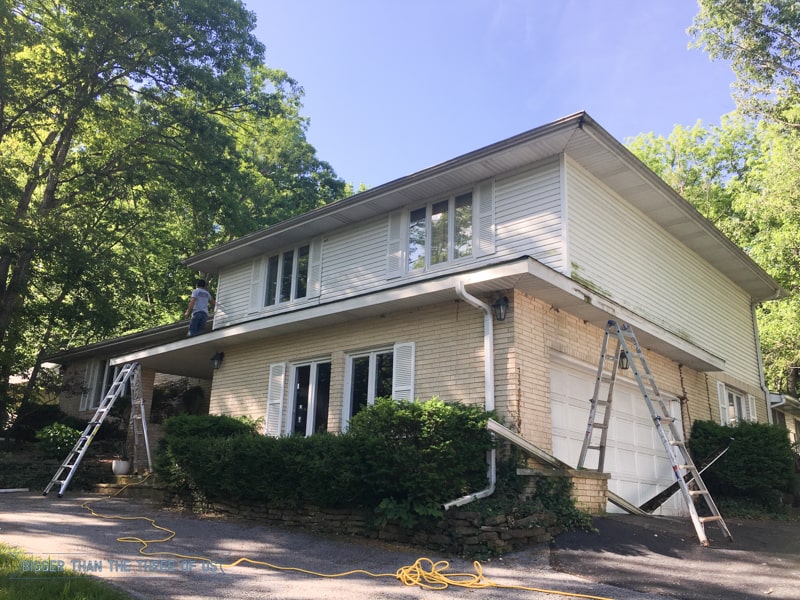 We opted for aluminum gutters with regular metal gutter guards drilled onto them. We also opted to keep any of the downspouts that were in good condition. This helps with cost!
There can be variables with gutter installation. Like, we learned that our upper roof needed all new flashing before the gutters could be installed. The installers went to install the gutters and realized that they needed to replace it too. So, as always with home improvements (DIY or paid-out) be prepared for unexpected costs. I'm not saying that to scare you or anything because, in this case, it wasn't too expensive. Our gutter replacement cost went up by $200 (which was what the flashing and labor cost).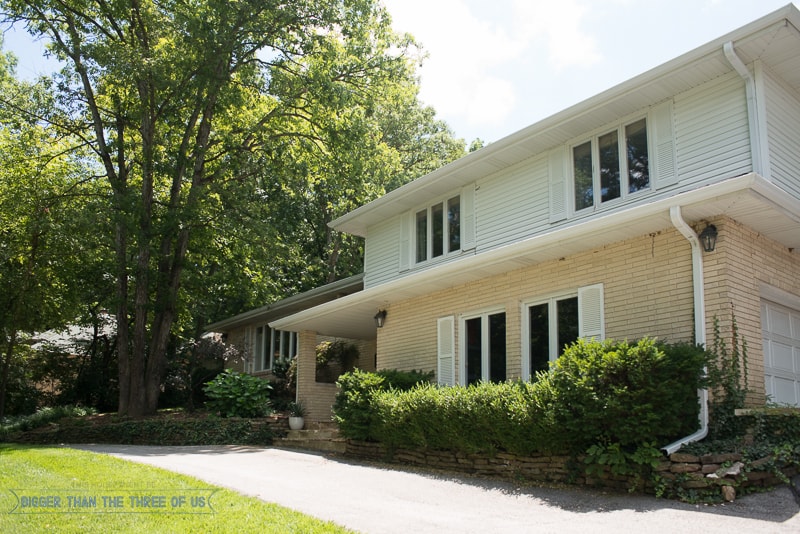 *Sidenote, a lot of companies around here will do added projects or have other services that they offer. This company also does power washing. So, we killed two birds with one stone and had them power wash the siding on the front and side of the house (the high areas). This ran us $200 and was well worth it. Just something to consider when you are doing projects!
Total gutter replacement cost for us was just over $2700.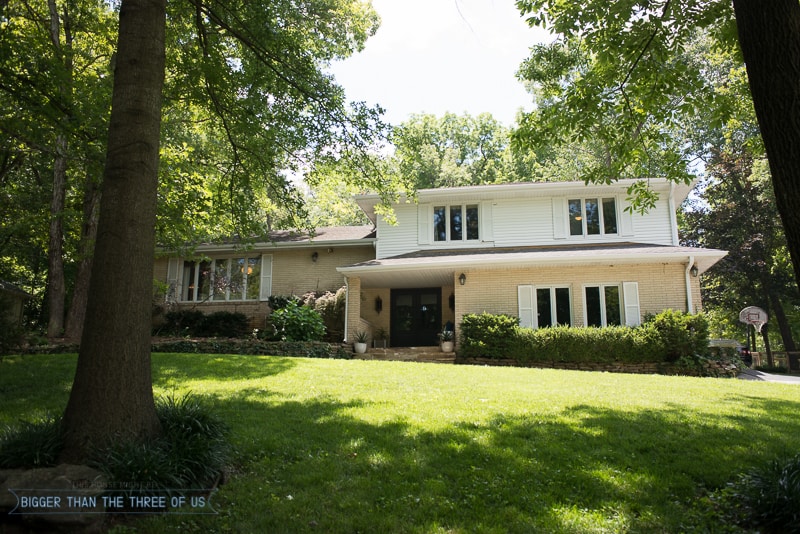 I hope this gutter replacement cost summary was helpful! I've tried to share our construction quotes on as much as we can, because its something I want to see when I'm looking to do projects and I think it's needed.
Although, gutter installation isn't a "fun" project to spend money on, it does provide peace of mind and also will up the curb appeal at your home.
Gutter Replacement Cost Breakdown (Pin for later!):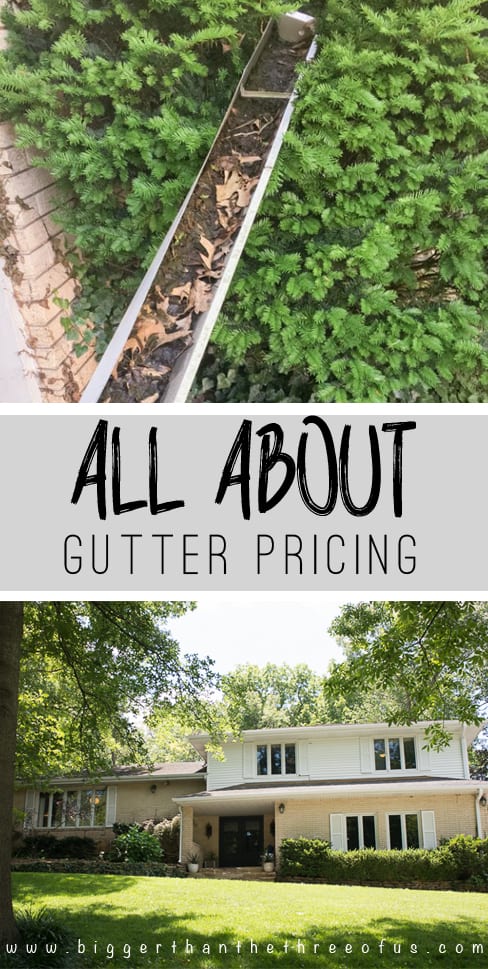 Other Gutter Options to Consider
Considering black gutters or installing gutter guards on preexisting gutters? Check these out!
Learn How to Install Gutter Guards with snap-in gutter guards. Plus, get the cost of leaf guards installed by a professional with metal mesh guards.
Beautiful examples of homes with black gutters.