Gutter Guard Installation for DIYers, including gutter guard cost, how to install and our gutter guard review. Basically, anything you'd want to know about whether or not you should install gutter guards at your house.
At our first house, we had two baby trees; and that was it. The house was new when we bought it and both trees had just been planted. They both needed rope to keep them from blowing over on a windy day, so you can say that leaf control wasn't an issue. We owned a rake but I can't remember ever using it. How's that for a newbie?
Our current house though sits on just under an acre, with 15+ trees. They are truly beautiful and provide such visual interest to our yard. When we first moved in, we had no idea what we were in for with all the leaf maintenance. Let's just say that the learning curve has been pretty steep.
We live just outside of city limits, so we can burn leaves in our area. When we first moved in, we tried to use a leaf blower to move the leaves from one part of the yard to the ditch. Another rookie move. Ha. When you have A LOT of tree's, a leaf blower is great but it needs help. We saw our neighbors doing something interesting with painters tarps. They would use the leaf blower to blow the leaves close to the painter's tarp and then use a rake to rake HUGE piles of leaves onto the tarp. From there, they would pull the tarp down to their leaf burning staging pile. It was efficient-looking, at least way more efficient than what we were doing.
After a few years, we finally invested in a zero turn with a bagger/mulcher to handle the grade (it's really steep in the front) as well as the leaves. It was a big investment but that was huge in helping with how long we had to spend on leaf clean-up every week in the fall.
I know you are here for a how-to on gutter guard installation but I thought you might want some insight into how to manage your leaves, too. =)
Gutter Guard Installation
Supplies needed for Gutter Guard Installation
So, first things first…
Can you install gutter guards on existing gutters?
Yes! Our gutters are old and bent out of shape and, even with those issues, installing the gutter guards was EASY!
Are gutter guards worth it?
Yes! We installed these back in 2015 and they worked great for us! We had been having water drainage issues, due to leaf build-up and the gutter guards solved those issues.
Let's get to the tutorial!
How to Install Gutter Guards
Use a leaf blower to blow out as much of the leaves, twigs and acorns as you can. Don't be surprised when not all of it comes out with the leaf blower.
Next, go to manual cleaning. Use a gutter scoop or work gloves and scoop out the rest of the debris in the gutter.
Grab your gutter guards. Lift the shingles of the roof slightly with one hand and with the other hand, slip the guard underneath the shingles.
Tap down into place.
Keep going around the gutter adding the guards right next to each other.
When you reach a corner, use the snips to cut the leaf guard to the right length.
Keep going until you have finished.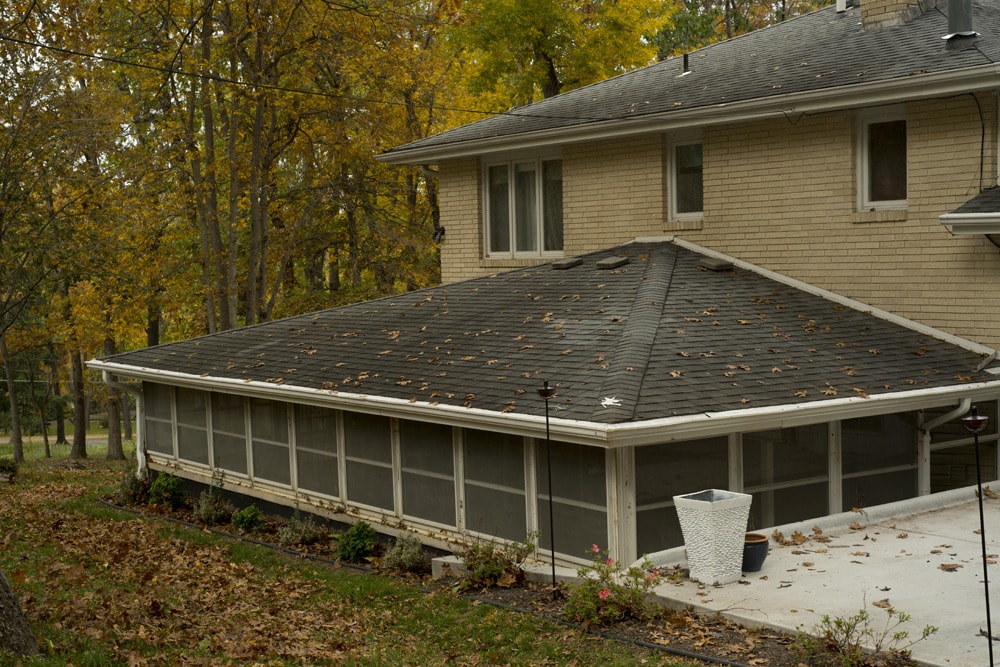 But anyways, after having both the
micro mesh gutter guards
as well as the snap in plastic gutter guards, I'd say they both work really well. The install on the snap in gutter guards are easy because you don't need power tools. But, if you prefer the mesh gutter guards, then go for those. It looked like they use metal screws and just screwed the mesh gutter guards in every two feet or so.
Like I said, we've been happy with both sets. Do what sounds the best for you.
Pin for Later: How to Install Gutter Guards