Get formal dining room ideas like chairs with cushions, dining room built-ins and more, as you see our room!
I put the last few touches on the blue dining room last week and I finally feel like there's absolutely nothing I would change in there. I kinda hate to say that because, as time passes, I'm sure I'll want to change something. But for now, I look around and my eye is drawn to the dining room wallpaper and the kitchen dining room combo and I just love it all.
The last few tweaks to the space have been the icing on the cake; small changes that made a tiny impact. Let's chat more about all of it and, hopefully, you'll take away some formal dining room ideas of your own!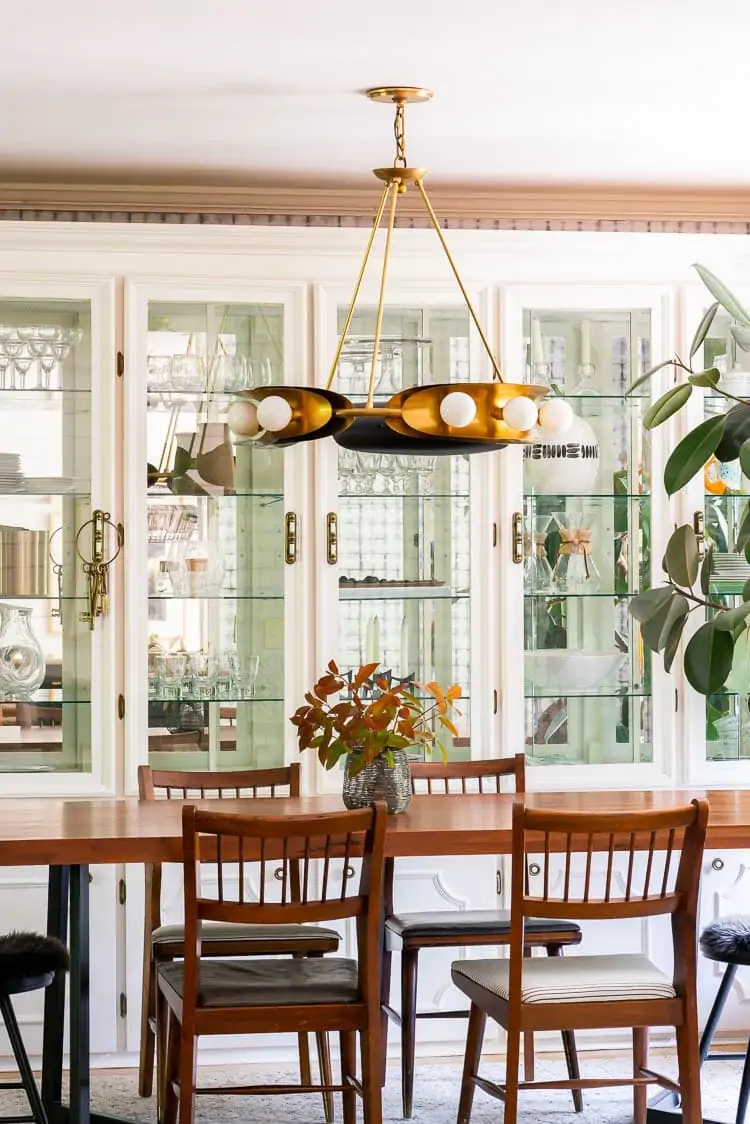 Formal Dining Room Ideas
I want to show you the original photo of the dining room after we moved in. The walls were a creamy, blush color and the trim and dining room built-ins were a dingy white.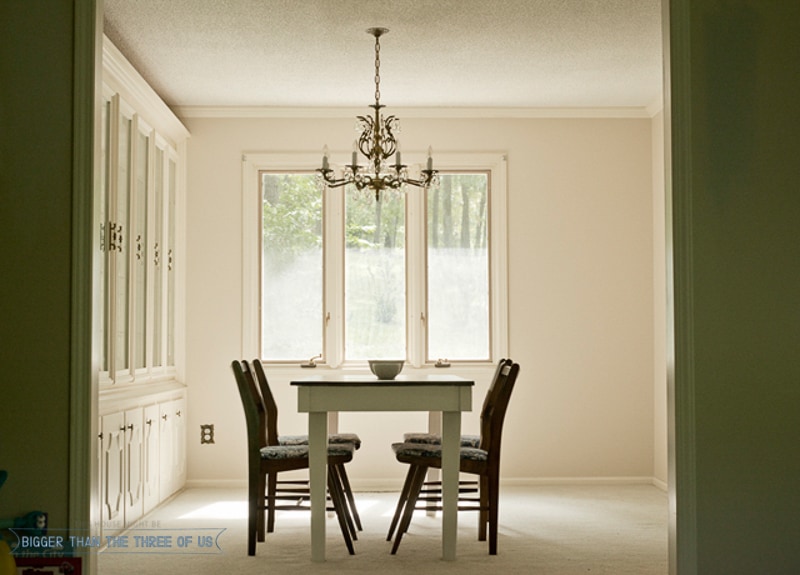 We quickly painted the dining room hutch and walls. My style was evolving and it was really my first time trying to figure out how to add color and pattern together cohesively. I created a blue dining room with pops of color and interest after a few tries.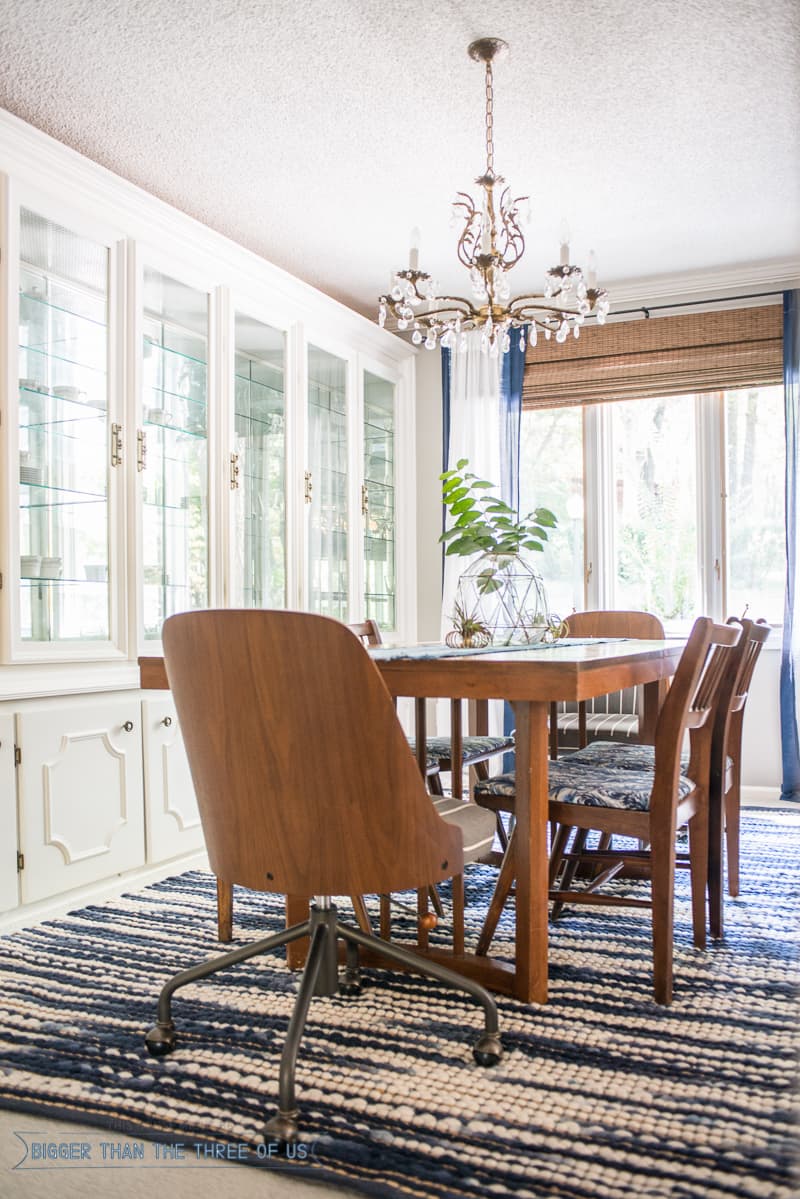 It was definitely pretty and felt cohesive in the space but there were a few things that annoyed me. The dining room rug size, for one, was way too big. I also felt like the dining room wall decor was lacking but I just didn't know what to do on the walls.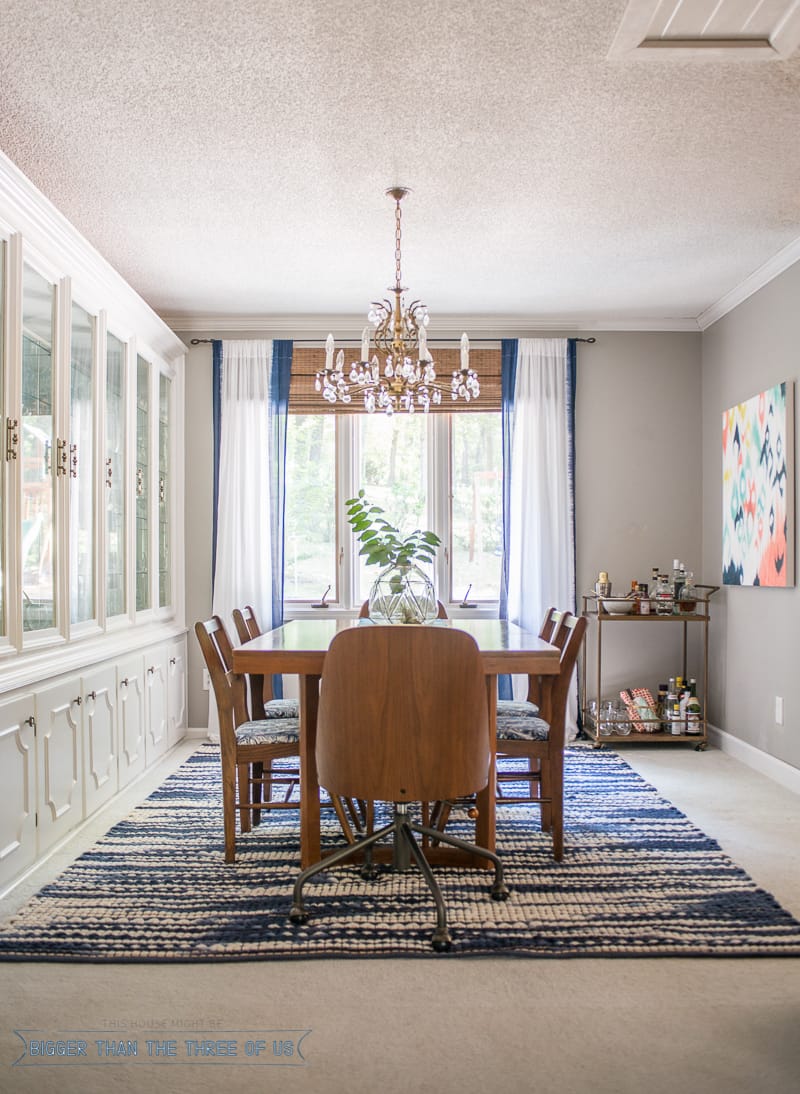 If there is one thing to learn from me, it's to enjoy the process of making your home you. Your style WILL change. As one change happens, it may or may not help a space and your home to feel cohesive. But, keep trying. Keep experimenting. After time, after effort and after projects... you could end up with a space that truly feels like an amazing representation of you.
Ok, let's get to the space as it is now and I'll share the tiny updates that pushed the space to what I feel is it's natural, completed look.
Dining room with rug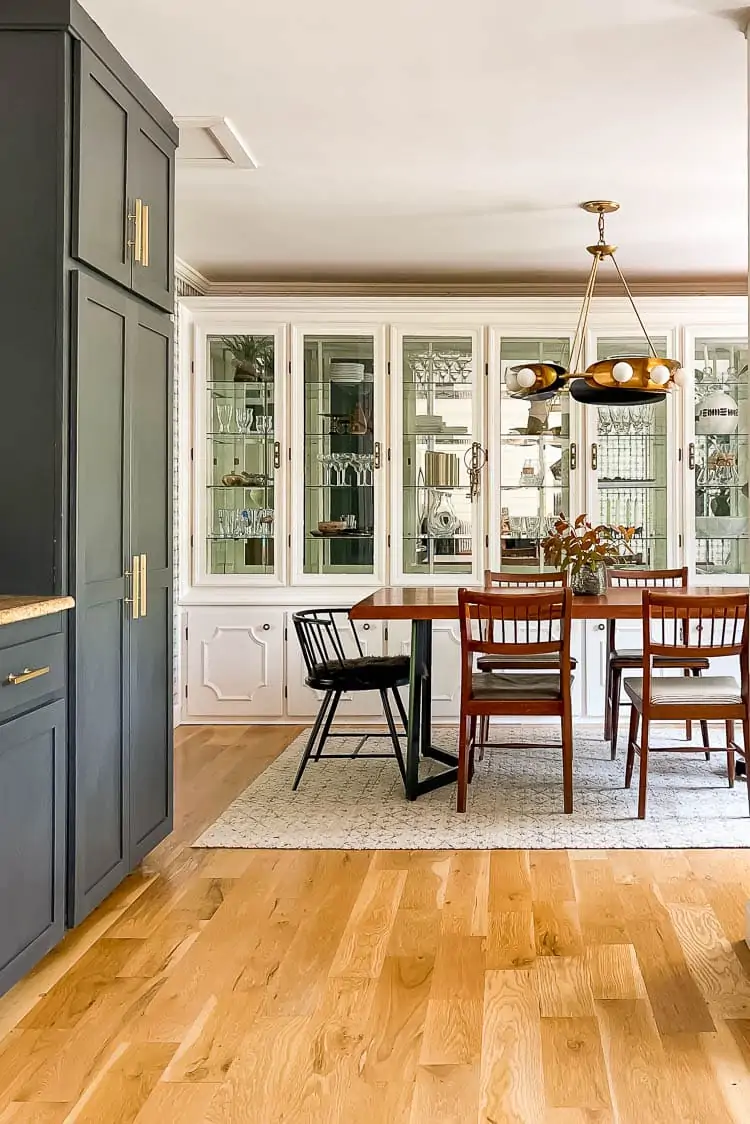 Let me quickly say that I did another update to this space where I talked about the size, light and more. It bridged the gap between the style of the blue dining room and today's look. If you want to read more in-depth about some of that, definitely check that post out too. The difference in today's post is the few tiny details that I wanted to point out. =)
Dining room wall decor
Some might say that wall decor is strictly art or unique objects hung on the wall. I'd definitely agree that that is part of my dining room wall decor. I mean, this view right here with my abstract figures and my library light over the art definitely makes me smile each time I see it.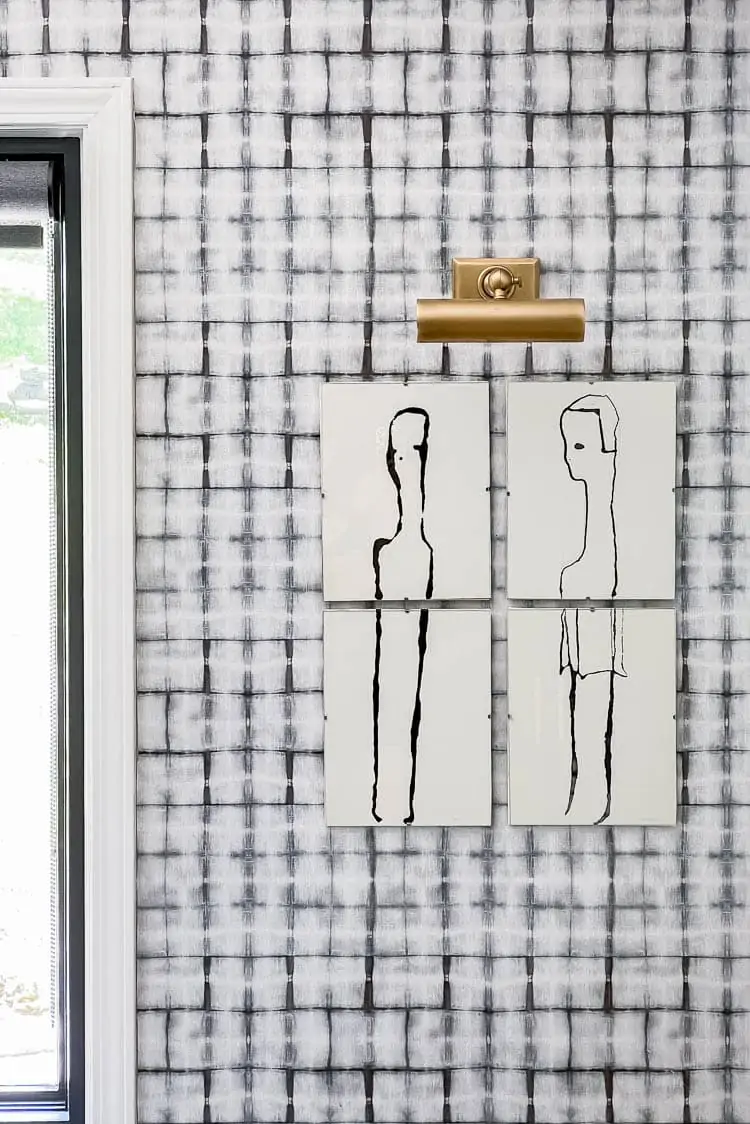 But, I'd also say that part of my wall decor is what your eye doesn't catch now. I'm speaking in riddles now, isn't that what you are thinking?
I'll get to the point... before, I had outlet covers (both for outlets and for light switches) that stuck out like a sore thumb. You might think this is silly, but hear me out. When you have a space that feels 95% done, it's the tiny, little things that your eye settles on. See below for what I mean.
I remembered that I had extra dining room wallpaper so I decided to wallpaper over my favorite paintable outlet cover. It was a little tricky to get the wallpaper to stay curved around the plate (we used paper clip clamps) but oh boy... it was worth it. Spot the plate below on the right wall.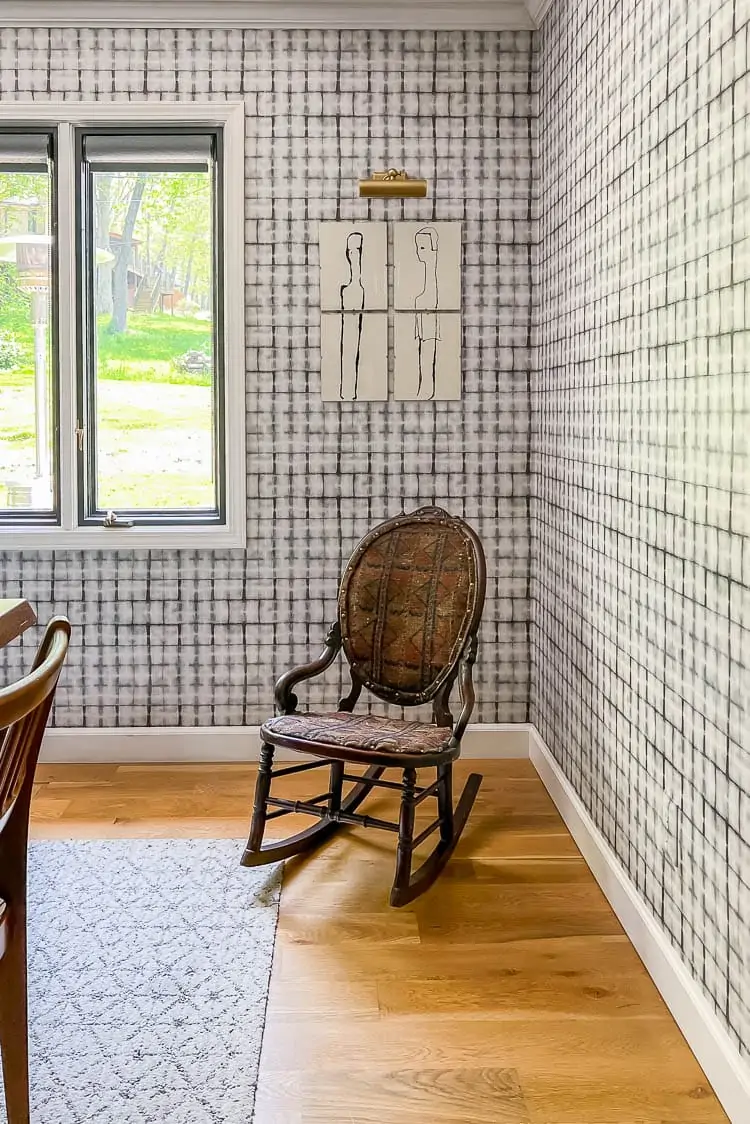 It just blends right in. THESE types of updates when you are close to finishing a space, the tiny details... these are what gets you from 95% done to 100% finished.
You might have also noticed that I recovered my grandma's sewing chair. I cut an old vintage rug that I had and I just love how it turned out. Makes me smile to see my late grandmother's chair in my space but freshened up with my spin on it.
Let me show you another of these details. Look at the white switch plate on the wall next to the dining room built ins.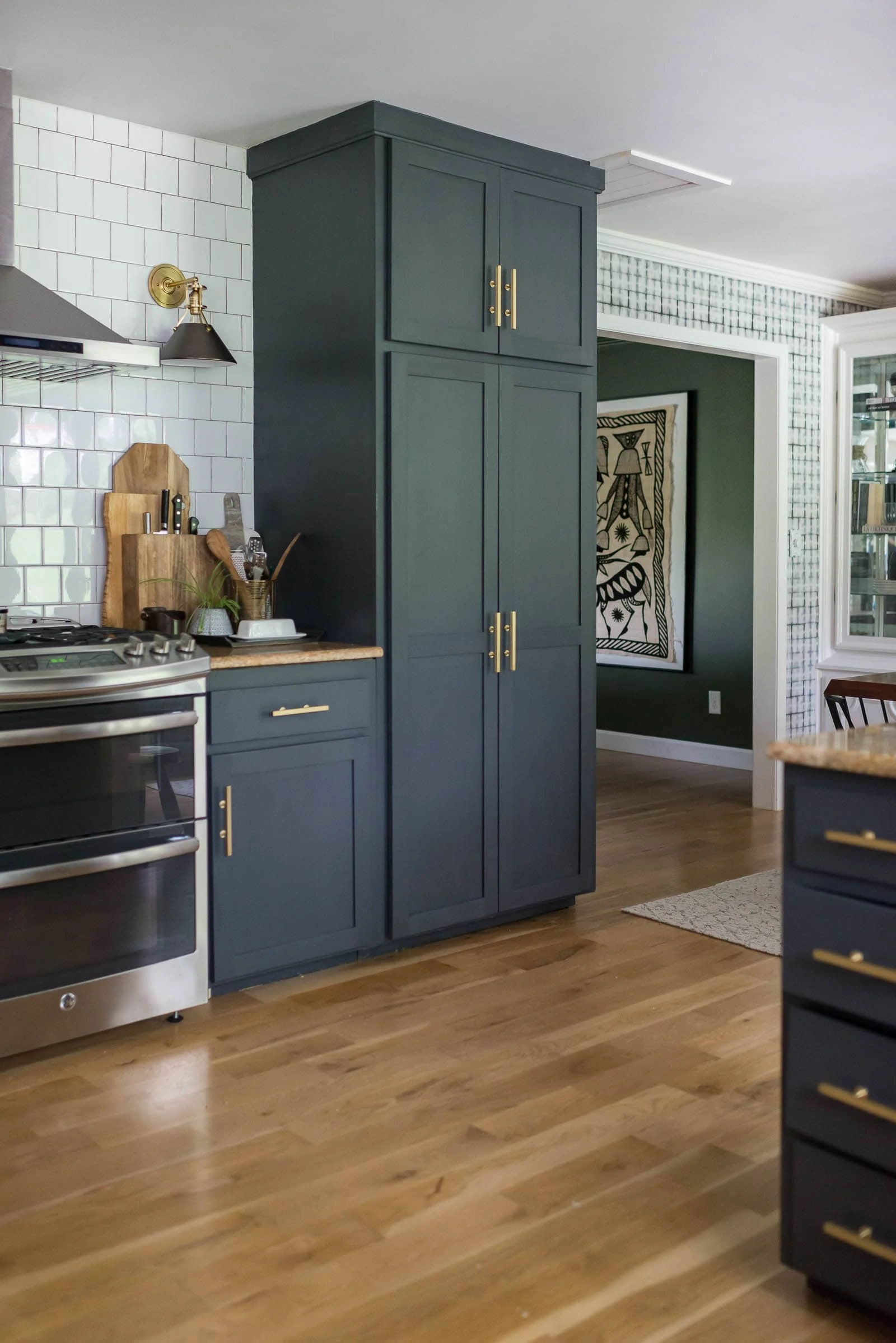 I thought adding a bit of brass to that wall would be a nice touch so I changed the switch plate to brass. I could have done a button switch instead of the plastic rotary but I didn't. No reason really, just decided to keep it as it was.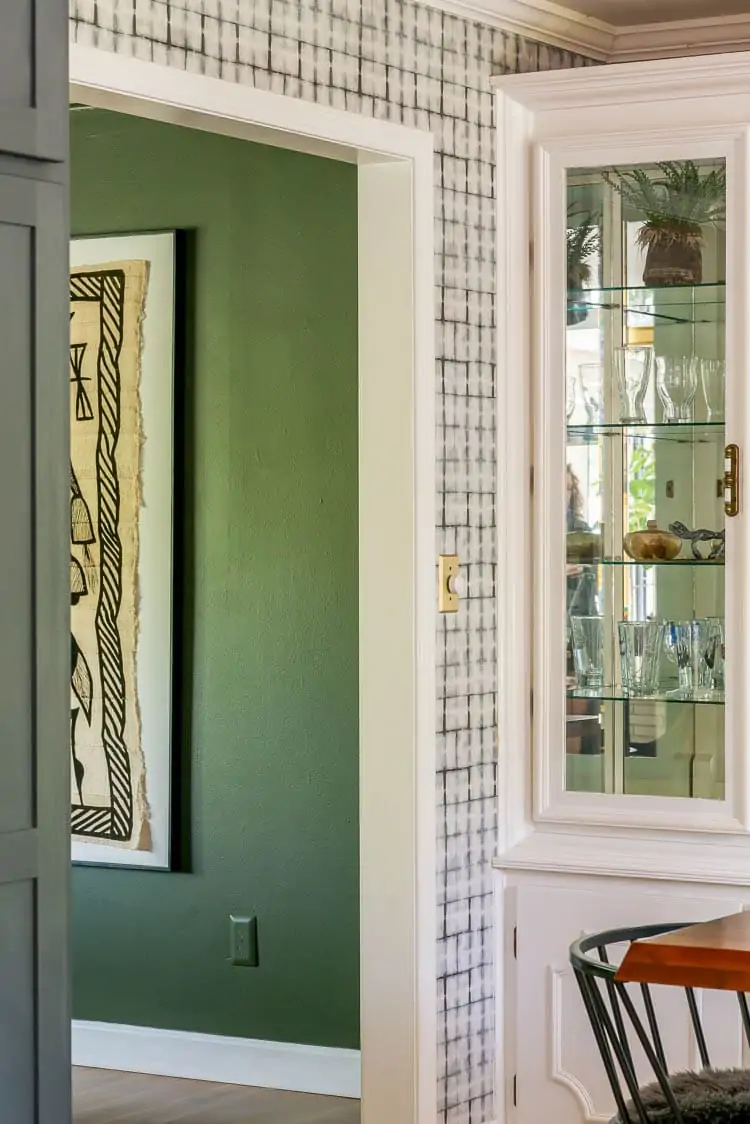 So, all of that is to say that this room has come together over time (or organically). I always love the end product so much better when it's not rushed and this room is a perfect example of that.
I had fun taking photos of the space, so let me share a bit more with more information.
Shibori Wallpaper
We installed the Shibori wallpaper ourselves. We found the project to be pretty easy. Read more about our wallpaper installation to see if it's a project that you'd like to tackle. The wallpaper is by Milton & King and it's the Earth Gray Brick Wallpaper.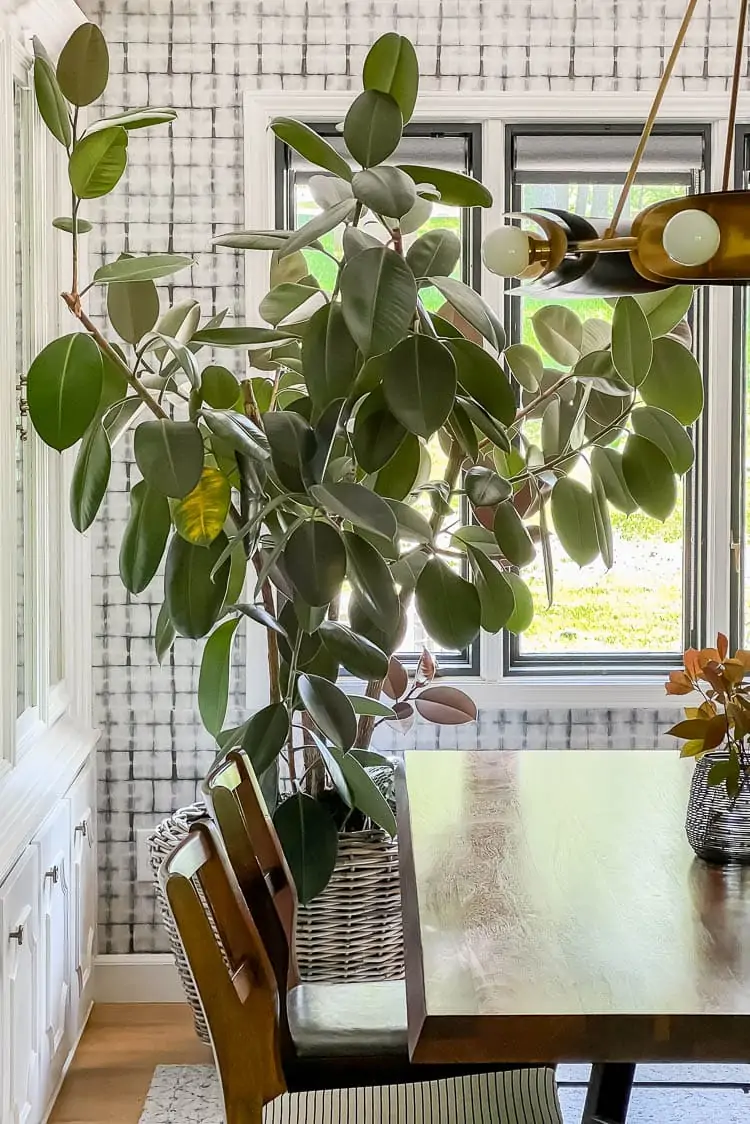 Dining room bar on glass dining room shelves
Look closely behind the large rubber tree and you'll see that we keep liquor on the glass shelves. We've never tried to hide the alcohol, but the bottles aren't the cutest so it works to have them hidden a bit behind the large, indoor tree.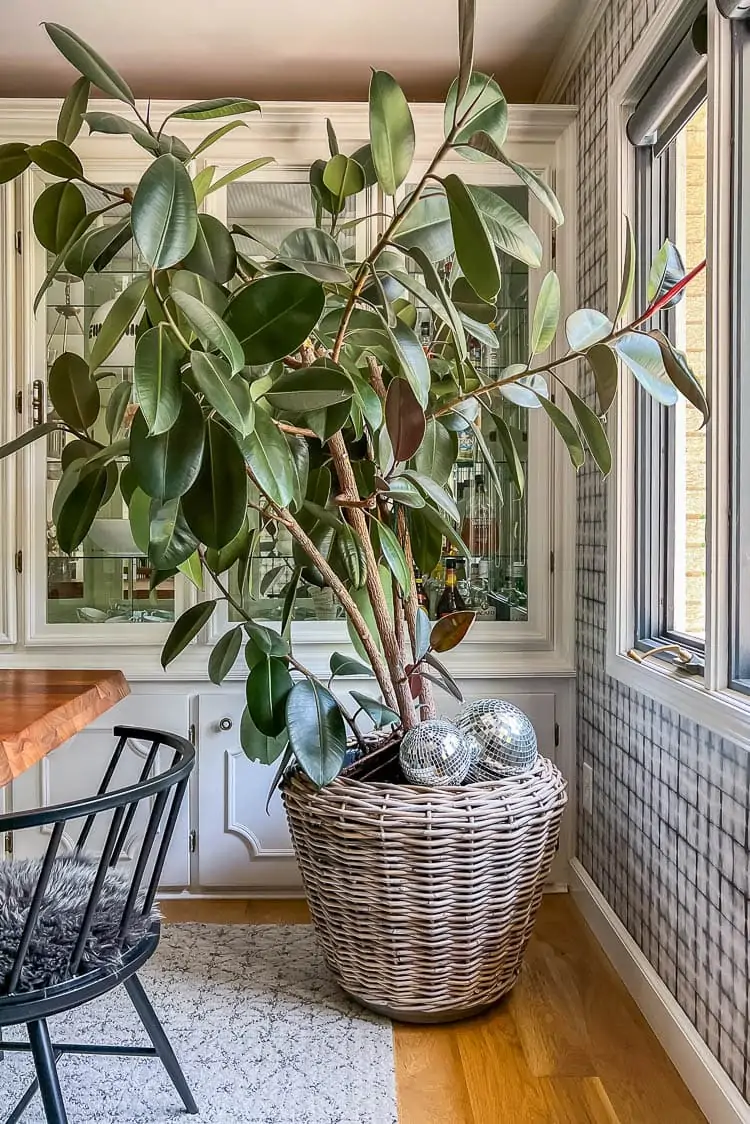 Chairs with cushions
The black dining room chairs were fine on their own but I love the sheepskin chair covers that I found while vacationing a few years ago in Colorado. Here's my exact sheepskin seat pad. If you ever have a chance to visit Hygge Life in Beaver Creek, Colorado... make the stop. It's a great store.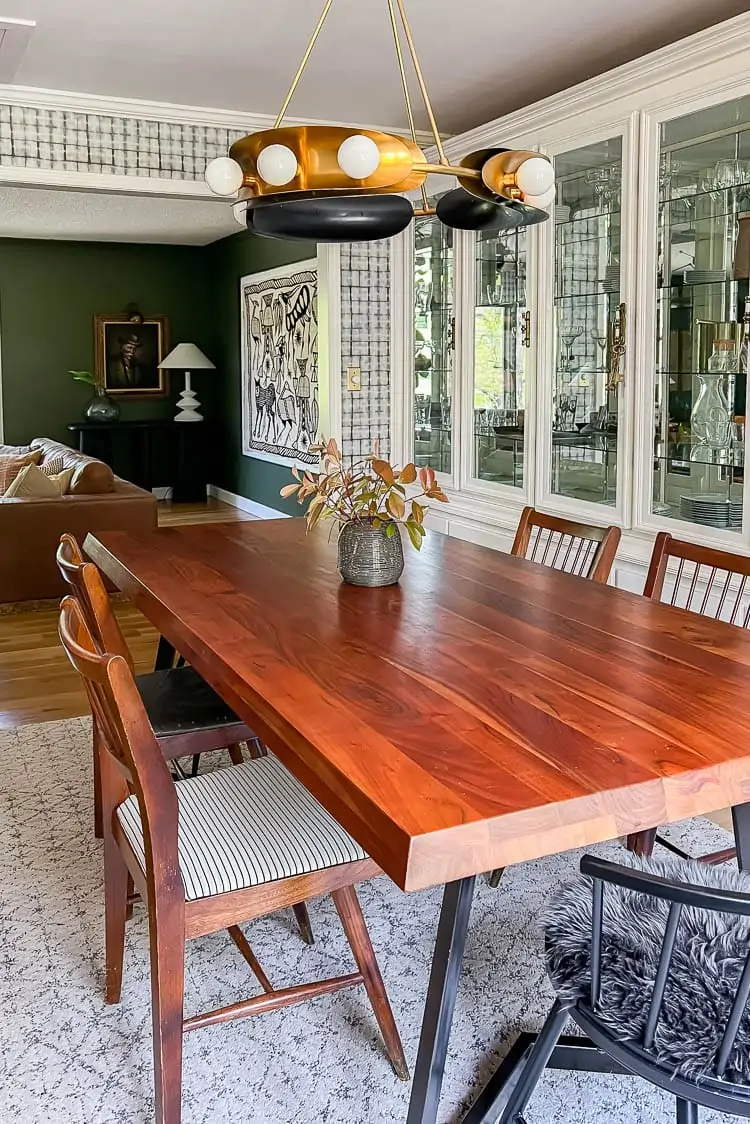 Dining room built-ins
When we first moved in, I hated the built-ins. They just felt too opulent and fancy for us. Well, I've come full circle, and although they aren't quite my style... they definitely add interest to our space.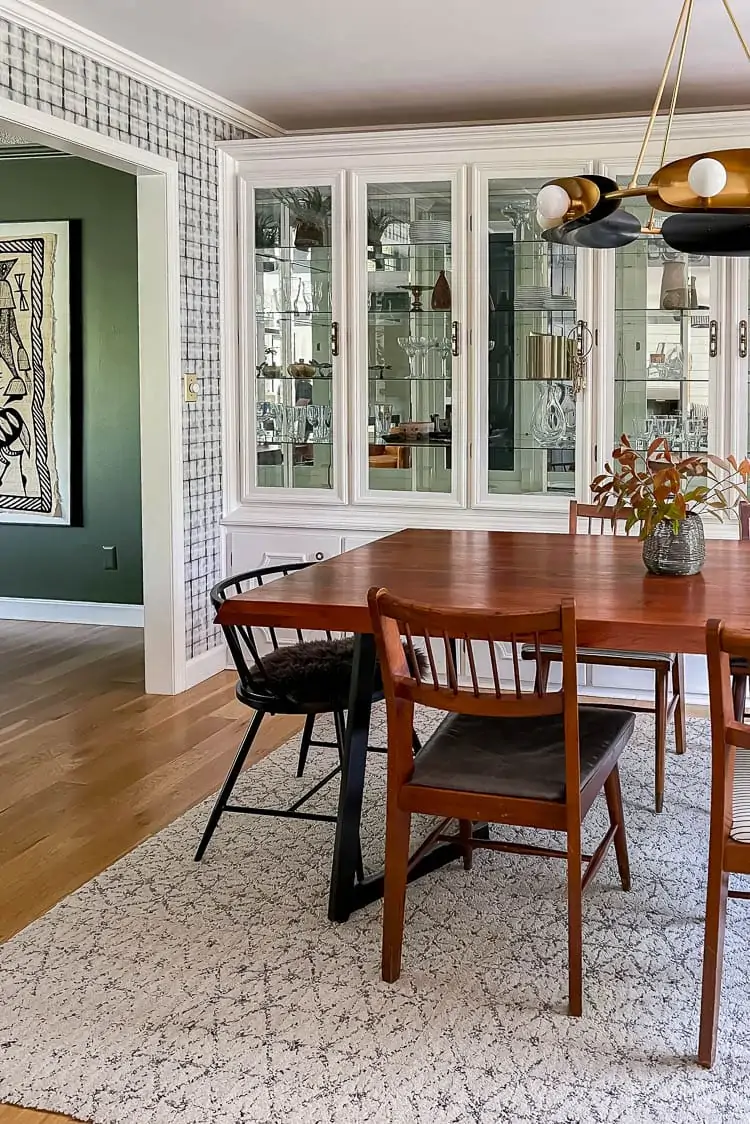 Shop Our Space