I've been on a mission to keep the blog updated with our house as it evolves. To be quite honest, I've completely failed at it! Crazy, right? You'd think that because I post 3x per week and am constantly sharing house projects and pictures that all the pictures that I'm sharing are all up-to-date. Well, since we've been focusing on our kitchen space, those pictures are definitely current. But, other spaces throughout the house have been neglected. Or, just forgotten. Hence the reason that I'm sharing Our Eclectic Formal Dining Room today.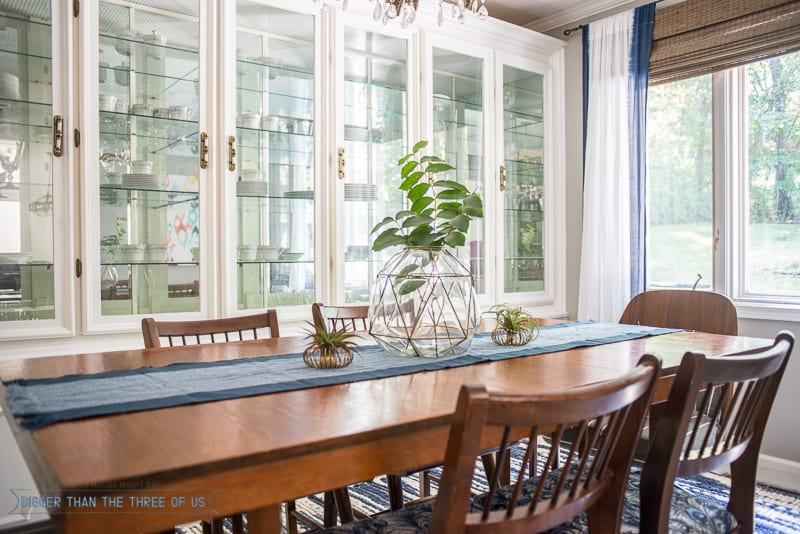 I'll list all the sources at the bottom. Before we dive in to what we've done or not done, let's take a quick peek at the before. I always love looking at the "before" for reference.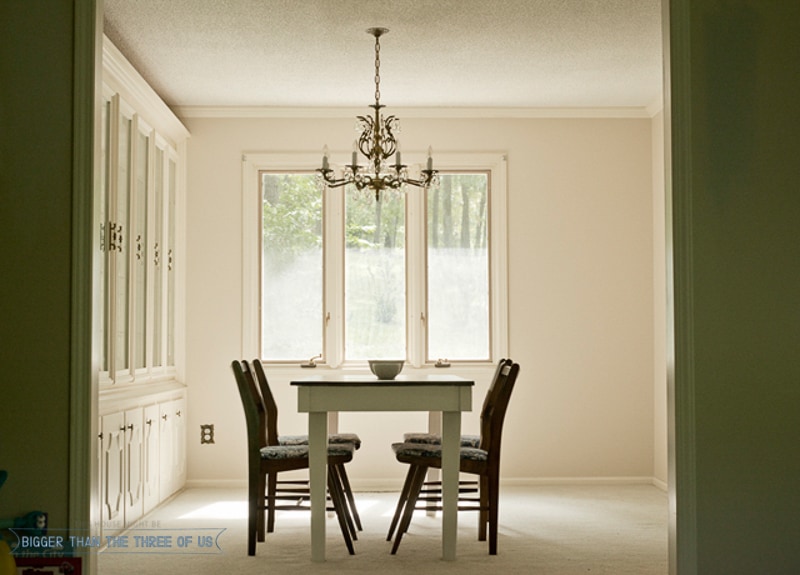 When we moved in, the formal dining room was one room that didn't have wallpaper! Yay! BUT, it did have a horrible peachy-cream wall color as well as dirty cream trim. We knew the trim and crown moulding would be an easy fix – just a quick two coats of bright white. The huge built-in was another story.
I tackled painting the built-in and it took a good week of heads down painting. It's a beast! After getting that painted, along with the trim and crown moulding… we were well on our way to a fresher space. We painted the walls a beautiful, medium gray (Benjamin Moore – Gray Husky). From there, it was just about finding the right pieces and adding layers.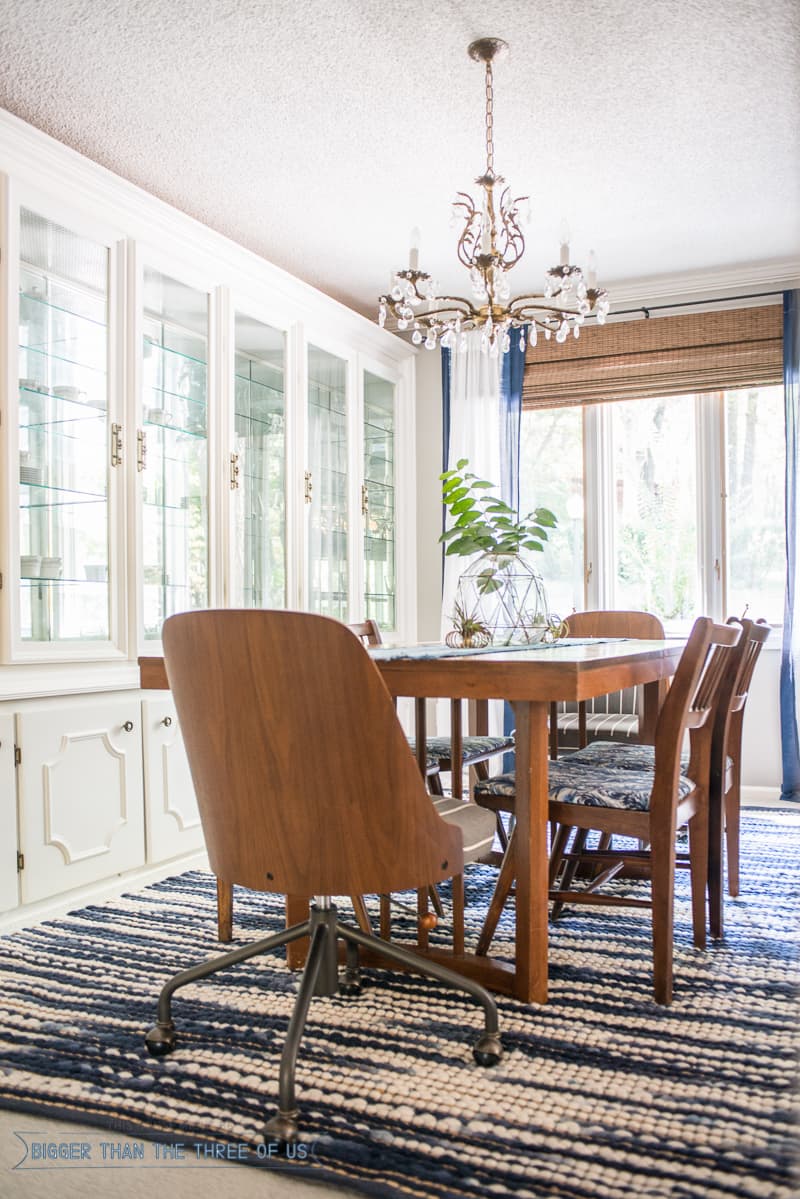 Quite a bit of our furniture is thrifted and the room has housed a few different chair/table combinations. I think we've finally found a table/chair combo that we really like.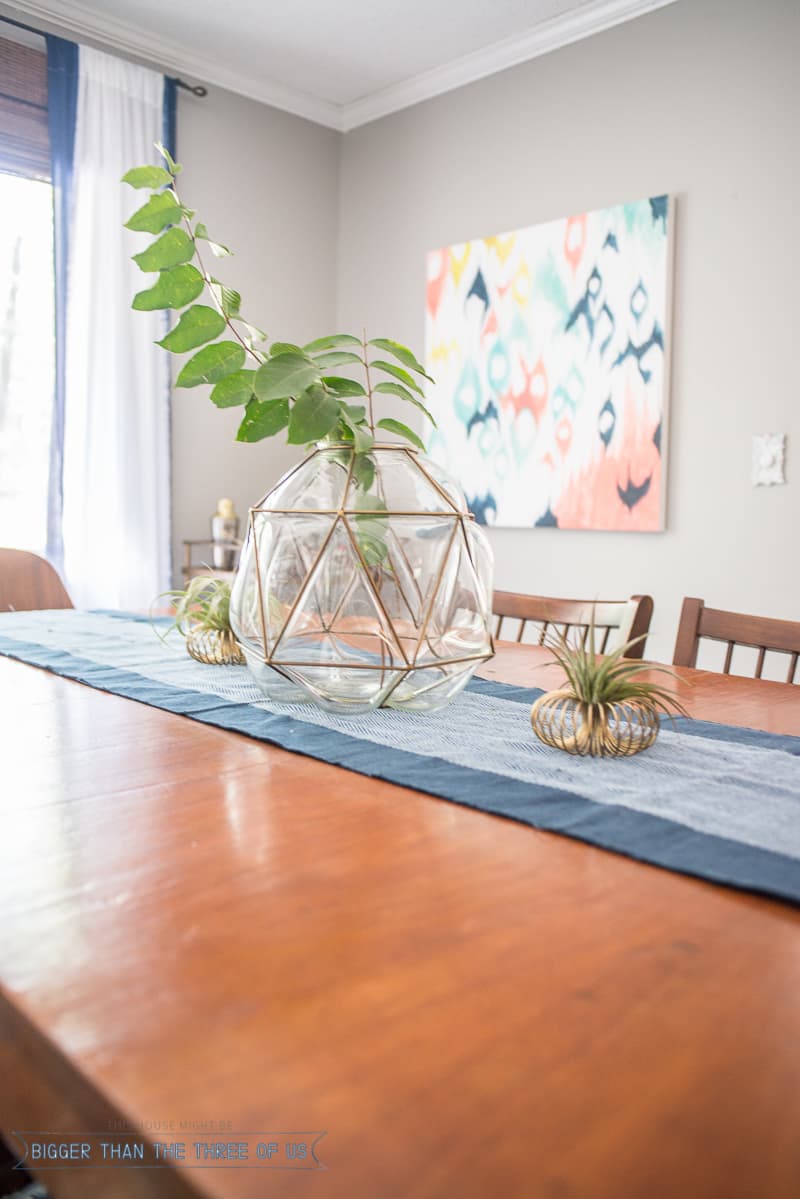 A funny thing about how I decorate is that I pretty well know my style and what I like and I don't like. What I get wrong, quite a bit of the time, is how/if things will work for specific spaces.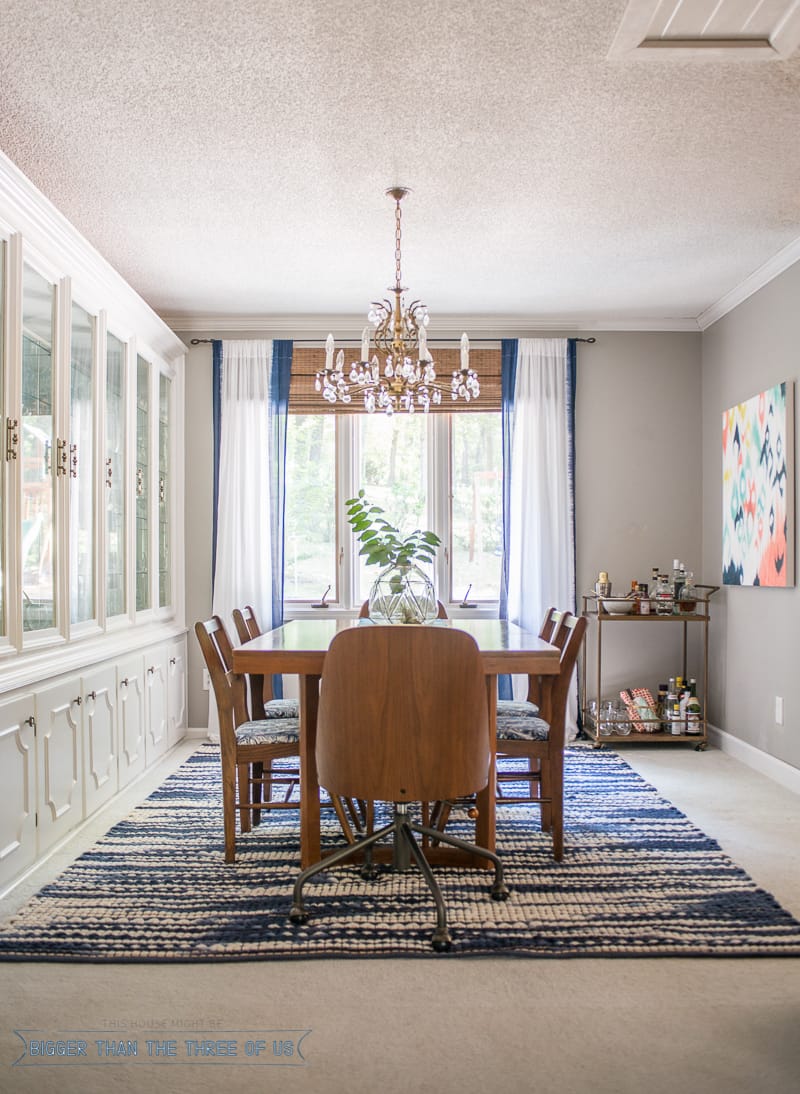 Looking at this room, I immediately see two examples of getting things wrong, but they ended up right. Here's an example:
I originally bought that gorgeous blue rug for the living room. Our living room has a very similar feel and the colors are coordinating. The rug in the living room though was like "hey, look at me." It was just terrible in there. The silver lining to the story – I didn't have a rug for the dining room and I loved the pop of interest it added to the dining room.
Another example:
I originally bought the chairs that flank the end of the table to go in our kitchen. Again, the colors coordinate and I thought it would be a fun chair/pattern combo in there. BUT, when I got them in there, I realized that they were just a bit too fun. With the wheels, they were constantly swinging back and forth and it was just too much. On a whim, I moved them to the formal dining room (on a rug) and they were perfect. They help liven the space and make it more livable (less formal!).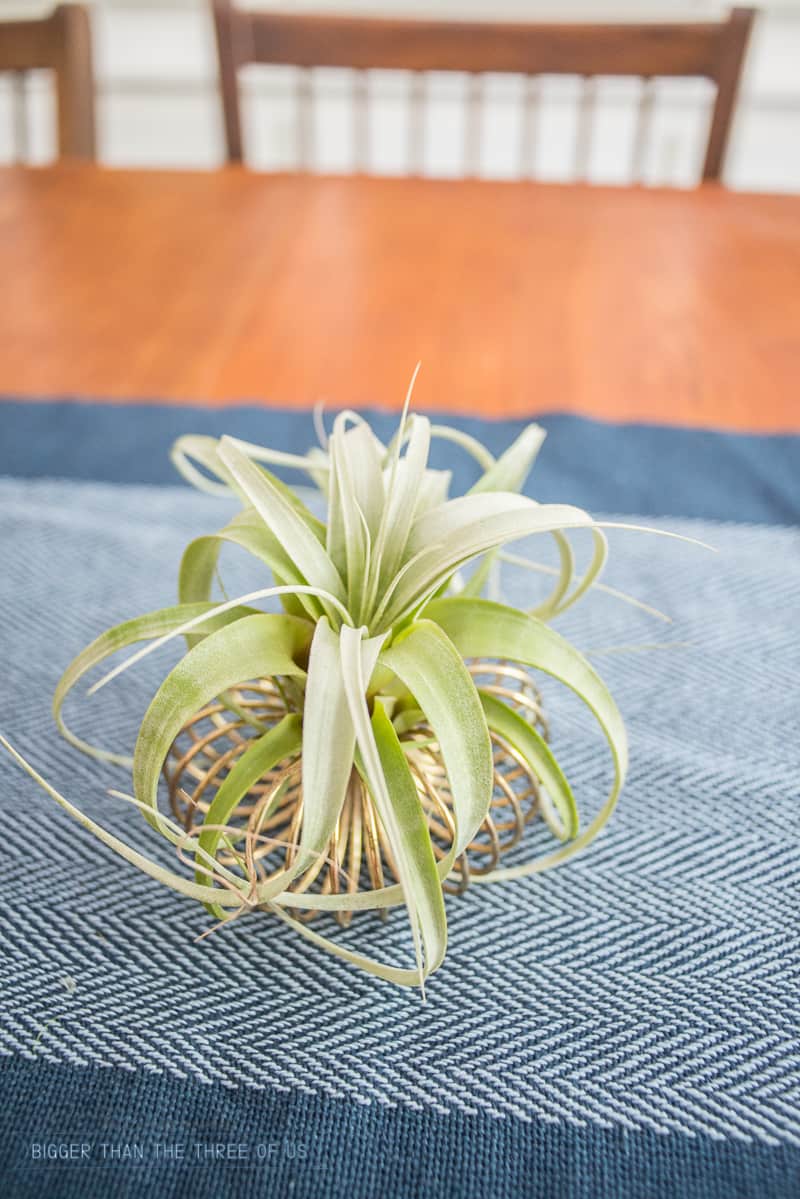 My approach to mistakes has worked for two reasons. One reason is that my whole house has a similar color palette. It allows me to move decorations and furniture around pretty easily. The other reason is that I was starting fresh in a few rooms, so I had more pieces to buy and style. If you have a well-established house with furniture and decor already styled, this may not work for you.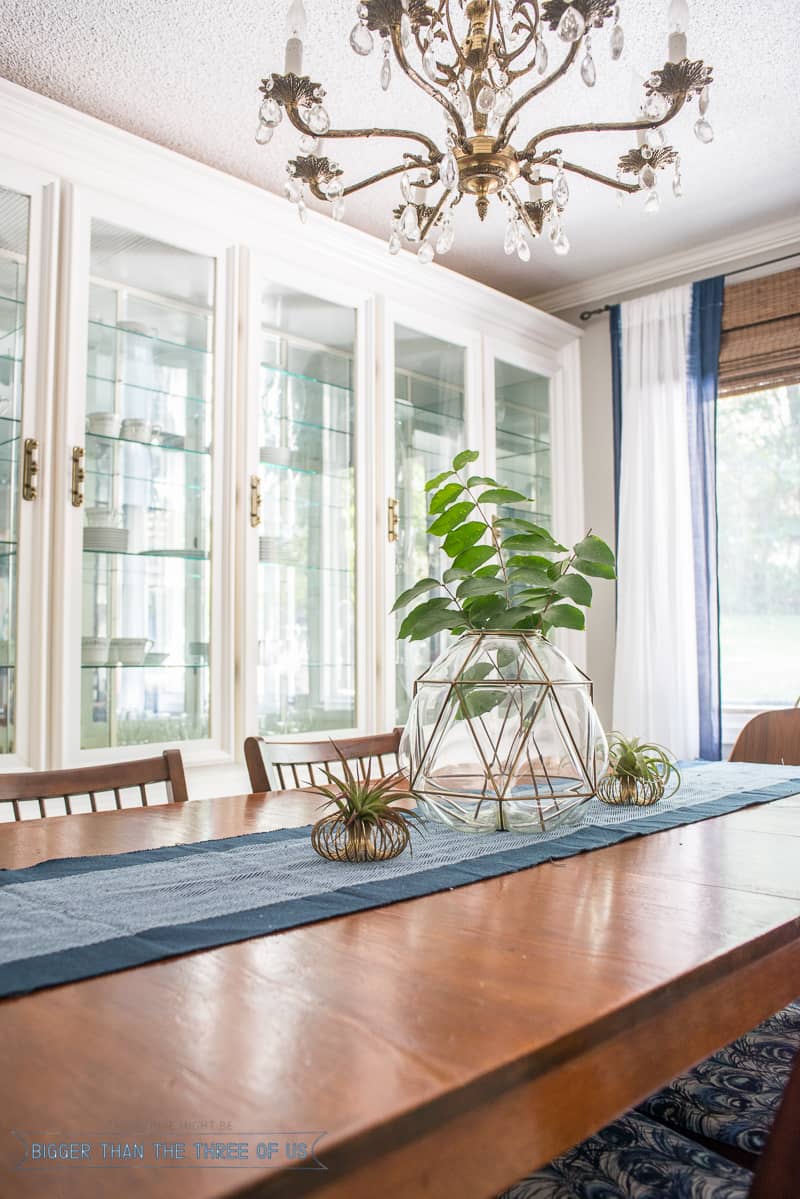 So, all of that is to say that this room has come together over time (or organically). I always love the end product so much better when it's not rushed and this room is a perfect example of that.
There's still a few more things to do, like find something to hang over the bar cart and installing wood flooring, but it's pretty darn close to being finished.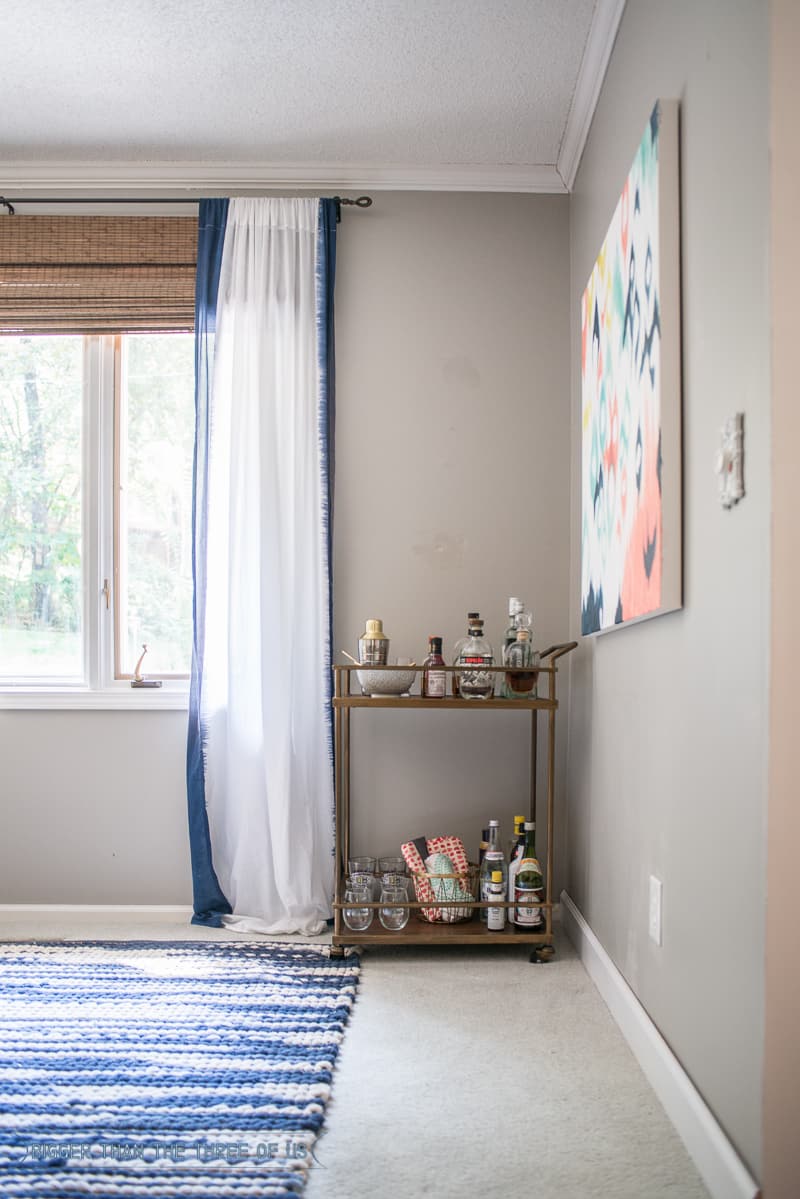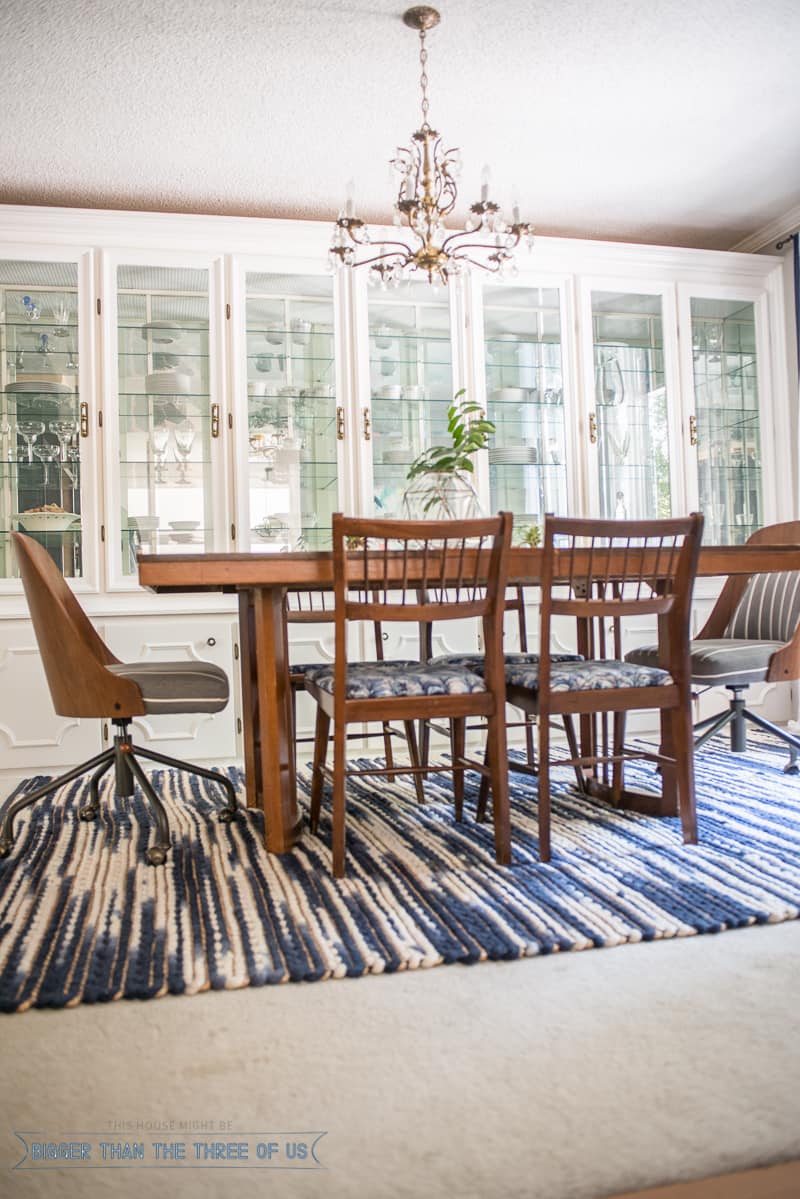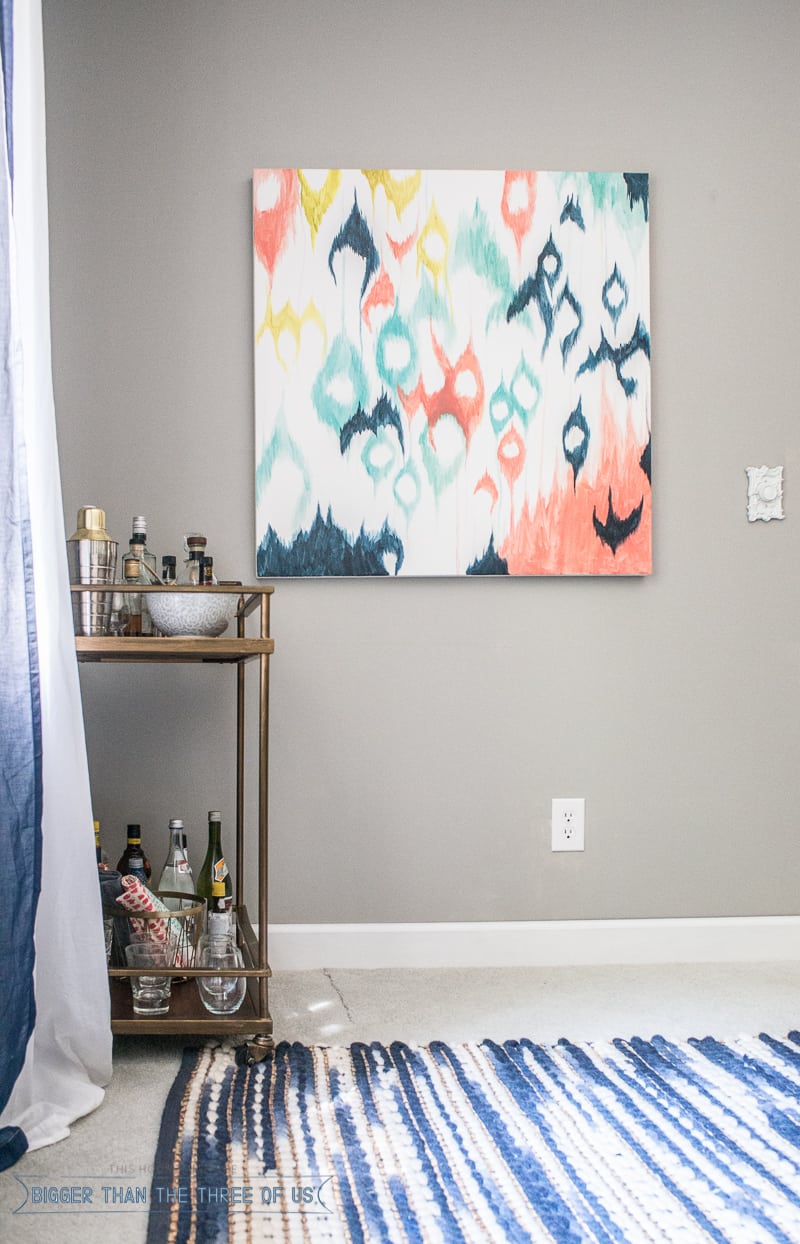 *Affiliate links provided. Thanks for supporting this blog. Click to read my full disclosure policy.
Sources:
DIY Ikat Painting (Similar) – Rug (Similar) – Table (Vintage) – Chairs (Vintage – Similar)
Bar Cart (Similar) – Dipped Curtains (Similar) – Geometric Vase (discontinued) – Table Runner (discontinued)
Wheeled Chairs (West Elm)