I'm continuing my journey in purchasing thoughtfully for the home, plus I'll recap what originally prompted me to curate my purchases in the first place.
I can't wait to tell you about my journey with buying more intentionally and what I'm doing this year. The challenge that I did in 2020 was so amazing for me and helped me be really intentional with my home purchases.
Purchasing Thoughtfully for the Home
I'm a big fan of challenges in general. I like lists and trying to hit goals. I'm a type three on the Enneagram, which probably explains a bit more on how I'm wired.
OG Home Decor Challenge #20in2020
In 2020, I did a home decor challenge where I pushed myself to purchase less than 20 items for the home.
Spoiler alert: I loved it. I didn't expect to love it, but I did. It brought intention to my purchases and more insight into the types of purchases I was buying because I tracked everything.
Impluse Shopping Versus Thoughtfully Investing
It gave me insight into the types of purchases that I valued and more discernment on whether I was buying because it was on an end cap or because I was thoughtfully investing in an item for my home.
If you've been here a long time, you know all about the #20in2020 challenge. If you are new here, here's a short recap.
This challenge, for me, was less about budgeting and more about being intentional with items that I brought into my home.
You could use this type of challenge to budget! For me, I didn't feel like I was overspending, previously, so the goal of it was to be a more conscious consumer - how many items I was bringing into my house (this is in line with the idea of sustainability that Suzannah and I recently talked about as a trend coming in 2022!).
I thought I would find more connection to pieces I was purchasing, and that was so true!
Where did this home decor challenge come from?
The idea came from Paige at Style this Life (an IG friend of mine) who does this challenge with fashion. I thought it would be fun for me to tweak it to focus on home decor.
Purchasing Thoughtfully for the Home (original guidelines)
No budget per item.
No pulling the trigger immediately on online purchases.
Renovation purchases didn't count (i.e., flooring for the basement or drywall, etc.).
Focus on secondhand shopping first.
I went into 2020 with five or six items that I wanted to purchase. I purchased about half of those items but it was interesting to see, out of those purchases, what I valued and bought versus what I didn't buy.
To track those purchases, I used a notepad and pen and wrote items that I bought with the date and the price of what the item cost. Like I mentioned, I was less concerned about budget and more interested in how it would affect my home decor.
As I've gotten older, I've honed in on what I love for my home decor style. I love handmade items, one-of-a-kind items and higher quality items. I wasn't surprised to see most of the items that made the purchase list to have these characteristics.
That doesn't mean that inexpensive items such as paintable outlet covers (affiliate link) didn't make the list! I valued those enough to buy them and still love that purchase.
I won't recap the whole #20in2020 challenge as you can read more about that in the post that I did two years ago, but I wanted to give you a background on it and share what I experienced.
It was a life-changing building block in my home decor journey.

Ashley
2022 : Continuing the Intentionality of My Home Decor Purchases
I've already stopped my impulse buying. For this year, I'm keeping a note in the notes app on my iPhone. I have a list of items that I'd love to buy for my home (upholstery for my living room chairs, new patio chairs and new exterior lamp post lights).
When I get the urge to buy something, I'll check my list to see where it fits within the 20 or less items for the year.
On the same note, when I actually purchase something, I'll add that item to the same list with a notation on price and date purchased, so I can track the total items for the year.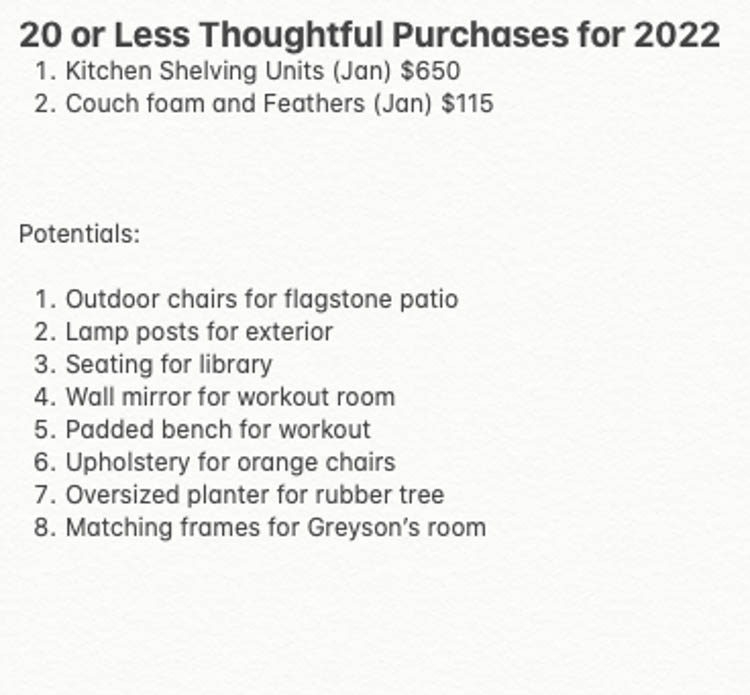 What's on my list for this year?
I'm buying two patio chairs for our flagstone patio but that's going to be ONE total item on my list. Same concept is that I'm buying two lamp posts for exterior but, again, that's going to count for one total item on my purchase list.
Let's do it together!
You can change the challenge to make it fit you. You could challenge yourself to shop only secondhand, just shop at independent retailers, just buy 10 or less items from Ikea, etc., etc., etc. Whatever would help you minimize the mindless purchases.
You don't have to do what I'm doing but I've found that by doing this type of challenge... I've further developed my home style because I'm being so intentional with every single item that I'm bringing into my house.
I hope this inspires you to think about your purchases. Start small and just start tracking your purchases with no intention of any type of challenge past just tracking what you spend this year (both in item and price). Reflect on your list at the end of the year. See if those items "spark joy" still at the end of the year or if you could use more discernment in your purchases.
I really believe this will help you on your home style journey to further develop your home decor style.