In January of 2020, when I set out to do #20in2020, I didn't expect to love the home decor challenge; but I did. It brought more intention to my purchases, more insight into what types of purchases will last for the long haul and more discernment on whether to bring something into my house or not.
If you've ever considered doing a low spend challenge and love home decor like I do, I'd recommend trying some version of this home decor challenge. I honestly loved it and feel like it's the type of challenge that you can modify to fit what you are looking for.
I started January of 2020 off with the idea that I was going to try to keep my home decor purchases to twenty for the year. For me, this was less about the budgeting or spending less money. For example, I didn't feel like I overspent the year prior or anything so it wasn't about the money that gets spent on home decor. No, this was about being a more conscious consumer. This was about really trying to be intentional with my purchases so that I thought more, researched more and loved what I bought now and in the future.
I've noticed, for me personally, when I find great deals on home decor finds that if I liked it, I'd buy it. I might like that purchase for a year or two, but maybe I didn't connect that purchase with a feeling or experience so I'd quickly tire of it.
So, the goal of #20in2020 was about finding connection to pieces that I was purchasing and in doing so, buying less but adding more life to our home with meaningful pieces that I could have forever.
How did I start the Home Decor Challenge : #20in2020?
I heard about the idea from Paige of Style This Life. She was planning to do it with clothing items. I'm not much of a clothing shopper so that didn't immediately resonate but I did think that I could do it with home decor.
For me personally, I thought it would be fun to track, see if I could still tweak and have fun decorating my house, be inspiring to others (on my blog here and Instagram), be a more environmentally conscious consumer and curate my house even more so that more nooks/rooms truly speak to me.
To start the challenge, I decided on a few guidelines that I felt would help me succeed and were in line with my vision of the challenge:
No budget per item
No pulling the trigger immediately - want to sit on online purchases and see if they pull me back
Renovation purchases don't count but decor and furniture purchases for the renovated space do count
Preference would be to shop secondhand
If buying/shopping secondhand online then those items count on the #20in2020
If I'm out and about and 'find' something at a flea market/thrift store locally, then those purchases don't count †
† The main reason for the last stipulation is that I get enjoyment from wandering flea markets/thrift stores. I hardly ever buy anything but I gather inspiration and it's something that just feels good for me. If I'm buying secondhand, locally, it's rare that I find something that's amazing. So, basically the stipulation is if I go out somewhere because I saw an ad on FB Marketplace with the thought to buy, then it goes on the list. If I'm just randomly at a thrift store that day and find something amazing, then it doesn't go on the list.
You can make your stipulations whatever feels right for you but this just felt right for me.
Before I got too far into January, I realized that there were a few things for the house that I'd been wanting. I decided to make a list of those things and put them on a sticky note.
My wants for 2020 (and what were purchased)
Large Living Room Rug
Puck Lights for Bedroom
Small Vintage rug for back door
Library light for dining room
Upholstery for vintage chairs
Curtains for bedroom
New living room chairs
As 2020 kept going, some of my wishlist items were purchased and others were forgotten about, or just didn't come to be but it was helpful writing down what I wanted for sure.
To stay on track with the home decor challenge, I just had a notebook piece of paper on a clipboard. I wrote #'s 1-20 down the side and then would write in as I purchased something. I would write what I purchased, the date and how much it was.
This challenge started as a public challenge on IG, so I shared on IG stories each time I bought something. I have a highlight video called #20in2020 if you'd like to pop over there and check it out.
It started some really great conversations on being more intentional with money, purchasing and what we bring into our homes.
Like I mentioned earlier, I was less concerned about the budget and more just interested to see how it would affect my home decor. As I've gotten older, I've definitely had an eye for pricier, well-made, artisanal products so I wasn't surprised to see most of my purchases on the pricier side. That being said, I did have paintable outlet covers make the list and I'm thrilled with that purchase. So really... it was honestly just pieces that I knew would make me love my home more or pieces that I felt connected to.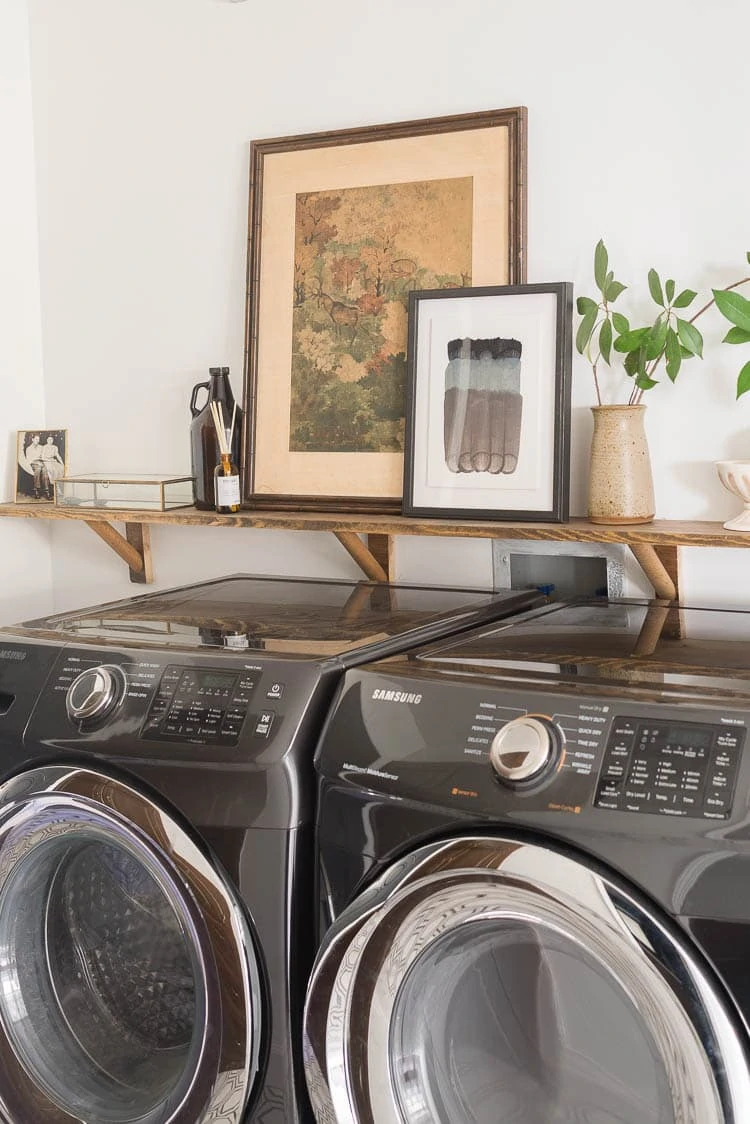 I'm sure you want to actually see what I purchased, so here's my list. I was able to link some for you to check out in my home and some for purchasing if you are interested.
Affiliate links below. Thanks for supporting this blog. Click to read my privacy and disclosure statement.
#20in2020 Home Decor Purchases
Rosie Winstead original art - man/woman drawing
Original art (see it in my bathroom nook)
Facebook Marketplace find for living room chairs
Library light for art in dining room (see it in my dining room)
Small vintage rug
Vintage persian rug (Facebook Marketplace deal of the century!)
Peep art (will go in the basement)
Framing for peep art
Deer art (as shown in the laundry room)
Lombardi trophy (for the basement)
Vintage rug (for the basement)
Original Chiefs art (for the basement)
Corner sectional (for the basement)
Vintage bedroom curtains / curtain rod
Kansas City Arrowhead slide (vintage from the first ever game at Arrowhead for the basement)
Like I mentioned earlier, I honestly loved the structure to the challenge and the mental thought that went into each purchase before pulling the trigger. For 2021, I don't think I'll challenge myself with #21in2021 though. Instead, I've been thinking that I'll allow myself to invest in items that are one-of-a-kind, shop small and spend a bit more on items that I would normally feel bad about spending money on.
For example, instead of buying a metal colander that sits on a shelf hidden away because it's ugly, I might buy a ceramic, hand-made colander. Instead of a red plastic broom and pan, I might decide to hang a wooden broom and pan in plain sight in the laundry room because it's pretty and functional. I'm not looking to replace things just to replace them, but as I need things, I will look to buy items that are artisan made and beautiful.
I recently read a book about the Danes (see my 2020 Book List for more) and how they have more minimal items but each item that they have is higher quality and chosen with intention. That's where I'd like to end at the end of 2021. Less items overall in the house but more beauty in the functional items that we do have.
Alright, tell me the truth... are you inspired to look at your purchasing habits and challenge yourself to any changes?