Make this DIY knife block to sit on your kitchen cabinets. The knife holder is a great option for storing your knives and this one is a universal knife block (meaning, any knives will work!).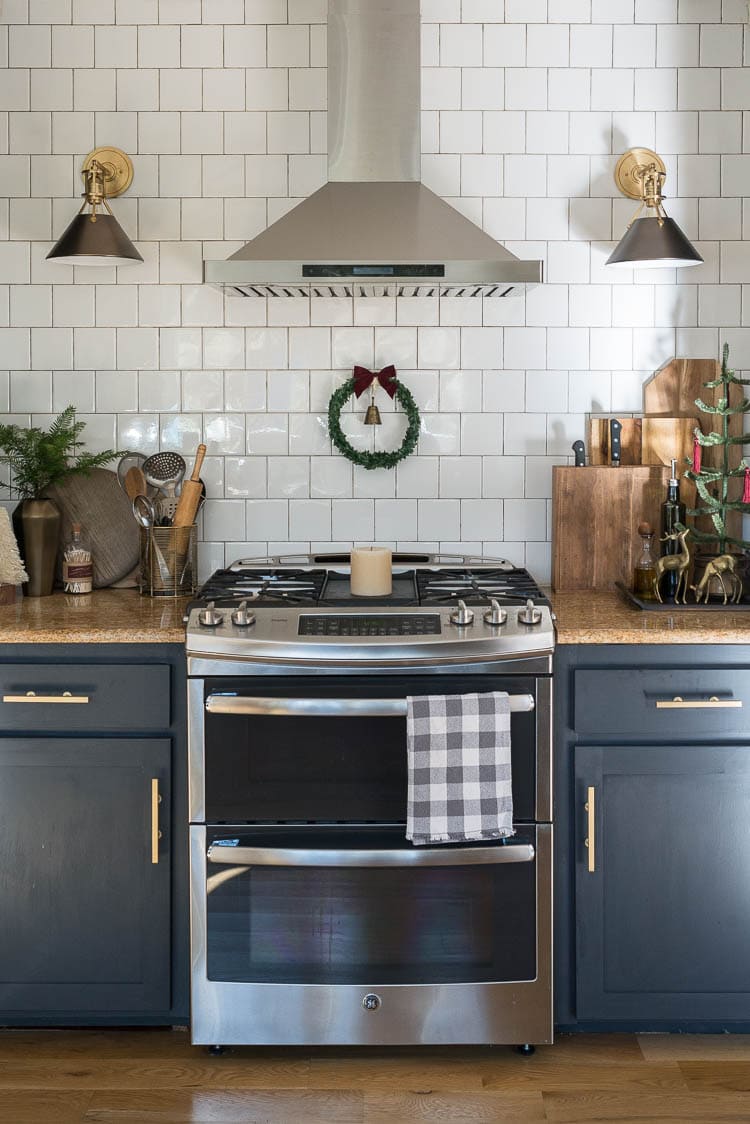 I've been blogging for a long time now, doing projects and making things. It's always such a good feeling to realize that a project that I did closer to the beginning of this home decor journey is one that I still have and love.
I made this kitchen knife block back in 2015 for a challenge with a group of gals to take something we are inspired by at a specific store and make it our own. I'll link everyone else's projects at the end of this post, so you can check them out if you'd like. Anyways, for this specific challenge, the goal was to take something that inspired each of us from Anthropologie.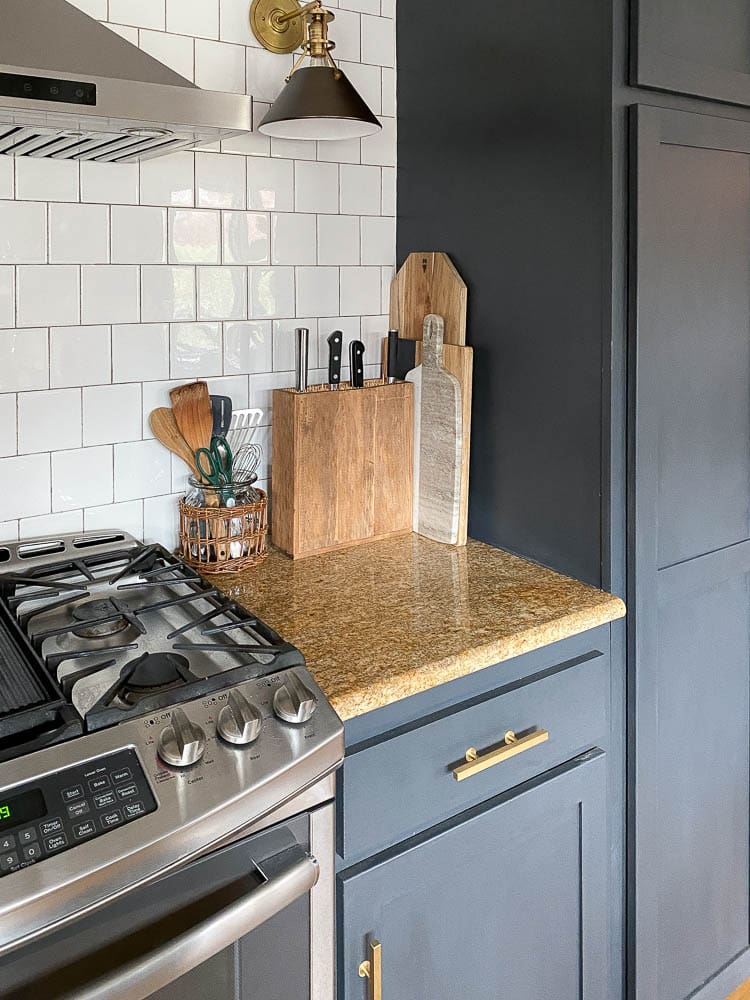 *Affiliate links below. Thanks for supporting me. Click to read my privacy and disclosure policy for more information.
I really love Anthropologie but don't often actually buy anything from there. The prices are a tad high, in my opinion, for the quality. That being said, I was excited to check out their catalog and find some inspiration. I saw that they had a wooden knife holder (see below) and I just loved it.
Since we didn't currently have a knife set that came with a wooden knife block or any built-in knife storage, I knew that making something similar would solve a big problem for us at our house.
I hate to admit it, but we had been just throwing our knives in a drawer to the left of the sink. The bad thing about that too, is that we have a few decent knives ( Shun slicing knife and Shun All-purpose knife) and weren't taking care of them at all.
Anyways, the knife block set at Anthropologie ranged from $50-70 depending on the size. With those as inspiration, I decided to go for it and try my hand at making one myself.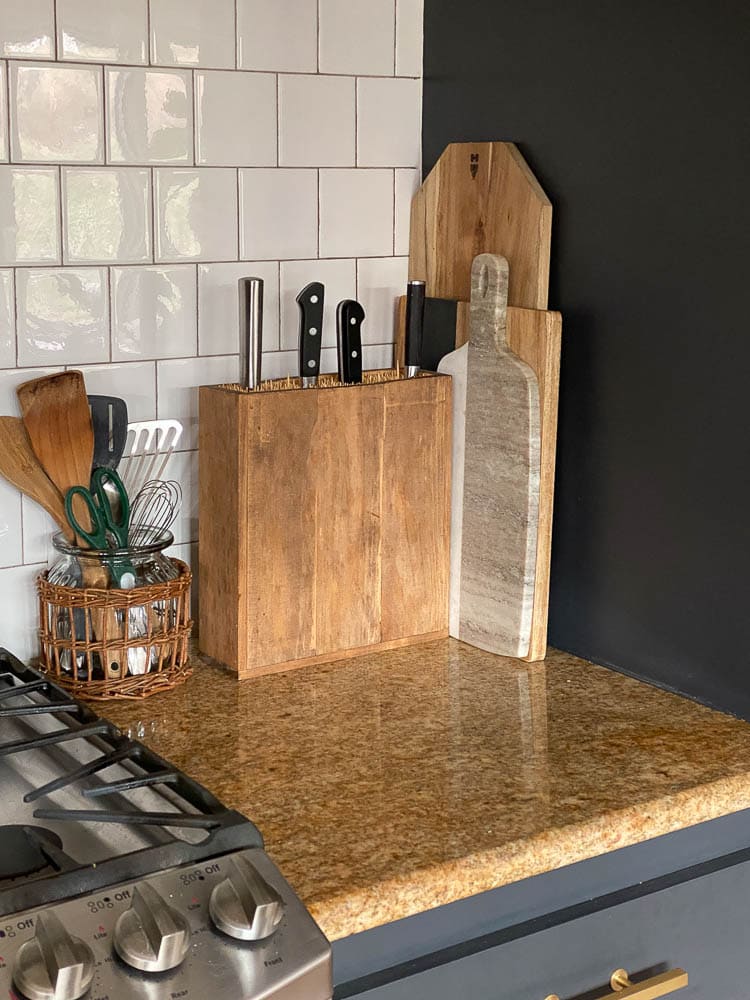 Supplies To Make A Knife Block
How to Make a Knife Holder
Decide on the size of the knife block (based on knife sizes you have – mine was 12″ x 12″ x 4″).
Cut boards at 12″. This will give you 8 pieces total.
Wood glue and clamp three pieces together (we're glueing three long pieces together to make one larger sheet). Repeat with another three pieces so that you have (2) sheets of three pieces glued together.
Let dry.
Attach one 12″ x 4″ board (the bottom piece) to an end 12″ x 4″ board using a brad gun and wood glue.
Attach 1 of the glued 3-piece boards to the bottom and to the end board.
Repeat until you have attached all pieces.
Sand with an orbital sander.
Use wood filler in all the brad holes.
Let dry and lightly sand.
Stain.
Let Dry.
Seal.
Fill with Bamboo Skewers.
I can be frugal and knew that I could make one for much less than that… $50 less. I didn't keep the exact tally, but I think my wood project boards came to about $12 and I used about 10 packages of skewer sticks (which were .97 a piece). I came in at just over $20. #stealofadeal
*Marvel at my uneven cuts. Ha. It turned out alright.
I wondered how well the knives would stick in place and they haven't budged. It's really perfect for them. The key is to put enough bamboo skewers in the knife block so that the knives slide in but don't fall down.
You might wonder how dirty this will get and then what to do about that. So, let's talk about that.
How to clean the knife holder?
Cleaning the knife holder is super simple. Wipe down the wood on the outside. For the bamboo skewers, take them out and wipe them down. Once you've taken the wood skewers out of the block, gently wipe the inside of the block down.
I've had this knife block for over five years now, and it's still going strong. I wipe it down every so often, but it doesn't get dirty easily so that's been great.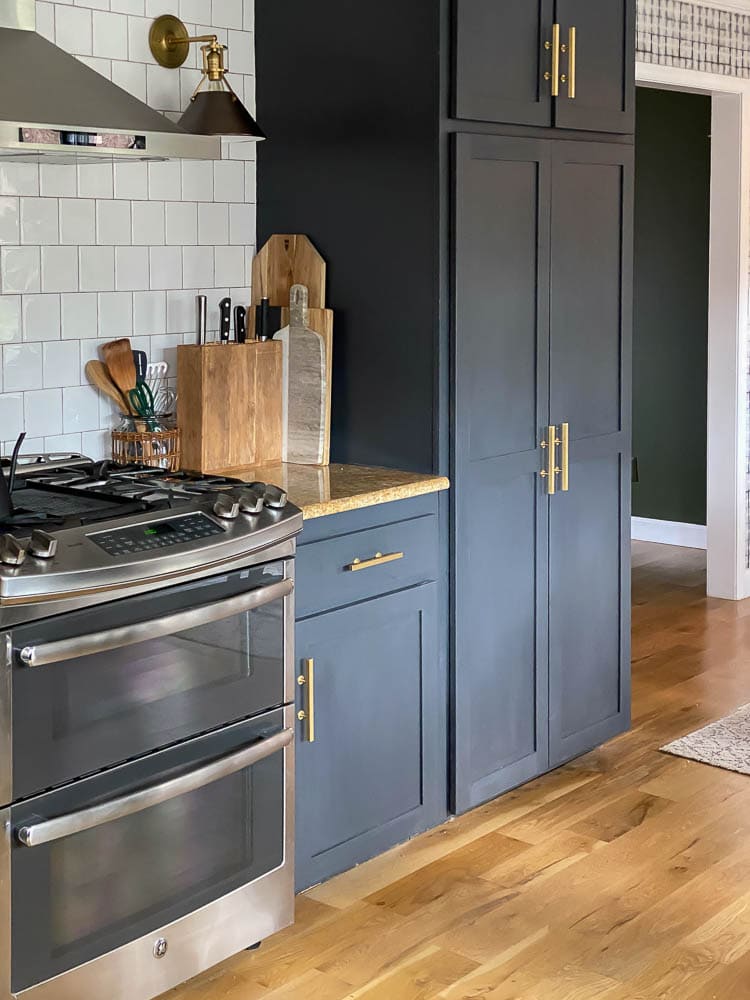 Overall, I'm still so thrilled with this project. If you try it, let me know. I'd love to see.
As I mentioned earlier, there are a few other projects in this series that you can check out.
Stop by: Upcycled Treasures, The Gathered Home, Designer Trapped in a Lawyer's Body, Brave New Home and Delineate Your Dwelling to see more!