Thank you all for your lovely comments on our $87 Bathroom Refresh. Seriously, I'm overwhelmed by all the comments on the blog and social media. I so appreciate hearing from each and every one of you. It really makes my day when you guys reach out! There's been lots of chatter and questions about the bathroom light. Today, let's chat about that DIY Modern Brass Light that was so popular in the bathroom.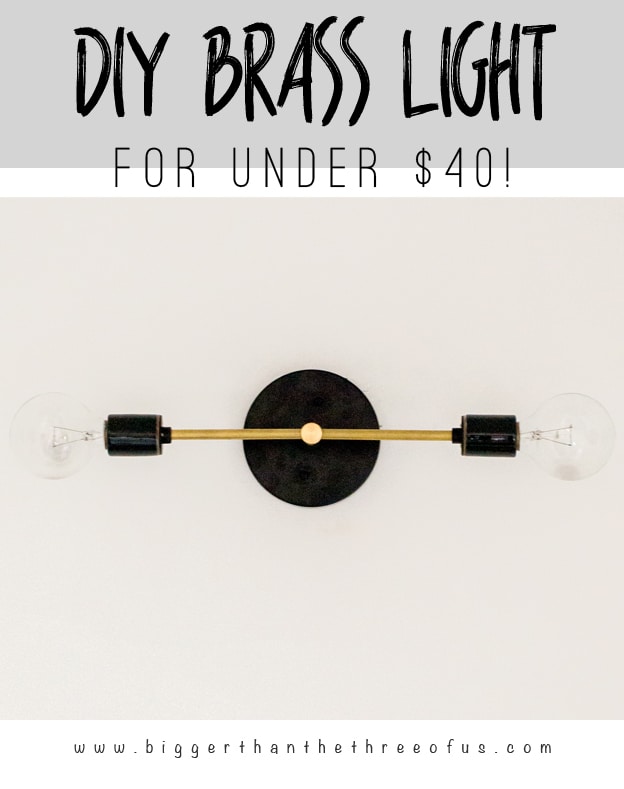 " width="624″ height="789″>
*Edited on 03/07: Grand Brass created a DIY source list just for this light! You can DIY it for $20.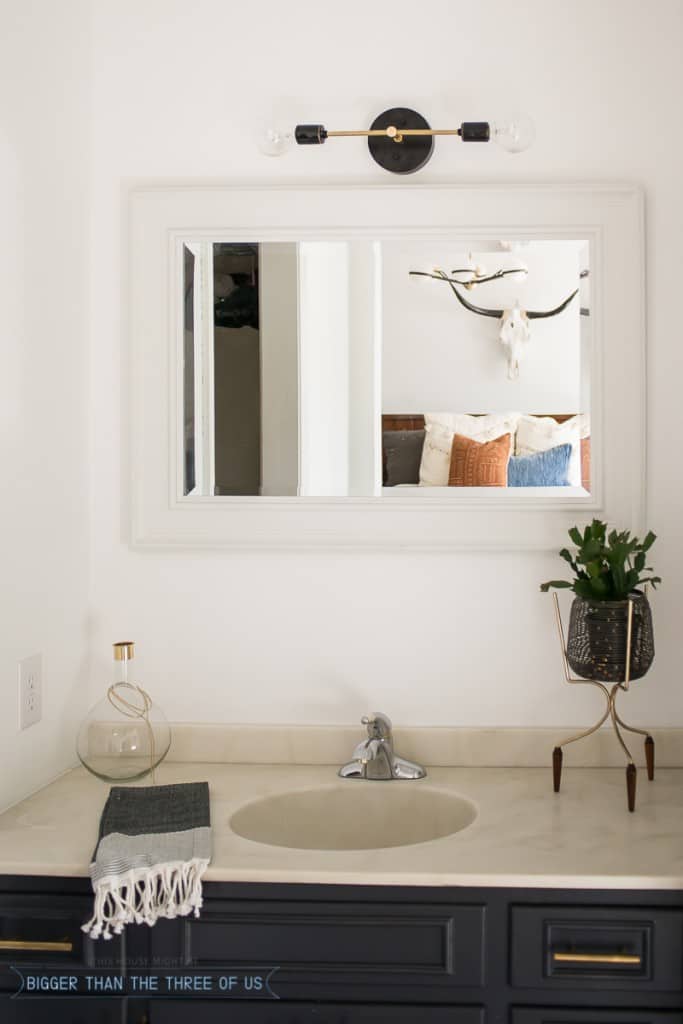 " width="683″ height="1024″>
It was the rockstar of the space if I do say so myself.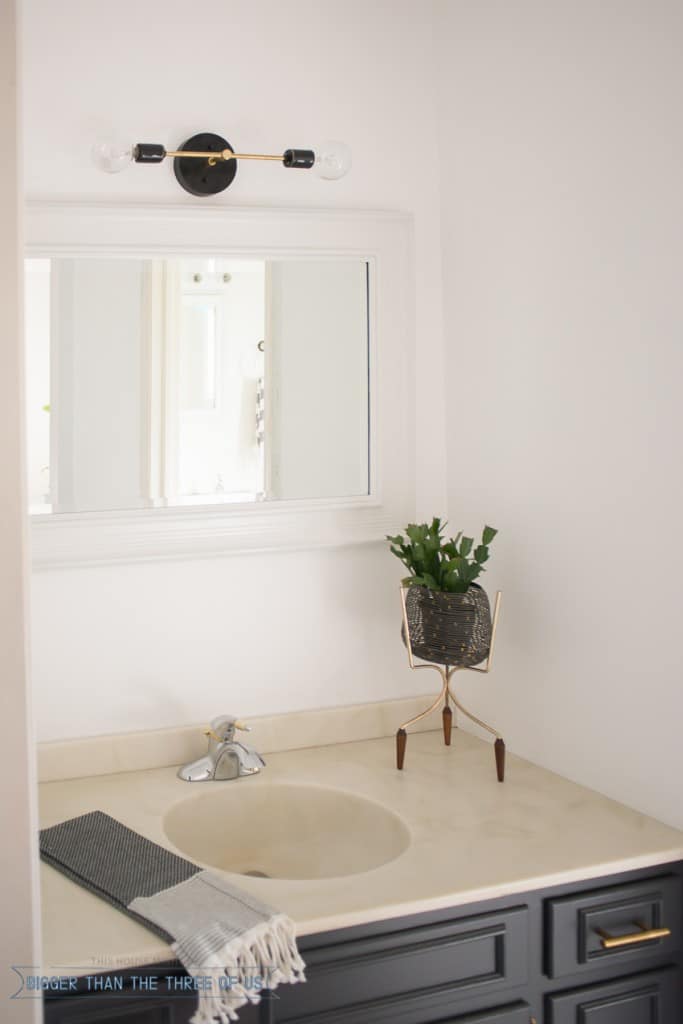 " width="683″ height="1024″>
So, first things first, electrical can be a scary thing if you don't know what you are doing. As always, consult an electrician or a licensed professional for help with building this or installing it.
If you are familiar with electrical wiring, this can be such an easy project. From start to finish, I believe this DIY Modern Brass Light took us 30 minutes. It took much longer than that to track down all the parts. Lucky for you, I'm giving you the part numbers.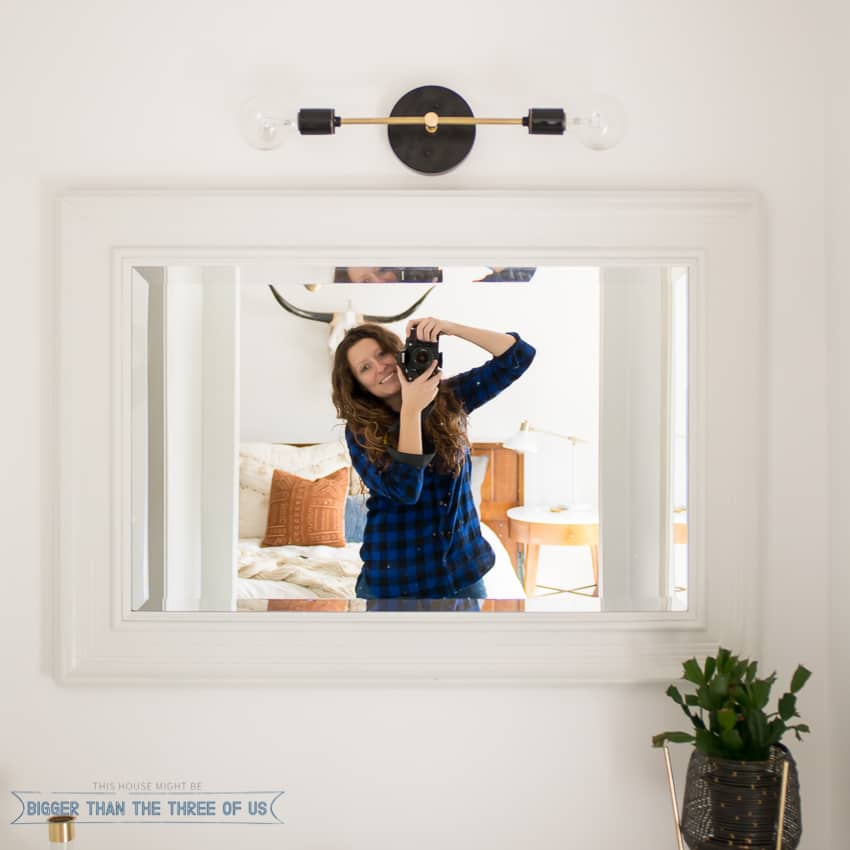 " width="850″ height="850″>
I'm not giving you a walk through of exactly how to wire this piece up. Our light was heavily inspired by Alison's over at Deuce Cities Henhouse. We modified her design to fit our bathroom and the look we wanted. BUT, she provided a great visual of how her components go together to make the light. So, hop over there to see all of that.
Our light had a few less components and a few different ones, so I'll be sure to give you the exact list.
All the parts were ordered from Grand Brass. You might be able to find some of the parts cheaper elsewhere but, for us, the ease of it being a one-stop-shop was worth ordering them all from them.
Supply List
*Buy the kit from Grand Brass for $20 instead of purchasing the individual items below.
instead of purchasing by item below.
*In order of how you assemble the pieces.
Black, Canopy Cross-bar Set – $2.85 (1) (ITEM #CB520BL)
5in. Matte Black Flat Canopy – $5.80 (1) (ITEM #CAS05BL)
2in. Brass Pipe – $1.15 (1) (ITEM #PIBR02-0X8)
Side Tee – $2.50 (1) (ITEM #AB477)
5in. Brass Pipe – $4.60 (2) (ITEM #PIBR05-0X8)
Black Porcelain Lamp Socket – $9.60 (2) (ITEM # SO10084BL)
18/2 SPT-1 Wire – $2.10 (6 ft) (ITEM # WI18SPT1S)
The assembly was straightforward. The pieces just screw in together. We found that assembling part of the light and then threading the wire through worked best for us. Getting the wire through the components when the wire was doubled through the brass pipe was by far the hardest part. It was helpful for that step, to have an extra set of hands. I fed the wire through with my fingers (pushing it gently) while Luke had a pair of pliers and pulled it (gently).
PIN This DIY Modern Brass Light For Later: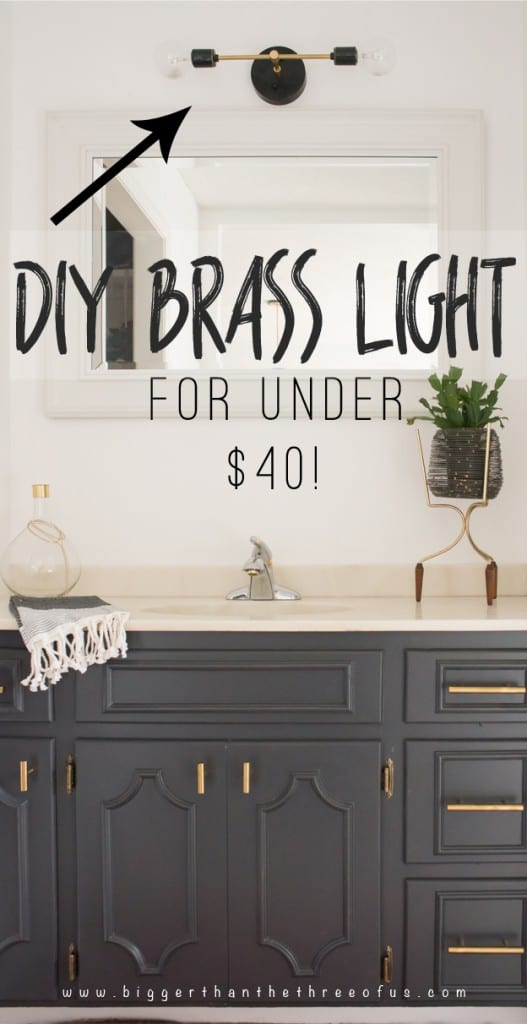 " width="527″ height="1024″>
I went back and forth on whether to try making this light. In the end, I'm glad I went for it but I had some backup options that I loved. I thought I would share those with you in case you love them too. They are all at GREAT prices because I had to fit within my $100 budget. Or, if you want even more DIY light goodness, I'm dying to use this DIY Hanging Brass Light in a bedroom.
*Affiliate links below. Thanks for supporting this blog. Click to read my disclosure policy.
If you loved this post, make sure to subscribe to my blog by email! We have lots of these type posts that are in the works.