Close to ceiling lights – also called flush mount lights or semi-flush mount lights – are the best lighting options for low ceilings. Finding beautiful flush ceiling lights solves a common household lighting problem.
As I've been sourcing lighting for our low ceilings in the basement, it got me thinking more and more about the rest of the lighting in our house. It's really a toss-up on whether I love shopping for vintage rugs or beautiful lighting more. I definitely believe that lighting makes a room and, for me, lighting is usually the jumping off point in a space. I tend to be inspired by the light itself first and then choose furnishing and accents around the light.
My living room is a great example of that. I found this amazing light and then eventually was able to buy it used and, from there… the pieces of the living room started to come together.
Honestly though, shopping for beautiful flush ceiling lights can be tricky, but it's not impossible. Our house is pretty cool in a lot of ways, but having low ceilings is something we have to work with. Over the past few years, I've been able to find a wide variety of flush mount lights and semi-flush mount lights that still provide interest and depth to a room.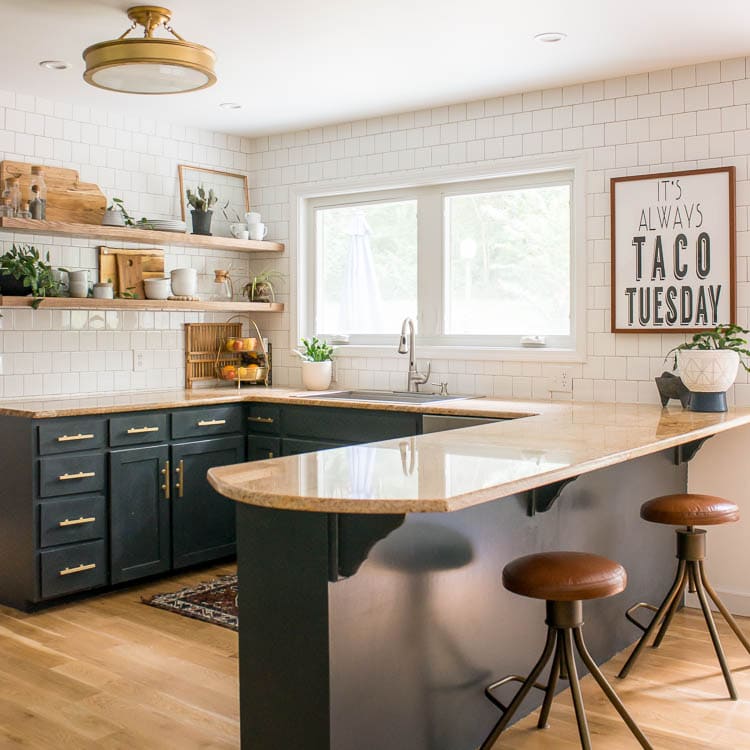 Before I share some of the lighting options that I've been considering for our basement, I wanted to hit on a few common household lighting questions.
Why do old houses have low ceilings?
Lower ceilings are cheaper to build because you use less materials and are more efficient to heat.
Have you ever thought about ceiling heights and older houses versus newer houses and the ceiling height differences you see in each? A ton of newer houses have tall ceilings. It's beautiful, for sure, but there's still character to older houses that I also really love. That being said, if it was easier and cheaper to change our ceiling height, I might be on board. We have 8ft ceilings and I'd love to have 9ft!
Just know, if you have lower ceilings in your house, you aren't alone. You can still incorporate beautiful close to ceiling light fixtures that pack a punch.
What is the difference between a semi-flush and a flush mount fixture?
A flush mount sits directly on the ceiling and is usually a circular light. A semi flush mount has a few inches between the ceiling and the light fixture, either hanging down from a small metal rod or just built so that the overall fixture hangs down from the ceiling a few inches.
Here's an example of a flush mount fixture in our entryway.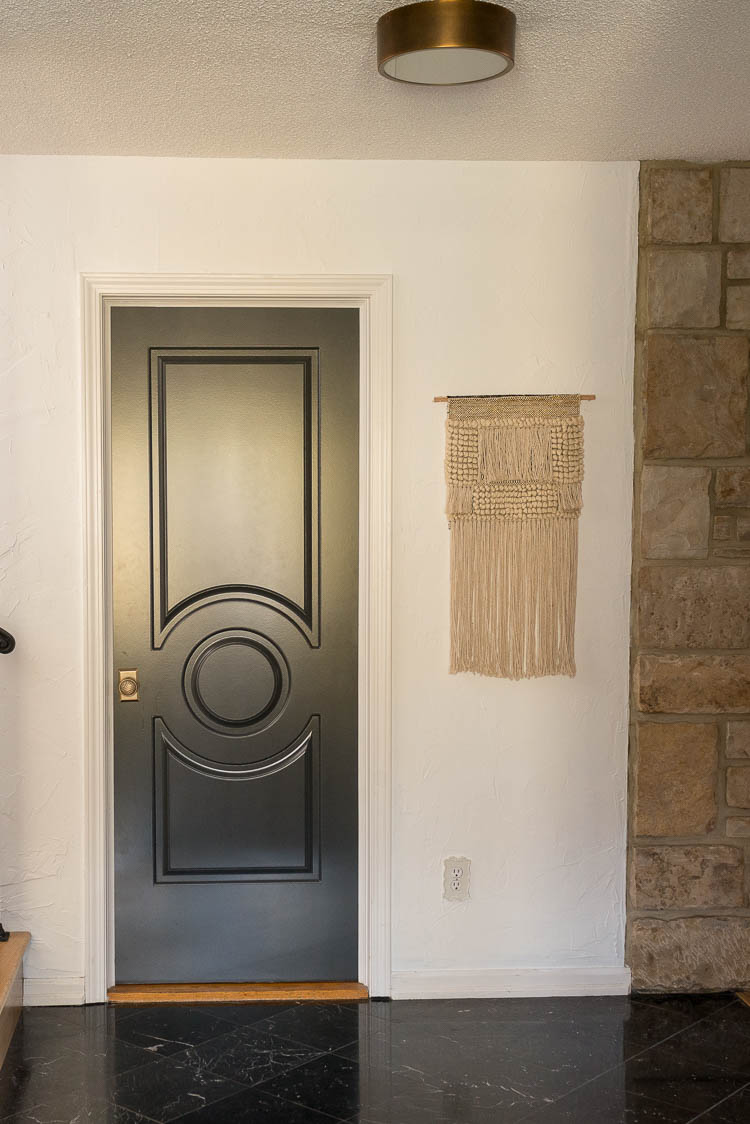 Here's an example of a semi flush mount light.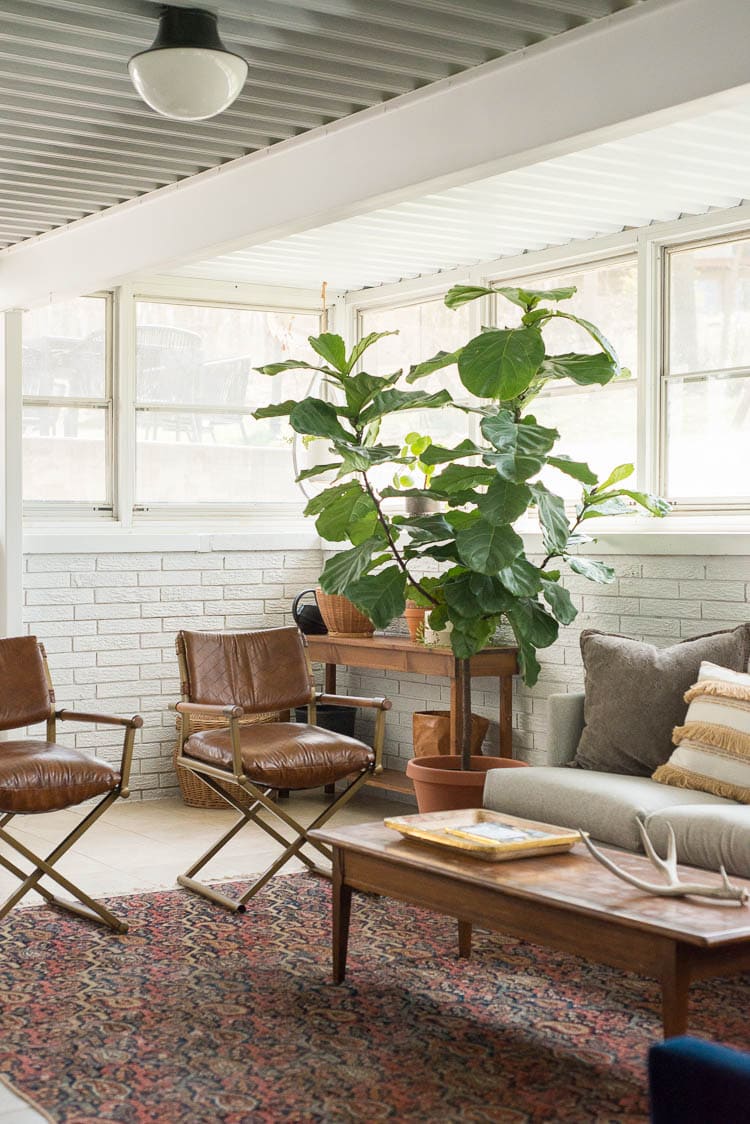 Like I've mentioned, I'm currently shopping basement lighting fixtures. The basement has 7′ ceilings (so even lower than the rest of our house). You might think that with 7′ ceilings that you have to go with all flush mount light fixtures or can lights, but I plan to mix and match the lighting to create interest.
I thought it was time to share some of the pretty close to ceiling lights that I've found and have considered for my house. I know it can feel hard to find modern flush mount lighting that feels elevated, unique and modern all at the same time. I've got your back on this one.
Shop Close to Ceiling Lights Under $200

Shop Close to Ceiling Lights Under $500

So far for the basement lighting, I bought two of the Arial Flushmounts shown above. One is going to go in the bathroom (see more on the bathroom layout) and one in the small landing area/hallway at the bottom of the stairs. In person, the light is really substantial and beautiful. It definitely exceeded my expectations.
I'm still undecided for the main part of the basement but I'm leaning towards flush ceiling lights over semi-flush lighting. With 7′ ceilings, I feel like the main area in the basement would benefit from lights being as close to the ceiling as possible especially with boys who will have nerf wars, wrestling matches, etc. It might be safer to save the semi flush lights that hang down just a bit for areas where there won't be as much going on (hallway and bathroom). I'll share more as I figure it all out.
I hope this was helpful! I get so many questions on how to pick out lighting and what I look for. I personally like to invest (spend a bit more) on lighting because I really feel like lighting sets the tone for the space. So, no matter what your budget, if you've never thought about lighting as setting the tone, or laying the groundwork for the space… I hope I gave you some food for thought for the next time you are starting to work on a space and are thinking about where/when to spend parts of your budget.
p.s. I just came across this post that shares some amazing inspiration for swapping out builder grade lights. If you were on the fence for what good lighting can do for a space… go over and be inspired.
Pin for later: