Adding a soundproof ceiling is a simple project when you have an exposed joist ceiling. Learn how effective ceiling soundproofing is, how much it costs and more.
As we started the basement renovation, we had a list of things that we wanted out of the space and a soundproof ceiling was one of them. I was more concerned with basement noise coming up through the floors than the noise from above going down to the basement.
The goal of the basement renovation is for the space to be used as a recreation/hangout area (it'll have a ping pong table, shuffleboard, etc.). I wanted to be able to have extra kids over in the space but not hear them like they were in the next room.
So, we knew we needed to soundproof the basement ceiling and looked into a few different products and ways to do it. From our research, there's sound proofing and then there's sound dampening. The goal of soundproofing is to prevent all sound travel but, realistically, what we will end up with is sound dampening. Think of it like the sounds being muffled.
I started my search on figuring out how to dampen the sounds by looking for the best soundproofing insulation. Since we were basically gutting the basement, we could go a lot of different ways with products because we were soundproofing an exposed joist ceiling.
If you have a ceiling or walls that are staying in place and you are trying to soundproof around them or muffle the sound, then you would probably be better looking at soundproof ceiling tiles or even soundproof mats that you can hang.
We were specifically looking for options for soundproofing a ceiling with drywall. So, I'm sharing supplies and what we did for drywall finishing over the soundproofing insulation.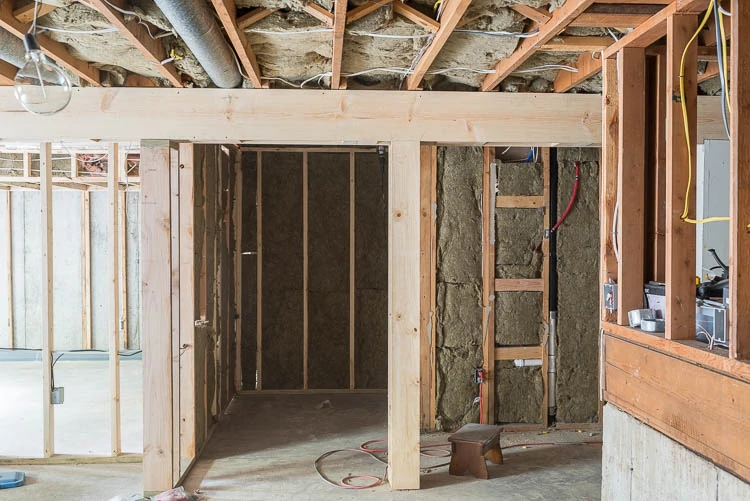 Affiliate links below. Thanks for supporting this blog. Click to read my privacy and disclosure.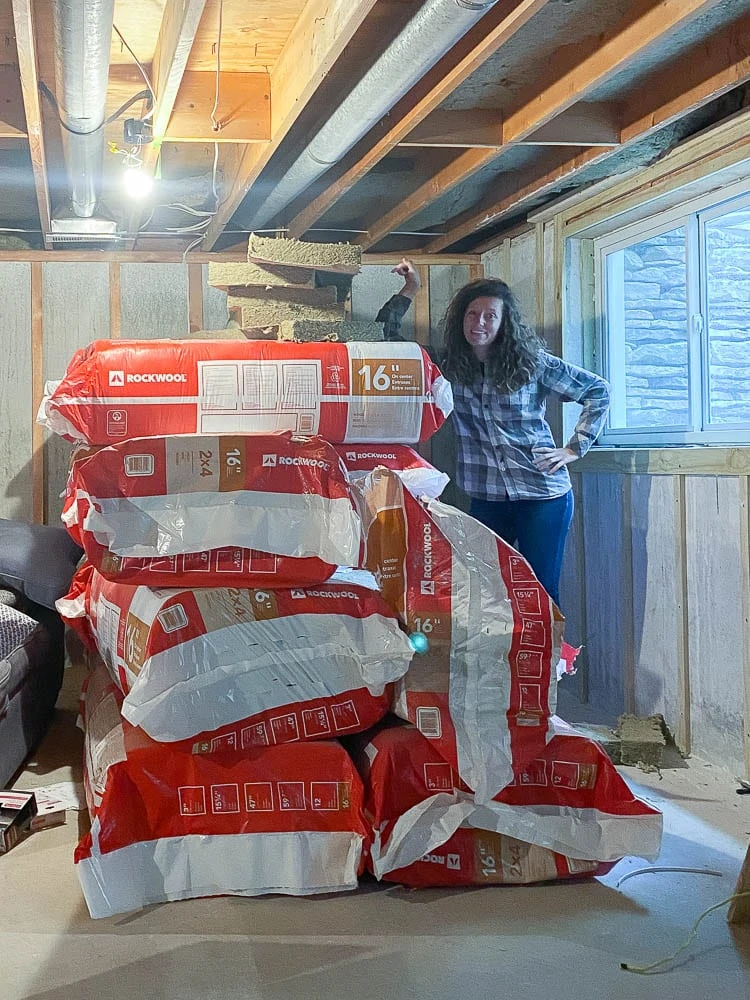 Supplies for Sound Dampening Ceiling
Gloves
Mask
Long sleeves
Knife
How to Sound Proof a Ceiling
Is soundproofing a ceiling worth it?
I guess to answer that you need to know how effective ceiling soundproofing is. For our project, the soundproof ceiling has been very effective. We still hear noises from the basement on the floor above but we can tell that the noise is not traveling through the ceiling. It's definitely traveling through the stairwell and door to the basement.
How much does sound proofing a ceiling cost?
We decided to use the Rock Wool Save 'n' Sound wool insulation with sound barrier which ran us about $600. We bought 15 packages which we thought would be way too much for the 800 square foot ceiling but 15 packages gave us 30% off so we went for it. We used all 15 packages. We did double up the wool insulation in about 300 square feet of the ceiling and did use two packages or so in the walls.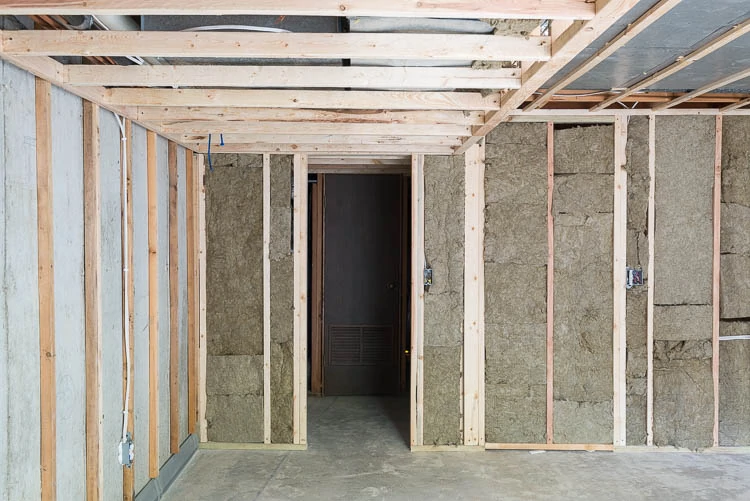 Soundproof Basement
We'd absolutely recommend using a soundproofing insulation in your exposed ceiling joists to soundproof your basement. We are very happy with the results for the areas that we did the DIY soundproofing. We are going to continue soundproofing in other ways though, too. I've been reading on ways to soundproof the door. I think we will add some weather stripping and probably a different seal at the bottom of the door. We also are thinking about adding some dampening insulation to the areas around the stairwell.
Our basement layout doesn't help with the noise because the tv and "gaming" setup is very close to the stairs (i.e. were we did the least amount of soundproofing so far). So, as we continue to finish the space, we will tweak it and add more dampening products to continue to help with noise reduction. I'll be sure to share as we do it!
If you want to catch up on other basement renovation posts then you might be interested in:
Pin for later: