All about basement lighting ideas including low profile lighting, recessed lighting spacing, basement stairwell lighting and more!
As part of our basement renovation, I knew I needed to figure out the best lighting for the basement, including what the recessed lighting layout looked like.
Because of our low ceiling height, I knew I had to plan for low profile lighting (I have a whole post on close-to-ceiling light options) and basement can lights. We had installed LED recessed lighting in our kitchen a few years back, so I knew a bit about them to begin with. What I didn't know was how to figure out the recessed lighting spacing and how to mix and match recessed lighting with the basement ceilings lights.
Questions I had were similar to, "how many recessed lights do I need for the basement" and then mix that with "how many overhead light sources do I need"? I slowly started digging into general best practices with recessed lighting and best lighting options for dark basements and came up with a plan!
Today, I'm sharing all the knowledge I gained when I designed the recessed lighting spacing diagram for our basement, plus sources for 4" recessed lighting, brass flush mounts and more!
Note: The basement is close to being furnished but I'm still waiting on art, a pub table and chairs. Better pictures will come when I shoot for the reveal this fall.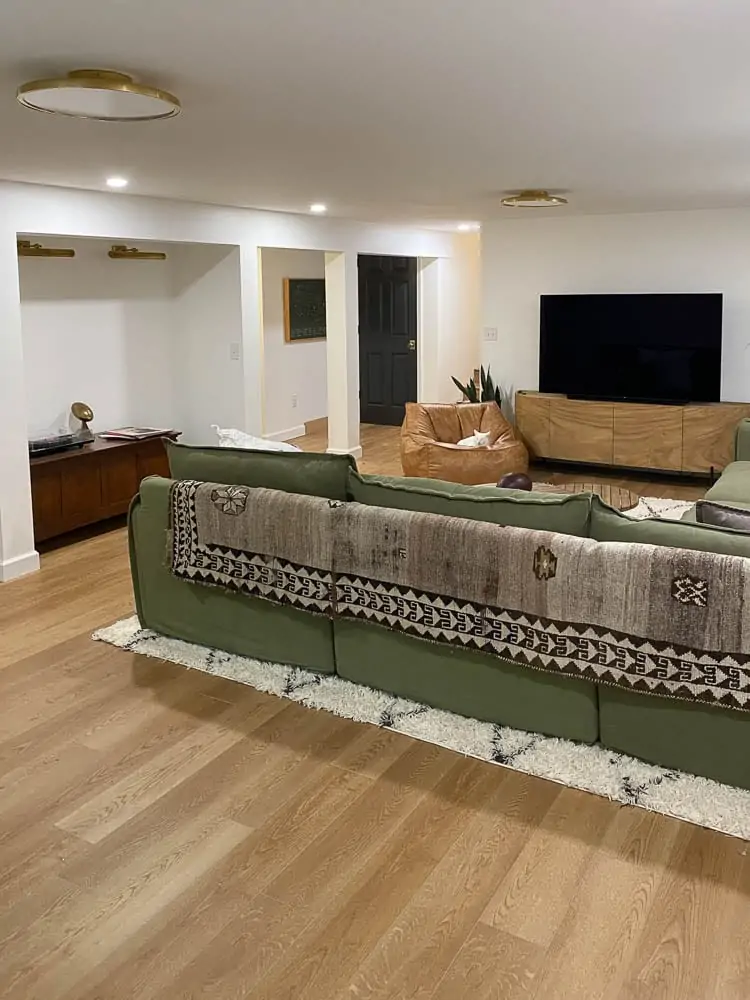 Our basement, before we started renovating, was extremely dark and dingy. I knew it wasn't going to be like that though, because we had two large egress windows installed. That being said, until you are living in a space, it's hard to estimate how much light it will get before drywall goes up and the drywall is painted, etc. The lighting placement plan had to be determined before all of those things, so I was hoping for the best with my decisions.
I hate the look of a runway of recessed lights in the ceiling. The goal for the basement lighting was to have enough light, of course, but not to overdo it with recessed lighting.
Basement Recessed Lighting Tips
8' ceilings should have lights 4' apart or more
Look at light coverage per square footage (light spread by recessed light)
4" LED lights are more than enough
4" LED lumen color changing lights are great
Rule of thumb is that one recessed light covers 32 sq feet for 8' ceiling
A person likes to see multiple sources of lights. So, you don't have to overdo overhead lighting. Think about bringing in lamps and other accent lighting, too.
Pay attention to kelvin/color temperature
To get started with the recessed lighting spacing plan, I first decided on size of the recessed lighting and then looked into how much square footage each recessed light provides light for.
To determine how many light sources and which types of light sources we needed for the basement, I heavily referenced this post on how many recessed lighting fixtures to us.
In that post, she talks about the following equation for lighting:
Total square footage x 1.5 = Total wattage needed
Total wattage / 60 watts = # of recessed can lights
The kicker on this is that I'm not buying 60 watt or 100 watt bulbs for the basement. I'm using LED lights so the comparison for lighting needs is a bit off. Most of the lights I was looking at, gave LED numbers as well as lumen output.
I used the calculations above to convert to the lumen output, so I could see how many lumens total I would need in the basement (can lights + low ceiling overhead lighting + sconces).
My main basement space is 362.5 square foot. So, my lighting calculation looked like this:
362.5 square feet in main space x 1.5 = 543.75 total wattage needed
543.75 total wattage / 60 watts = 9.06 (recommended can lights)
Here's what I ordered for my space:
Two Overhead Lights (75 watt equivalent, each) = 150 watts together
Two Sconces in kitchen area - 150 watts together
Six 4" LED can lights (changeable color) (65 watts each)
Because I feel very strongly about not having a runway or LOTS of recessed lighting, I went for less recessed lights in the basement. I knew that by having two overhead lights for the space, those would help balance out the light flow.
Spoiler: We have PLENTY of light from the recessed lights and hardly ever turn on the overhead flush mounts.
To help make the lighting diagram, I created a floor plan using Floorplanner (it's free!) and then just drew in where I wanted the lights to be. The electrician found this VERY handy. I'd recommend doing something like this for sure.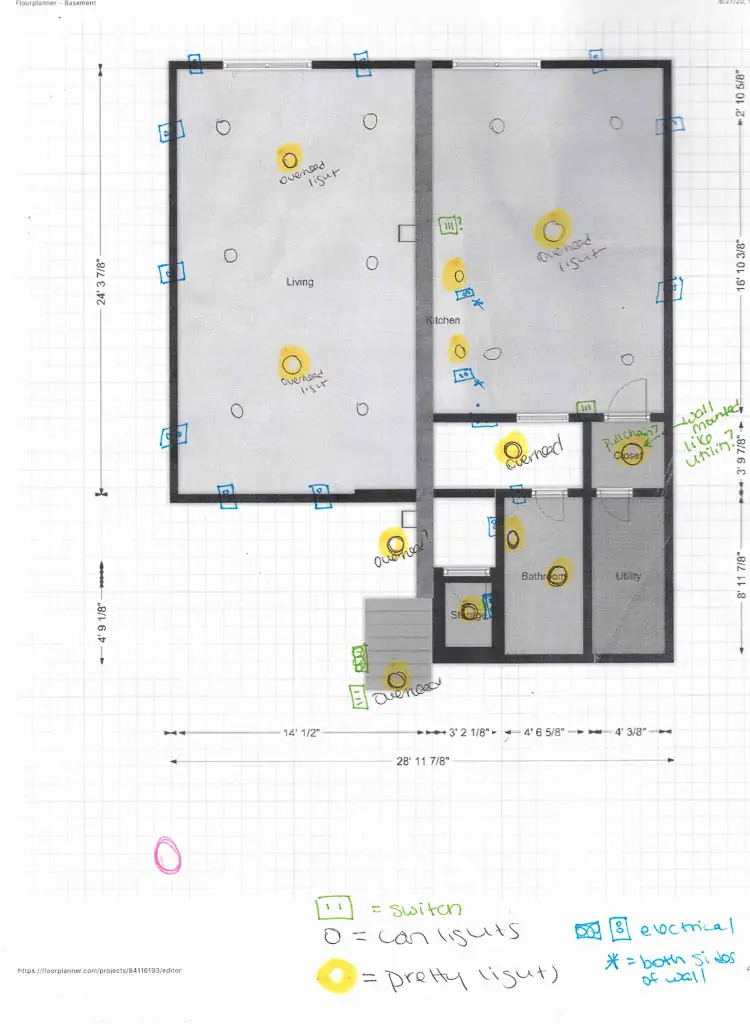 Affiliate links below. Thanks for supporting me! Click to read my privacy and disclosure policy.
Basement Light Fixtures for Main Space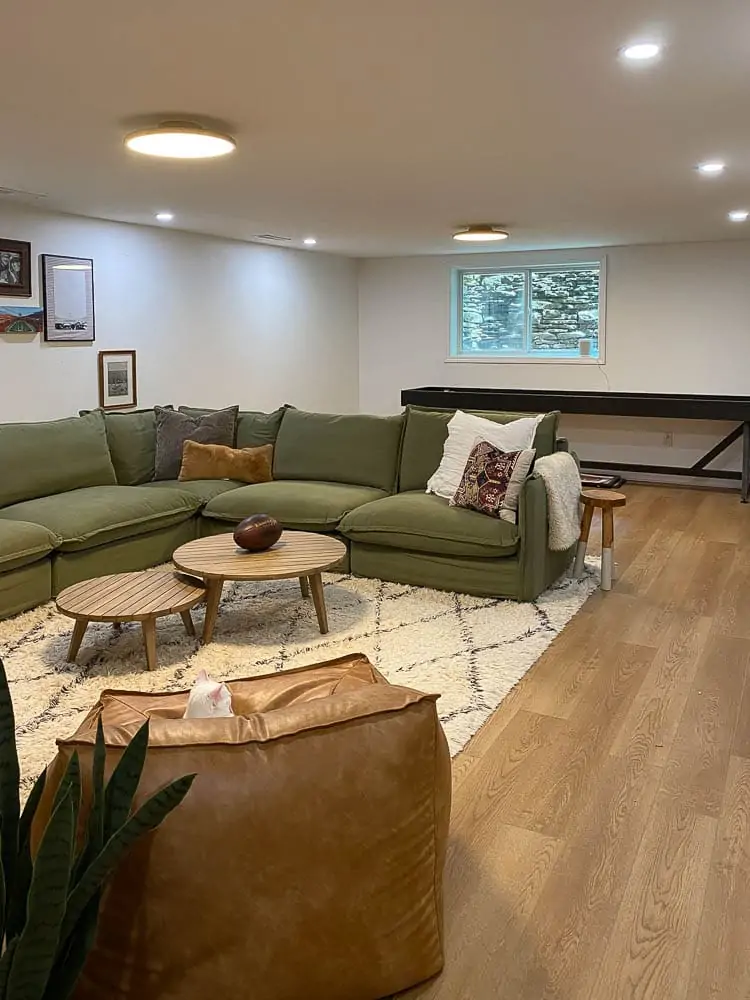 All in all, we are very happy with how the basement is lit. After seeing the light in the main space of the basement, I do think I could have gone to just one overhead flush-mount light in that space instead of the two.
That being said, it looks good visually and isn't too bright when all the lights are on. It would have been a slight cost savings to just have the space wired for one overhead light instead of two. But, I'd rather have an excess amount of light in the basement instead of not enough, so we are happy.
One thing to think about too, is having your recessed lighting and your overhead lights on two different switches. We did that in our basement and our kitchen and have definitely liked having the option to just turn on the overhead fixtures or the recessed lighting. I'd recommend that for sure!
I thought I'd show you a few other basement lighting ideas around our space.
To mix in some visual elements, I had library lights installed in our soon-to-be dry bar area. It's not the prettiest space yet, so I'll wait to share more until we get the cabinetry in it.
A semi-flush light hangs in the small hallway off the main space to the bathroom. The semi-flush wouldn't be a great option in the main space of the basement because it's not a low profile light but I think it works well in the tiny hallway.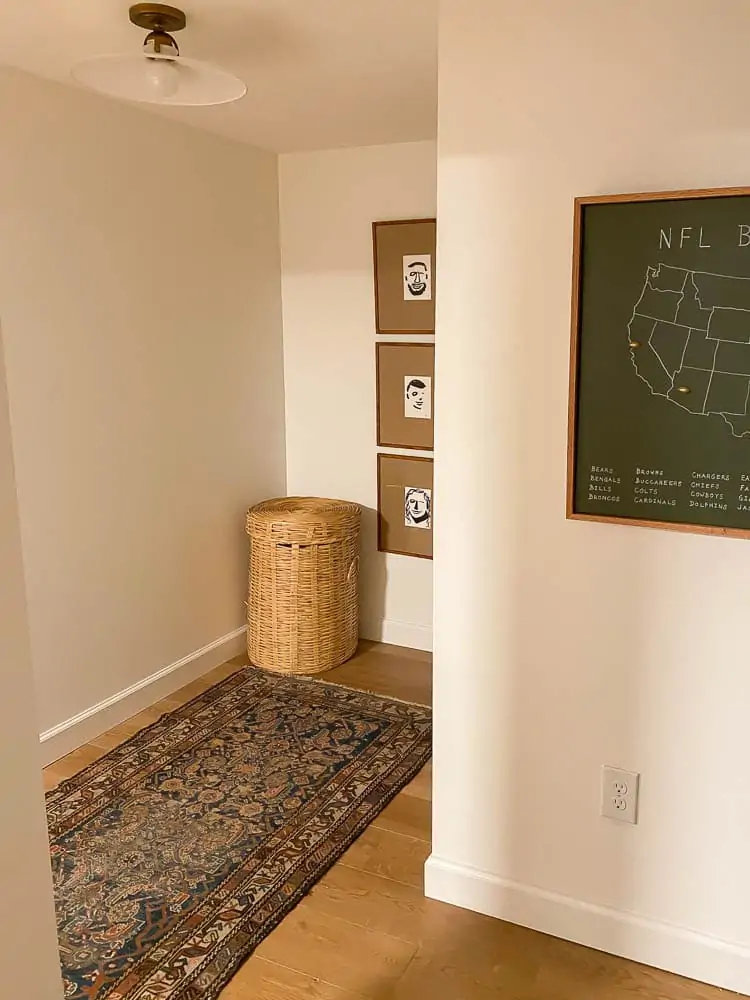 When I was looking for basement stairwell lighting, I knew it wasn't going to be seen much because our electrical box is very close to the door. I wanted an inexpensive, brass, flush-mount and this one fit the bill.
As you can see, we are still in renovation mode on the stairs. We have to finish out the paneling on the left wall, caulk and paint. Getting closer, but it's taking us a long time.
As I was sharing some of these changes over on IG, I got a few questions and thought it would be good to address them here as well.
What type of lighting is best for the basement?
In my opinion, the best lighting for basements is a combination of lighting options. I think we sell our basements short when we don't think of it as a living space. If we just think of it as a recreational space, then we are probably forgetting those homey touches such as lamps, sconces, etc. that make our other spaces feel decorated.
What is the best lighting for low ceilings?
Flush-mount lighting or close-to-ceiling lights are the best for low ceilings. If you combine that with recessed lighting, then you'll have function and form.
Should I use 4" or 6" recessed lights?
I think 4" gives off the right amount of light without making your ceiling look like a runway of lights. They are a bit more unobtrusive.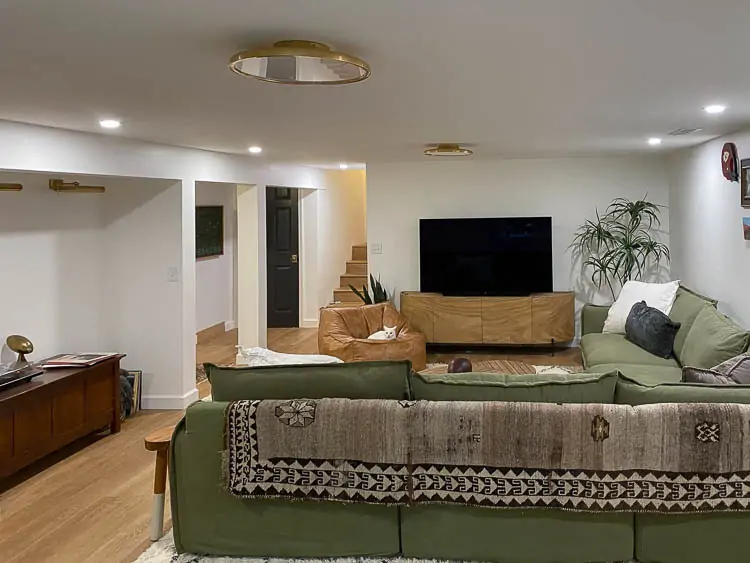 I hope this was helpful for you! Figuring out the lighting placement for the basement was stressful but I feel like I got what I wanted out of it with the lighting and it functions well.
Have you done anything like this before? Any tips, from your experiences, or regrets?
Next steps in the basement include: finishing the stairway, contracting out the mini bar building, hanging the tv, etc.!