Need decor inspiration for your basement stairs? In this blog post, I'm sharing our before and after stairway reveal, and some different ways to decorate basement stairs.
Whether you're looking for a way to add some extra storage or you just want to spruce up your space, I've got you covered.
We started our basement renovation in the early months of 2020, quite a weird time, right? Well, as most of you are aware, lead times and production changes have been challenging to work with as well as other factors. We feel lucky that even though it's two years later, we are in the finishing stages of this renovation. Every small step is a "pinch me" moment and I couldn't be happier.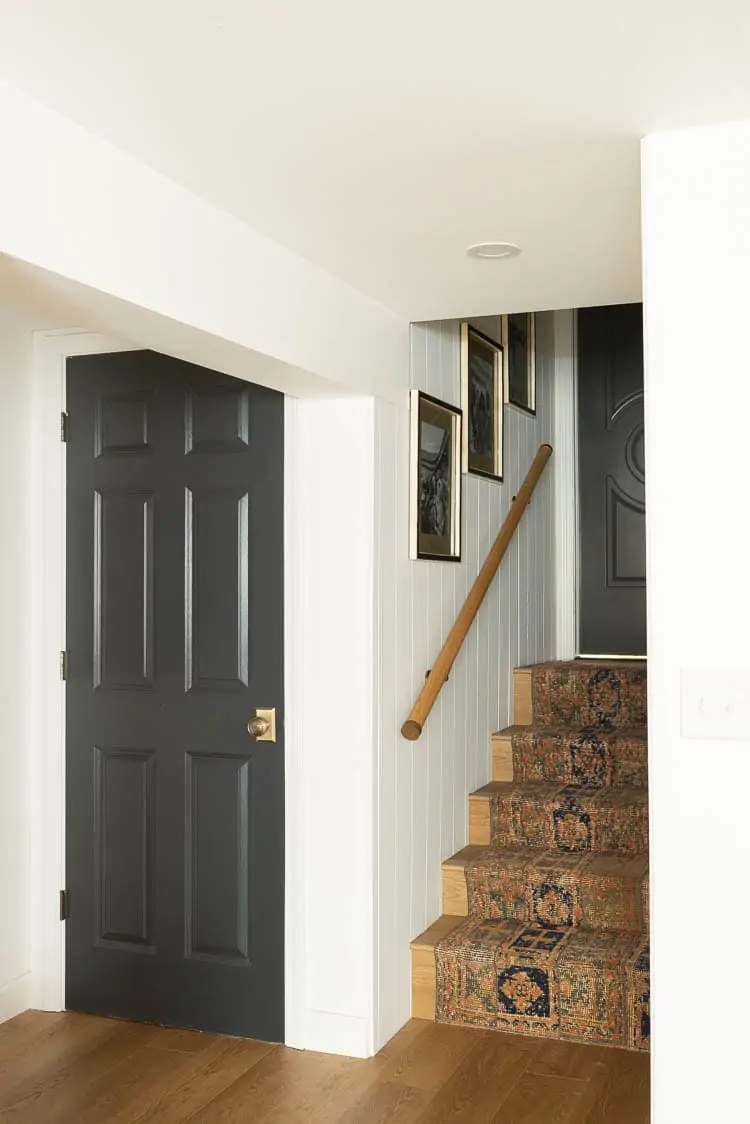 Basement Stairs + More Basement Stairway Ideas
Pretty, right? There are so many projects (secret door to storage room, LVP stairs, painted mat boards, engraving brass, etc.) that went into the space. Can't wait to share each of those with you today and even share the project that I love but isn't holding up the best (maybe you have a fix for me!).
Before we jump right into all of that though, let's take a quick look at what we started with in the basement. You have to see the before picture of the carpet stairs and 70s wood paneling to really get the before vibe. =)
Carpeted stairs down to basement (Before Photo)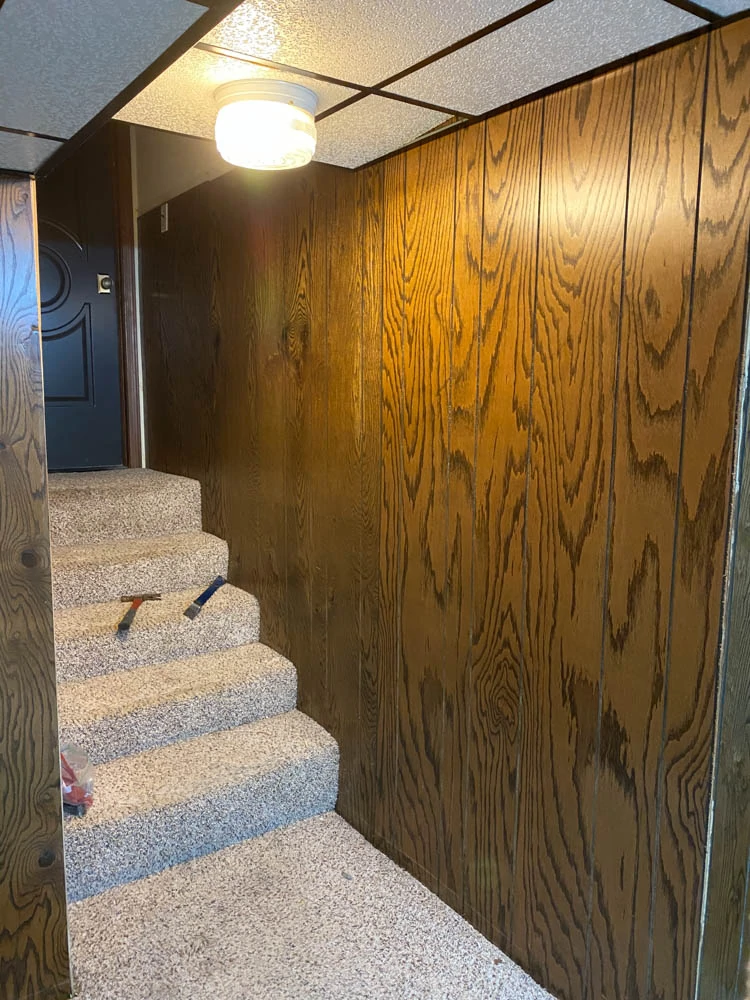 The funny thing about the "before" photo of the stairs is that it isn't even quite a true before. A few years ago, we upgraded the door to the basement when we did the foyer makeover. But, I think the rest of the space is ugly enough that you can see that the old door even made it uglier.
When we started on the basement renovation, I didn't think about basement stairs ideas much. I knew it would come together slow, as do most of my projects, but once we installed the flooring... I could see the whole picture more easily.
We've done a lot in the space and a lot of DIYs. I thought I'd link them for you first and then let's dive in on some of the projects that really impacted the basement stairway!
Basement Makeover Projects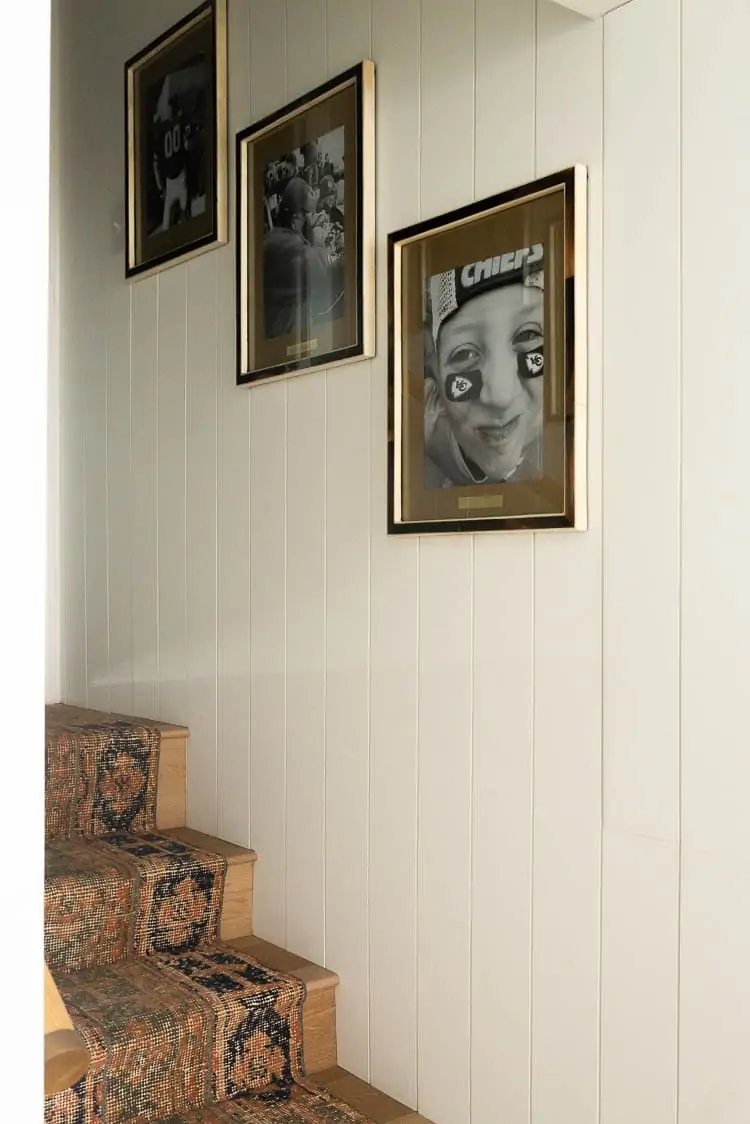 Getting the look of wood basement stairs
I love our oak wood flooring that we have upstairs throughout the house. If you're considering giving your basement stairs a makeover, one popular option is to give them the look of wood. This can be a great way to add some warmth and character to your space, and there are a few different ways to achieve the look.
One option is to simply paint your stairs with a wood-look paint. This can be a quick and easy option, but it may not be as durable as some of the other options.
If you're looking for something even more durable, you could opt for luxury vinyl flooring. Luxury Vinyl is designed to look like real wood, but it's much more resistant to wear and tear.
We live in a wet climate and have a basement (which occasionally gets water in it) so we knew that it wasn't the wisest to go with wood flooring. We opted to install luxury vinyl planking and carried that up the stairs as well.
The LVP was very easy to install (just lots of time involved) throughout the basement but the stairs were much more difficult. The nose on the treads had to go in perfectly and, honestly, they were just challenging.
I really like the look but if I was going to do them over, I think I would have chosen to go with wood stairs instead. One thing on the wood is that it would have been easier to install the rug runner over the stairs. More on that in a bit!
Overall, I'm happy with how the LVP stairs turned out but I do think I would choose to go a different route if I had it to do over again!
Adding a stair runner to the basement stairs
If your basement stairs are looking a little drab, there are plenty of ways to spruce them up! Adding a stair runner is a great way to add both style and function to your space. Not only will a runner make your stairs look more inviting, but it will also help protect your flooring from wear and tear.
Remember earlier when I said that I did a project in this space that isn't holding up the best? Well, it's this one. Here's a tiny bit of the backstory...
I got this amazing vintage rug runner (check out my vintage rug shopping posts for more details) and I had it in mind to use somewhere else. As we were working on the handrail over the stairs, I thought that the rug would be amazing as a runner for these stairs. LVP unfortunately can't be nailed in to with a finish nailer. This makes it challenging to install a rug runner over the stairs.
After some thought, we didn't want to use screws because you'd see the screw heads, so we decided to try commercial-grade double sided tape. We used a bunch and two different styles of double-sided tape. Let's just say that we wanted the rug to stay in place so we used a lot of the tape. Well, wear and tear is high in this area, and some sections of the rug have a hard time staying in and tight on the risers. It's easy to fix by just pushing the rug in on the stair risers and, honestly, wouldn't be noticeable to your average person BUT it bothers me.
I still don't have a solution for this and don't want to give up on the rug runner so I'll probably keep pushing the runner on to the stair risers going forward until it's not continuing to stick at all. We'll see! Definitely leave me a comment below though if you have an idea that might work!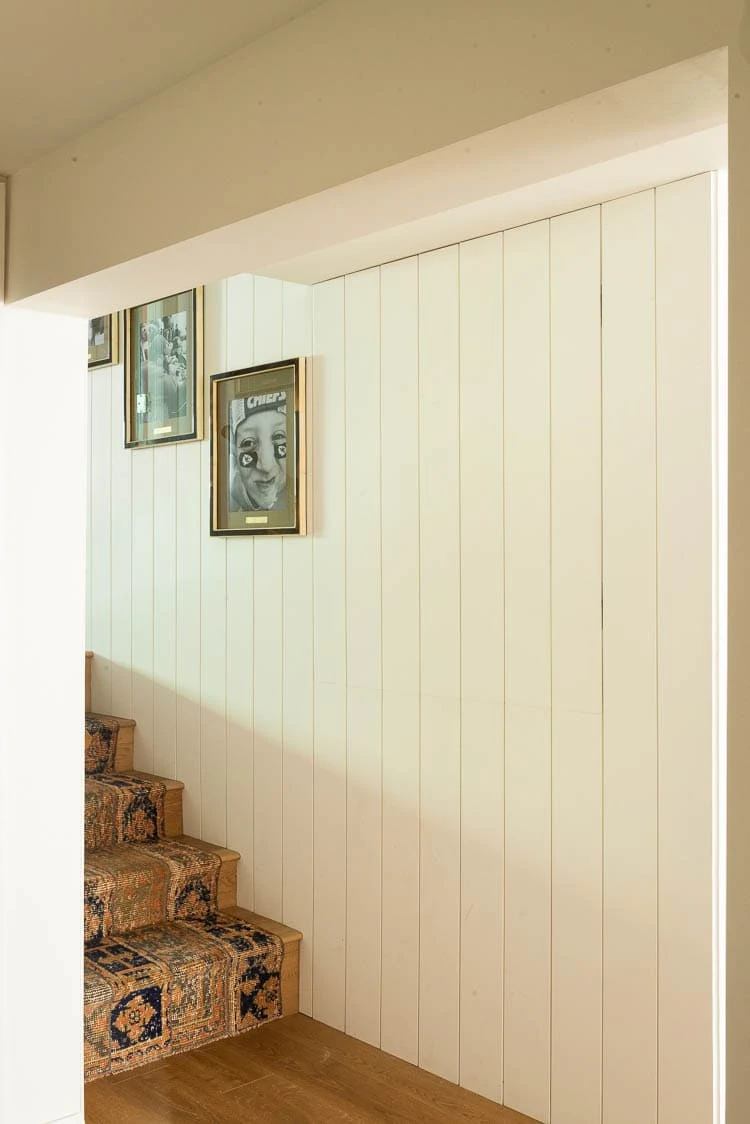 Secret door to storage
One of the head-scratching moments of planning our remodel was where to move the access door to a storage closet. We have this weird storage closet that is elevated and trying to camouflage the door was key in making our basement space flow. Anyways, peep the door up above in the vertical shiplap! The hinges on the hidden door are hidden. Luke angled the shiplap so it fits very nicely and, all in all, we couldn't be more thrilled will how the hidden door to the storage room turned out.
The storage room with secret door is a great way to make use of otherwise wasted space and helps keep the basement organized and tidy.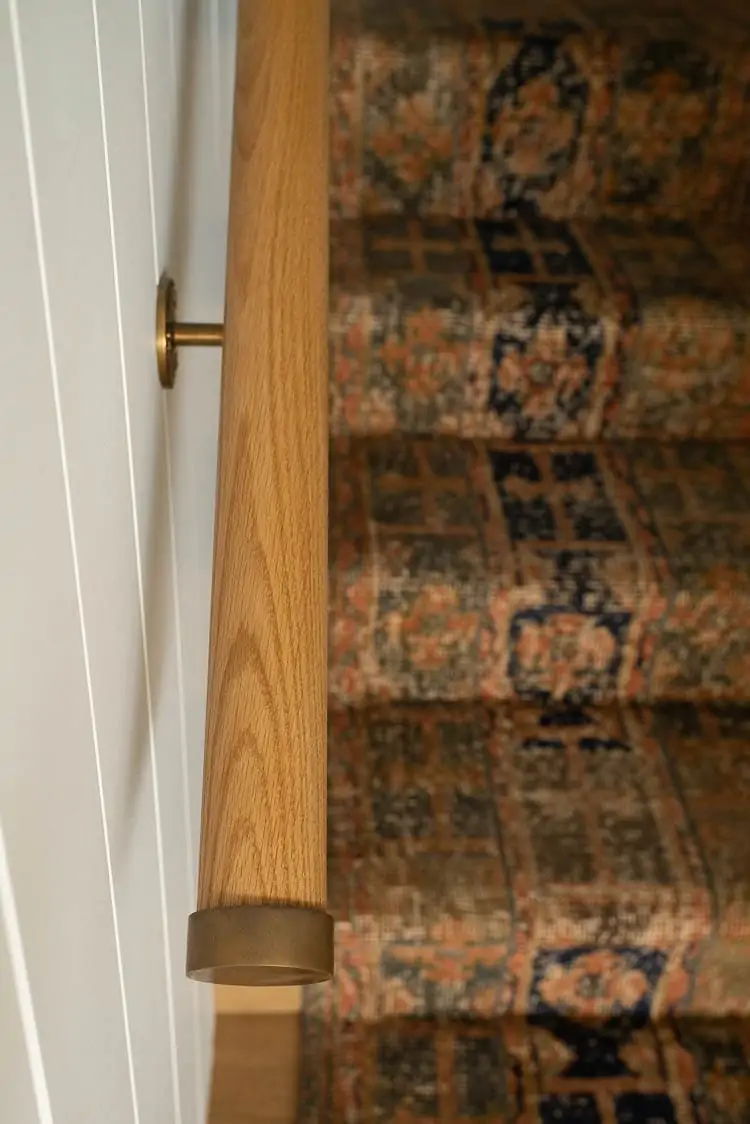 DIY wood handrail with brass end caps
I have to say that our DIY wood handrail with brass end caps turned out spectacularly! I found inspiration of a similar handrail but could never source where I could buy one. After much house sleuthing online, I found brass pieces that I felt good about trying to use to make my own handrail end caps.
The hardest part of this DIY was chiseling out wood to fit the brass handrail brackets into, but Luke really did a great job with that. There's a full tutorial on making your own if you want to make a DIY wood handrail with brass end caps!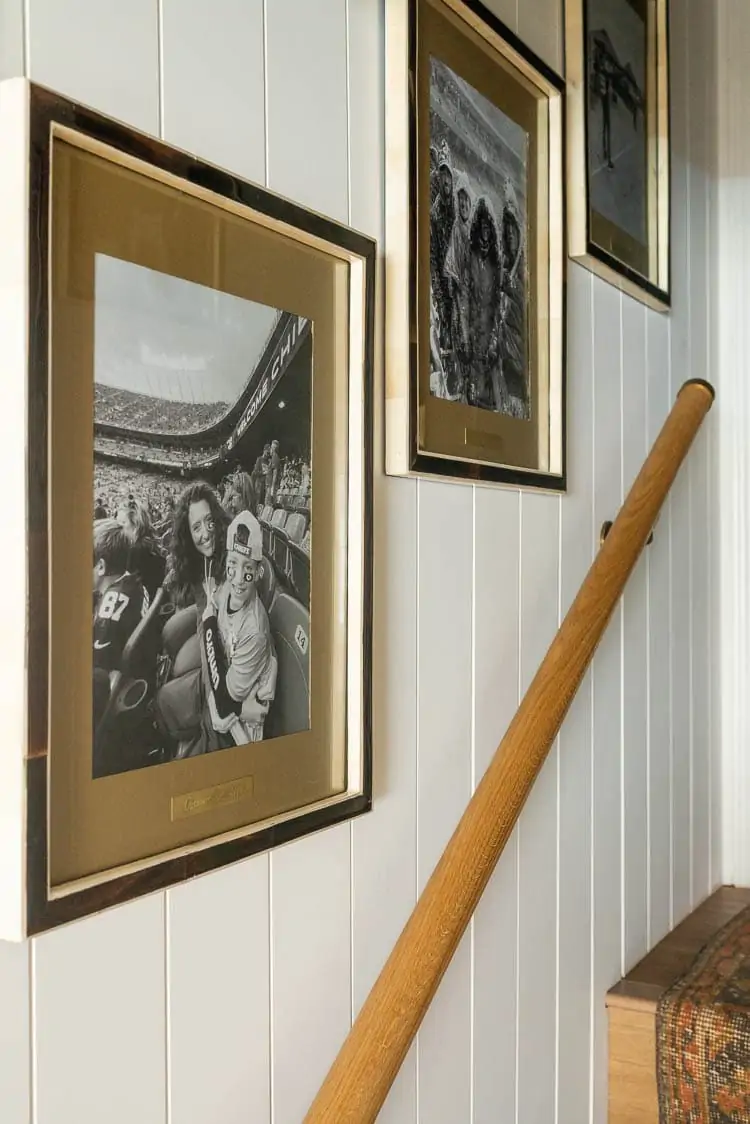 Customizing wall frames
Last but not least, I found gorgeous bone frames that I used to create a gallery wall on our stairs. When I went to hand the gallery wall frames up, they felt a little bland to me. White shiplap with cream and brown frames and cream mat boards... it just didn't go how I wanted it all to go.
I decided to order custom mat board in a brown/gold tone but before I placed my order, I realized that I had the same tone of paint in my stash. I got a wild hair to paint my mat board first to see how it looked and it turned out lovely!
From there, I wanted even more personalization on my gallery wall frames and decided that I wanted customized brass tags to tell a bit about each photo in each frame. I wasn't sure if engraving brass tags was doable at home but when I happened across super cheap brass sheets at the craft store, I decided to try it. You can totally engrave brass at home and it's really not that hard!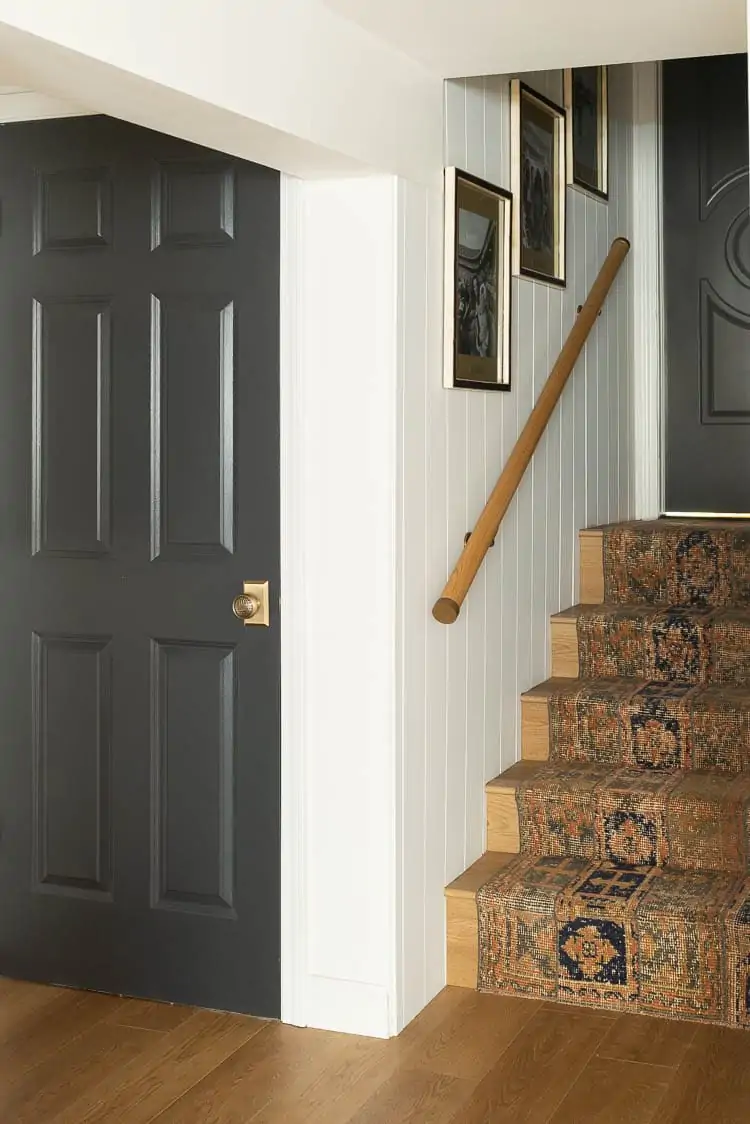 A stairwell, and a basement stairwell at that, can lend itself to being a boring spot in a home. With intentional choices and personalization, ours is a continuation of our home and one that makes me smile.
I'm getting my act together and will be sharing more of the basement space soon! I think our workout room setup will be next.. can't wait!