Learn how to cut a rug to resize it and what makes a good trimmable rug. Plus, professional rug resizing costs and supplies needed to DIY.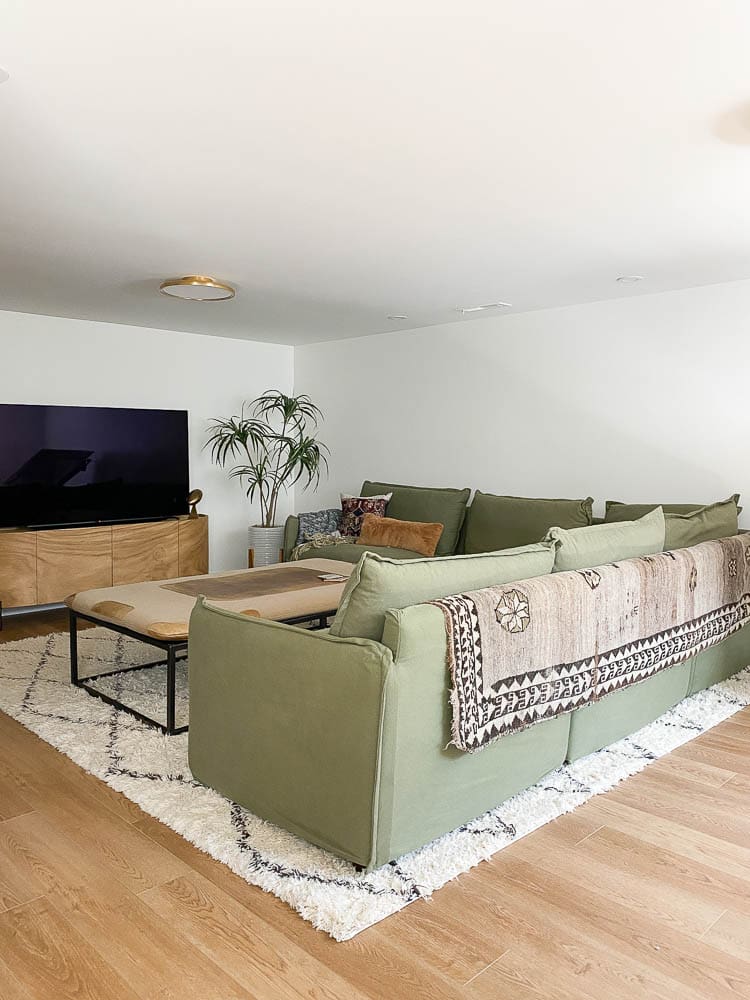 As most of you know, I tracked all of my home decor purchases in 2020 (#20in2020). I really loved the concept of being super intentional with adding to our spaces, working on buying less with more intent and repurposing what we have.
That year-long exercise really changed the way that I'm approaching spaces in my house. As I started working on the design for the basement, I knew I wanted a neutral rug. I had a moroccan shag rug in our playroom rolled up that wasn't being used. Although, it's not a rug that I would pick now for my house (it's fine but my aesthetic has just changed a bit) it's a great rug. It's 100% wool.
Since my mindset has been to slow down the cycle of decor at my house, I got to thinking about using the moroccan rug in the basement but knew that the size wasn't going to be right. I started researching professional rug resizing and methods for how to cut a rug if you wanted to DIY it.
Honestly, at first, I decided that I was just going to hire a professional to resize the rug. I got a quote of $1.50 per linear foot to resize the rug. A few weeks went by and then I called back to arrange transport for the rug, and magically, that price went up to $3 per linear foot.
I get annoyed by things like that, so I decided to pass on having a professional cut and bind the rug.
I dug into research on trimming a rug yourself and decided that I was going to go for it. Spoiler: cutting an area rug was super easy and I'm VERY pleased with how my DIY project turned out.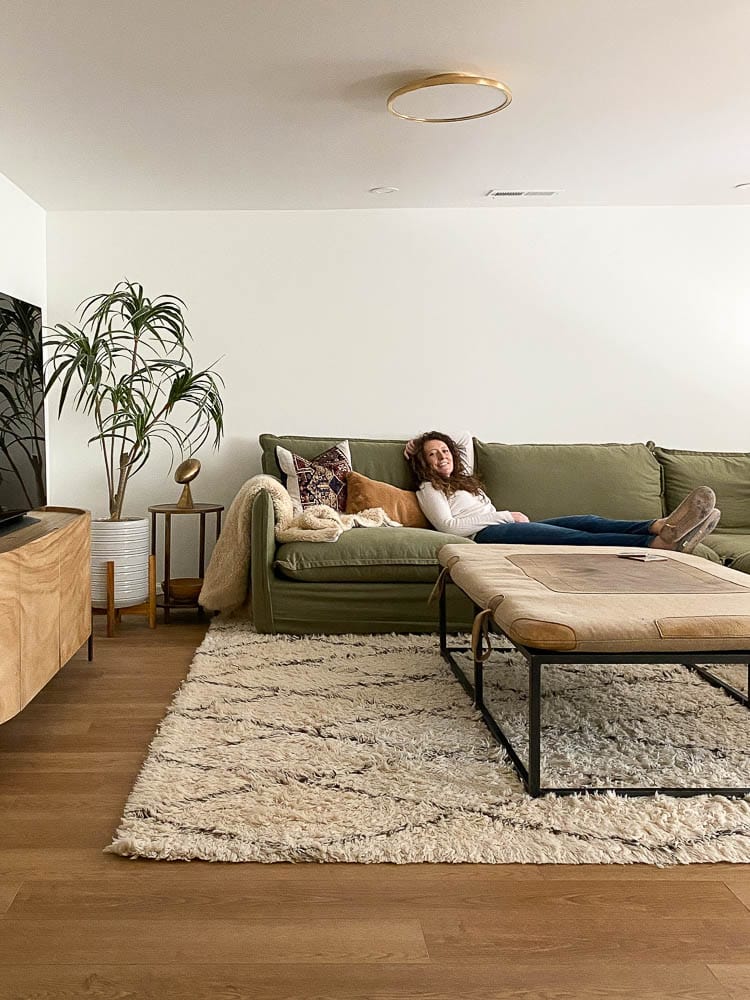 Supplies Needed To Cut A Rug
Straight edge * (we used a long level)
Wood or cardboard (to put under your rug so you don't cut the floor
How to Cut a Rug to Resize It
Step By Step Rug Resizing How-To
Decide how much you need to cut off your rug.
Use a measuring tape and make a few dots down the length you want to cut.
Using a straight edge, line up the dots that you've marked out. Connect the dots and mark one long line. This is where you'll be cutting.
We are taking off 33.5″. Put a piece of wood inside the rug, so you have something to cut on. You don't want to cut your floor!
Start cutting.
Slowly peel up the the cut piece to help minimize rug fibers lost.
Pull the tape off the rug binding and press it right up to the edge of the cut side of the rug. Press down.
Place a bead of hot glue on the binding and press the rug onto it.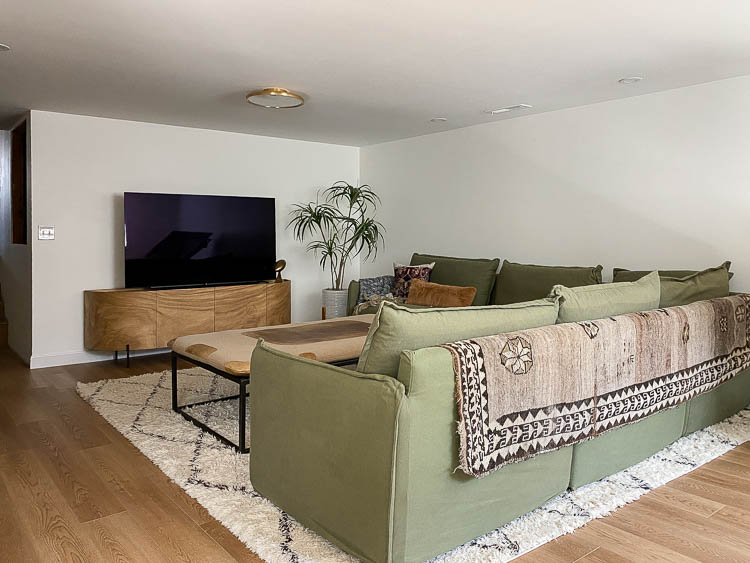 As I was resizing this rug, I was thinking about other questions you might have about this project and thought I'd answer some of those below.
Why Resize A Rug?
If your rug doesn't fit your space but is in good condition, then resizing your rug might be a perfect fit for you! This was basically the same exact situation that I was in and I'm happy to have found a quick and easy solution to my area rug dilemma.
How To Cut A Rug Without It Fraying
Different rug types will react differently when you are cutting through the material. The rug binding step is what stops your rug from fraying. Its important to attach the binding with the double-sided tape that comes on it but also use a bead of hot glue closer to the rolled edge of the binding.
I was thinking about different types of rugs that might be good for this type of project and I definitely think some rug types are more trimmable than others. Like I mentioned, my rug was a shag rug in 100% wool and I think it was a really good option for resizing. I did see a tutorial that looks great for resizing a jute rug which is definitely more intense than what I did.
My rug was 100% wool and when I cut the rug, it didn't fray but when I separated the cut pieces, I didn't do that gently enough and some of the rug fibers came off more than what I would have preferred. I think if you pay attention to how you are pulling the rug apart, you can minimize the fibers that you lose.
Overall, I'm so happy with easy it was to trim the rug. I think this was a PERFECT DIY project for our basement!
If you want to see more basement DIY projects: