Stay on top of your yearly home maintenance with this exterior home maintenance checklist printable.
What comes to your mind when you think of seasonal home maintenance? If I was a betting gal, which sometimes I am and other times I'm not, I'd venture a guess that nothing comes to your mind for exterior home maintenance. The reason why is because most of us don't think about home maintenance that often. We usually don't think about maintenance until something breaks. That's not a good routine to get into though. So, today, we are talking about this topic and even giving you an outside home maintenance checklist to print so you don't just react when something goes wrong.
Exterior Home Maintenance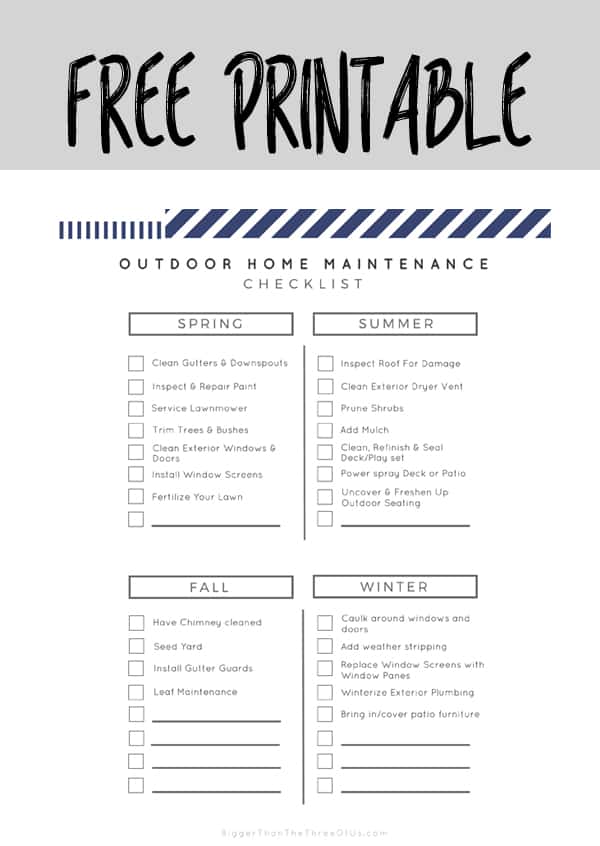 We will be the first to admit that keeping up with the exterior of the home can be daunting. It feels like we never have enough time to get the interior how we want it and then you want us to keep up with the exterior too? Today, we are breaking down what actually needs to be done on the outside of our homes, how often to do it and what season it might work best to do it in. Make sure to get the printable outdoor home maintenance checklist to keep on top of it all.
Listen below or find us on your favorite podcast app: iTunes, Stitcher, GooglePlay and Overcast.
In this episode, we chatted specifically about:
Find us on Instagram at Your Home Story Podcast.
We'd love to hear your questions and thoughts! Join our Facebook group here and email us at [email protected].