Landscaping with rocks instead of mulch is easy and is something you won't have to replace year after year. Learn what we think about mulch vs. rock, the cost of our river rock flower beds and see how we mixed in rock and mulch landscaping in our front yard.
If you are new here, we have just under an acre of land and we have a ton of flower beds. We've lived in this house for ten years now and have learned a thing or two in regards to what works with all the trees that we have and landscaping with rocks and mulch.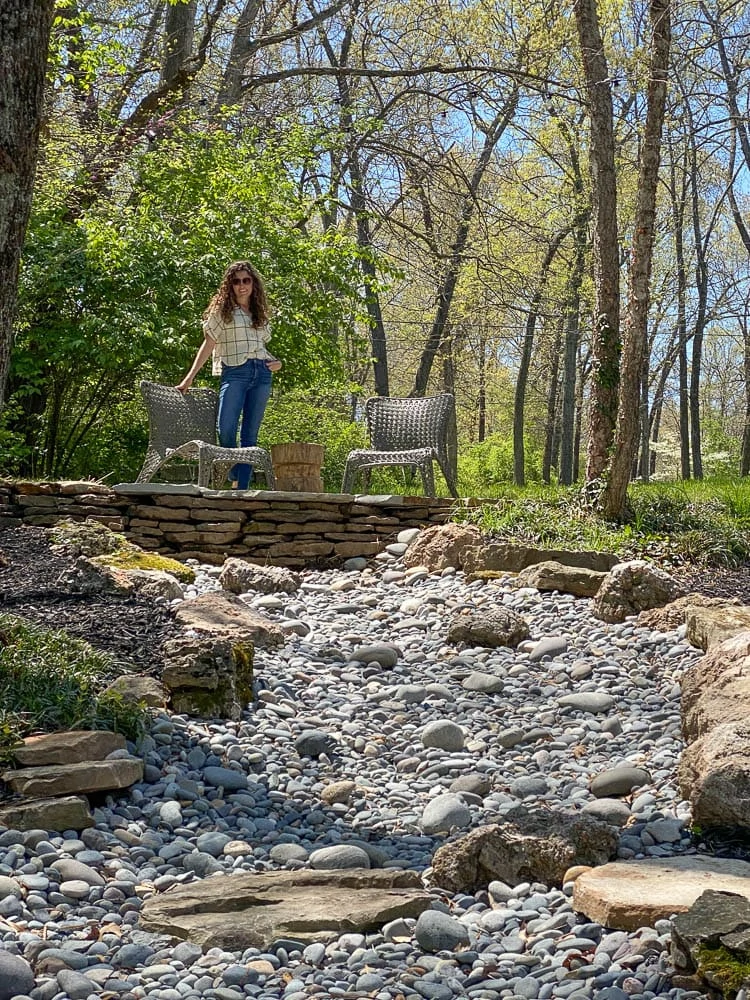 With all of our landscaping beds, the biggest takeaway to having a prettier, manicured lawn but with less investment each year is to choose to go with rock flower beds when you can.
I want to share more about the landscaping river rock that we installed along the backyard patio including the cost and process. Our patio has seen a few updates over the course of time we've lived here including the patio spruce-up and projects like the DIY Scrap wood rolling planter. We've wanted to be able to use the space but also, haven't ever invested much into how it looks on the actual concrete pad (maybe someday!).
All of that being said, when the season starts to change and we want to be outside more, we want it to look decent. The mulch flower beds were always showing tons of weeds and always needed more mulch to look nice. But, I forget myself... let's chat about our decision of using rocks instead of mulch and what that entailed.
Mulch or Rocks?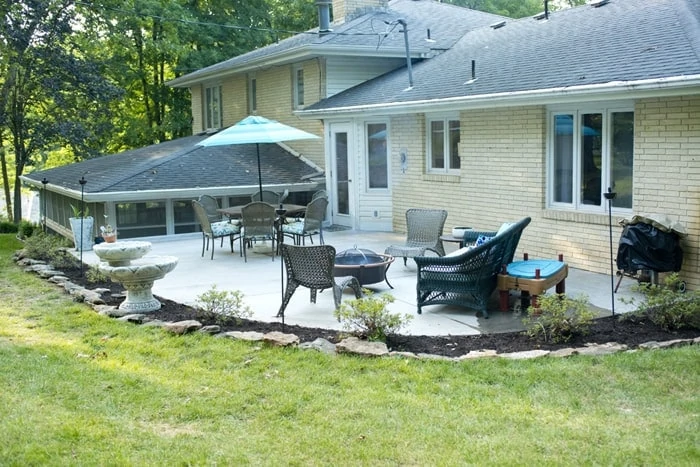 Our Backyard Patio Story
A few years ago, we spruced up the back patio landscaping beds with mulch. Actually, we spruced up all our flower beds with mulch. They all looked great. But, at over $600 in mulch to get all the areas looking nice, it was just too much. It would have been ok if that $600 lasted a few years, but really the mulch in our area needs to be done yearly.
We have tons of trees on our property and on the property all around us. So, between the branches and leaves that constantly fall, we are out there with a leaf blower trying to keep the spaces cleared. Well, the leaf blower not only takes care of the leaves but it also moves the mulch around. So, about six months after we put in all that mulch - it was looking pretty bad.
Luke and I finally came to the realization that we just couldn't keep up with all the flower bed areas and we had to start making some changes. One of the changes we made was to replace all the mulch around the patio with river rocks and, possibly, all the flower beds with rocks instead of mulch. I had seen some river rock flower beds online and thought they looked nice. I knew from experience, in our past house, that landscaping river rock would stay much better than mulch, so we decided to go for it.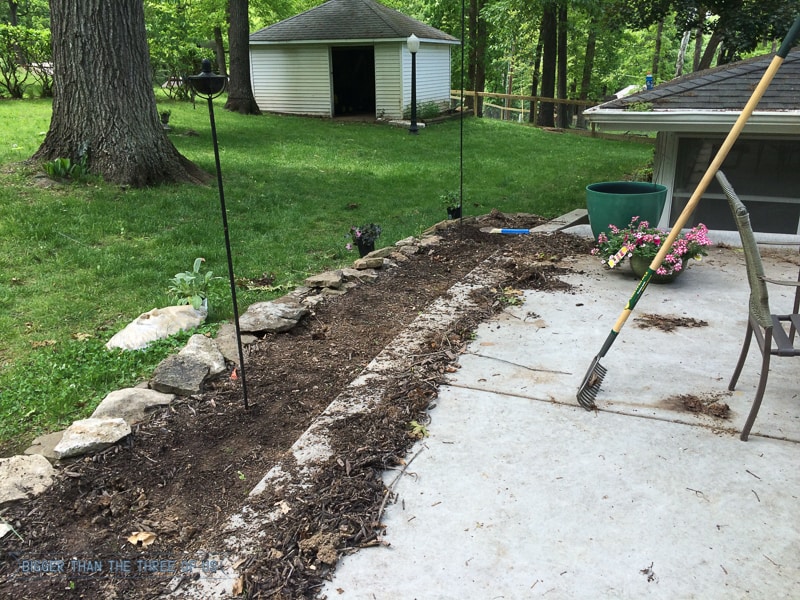 *Affiliate links below. Thanks for supporting this blog. Click to read my privacy and disclosure statement.
How to Make Rock Flower Beds
Prepare the flower bed by ripping out all the old plants, if there are some plants you aren't keeping
Rake off excess old mulch
Add landscape fabric under rocks. Hammer in landscaping pins (if using) about every 12"
Place your plants on the landscape fabric to determine placement
Once you have determined plant placement, cut into fabric and plant
Dump river rock for landscaping and spread out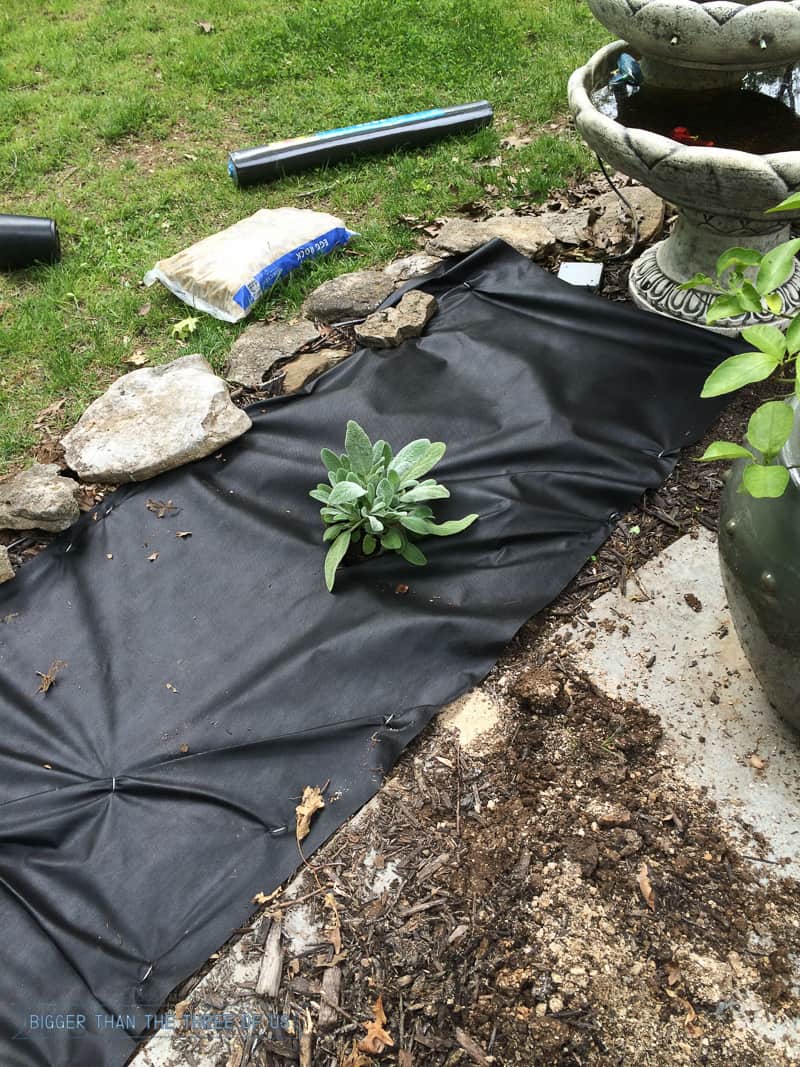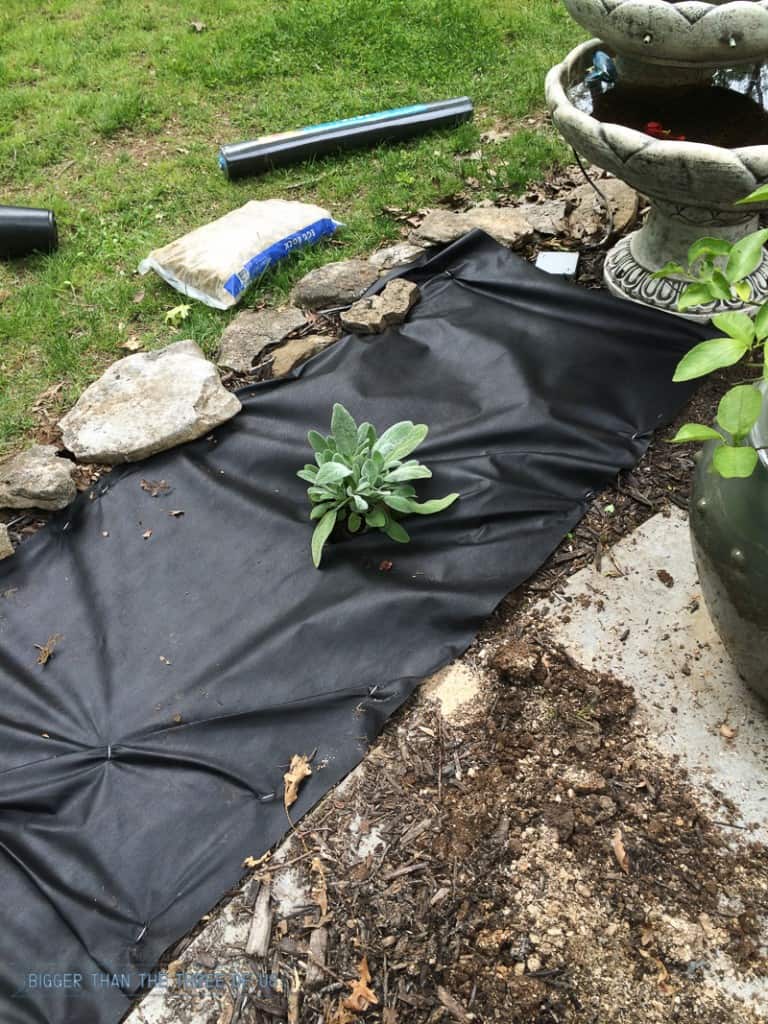 My step-brother and I put in the rock flower beds a few years ago and it's been working well for us. I wanted to wait a bit to share because I wanted to give my honest opinion on the mulch vs. rock look. I felt like I really needed to see how the river rock looked over time before reporting back.
How Much Does a Flower Bed Cost?
The landscape area around our patio is pretty large. I think it took about 20 bags of river rock. The total for this project came to around $175.
In hindsight, it would have been cheaper to grab river rock by the truckload instead of the bags. I was just eye-balling the bags and we used way more than I expected to use.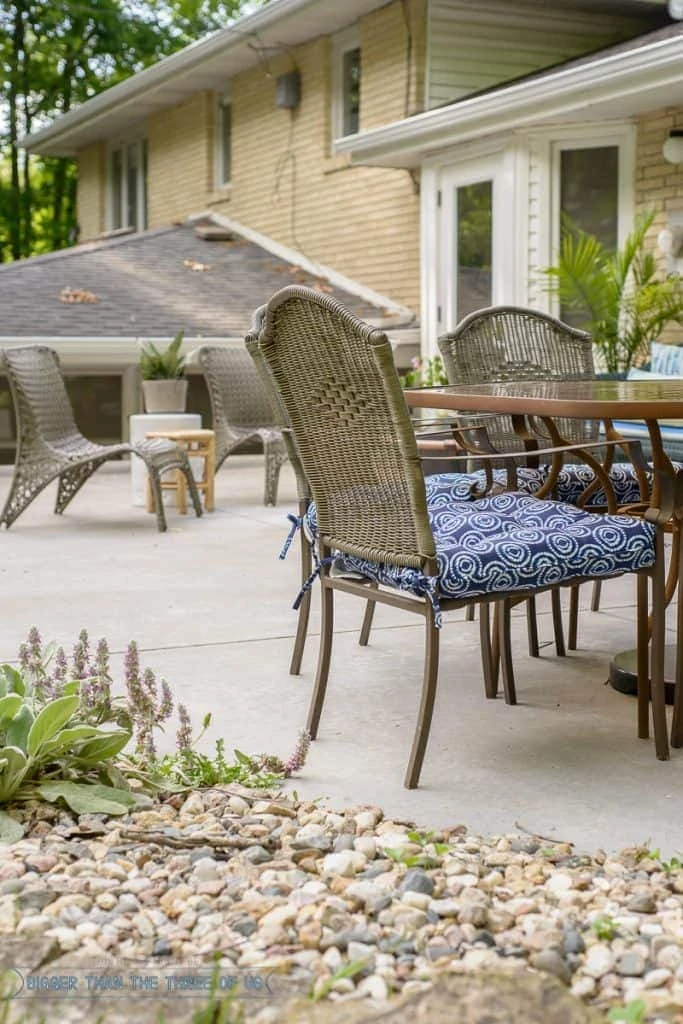 Since doing do this project, we've done front yard river rock landscaping and I thought I'd answer a few questions about both projects.
How to Prepare Rock Rock Landscaping?
Clean out your existing flower bed, lay landscape cloth and add rocks to the flower bed. It's that easy.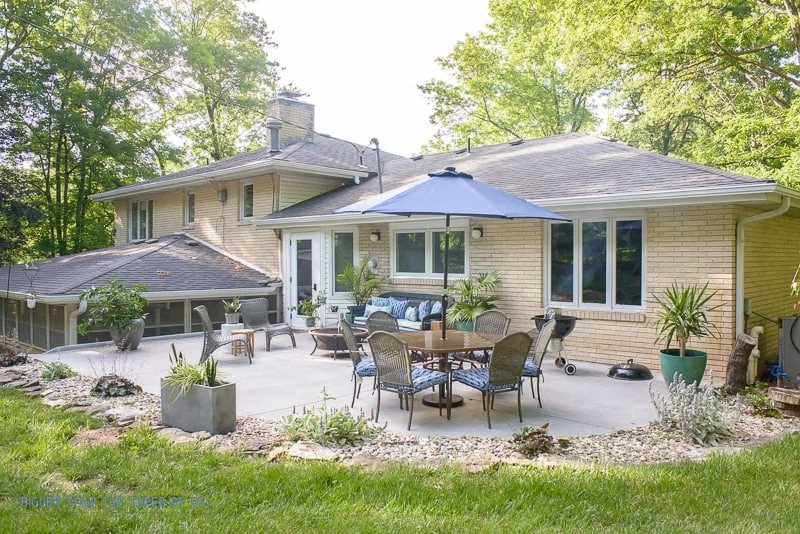 Do we prefer landscape with mulch or rock?
Fresh mulch is truly beautiful but it starts to look dingy pretty soon after it's put down. For the ease and longterm aesthetics, I prefer to landscape with rocks BUT will say that I do think when you can incorporate a bit of landscaping with rock and mulch.. that's the sweet spot. I recently did a big post on some ideas for river rock front yard landscaping. I included some that we already have incorporated but also, some that I'd love to incorporate (such as the rock edging between the lawn and the landscaped beds).
Overall, we are definitely glad we chose to landscape with the rocks instead of the mulch around the patio. It has helped the patio stay cleaner and more put together and, in the long-run, it will be much cheaper. If you want to see more of our patio, then make sure to check out our home tour!
Considerations for landscape design with rocks
One consideration when you are thinking about your garden design is to think about using larger rocks as often as possible. The reason for this, especially if you live in a climate that drops leaves in the fall/winter, is that to blow the leaves, you'll end up blowing pea gravel sized rocks as well. The smaller stones are really cute, but I'd try to stick with larger rocks as much as possible.
Now, let me show you the front yard and how we used gardening rocks for added curb appeal.
Front Yard Landscaping Ideas with Rocks and Mulch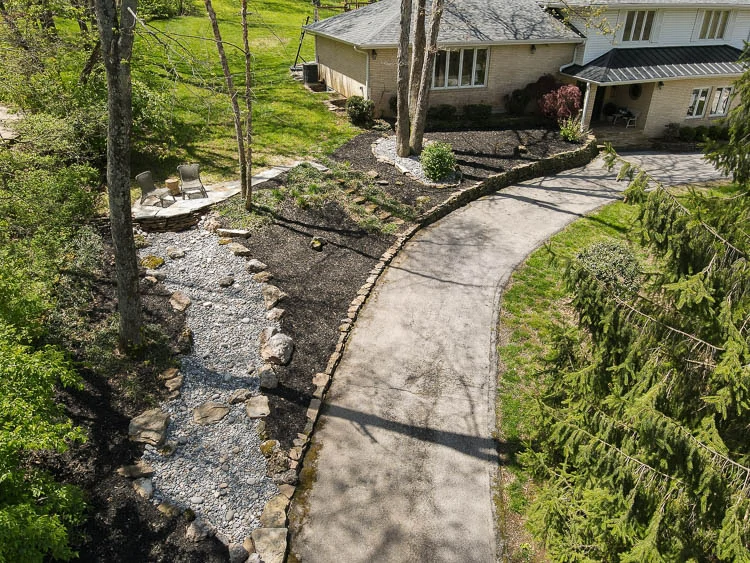 It's hard to understand how long and big our driveway is and the the landscaping beds that run along it. It's big, you'll just have to trust me (this photo cuts off about half way down the driveway). We had a retaining wall built with a flagstone patio on top and a river rock bed (with flat rocks which I love) coming out from underneath it. The dry rock creek really changed our front yard landscaping and added a great focal point to the front of our house. I love how easy the rock is to care for. I think this space really shows how landscaping with rocks and mulch works because all-rock would have been too much rock.
Front Yard Flower Bed Ideas
Adding rock in flower beds around trees (check to make sure drainage is appropriate first!)
Installing rock around a water fountain or water feature
Creating a dry creek
Create a rock garden around large boulders (check out this desert plan for inspiration)
Check out my recent post on stunning river rock landscaping ideas or Pinterest board for more rock landscaping ideas!
Overall, I think when you are considering the whole rock vs mulch situation, just weigh what you personally love, what investment you are willing to put in (time and money) and how you want the space to age.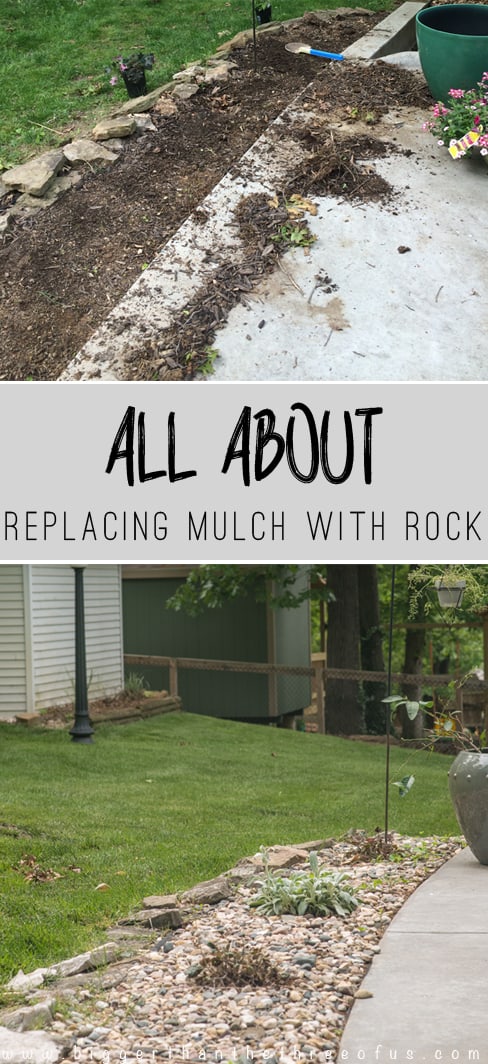 River Rock: How to Prepare for Rock Landscaping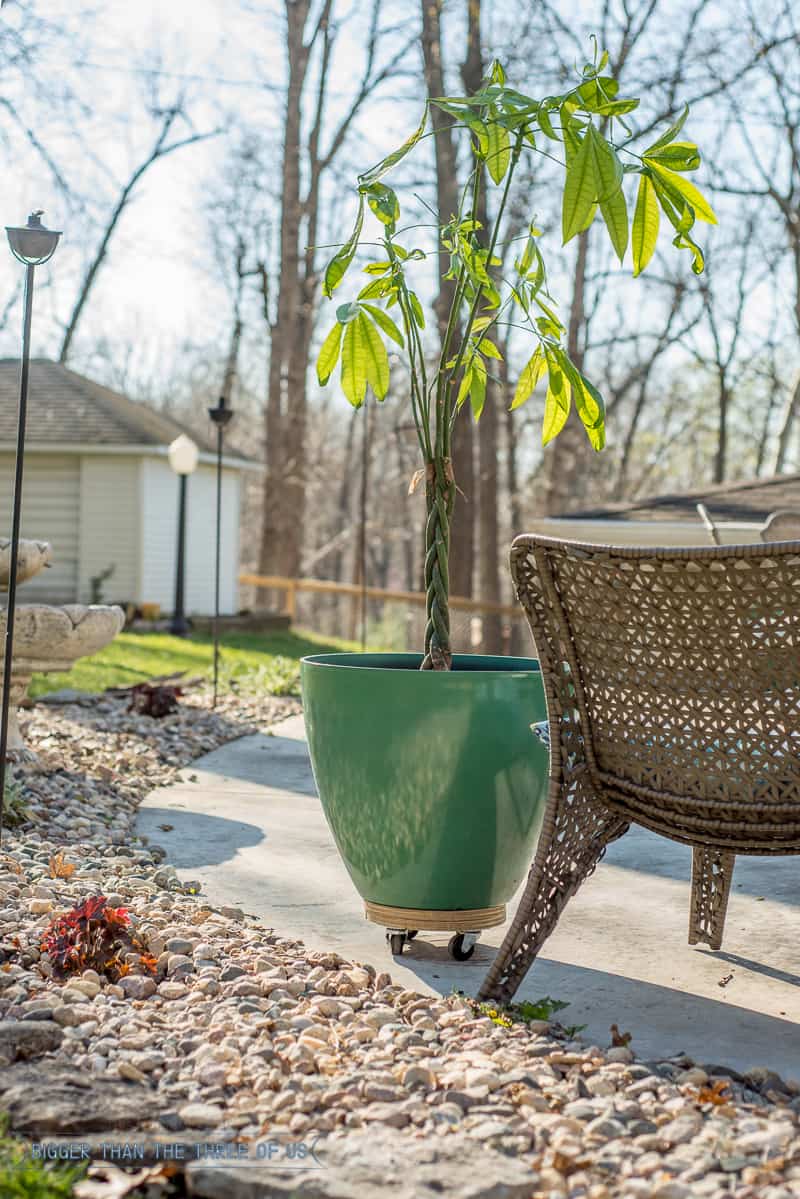 Landscaping with rocks instead of mulch is easy and is something you won't have to replace year after year. Learn what we think about mulch vs. rock, the cost of our river rock flower beds and see how we mixed in rock and mulch landscaping in our front yard.
Materials
River Rock
Landscaping Cloth
Landscape Pins
Instructions
Start the flower bed by ripping out all the old plants if there are some plants you aren't keeping
Rake off excess old mulch
Add landscape fabric under rocks. Hammer in landscaping pins (if using) about every 12"
Place your plants on the landscape fabric to determine placement
Once you have determined plant placement, cut into fabric and plant
Dump river rock for landscaping and spread out