Looking for black bathroom faucets? I've rounded up some some great 1 hole, 3 hole and wall mount black bathroom faucet options for you to check out. Plus, some black sink faucet inspiration if you are just trying to decide on what color faucet to go for.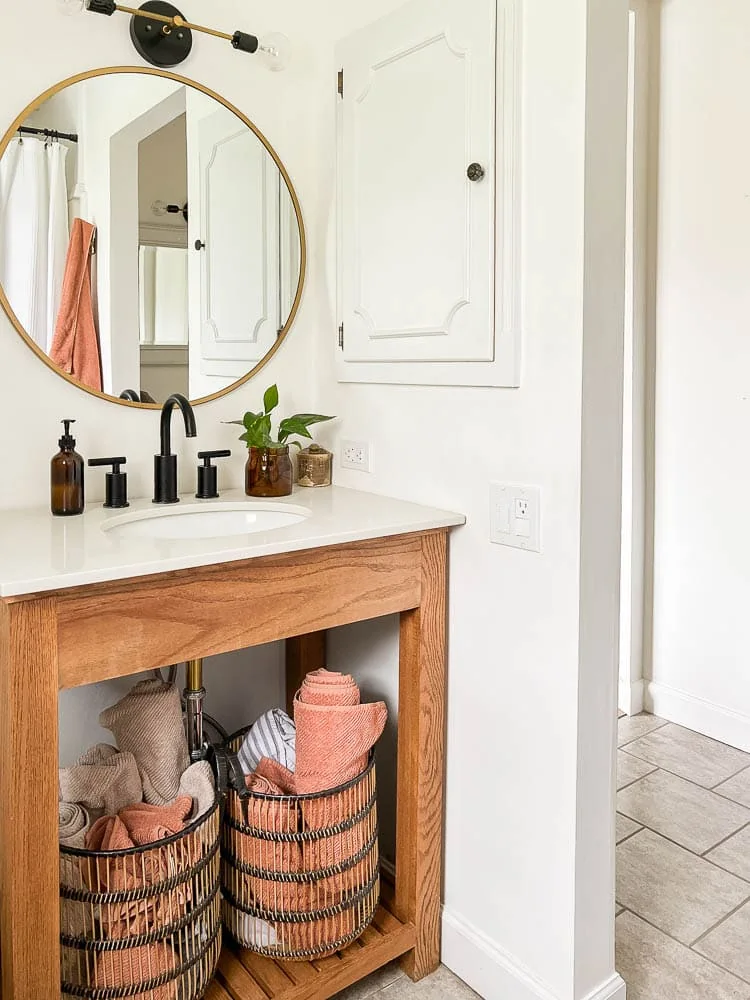 The backstory on our space
We participated in a $100 challenge where I was able to update the master bathroom quite a bit on a very small budget. After the challenge, I felt so much happier with my space YET was disappointed with it still as well.
To be frank, I hated the bathroom vanity and just felt like if we were able to change the vanity out then the space would feel drastically better. One thing led to another and we decided to build a vanity to help the space evolve a bit more.
Since we were changing the vanity out, we had to get a new faucet because the new vanity top had a three hole configuration. I'd already been looking at black bathroom faucets for the powder bathroom renovation but wasn't completely sure if I was going to go with a black bathroom faucet in there.
Anyways, on a very small budget, the bathroom ended up improving drastically. And, since I did all the research and sourcing, I'll share some of the great black faucet options that I was considering in case you are shopping for some.
Shopping for Black Bathroom Faucets
When I first started looking at faucets, I had no idea if I was going to go with a wall-mounted faucet, a one hole faucet or a three hold faucet. I sourced a few of each and have included them all below.
1 Hole Black Faucet Bathroom Options

3 Hole Bathroom Black Faucet Options

Wall Mount Black Sink Faucet Options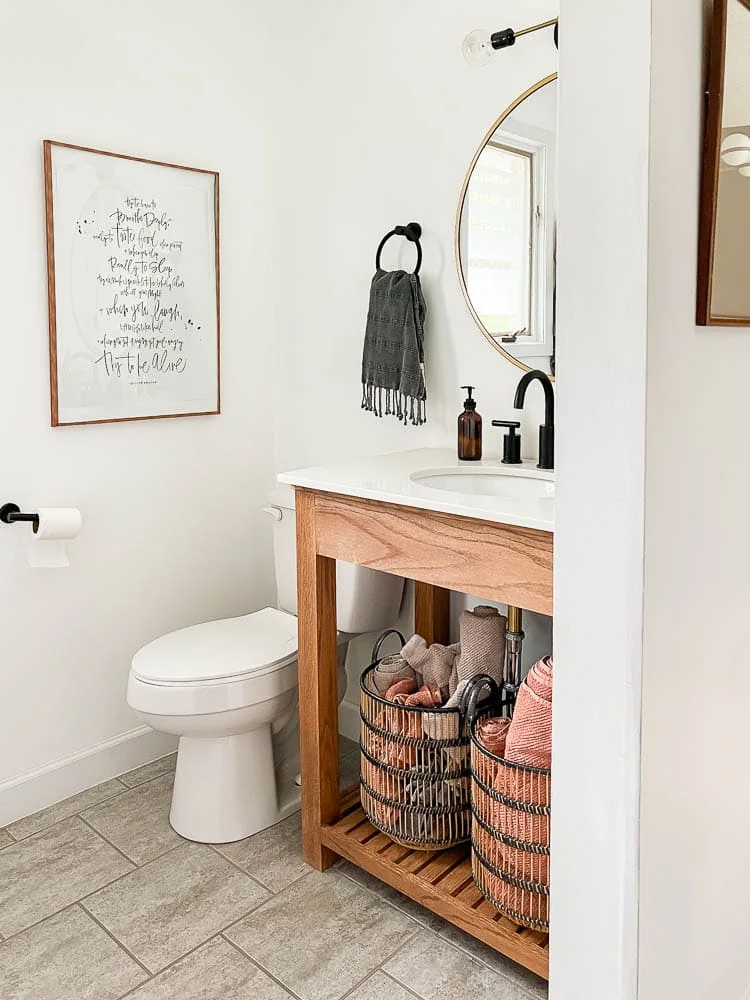 Shop All Black Faucet Bathroom Options!

Black Sink Faucets
Trying to decide if you want a black faucet in your bathroom? Check out these bathrooms with black sink faucets to help you make your decision.
Photo Credit: House Seven Designs
I'm obsessed with the warmth and texture in this bathroom featuring a three hole black faucet.
Photo Credit: Simply Grove
This renovation features a simplistic wall mount black faucet over white tile. I love this look but make sure to read the discussion on wall mount faucets if you are new to the idea of them.
Don't overlook the one hole black faucet option. With just one piece to consider, clean-up could be a breeze.
For even more inspiration, check out my bathroom board on Pinterest.
Pin For Later: Black Bathroom Faucets