I jumped for joy when I was in Habitat for Humanity last week. I seriously sprinted over to this thing and gave the "back off this is mine" look to anyone who looked at it.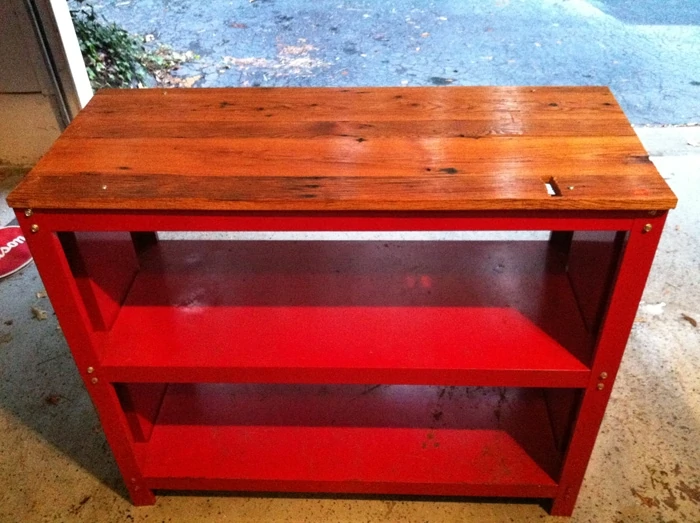 You see the potential, right? If you remember, I had something similar on Greyson's Mood board. This was what I had picked out for his room: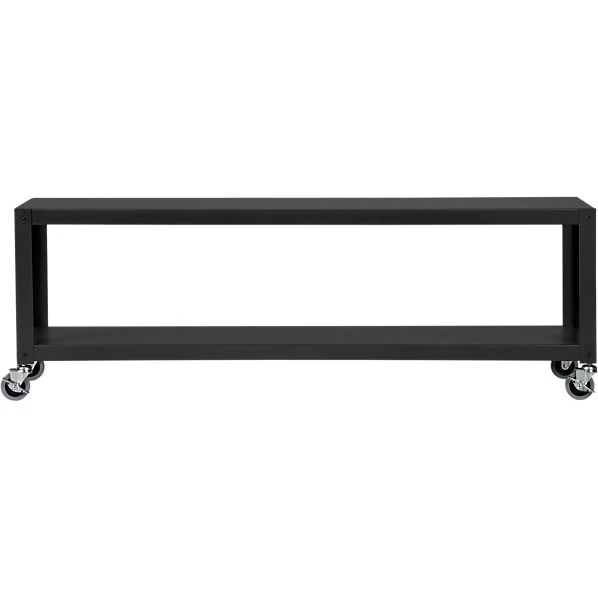 When I saw the one at Habitat, I knew it would work great instead of the piece from CB2. $169 isn't bad for furniture, but $25 is much better. Plus, I was able to try out a new toy that we bought. We pulled the trigger and bought the spray gun that Kristen from The Hunted Interior raved about. After searching online, we were both pretty impressed on the reviews for this thing. The fact that it was right at $50 made it a no-brainer. So, since I had the gun (and was waiting on a project) the red shelving unit was perfect.
Luke sanded and prepped the piece. It had a little bit of rust on it, so he worked on the parts that needed it. Together we hung up sheeting to create a spray paint safe area.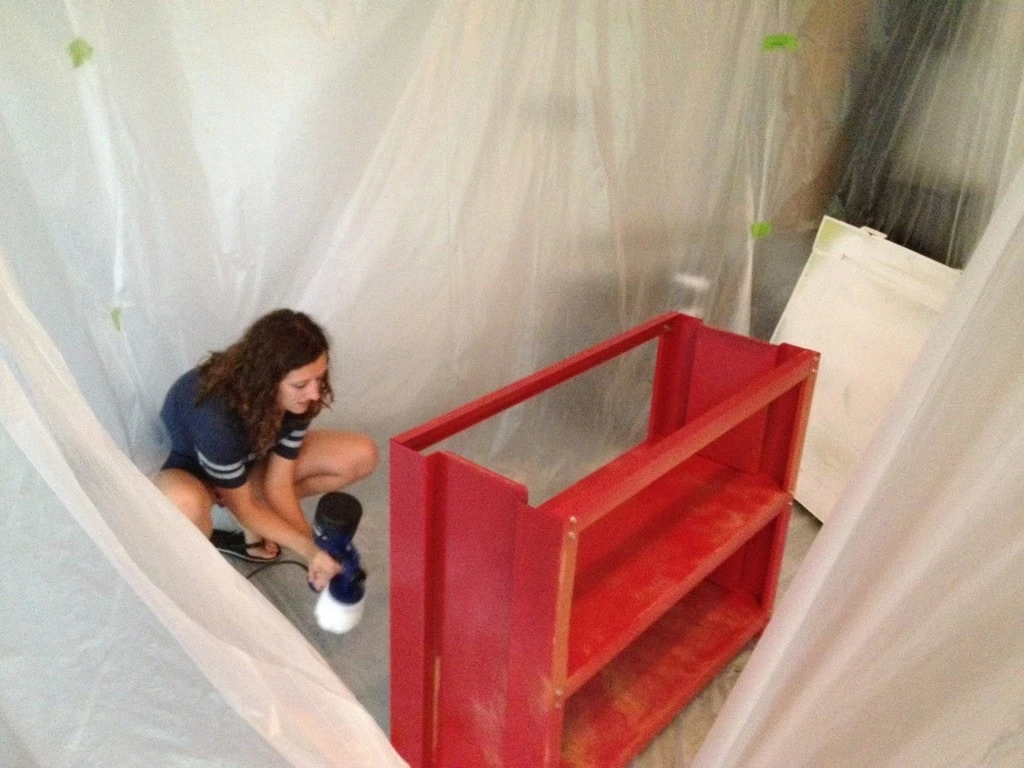 Oh, and it looks like I spray paint without pants on but I promise you I do have shorts on. lol.
I realized as soon as I started (probably right after that picture was taken) that I forgot to put on safety glasses and the respirator. So, I stopped and put them both on and started again. Safety first. =)
I primed it with Kilz Original (latex) and went a bit too heavy. It was my first time using the gun, so I wasn't exactly sure on how many passes to go. We let it dry and lightly sanded it. Then, we both did a few coats of the paint (Behr Interior/Exterior High Gloss Enamel in Cracked Pepper).
Here she is: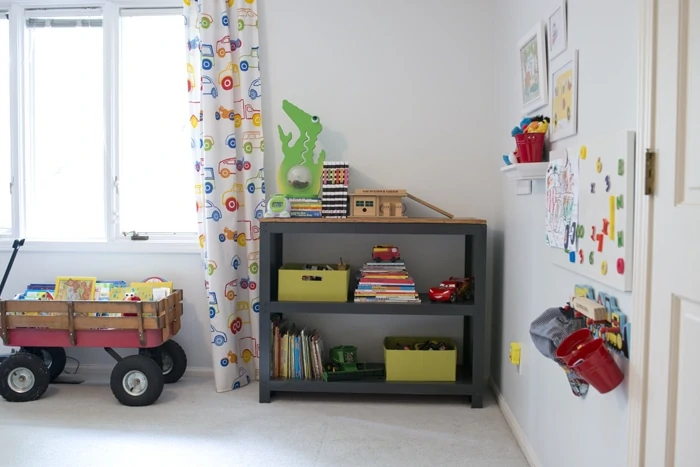 We are smitten with it. Seriously, the color is AMAZING!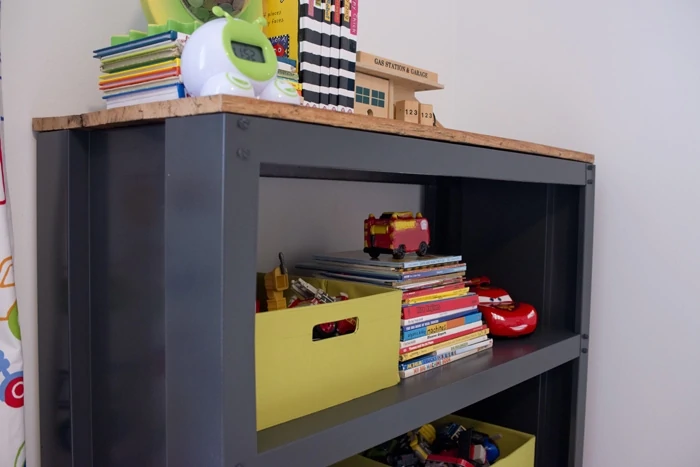 The finish is very smooth.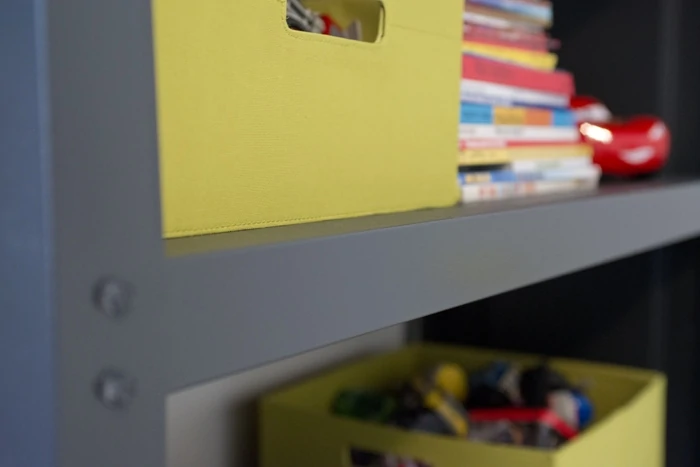 I really love how it turned out. The overall functionality is going to be great once we get some taller bins. I ordered these: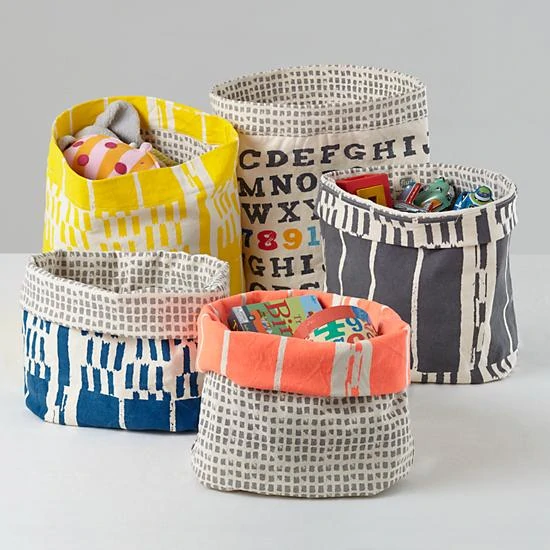 via Land of Nod
They were on the mood board and I think they will be perfect against the gray finish. Unfortunately, they are on backorder until mid-October. So, until then, I will make do with the green storage bins. The green storage bins match the room, but they don't give us enough storage room. I want to be able to store lots of cars and junk inside the bins without seeing it. With the green bins, you walk in the room and see everything in it. But, they will definitely do until the other ones get here.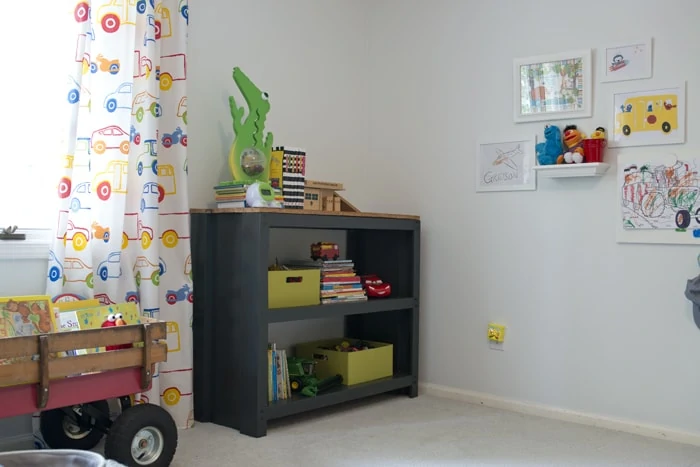 So, our overall thoughts on the spray painting experience:
- We love the gun. It's easy to clean and easy to use.
-The overall finish is better than anything we have achieved before.
-The spray paint cave area needs to be enlarged to be able to get in the nooks and crannies.
Hope you all have a great weekend! We are finishing up on another spray painting experience (this time with oil based paint in the gun!). Wish us luck!