Today, I'm sharing what the ductless mini split heat pump cost in our sunroom, plus whether we think mini splits are worth it, how much electricity the mini split uses and more!
A few months ago, I shared a sunroom update here on the blog. I figured it was time for a big breakdown on our four seasons room because it's served as a home office full-time for the last year and a half. Over the course of that time, we've been so thankful to have the ductless mini split in the space.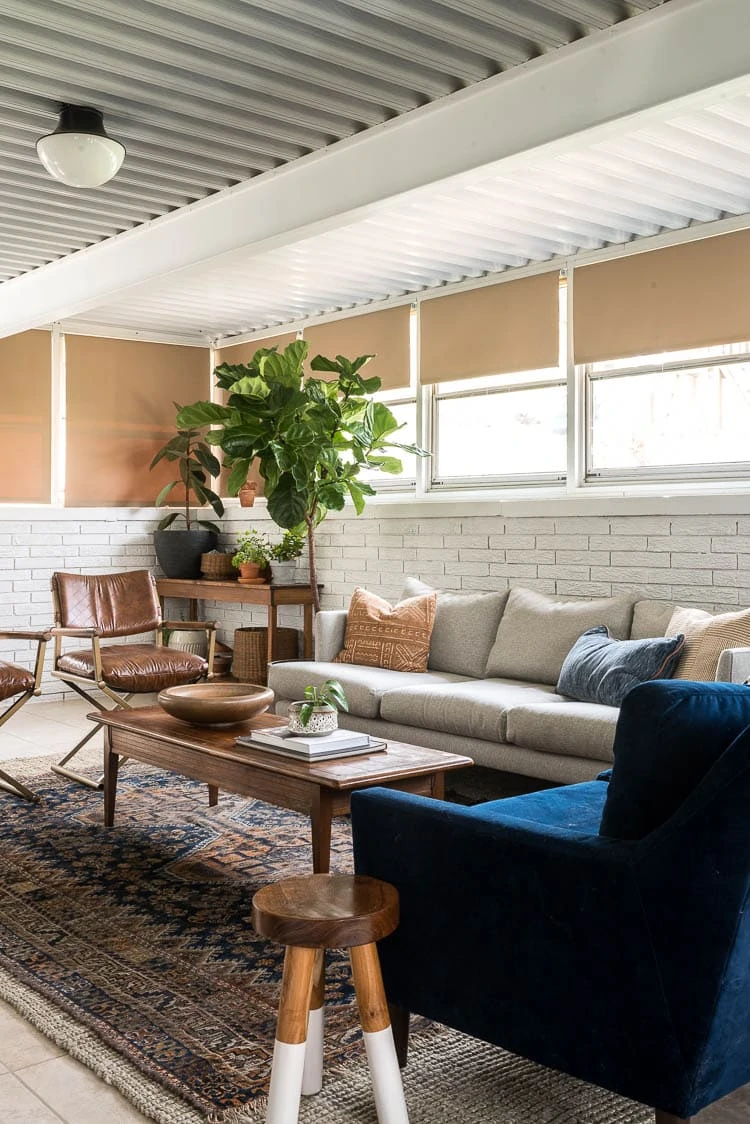 Backstory on why we needed to install a ductless heat pump
I had been using the space as my office during most of the year but during certain parts of the year, it was either too hot or too cold. After going back and forth on what to do to make the space more usable, we decided that adding a ductless mini split heat pump was the way to go.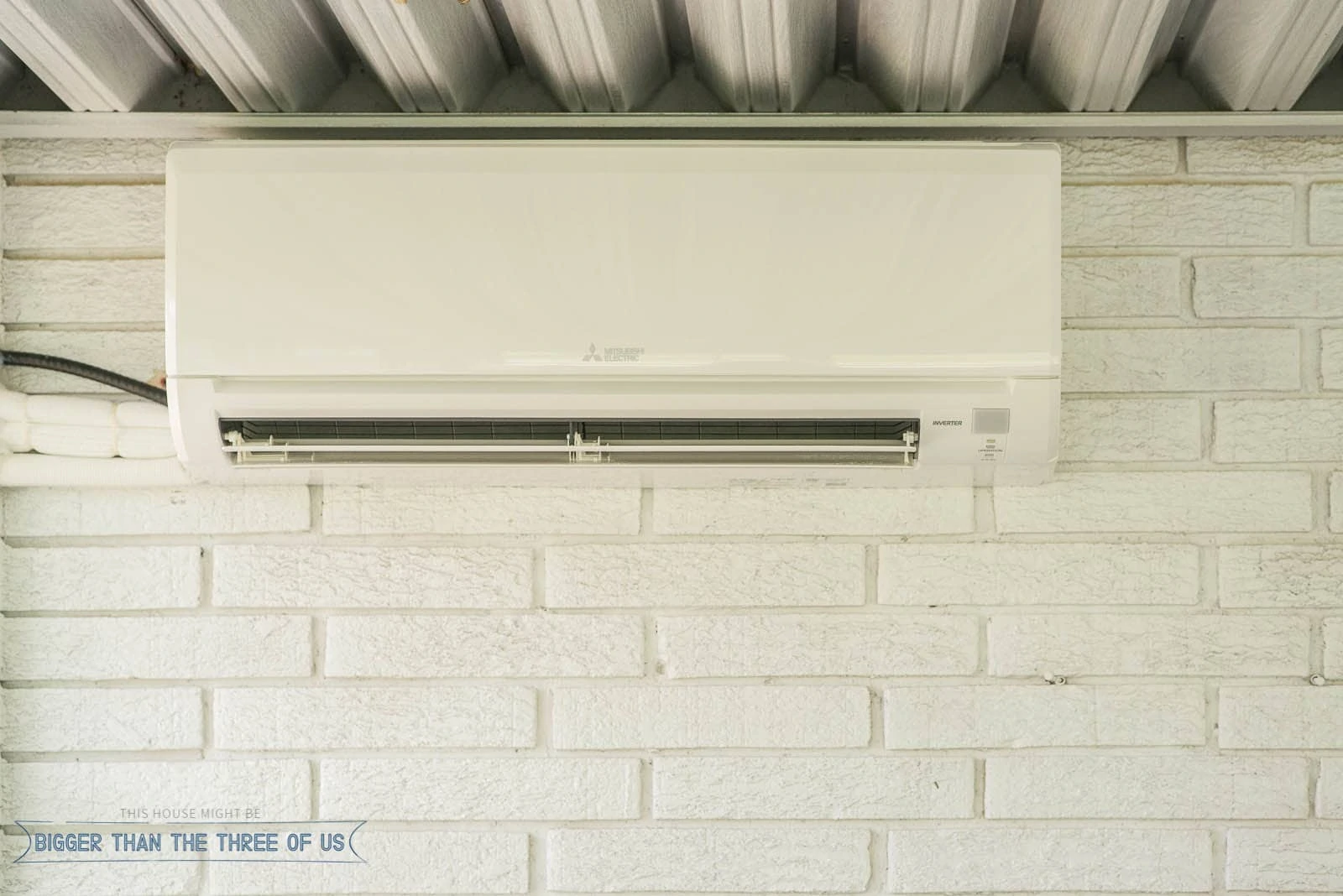 Mini Split Heat Pump
Ductless mini split systems have been gaining popularity due to their energy efficiency and flexibility. Unlike traditional HVAC systems, which rely on ductwork to distribute heated or cooled air throughout a building, mini splits use individual units to condition specific rooms or areas. This allows for greater control over temperature and energy usage, as well as the ability to heat or cool only the rooms that are being used.
Meaning, that if you have a sunroom (like us) that is colder than other spaces or just isn't hooked into your HVAC, then you could add a ductless heat pump to that room only to heat and cool as needed.
We have a neighbor of ours that built their house a few years ago and instead of installing a traditional HVAC system on their multi-level house, they installed multiple mini-split heat pumps to operate different zones of their house. This allows them to easily set temperatures of each zone in their house for their daily use.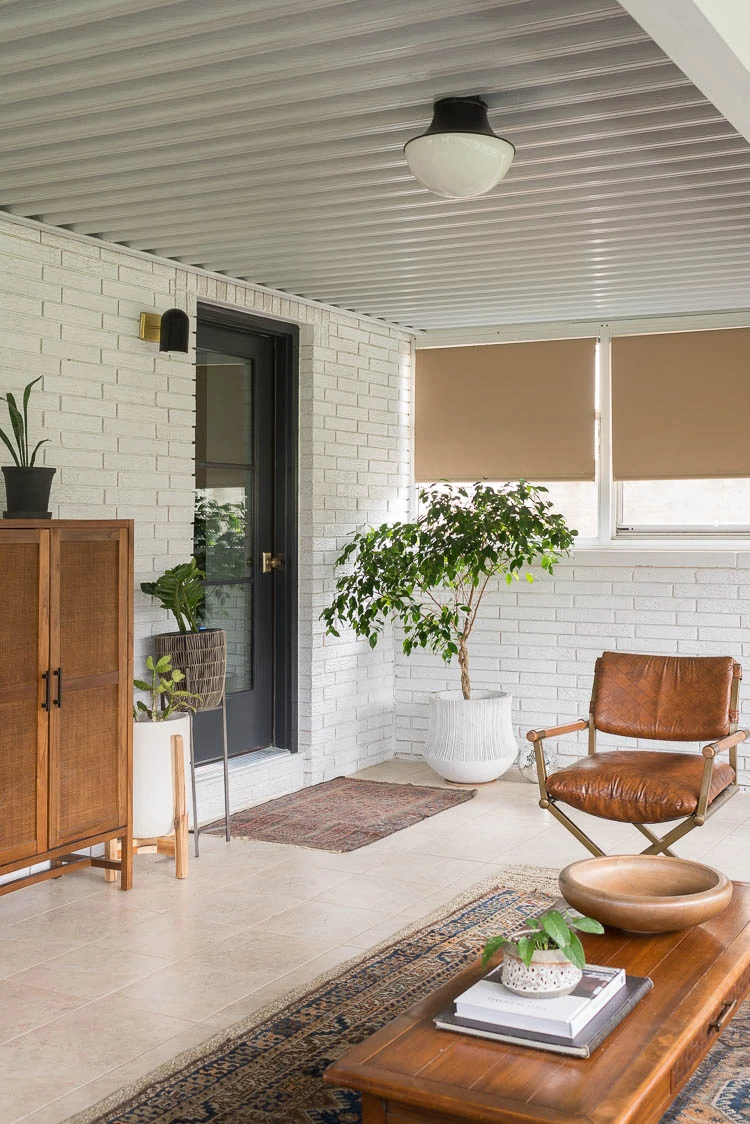 We had our mini split installed during the last week of January (2018). Some common question around here are: whether a mini split is worth it, how much does it add to our space, etc. I want to do a deep dive on that today.
For sizing reference, our sunroom is 400 sq feet. It's not insulated (other than the ceiling) and the windows are aluminum. The windows themselves are absolutely horrible. Like, if you push on them, they would totally fall down. So, eventually, we need to make MAJOR improvements with the windows but that is a big budget item.
Ok, let's get to the process, pricing and info on the heat pump!
What is a Ductless Mini Split?
A ductless mini split is an air conditioning and heating system that does not require ductwork to distribute air throughout a building. Instead, it consists of two main components: an outdoor compressor-condenser and an indoor air-handling unit. The indoor unit is typically installed flush to a wall in a room and delivers heated or cooled air directly into the living space.
Indoor and Outdoor Units
The outdoor unit of a ductless mini split contains the compressor-condenser, which circulates refrigerant between the indoor and outdoor units to transfer heat. The indoor unit contains the evaporator, which absorbs heat from the air in the room and sends it to the outdoor unit. Both units are connected by refrigerant tubing and electrical wiring.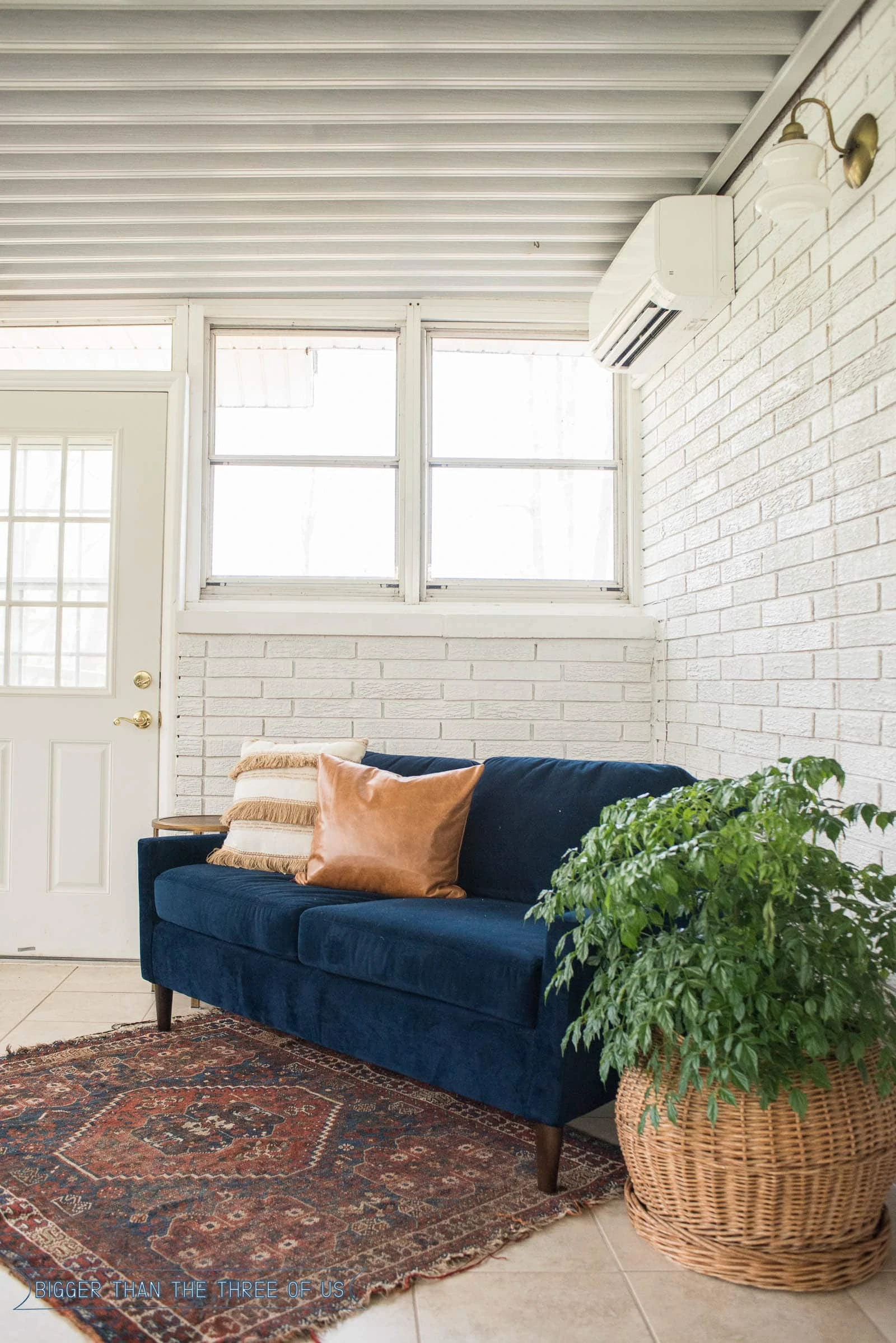 Installing a Ductless Mini Split Heat Pump
When it comes to installing a ductless mini-split system, homeowners have two options: professional installation or DIY installation. While DIY installation may seem like a cost-effective solution, it's important to note that improper installation can lead to costly repairs down the line. Professional installation is recommended for those who lack the necessary experience and knowledge. We chose to have our heat pump installed professionally, but more on that in a second!
Before installing a heat pump, you need to figure out which one to buy!
Mitsubishi Heat Pump or Pioneer Mini Split
Our HVAC installer recommended a Mitsubishi mini split and specifically the 12000 BTU 23.1 Seer Wall Mounted Mini Split with Heat Pump. He doesn't sell them so it's not like he was getting a kickback on it but he felt like the Mitsubishi mini splits were the best.
There were more affordable options on Amazon (specifically this Pioneer mini split) but I ended up going with our installer's recommendation of the Mitsubishi ductless mini split.
Professional Installation vs. DIY Installation
Professional installation involves hiring a licensed HVAC contractor to install the system. The contractor will handle everything from sizing the unit to installing the outdoor compressor and running the necessary refrigerant tubing. This option ensures that the system is installed correctly and that it is up to code. Professional installation costs vary depending on the size of the system and the complexity of the installation.
DIY installation involves the homeowner installing the system themselves. This option is more cost-effective but requires a certain level of knowledge and experience. Homeowners will need to handle everything from sizing the unit to running the necessary refrigerant tubing. DIY installation may be a good option for those with experience in HVAC systems or those who are willing to do extensive research and follow the manufacturer's instructions carefully.
Honestly, we are pretty handy but felt like the installation of the heat pump mini split was too much for our skill set!
So, all in...
What is the cost of a ductless heating and cooling system?
We paid just over $1700 for the 12,000 BTU ductless mini split with heat pump and all the accessories to get it up and going. We installed a single zone system, meaning that it controls the temperature of one space.
The cost of systems alone ranges from $800 to $4,000, with each additional zone costing $500 to $2,000 in a multi-zone system.
In addition to the system itself, installation costs may also include the following parts:
Copper Line Set: This connects the indoor and outdoor units and carries electricity between them.
Refrigerant Tubing: This carries the refrigerant from the outdoor unit to the indoor unit.
Wireless Remote: This allows the homeowner to control the temperature and settings of the system.
Alexa Integration: This allows the homeowner to control the system using voice commands.
How much to install a mini split?
We had to have some electrical work done to make the mini split location work, so the electrician's charge was $350.
As far as the HVAC installer's price, I know we got a great deal on the mini split install because we used an acquaintance who had recently retired from the industry. We paid the HVAC installer $500.
The total out of pocket cost to install the ductless mini split was $2,581.95
Here's everything that I bought for our space and what the actual products cost: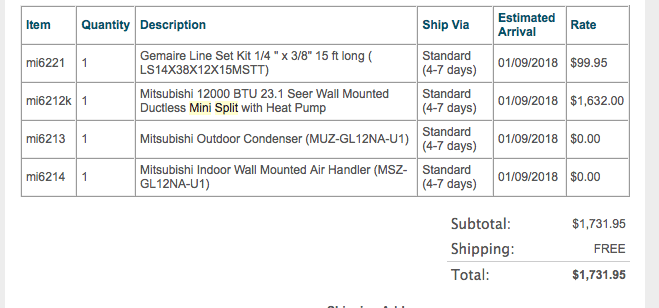 I bought everything from Sylvane (they no longer carry our exact model so I linked it from a different supplier above). I hadn't heard of them before but it was all shipped fast and I had no problems.
Are mini splits worth it?
Yes! It was so worth the money and we absolutely love it. It's very quiet and it heats up the room pretty fast. If the weather is below 25 degrees, then we turn the unit on first thing in the morning around 6:30am. It's nice and warm by the time I actually start working at 7:30am.
This past winter, we had two weeks were the temperatures dipped below 10 degrees (pretty frigid for our area). During those two weeks, the heating function of the mini split could not keep up. I know it would have done much better if we didn't have air that seeped right through our aluminum windows, but I can't honestly say whether it would have kept up enough with nice windows to be able to use the space during those temperatures.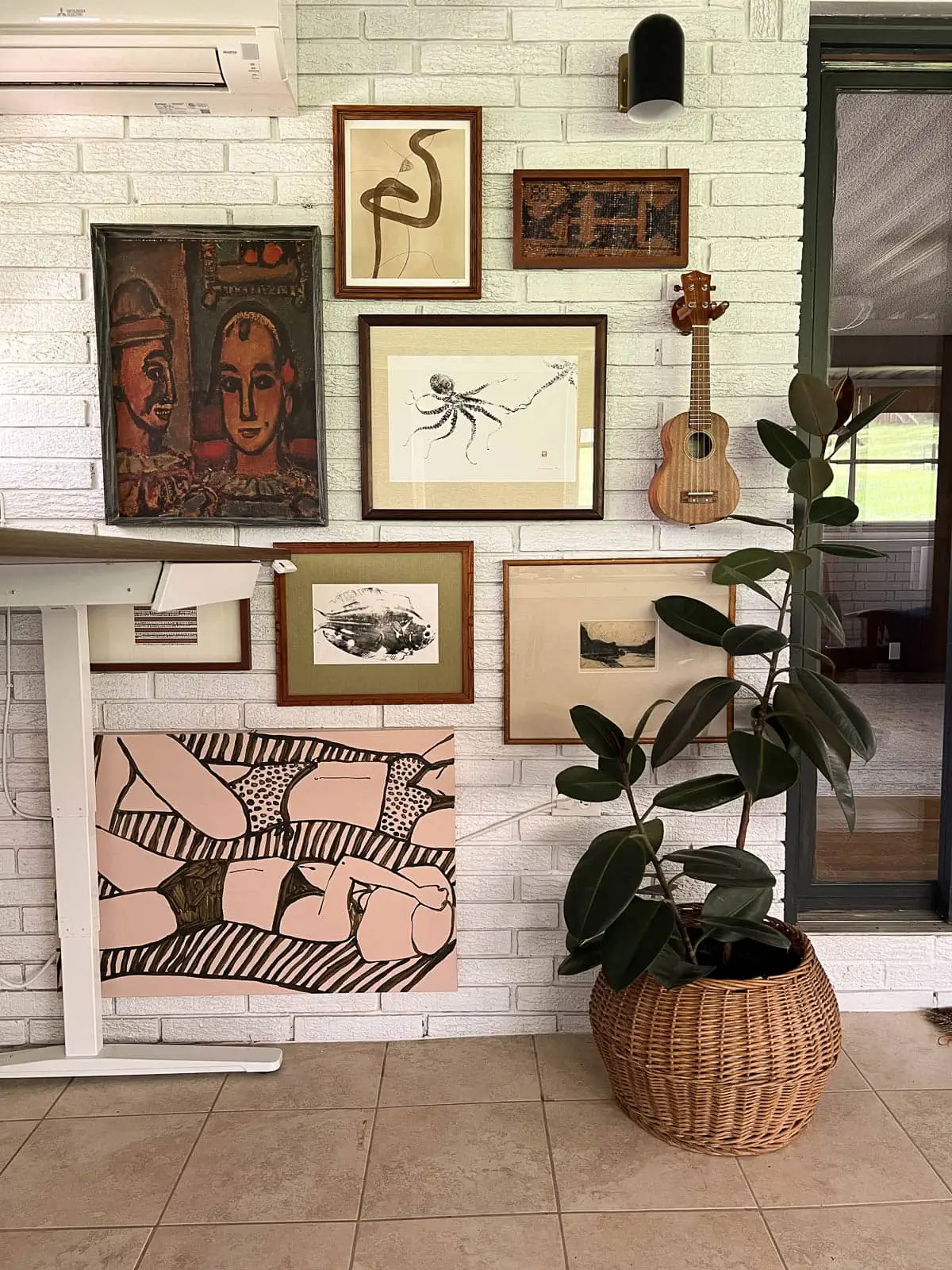 Let's talk a bit more about the heat pump part of it, so you can truly get an idea of how the mini split would work for you!
How do heat pumps work?
Heat pumps work by transferring heat from one area to another. During the summer, the heat pump removes heat from inside the home and transfers it outside, providing cooling. During the winter, the heat pump reverses this process, taking heat from the outside air and transferring it inside to warm the home.
One of the main benefits of a ductless mini split heat pump is its energy efficiency. Heat pumps are known for their high efficiency ratings, which can save homeowners money on their energy bills. In addition, because ductless mini splits don't require ductwork, they can avoid the energy losses associated with leaky ducts.
Another advantage of a ductless mini split heat pump is its flexibility. Because each indoor unit is connected to an outdoor unit by a small conduit, homeowners can install units in different areas of the home, providing targeted heating and cooling where it's needed most. This can be especially beneficial in homes with multiple levels or rooms that are difficult to heat and cool with a traditional HVAC system.
It's important to note that ductless mini split heat pumps may not be the best option for every home. They may not be as effective in extremely cold climates, and the initial installation cost can be higher than traditional HVAC systems. However, for many homeowners, the energy savings and flexibility of a ductless mini split heat pump make it a worthwhile investment.
Pros
Cons
Energy efficient
Higher initial cost
Flexible installation
May not be effective in extremely cold climates
Targeted heating and cooling
Avoids energy losses from leaky ducts
Overall, it's been working really well for us 99% of the time. During mild temperatures, we just turn the mini split on when we arrive to the "office" each day. During colder or hotter temperatures, we adjust the temperature when we get up and it's generally pretty nice once we arrive to the sunroom for work that day.
So, what's the impact on our electrical bill? Well, that one is a bit harder to tell because we've had a colder winter than usual. From what I can tell, it's about $8 per month when the mini split is running most of the time. Not much at all! In general, mini splits are much more energy efficient than other systems.
As with all of our DIYs and upgrades, I'm always wondering about the longterm investment and whether they add value to our home.
A few common questions...
Do mini splits add value to a home?
Yes! Especially when added to a space that wasn't heated or cooled, they add more usable square footage to a home.
Wall-mounted vs. ceiling cassette
Multi-zone systems can be installed with either wall-mounted or ceiling cassette indoor units. Wall-mounted units are installed high on the wall and are ideal for rooms with limited floor space. Ceiling cassette units are installed in the ceiling and are ideal for larger rooms or spaces where a wall-mounted unit may not be suitable.
What are the advantages of a heat pump?
One of the key advantages of ductless mini splits is their high energy efficiency. Because they don't rely on ductwork to distribute air, there is less energy lost through leaks or poor insulation. Additionally, many mini split systems use inverter technology, which allows them to adjust their output to match the heating or cooling needs of a room. This means that they can operate at a lower output when less heating or cooling is needed, resulting in significant energy savings over time.
Another benefit of ductless mini splits is their versatility. They can be used to heat or cool a single room or an entire building, depending on the size and layout of the space. They can also be installed in areas where traditional HVAC systems are not practical, such as in historic homes or buildings without existing ductwork. With their compact size and quiet operation, mini splits are a popular choice for bedrooms, home offices, and other areas where noise and space are a concern.
I hope this helped answer some of your questions!
Pin For Later: Sunroom AC Unit and Heater