Make your laundry room size work for you no matter if you have a walkthrough laundry room, tiny laundry closet or a big open laundry room space.
After years of living with a laundry room that wasn't pretty, I've decided to tackle it over the next few weeks.
Honestly, after I tackled the guest bedroom a few weeks ago and saw what a few hours of love could really do for the space, I was inspired to work the same kind of magic in the laundry room.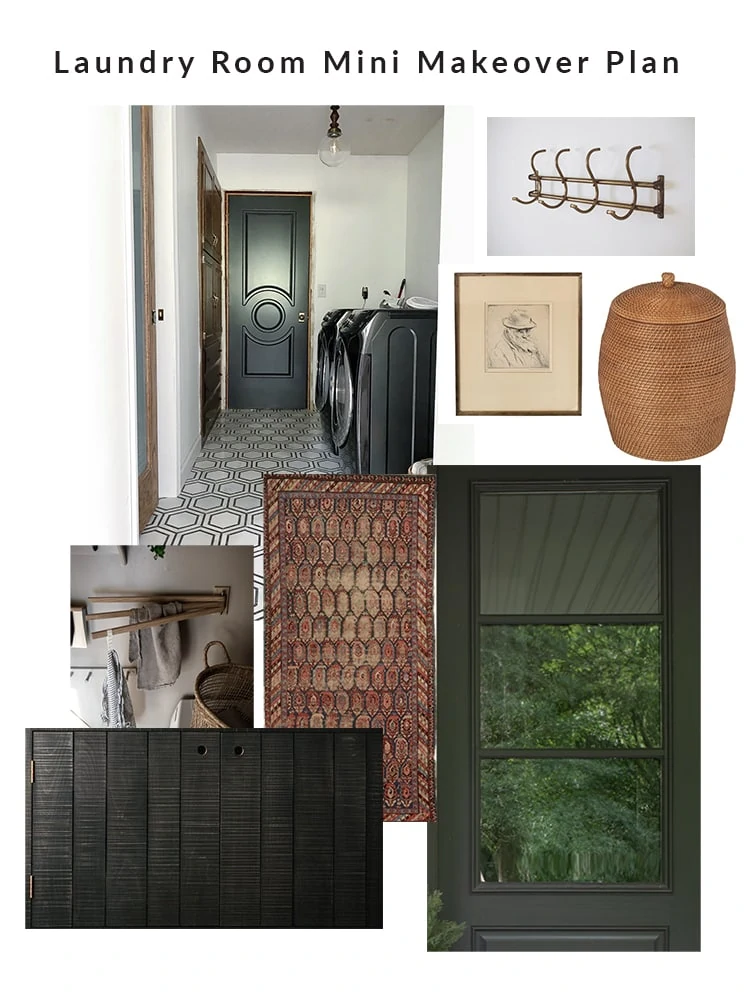 I guess it's a bit of an if-you-give-a-mouse-a-cookie thing because while I was installing the guest bedroom baseboards, I had extras and thought "why don't I just install a few in the laundry room?" Well, one thing led to another and I've made a few plans and have, ultimately, just become excited about making some small changes to the laundry room. It is a space that we walk through a bunch of times a day.
If you've followed me closely then you know we are in the midst of a very expensive basement renovation (see the basement bathroom plans or tune into the Your Home Story podcast on the basement update for more insight). We are at the point of the project where we will be waiting a few weeks until we can get back to the space to DIY in there. We are basically waiting on trades to come in to finish the electrical, plumbing, and drywall. So, I feel like I have a bit of creative brainpower to get my hands and mind busy with a fun, less-intensive DIY for a few weeks.
So, let me give you a rundown of the space so you can get a good picture of the laundry room size and how it functions for our family.
Laundry Room Before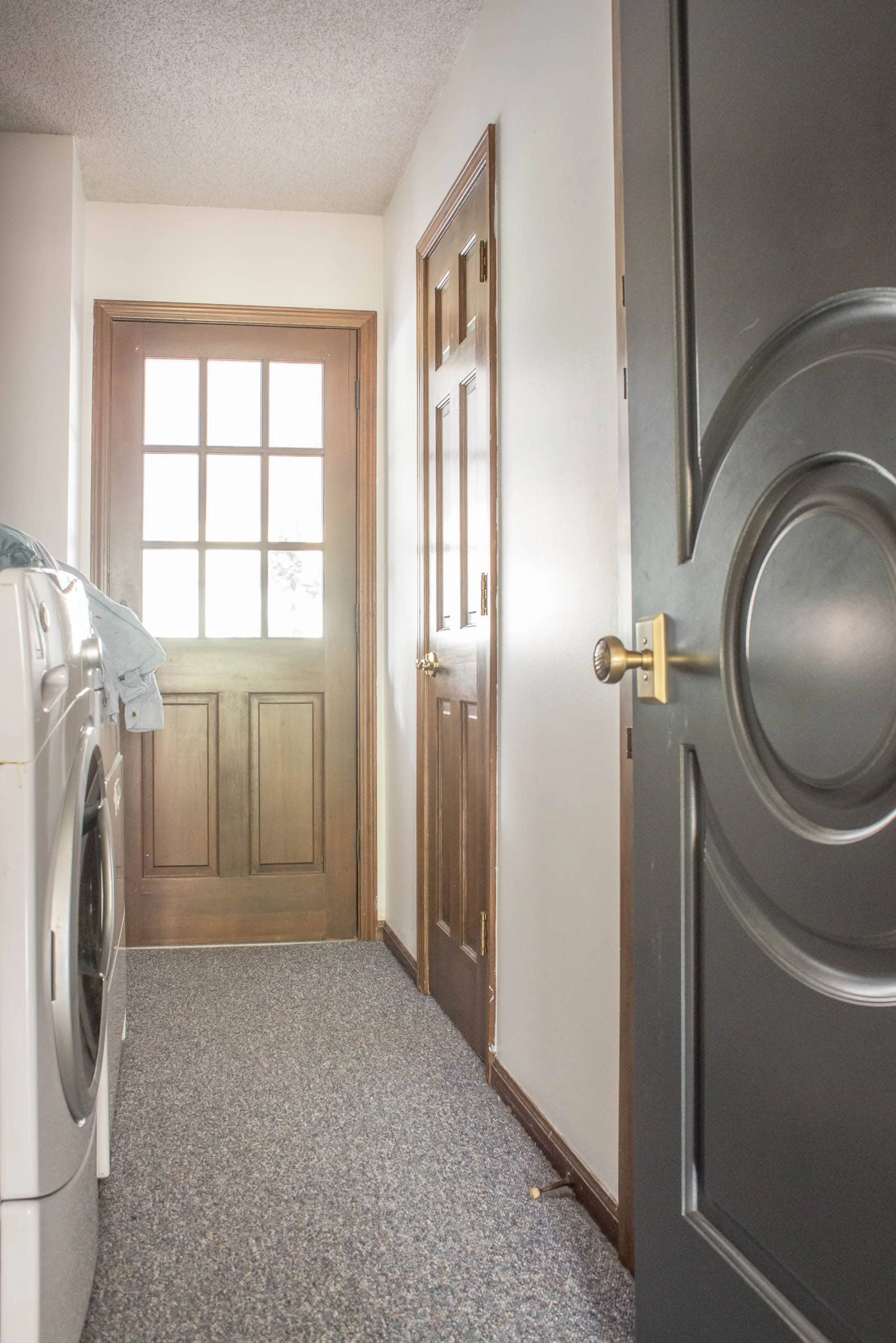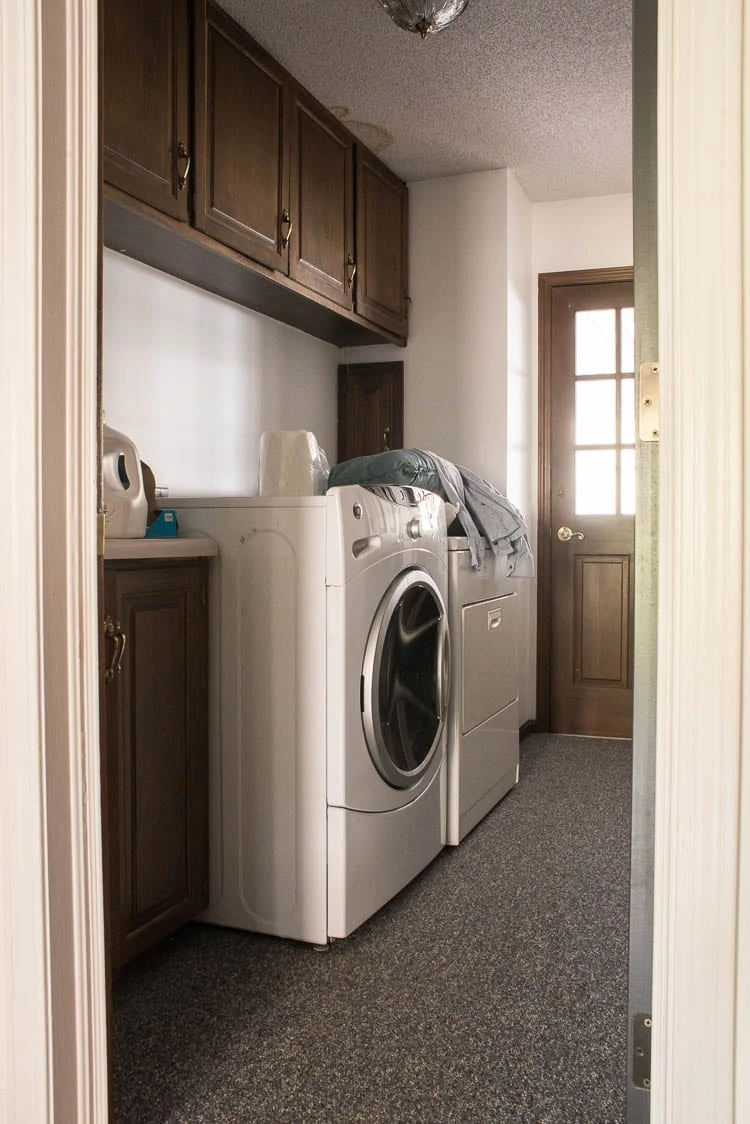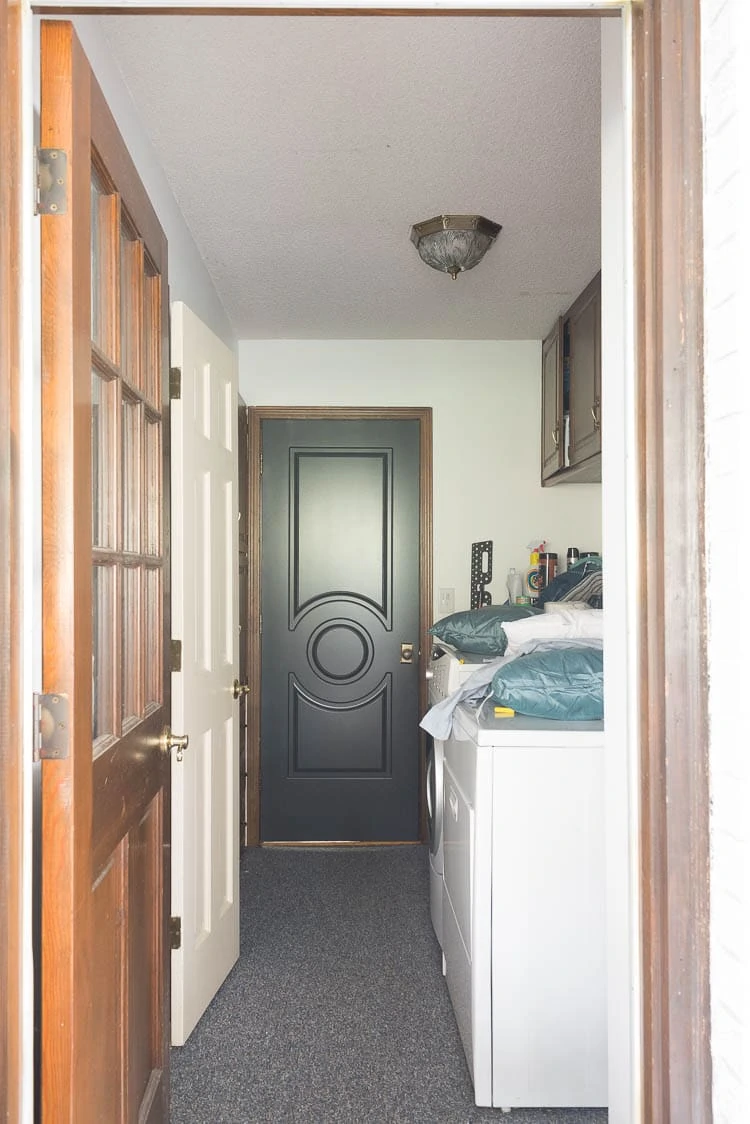 When we first moved in it had quite a bit of cabinetry and carpet. We ripped the cabinets out and donated them (they were way too high to really be accessible and I'm tall). When we transformed the powder bathroom, we also tiled the laundry room because they flow together.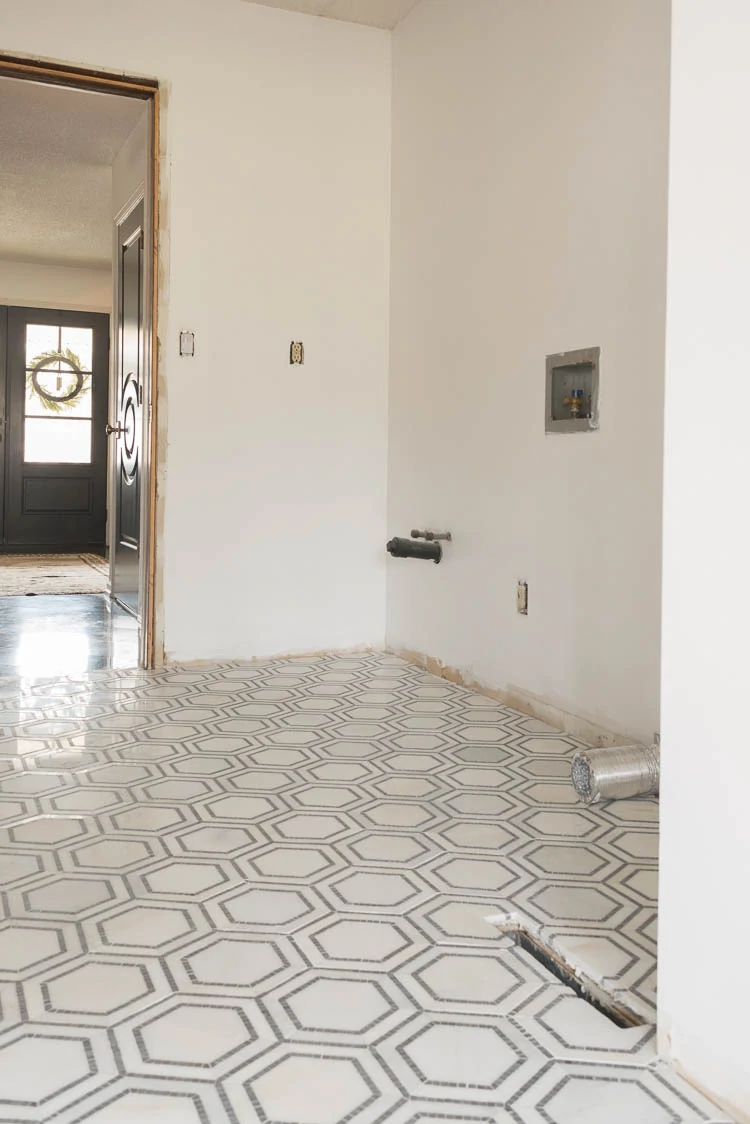 When we finished the bathroom renovation, we were left with a laundry room that had new flooring, freshly painted walls and a new washer and dryer. It wasn't high on the priority list and part of that was because I wasn't really sure what I wanted the laundry room layout to be. Although we knew the space needed to function as a walkthrough from the entryway to the powder bathroom and then into the sunroom, I wasn't sure if I wanted to stack the washer and dryer or install a laundry room sink. Spoiler: I still don't know about the layout for the washer/dryer side (i.e. whether to stack the washer and dryer or not and what type of cabinetry). This mini makeover will be focusing on the rest of the space and not the big ticket items of having cabinetry/countertops installed, especially when I'm still undecided as to what I want.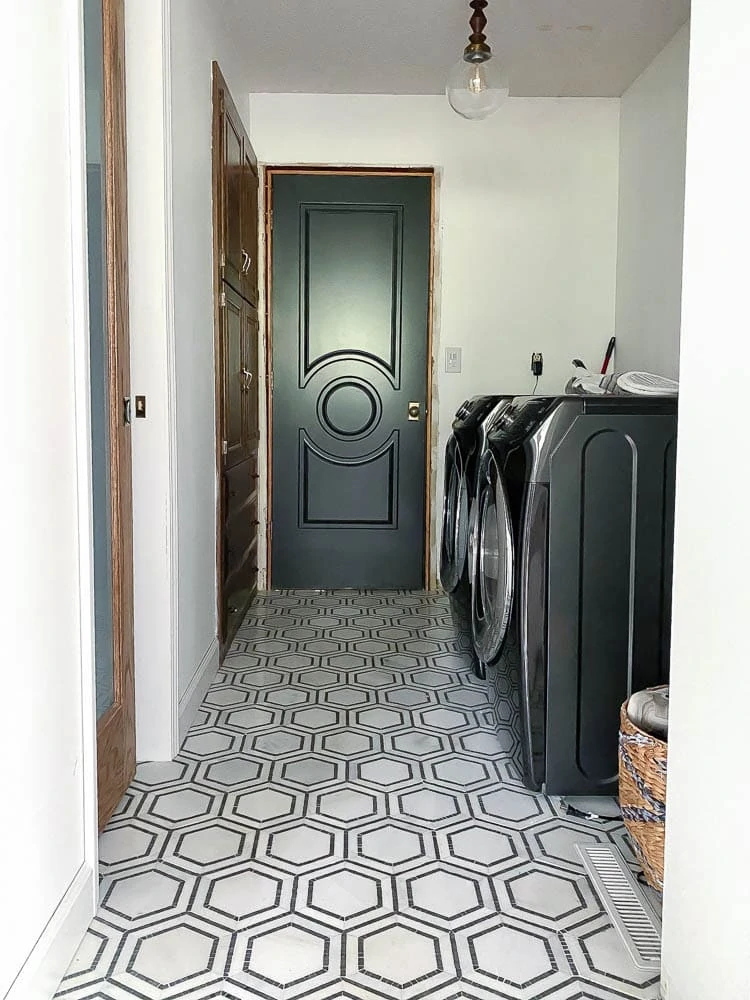 On a side note, we actually got pretty lucky with the plumbing because when we moved the cabinets out of the laundry room, we discovered a drain line and water hookups. Apparently, at some point, owners before us had a sink in the laundry room, or at least had it plumbed for one. Here's a visual that will help you get an idea of what I'm talking about.
Laundry Room Size and Plumbing Diagram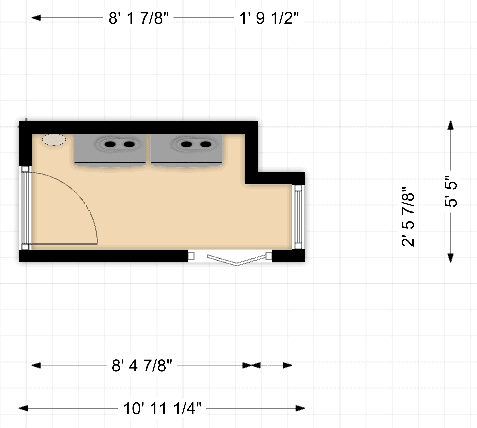 Random note about the plumbing diagram and laundry room size mockup, I used Floorplanner to make that. It's free and super easy to use if you are looking for help to mockup floorplans at your house.
The water lines for the sink are on the left side of the washing machine. Honestly, it would be tight to put a sink in, so it's still up in the air for a later date as to whether or not we will add in a sink.
Not knowing how to answer those questions pushed me to just ignore the space completely though but I'm tired of doing that. I'd like something that was more put together than what we've had and I think, that with a few smart DIYs (baseboards, door trim, cabinet hardware, electrical outlets, etc.), it'll be MUCH better than where it's been for years.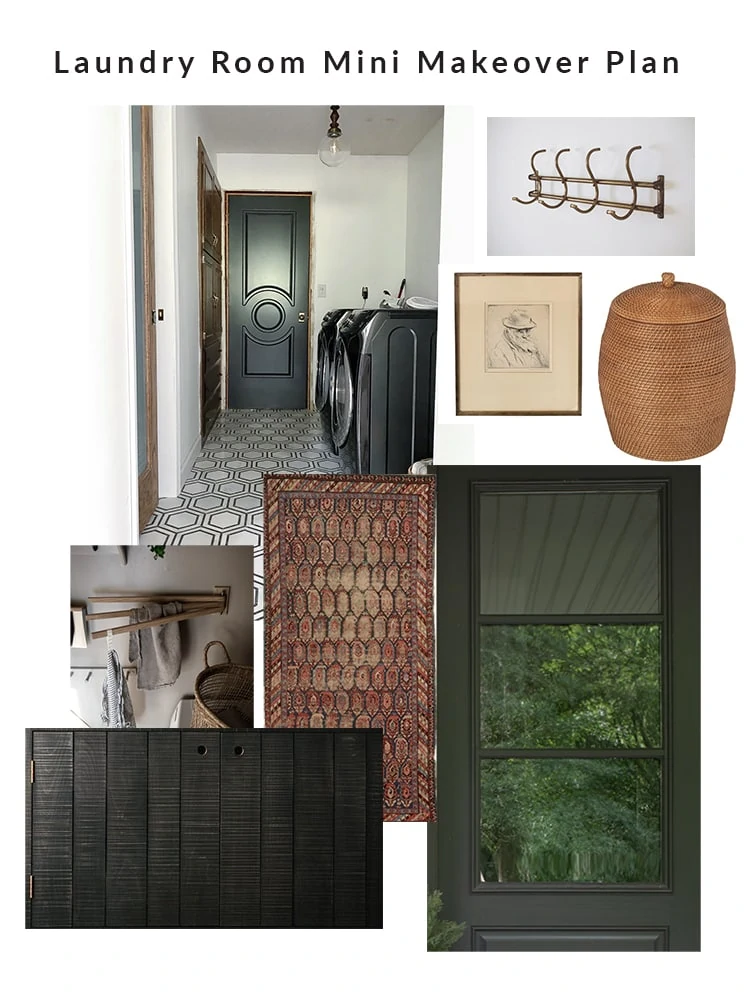 Laundry Room Mini Makeover Task List
Install door trim around existing door
Order a door that will open to the sunroom
Paint and install new door
Install door trim for new door
Install all baseboards
Change out electrical outlets and face plates
Purge built-in closet of any items not needed
Have electrician add an outlet inside built-in
Cut out built-in base to make a space for mops, vacuums, etc
Build doors for new utility closet
Build matching door for laundry chute
Paint and finish utility closet
Drying Rack DIY?
Make a place for litter box
Add decor
So, as you can see from the task list... there's quite a few things to do. I don't think the makeover will actually feel complete until we build out the cabinets and get a countertop but I do think all of these things will help make the space even more livable than it's been. I'm excited about this mini makeover and my hope is that it inspires you to try something like this as well.
Stay tuned for the next installment of the project!