Today is the reveal of our Navy and Black Modern Eclectic Entryway. Seriously, it's a pinch-me feeling over here because I can't believe how far this space has come! Whenever I do room reveals, it's funny because the reveal, now, is not what the room ends up looking like after another few months. The rooms tend to grow into themselves. Does that make sense at all? It seems like the reveal is "round one" in the space and even if it's a fab round one (like this one is) it gets better and better over time. Maybe that's just a weird thing that happens to me. Who knows. In any case, I'm totally smitten with this reveal but know that it's bound to keep getting better and better.
If you haven't been following along with this makeover for the One Room Challenge, make sure to play catch up!
 And, be sure to stop by Calling It Home to see all the other participants' rooms!
Before we hop right into all the pretty pictures, let me remind you of how the space looked just a short six weeks ago!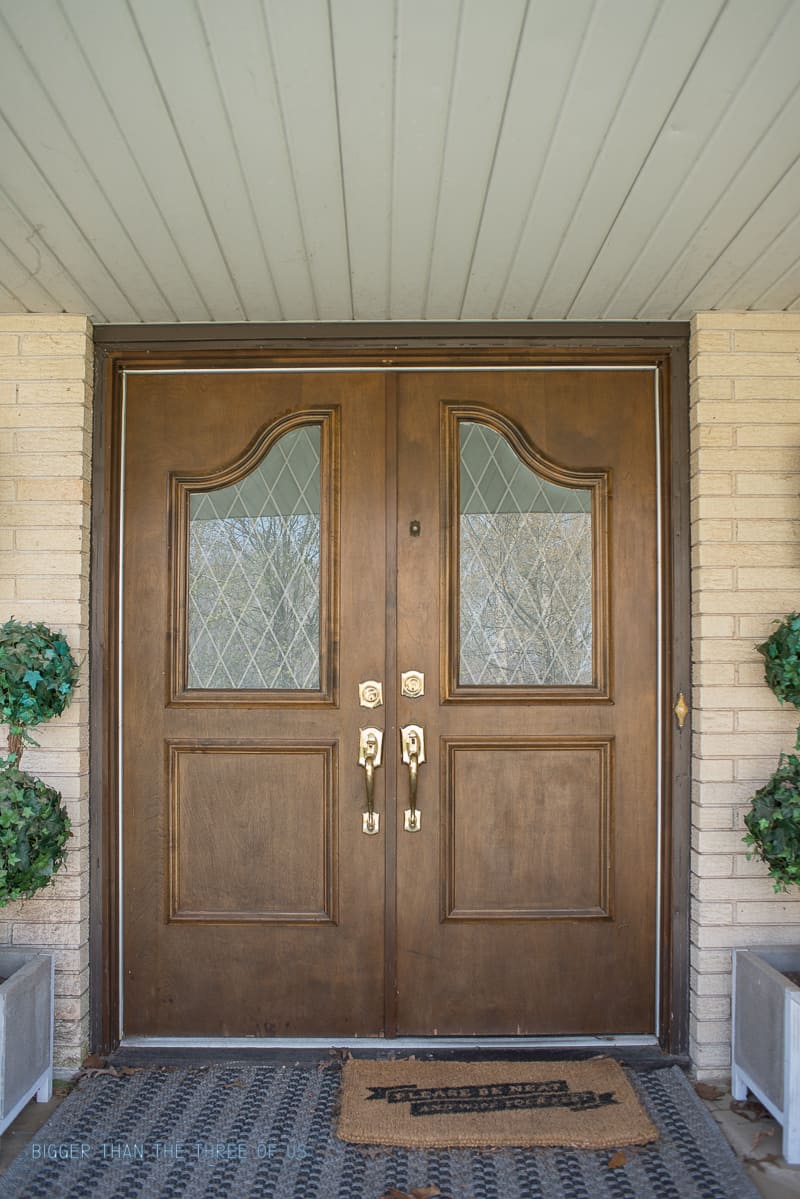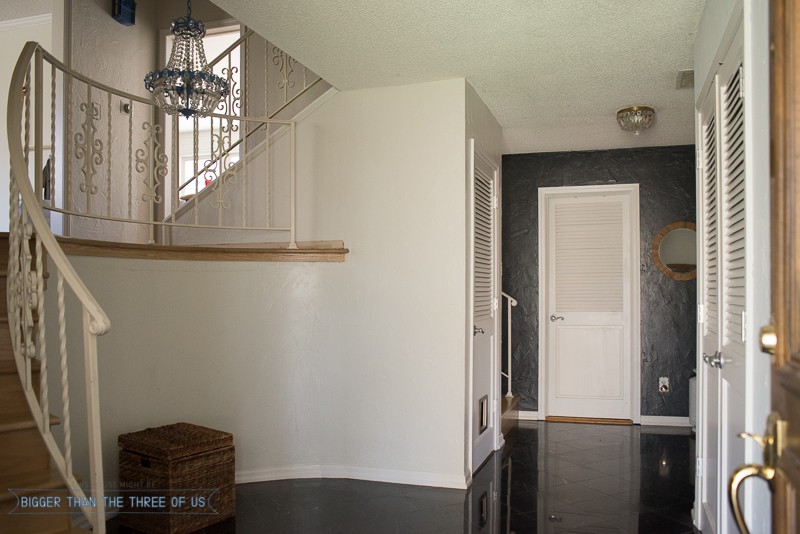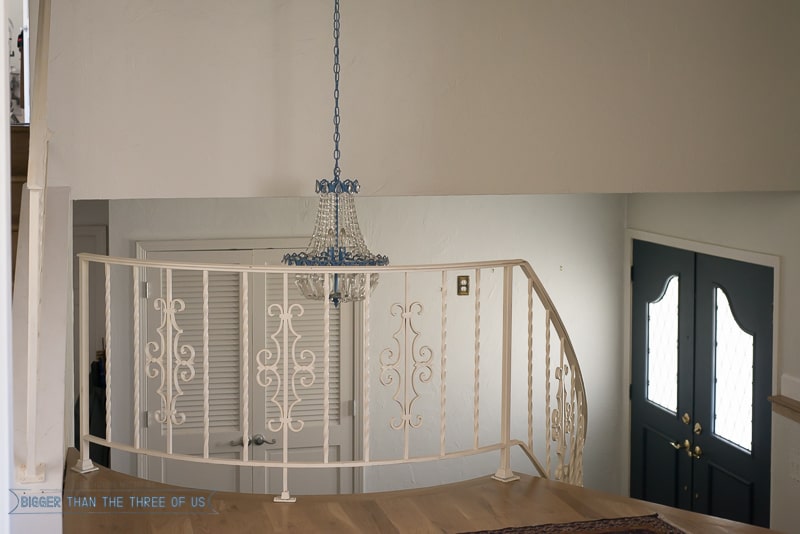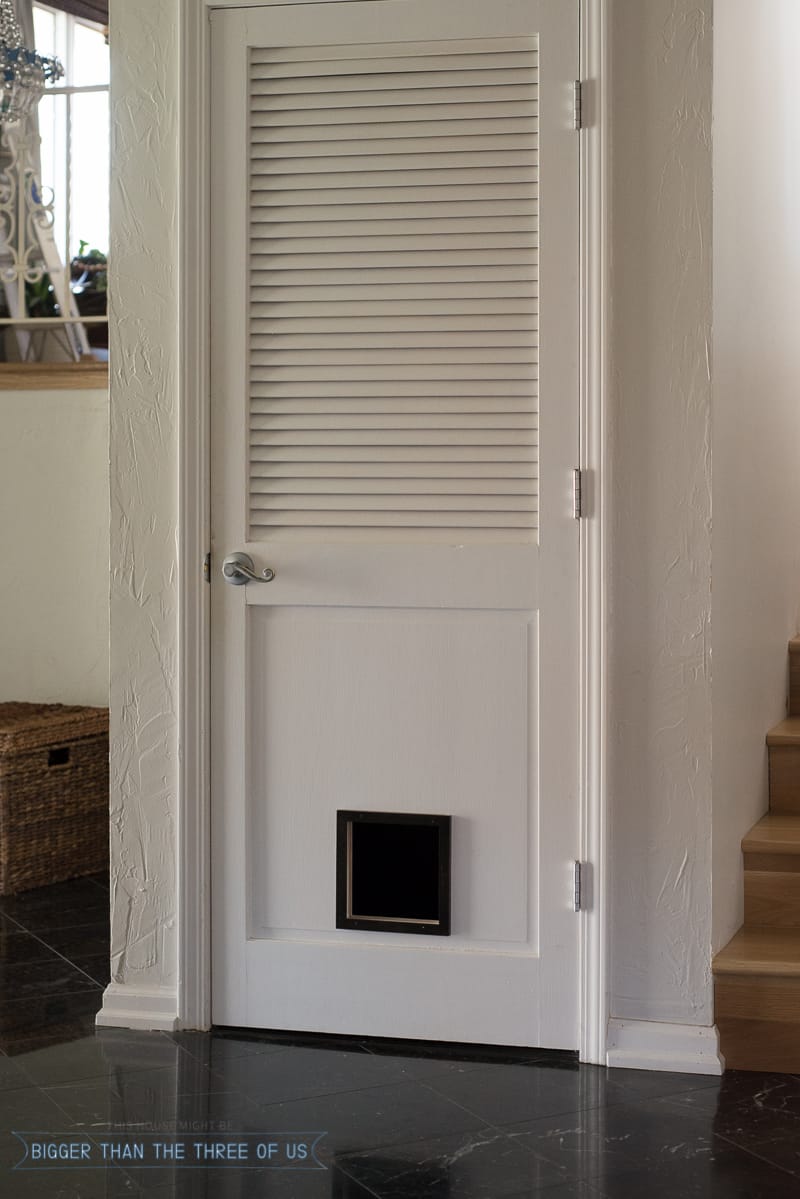 I'm so thrilled to share what it looks like now! Ready to see our Navy and Black Eclectic Modern Entryway?!
 Come on in...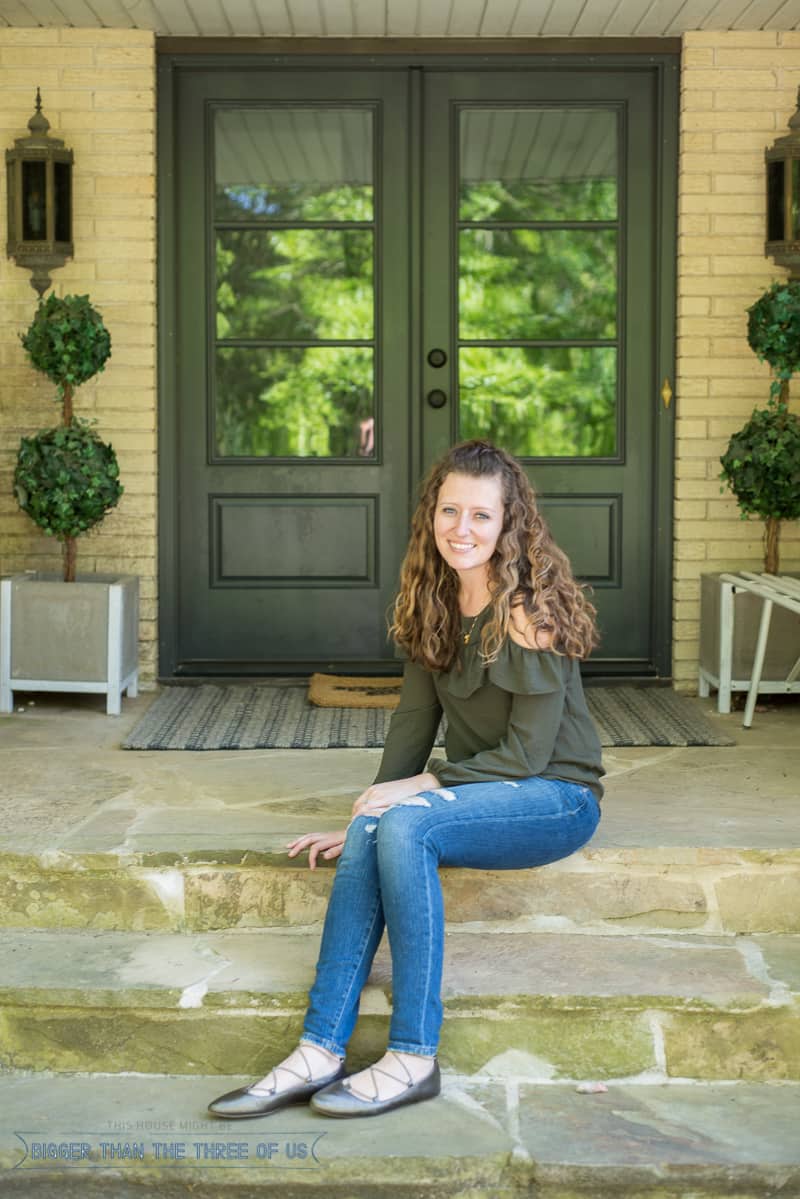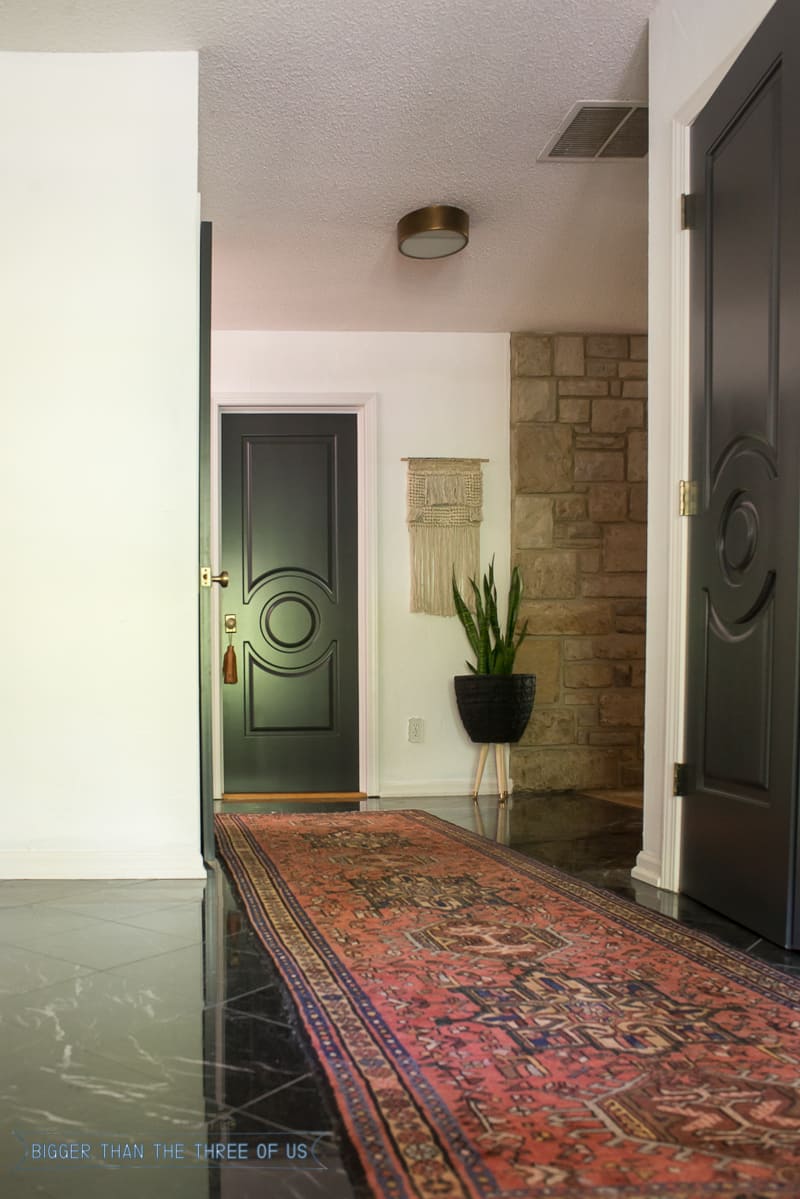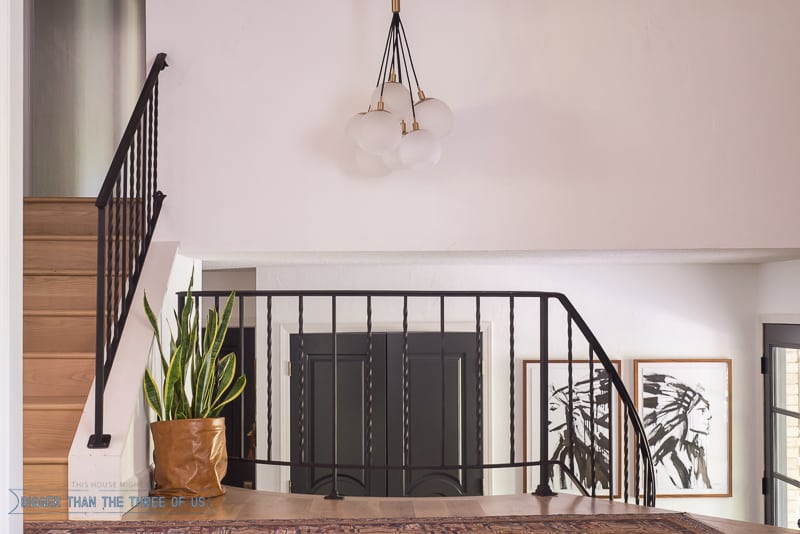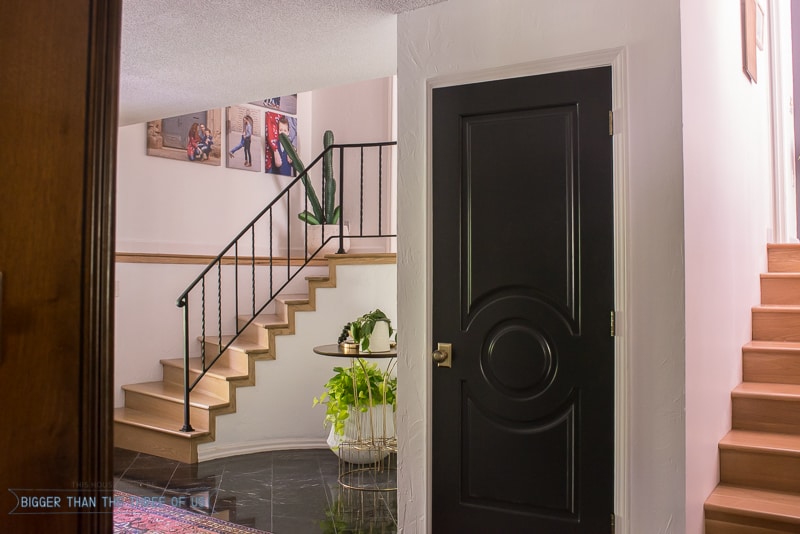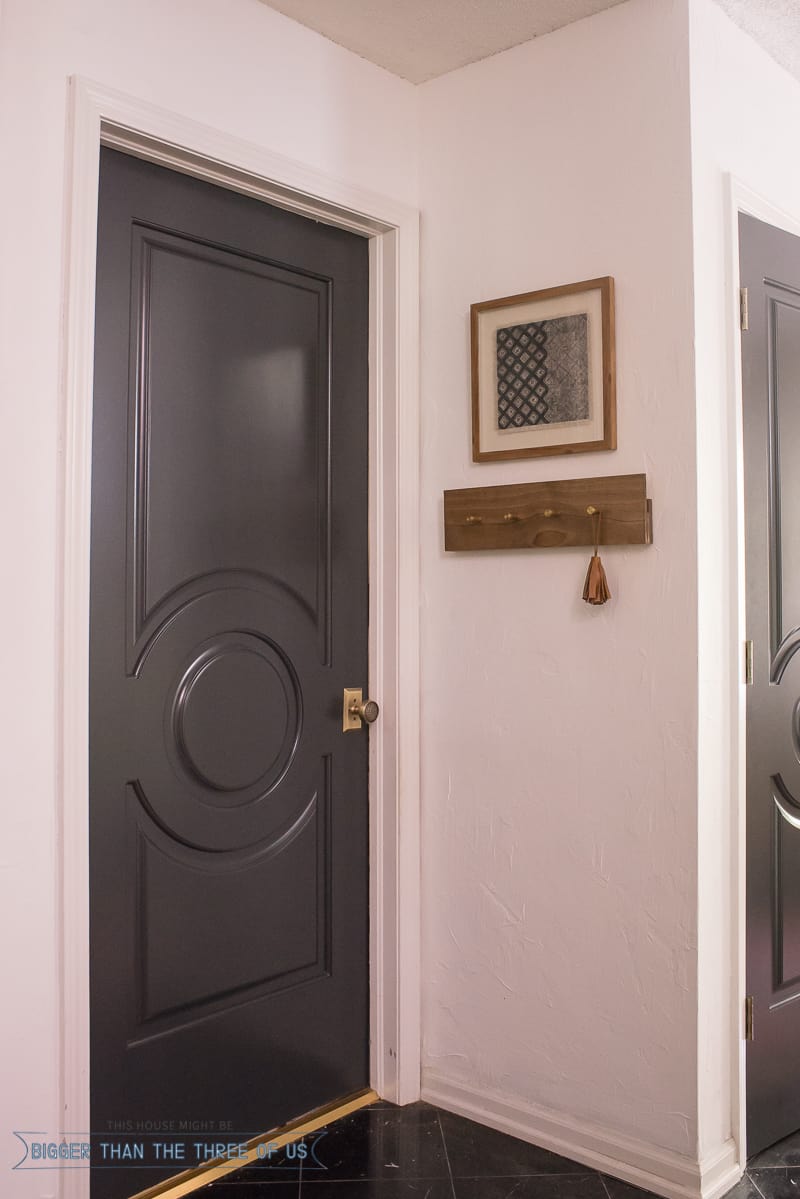 Drastic change, right? It feels like a drastic change to me anyways!
*All sources linked up at the bottom of this post. Affiliate links included. Thanks for supporting this blog! Click to read my disclosure policy.
The entryway feels totally modern and bright yet dark at the same time. The colors are complimentary yet bold and it's taking me a bit to get used to them. I keep telling Luke that I feel like I need to soften the space up a bit so that it fits the rest of the house. Yet, then I contradict myself because if there's a space that can be bold and have it's own flavor it can be an entryway, right?!
Ok, let's chat about all the details!
The first thing you see when you walk up is the front doors! They've provided so much light into the space. It's seriously amazing. Before, the entryway was dark and not inviting at all. Now, it's just filled with the prettiest filtered light. I'm going to go into much more detail on the front door situation week after next; because a lot of you had questions about putting new glass into your original doors; because that's the option we were going to do. But that post is for another day. It's coming, I promise. =)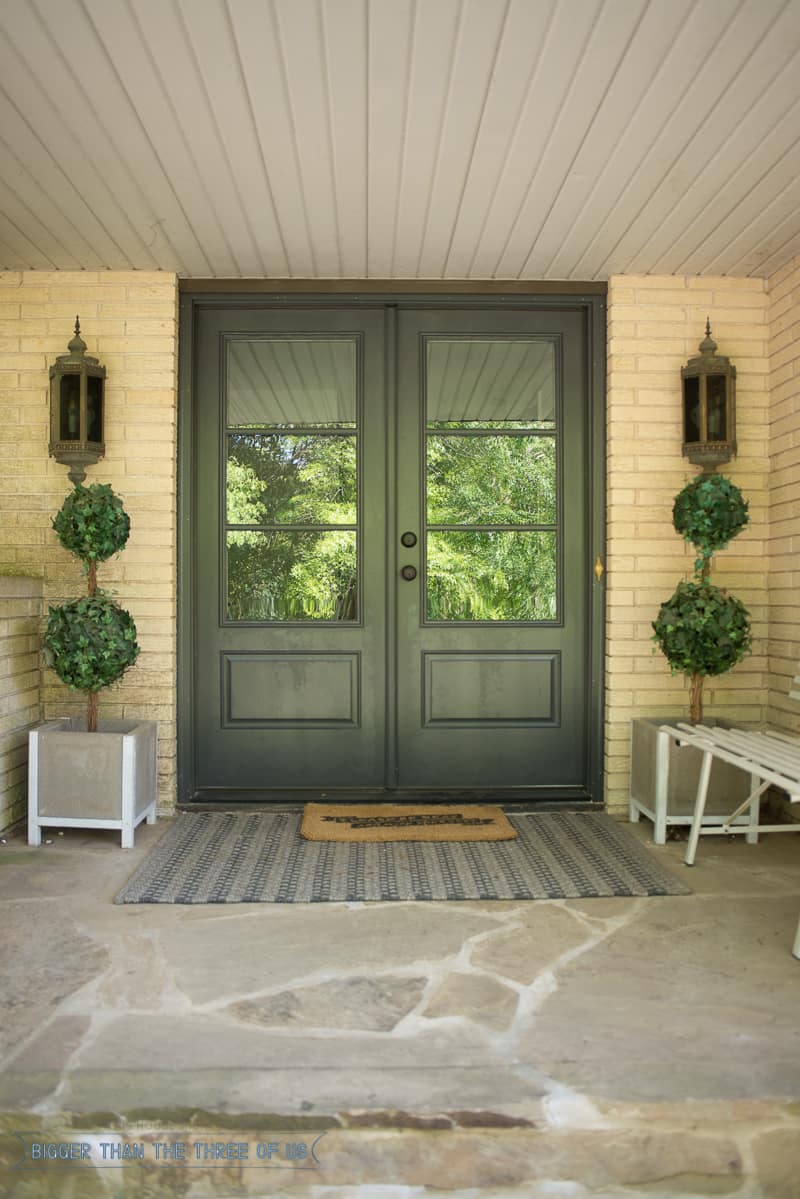 Look closely at the front door - something happened with the paint and the painter has to come back out and fix the splotchiness and fill and paint the edging. On top of that, the handleset was not ordered and is now in transit. Issues always arise, and they always take a bit to work through, but we are working through them!
Actually, there are quite a few oops and "we'll have to fix this is a bit" type things in our entryway. I'll share along the way because that's part of the process. As much as I wish that everything was perfect for reveal day, it's not. But, MUCH better is definitely an improvement. I'm looking on the bright side!
When you walk in the front doors, my eye immediately goes to the amazing interior doors and brass knobs. How incredibly chic are they? The pairing is my dream pairing and, originally, I was going to do white doors but then I just went for bold. I'm so happy that I did! Seriously, I love the way the door and the hardware pair together.
For the paint color, I went with the same color as I did for my kitchen reveal. It's Cracked Pepper by Behr.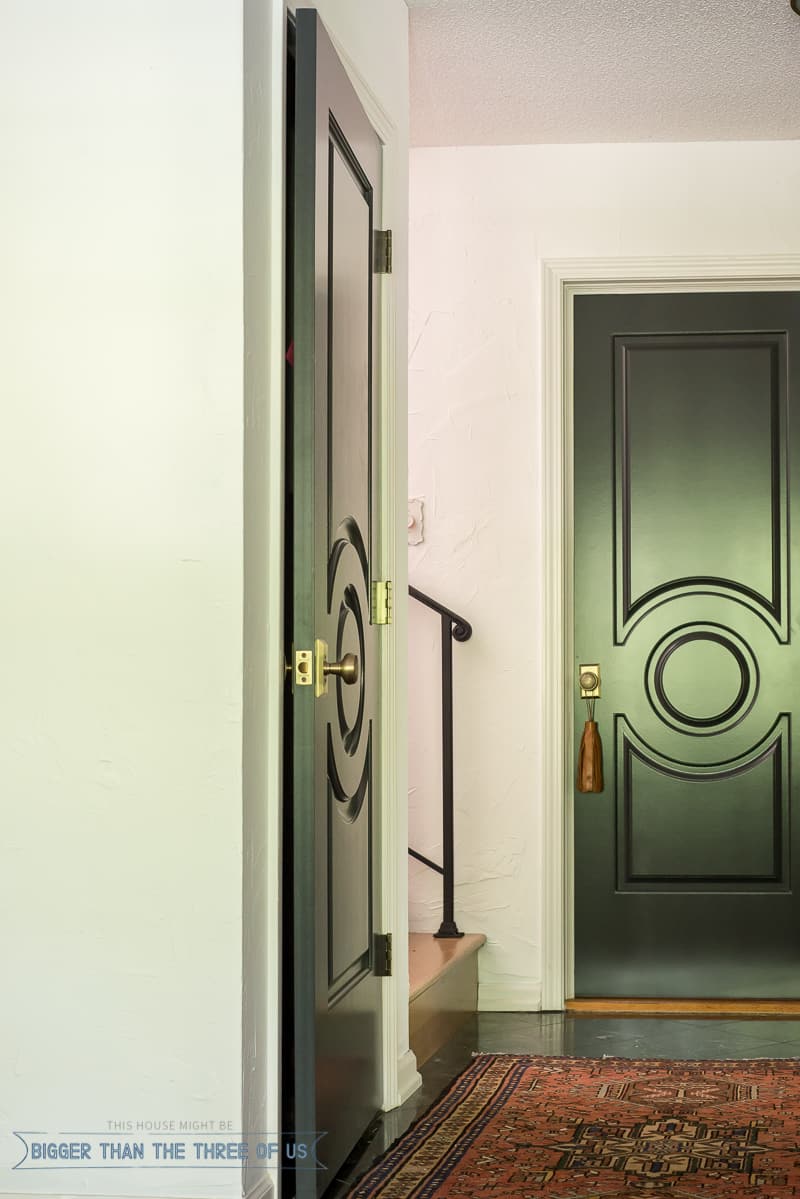 Metrie provided the doors and they are amazing! I went with the fashion forward doors and really love them. Nostalgic Warehouse provided the gorgeous brass knobs. I choose this brass door set and isn't it just divine? I'm dying to update all my doors and knobs to these two choices.
Also, I know the door above looks a bit funny with the glare but I'm so in LOVE with the sunlight that is pouring through our entryway that I didn't have the heart to filter out the sun with a reflector. The space used to be so dingy and now, it's a breath of fresh air.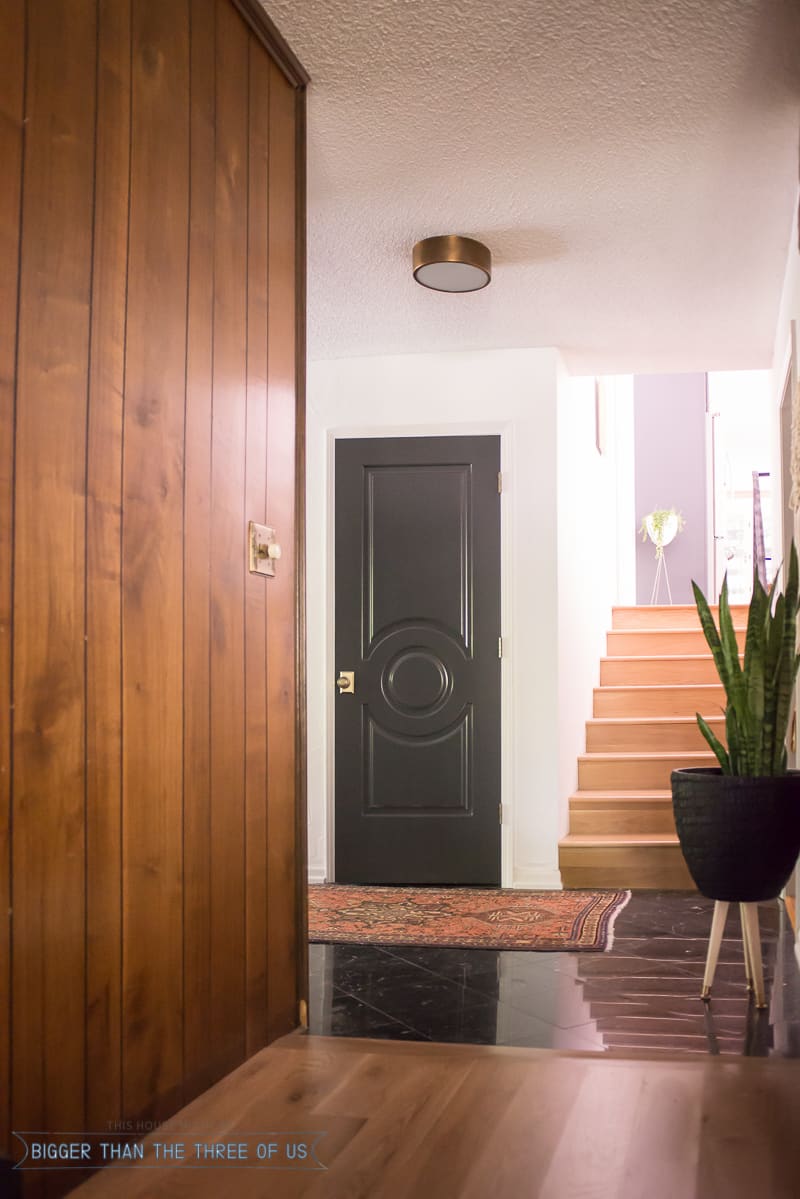 This is the view to the downstairs from the playroom. Gosh, again the door knob and doors are just the star, right?
If you take another step or two back toward the entryway, this is your view: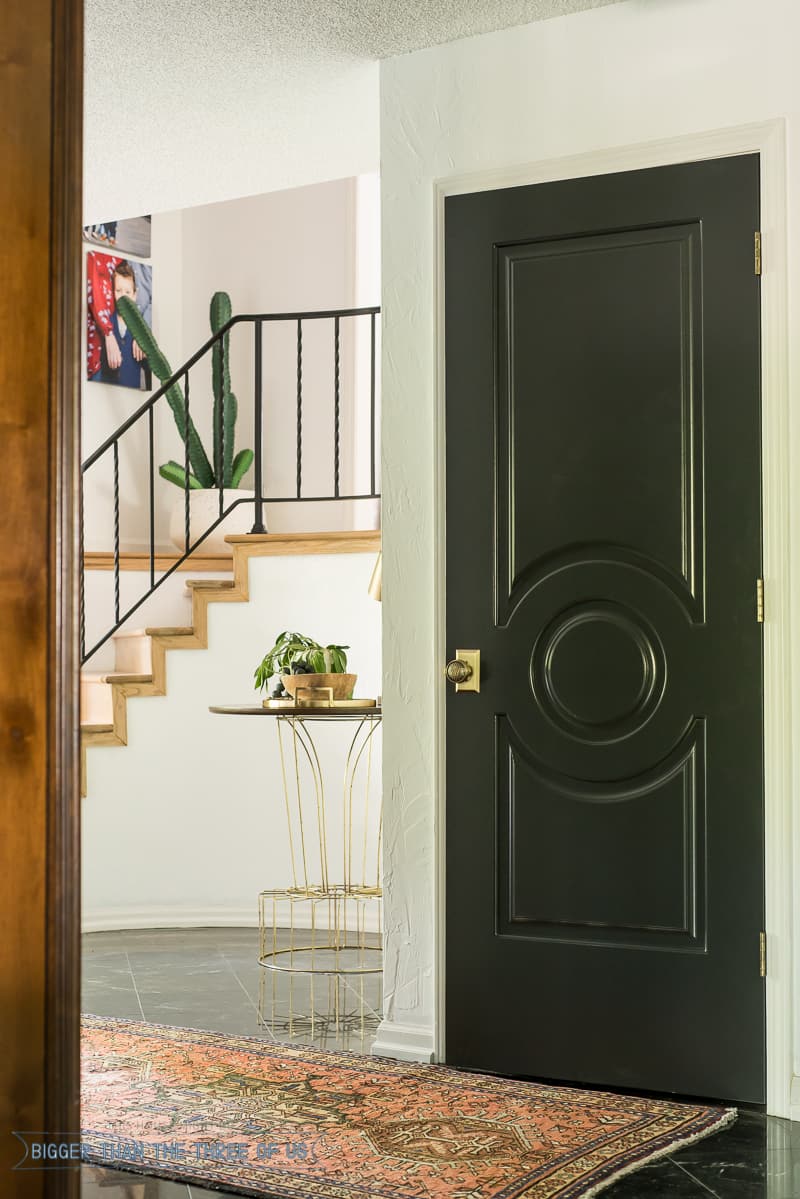 Fun and eclectic, right?! The rug was an Ebay find. If you missed it, check out my go-to sources for affordable vintage rugs. I shared all my favorite places to browse. The "table" is actually a brass stand I found years ago. I Instagram storied (follow me on Instagram if you aren't!) a lot about my table woes, but basically, I couldn't find a table in a height/width that fit my budget. This is a makeshift table until I find one that will work for us longterm.
Take a few more steps and you see this: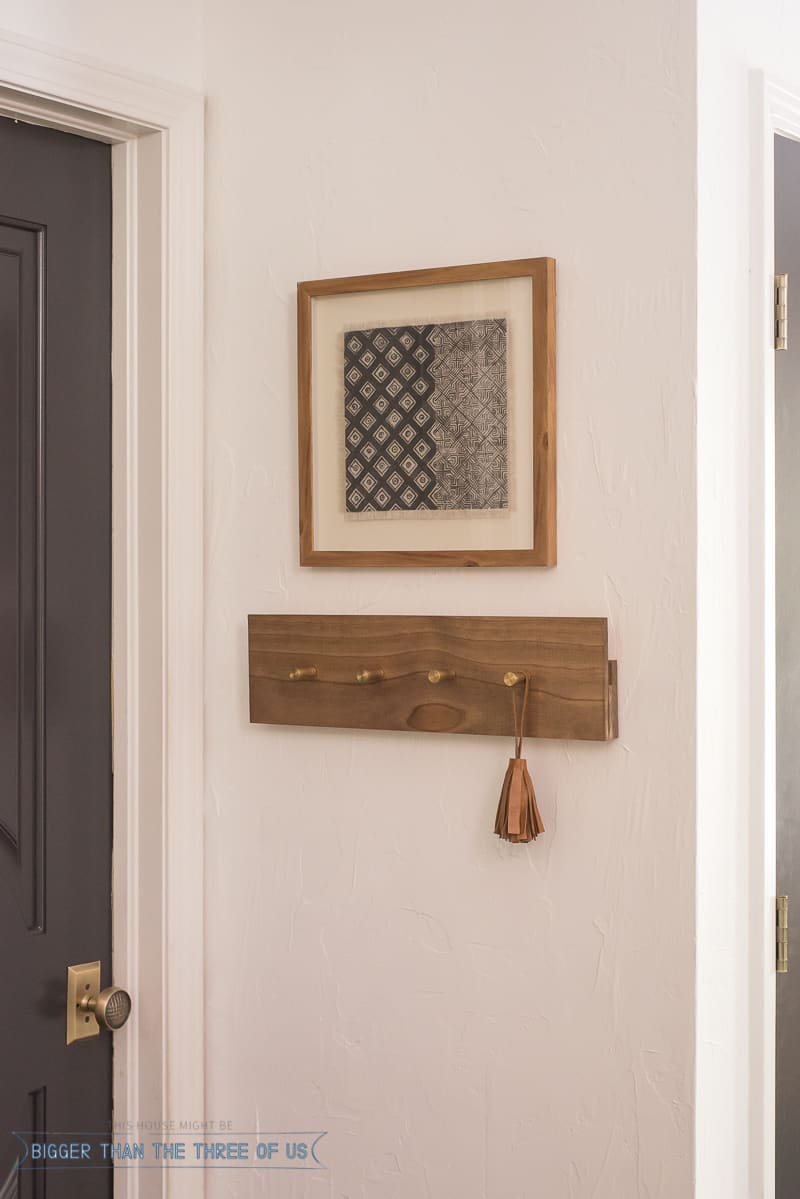 I can't get over this little nook area to our garage. It used to be so disgusting and a forgotten space. Add amazing doors and brass knobs and, all of a sudden, it has personality. I just adore it.
The coat hanger is a DIY that I did some time ago. If you missed it, here's the tutorial for the brass and wood coat hanger. I picked up the art at Target and really like how it pairs with the hanger. The leather tassel is a DIY. I had fun making those this week and will share the SIMPLE tutorial for them soon!
Here's a more pulled back view of this space.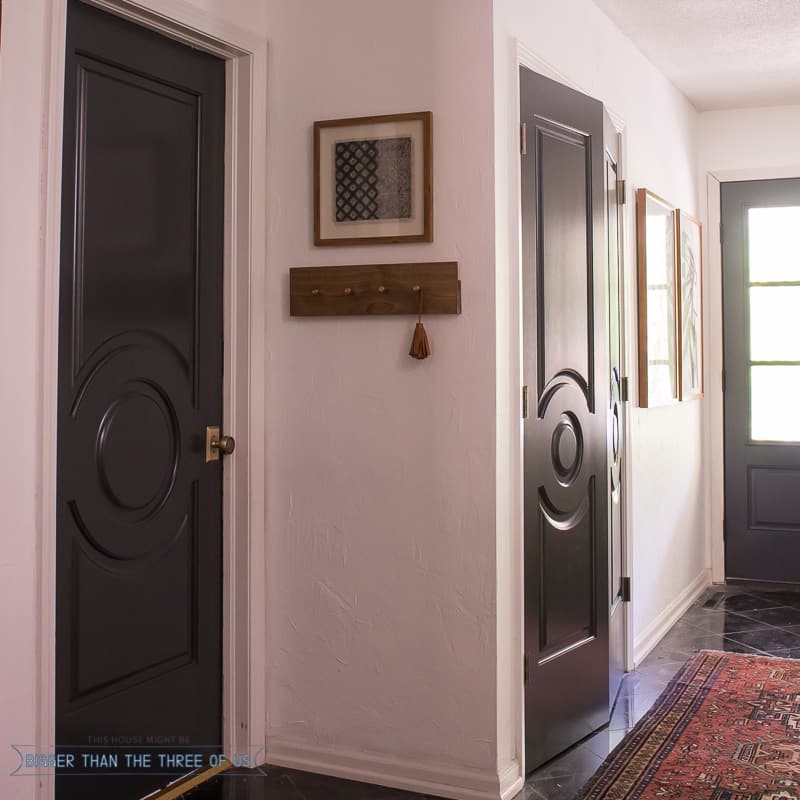 Do you spy my other issue? The millwork company used our old doors as templates for the new ones and, anyways, something got off somewhere. The new doors to the closet are just a tad too big to completely shut. They are going to take them back down and resize them and send them back to the painter but I wanted to have them in the space for the reveal so that you could get a feel for the space. When I get them back, I'll have the same knobs as all the other ones. I can't wait to see the brass knobs from the landing area on these doors - they are really going to make more of a statement than they already do!
Do you spy the double frames that are close to the front doors?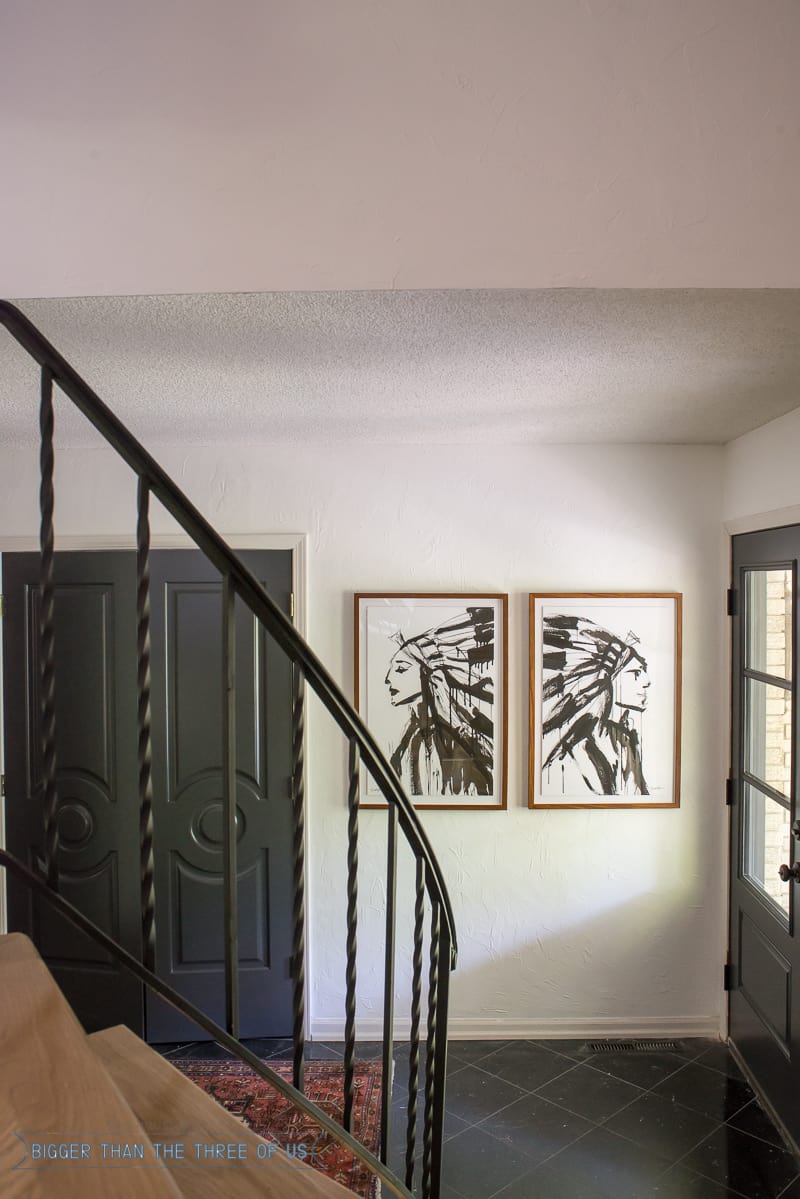 I've had this art on my wishlist for at least a year and a half. My birthday was last month and I somehow convinced Luke that we just had to have these pieces and he should get them for me for my birthday. He loved them too so I didn't have to convince too hard. Aren't they just perfect in this space?
Framebridge graciously framed them for me. I picked the Sonoma frame which mimics the look of my Taco Tuesday print in the kitchen. I seriously love so many things about the entryway so I can't pick a favorite, but these just speak to me. Finding art that speaks to you is just the best thing.
When you turn the corner (or if you would have looked left when you walked in the front doors) you would see this circle area.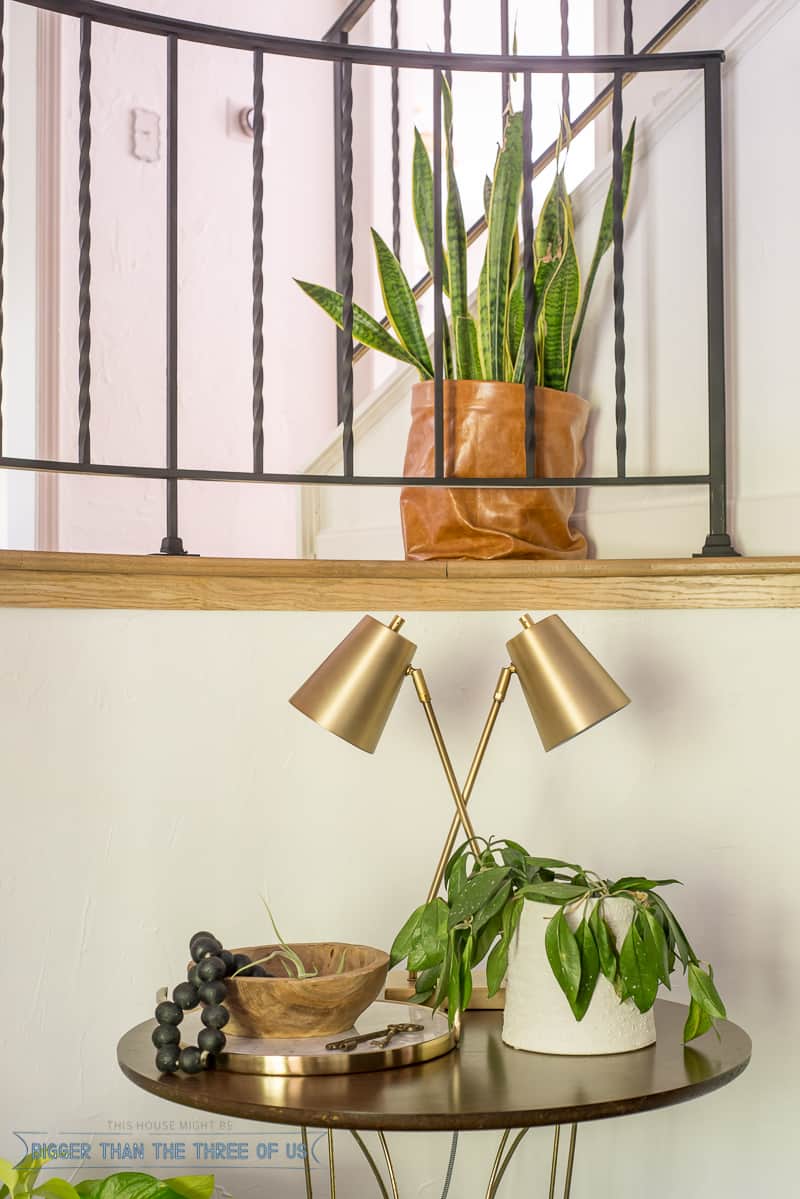 What do you notice first? Do you notice the table or do you notice that dark railing? I'm still pinching myself that we were able to modernize the railing (by getting rid of those scrolls - did you catch the tutorial last week?)! It's such a drastic change.
The circle entryway has thrown me for a bit of a loop. Because of the height of the stairs, I didn't feel like a traditional table height looked good. So, as I was searching for an adjustable table or pub style table. I had the crazy idea to try this brass stand with a thrifted table top. I think it works. It's not perfect, and I did find the perfect table (but my budget at this time wouldn't allow me to purchase it). It works for now.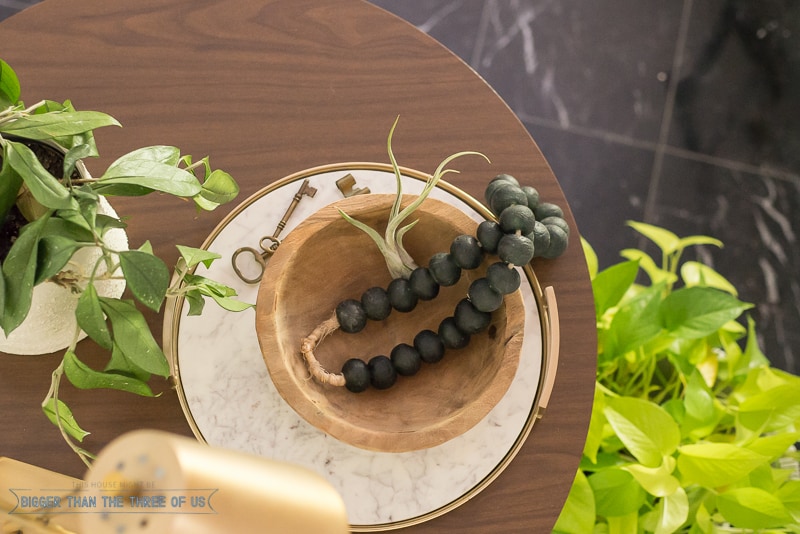 A few of my favorite things are on the table. Brass keys were a flea market find a few weeks ago. I had no idea what I needed them for, but I loved them so they came home with me. How gorgeous are the black beads from St. Frank? They are so incredibly heavy and add a fun organic feel to the table as does the hand-carved wood bowl. Both are made from artisans which I think is so cool. A light is always a good idea to add height and it adds a fun ambiance to the entryway during the evening. And, you know I love my plants so a plant was a no-brainer.
Let's head up the stairs and check out the loft area!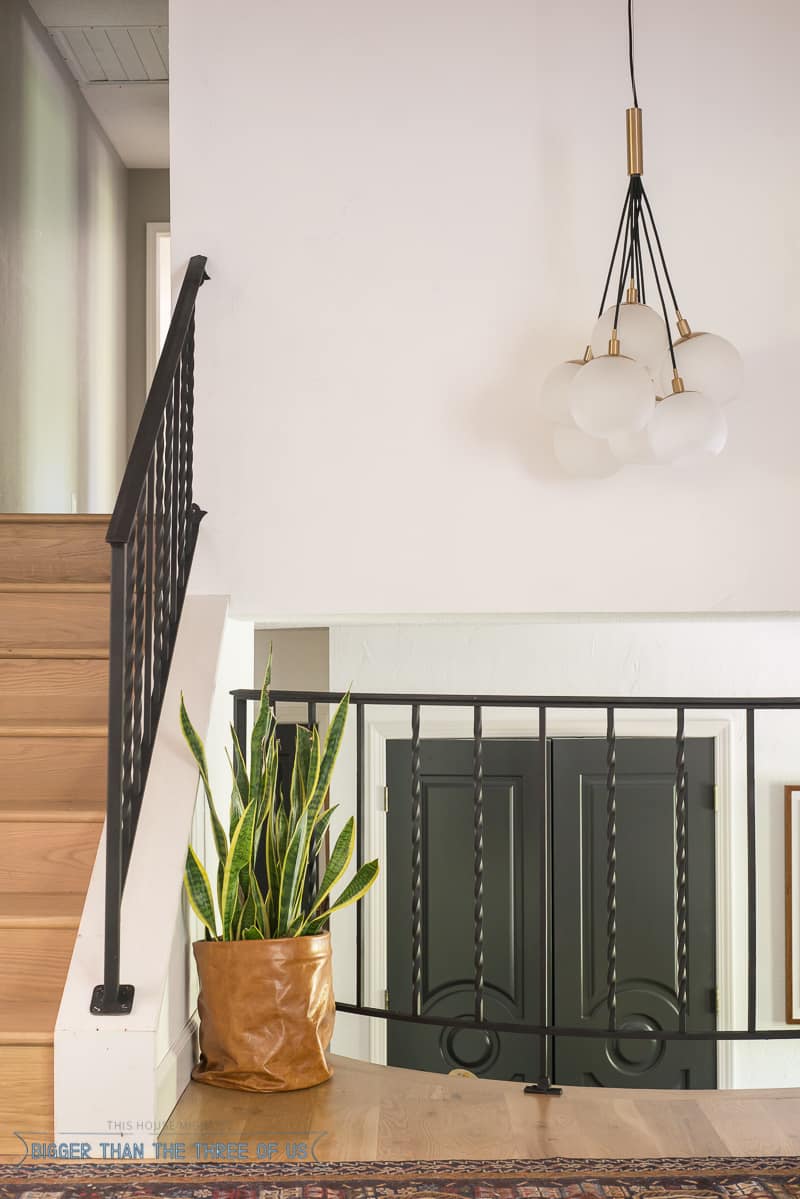 How fun is that light?! Originally, I thought it wasn't going to work because it hung so much higher than my last one but, in person, it really fits the space. You don't see the light at all when you walk in the front doors and that has been a change to get used to but I think it really allows your eye to take everything else in.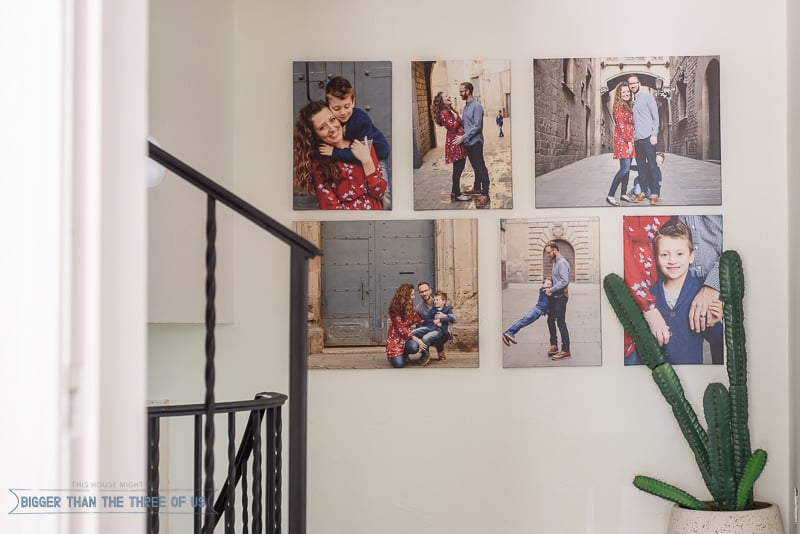 I freaking adore our new canvas wall! I worked with Canvas Pop on the wall and it turned out great. If you missed my detailed post on how to determine canvas sizing, make sure to check that out!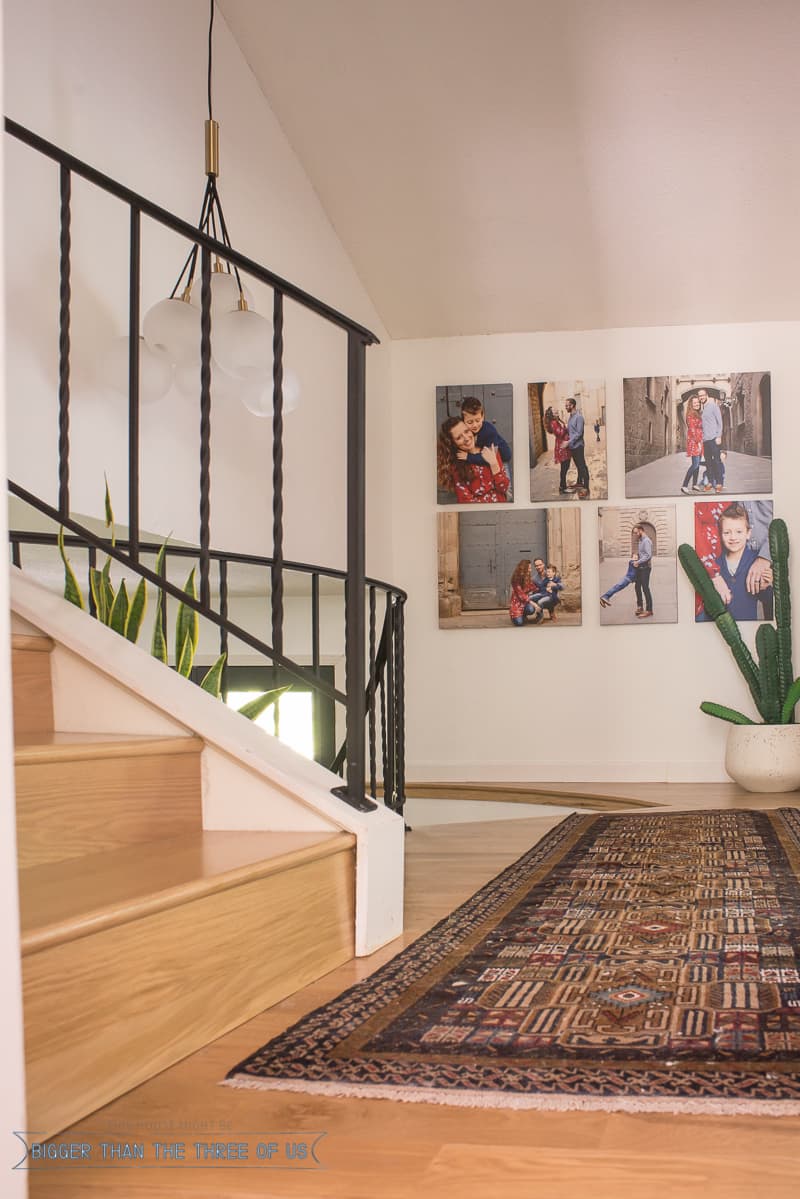 The cactus is fake and probably my favorite thrifted find ever. I get asked about it all the time. At the time, I didn't know if I was buying the coolest thing ever for $20 or the silliest. Definitely the coolest thing ever, don't you think?
I "replanted" it in a more earthy pot and think it fits even better with my space.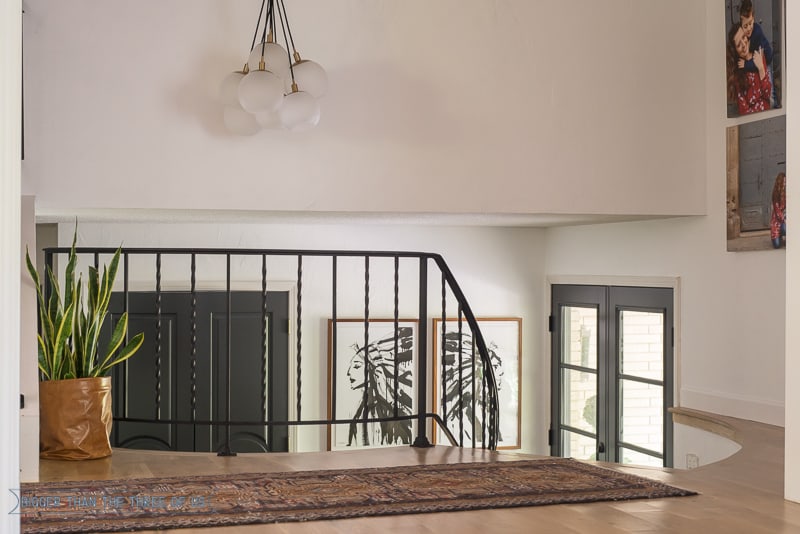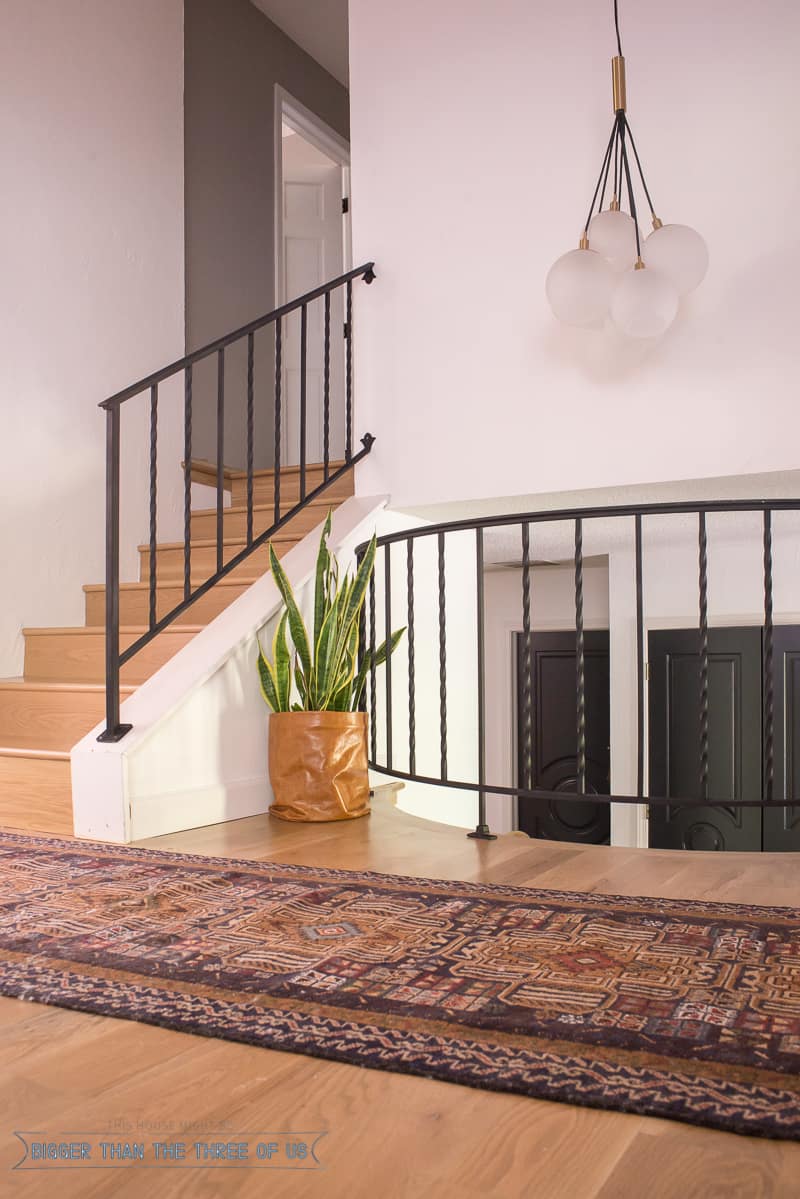 The leather plant bag is a DIY. It's floated around the house for awhile, but I think it's meant to stay where it is now.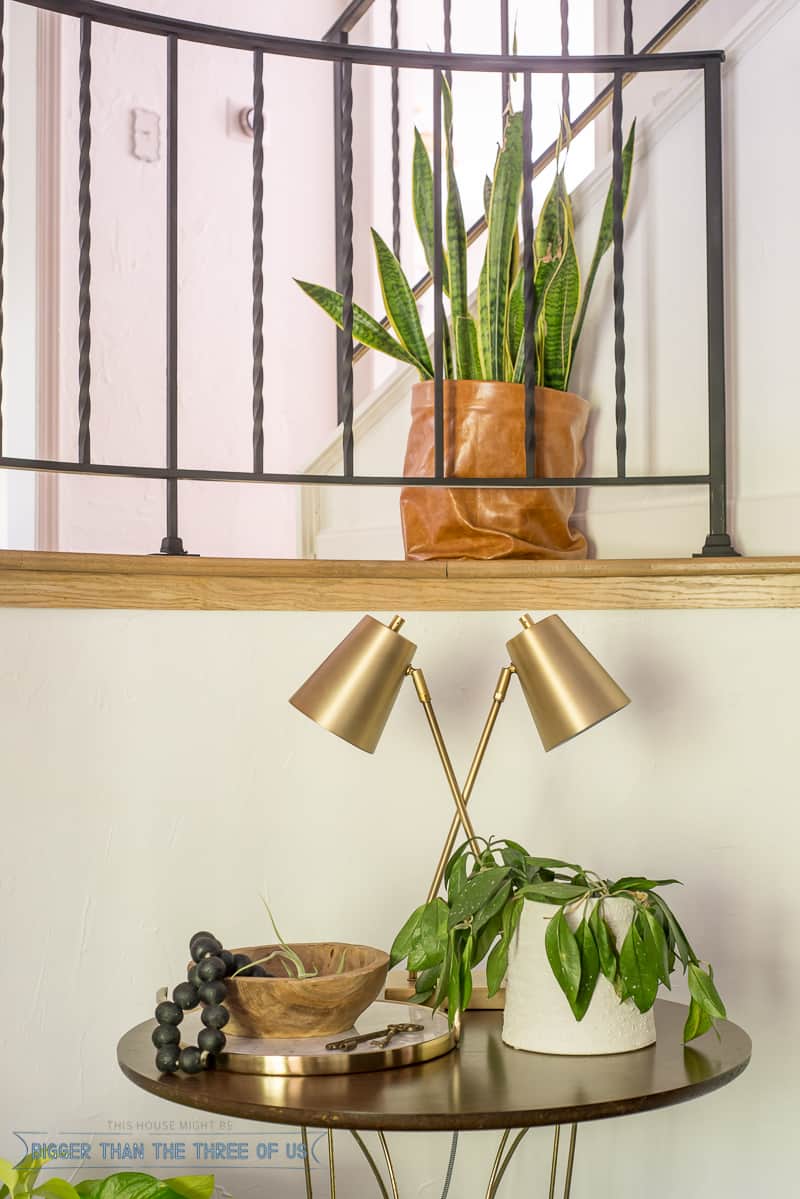 How about a few more pictures?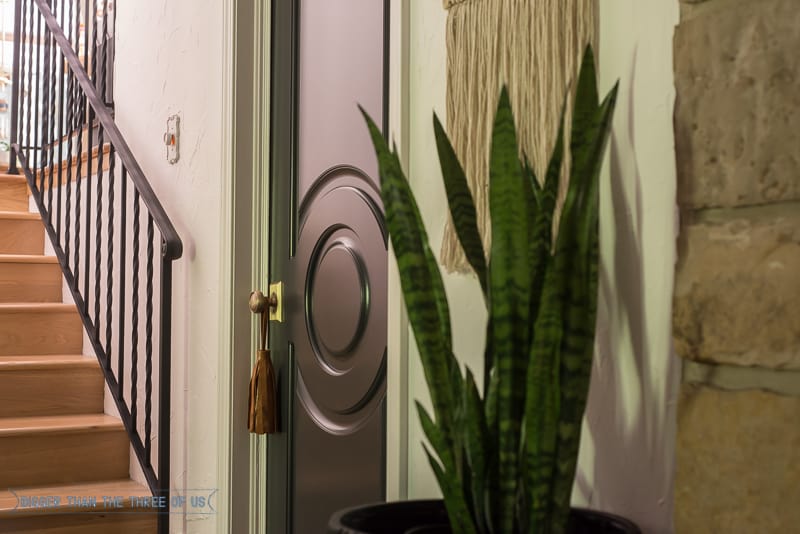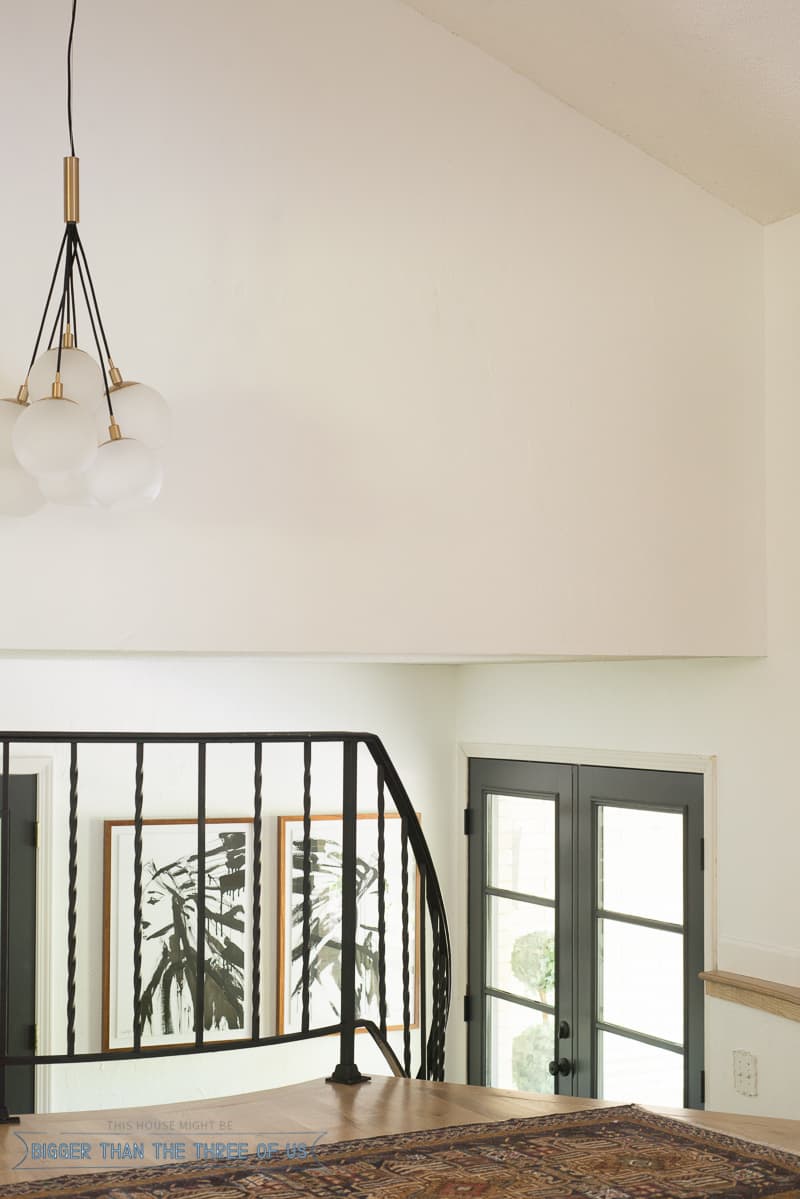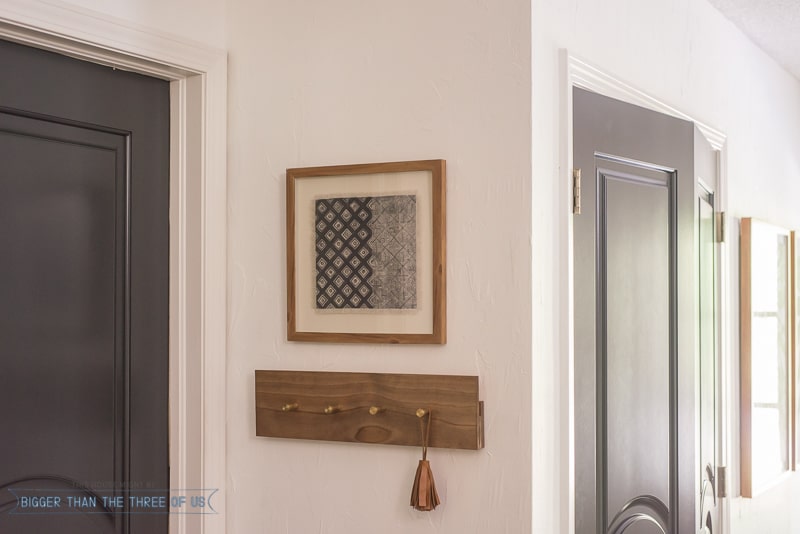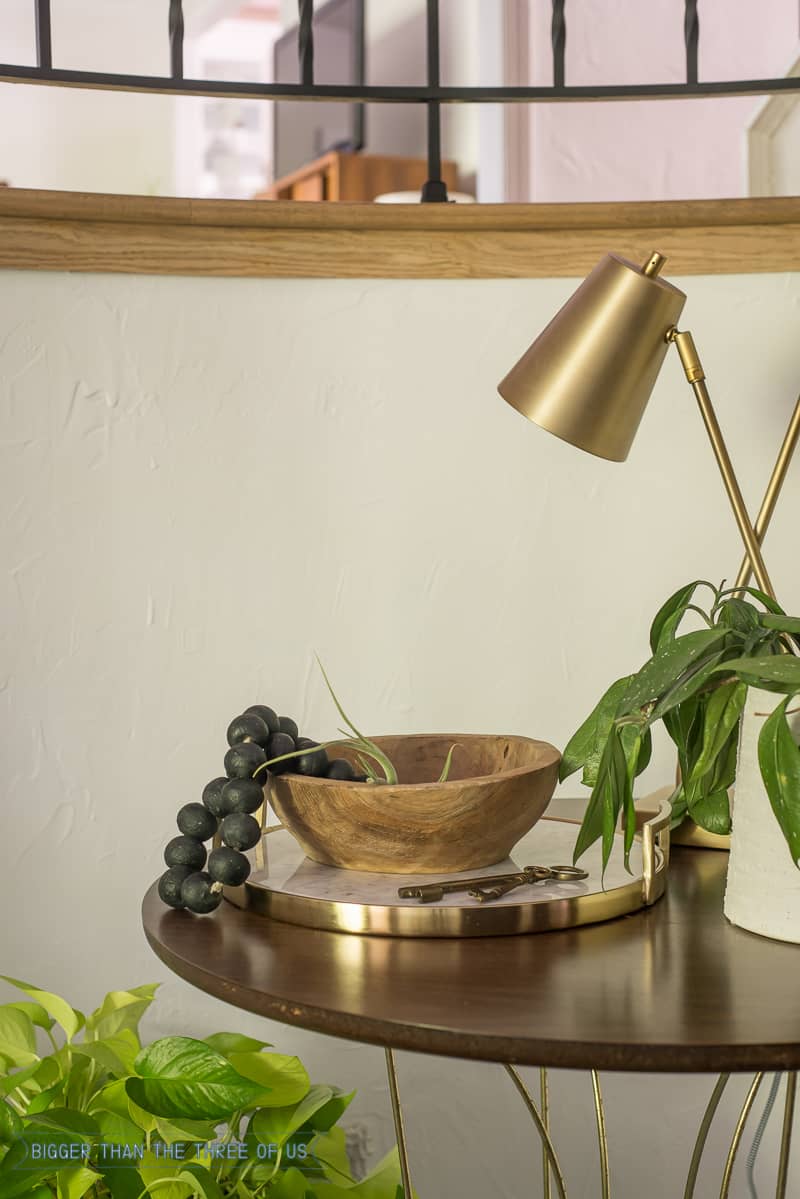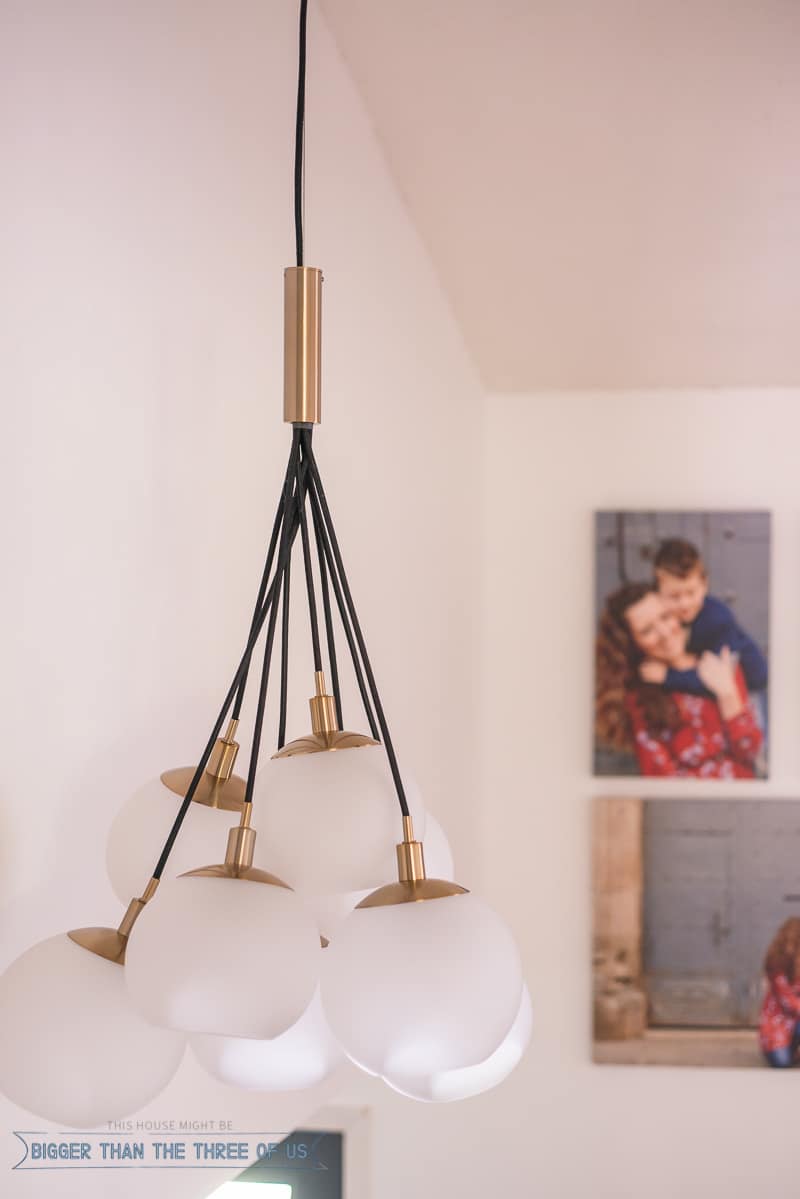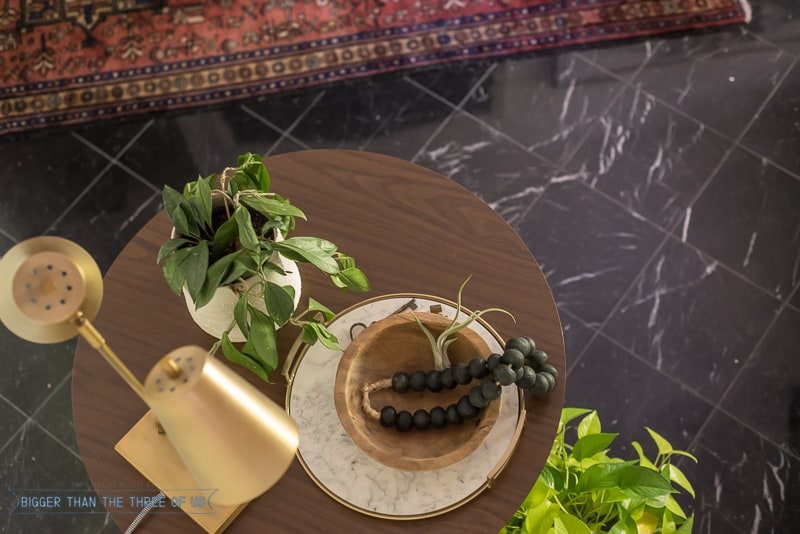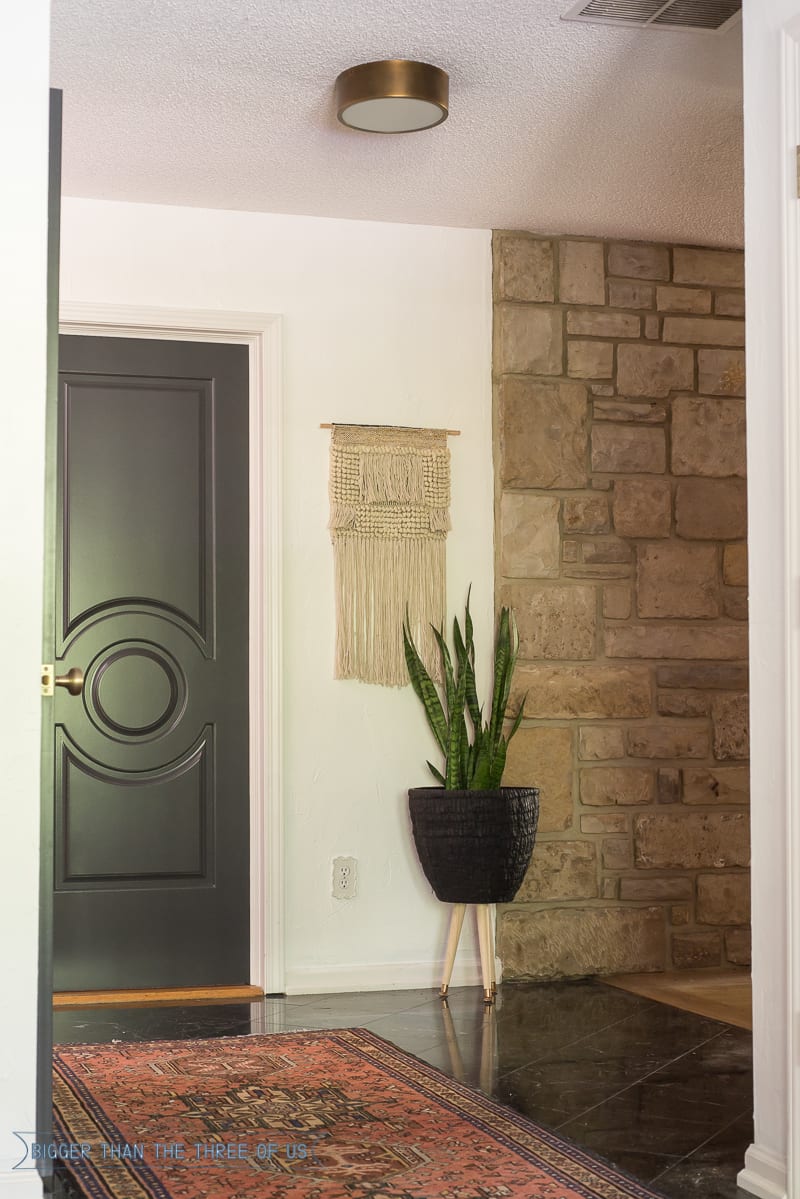 And, just because I can't help myself from sharing a before/after, look at this: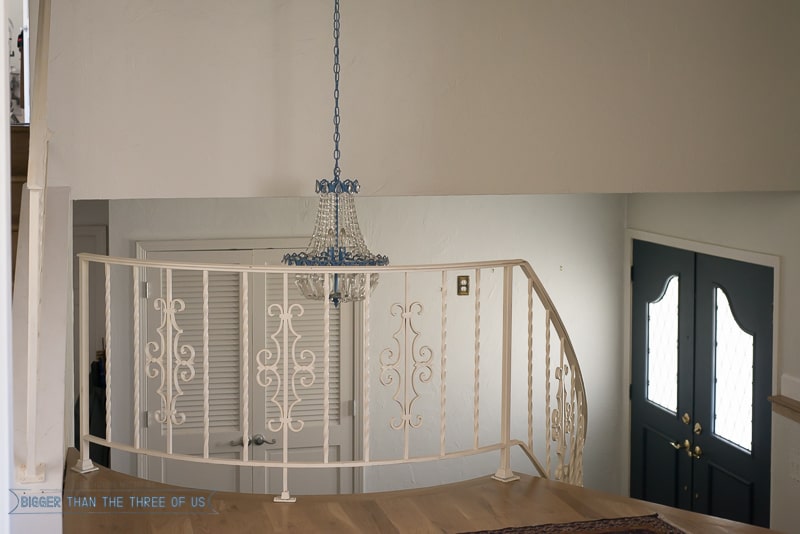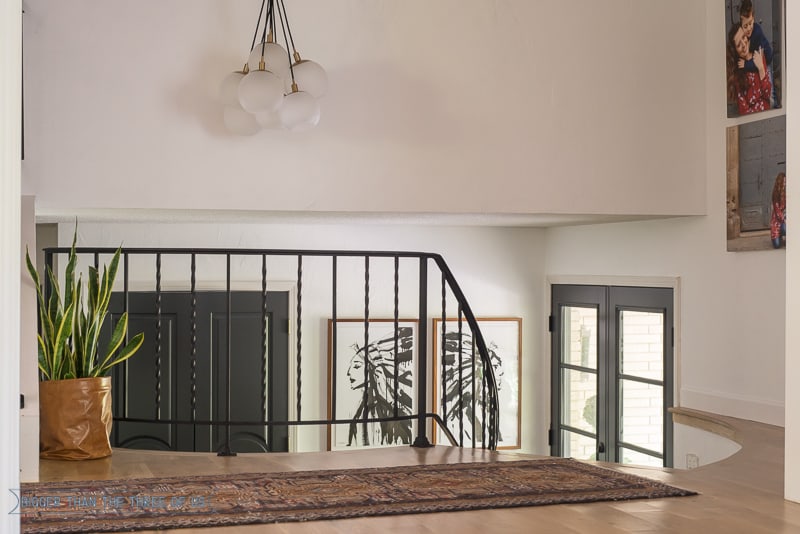 So, tell me your thoughts! Do you love it?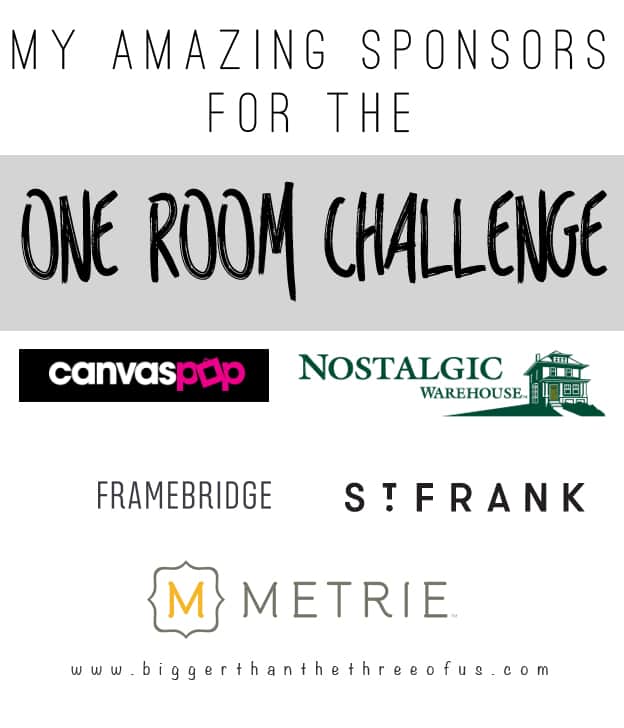 Canvas Pop | Nostalgic Warehouse | Framebridge | St. Frank | Metrie 
SOURCES
Nostalgic Warehouse - Studio Shortplate, Craftsman Knob in Brass | Metrie - Fashion Forward Door | Framebridge - Sonoma Frame | St. Frank - Wood Bowl and Glass Beads | Canvas Pop - Photo Canvas Display | Target - Black and White Framed Textile, Marble Tray and Brass Lamp | Ross - Wall Hanging | Ebay - Runners but similar here and here | CB2 - Pendant Light | Restoration Hardware - Brass Flushmount | Leather Plant Bag | Modern Coat Rack | Leather Tassels - DIY coming soon! | Female Chief | Male Chief | Mid-Century Plant Stand | Brass Keys - Vintage but similar