This DIY Plant Bag is made out of scrap fabric! Whether you are looking for ideas for large indoor plant pots or just inexpensive cheap plant pots, this project is a win. Read on for the tutorial on how to make a fabric pot!
A few years ago, I made these fabric planter bags and really loved them. Since then, they have moved all over my house and have housed many different types of plants. As I've been working on refreshing Greyson's room, I've been shopping my house for decor that would be a good fit for his space. In the bottom of the decor closet was this fabric pot and I immediately knew it would be perfect for his room.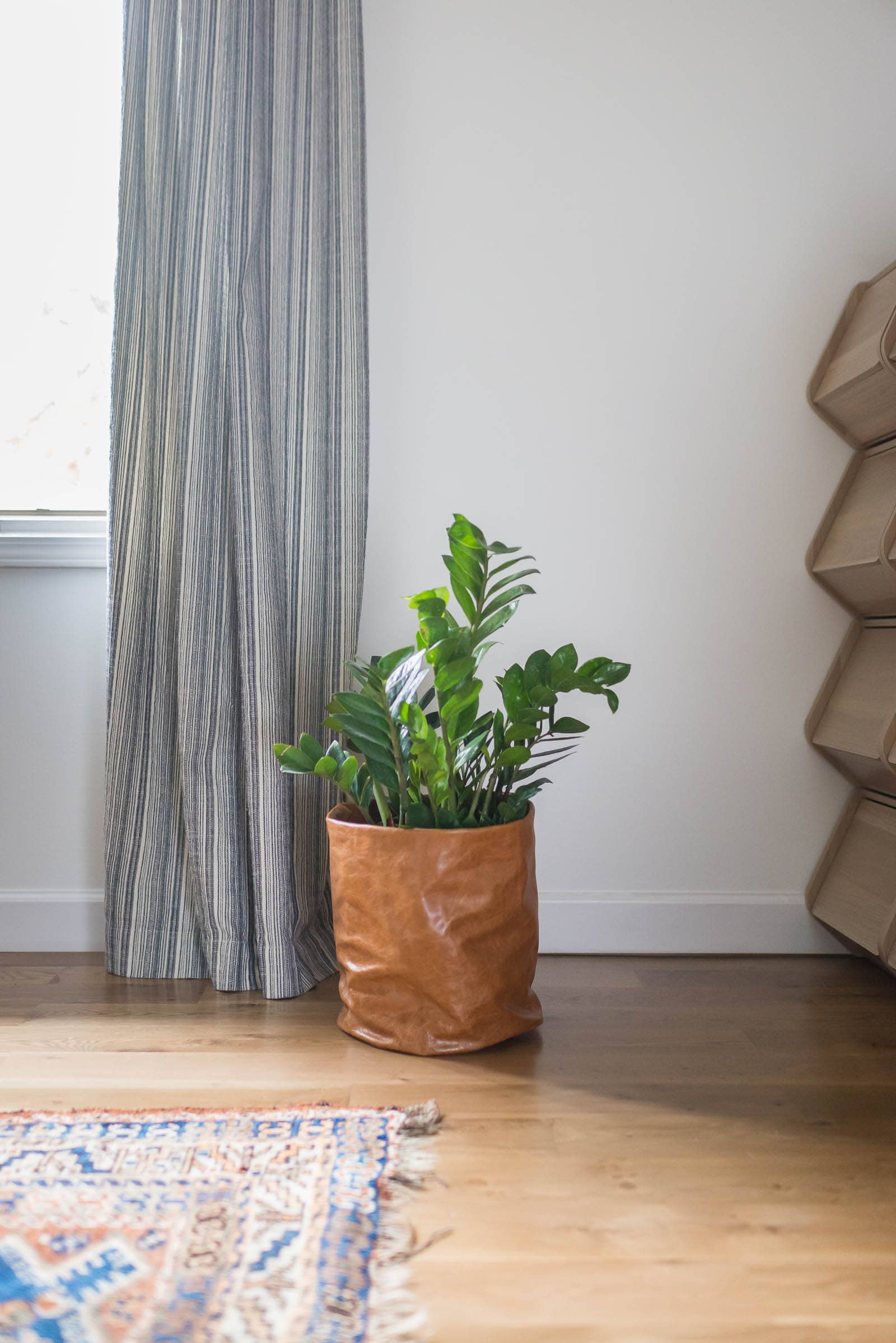 Scrap Fabric Project : DIY Plant Bag
Before we jump right into the DIY Plant Bag tutorial, let me preface this fabric project by saying that I'm not a seamstress. I can sew a straight line and make envelope pillows but that's the extent of my sewing skills. So, if you are looking for a BEGINNER FABRIC PROJECT, then this is going to be perfect for you.
Supplies Needed To Make The Fabric Pots
Scrap fabric

I used leather and an old rug

Plant basket or planter (to trace for size – use one that you have!)
Plant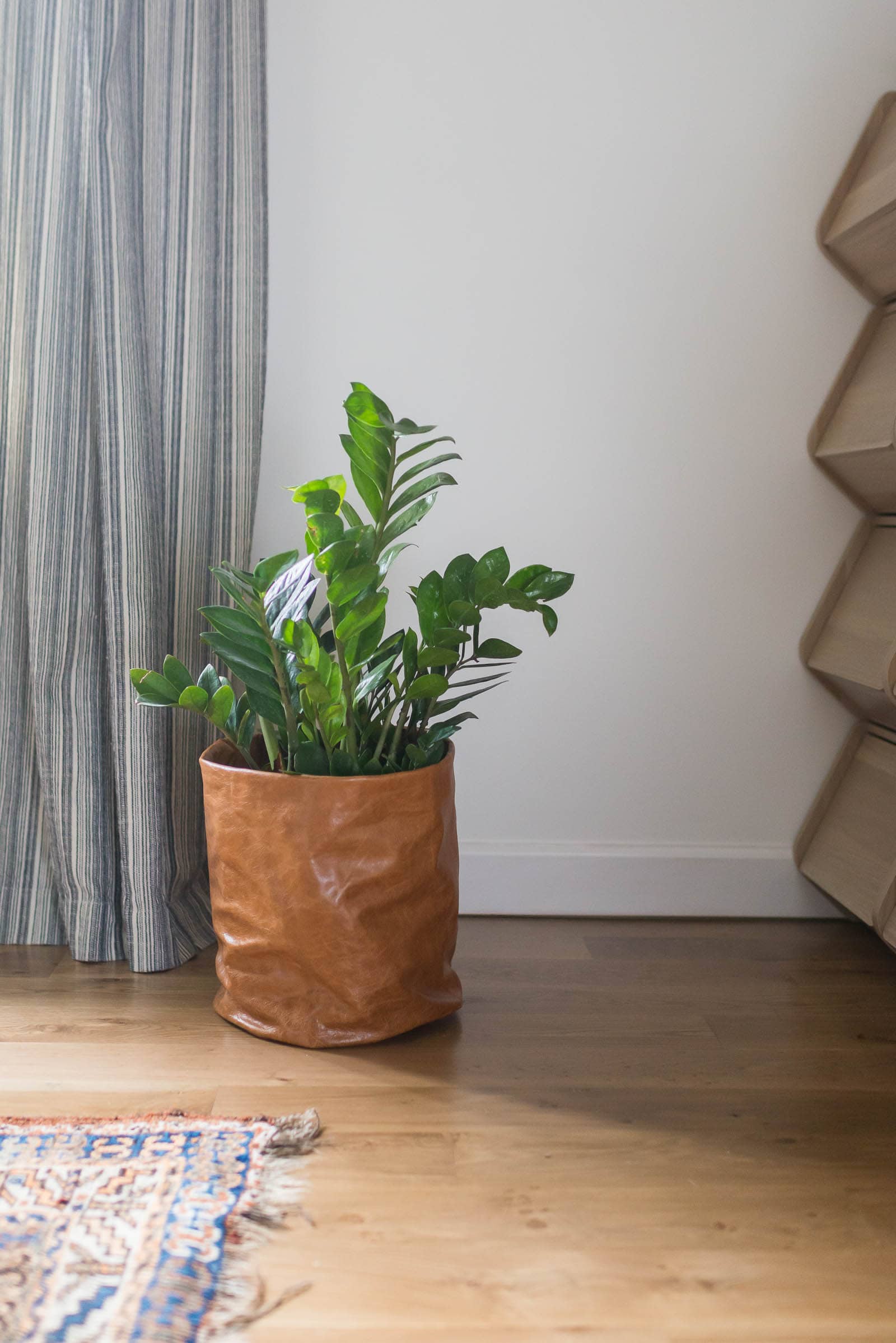 How To Make Large Indoor Plant Pots
Use a planter or basket that you own as a guide for sizing.
Flip over basket or planter onto the fabric (outside of the fabric face down so you aren't drawing on the fabric that will show) and mark a circle for the base.
For my project, I used a medium size basket and my circle size was 13″ across.
Next, you are making the sides of the fabric pot. I used a strip of leather that was 18″ tall to create the bag. I don't know how long it needed to be because I had a long strip that I just used and cut once I had the seam sewn.
Place the circle at the end of the 18″ strip and start sewing the pieces together (you place the pieces that you want facing the outside together).
Feed the circle and the fabric around. You have to do this by hand, otherwise your circle will not be connected.
After the circle is sewn on, sew up the side.
Flip the fabric planter inside out.
Put a cork planter pad in the bottom and then place your plant inside the plant pot.
Fold the raw edges in toward the plant.
Trim any excess.

It's really that easy! If any of the steps were confusing, take a look at the pictures, below.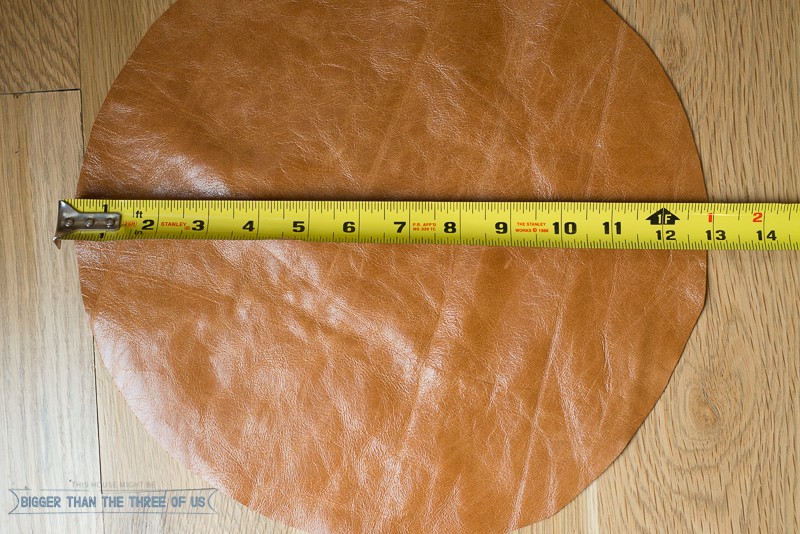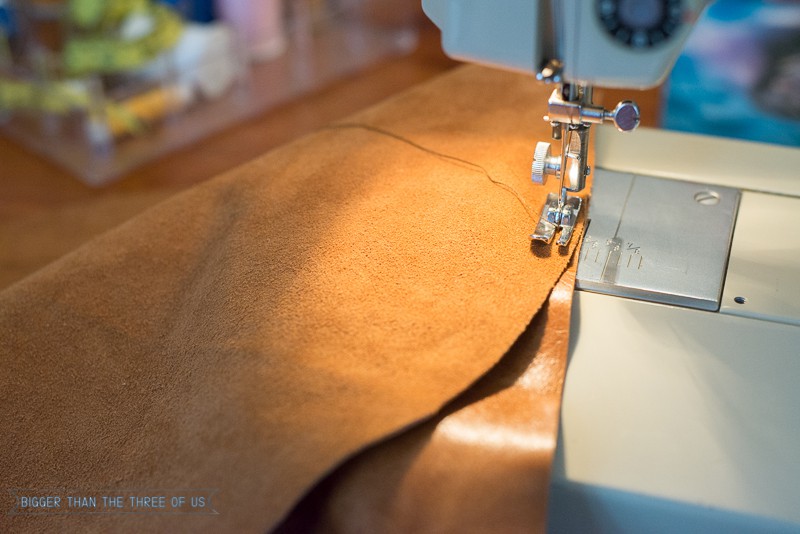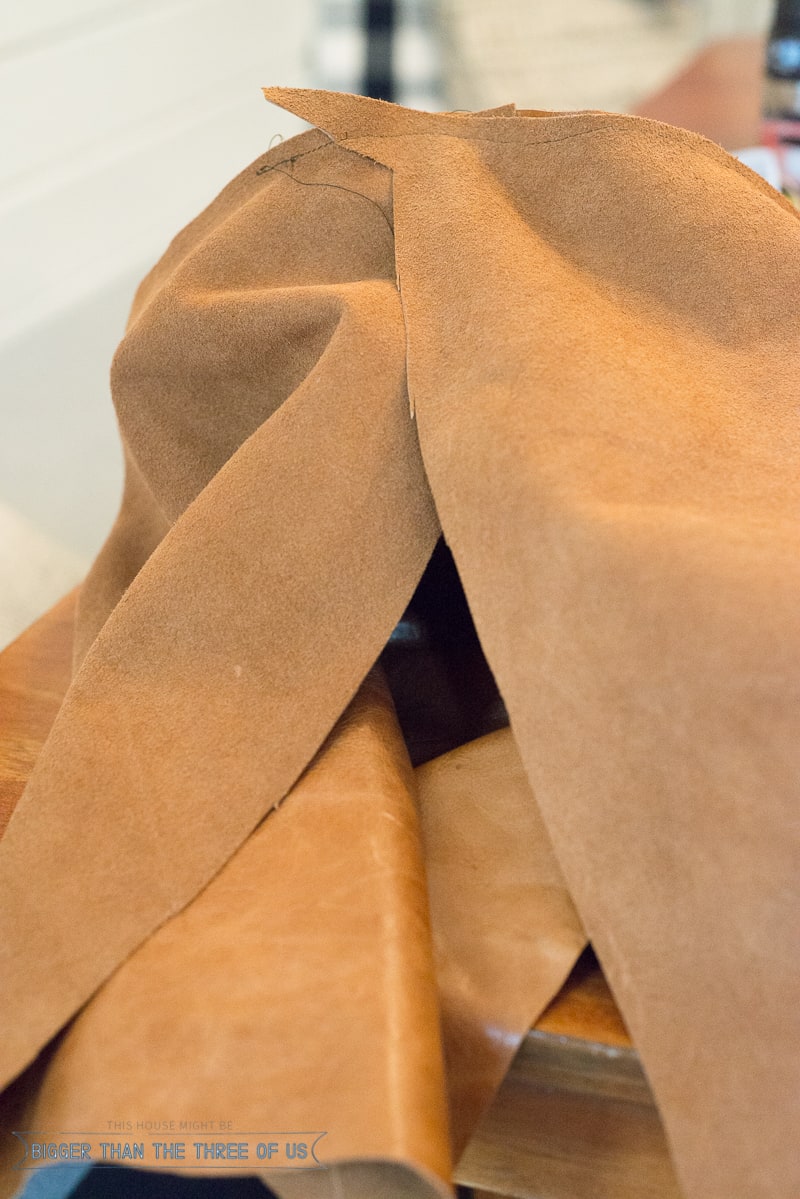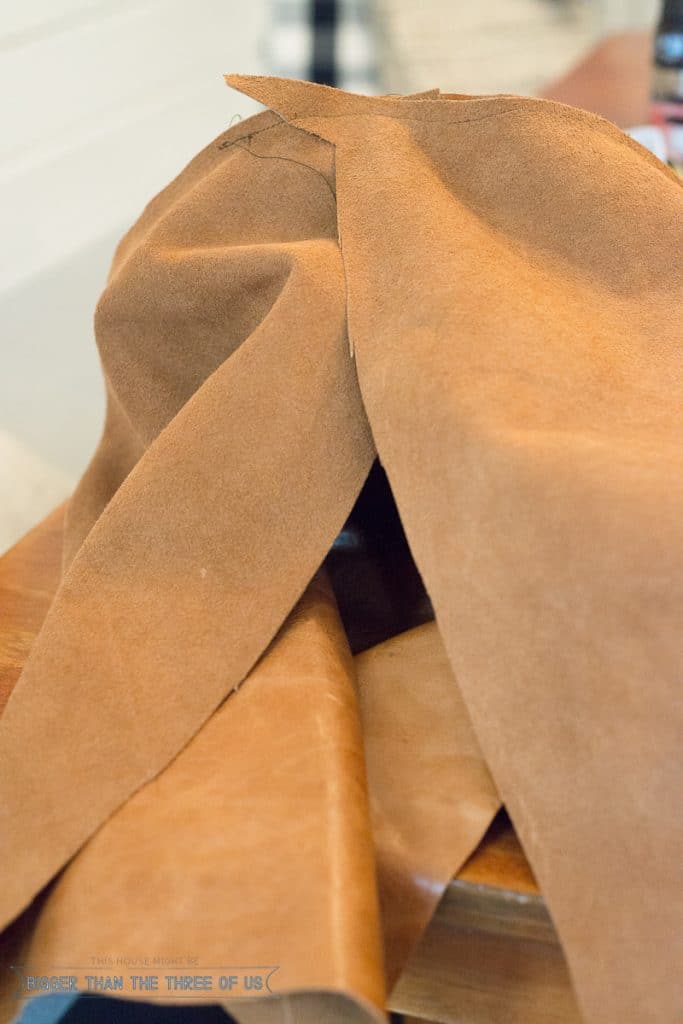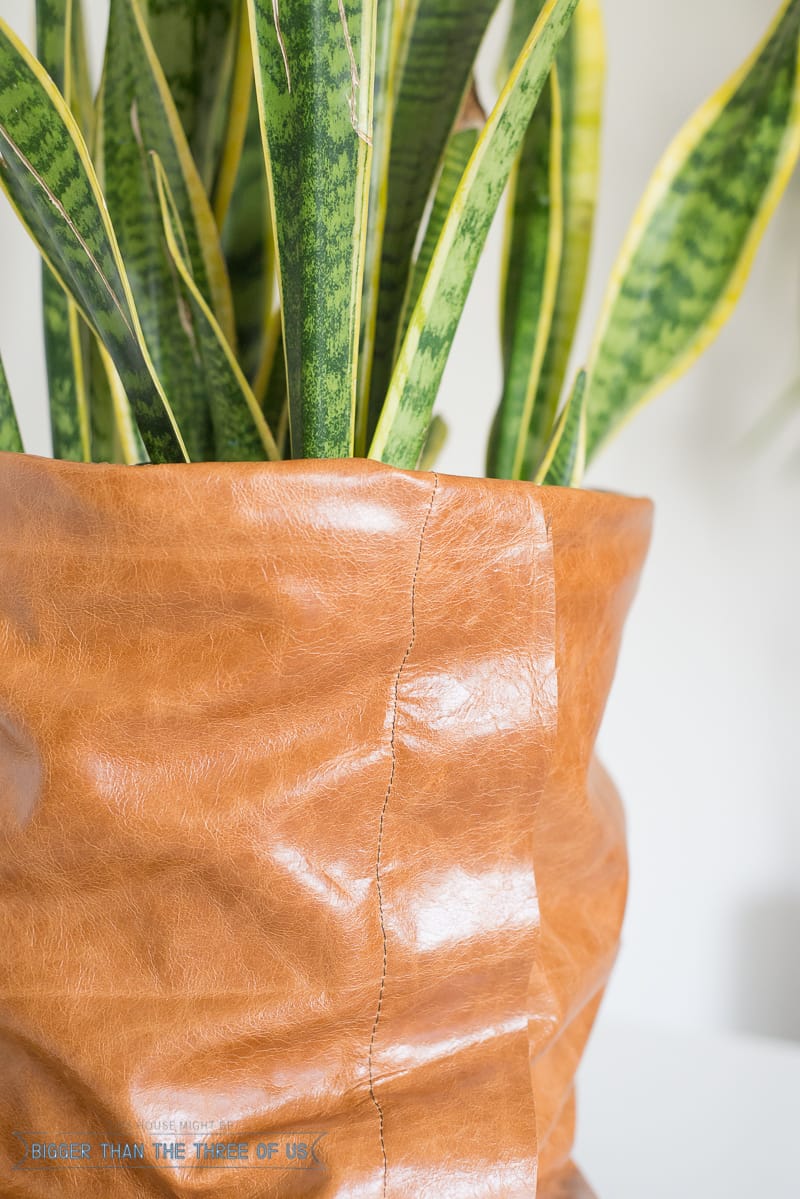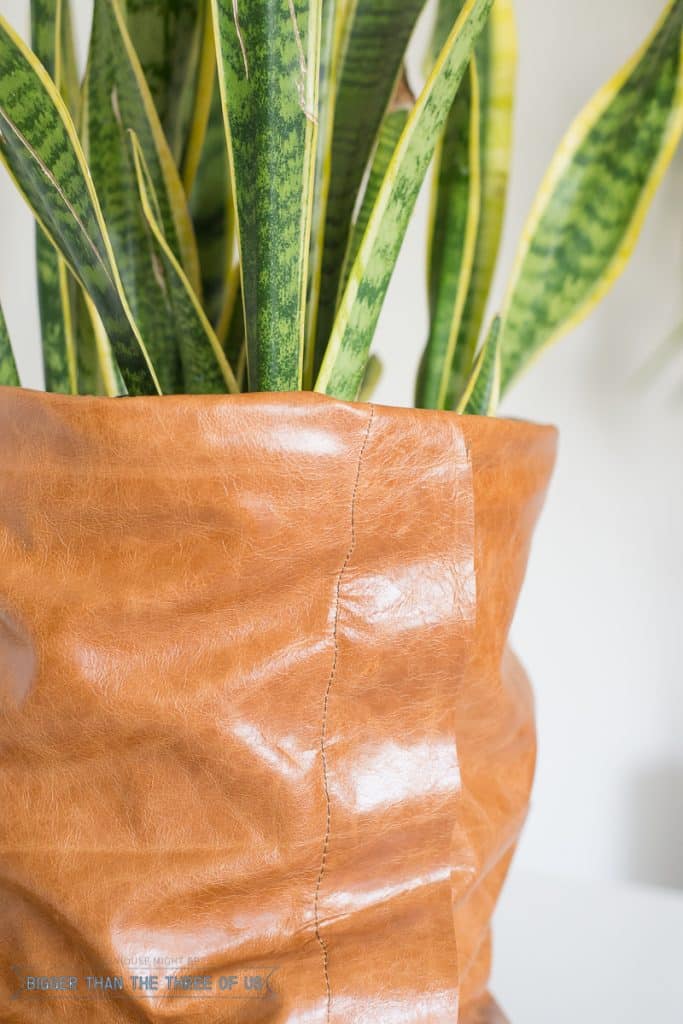 If you have sewing skills, then you know that it would look more finished if you sewed the long piece together to create its own circle and then sew the pieces together. BUT, for me… the method that I used worked great!
I actually loved it so much that I did it again with a few scraps of rug that I had.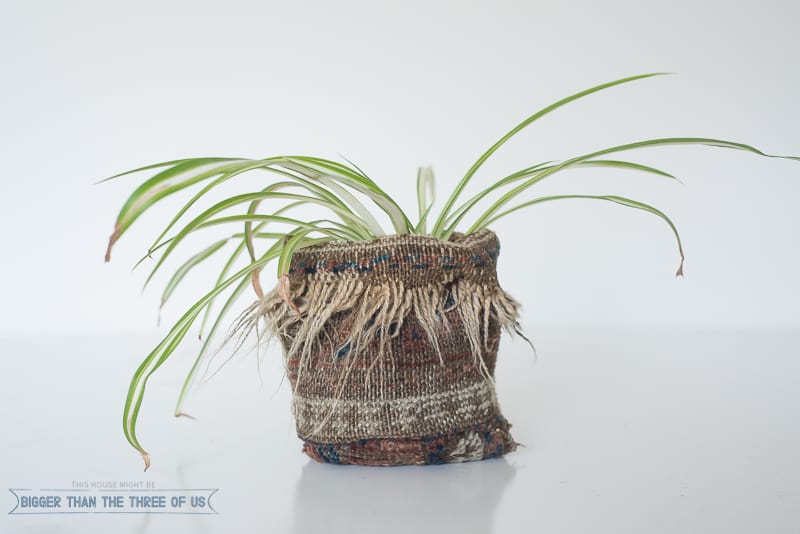 Since the rug had some unique fringe on it, I folded the rug outward instead of inward. I think it added something super cute. Curious to hear, would you ever make a scrap fabric planter pot?
p.s. If you are looking for other options for cheap plant pots, I made this planter pot table and a hanging planter as well.
Pin for later: