If you are searching ideas for your boys bedroom decor, then look no further. Greyson's Boy Bedroom Reveal features a closet loft, Lego storage, vintage pieces, a ton of beautiful lights, and more.
I'm soooooo incredibly happy to say that Greyson's boy bedroom reveal is here. We've been in the weird in-between bedroom phase in his room for the past few years. His room looked picked up on a good day but, overall, it didn't function well for us. When I work on spaces within my home, my goal is to think about how to mesh functional pieces with how we live. Sometimes I nail it and, other times, I don't. Today, I'm happy to report that this space has been functioning PERFECTLY for him for a few weeks and feels like an extension of my decor style (but suited to a boy's bedroom).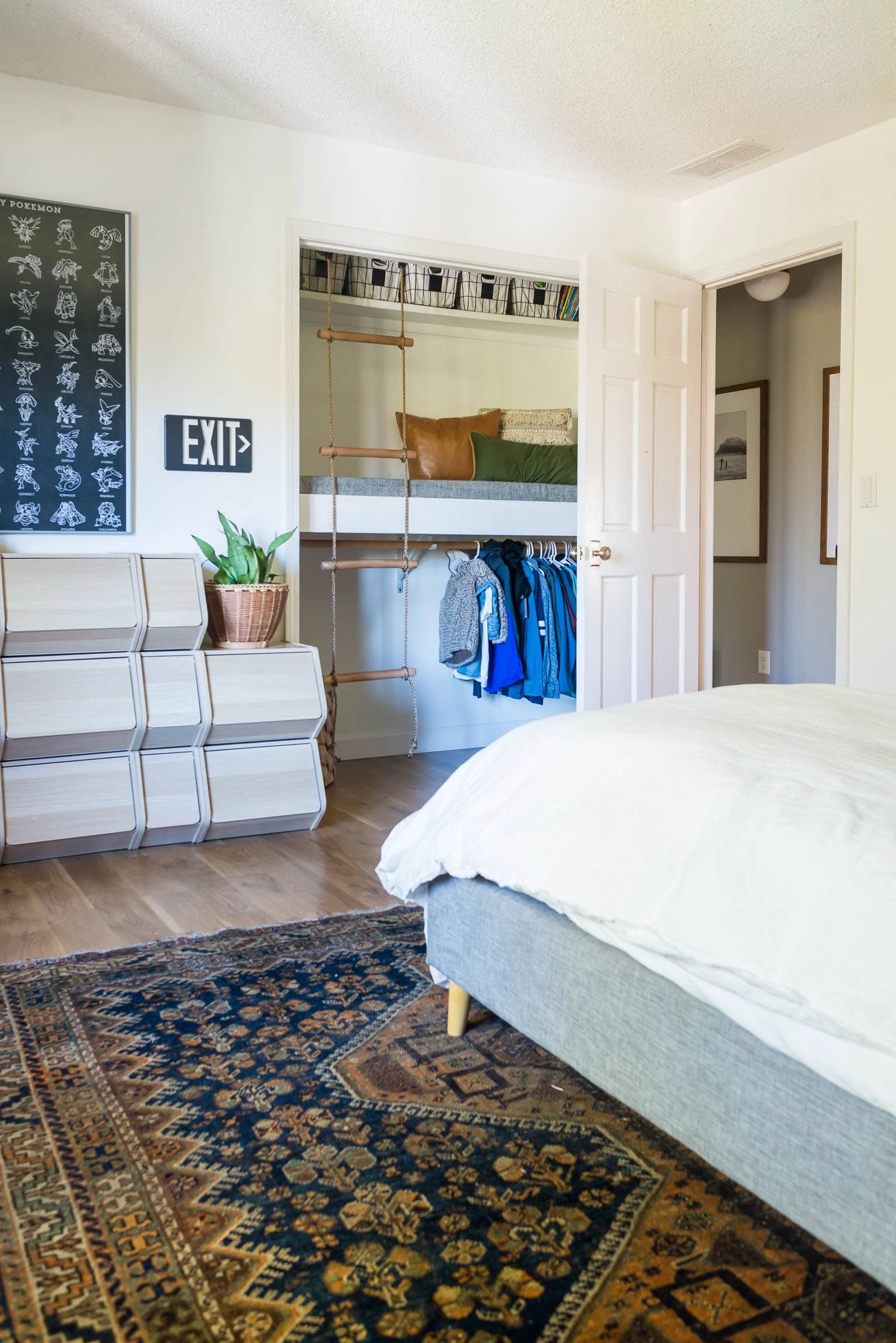 Boy Bedroom Reveal
Like I mentioned up above, we've had a few different phases of this bedroom where it's looked nice and put together when it has been clean. But, in day-to-day use, it didn't function well for us.
I knew that in working on his space, I didn't just want to bring in lots of themed decor items. I wanted to intentionally bring in items that represented what Greyson loves right now but also fit within the decor style of our home. In the past, I've made mistakes in his room because I've just decorated it without looking at how it fits in with the rest of the house.
To get a better idea of what he wanted in his space, I actually interviewed him on an episode of the Your Home Story Podcast. That was so much fun! He still has that "little kid" voice and it's so adorable. Tune in to that episode if you want to hear more about what he said; but, in a nutshell, he said his dream would be to...
Move the closet and do a big renovation. I'd love to still have the ladder to climb up into the loft, but I'd love to have it hidden behind a board.
He basically wants a secret hideout and has officially watched way too many Fixer Upper's. LOL. I hated to burst his design, home improvement bubble but I had to tell him that his space wasn't the best space to build a secret hideout. 😉
So, what does an almost 10 year old boy really want in his bedroom? Well, he said he'd be down for Pokemon and/or Harry Potter decor as well as more organization. But what he keyed in on the most and asked for more than anything was good lighting. He has complained for years about the lighting in his room. His room faces north and we have tree coverage from the north. It's a large space with only one window (on the north side). It's pretty darn gloomy if it's not right in middle of the day. So, lighting was high up on our list of must-haves when talking function and design.
This was absolutely perfect, because I'm lucky to be able to partner with Hudson Valley Lighting Group this year. I knew that their Mitzi brand was going to be the PERFECT match for his space. Special thanks to Mitzi for sponsoring this project. Click to read my privacy and disclosure policy.
Our project list wasn't exactly huge but wasn't small either. I'll list it below so you can see.
10 Year Old Boy Bedroom Task List
Replace + add lighting
Make the lighting easy to operate with a remote
Replace disgusting flooring
Upgrade baseboards
Add more functional storage
Bring in a nice rug with color and a great rug pad
Add decor that reflects Greyson
The biggest item on the list was replacing the flooring. We finally were able to get rid of the nasty carpet and put in hardwoods. We went with oak hardwood just like the rest of the house. After the flooring was installed, we painted and installed baseboards. The lighting came next followed by all the decor updates.
*Affiliate links below. Thanks for supporting this blog.
Ready to see how it turned out?! Seriously, I couldn't be more thrilled with the space. Without further adieu.... watch the video below or scroll down further for images and more details!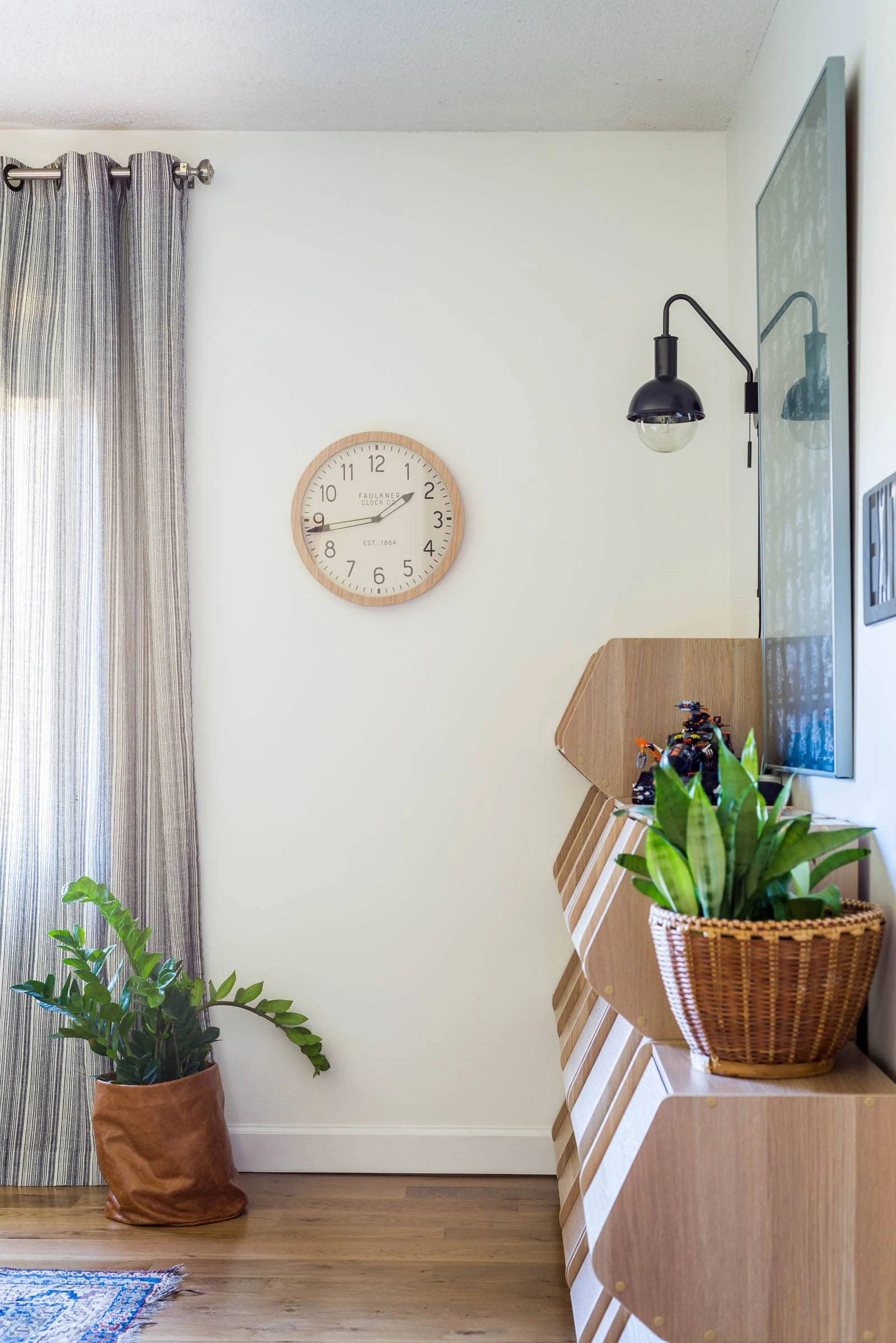 One of the key items that we knew we wanted to address was more storage. We weren't lacking in clothing storage but were lacking storage for small toys and legos as well as book storage. For the longest time, we used an inexpensive open console bookcase with plastic bins for Lego storage, but that didn't look nice and really was on the floor most of the time and not stacked nicely. The biggest improvement to this space had to be adding the Lego Storage Organization.
The wall above the toy storage got refreshed with a cool black and white Pokemon poster. I carried the same color theme of the poster onto the wall with the wall sconce (which I have to share below with the glow of how it looks lit) and EXIT sign. We've had the exit sign for YEARS. I got it at Habitat for Humanity a long time ago and spray painted it. It's been in Greyson's room since he was little.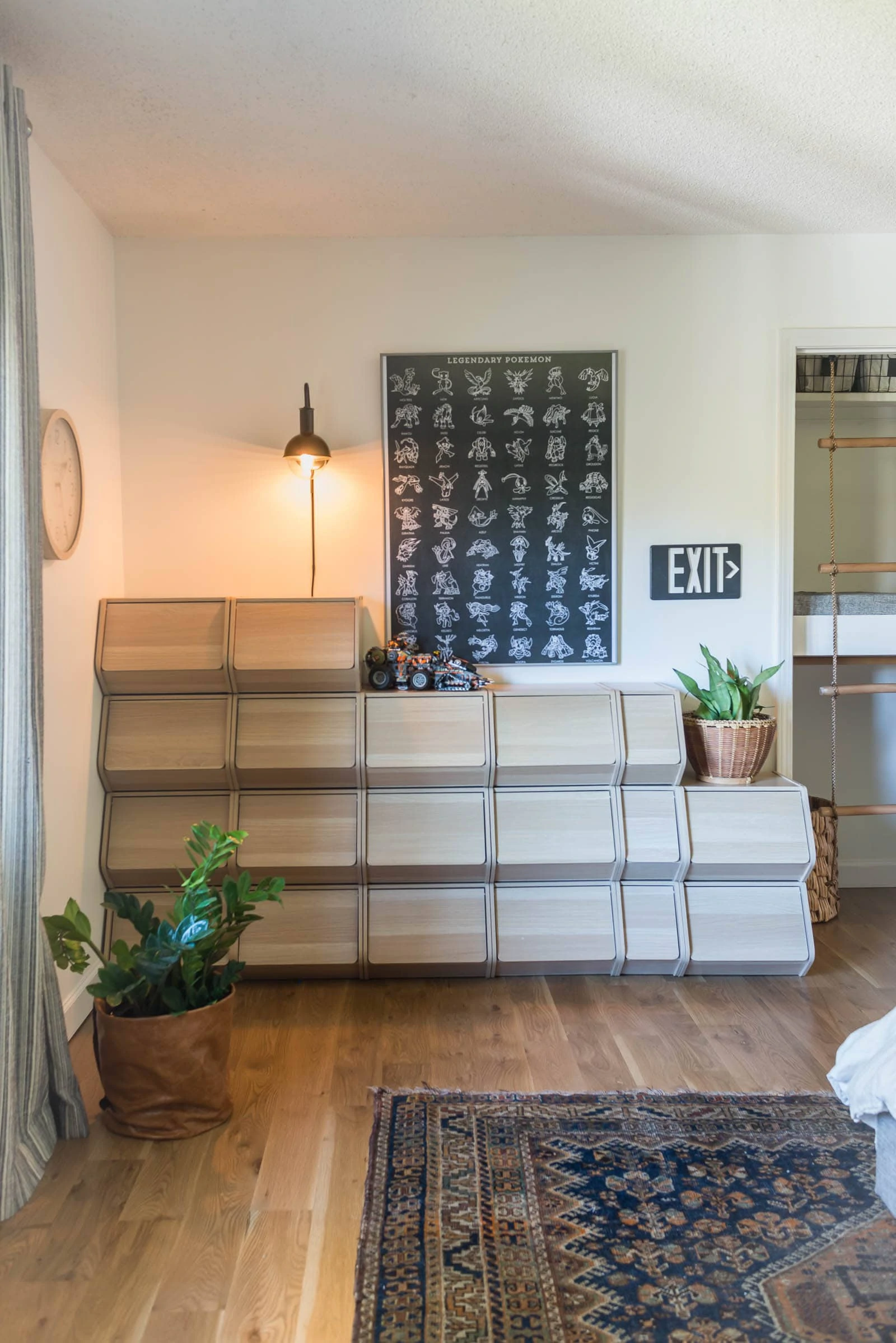 You know your kid *might* have too many Legos and books if you need even more storage than that wall. 😉
The next thing we did to help organize and corral all the "stuff" was to add baskets to the bookcase.

We've had the bookshelf in his space for a year or so and it's always looked extremely messy. Adding baskets to the bottom two shelves helps the eyes rest and not be overwhelmed. The baskets hold Lego creations which are still easy to see and get in and out.
I feel like I had a moment of genius when I thought to use a cookbook holder as a book holder.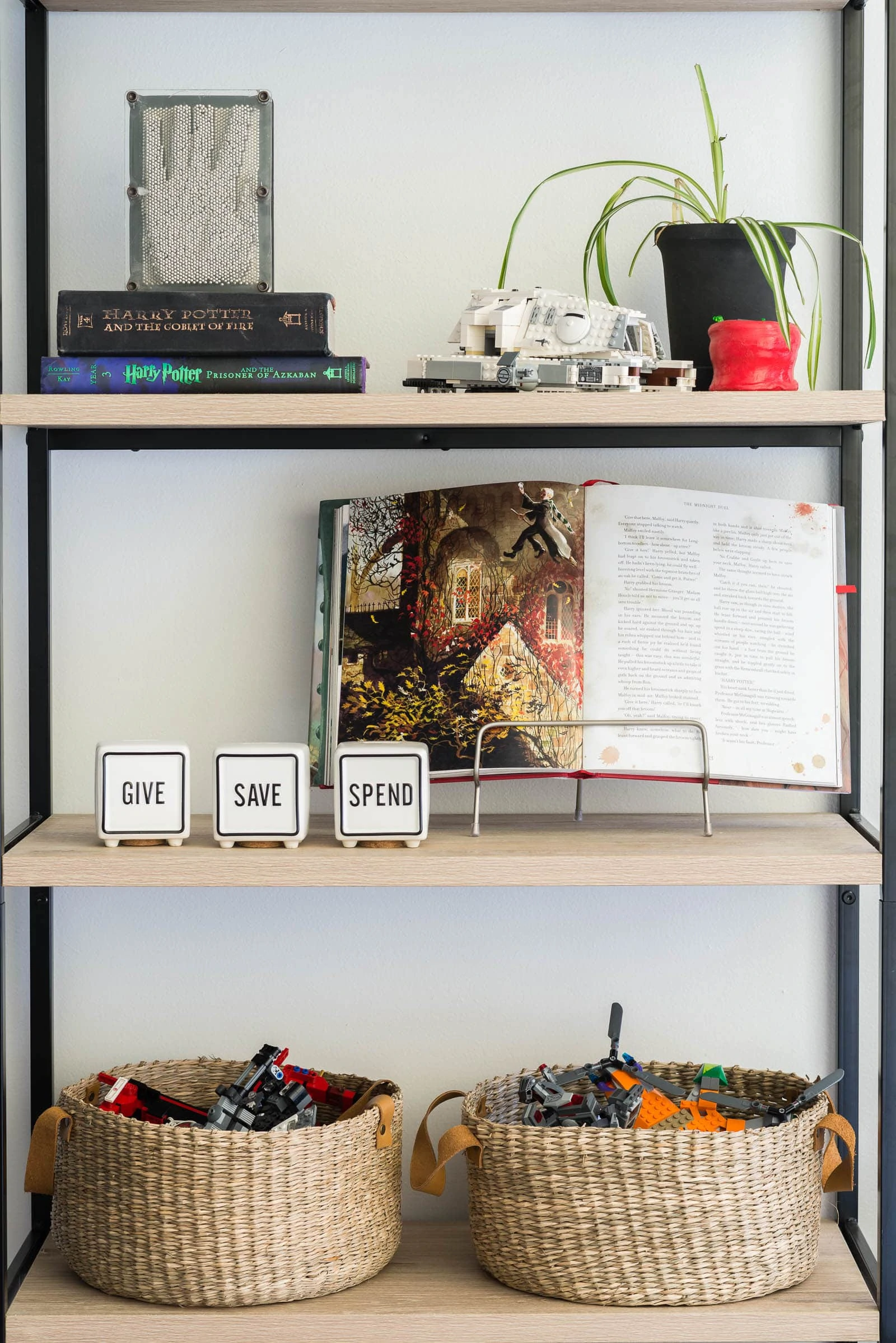 As you pan from the bookshelf, you see the map wall that we painted a few years ago.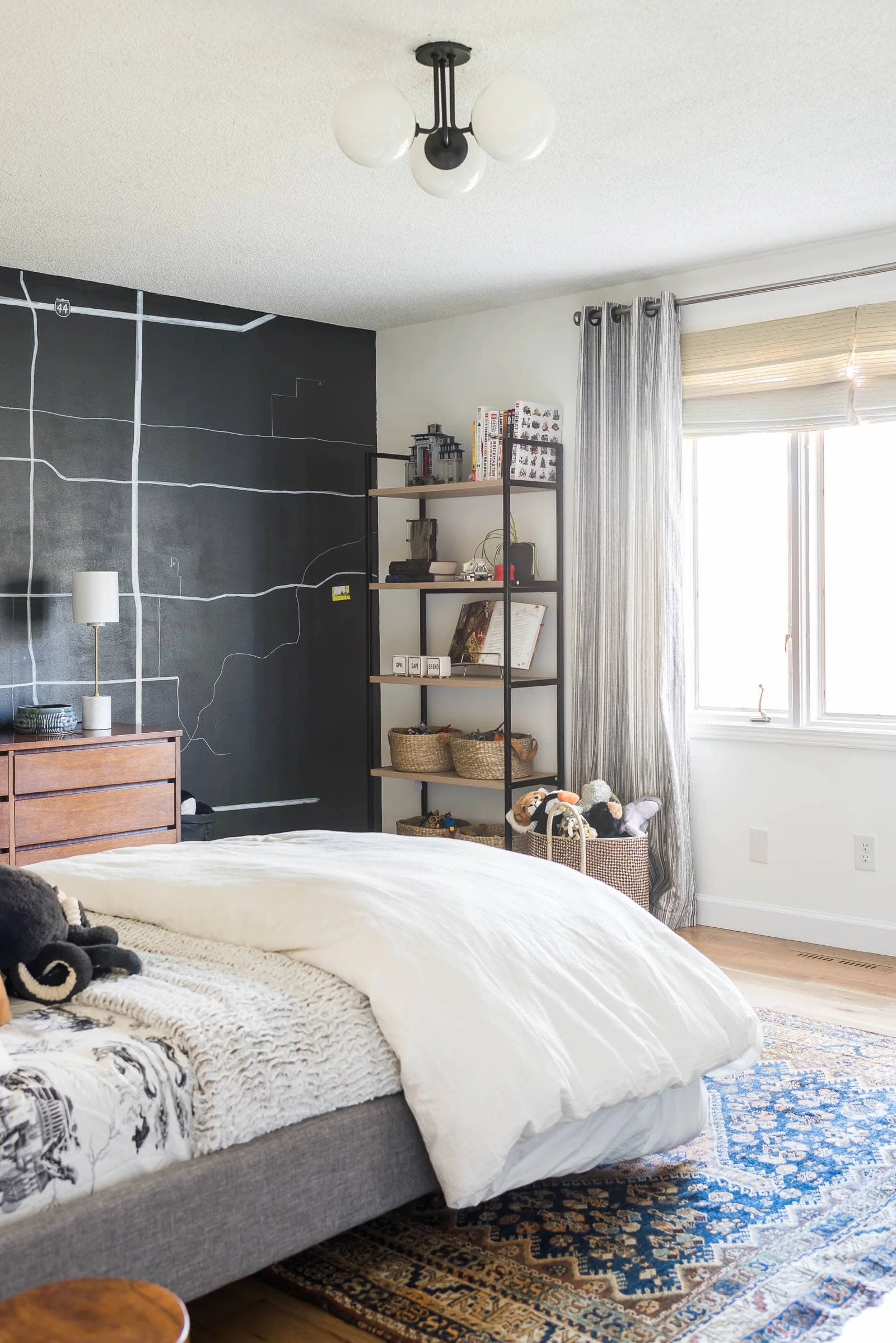 I could have styled the dresser top for a "cuter" vignette but this look is what actually will work for his space. The lamp brought in extra light (remember, lighting was one of the things he wanted most in his space), the blue planter holds random Legos and the brass wire basket holds all of his treasures from outside (rocks, sticks, seashells) in the bottom and his paper treasures/small crafts in the top.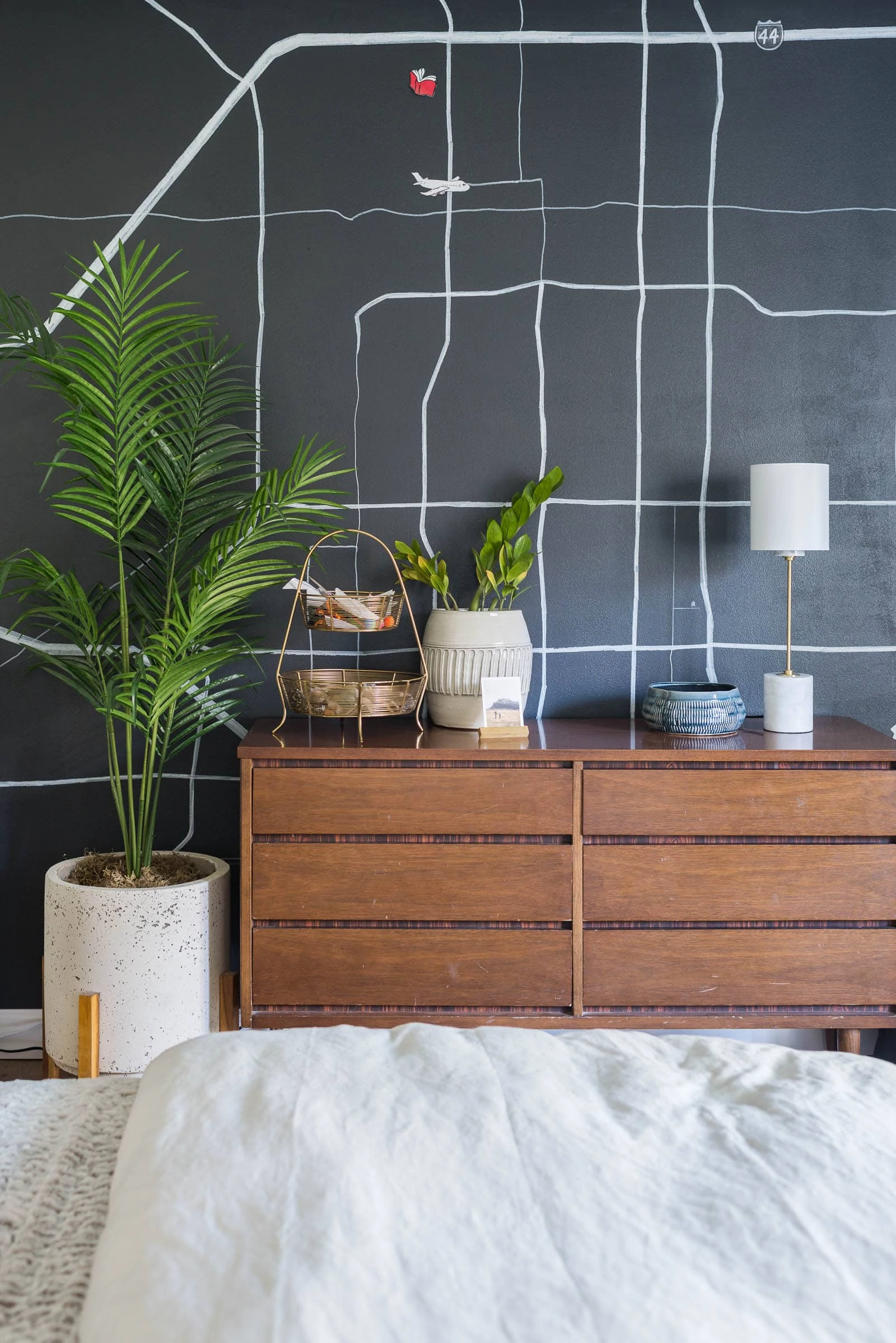 Did you spy Route 66 and the airport in our hometown above?! How about the library? We used to have more magnetic stickers up on the wall, but they have lost their stickiness over time.
One of the things we did for his space for all the lighting was to add most of it to the Hue Bulb system. Greyson's wall switch controls an outlet instead of the overhead light (that's how our whole house is wired). So, turning on multiple lights individually is a bit annoying. Going to Hue bulbs meant that we could just put in the bulb and then program it in to a remote and he can now control the bulbs by telling Google home to turn off his lights or he can just use the remote to turn them off. It makes the lighting very easy this way.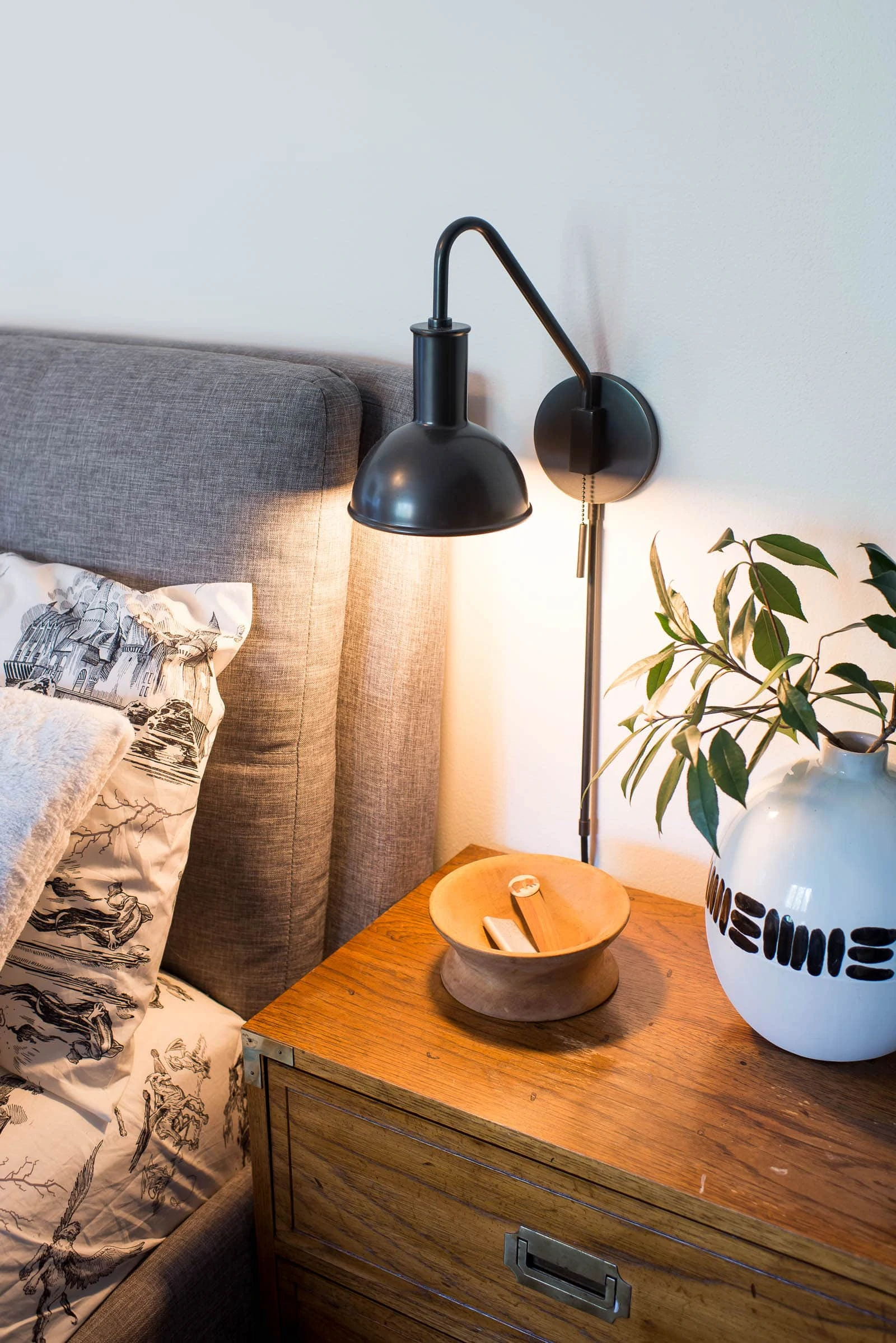 He absolutely loves being able to turn all of his lights on/off with just one control. Plus, we can tell him he has five minutes more to read at night and then check to see on our phone if he turned off his light. Just an added bonus.
We kept all the original furniture in his space, just updated the bedding and added some fresh greens from the yard.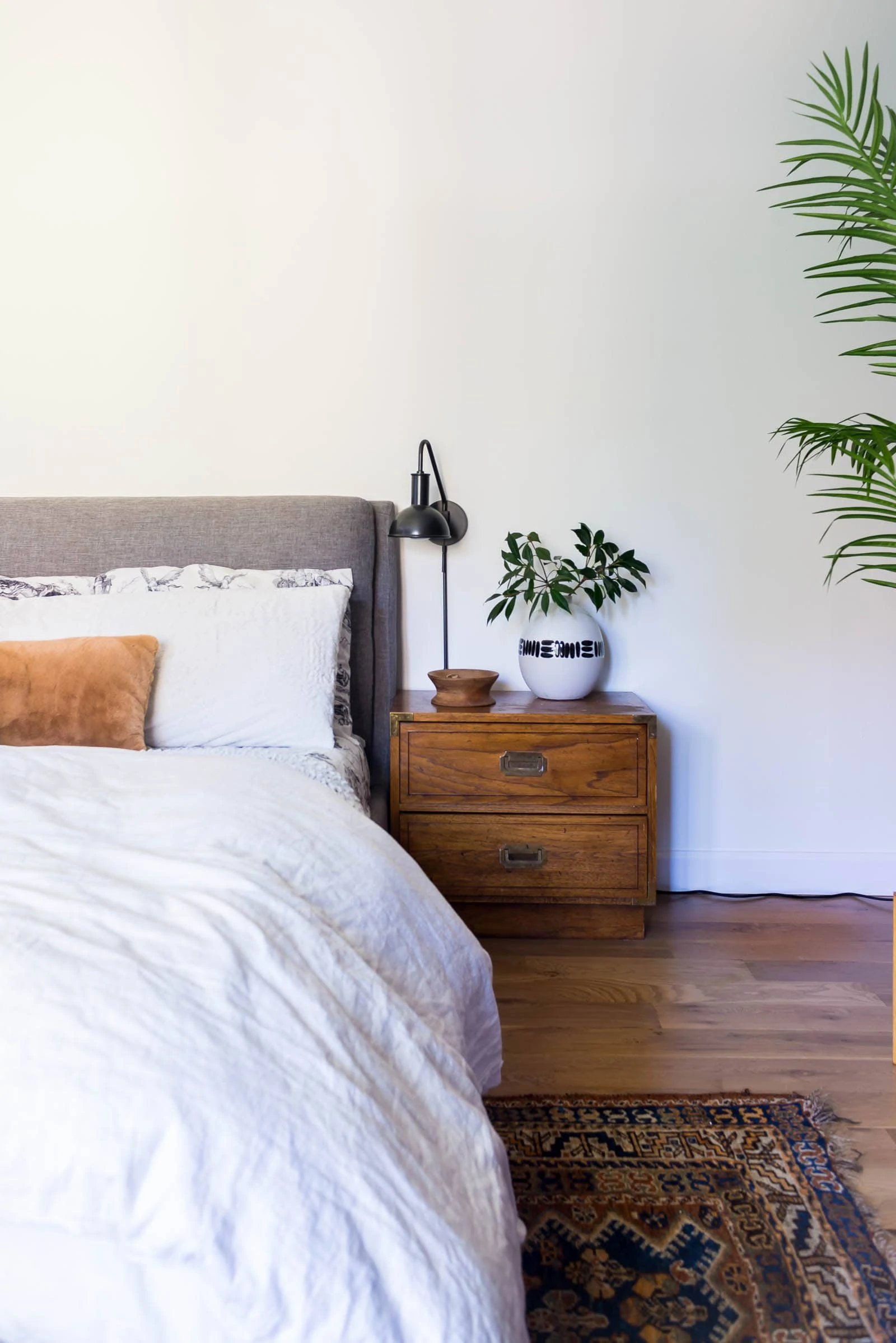 Lumbar | Body Pillow | Duvet | Sheets | Riley Sconce | Rug (similar)
There's a lot going on in his space, so we kept the wall with his bed on it pretty bare. A nod to Harry Potter, with a Hogwarts pennant rounds out the wall. Greyson loves the gallery wall that I put up in my bedroom though, so I might eventually bring in a few family photos above his bed.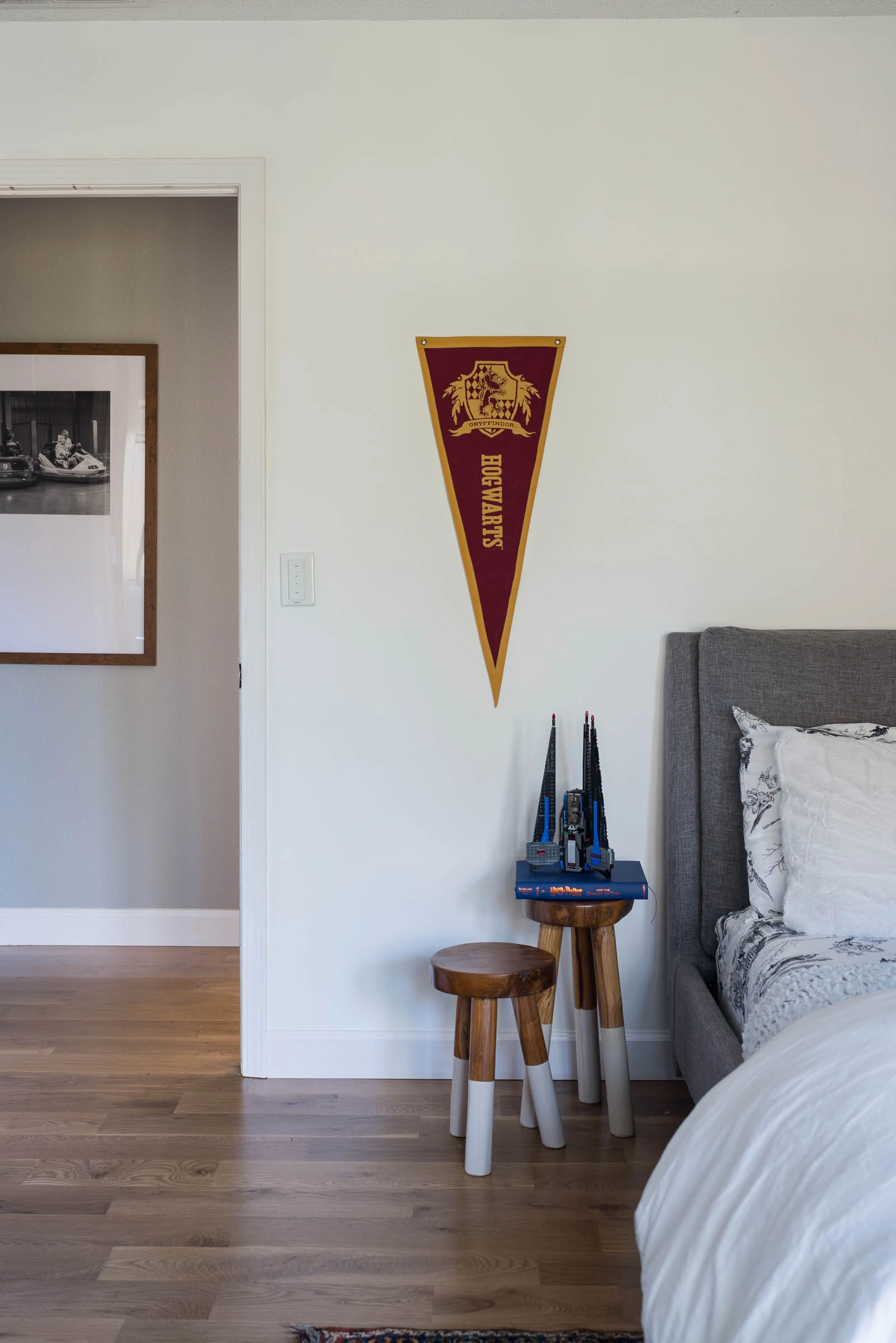 If you've been around for awhile then you know that we built the loft a few years ago. It's had some wear and tear, but is still holding strong. I was hoping the loft could grow with him for a few years and it's done that. Before starting on this makeover, I was curious to see if he wanted to keep the loft still and I got a resounding "yes," so that felt good.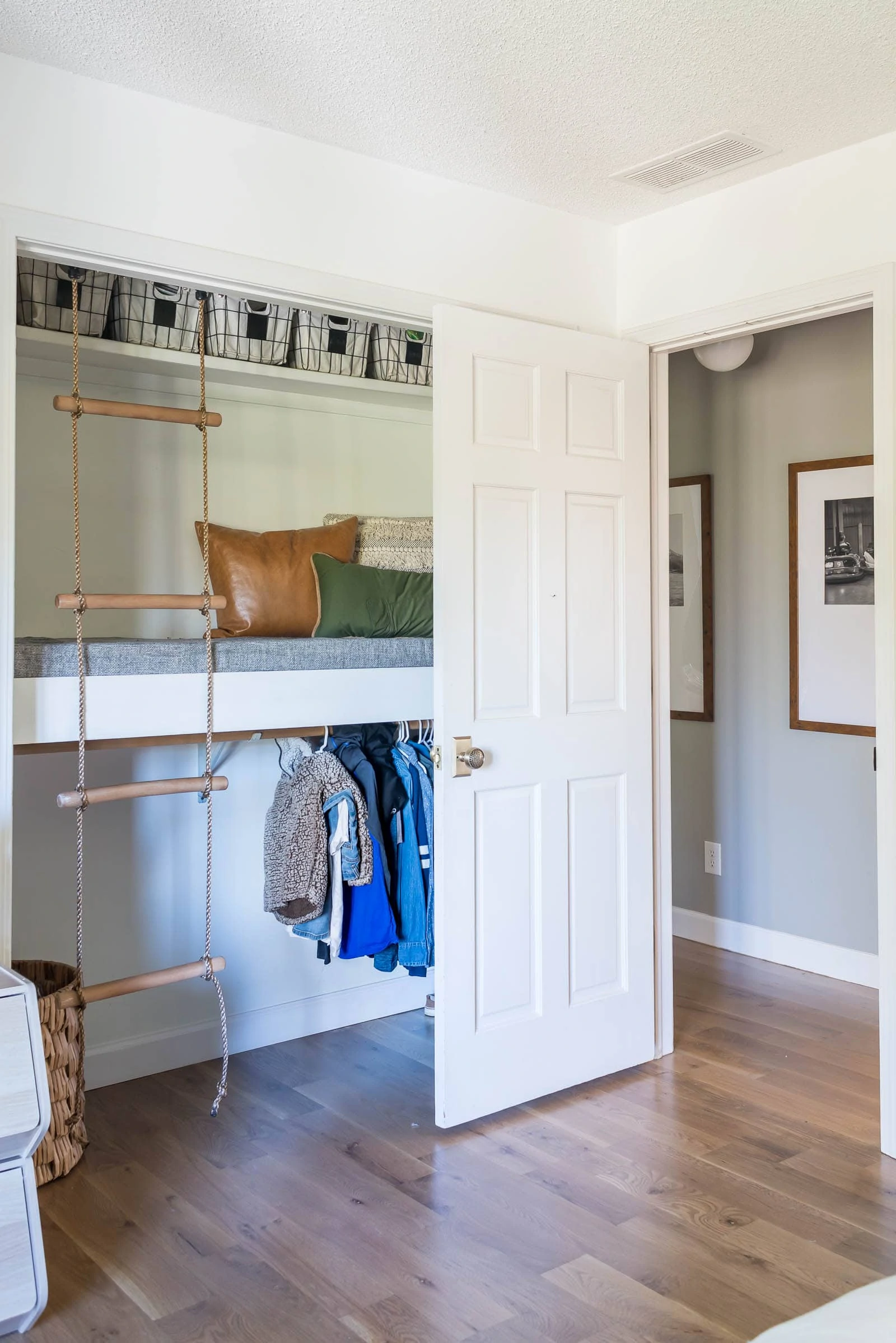 The best part of this makeover is how Greyson feels about it. He definitely can appreciate new changes but also, doesn't always see them so I wasn't sure if he would really be wowed by his space (he was at his grandma's while we were transforming it). He came home to it and just ooh'd and aaah'd over everything. Seriously.
I know one of the exact things that he said was...
It just feels so luxurious. I mean, my lighting and bedding. I just love it. Thank you, Mommy.
That made me feel sooooooo good. I mean, I kinda felt bad for Luke because he didn't get any credit (lol), but it made me feel so good. All the little touches meant something to him and he noticed. #bestfeelingever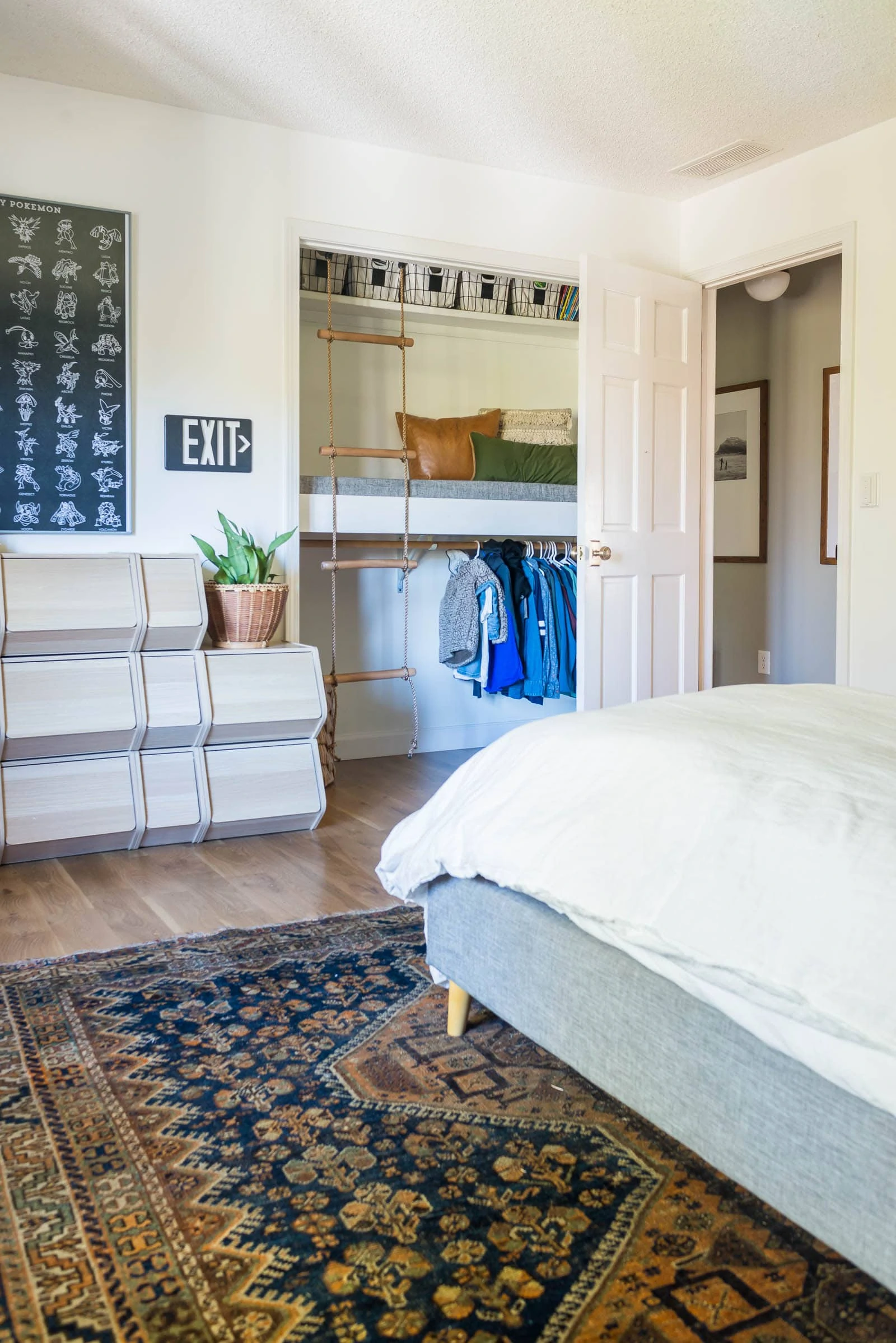 Mitzi products shown in this space:
Shop The Boy Bedroom Reveal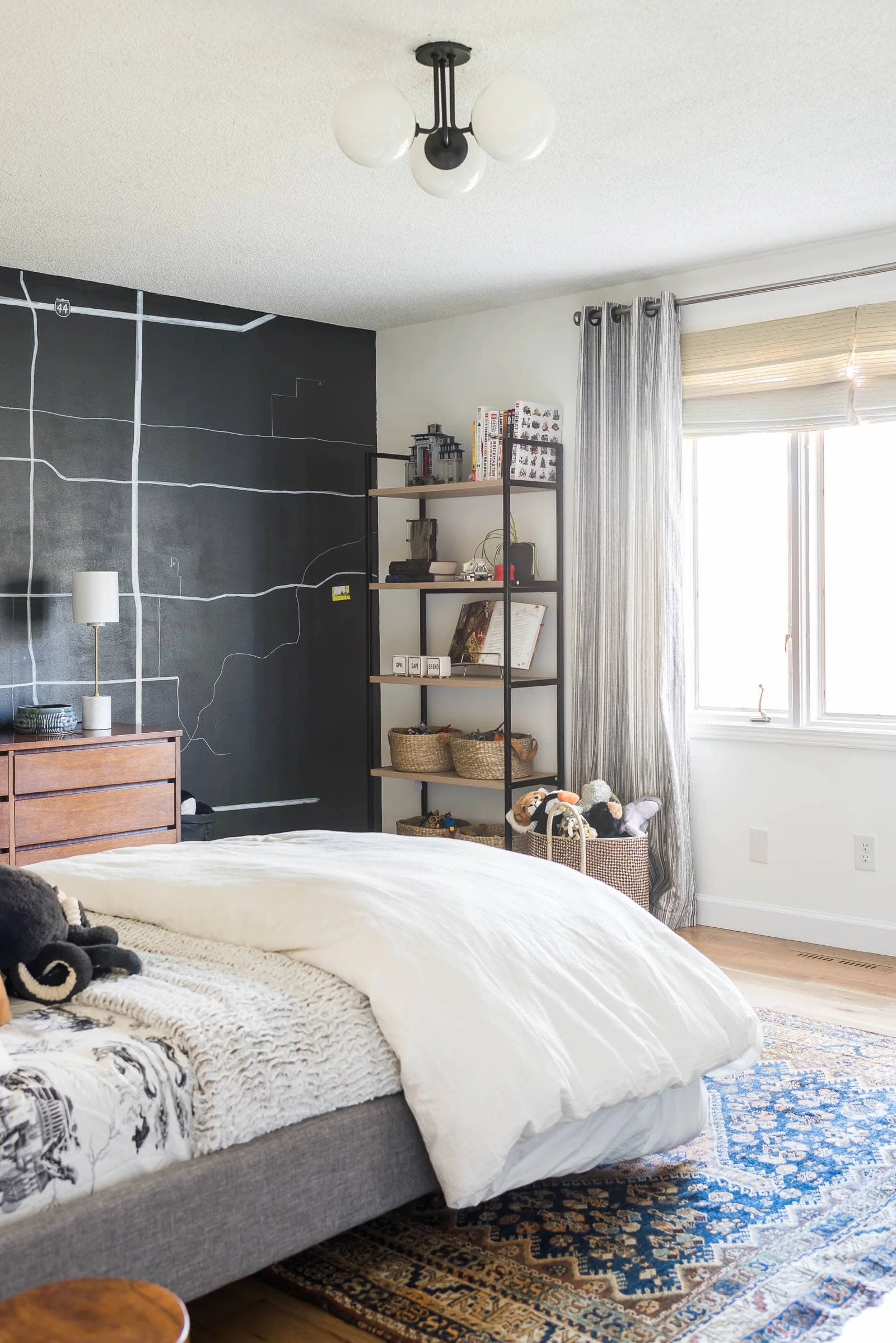 Thank you all so much for following along on this makeover! I hope you love it as much as I do.