Need Lego storage ideas? How about ideas for how to display Lego sets or other small toys? I've got you covered today sharing what has worked well for my Lego-loving boy and, also, a few ideas that I've see around that I love.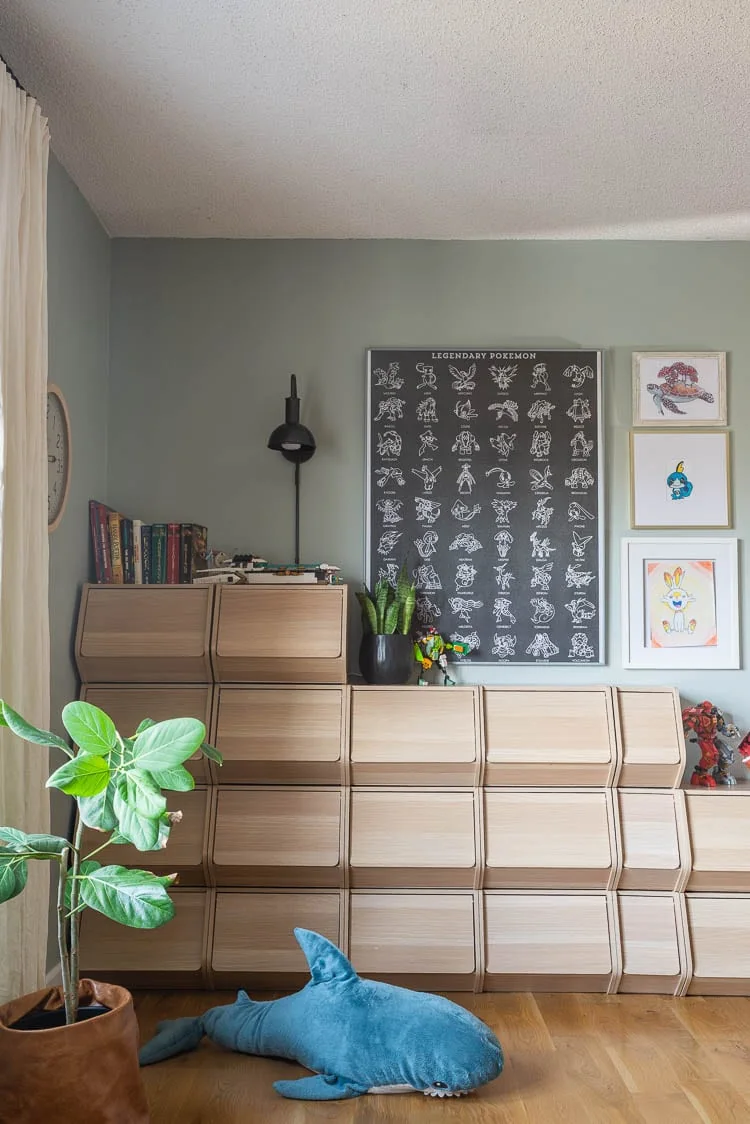 The Lego storage was out of control at our house a few years ago. We tried a few different legos storage options and finally landed on something that has worked great for us.
Never having enough Legos Storage
If you have school-aged kiddos who love Legos (or other small toys!), then you probably have a problem with not having enough Lego storage. My little boy has been into Legos for years and the amount of Lego sets that he has is a bit much. But, as parents, we have to love Legos for the imagination and building that happens with them. Up until recently, I didn't have a solution for the amount of Legos that we had. I knew that we needed some sort of better Legos organizer and it needed to also have a display shelf for Legos.
For years, we had tried to get by with different sorts of plastic bins for Lego storage.
Ugly Organizers for Small Toys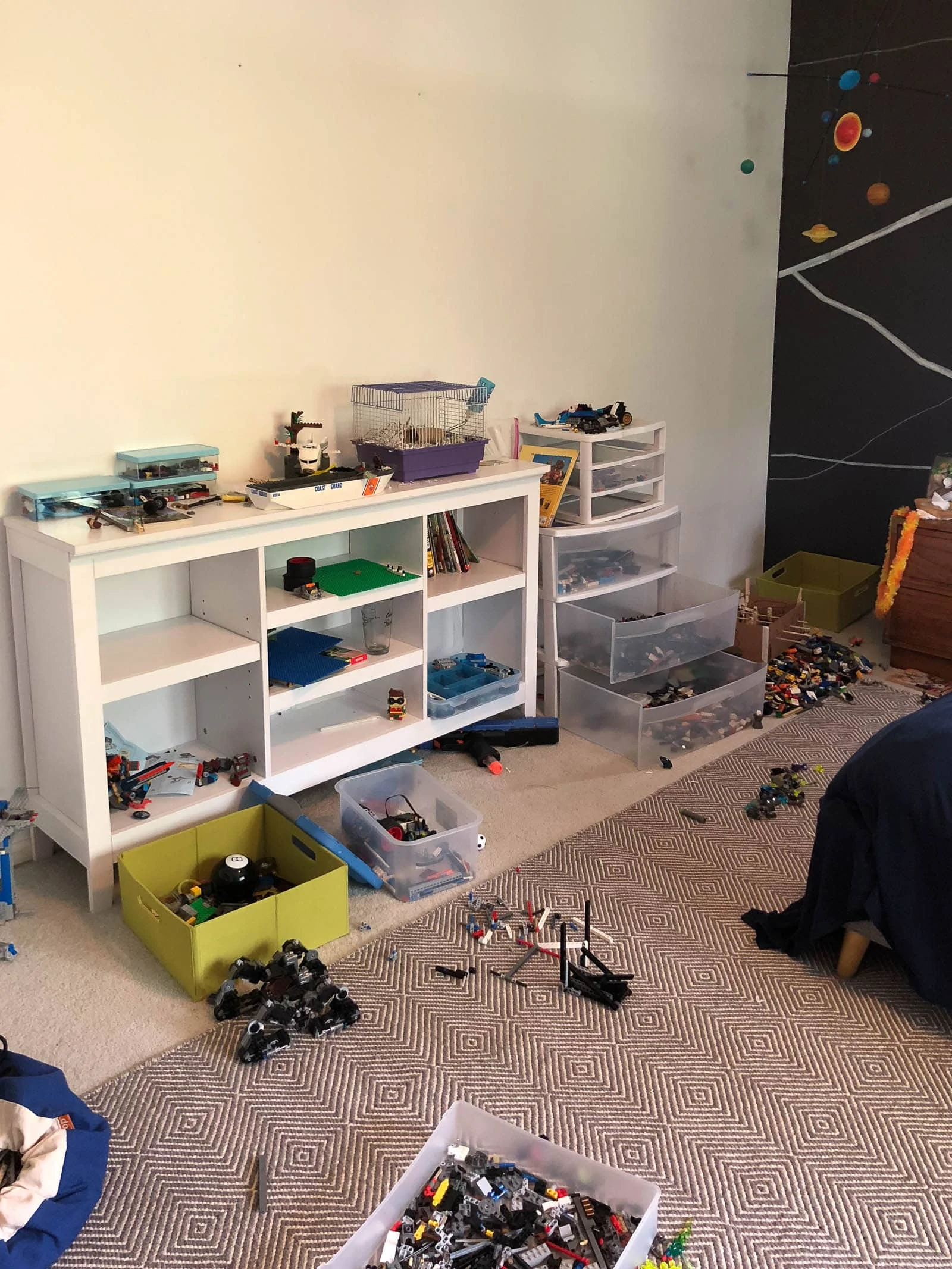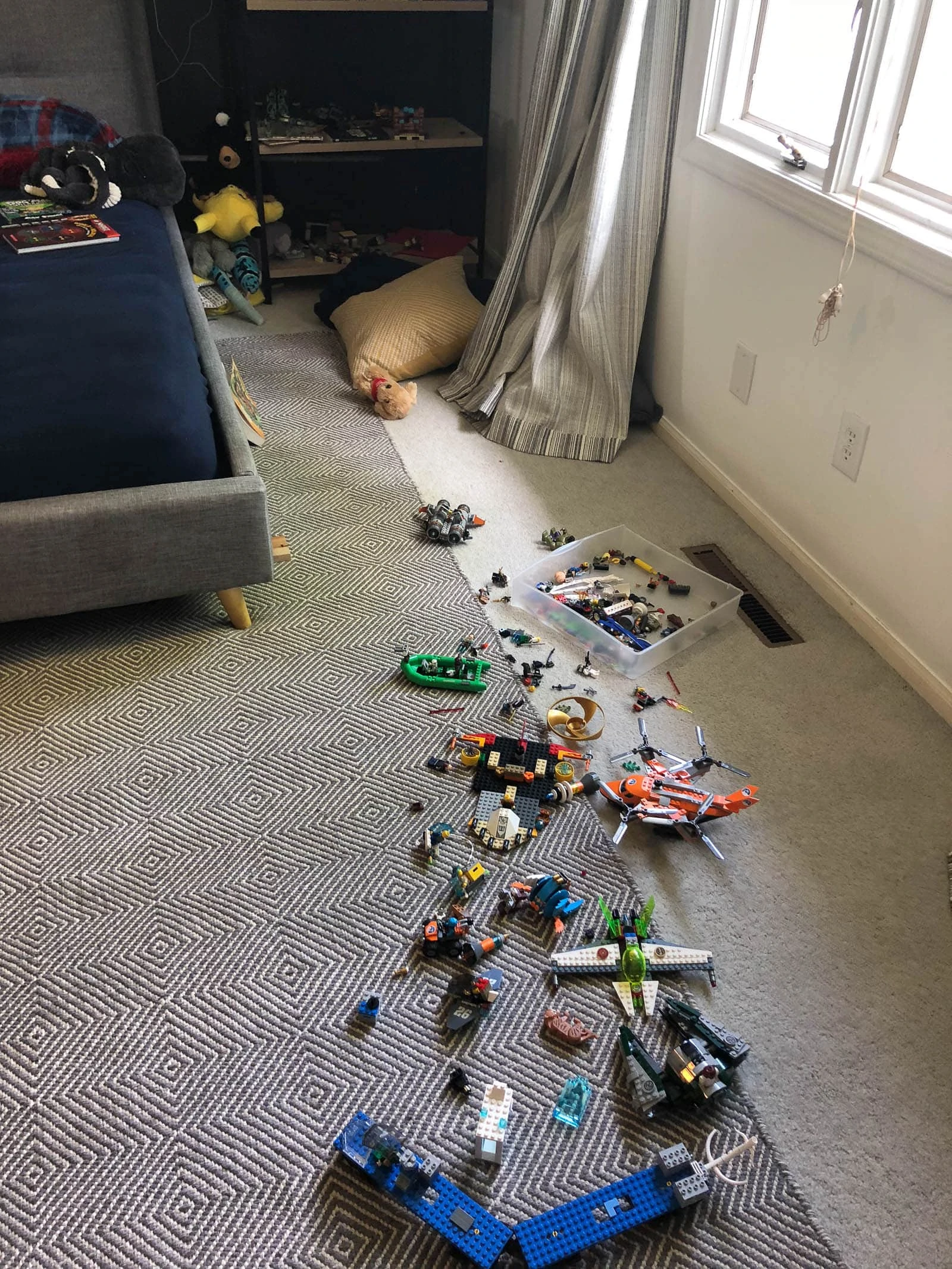 What you've seen here is about ¼ of the amount of Legos that we had. There were more plastic bins in a few other places.
So, I searched and searched for the best Lego storage that would let us organize Legos by part if we wanted to but also be easy to just keep other toys or Lego sets in as well.
Affiliate links below. Thanks for supporting my blog. Click to read my privacy and disclosure statement.
Lego Storage with Display Shelves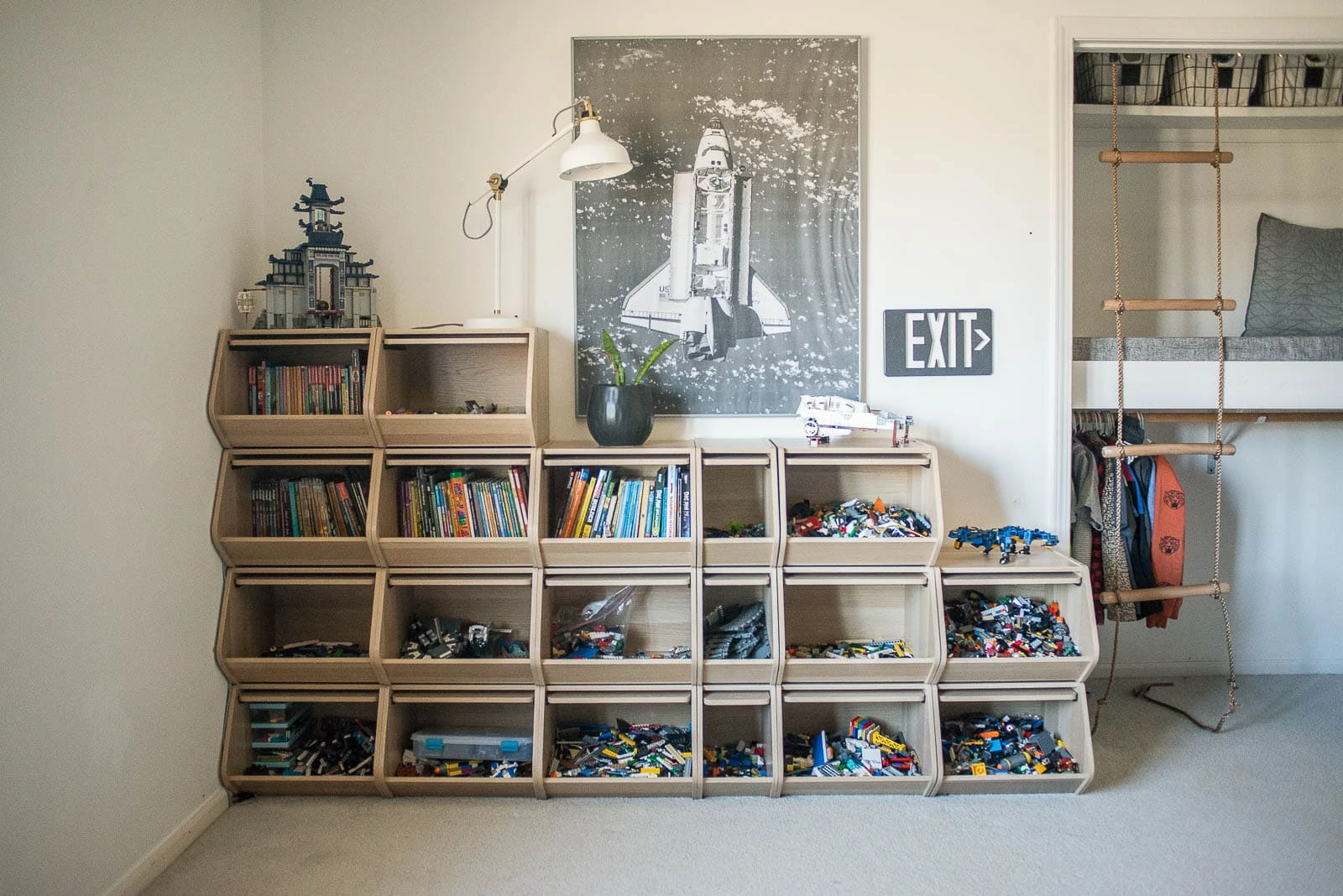 Legos Storage : What we purchased
16 Large Wooden Bins with Lids (sadly, discontinued but I have linked some similar options below)
Shop Bins and Furniture to Help with Organizing Small Toys

One thing that I really love about our toy storage is the ability to have some of the bin doors closed. I wish that I could find that option for you but, unfortunately, I just don't see closed toy storage options exactly like I have. The deeper bins do help with minimizing the amount of clutter but they won't completely hide it. Just keep that in mind.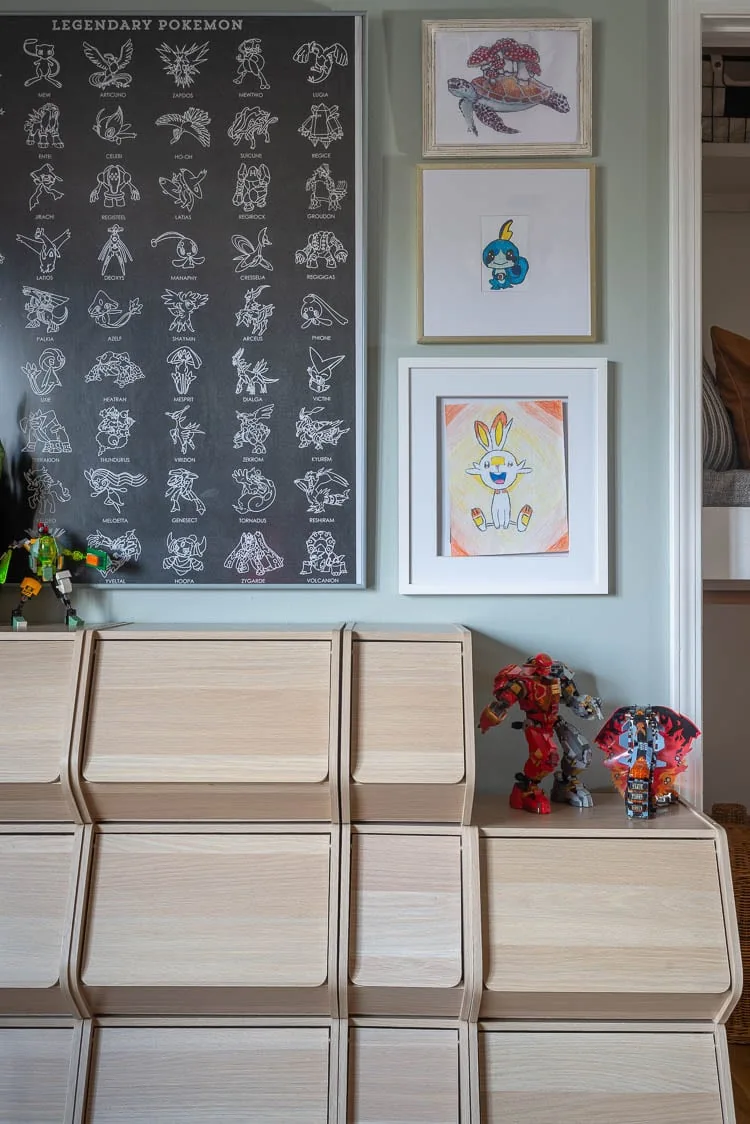 To further help with organizing small toys, we already had:
Ideas for organizing Lego pieces
If you wanted to organize Legos by part, you would probably want to order more small bins instead of large bins.
My kid wanted to organize the Legos by:
Train
Mechs
Technic
Single bricks
Double bricks
People
Unique pieces: wings, windshields, etc.
A few bins of general Legos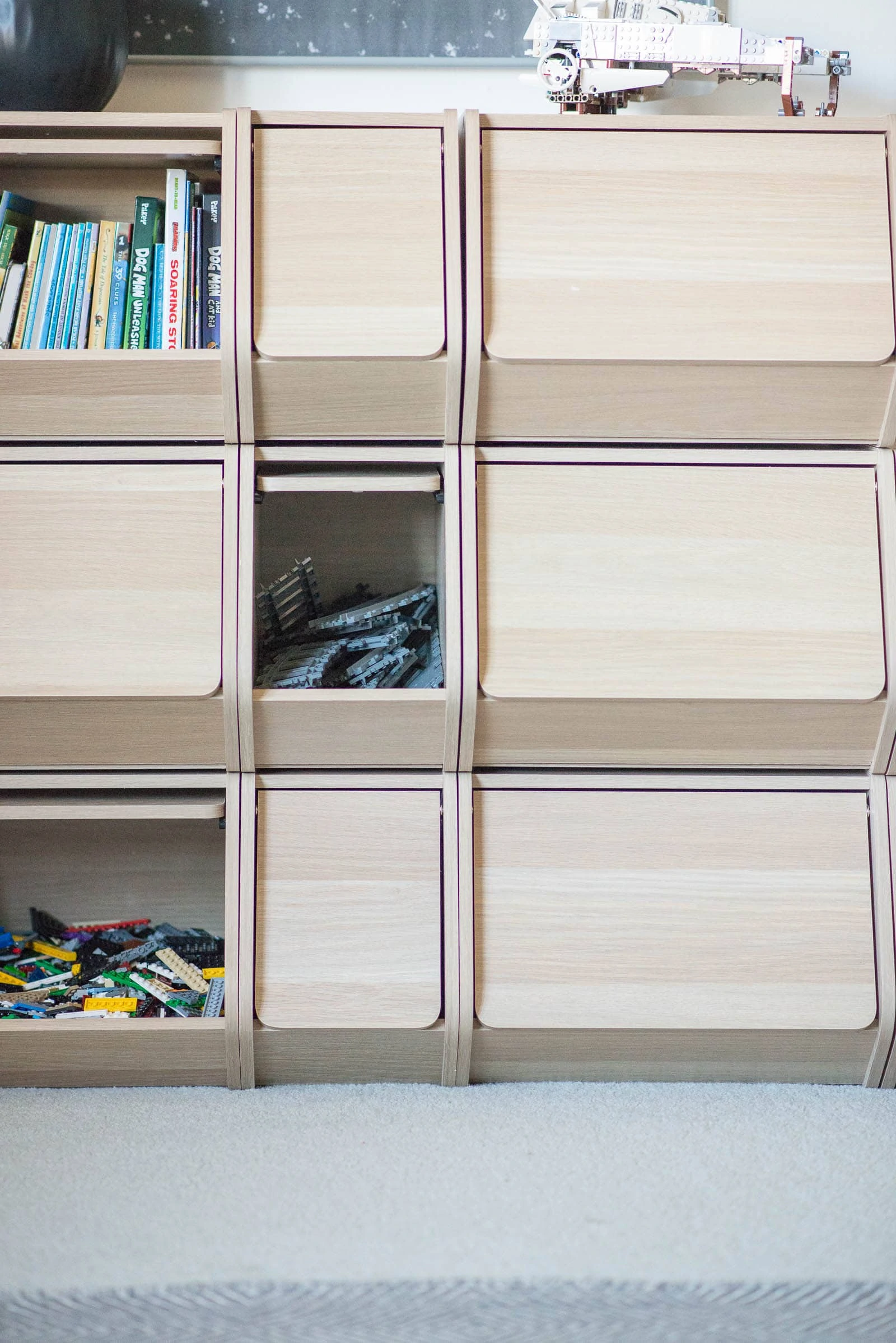 As you can see, we are also using the organizer as book storage. This toy storage wall unit wasn't quite big enough to act as Lego display shelving though, so we added some bookcases to the room to add more Lego display shelf room.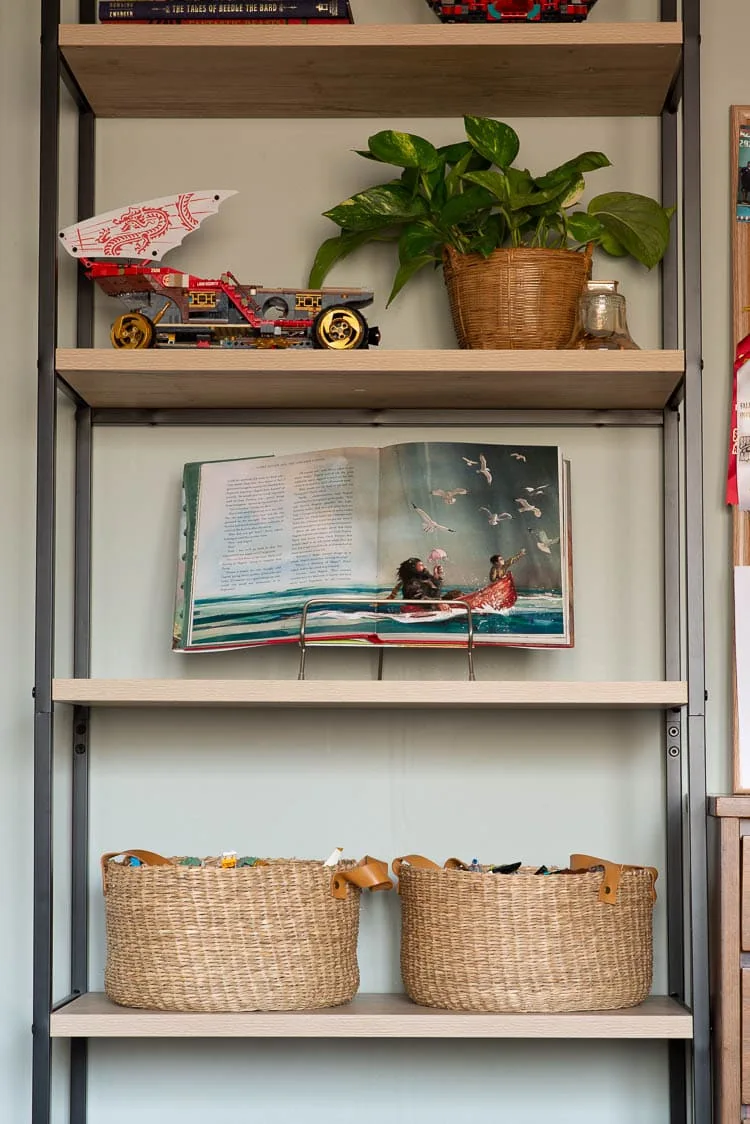 p.s. I'm currently working on Greyson's room to share it with you but, for now, see more of his space as it's been for awhile for details and sources.
If you feel like these are all great but you aren't quite sure if they are a fit for your home, here's three more ideas that I really love!
Ideas for Lego Storage
Struggling for moe Lego storage? Use these ideas to help with organizing Lego pieces, Lego shelving and more!
Photo Credit: caitlinmariedesign.com
An Ikea Trofast system is used here, with a small and big configuration to help with storage for Legos. I love how clean and minimal this looks. Plus, the added top shelf for Lego curations is great as well.
Photo Credit: www.emilysprojectlist.com
This project also uses the Ikea Trofast system for Lego shelving but the configuration is more like a work table. I think this idea is great for younger kids or families with multiple kids.
Photo Credit: www.ambertysl.com
Hanging buckets invite kids to reach in and explore. I think this is a fun idea for small toy storage if you don't have an excessive amount to display and store.