You guys, there is only one more week left in the One Room Challenge! It always seems to fly by. We've done a lot the last two weeks though, and I'm finally seeing the light at the end of the tunnel. Today, let's chat about how to Modernize Stair Railings by Getting Rid of the Scrolls!
First though, play catch up on the One Room Challenge if you need to:
 And, be sure to stop by Calling It Home to see all the other participants' rooms!
So, if you remember, we had stair railings that looked like this: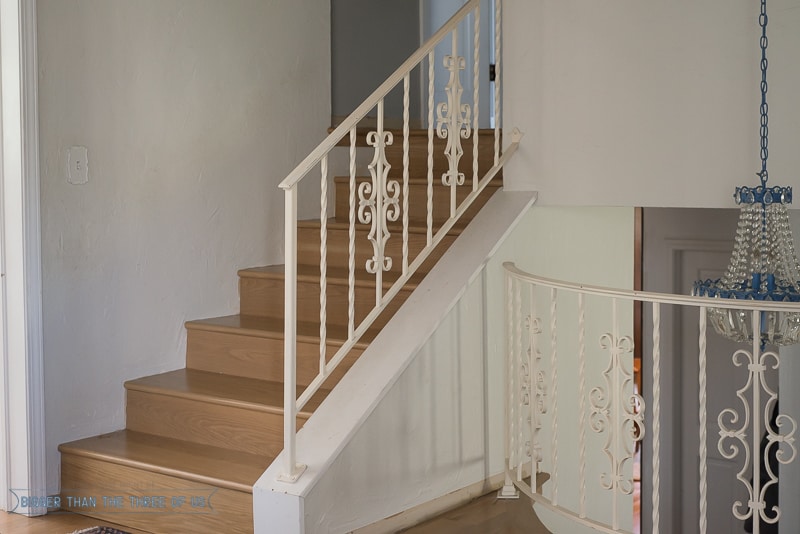 Quite a few people thought they were pretty, and to be honest, if there was just one set of railings, then I might have liked them too.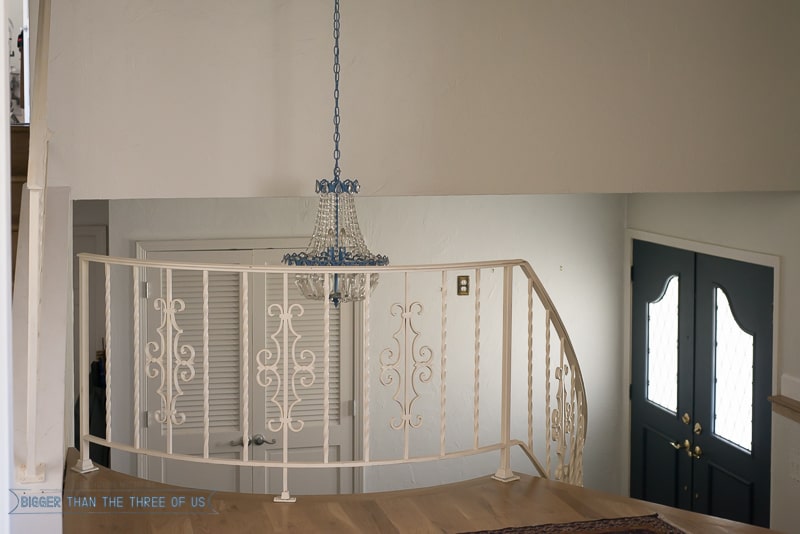 But in reality, there are these two, and then immediately to the left, there is another large one in our Eat-In Kitchen.
It was just too much for the eye to handle. Plus, as we've updated other parts in our house, this area just seemed to be the oddball.
Luke was on board to try to modernize the railings so we went for it. We decided to try this method (spoiler: it worked!) on the kitchen railing first because that's the one set of railing that would be inexpensive to replace if we messed up. Our circle stairs would cost a fortune (I priced them last year: 5-7K) to replace the railing. So, that's what we did. We started with the back set and it went well so we ended up doing all of them.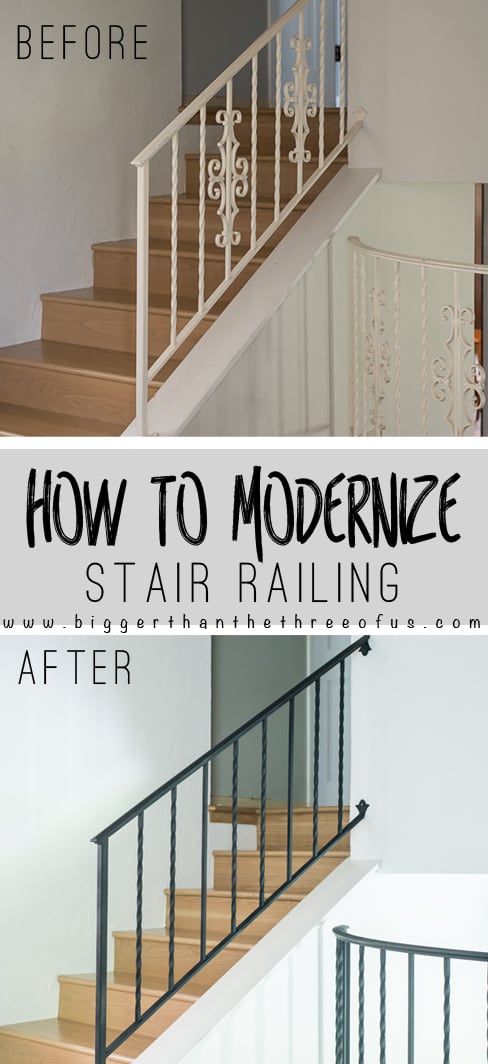 Ready for the tutorial?
How To Modernize Stair Railings By Getting Rid Of The Scrolls
Step 1 : Gather Your Supplies
*Affiliate links below. Thanks for supporting this blog. Click to read my disclosure policy.
Angle Grinder, 4-1/2-Inch
Primer – Enamel
Step 1 : Determine Which Side To Grind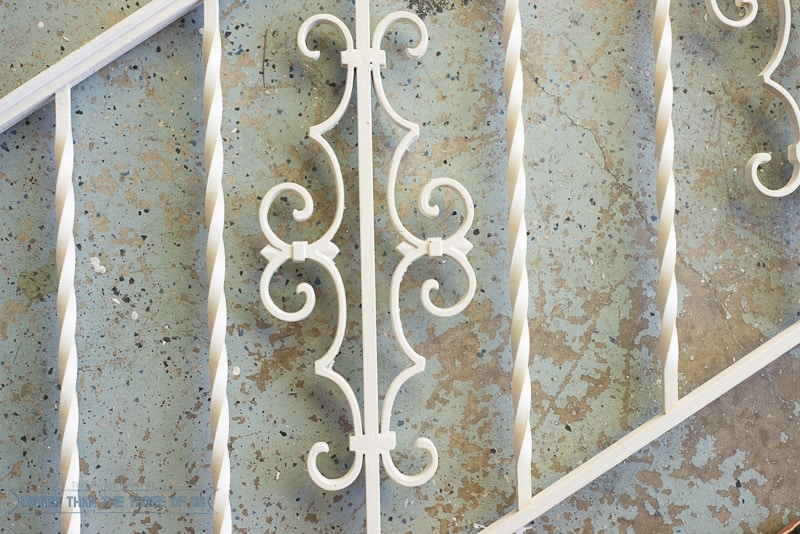 This is important and something we learned the hard way. Our scrolls (and maybe yours too?) were thinner on one side. You definitely want to grind the thinner side – it will save you lots of work!
Step 2 :  Grind
Grab your grinder, safety glasses, gloves and a respirator mask. Start grinding on the thinner side between the bar and the scroll. Go slow! You will grind on both sides of the bar at the top and at the bottom. If you cut into the vertical bar, you can't fix that so you want to take your time and do it right.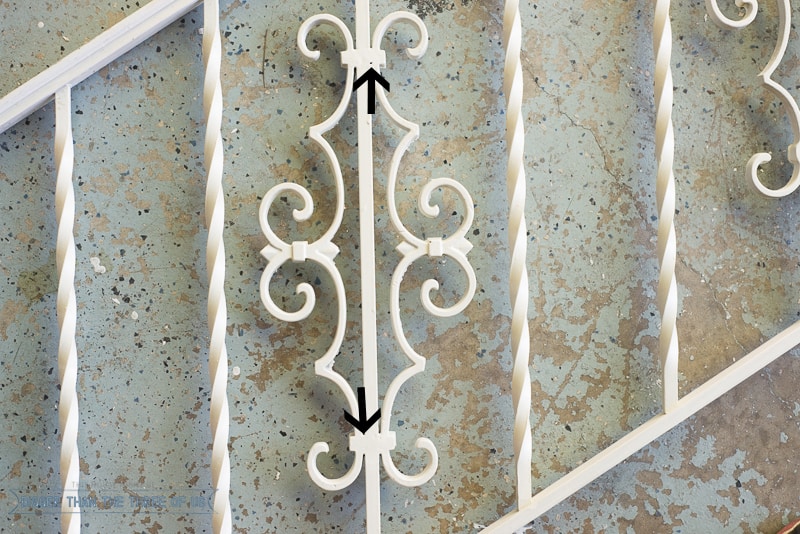 *I only showed two arrows, but you are cutting four times (both sides of the vertical bar at the top and the bottom).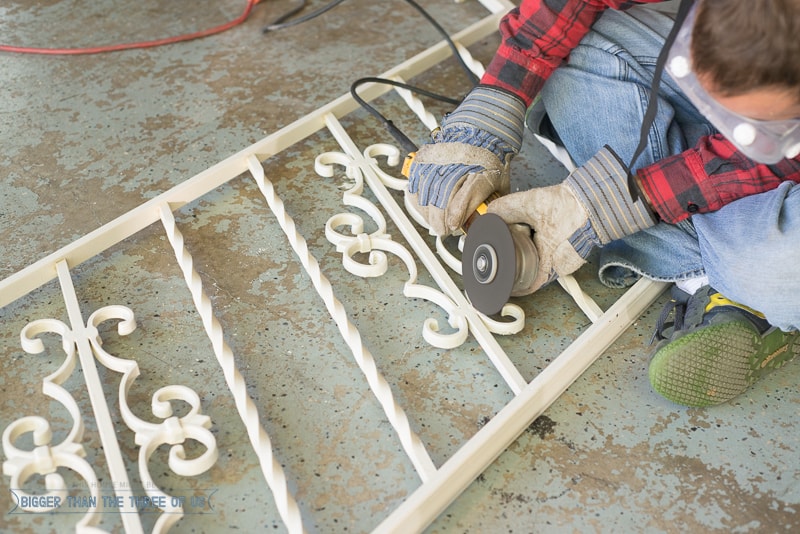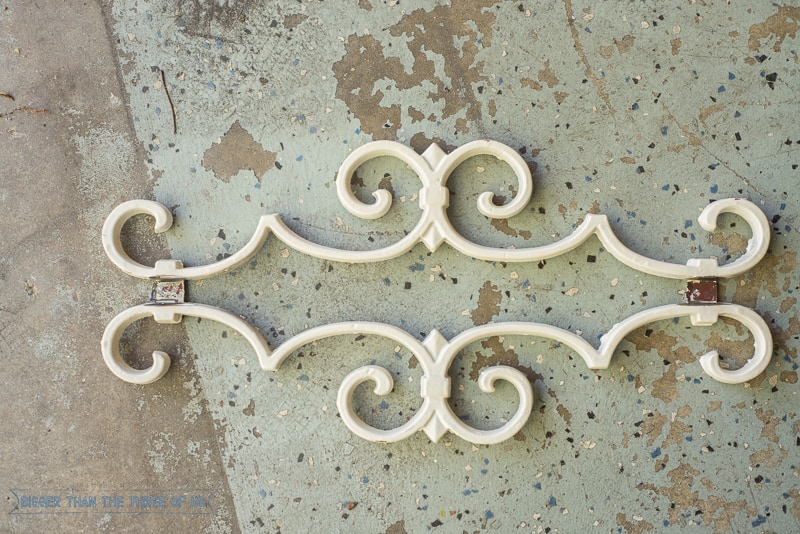 Once Luke got the hang of it, each scroll took about fifteen minutes to get off.
Step 3 :  Sand
Sand the entire piece. If you didn't have paint on yours then you might not need to do this step. If you look closely below, you will see dark spots in the photograph on the bars where we grinded the scrolls off.
Those areas were sharp so they needed a really good sanding.
Because our railing had been painted, we gave the whole railing a good sanding with the orbital.
Step 4 :  Clean
We used an attachment for our drill to clean the bars. You could use a microfiber cloth if you wanted.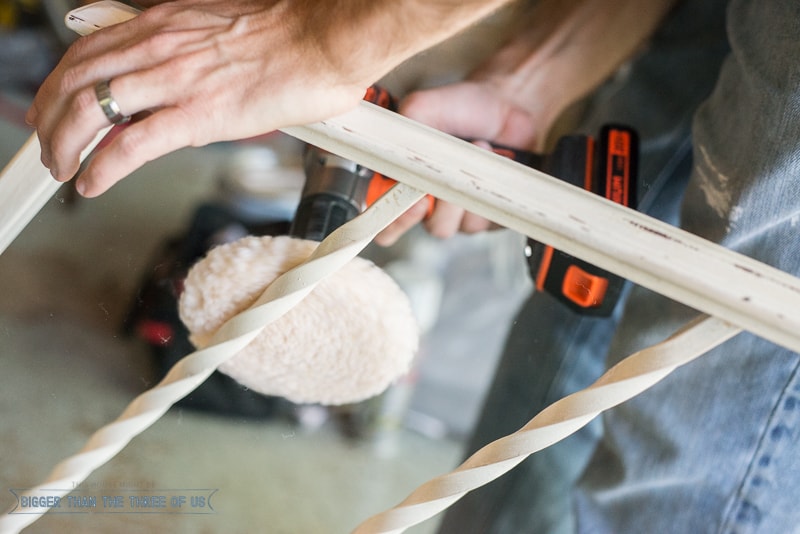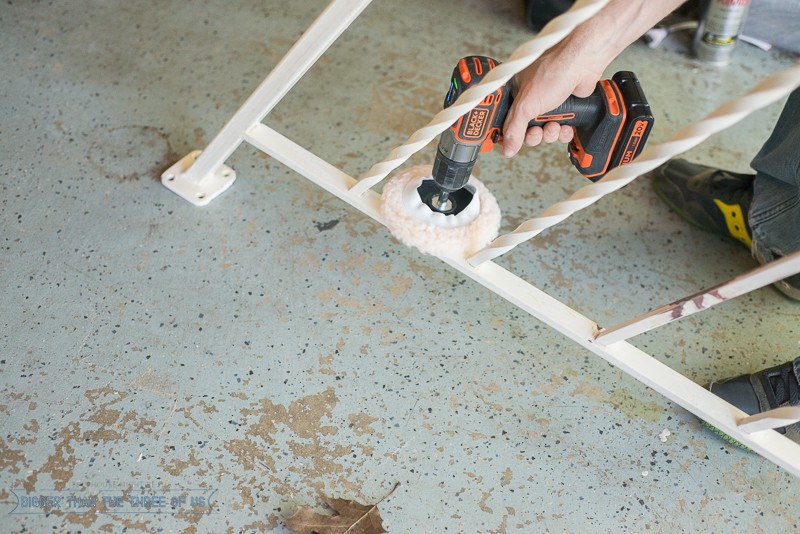 Step 5 :  Prep For Paint
We have a lot of railings so we had to clear out most of the garage and lay paper down. We also rigged up a ladder and extra wood support (it looks totally wonky in the next picture, but it wasn't) to get the railing set up so that we were able to paint both sides.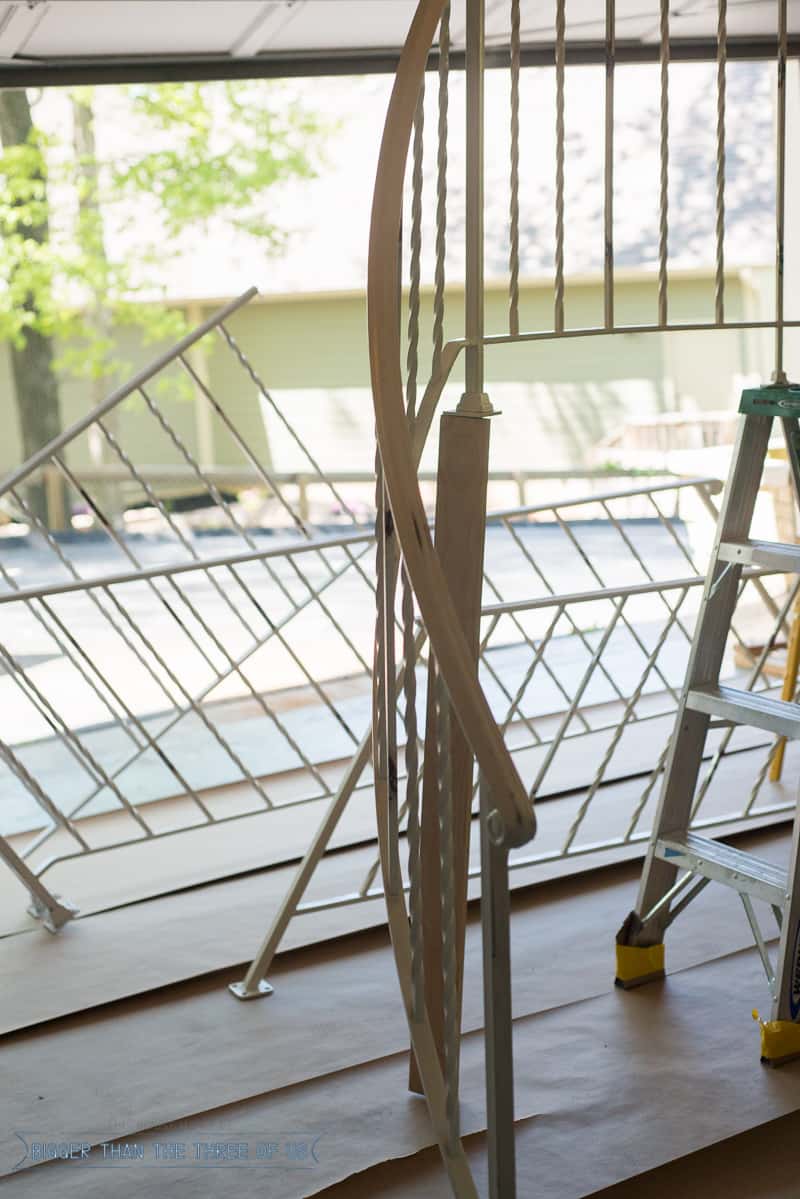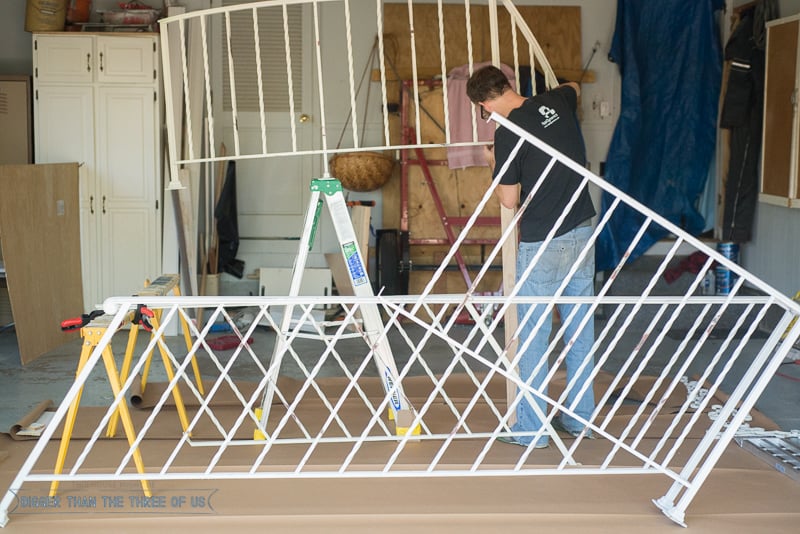 Step 6 : Paint
We used Rustoleoum Epoxy Primer and Paint in the cans. It took about twenty-two cans. To be honest, I'm not in love with the finish. It's not completely smooth but it's not necessarily rough either. We used matte black and I got some remarks on Instagram saying that matte black is usually a bit gritty.
All in all, I don't hate the finish but it's not as smooth as I would have hoped for.
That being said, we've had them up for over a week now and I haven't noticed the finish being scratchy to the touch at all. So, I'm sure they are fine and I'm over-thinking it.
Next week is the big reveal! I can't wait.
PIN FOR LATER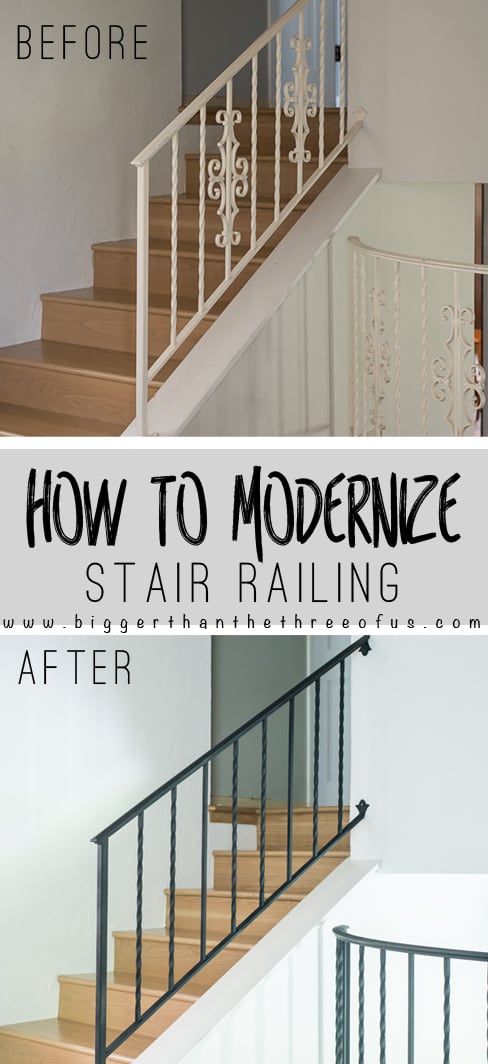 *Edited 08/30/2017:
Make sure to pop over to the entryway reveal to see how this stair railing totally changed the space.
Here's a sneak peek!