Learn how to modernize your stair handrail with this stair railing idea! Transform your old wrought iron handrails to a cleaner, modern handrail by grinding off the scrolls!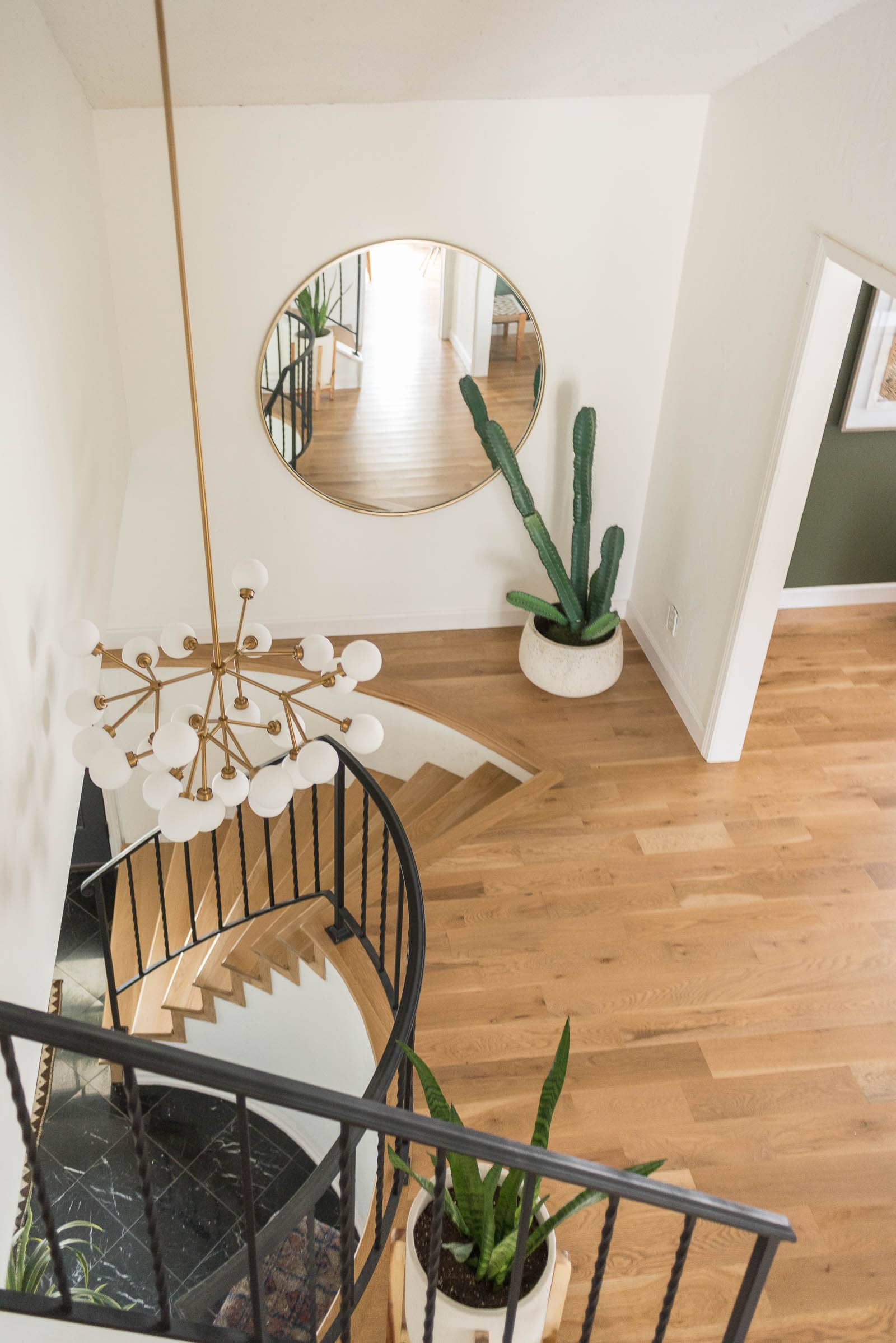 When we first moved in, to be honest, the old iron handrail didn't even compare to some of the worst design offenders in our house. I didn't think much of it. As we started updating the house, putting in new front doors, and having the wood flooring installed, etc., the wrought iron handrail started to stick out like a sore thumb. Well, that and my poor choice of spray painting my entryway chandelier purple (what was I thinking?!).
BEFORE Wrought Iron Handrail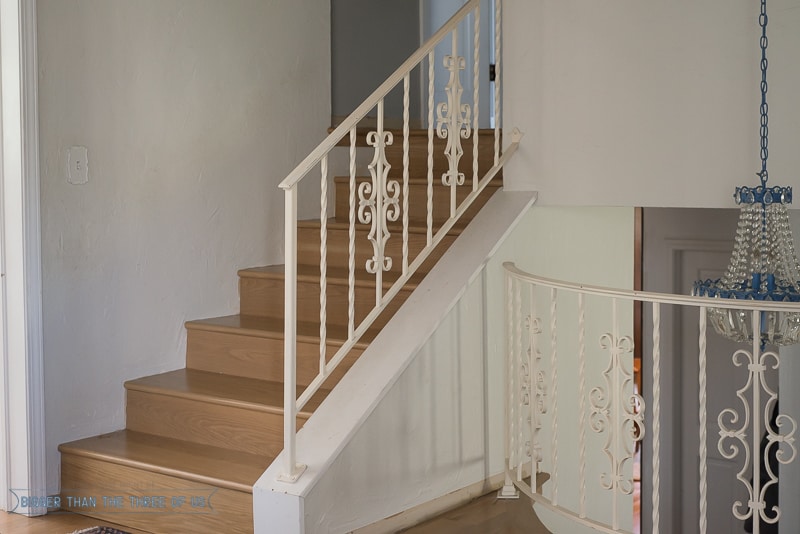 When people came over to the house, I got quite a few comments on how they liked the original detailing of the iron handrail. To be honest, if there was just a small portion of handrail in the house, I might have liked it, too. Overall though, we had the circle stair handrail, the handrail going upstairs and then another bigger iron handrail that was in our dining area (going downstairs to the entryway). It was just too much, it felt too dated and overwhelming to the eye. Plus, as the other updates were happening, the older staircase railing just felt like the oddball in the space.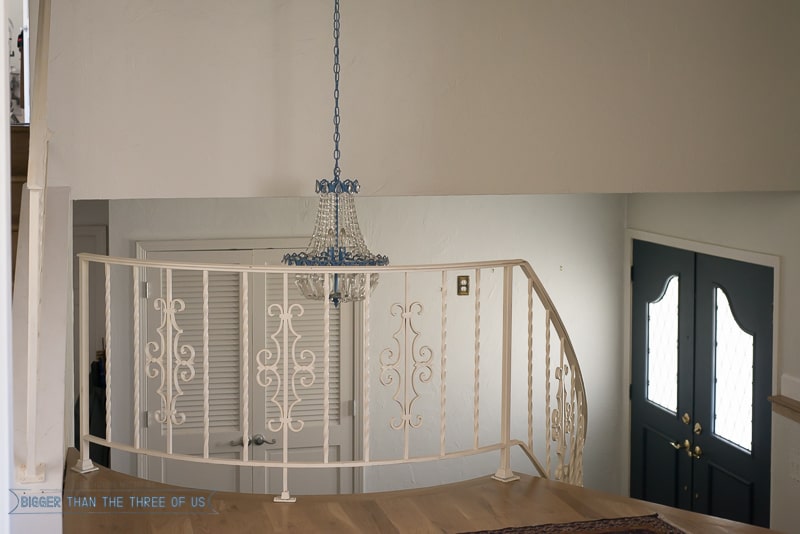 I talked to Luke about the idea of trying to update the stair railing without replacing and he was game to try it. We had already reached out locally to see what it would cost to just replace the staircase railing and because of our circle stairs, the price was insanely high. I believe, on the circle staircase alone, the cost was somewhere between $5-7k depending on what type of railing we wanted to put in.
I wanted something modern and simple and if I squinted at the iron handrail with the scrolls, I felt like it could be modern and simple just without the scrolls. So, we started with the stair handrail on the back side of the house because, if it didn't go well, that was the easiest one to replace. Spoiler, it went WELL! We ended up doing all the interior stair railings and today are sharing the step-by-step tutorial for making over your stair railing without replacing it!
If you want to see me talk through the process of this project, you can watch this short video on updating the iron handrails that I published on YouTube.

If you are ready to actually update your staircase railing, let's jump to the tutorial!
Tutorial for How to Modernize an Iron Handrail
Supplies Needed
*Affiliate links below. Thanks for supporting this blog. Click to read my disclosure policy.
Primer – Enamel

Before you actually get to grinding the handrail down, you have to remove the stair railing.
How Do You Remove A Metal Handrail?
Removing our handrail was super simple! On each post, which is the piece that screws into the floor, there was a iron post cap at the bottom. We raised that up and, underneath the cap, you could see screws that were screwed into the flooring. To remove the handrail, just unscrew the screws and the post will be free.
Update Wrought Iron Handrails How-To
1. Determine Which Side To Grind
This is important and something we learned the hard way. Our scrolls (and maybe yours, too?) were thinner on one side. You definitely want to grind the thinner side – it will save you lots of work!
2. Grind Iron Scrolls
Grab your grinder, safety glasses, gloves and respirator mask. Start grinding on the thinner side between the bar and the scroll. Go slow! You will grind on both sides of the bar at the top and at the bottom. If you cut into the vertical bar, you can't fix that so you want to take your time and do it right.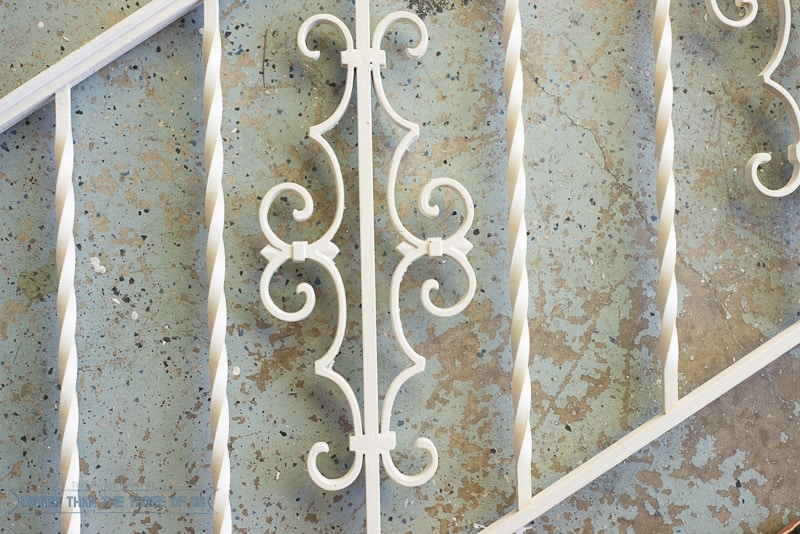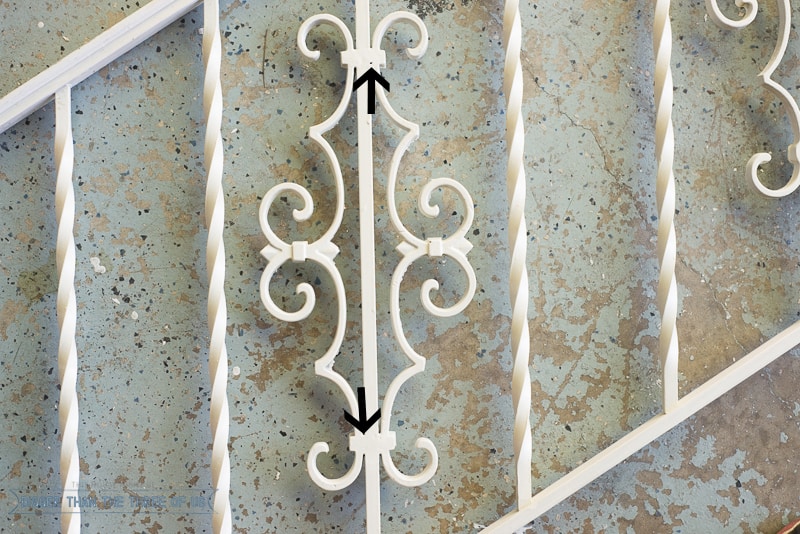 *I only showed two arrows, but you are cutting four times (both sides of the vertical bar at the top and the bottom).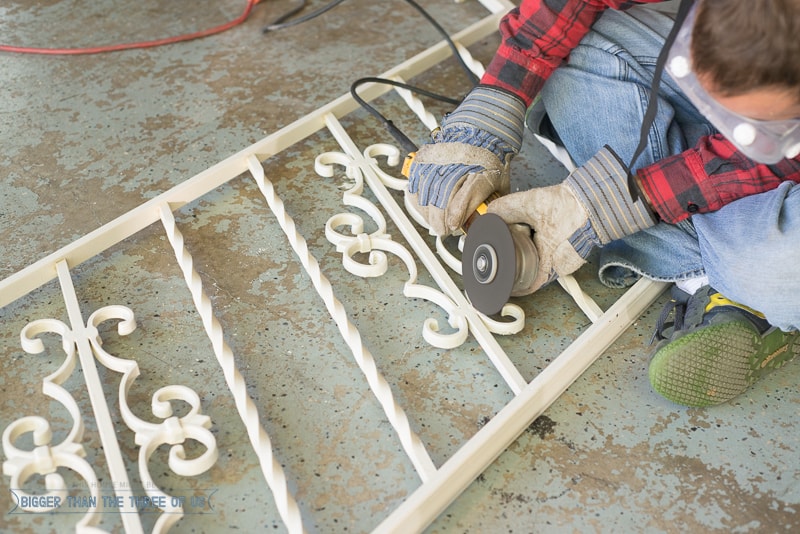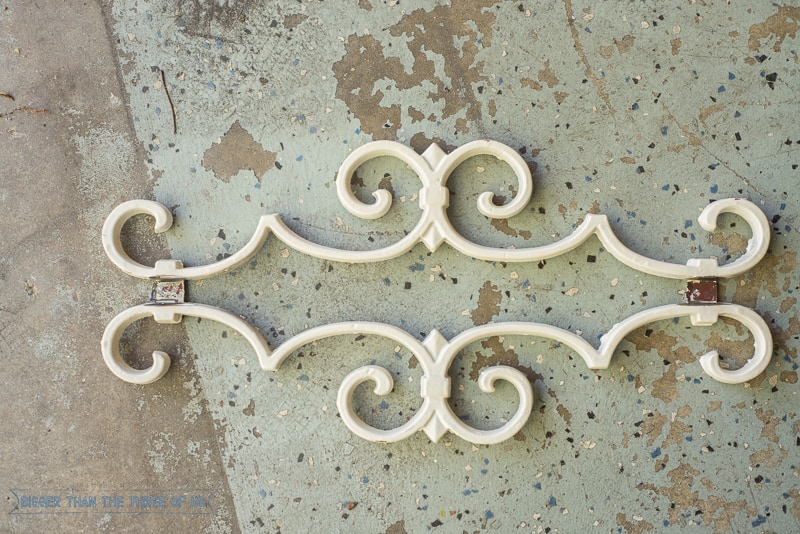 Once Luke got the hang of it, each scroll took about fifteen minutes to get off.
3. Sand Stair Railing
If you don't have paint on your iron handrail, then you might not need to do this step. If you look closely below, you will see dark spots in the photograph on the bars where we grinded the scrolls off. Those areas were sharp so they needed a really good sanding.
So, if your wrought iron handrail has been painted, grab the orbital sander and sand.
4. Clean Railing
We used an attachment for our drill to clean the stair railing bars. You could use a microfiber cloth if you wanted.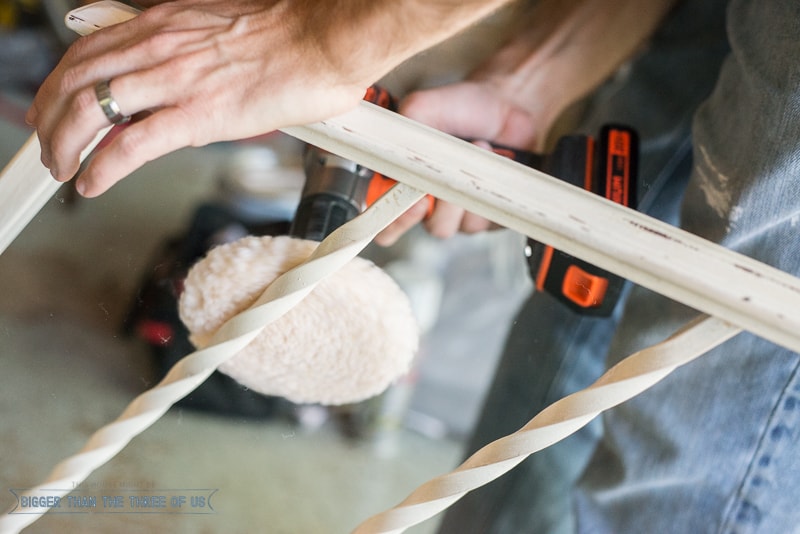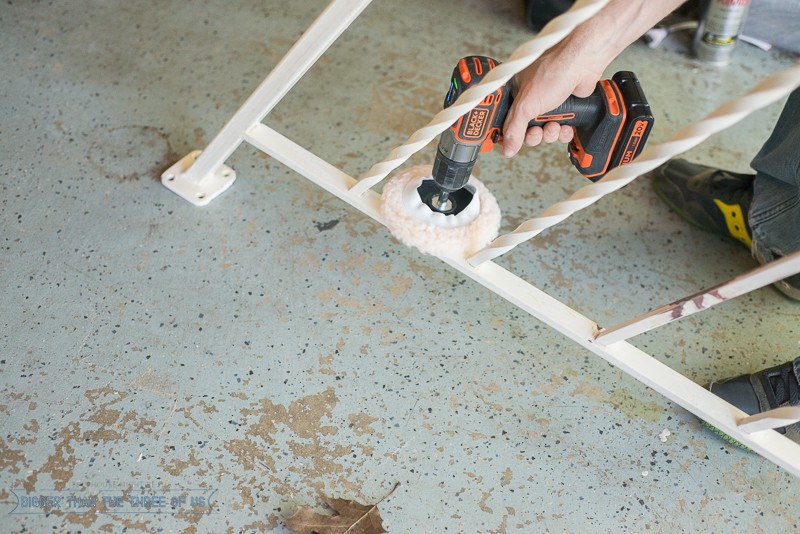 5. Prep for Painting Stair Railing
We had a lot of railings so we had to clear out most of the garage and lay paper down. We also rigged up a ladder and extra wood support (it looks totally wonky in the next picture, but it wasn't) to get the railing set up so that we were able to paint both sides.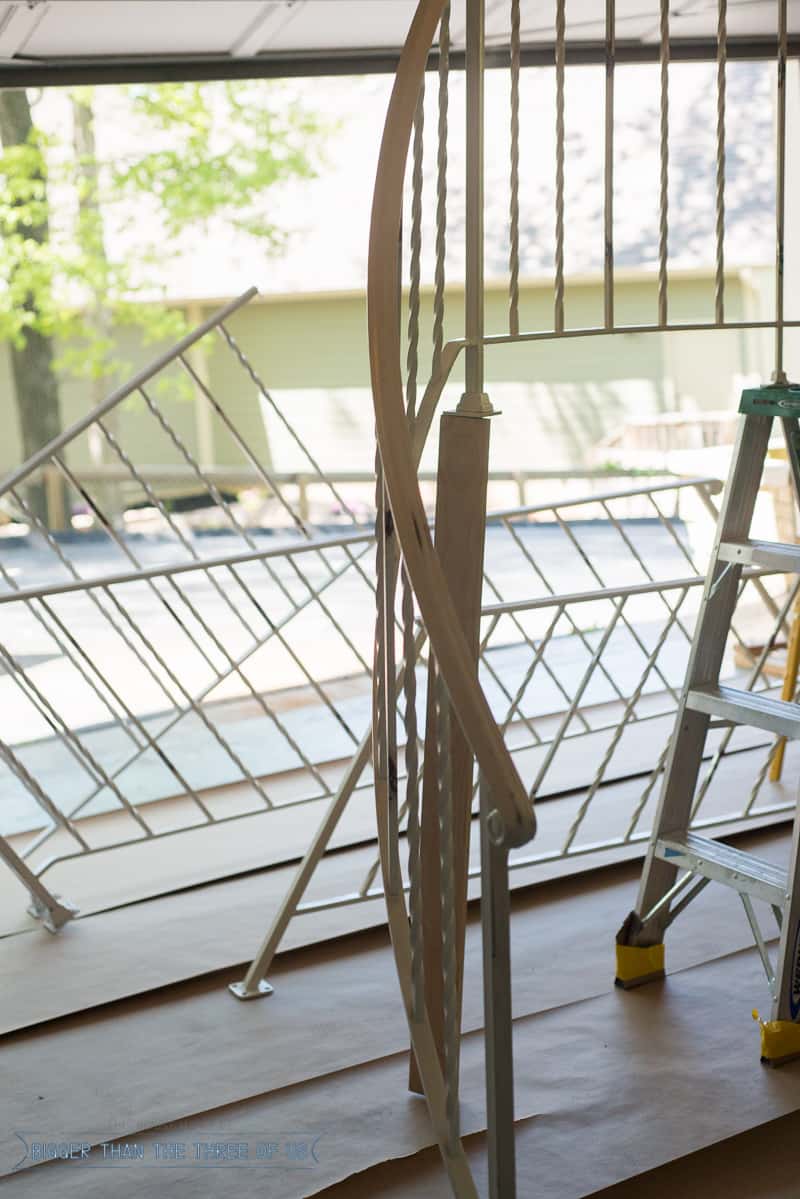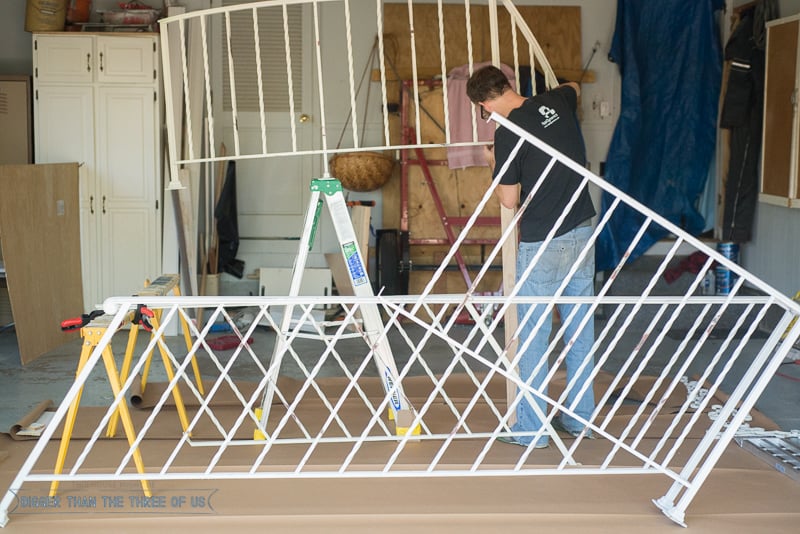 6. Paint Stair Railing
We used Rustoleoum epoxy primer and paint in the cans. It took about twenty-two cans. To be honest, I'm not in love with the finish. It's not completely smooth but it's not necessarily rough either. We used matte black and I got some remarks on Instagram saying that matte black is usually a bit gritty. All in all, I don't hate the finish but it's not as smooth as I would have hoped for.
So, it's been three years now since we first did this project. I thought I'd answer a few questions that I normally get on these interior handrails!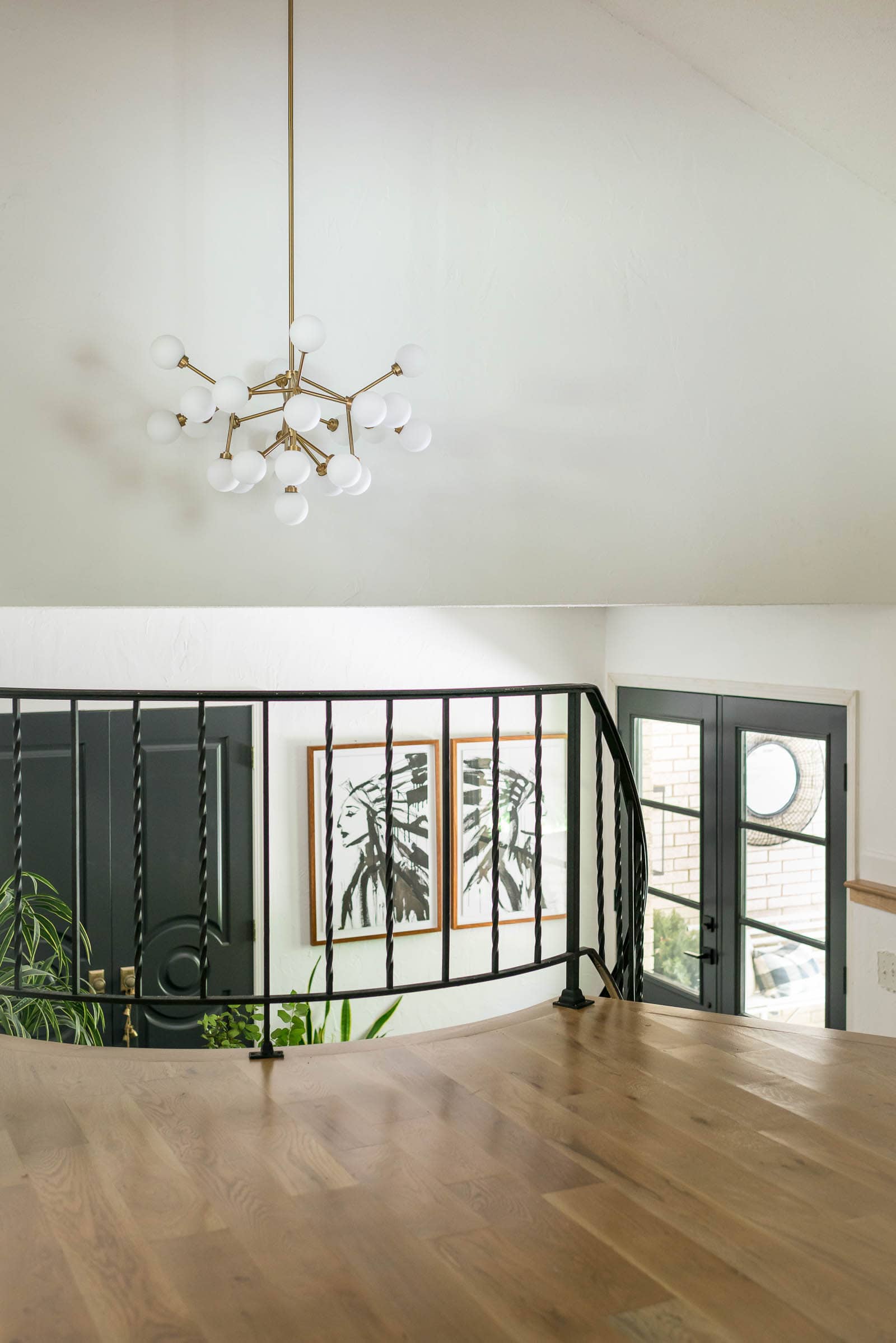 How do you paint wrought iron railings?
I just explained how to paint a stair railing. Keep in mind that a painted finish is not the exact same as a factory finish but, overall, painting a stair railing is a great option for updating iron railing!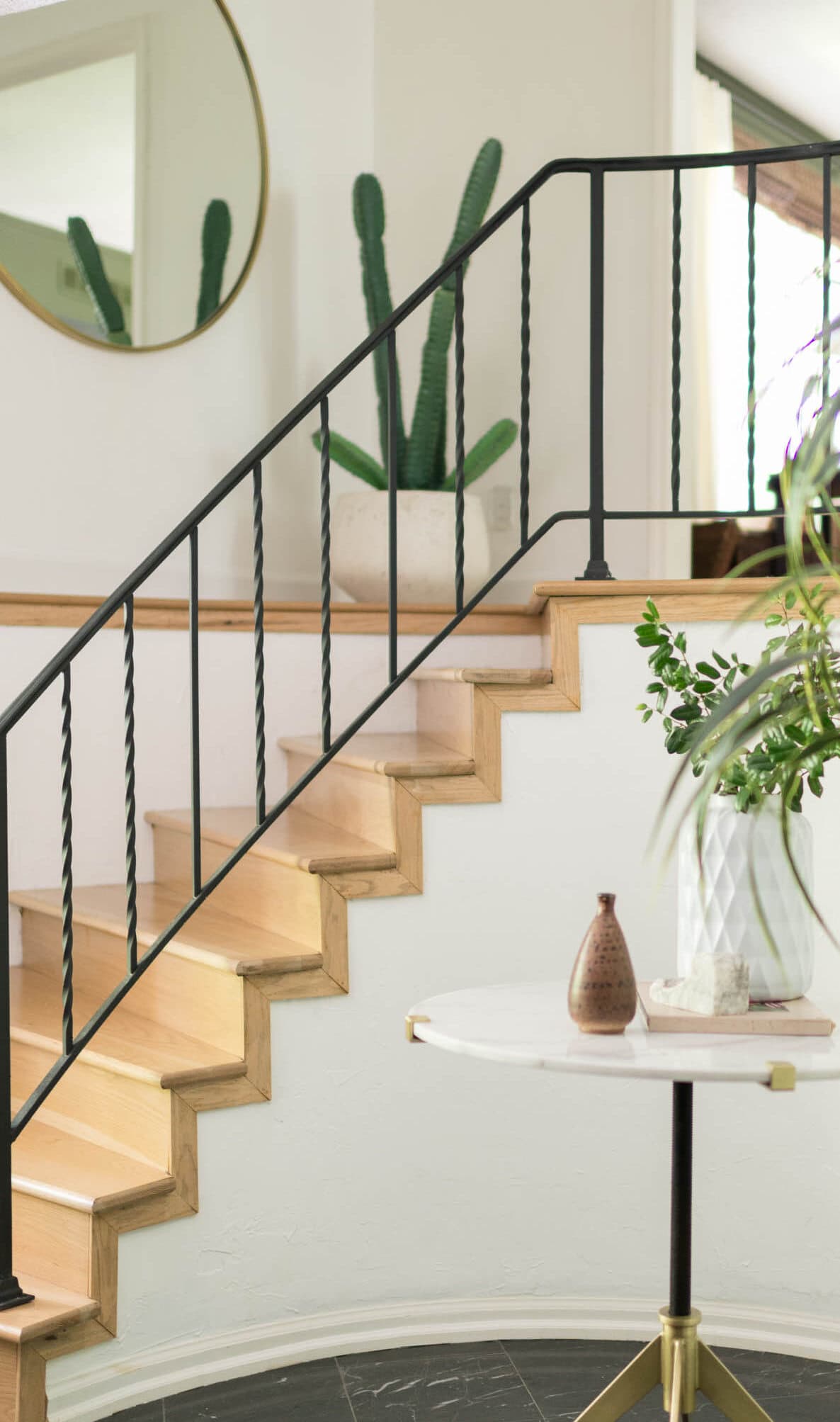 Would you recommend this DIY Stair Railing Makeover?
Yes! This project has definitely stood the test of time at our house and gave us a completely different look for a small budget.
Like I mentioned earlier, this project is now three years old but, when I first did it, it was part of the One Room Challenge of updating the entryway. If you'd like to check out those projects:
Since then, we have completely made over the entryway to what it is now, my happy place! I just love how it turned out with the antler wall, built-in closet bench and art.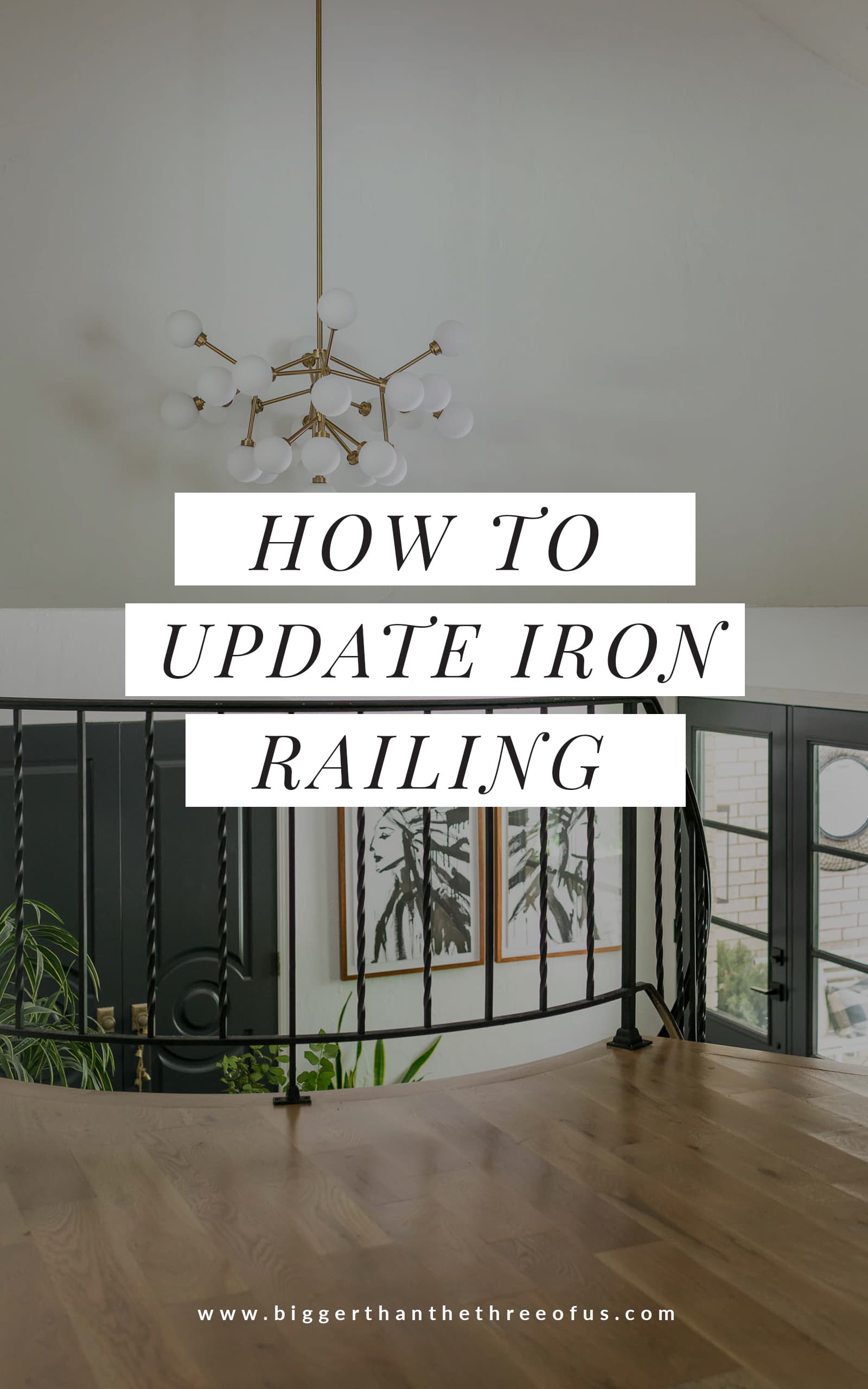 p.s. Pin with me!