The Modern Eat-in Kitchen, with its DIY built-in bench seat with leather cushion, beautiful pendant light and midcentury furniture has finally come together.
As I've gotten older (and wiser?), my style has gotten more refined. I'm less drawn to all one style. Maybe because I'm more confident in my style? More and more, I'm drawn to a style that is a combination of modern and classic, eclectic and textural. I've been slowly tweaking my spaces so they have a good mix of that mid-century style, that I'll forever be in love with, but also reflect a more balanced mix of old and new.
When I first started decorating, I bought most of my furnishings from the same lines, the same stores... the safe (and easy) option. Now that I've come to know my own style, I know that I prefer to mix and match. I prefer to mix higher priced items that will be show stoppers with lower-priced fill-in items. I prefer to create a room that can't be recreated out of one store. I think intentional decorating is key here and taking time to let pieces "find" you is what really makes your house reflect you.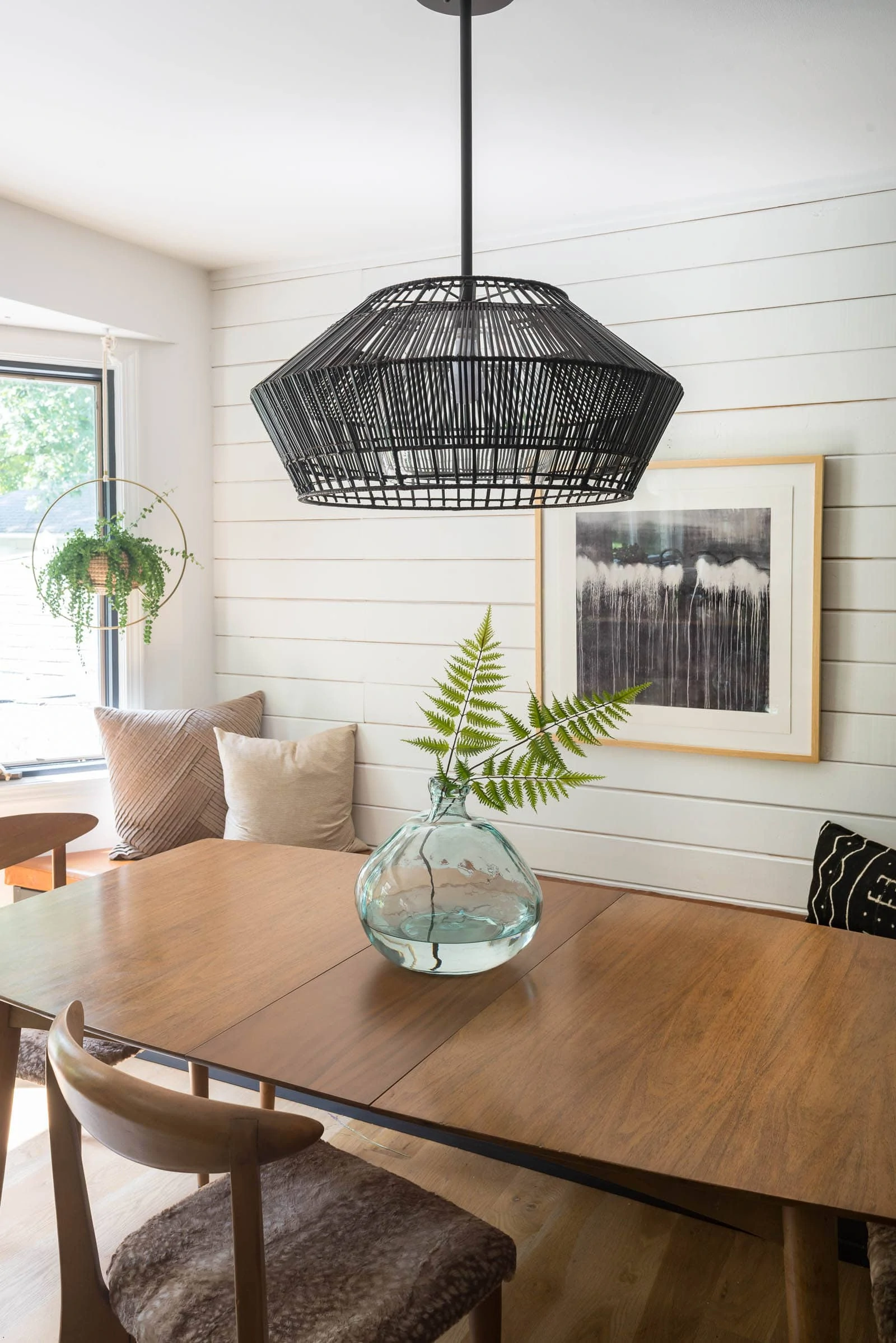 Modern Eat-in Kitchen
The last time I chatted about our modern eat-in kitchen, I talked about the space and what we loved about it and what we wanted to change. In that post (it was over a year ago), I talked about wanting to change the chairs. You can read more about all of that in the breakfast room post if you'd like. But, basically, I was sharing what we've done to the space and what we'd still love to do.
Well, a few months ago, I finally got around to tightening up the chairs and recovering them. They are vintage so they needed some love. I was on the fence as to whether I wanted to replace them or fix them. I'm happy that I went for fixing them instead of getting rid of them. I used my own tutorial for tightening old chairs and then upholstered them with a faux antelope fur that I found. They are comfy and modern and the fabric hides any stains, so that's a win in my book.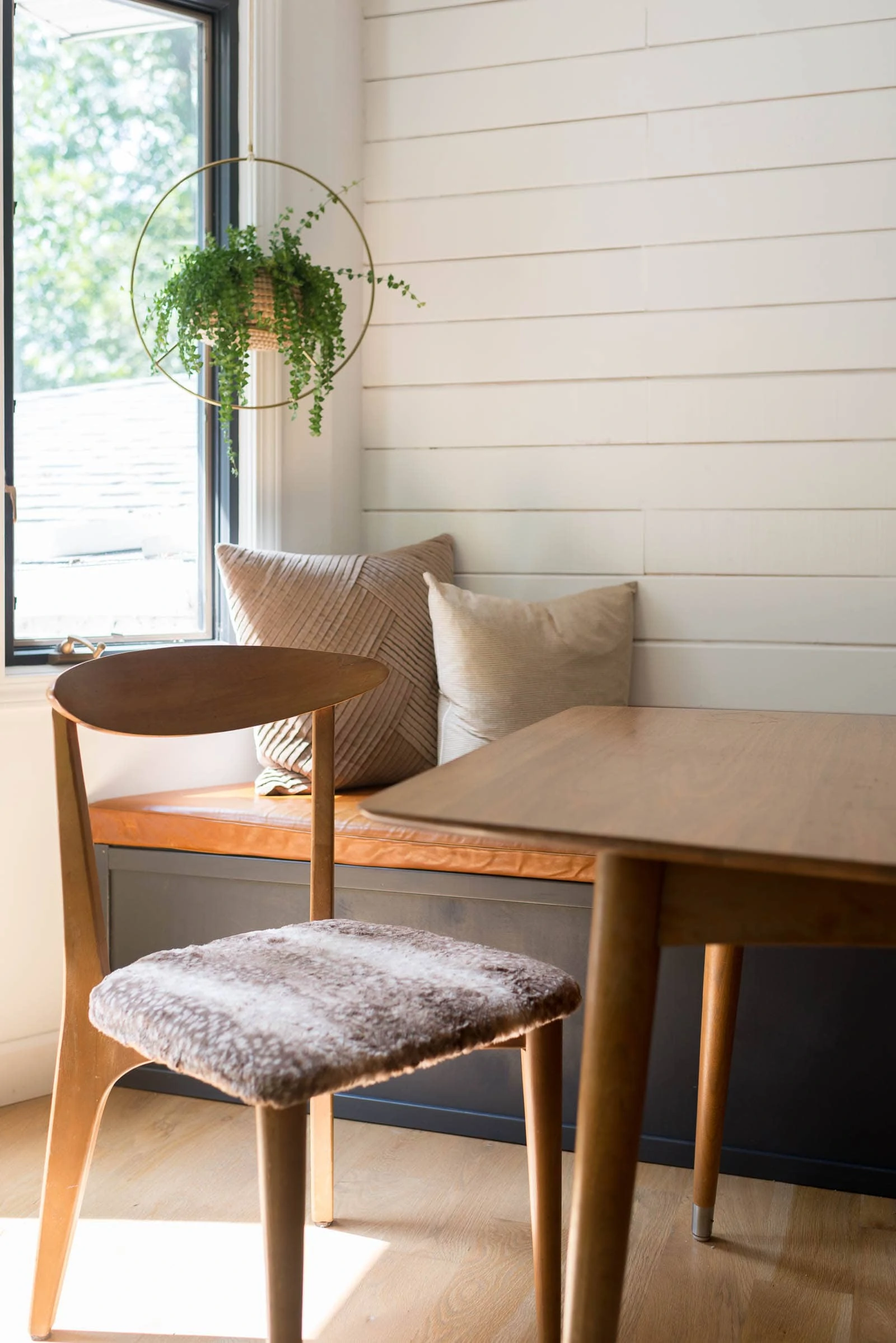 After reupholstering the chairs, I felt like something was off in the space and just couldn't put my finger on it for a few weeks. Finally, it was a lightbulb moment when I realized that the overhead light that I had was just not working for the space. I felt like the space wanted to beckon you in to eat, share around the table and sit for awhile and the light that we had in there just wasn't doing that. It was brass and modern and felt airy, but that didn't fit the space any longer.
This year, I'm partnering with Troy Lighting (read my privacy and disclosure) to showcase all the amazing products that the Hudson Lighting Group carries. I thought this was the PERFECT space to upgrade the lighting with the other tweaks that I'd been making.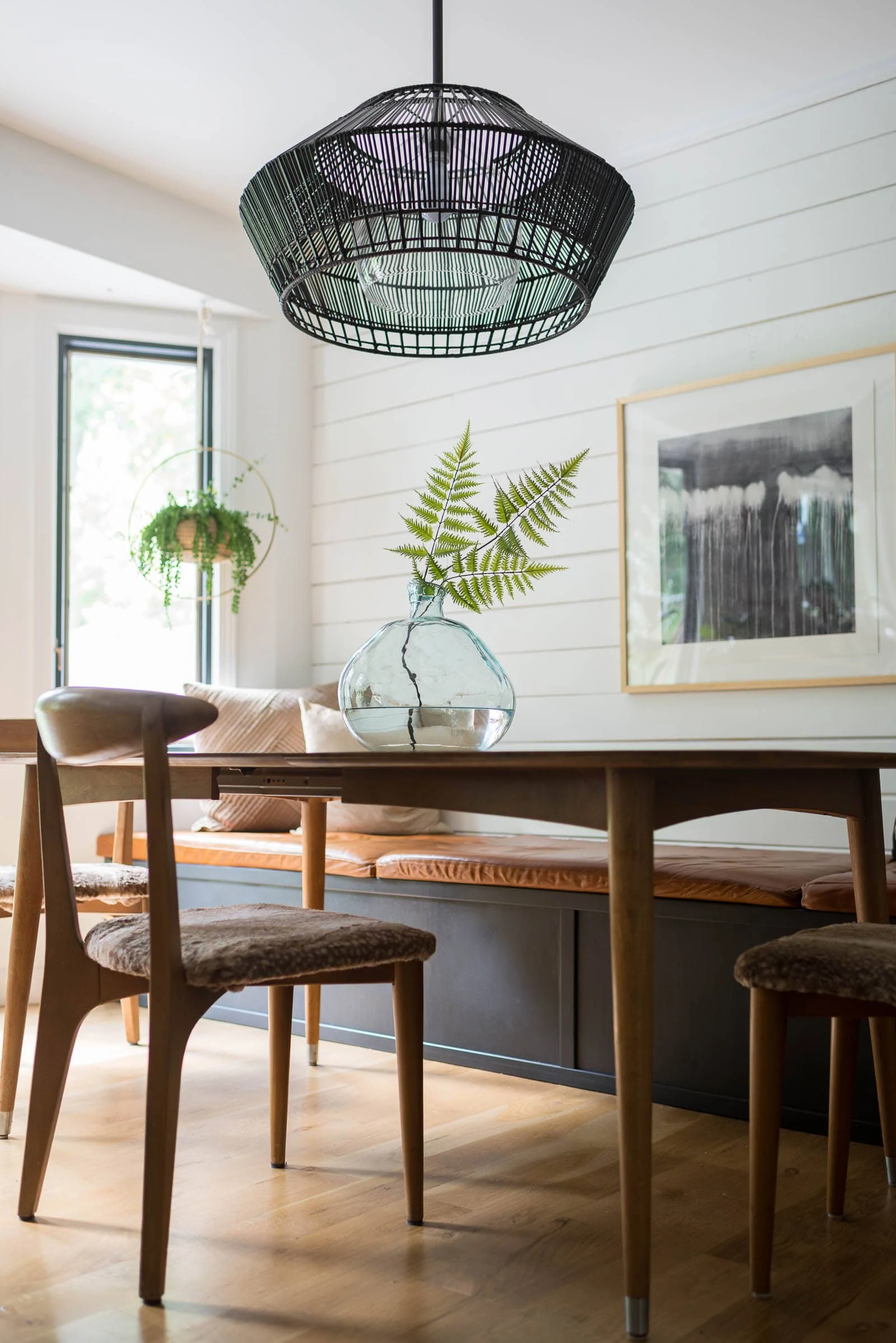 The new light that I picked, the Hunters Point, brings a calming and welcoming vibe to the space. It brings the warmth that the space was lacking. Don't underestimate texture and how much texture can add to a space. Seriously.
One thing about lighting, and this is probably somewhat personal (aka controversial), but I prefer statement light. I prefer lights to be one of the focal points in a room and I'm not scared about going large with my lighting choice. If I have a choice on where to invest for a room, it's always the light and the rug. Always. Buy showstoppers for both of those pieces, because they will ground your space and really make your style shine through.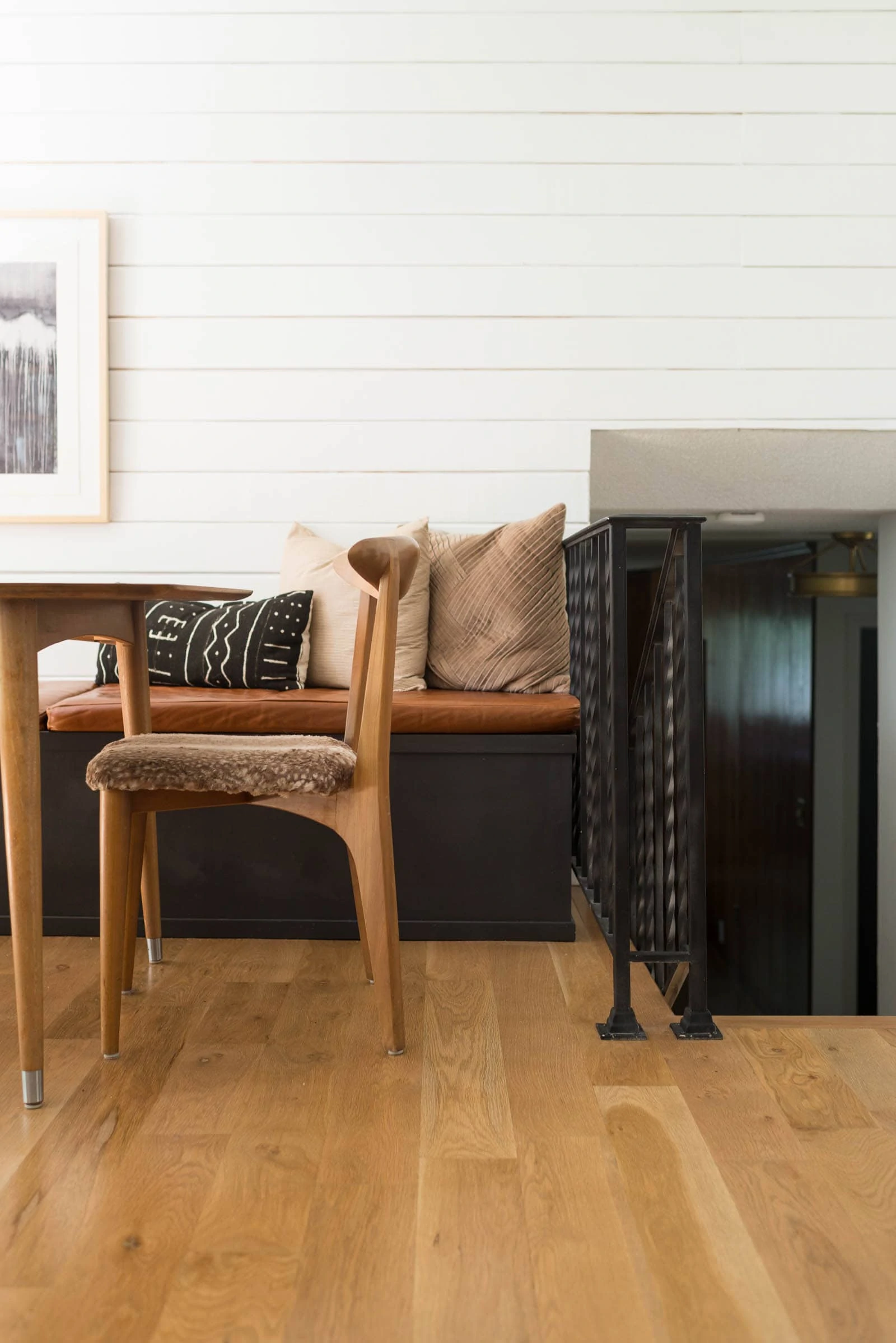 The leather on the banquette just keeps getting better and better. It has scratches and it's pushed down in the places that always have rear-ends on them, but it's still a favorite of mine. I'd definitely recommend using leather in a dining room (even if you have young kiddos!).
The pillows are rotated out depending on what room I'm tweaking. I have to say that I'm loving the neutral, calm vibe that this combo has going on.
For me, a space isn't a space unless it has plants. They make the space feel lived-in and alive.
So, what's going to happen next in this room? Well, eventually - when I find it - the stairwell will have some art. I've tried a few things there and just haven't loved any of them; but, eventually, the right piece will find me.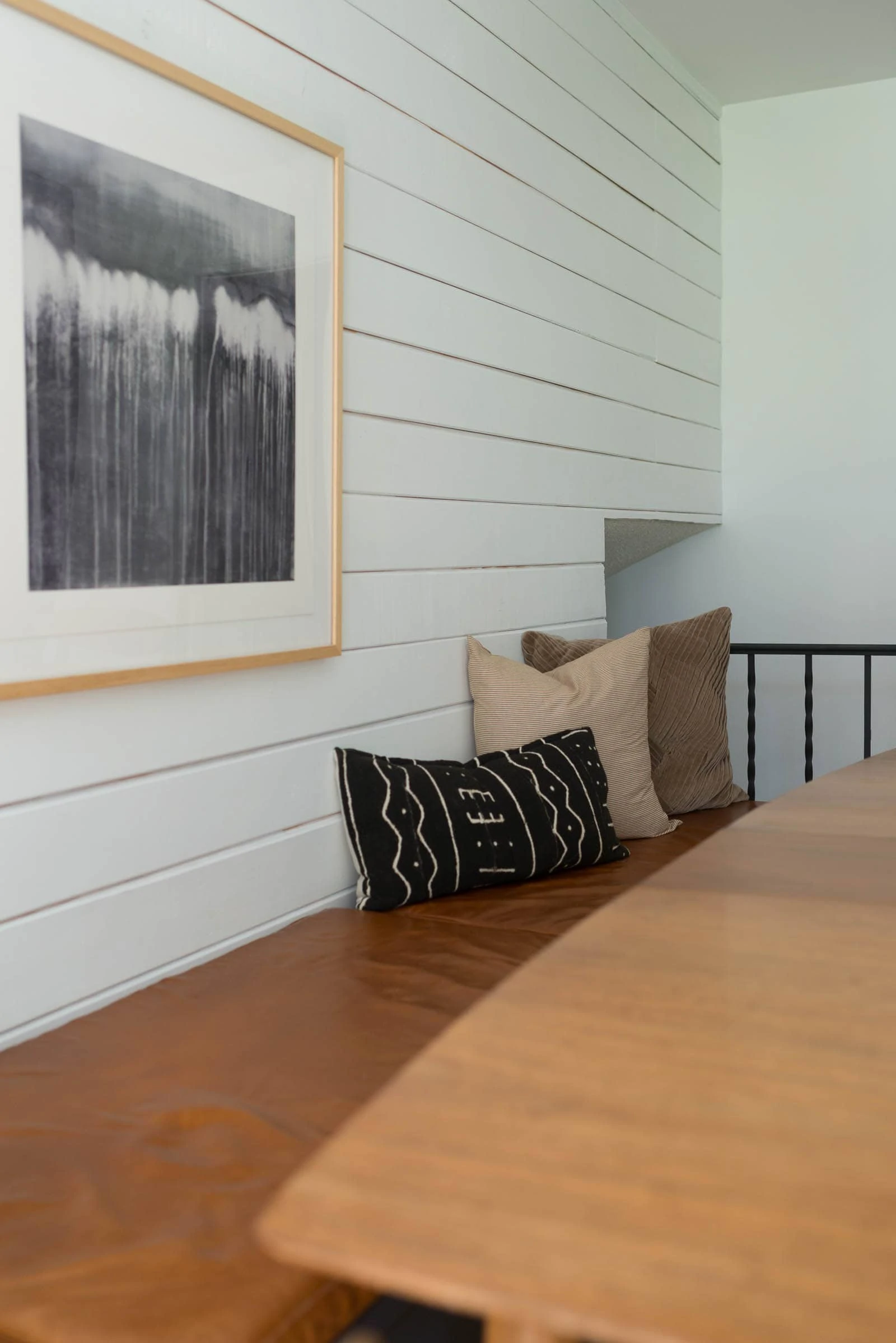 Other than that, it feels good. Don't you just love it when a space feels good?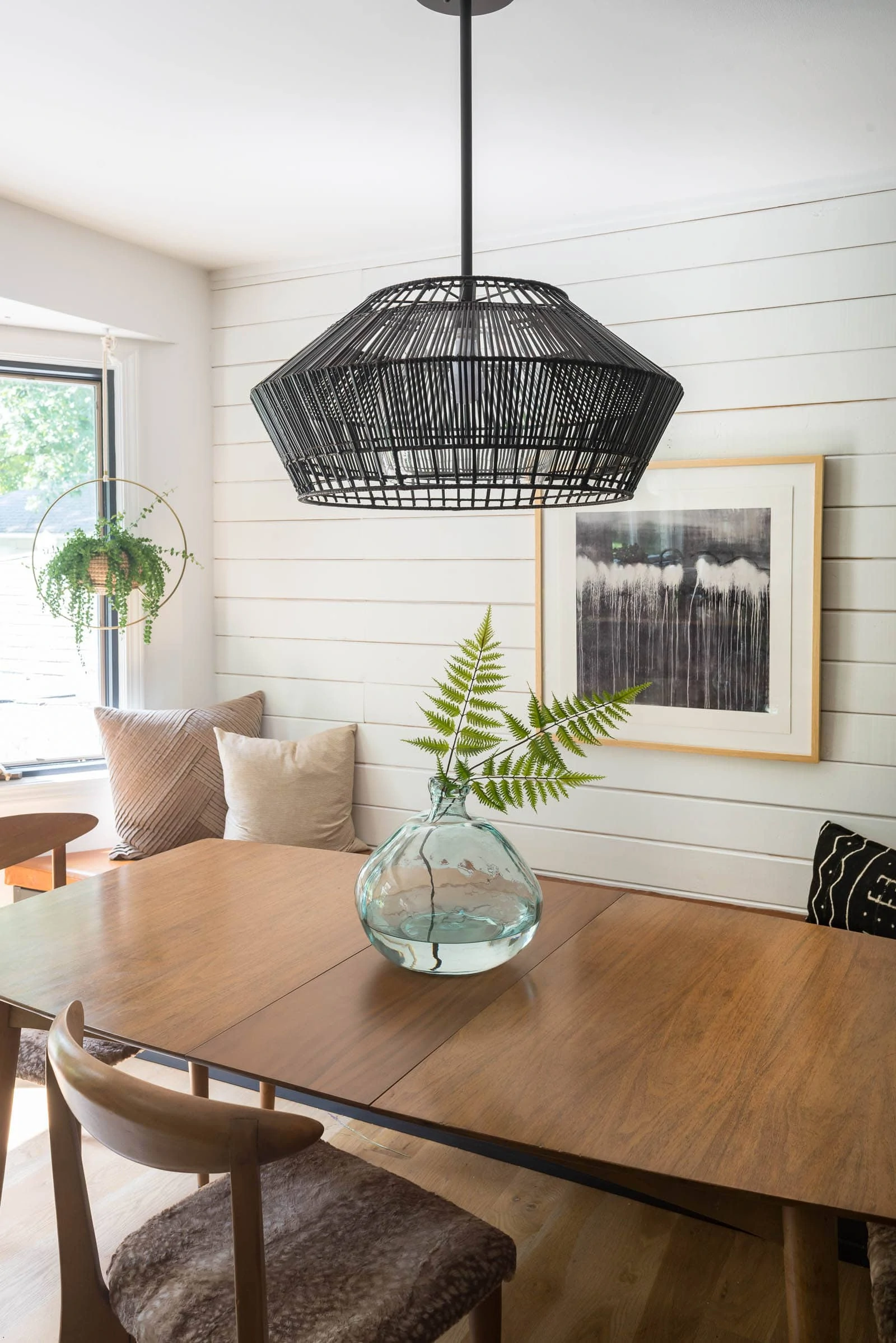 If you haven't checked out Troy Lighting, definitely do it. I have their Ace chandelier in my bedroom (which I bought myself before I even teamed up with them) and am currently swooning over their table lamps. I might need two of those for my nightstands!