It's been over 3 years since we finished the Breakfast Room with Built-in Banquette and although there's been decor tweaks since then, not much else has changed. I thought it was about time to talk about the few things that have changed, what we love still and what we want to change.
Breakfast Room with Built-in Banquette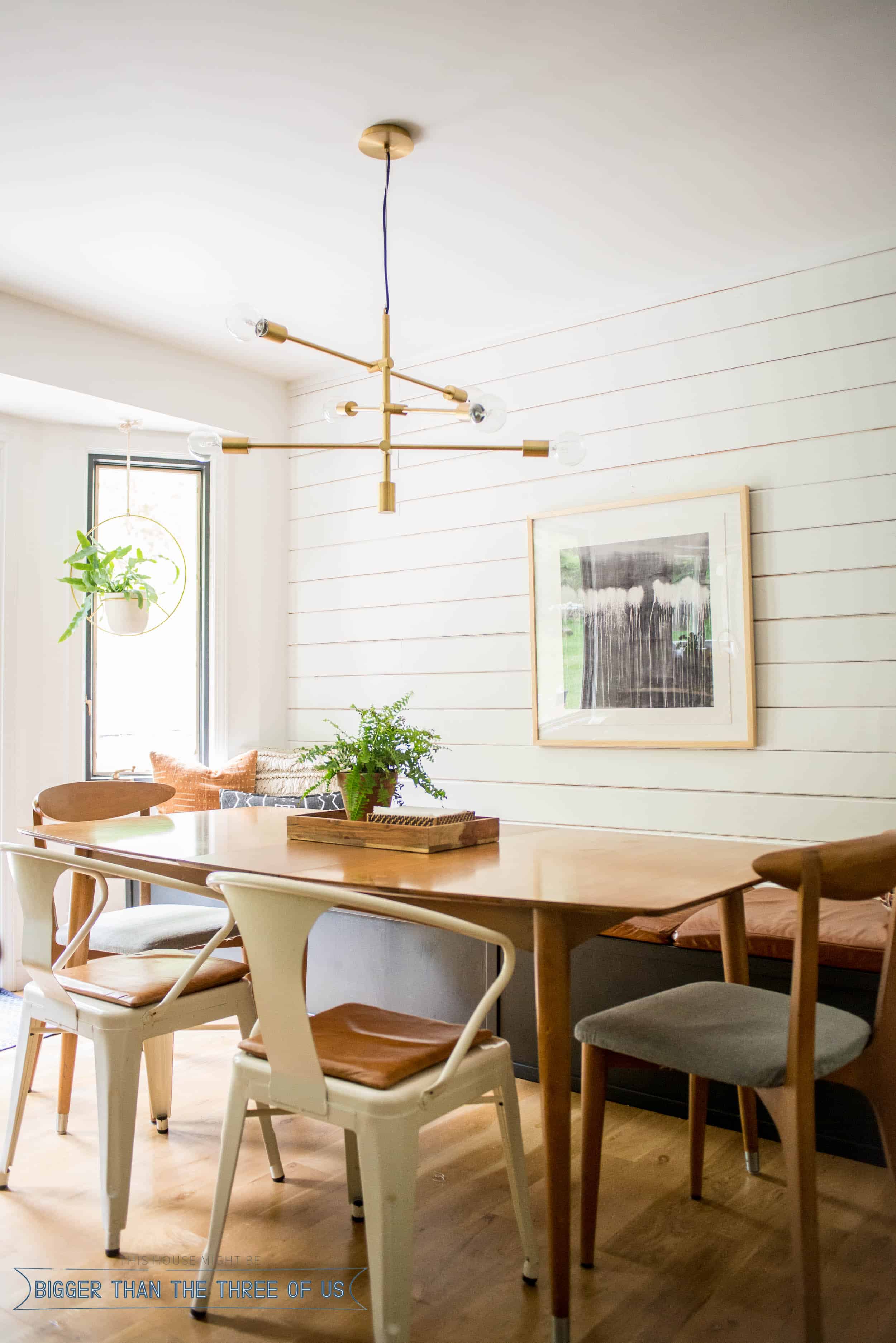 If you want to see all that went in to the original space, then definitely check out the Eclectic Eat-In Kitchen Reveal that we did for the One Room Challenge. Here's one quick view of what the original space looked like: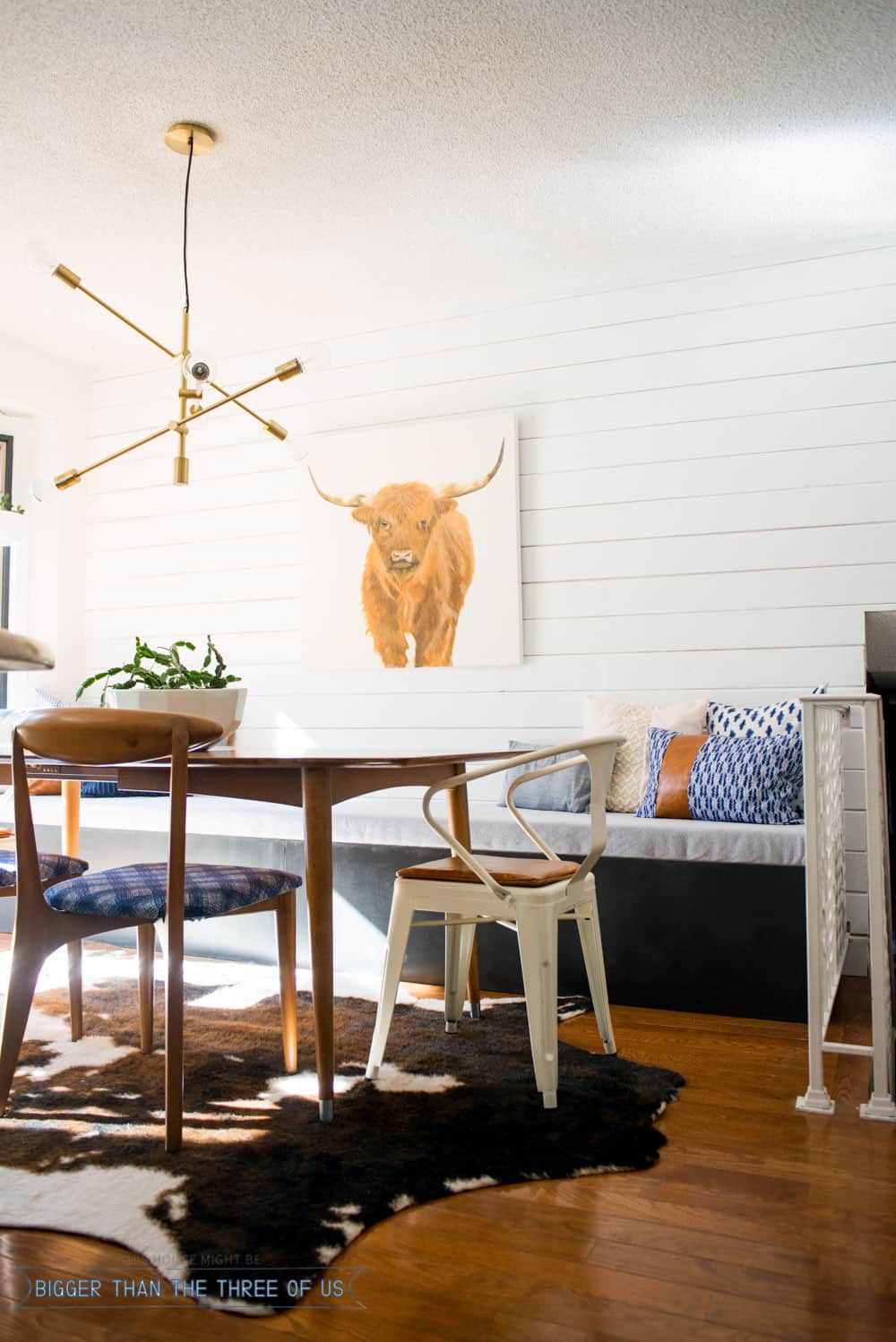 I liked it then, I really did; but it wasn't "done." By that, I mean that we still wanted to have the flooring changed out and update the railing.
So, I liked it then for where we were at but I knew that things would be changing. Since the reveal, we had our hardwood flooring installed and updated our stair railing (DIY Style). We also added trim along the banquette and had some leather seat cushions made.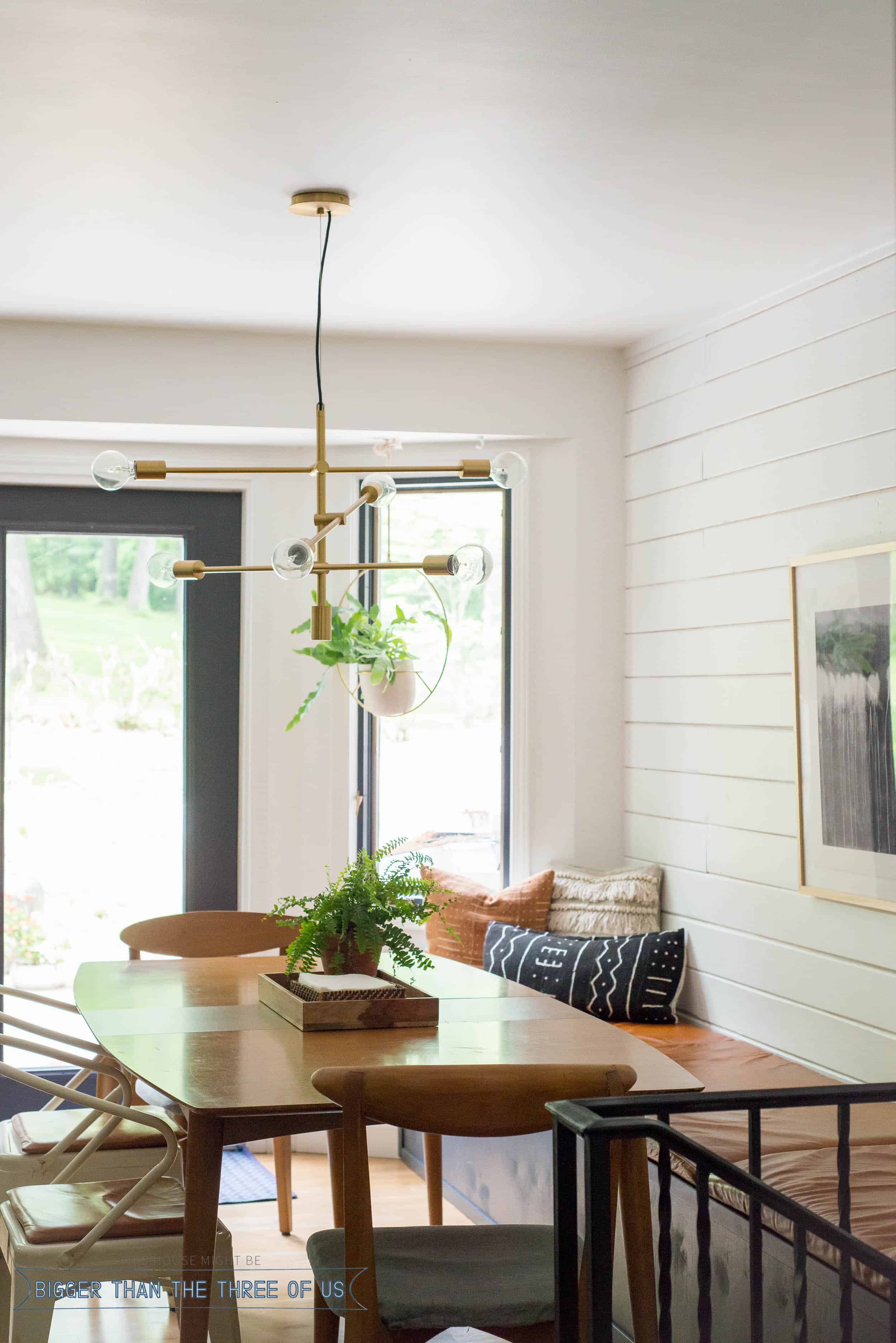 So, what do we love and what would we like to change?
Breakfast Room with Built-in Banquette
What We Love
The shiplap walls: yes, you see it everywhere, but we don't care. It adds some much-needed interest to our space and we absolutely love it.
Leather cushions: these get better and better over time. We would, absolutely, do them again for this space.
Having our asbestos drywall ceiling abated: this space looks so fresh and clean because it is. There isn't stained asbestos popcorn any longer and it's just the best. This was very expensive to have done professionally, but we think it was 100% worth it.
Continual wood flooring: I adore how we can walk around on this level and not have any flooring transitions. It's just the best. Would definitely recommend our flooring in general (5" white oak) but would highly recommend continual flooring throughout the home.
Dark trim and door: I love the power of paint, I really do. This was such an easy job and I really love the pop of contrast that it adds.
What We Would Like to Change
Built-in banquette: we love the functionality, but we really, really wish that we used a higher grade plywood sheet for the front. You can see scuffs and dents. You don't see this day-to-day because it's under the table but it really annoys me for photos (as a blogger).
Stair railing: as much as I think our DIY hack to take off the scrolls and modernize the stair railing is AMAZING (I do. Really!), I'd love to splurge on high-end railing. When you are comparing a high-end product with a DIY, it just doesn't compare. So, yes, I still like my DIY hack, but eventually, I'd love to replace it.
Chairs: this is just a decor item so it's an easy change, but I'm ready for some high-quality chairs. Or, I'm ready to fix a few chairs (the brown vintage one's) and recover them. I haven't decided which way I want to go but I know, for sure, that I'm ready to give the white chairs the boot.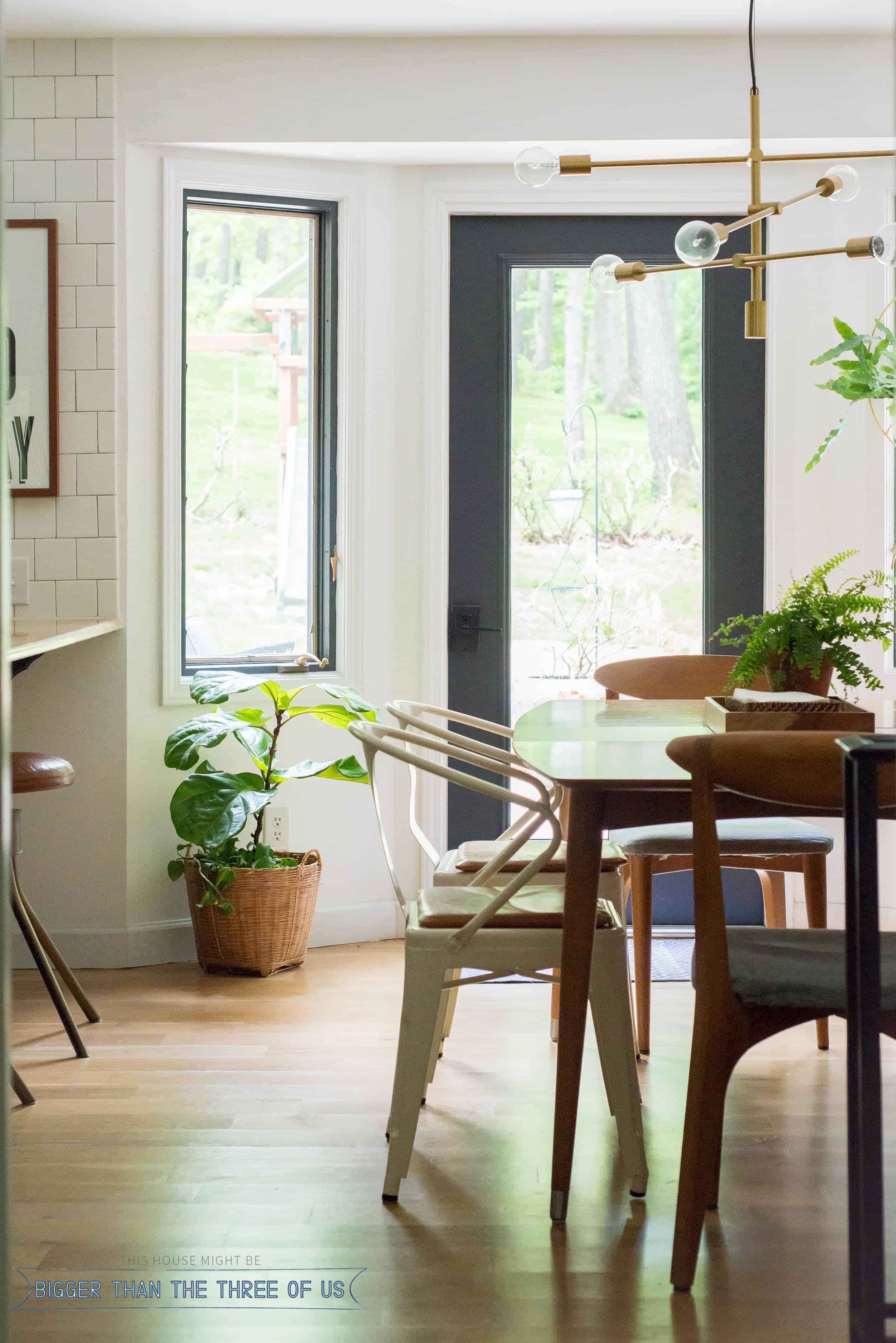 All in all though, I really think we did a good job at making-over our original space and creating a space that's been easy to tweak over the past few years as my style has changed.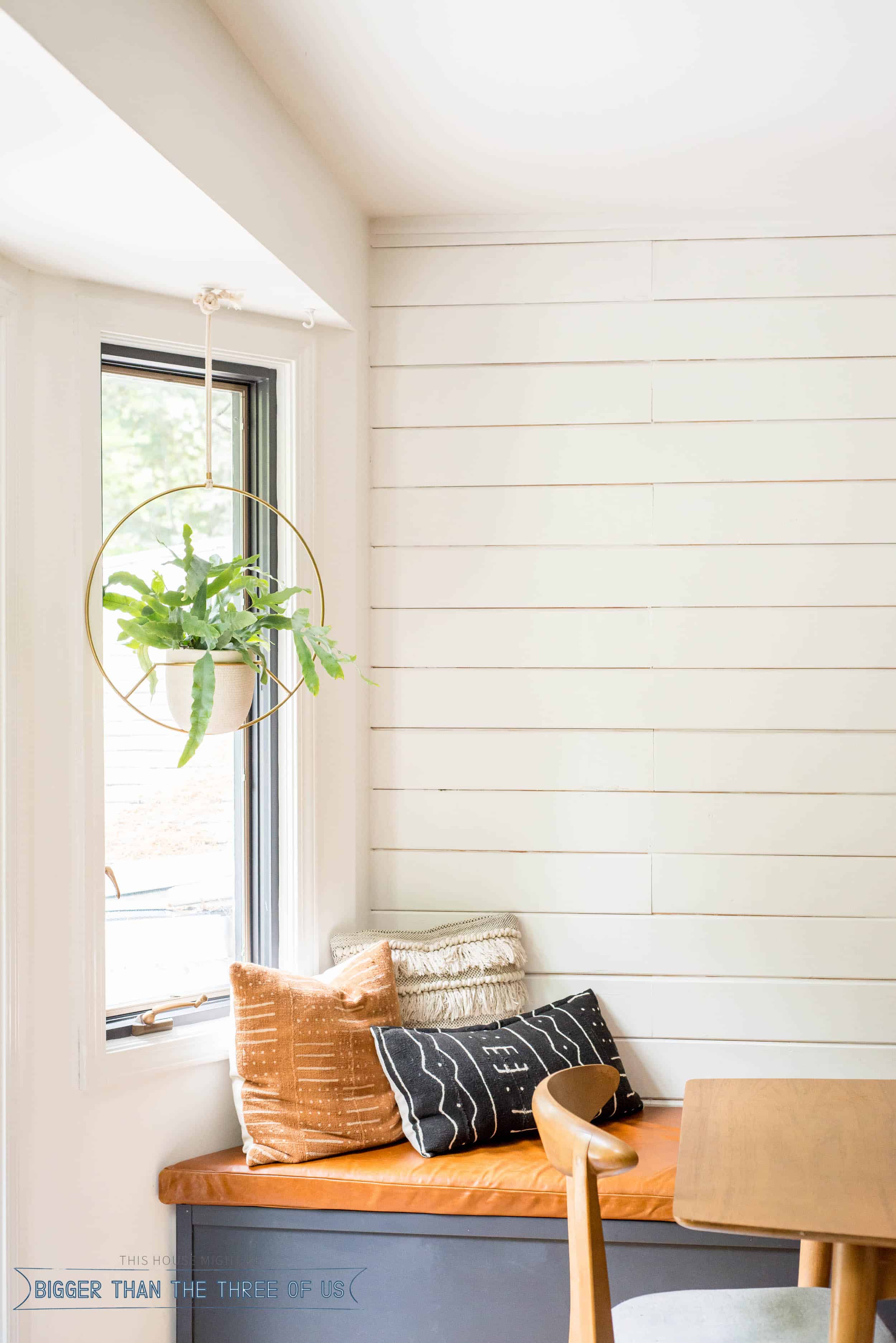 So, tell me what your thoughts are about the chair situation. Would you tighten up the vintage ones and recover them or buy four new ones? I'm really undecided!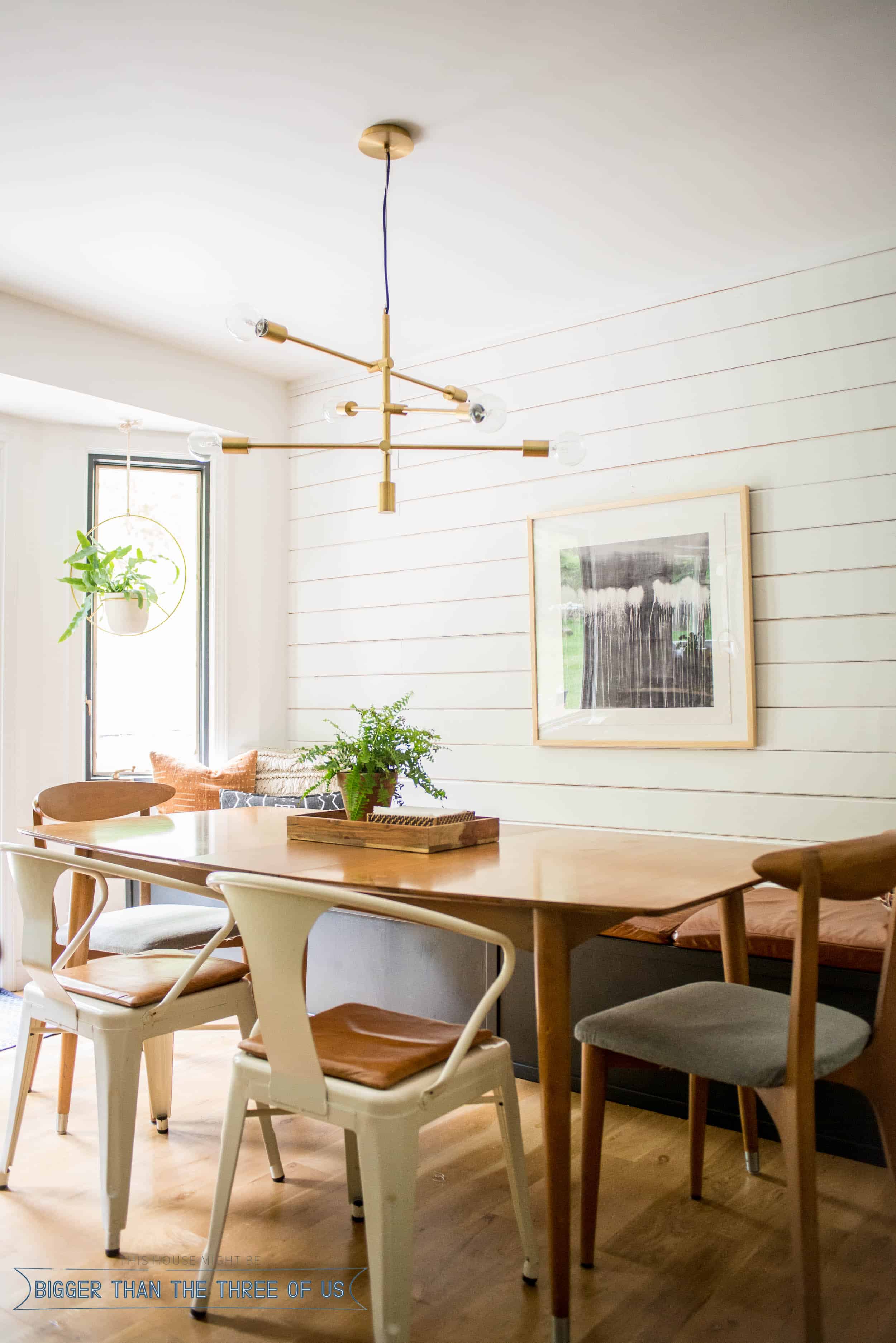 All the Sources for the Breakfast Room with Built-in Banquette