Looking for leather chair cushions? Learn how to make a seat cushion or leather chair pad with this simple tutorial. Plus, see a great round up of modern seat cushions if you want to buy instead of DIY.
I've always loved the look of metal chairs and the durability is great, too. One thing about metal chairs though is that they have a hard seat. When you don't have a chair that has padding, they don't encourage you to linger around the table.
I realized, a few years ago, that I could make a modern metal chair work for our family by making leather seat cushions. It's been a few years since I've made these cushions and, since then, have blessed other people with the leather cushions and chairs but I still love this project and wanted to freshen up the tutorial and share it with you.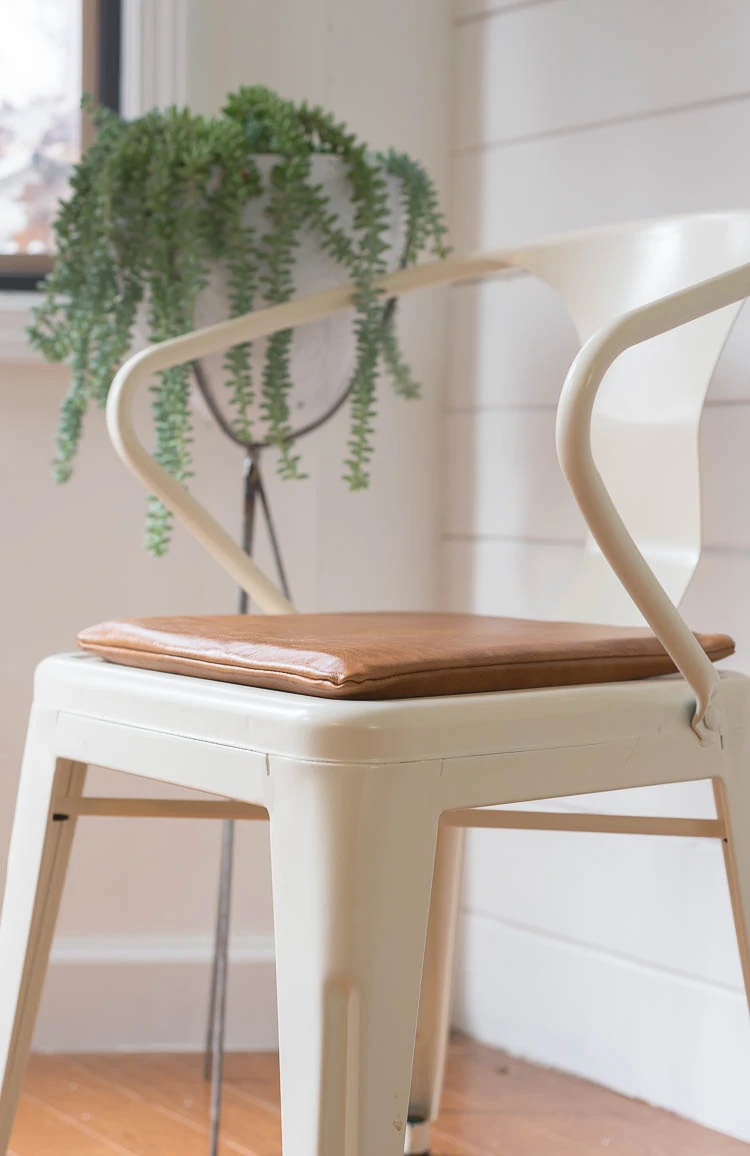 This post contains some affiliate links for your convenience. Click to read my full disclosure policy.
The seat pads are simple and effective, right?! Before we get to the tutorial, let's talk about the metal chairs.
We bought a set of 4 (because you can get a set of 4 for $150, or less) when we moved into this house. If you are new here, we moved to this house (3800 sq ft) from a 1400 sq ft house. We had basically no furniture when we moved here. So, these chairs were an affordable purchase that we could use in the dining room, kitchen or even living room when we needed more chairs. They are great chairs to move outside when we have extra people over, keep at the table (especially when we have playdates) and just to have as extras.
Shop metal chairs similar to what we have:

The not so great thing about the chairs is they have no padding. When our little guy was younger, I didn't want padding. It's just one more thing to get stained, right? But as he got older, I started craving a chair seat that was a bit softer.
Leather Hide Store contacted me to see if I wanted to try out some of their upholstery leather and I jumped at the chance. They have all different colors of leather, but I was particularly drawn to the brown leather options.
I knew I wanted a mid-toned leather for the chair seat and wanted something with a bit of flair. I wanted a piece that had some imperfections or would show some imperfections. Basically, I wanted it to fit in with our kid-friendly household without me being concerned if we scratched it.
Boy, did they deliver. Holy moly, now I'm all like #givemealltheleather. You saw a sneak peek of it on IG if you follow me. If you don't follow me - you need to! =)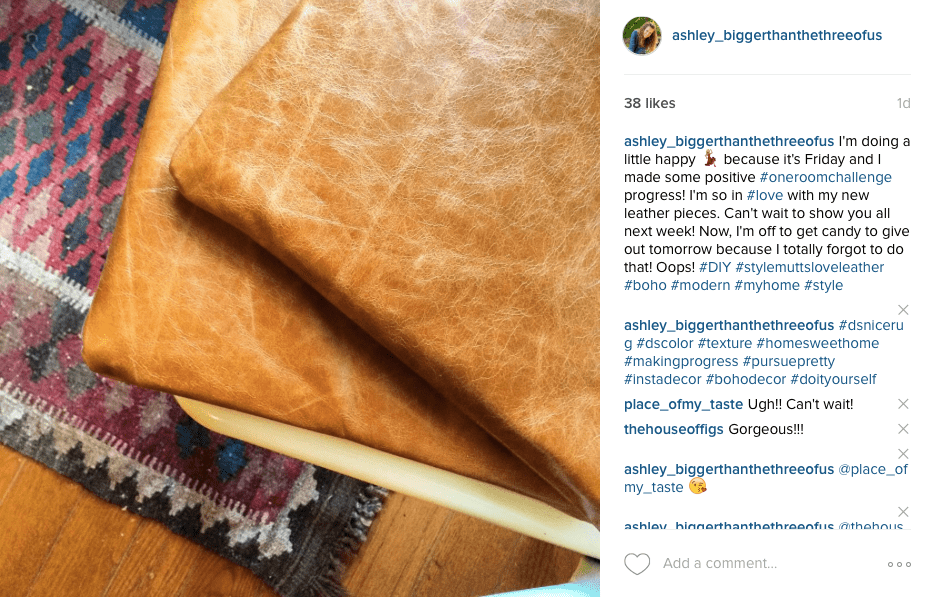 Do you see the beautiful wear on that leather? I love it!
How to Make a Seat Cushion
Let's get to the tutorial. I will say that these are pretty simple to make (about 30 minutes per chair cushion). I'm a beginner when it comes to sewing so if I can do it, you can do it!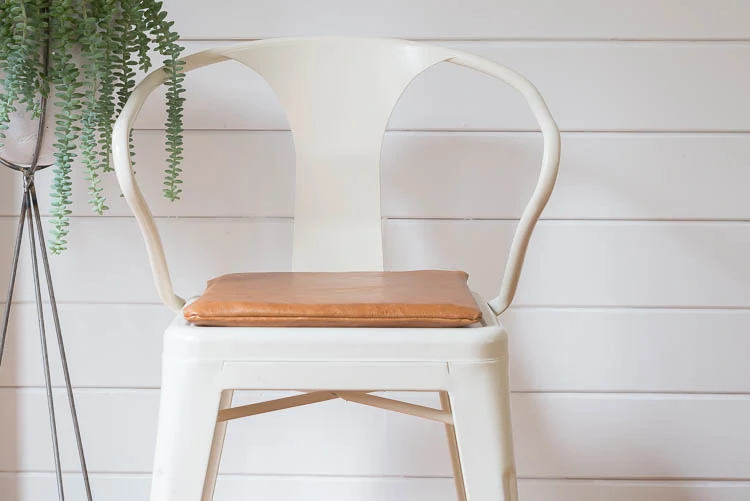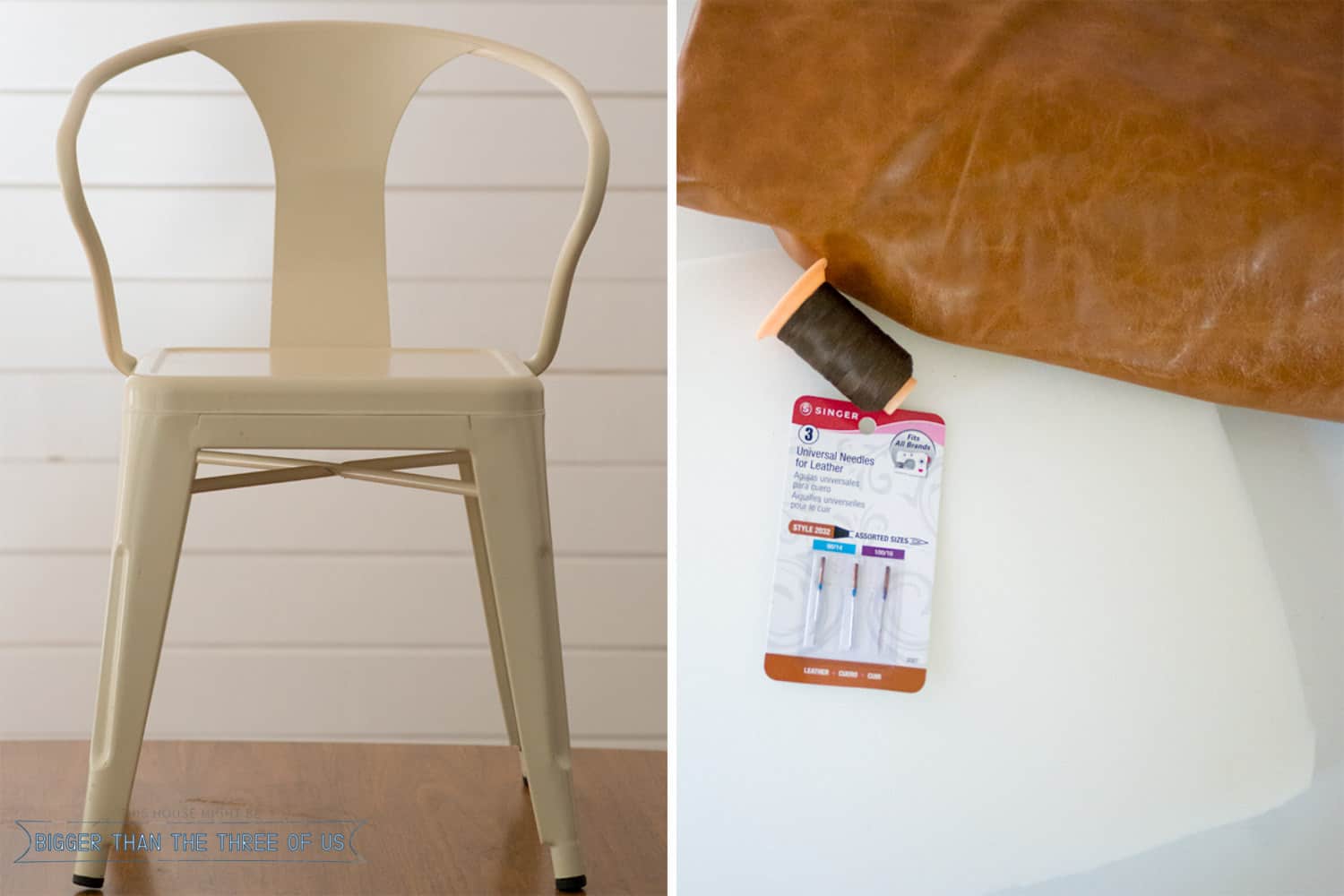 Supplies Needed For Leather Seat Cushions
How To Make Leather Chair Cushions
Mark the template cut line
Cut template for foam and fabric sizing
Cut foam to template size
Cut fabric ½" bigger than template on all sides
Place outside of each fabric piece together and start sewing
Sew three sides and half the fourth side
Turn the fabric so the exterior is showing
Check fit of the foam
Using an upholstery needle, hand stitch the remaining side
Seriously, if you can sew a pillow then you can sew leather seat cushions for chairs. One thing to note though is that working with leather is definitely harder than working with thinner fabrics. I have an older sewing machine and it definitely struggles with the leather but it gets the job done. So, just FYI if you've never worked with leather before.
Honestly, I'd recommend giving this project a go but I understand if it's outside of your skillset or you would rather buy chair cushions. If buying a leather chair cushion is more your cup of tea, here's some great options:
Black Leather Chair Cushions

Brown Leather Chair Cushions

Like I mentioned earlier, this project was one that I did a few years ago. I loved it but didn't love how the white chairs worked in our space after a few years. I still think adding seat cushions to metal chairs is an amazing way to make spaces have more character, make the chairs comfier and make the overall aesthetic of the dining space be more welcoming. We still have black metal chairs in our vintage dining room and, last year, I added a fur seat cushion to those! It seriously upped the cozy factor in there. I could have added round leather seat cushions in there, too, but found the fur ones while we were traveling and just fell in love with them.
I hope this project was helpful! If you make some seat cushions, I'd love to see!
A special thanks to Leather Hide Store for providing the leather for this project. I'm thrilled with the quality and color of the leather. As always, I only recommend things that I truly love.
p.s. If you want more leather projects, here's a few of my favorites:
Pin for later DIY Leather Chair Cushion