You guys, we have a leather bench seat in our eat-in kitchen and it's just amazing! I've been wanting to change our eat-in kitchen bench seat cover for a few months now. The upholstery on the DIY Built-in Bench has been dirty for quite some time and it was just time for a change.
I reached out to Leather Hide Store to see if they'd want to work with me on this project and they said yes. I knew I'd love having leather in the kitchen but I didn't know I'd love it as much as I do!
I'll stop yapping and show you! Come on in...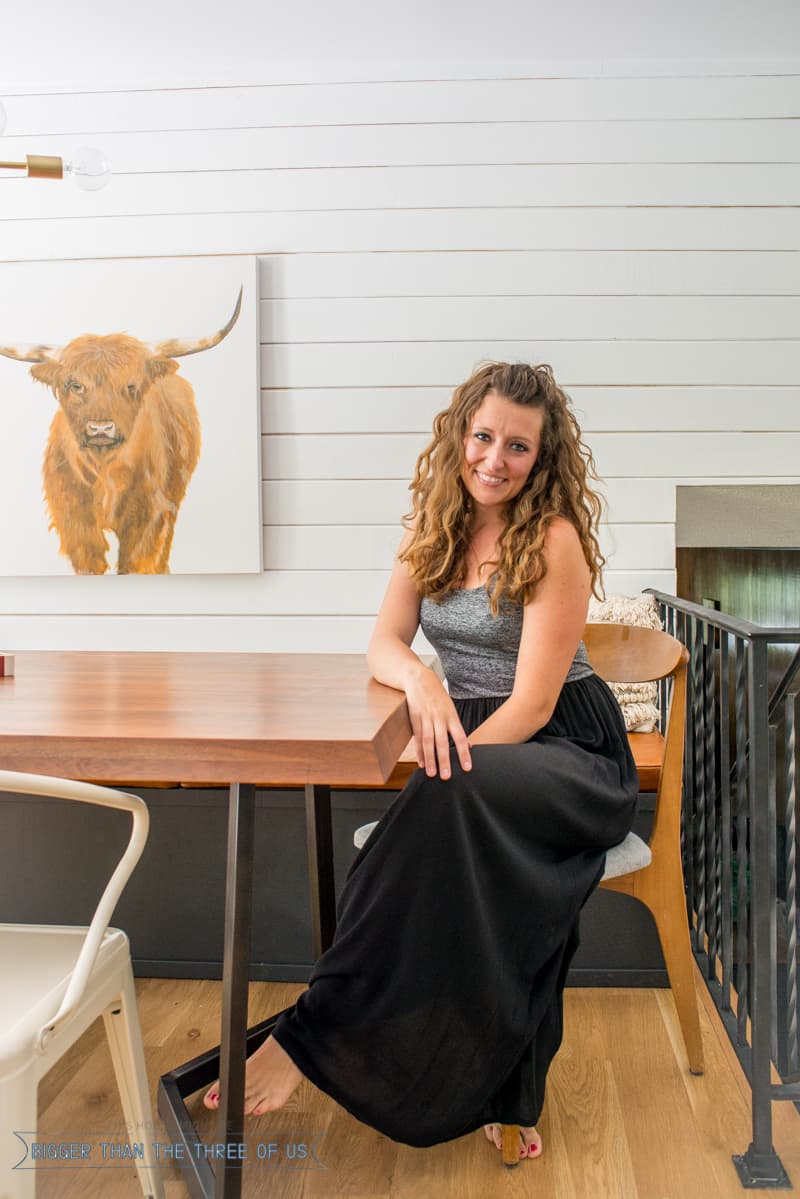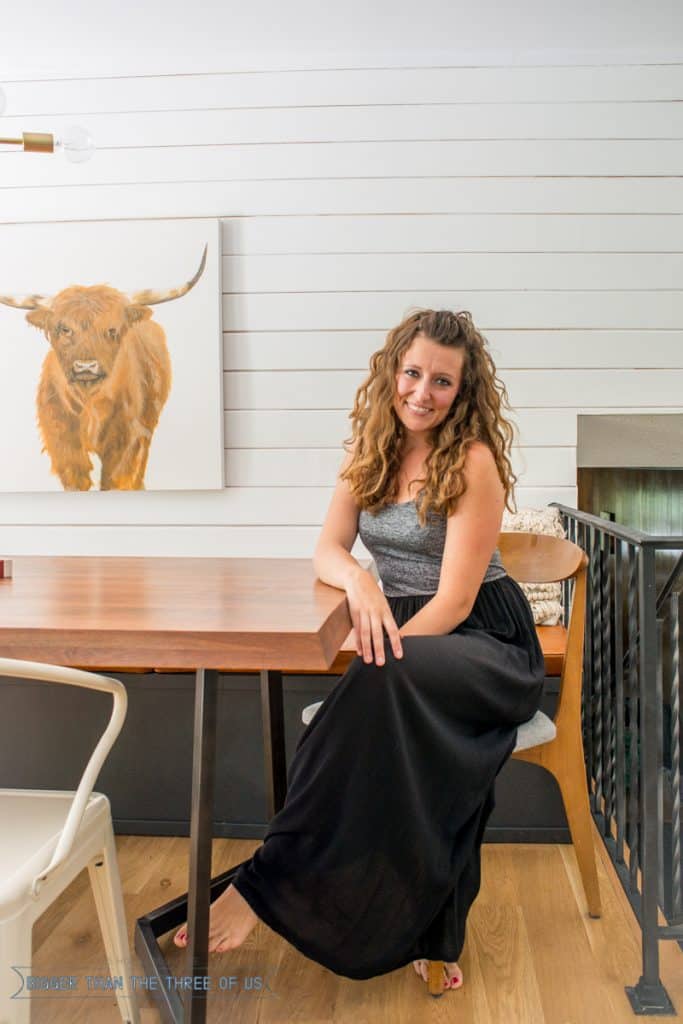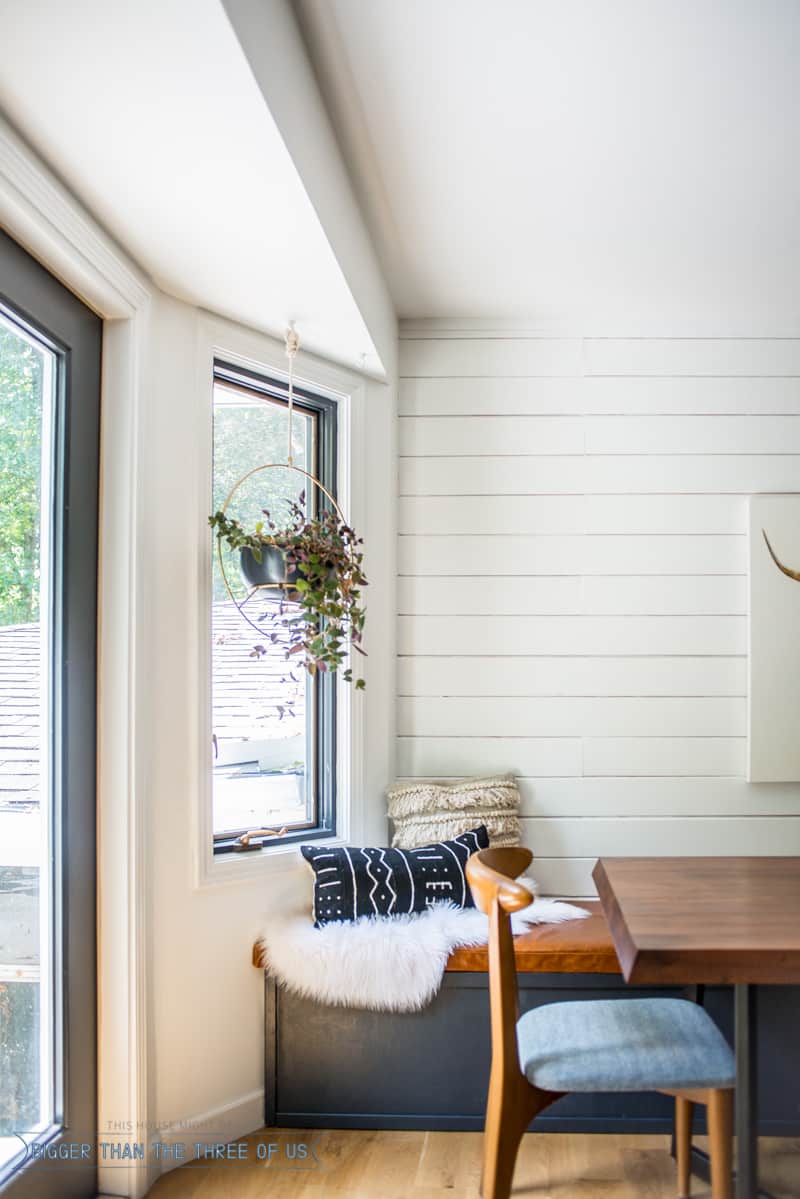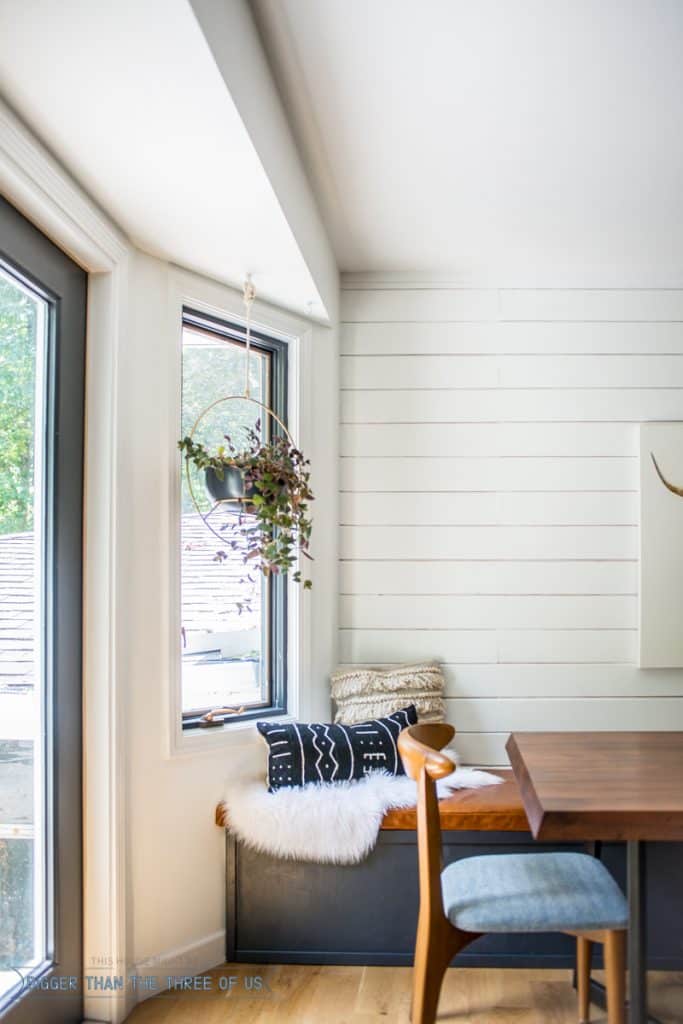 When we revealed the eat-in kitchen a few years back, we upholstered gray fabric to the bench itself. The built-in bench was a DIY and has served us great! But since we upholstered the fabric to the bench, that meant that we couldn't flip the cushion when we had spills. This house HAS to be kid-friendly which means that I should have thought about upholstering fabric on a bench seat that gets used three times per day for meals as well as playing on. Having cushions made would have been much smarter from day one; but live and learn, right?!
Because we've used leather in our home before, we know that's it a hard-working fabric. These cushions will get sat on, jumped on, rolled on, etc. And, actually, you can see from the pictures that they have had all those things done on them today.
I could have smoothed them out for you but let's just appreciate the realness. =)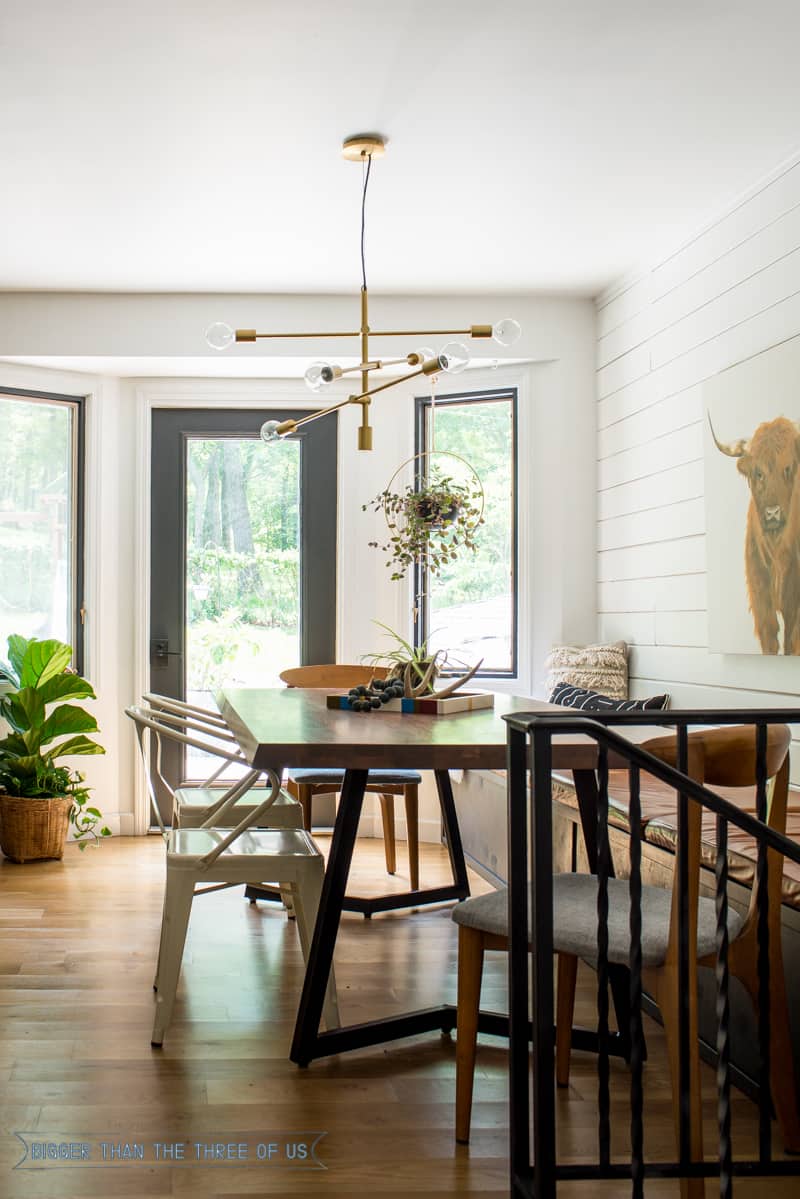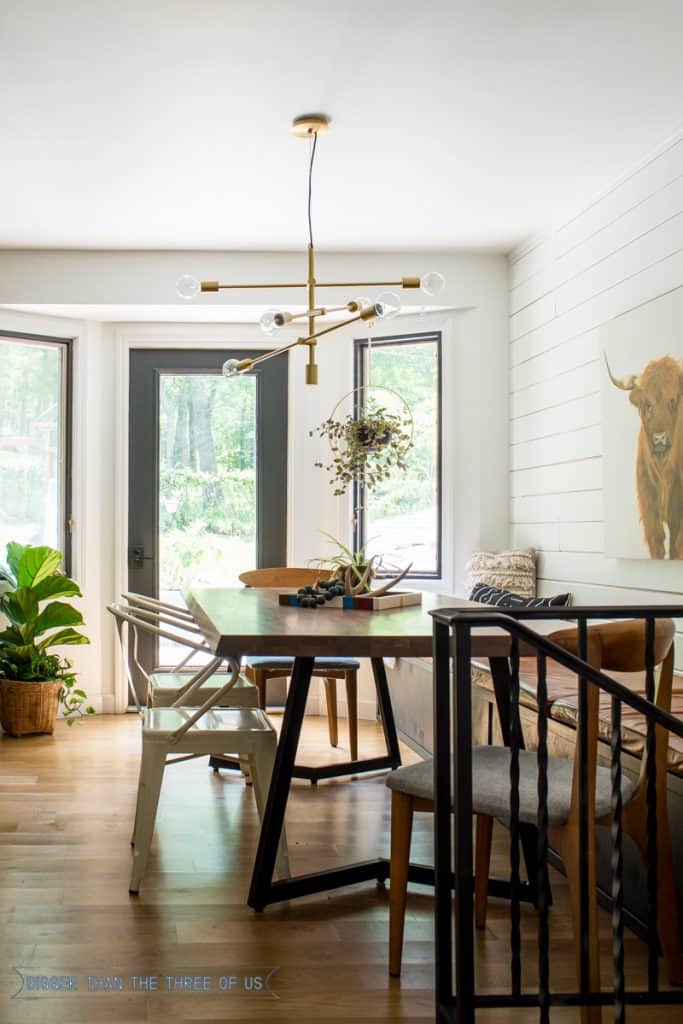 I knew I wanted to cut the cushion twice lengthwise so that I ended up with three evenly spaced leather cushions. I figured this would be the best option for spills and keeping the cushion looking the best. I decided to take the leather into a local shop in town to have them sew the cushions. I've worked with leather before (our modern seat cushions, leather plant bag, etc.) and knew I could do it but I wanted it done well.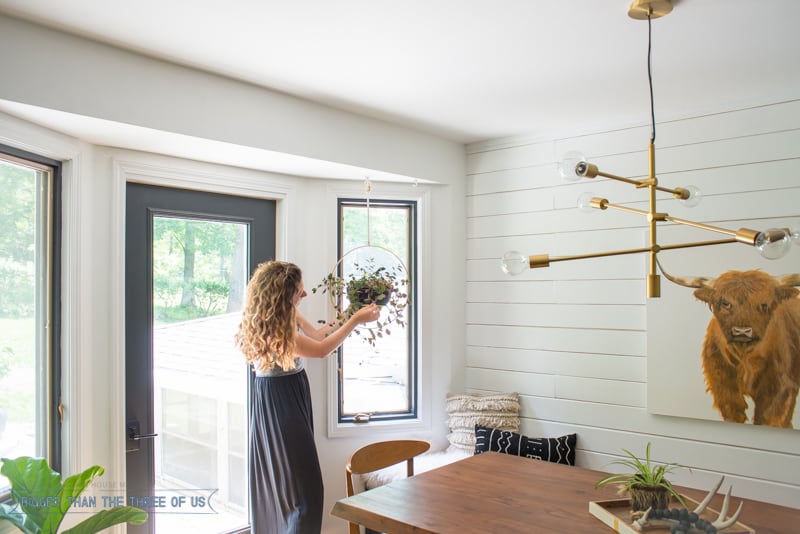 To be quite honest, the experience with the store that I used was not a good one. Customer service was extremely poor and it ended up taking almost three weeks of hounding (past when I was set to pick up the cushions) to finally get them. So, I wish I could offer all you local peeps a recommendation for this type of thing, but I don't have one for you. All in all the craftsmanship is great, which I'm thrilled about.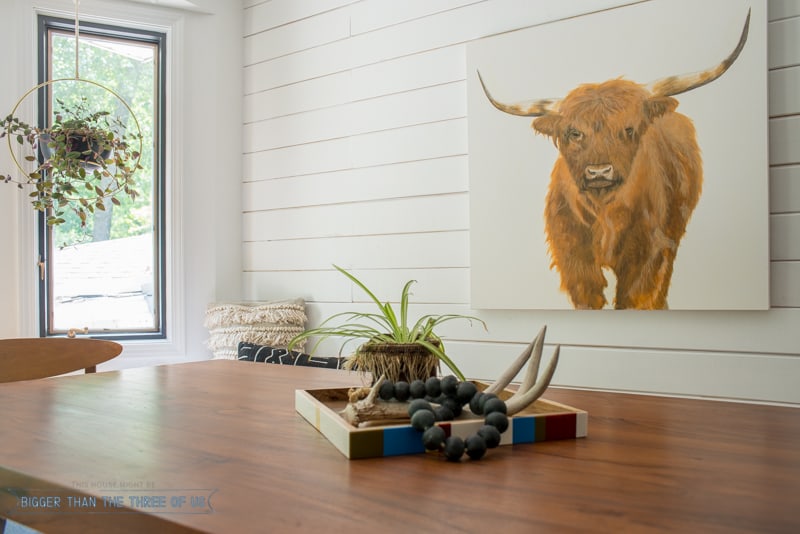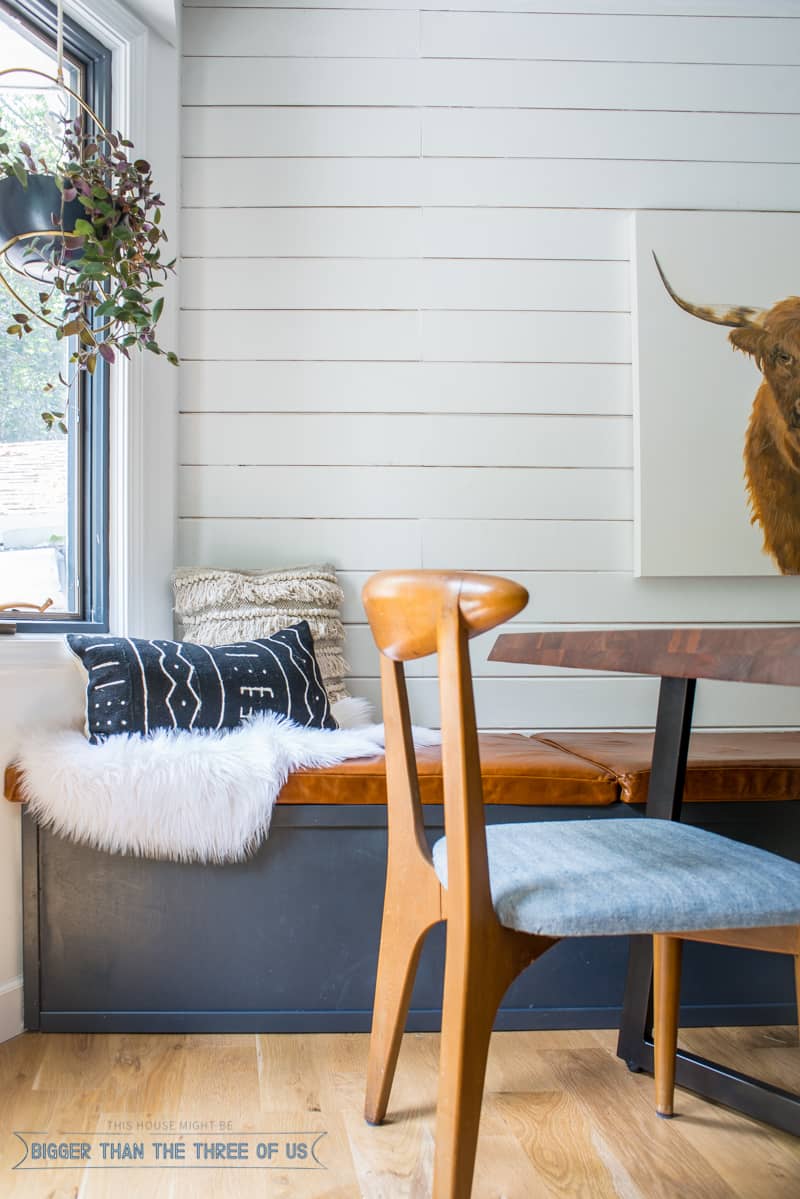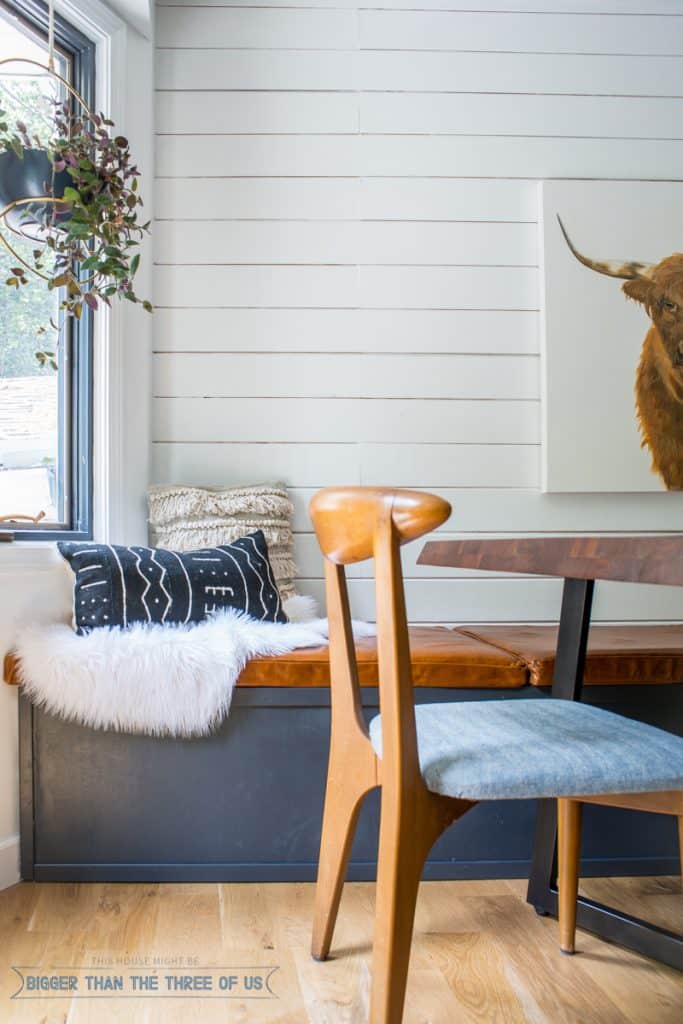 Luke and I trimmed out the bench seat with 1" trim pieces. Why hadn't we done this before? Who knows? But it looks so much more finished now. I still need to come back over the insert with a bit of paint (see the scuff marks?) but progress is progress!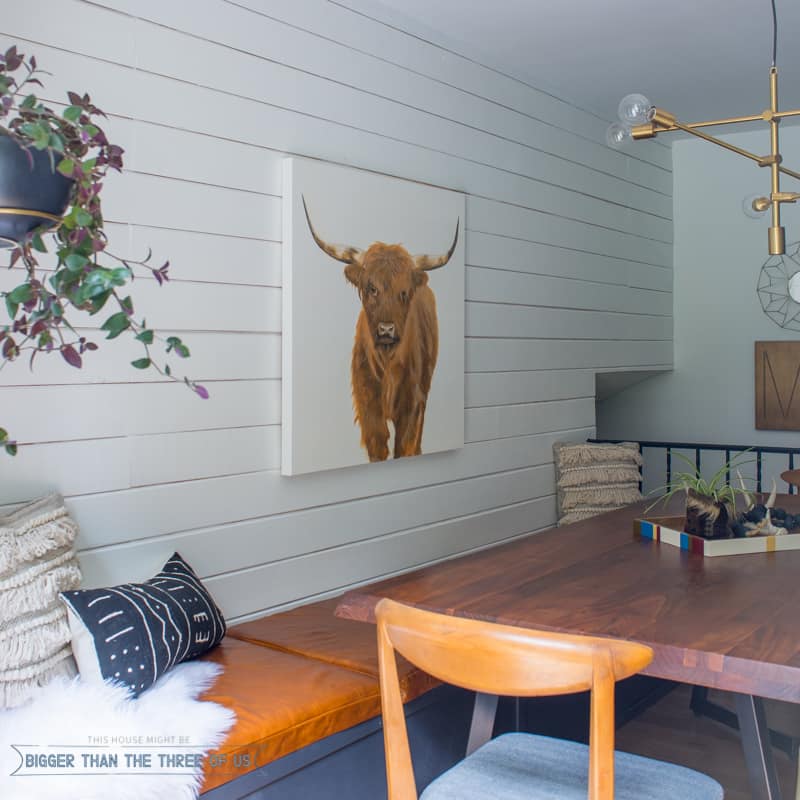 Two months ago, I got the dining room table on an awesome sale. It weighs a freaking ton! Luke and I had the hardest time getting it up the stairs and actually put together. But, now that it's put together... love it.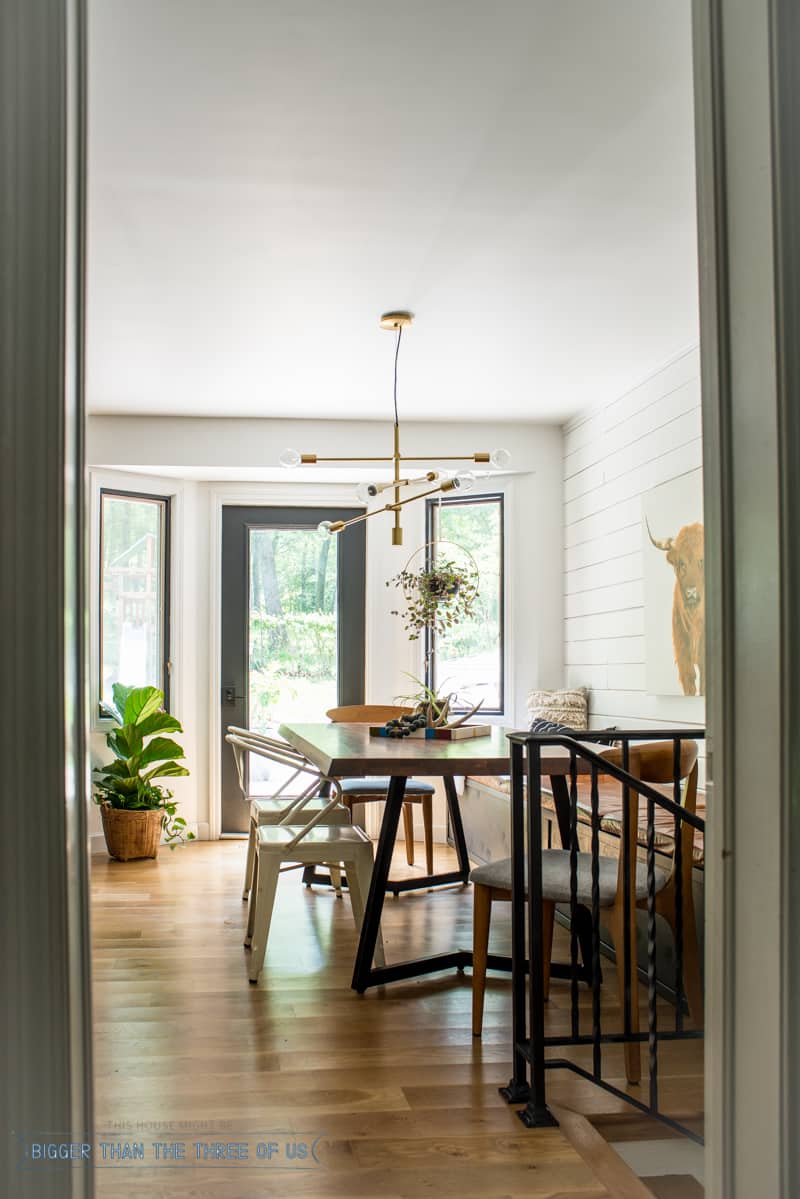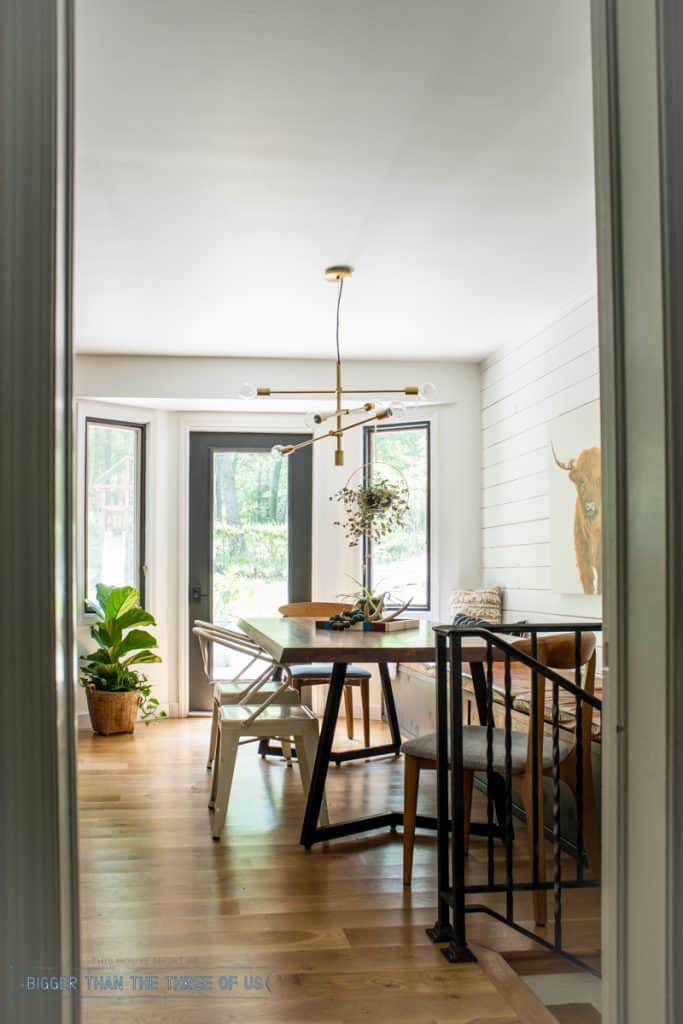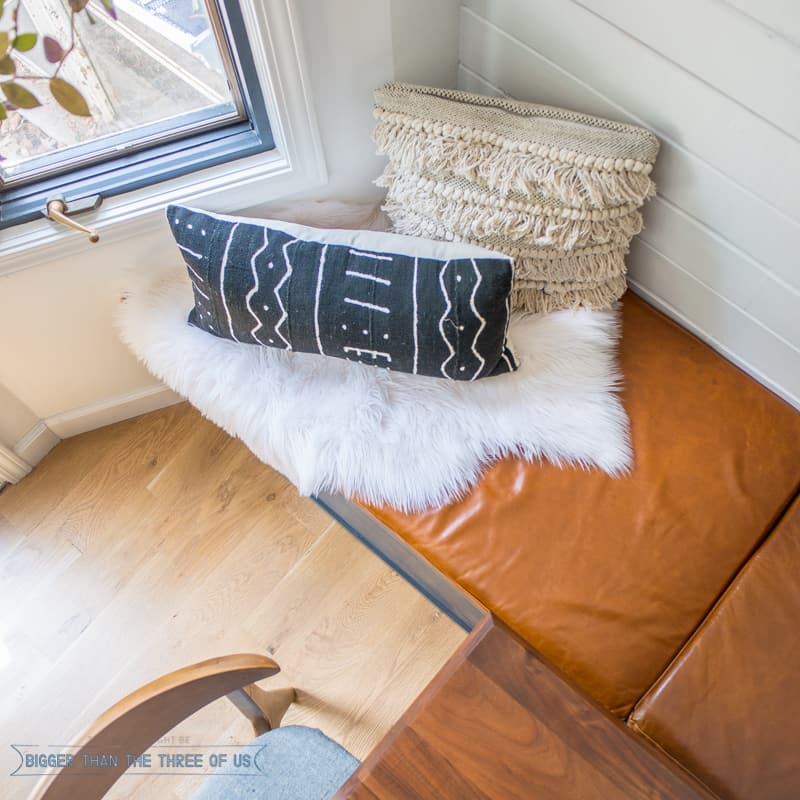 I recovered the seat cushions on the vintage chairs to give them more of a stream-lined look too. I was on the fence between the blue/gray herringbone (which is what I went for) and a cream/white linen blend. I really like the darker cushions right now but who knows what I'll like in 6 months!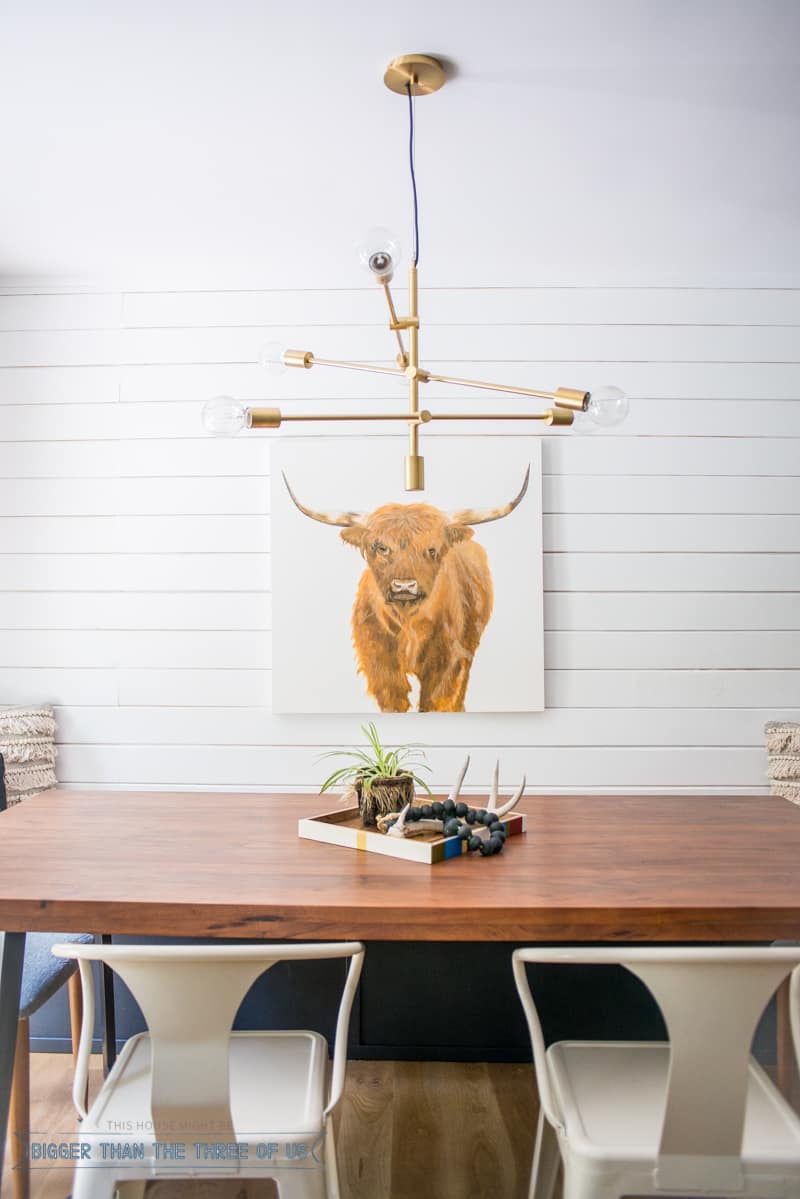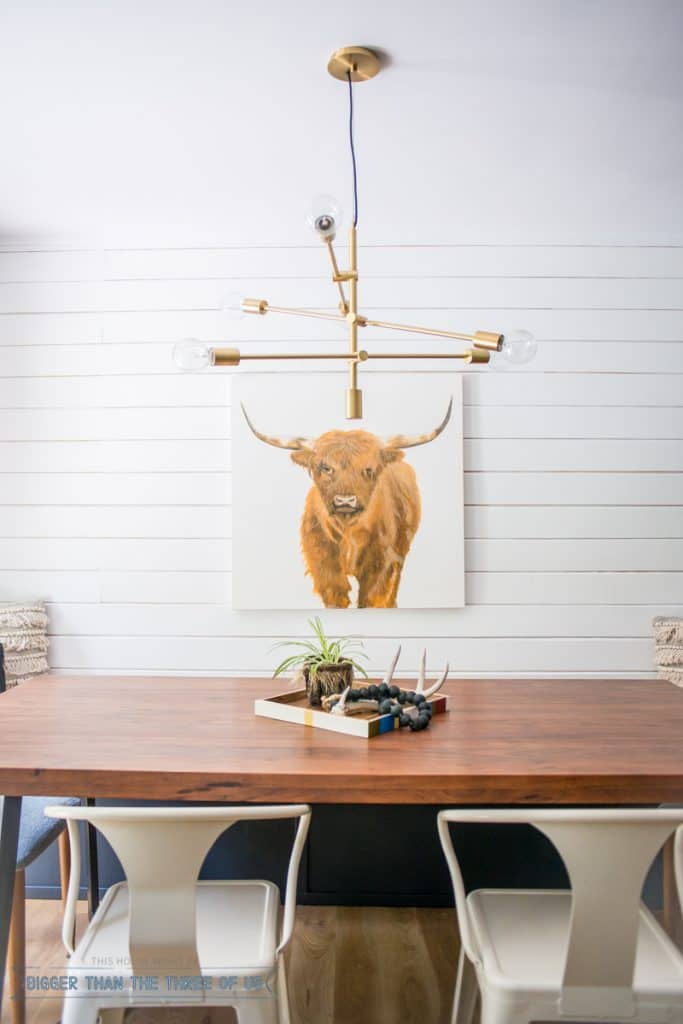 So, what do you think?
Shop The Look
*Affiliate links below. Thanks for supporting this blog! Click to read my disclosure policy.
Table | Leather | Highland Cow Art | DIY Rug Plant Bag