Today is reveal day for the Eclectic Playroom Office Refresh. A special thanks to Stephanie at Casa Watkins Living for organizing this refresh and cheering all of us on throughout it. If I'm completely honest, I needed a lot of cheering. Ha. The space I'm working with proved to be harder than I expected to refresh. But, enough of that, let's look at where we started and then I'll show you where I ended up at!
Advert your eyes if you were appalled at our "BEFORE" pictures the first time I showed them.
BEFORE: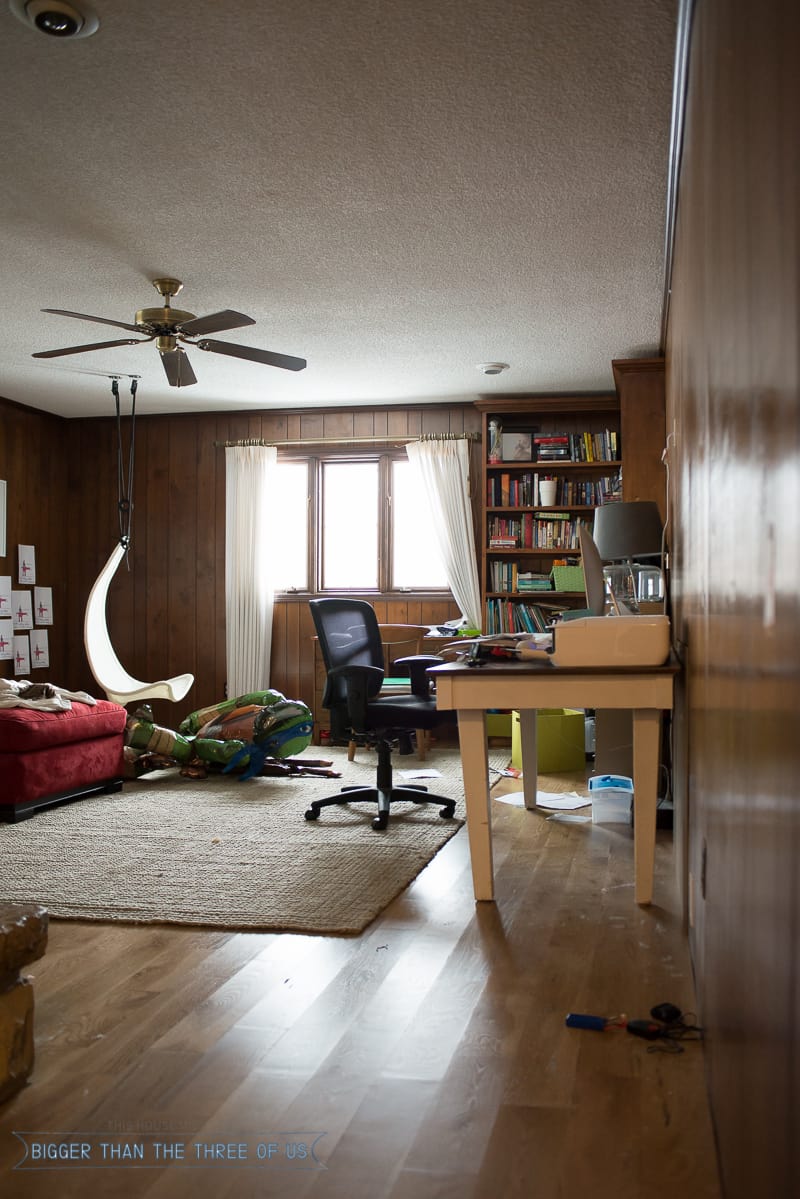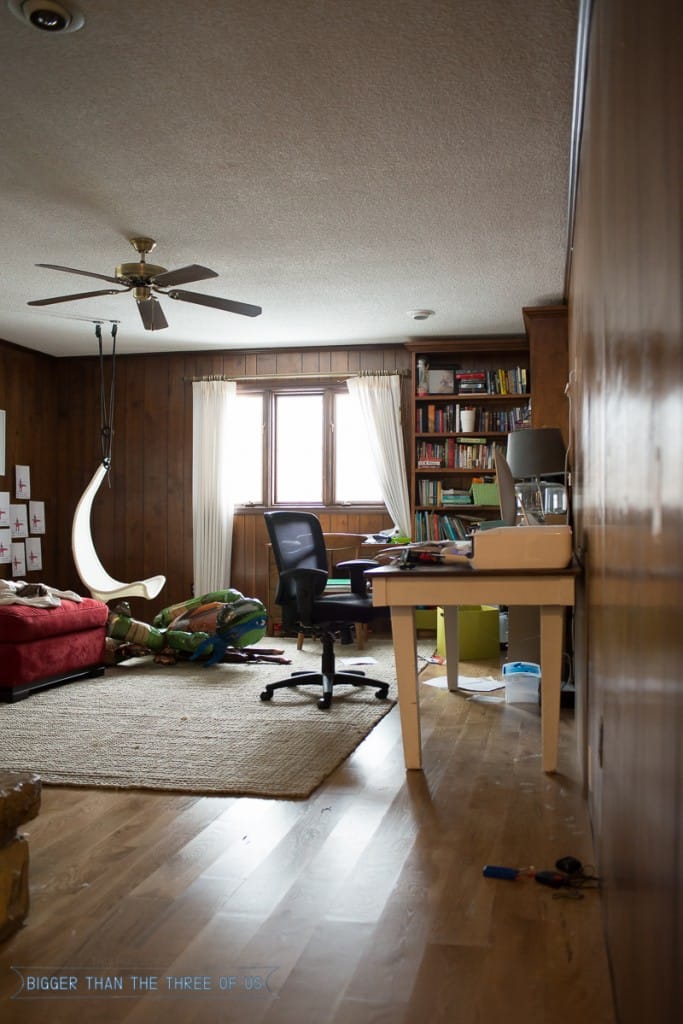 After: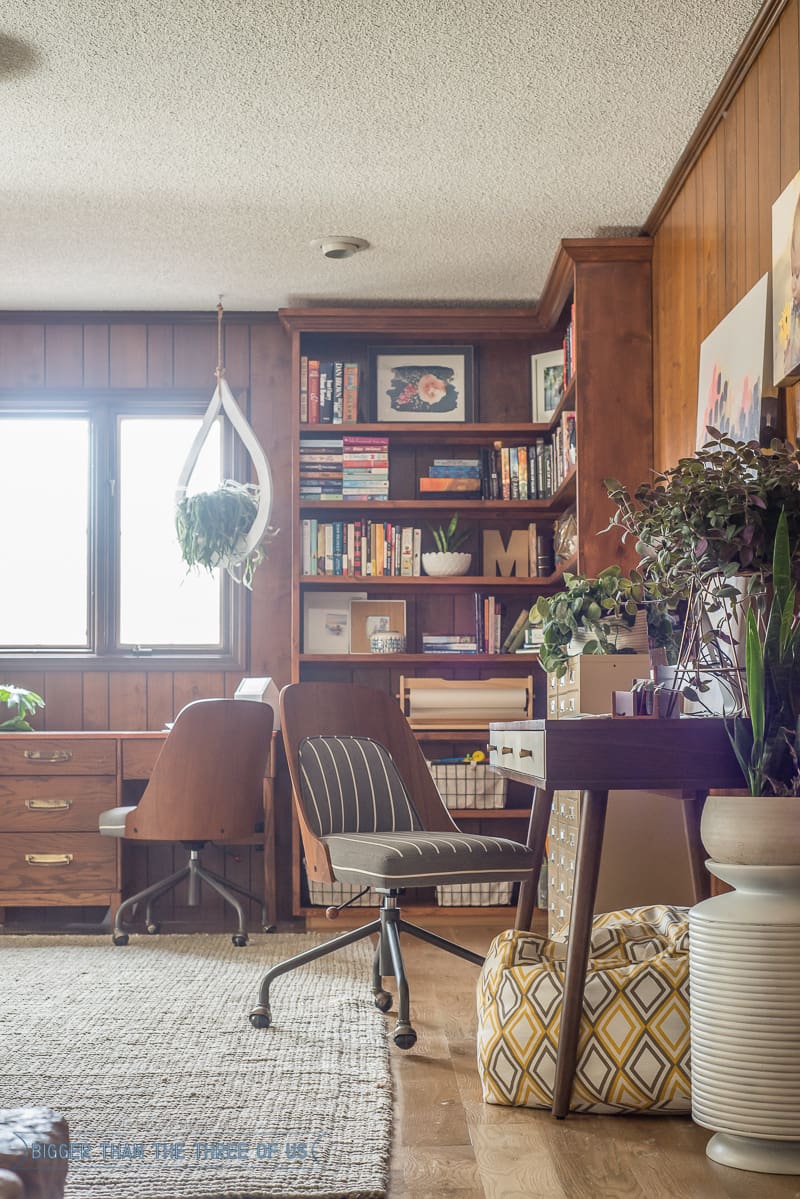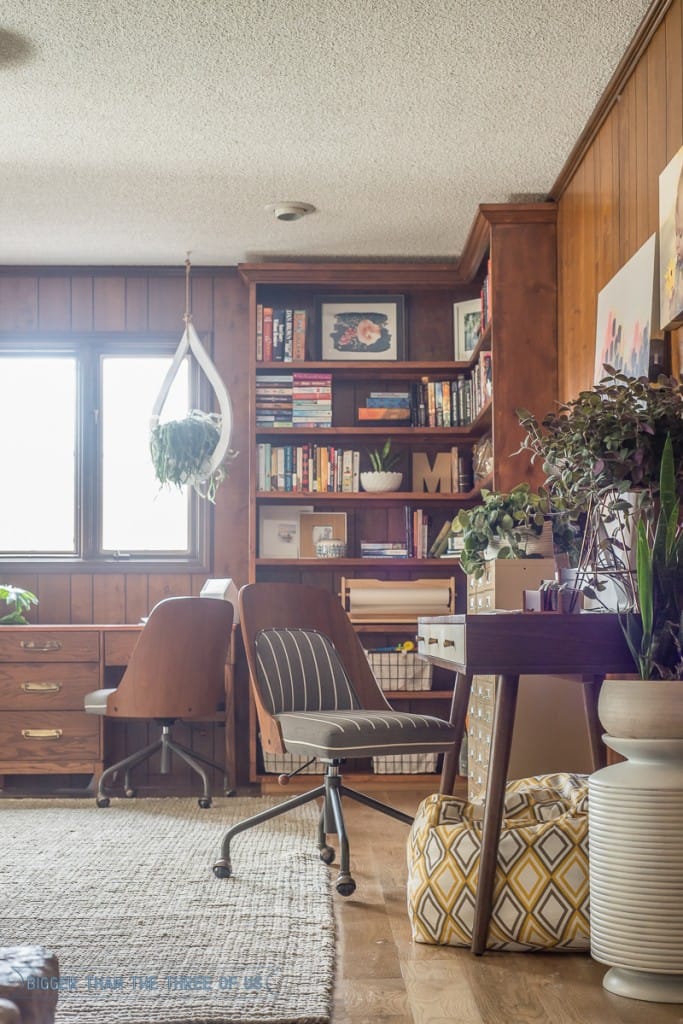 Before: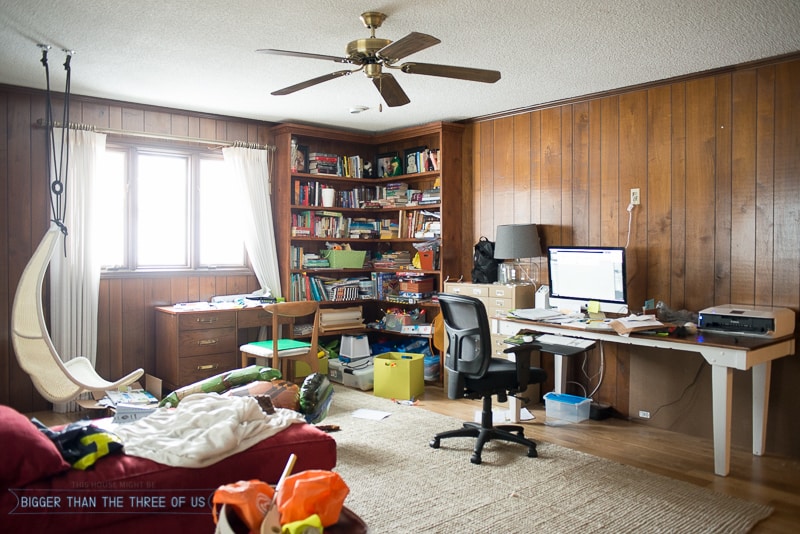 Before:
After: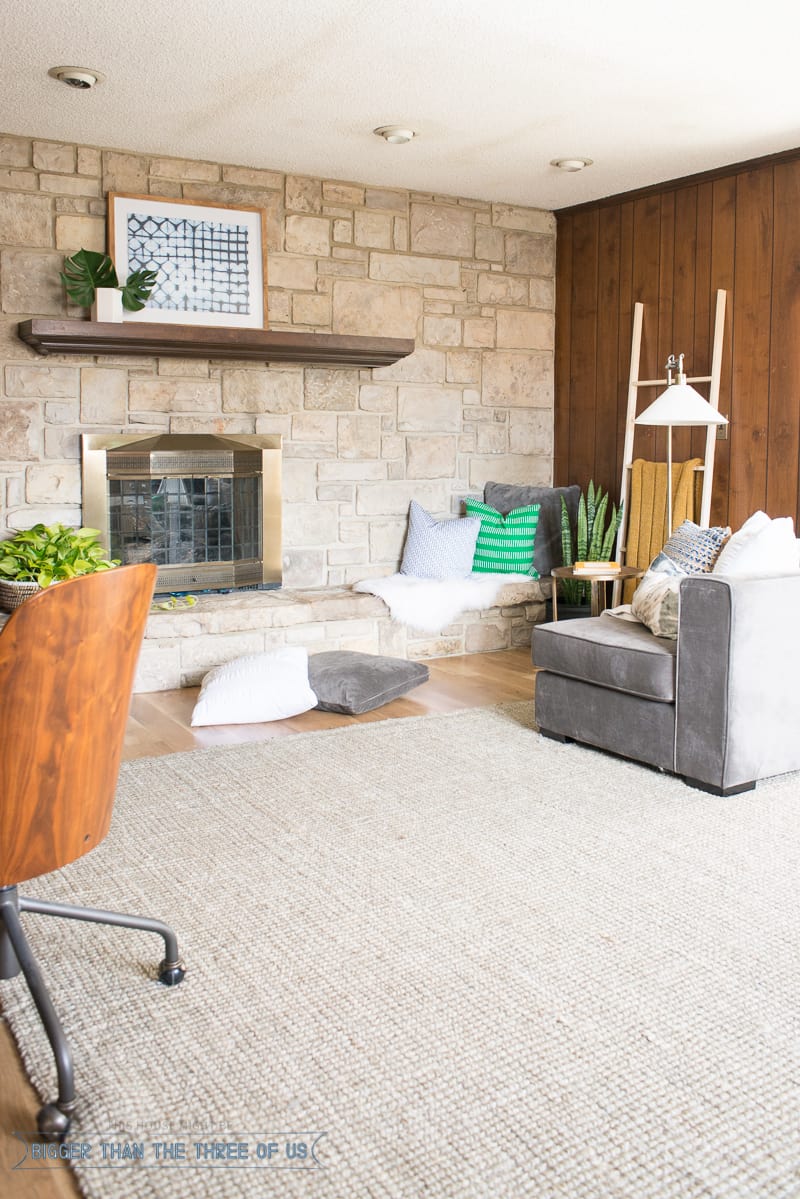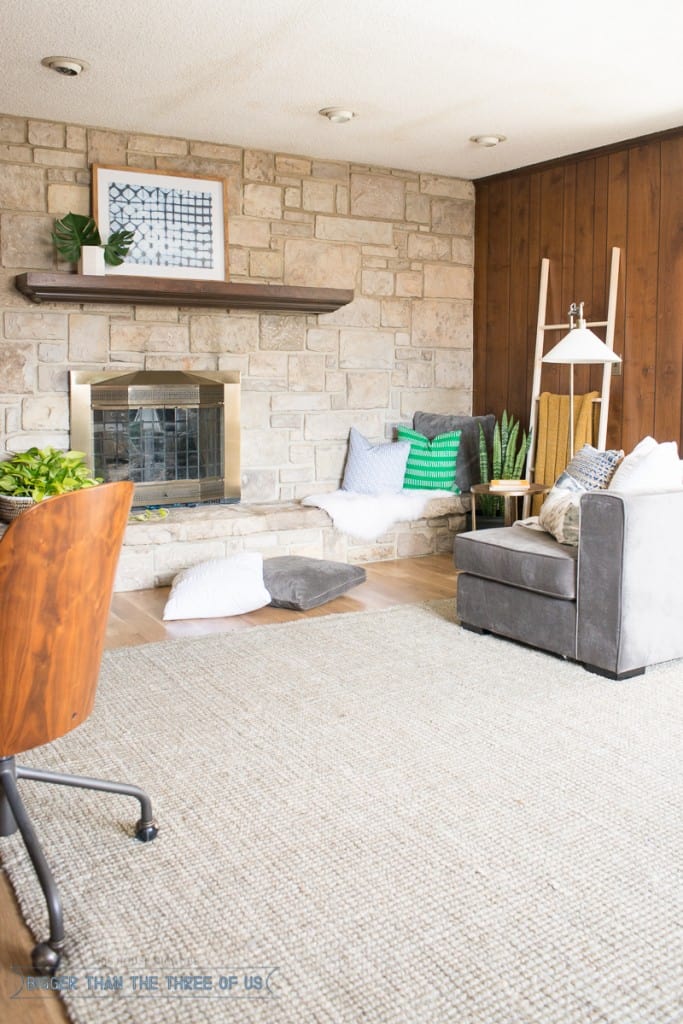 Is it a major difference?
I'd say a bit of yes and no.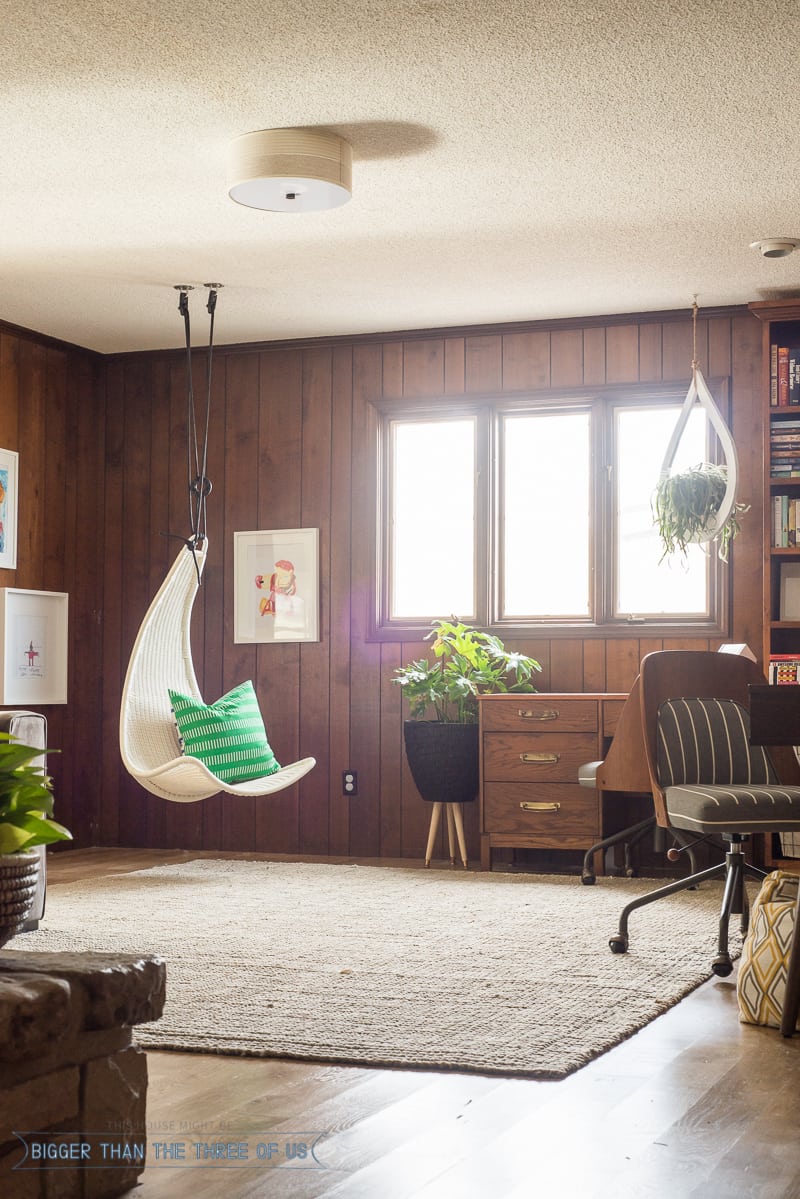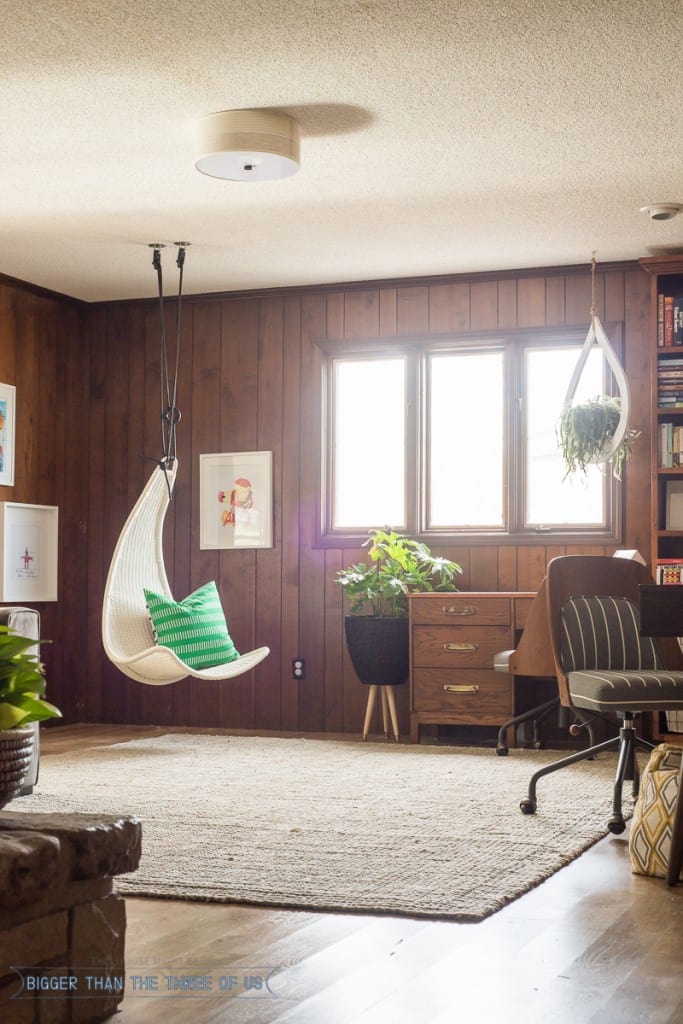 There's a lot of new things, a lot of purging that went on and a lot of just reorganizing.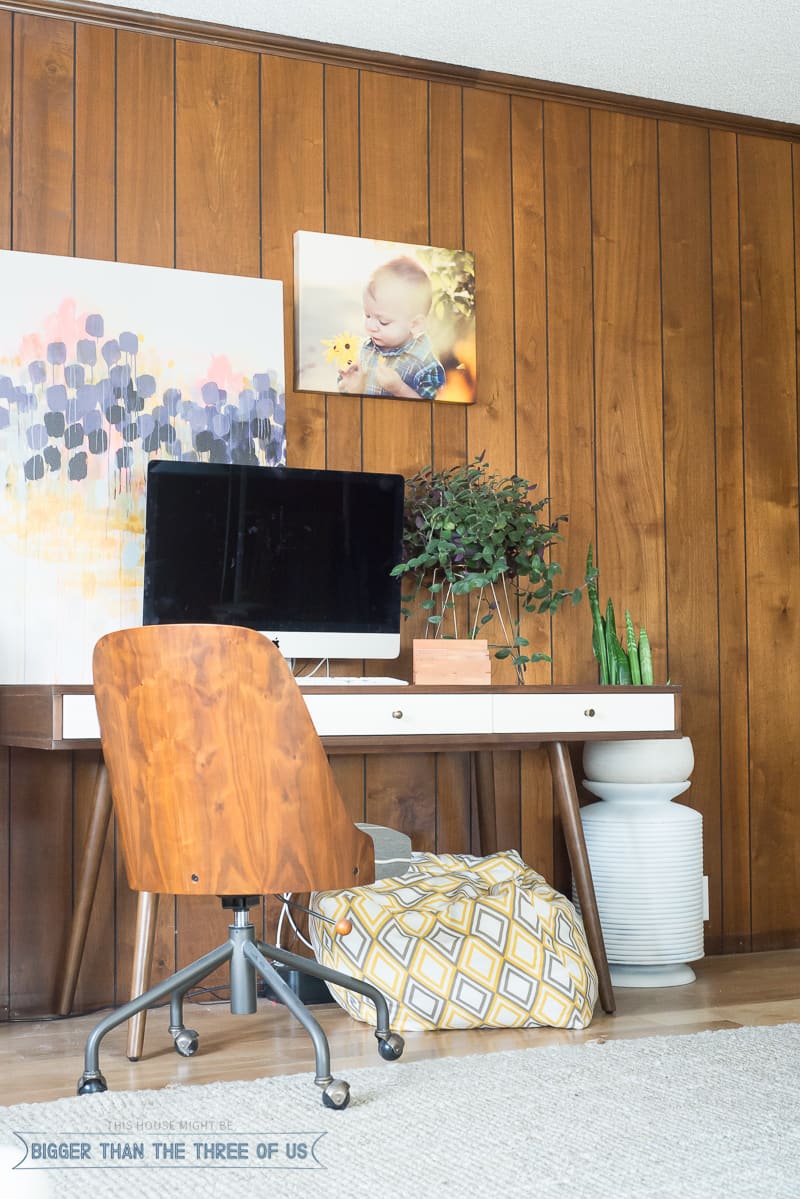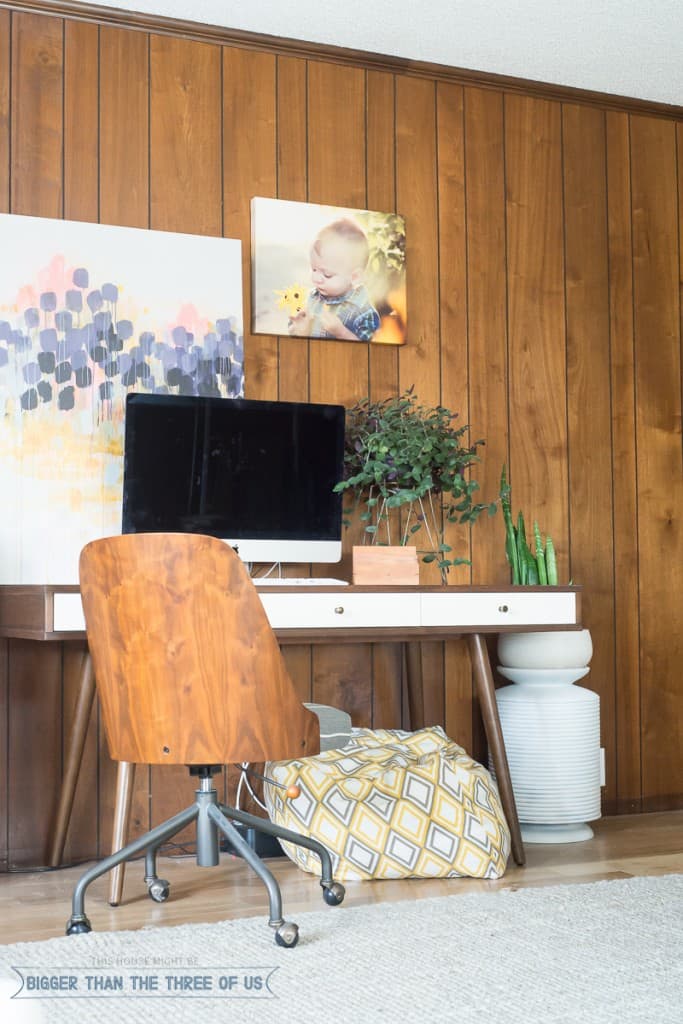 If I'm completely honest, I didn't buy a single thing for this refresh. World Market graciously gifted the mid-century desk. It totally fits my style and allowed me to actually have a desk. Before, I was just using an old table. It's so incredibly awesome to have drawers to hide my crap in.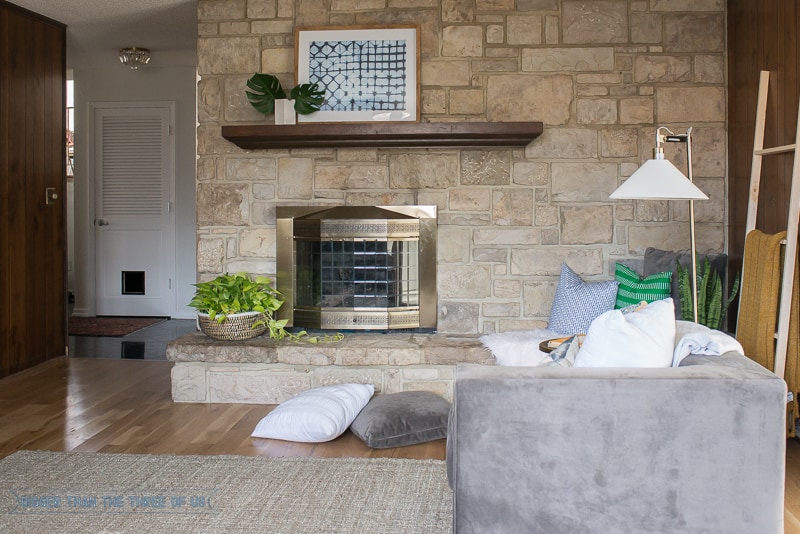 Lamps Plus contributed the amazing light by the chair. I actually had planned on doing this refresh for the living room and ordered the lamp for that room. But, as more and more things fell into place, I realized that our playroom/office was so lacking that I wanted to focus my efforts in that room.
The rest of the decor was taken from here or there (or found in one of my storage areas - which btw, I need to purge!).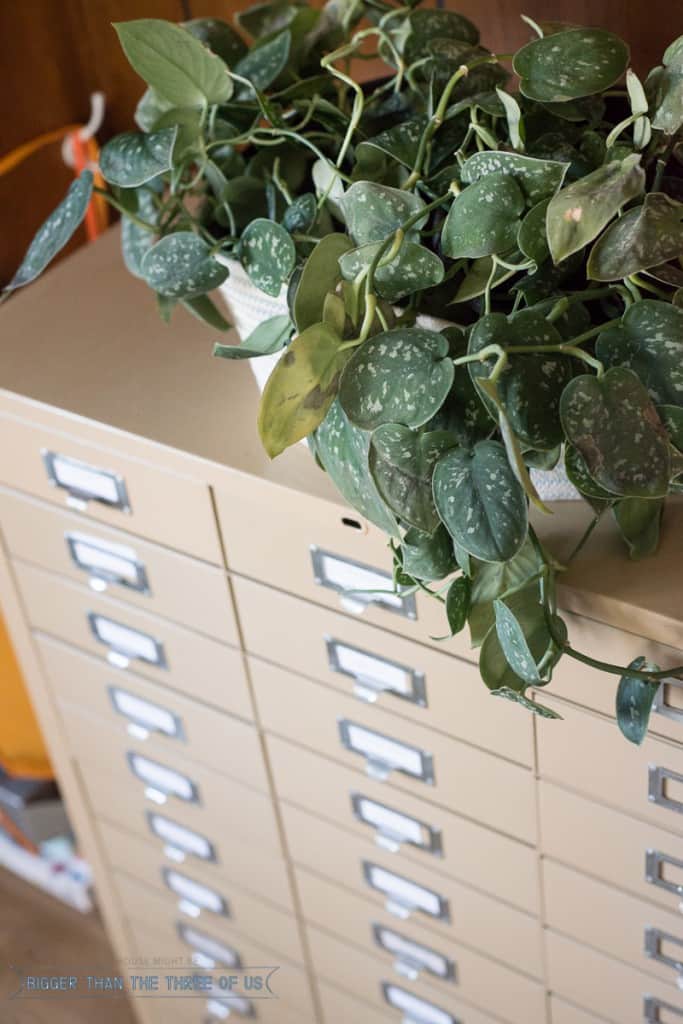 Everything has a purpose, believe it or not. Baskets on the bookshelf hold "spy gear" and dart guns. The manila organizer cabinet holds tons of art supplies and has been such a great thing for us.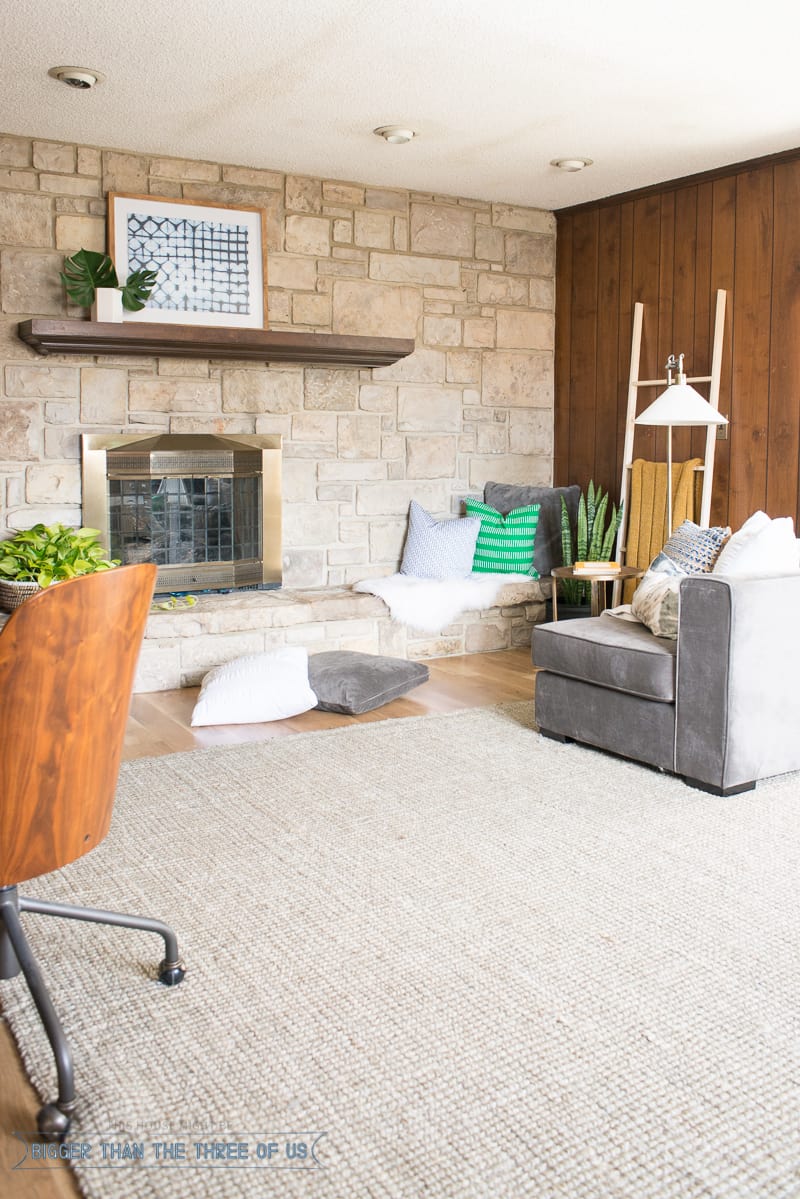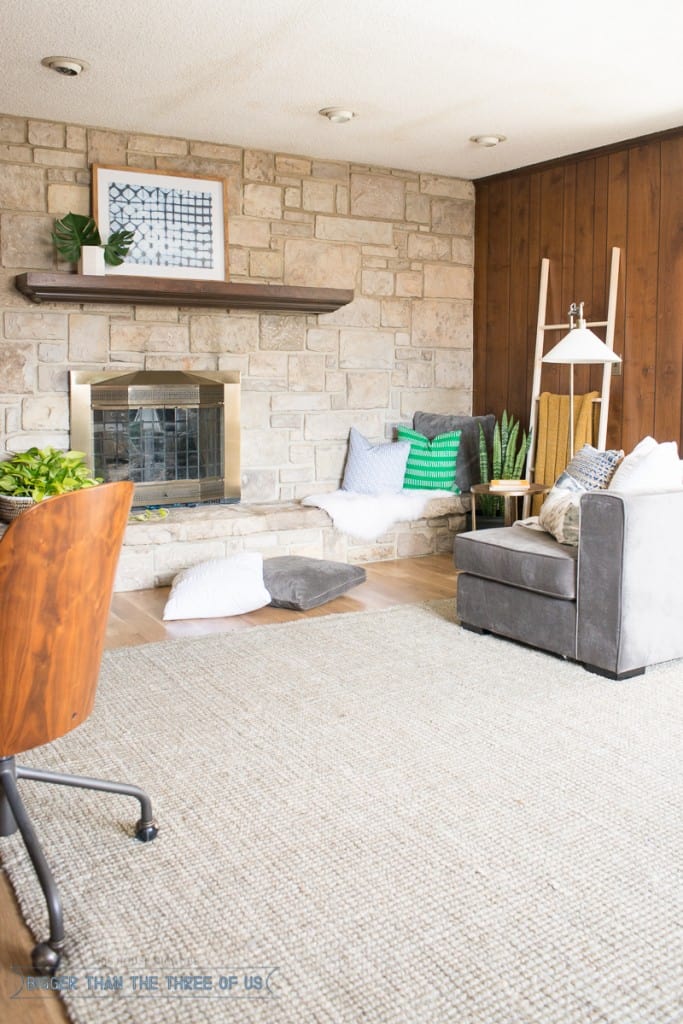 Although the conversation area by the fireplace only has one chair (that's the only extra seating that we had available), it's been great. Greyson and his friend have made forts out of this area and "spy zones" and just have had fun. The pillows and blankets are constantly on the floor (which is fine). Yet, when not in use, it feels a bit more refined than what we had before.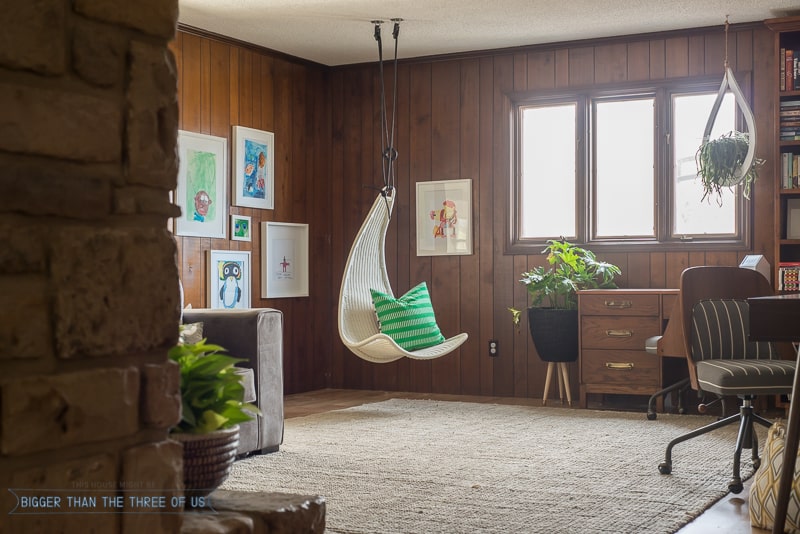 The swing has been a favorite for sometime. If you have kiddos that are young, this is such an easy thing to add and adds just tons of fun. It ALWAYS gets played on, relaxed on or just sat on.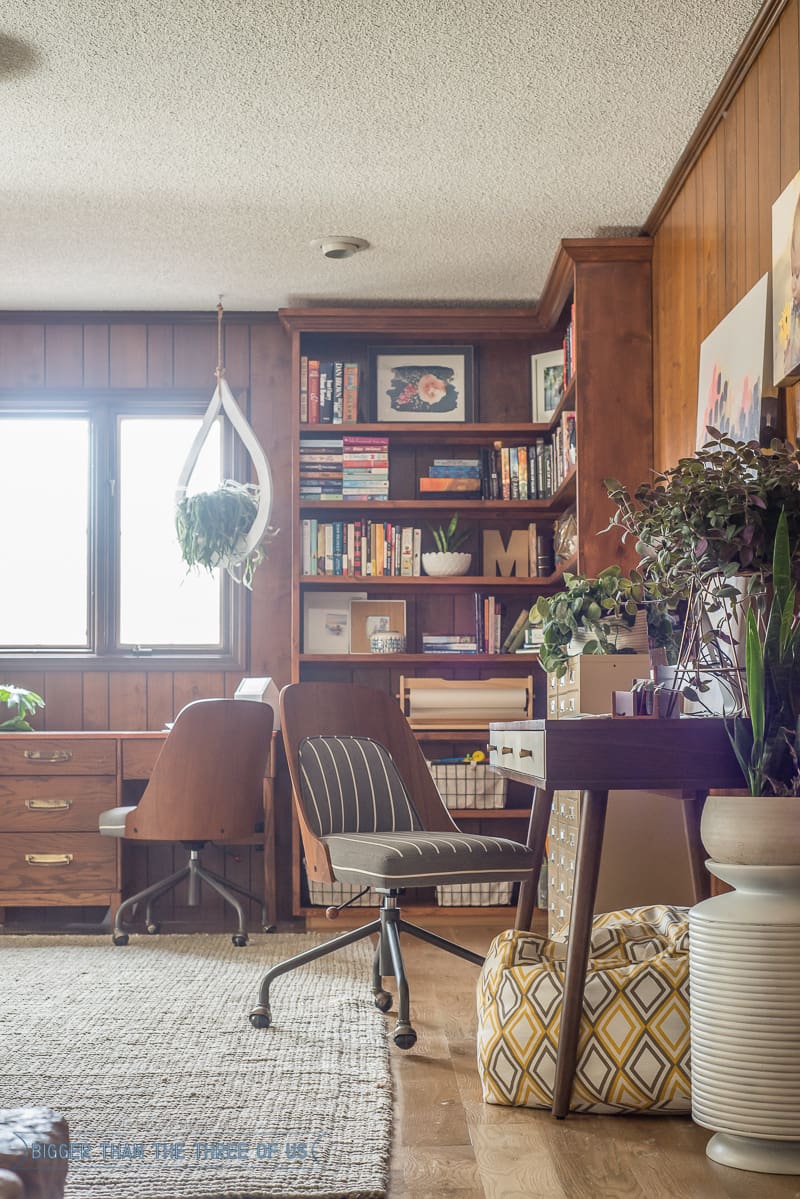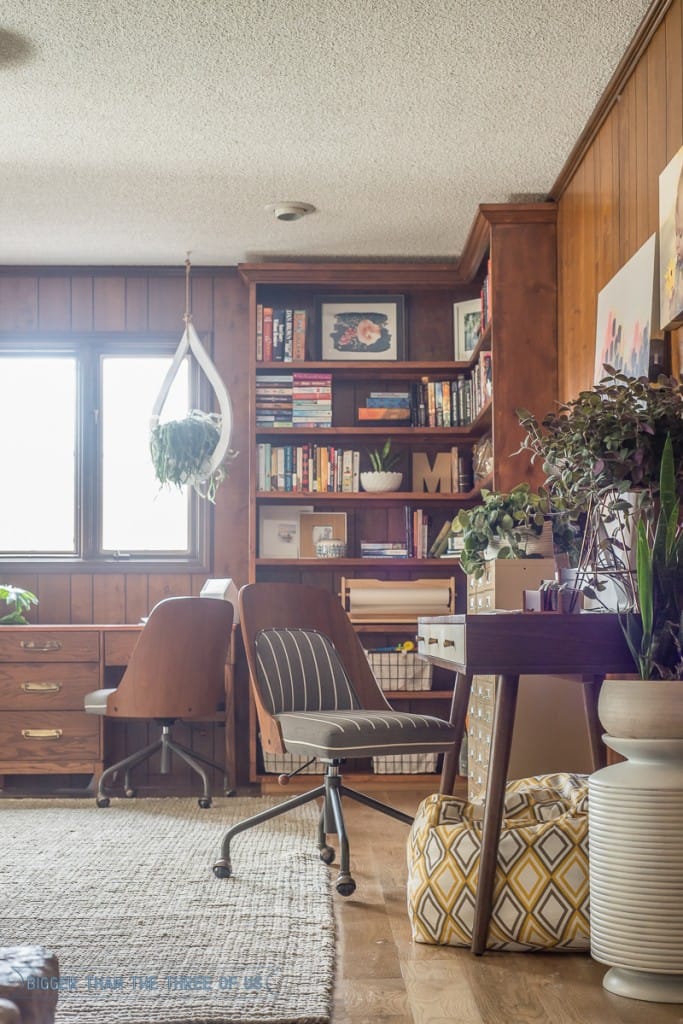 We made another DIY Mid-century Plant Hanger and that adds a bit of visual interest above the little man's desk.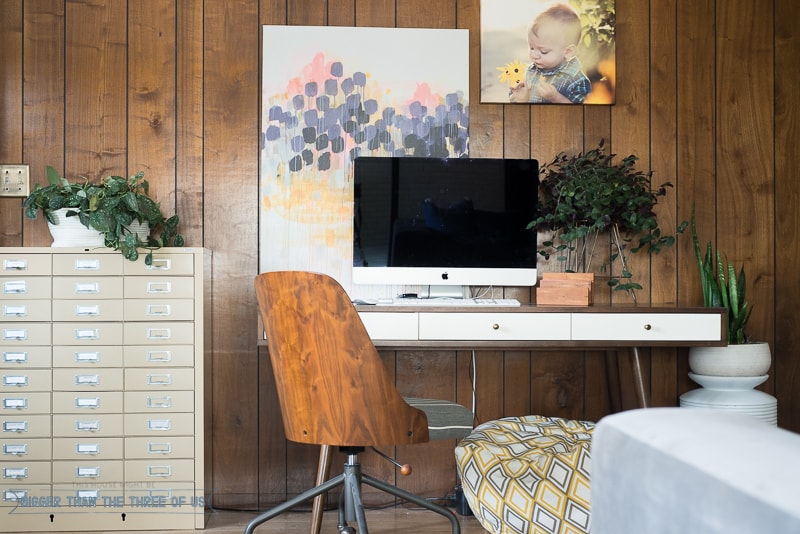 The art is just art that we've had; as are all the planters, poofs, blankets and pillows.
Overall, if I'm honest, they wouldn't be my choice. But, they work and - oh my goodness - the space is SO MUCH BETTER than before.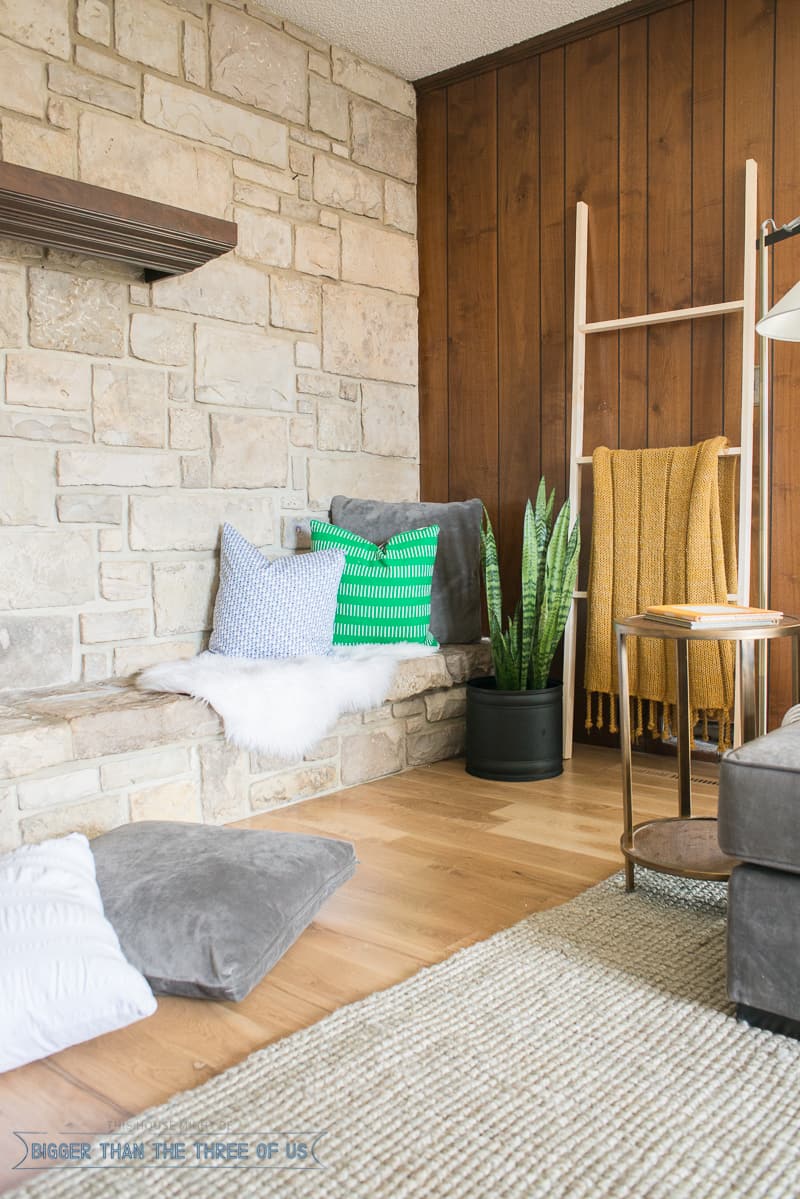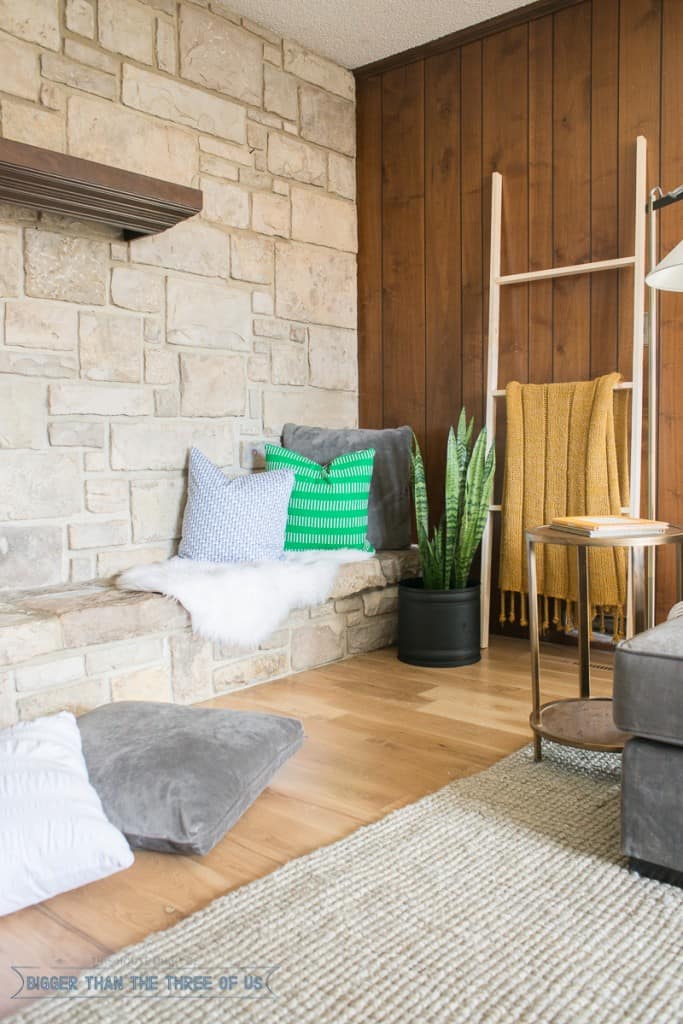 The ladder is a simple DIY that I put together in 3 minutes. I'll probably share a ladder round-up in a few weeks. There are so many awesome tutorials for ladders out there!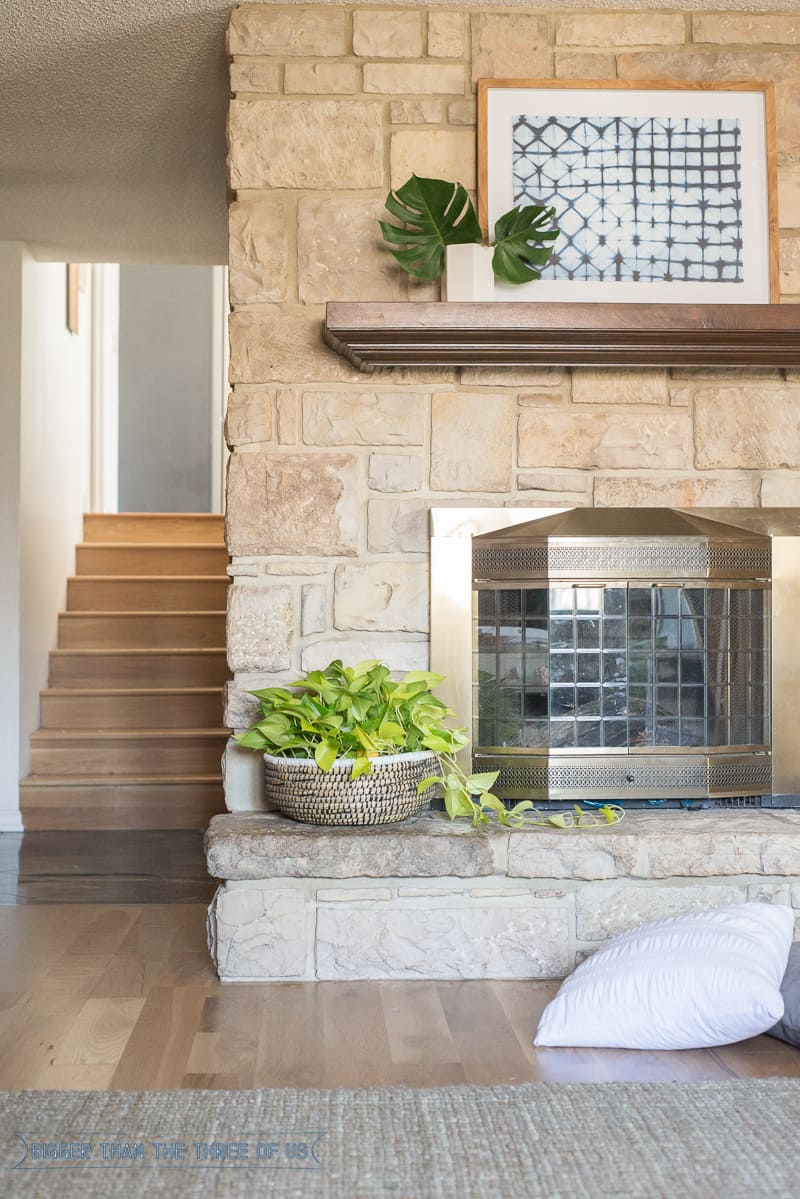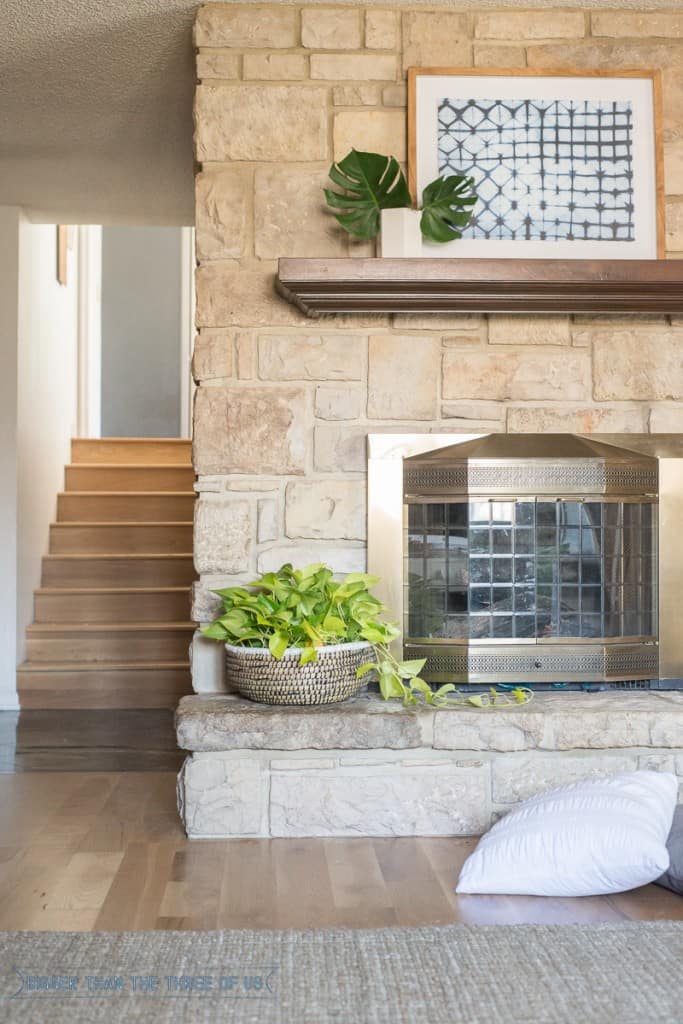 I got such good advice throughout this project. Great advice for how to brighten the space with painting the paneling, the fireplace, replacing the fireplace insert, etc. Some of the ideas, I totally loved and may eventually implement.
So, if you've heard it once and tried it then you know that it's true... PAINT is a miracle worker. I think my biggest takeaway with my current space is that it needs paint and I knew that but I'm still just not quite ready to pull the trigger. I think the space has some evolving to do as we grow as a family (not like grow with numbers - just wanted to clear that up). As Greyson has gotten older, this space has turned from the room that housed all the trains, cars, play tents, etc. It's become a great place for art, for building pretend things, for getting a few dress-up items out, and chatting with friends. It's evolved as we've evolved and I think it's just not quite there yet. So, all of that's to say that it's not as inspiring as it could be. It's not as pretty as I'd like it to be. BUT, it's us and it fits US at this moment. I think that's always an important thing to remember and repeat to myself (when I really want a super cool, built-in library with deep leather couches - lol).
But, seriously, let's look again at this before/after because it's made some major progress:
BEFORE:
AFTER: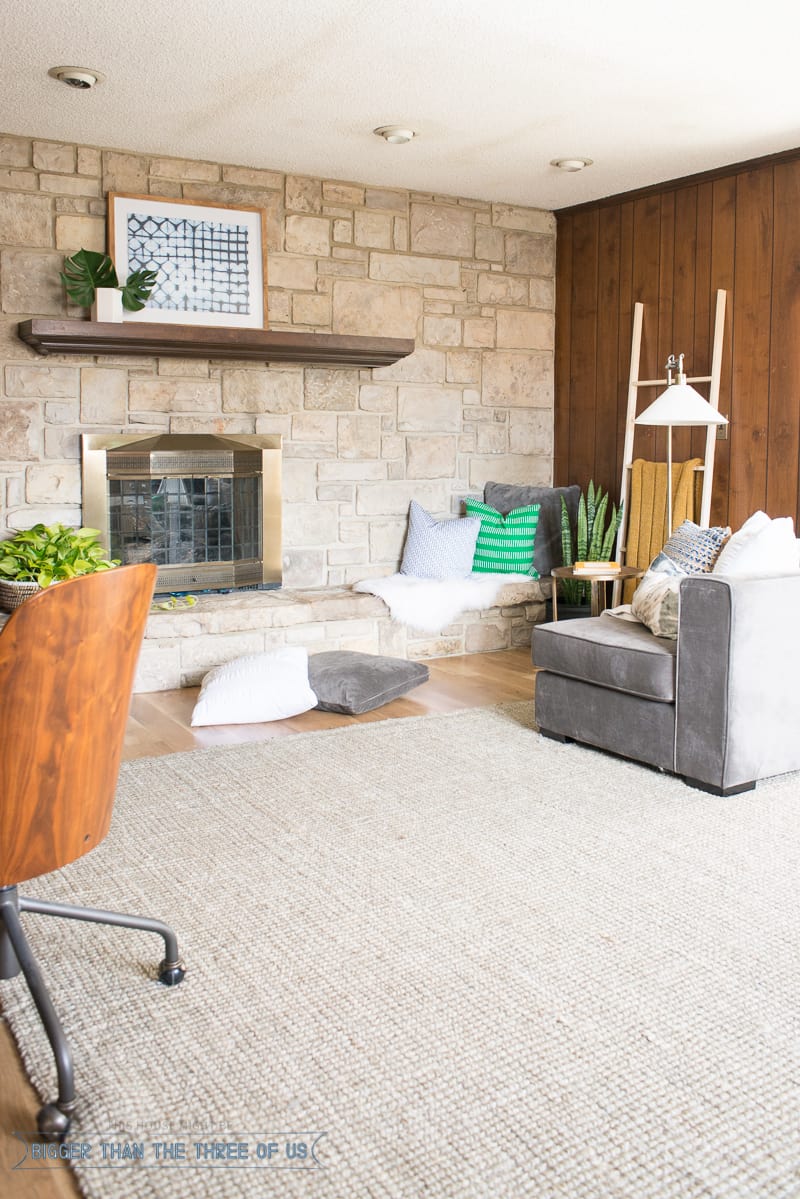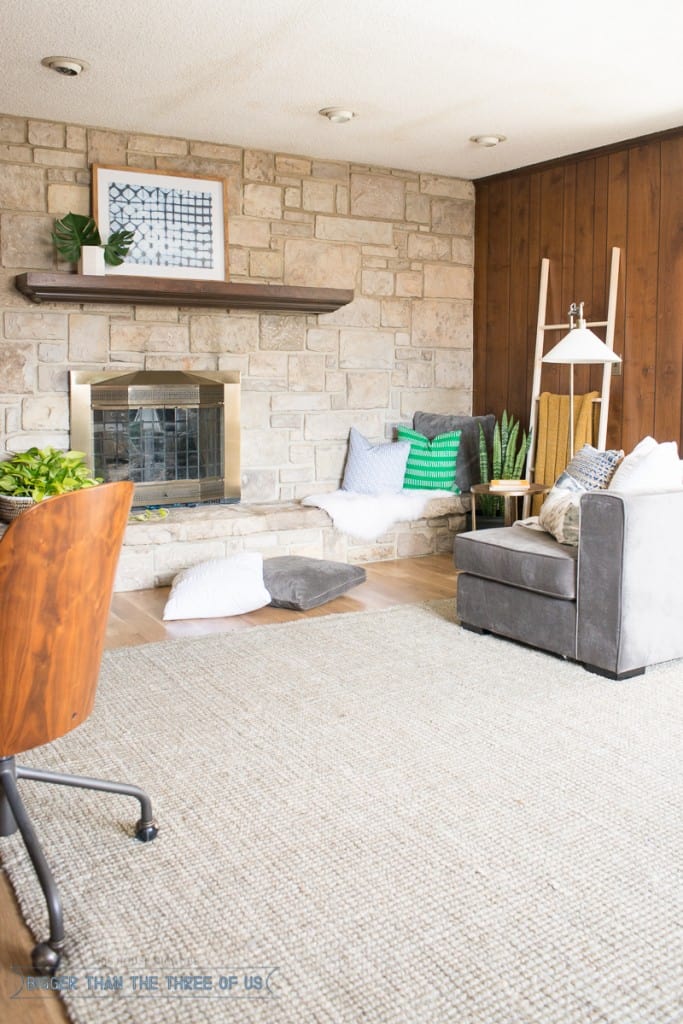 Affiliate links below. Thanks for supporting this blog. Click to read my disclosure policy.

Make sure to hop around and see all the other amazing transformations.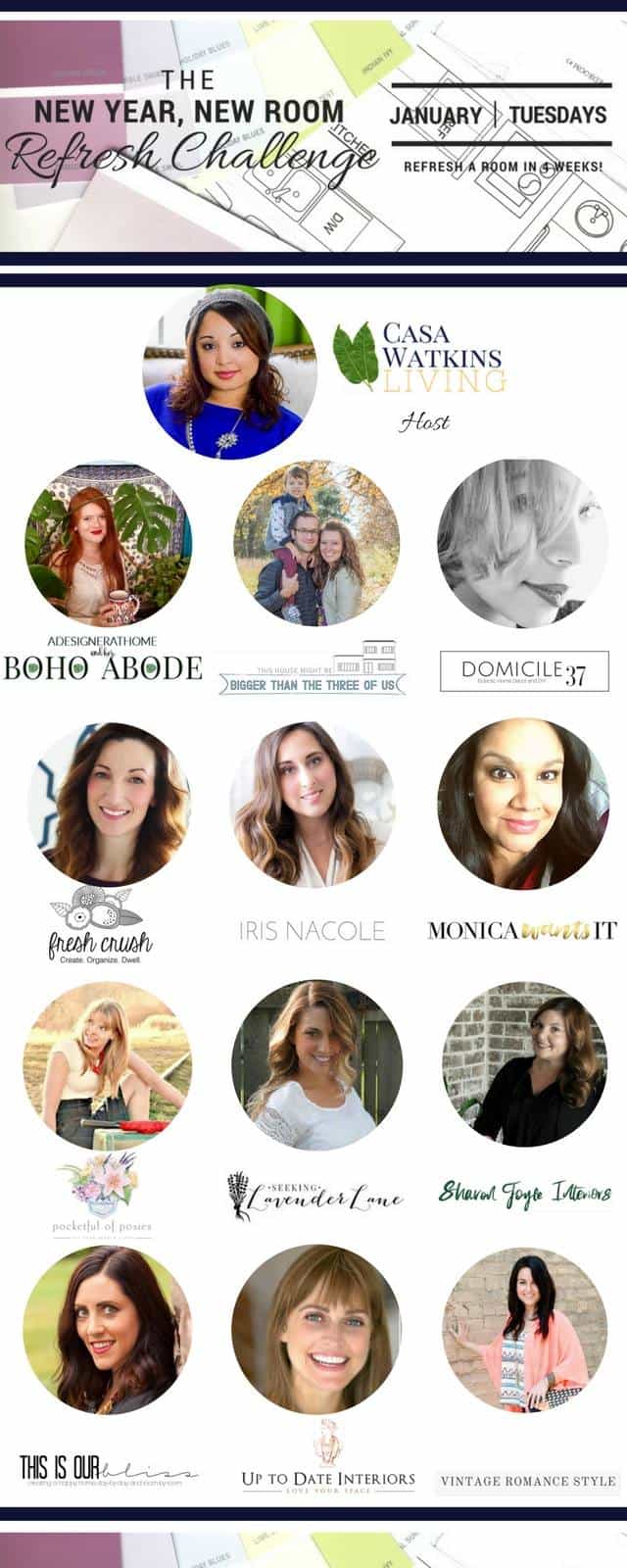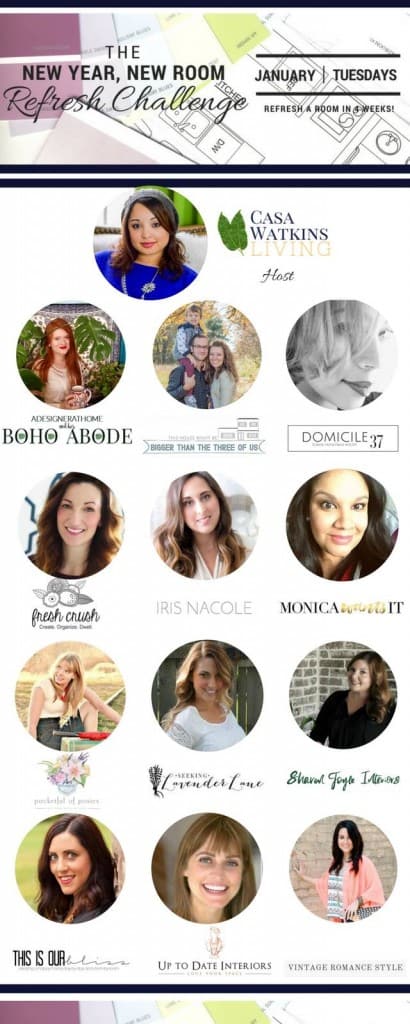 Casa Watkins Living // A Designer At Home // Bigger Than The Three Of Us // Domicile 37 // Fresh Crush // Iris Nacole // Monica Wants It // Pocketful of Posies // Seeking Lavender Lane // Sharon Joyce Interiors // This Is Our Bliss // Up To Date Interiors // Vintage Romance Style
And, a special thank you to the sponsors who participated in this challenge.