You all must know that I love to shop. Whether it be online shopping or browsing (I'm actually quite content to browse), window shopping or whatnot... I just enjoy looking around. I thought it was about time to share a few things I've recently purchased because I get asked about them quite often.
Last year, my blog friend Cassie shared a company that she recommended called Beauty Counter. When she shared that she made the leap to sell for them, I checked them out and was pretty impressed with their mission. To be honest though, after checking them out online, I just completely forgot about them until recently. Over the past few months, I have started taking very small steps in my skincare routine. I finally got to the point where I was ready to purchase an item or two at a time until I found something to replace the products that I'd been using with better products. One of the most used products on my list and one that I wanted to start with replacing was my makeup remover wipes. So, I decided to buy the cleansing balm to try it out as a makeup remover. It definitely wasn't cheap but the reviews were great and I figured that if it lasted awhile and was better for me... then I'd just try it. Well, I LOVE it. Seriously, the old makeup remover pads that I was using dried out my face and just felt icky. The cleansing balm feels like it adds moisture to my face (in a good way though) and takes off every single bit of makeup. I'd highly recommend it.
I linked the products under my friend's account. She makes a small percentage if you buy through her and it doesn't cost you anything. And, don't worry... she won't stalk you or anything. =)
I still have lots of crazy chemicals in my skin and hair routine but it's hard to make the switch when you like what you are using. I do hope to try a few new products this year that have less chemicals in them and I'll share them with you if I like them.
I had a trip to LA last month for a blog conference and every single time before I go on a work trip... I totally stress out and buy a few new clothing items. Kyla got to hear my stressing through texts (lucky her!). She was going to the conference too, so in my mind she was the perfect person to send outfit choices too. Ha!
The funny thing is that it makes me feel better and less stressed to get a few new things right before I leave. Luke is used to it but, literally, I'll have a few boxes from Nordstrom, Zara, Zappos, Anthropologie arrive a few days before I go somewhere and then it's very rare that I actually like and pack any of it. When I get back from my trip, I have tons of mail-off returns to make, which is annoying, but it's my routine and it just works for me.
Oh, and almost 100% of the time, I pack and wear items that have been in my closet for months. Call me crazy, right?! That all being said, I did keep a few things during my last bit of shopping.
I'm 5'8" and can NEVER find rompers or jumpsuits that fit and this one fits great! I'm wearing a small and weigh about 150 lbs for reference.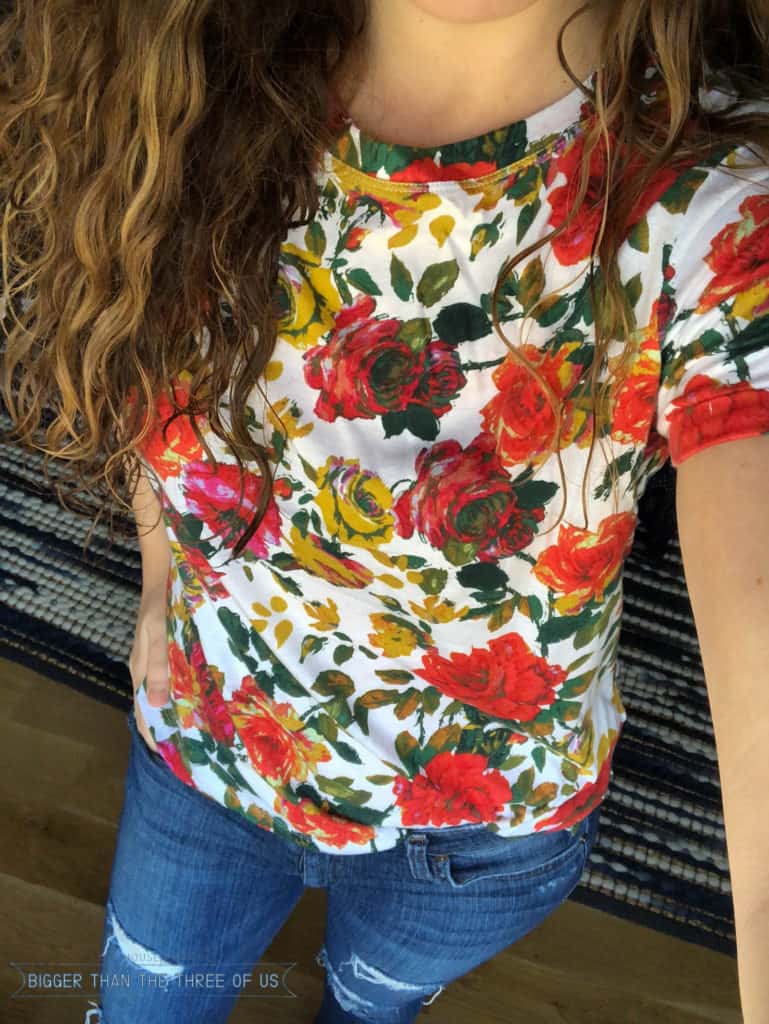 I'm always on the hunt for cute patterned teeshirts and this one is adorable. It's loose fit, which looks pretty darn cute with a side tuck. Again, I'm wearing a small.
Here's a round-up of everything that I've added to my closet over the last two months:

On the home side of things, I haven't purchased hardly anything recently. Just about the only thing that I did purchase is a new curtain rod and rings for our living room. I absolutely love the new look that it gives the living room and the whole setup (even for my HUGE window) was CHEAP! Win/win!

SaveSave
SaveSave
SaveSave
SaveSave