Get outdoor firewood storage ideas that you can build or buy. From a traditional wood storage rack to DIY firewood rack options, be inspired to get your own wood holder set up at your house!
We don't have a wood burning fireplace but we have a fire pit on the back patio. We love to sit out with a fire in the fire pit on chilly evenings and just chat. We've never needed to buy wood to burn because we have so many trees around us that there's constantly branches down.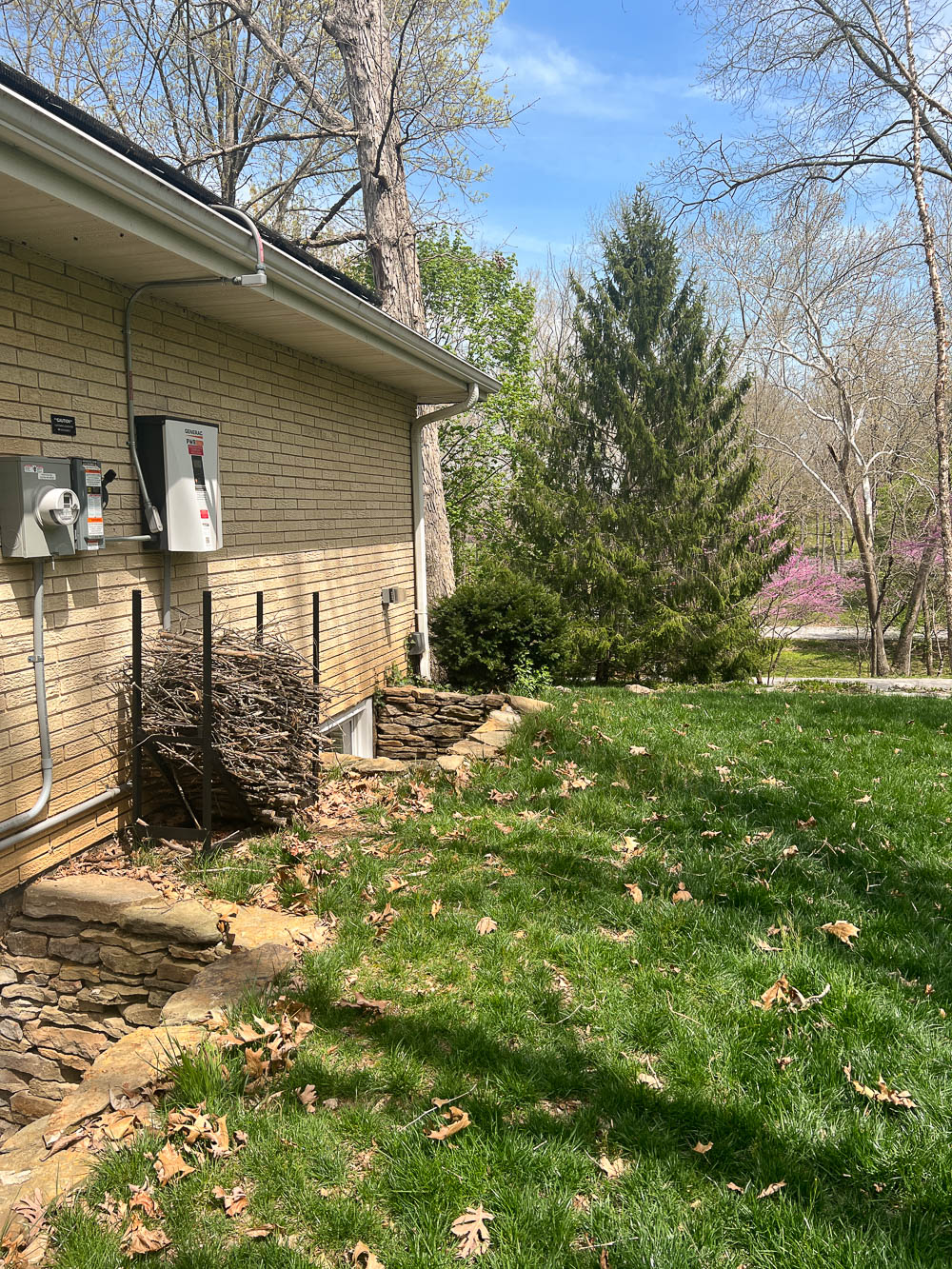 I'm embarrassed to admit this but, for the last ten years, we've had a big pile of downed branches and limbs piled (or thrown) behind our shed. It's been a bit of an out of sight, out of mind kinda thing. Even then, when I saw it, I was bugged by it. I felt like there was always a potential for snakes hanging out and felt bad for our neighbors behind us to have to stare at that ungainly pile.
I started thinking about a firewood rack or firewood holder and what might work best for us. You typically see a log rack with logs but we have a bunch of mismatched sticks that needed some sort of wood holder. After doing some searching, I came to the realization that an outdoor firewood rack with a cover would be a good fit for us and we even had the perfect, unobtrusive location that would be close to our fire pit for easy use!
I looked at DIY firewood rack options and firewood shed options but eventually just settled on an inexpensive (but decently rated) standard fire wood rack with a storage cover.
We've had the wood storage set-up for about 6 months now and it's been amazing. Sounds weird to say that, right? I always get really excited about a storage situation that's easy and solves a problem and this outdoor wood storage is a perfect example of that.
10 Outdoor Firewood Storage Ideas
From a traditional wood storage rack to DIY firewood rack options, be inspired to get your own wood holder set-up at your house!
1. Rolling wood rack cart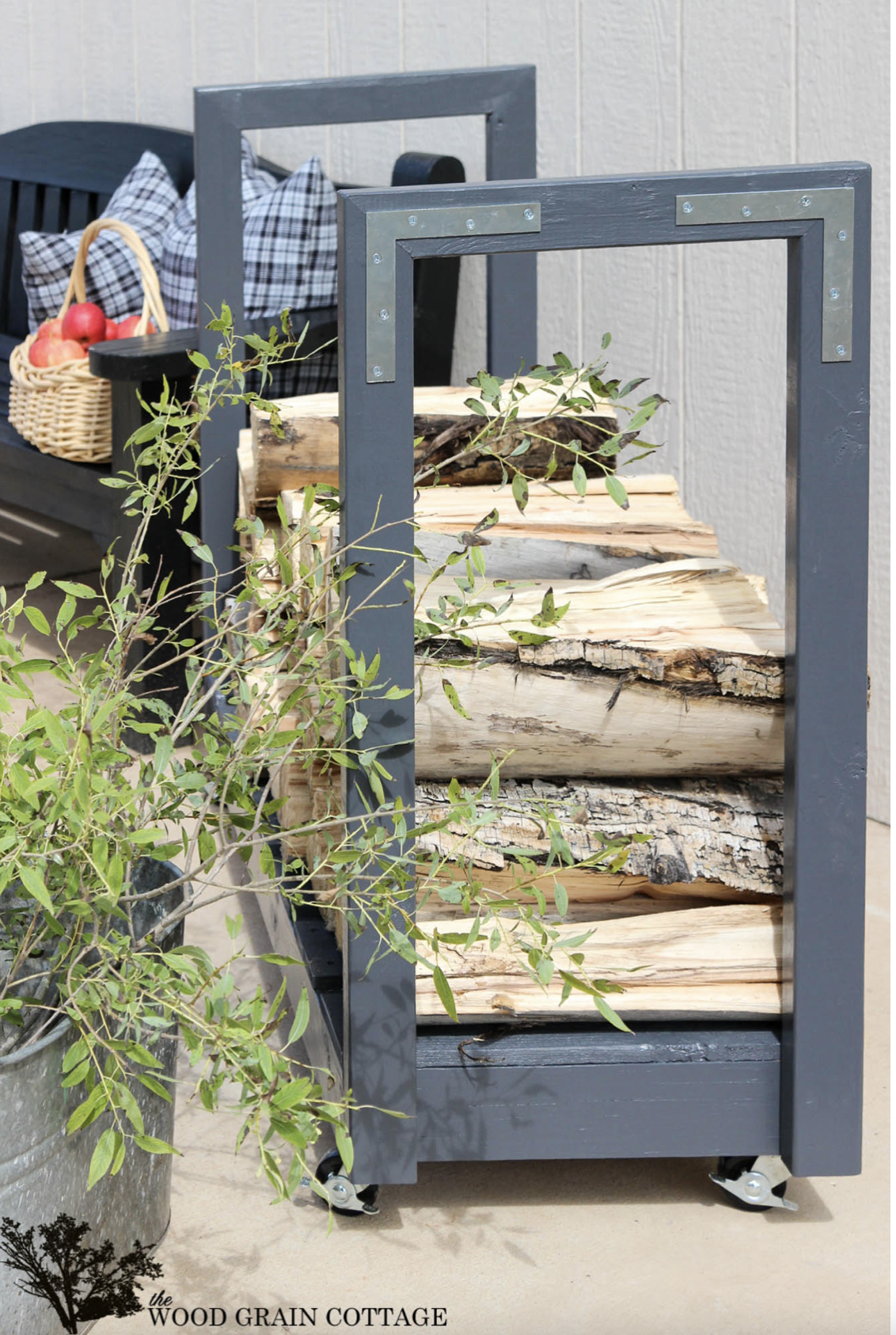 This storage cart has a very thorough how-to and could be used to store so many different items. I love how it's being used now but I could also see it storing folding chairs, planter pots, etc.
2. Covered storage outdoor
I think a firewood storage shed like this one could easily be made to blend in to your fence or existing shed. I like how this one looks as-is but could you imagine it matching to its surroundings? Your eye would just rove over it and it would be more like integrated storage. This wood storage rack has a great tutorial, so make sure to check it out if you are looking to build something similar!
3. Storage attached to the house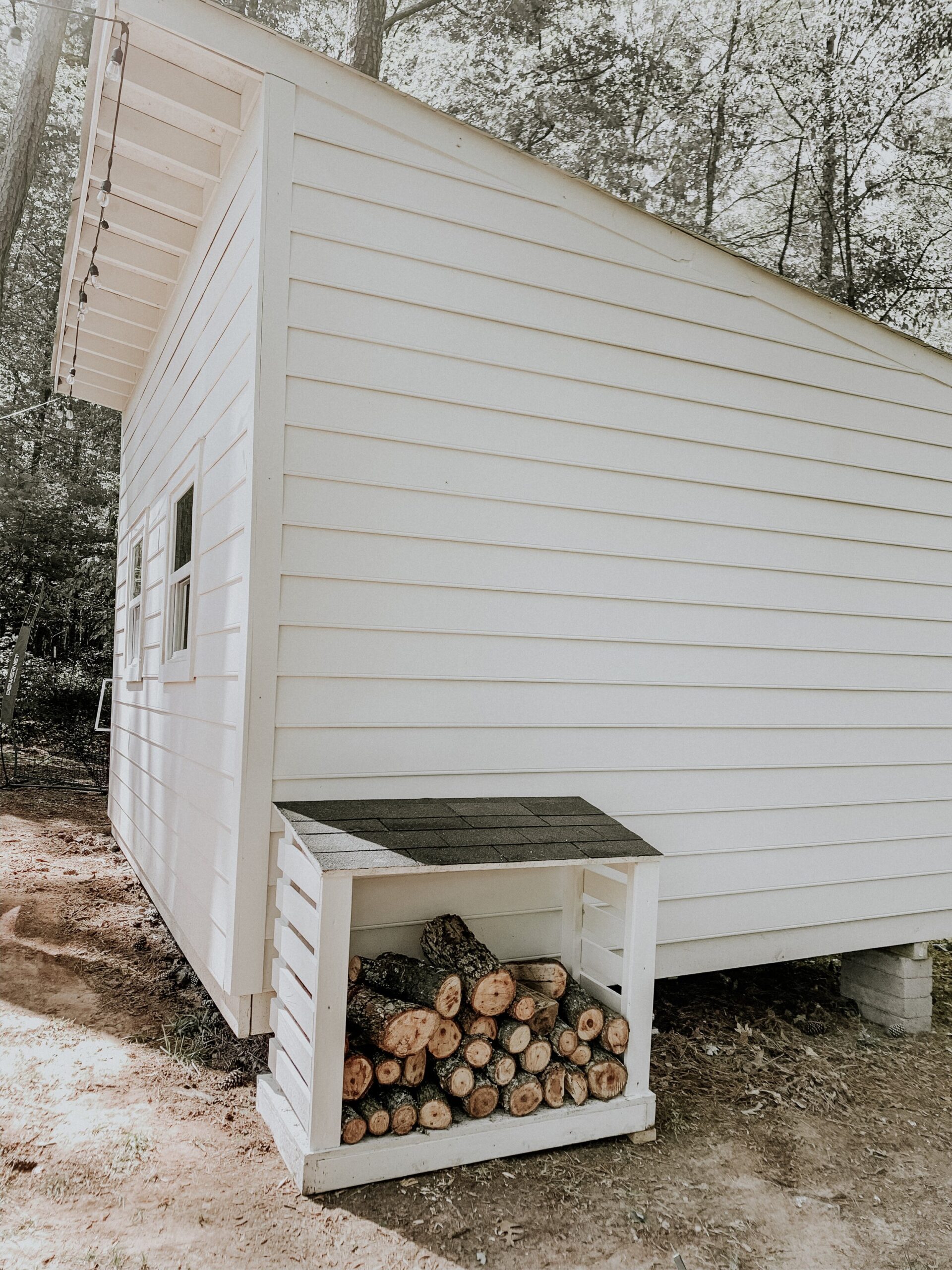 I adore this storage setup with the roof singles and all made to match the house. In my eyes, this is the perfect type of way to add storage. Where you know it's storage but it all blends, therefore not drawing the eye. If you are looking for a firewood box, check this one out because it's a DIY project, too!
4. My solution for sticks and downed trees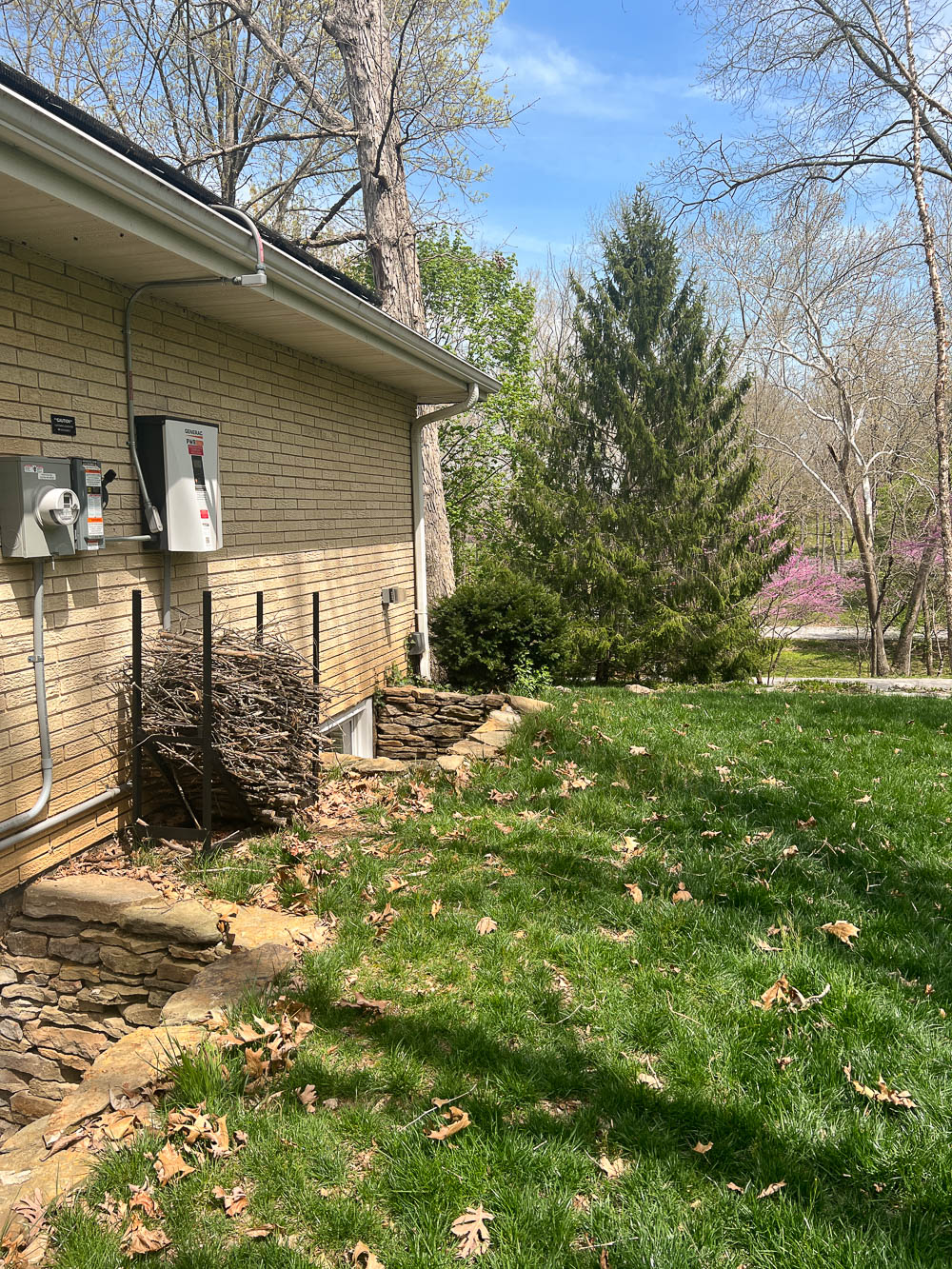 I had to include my set-up again for an option for a wood storage rack. There are lots of different firewood racks that you can buy and I'll link more below. You can find them pretty inexpensively, so if DIY isn't your thing... don't worry! Scroll down below for more options.
5. Concrete blocks and lumber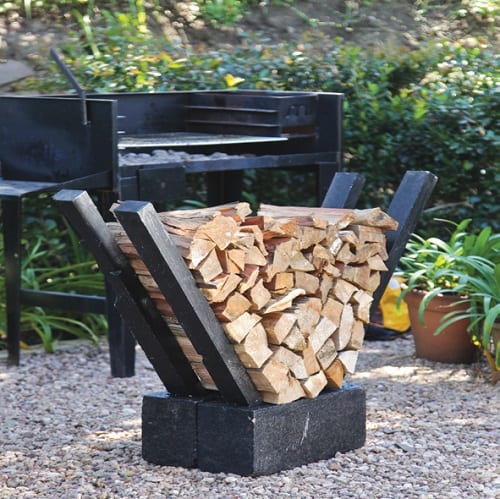 I can't get over how chic and modern this firewood holder looks. I'm sure you can imagine how to make it, but there's a how-to tutorial for this project as well. Seeing this makes me wonder about other outdoor firewood storage ideas that could be made out of concrete and wood!
6. Cheap Firewood Shed Idea
I like the idea of having two shelves with your storage so that you can keep your kindling separate from your larger wood pieces. This is a great, detailed build that will walk you through the process of building a cheap firewood shed (easily customizable to what you have on hand to make it even more inexpensive).
7. Wood bench with storage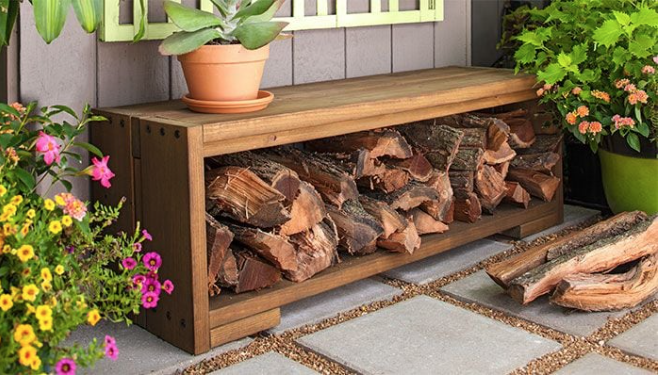 I adore the storage component on this outdoor bench! It think this works great as a plant bench or as seating if you live in an area without snakes. For our area, I'd be concerned that there were snakes in there every time I sat down on the bench. Still love this idea, but definitely think about your area or how you'd use it before building.
8. Simple storage that blends with the house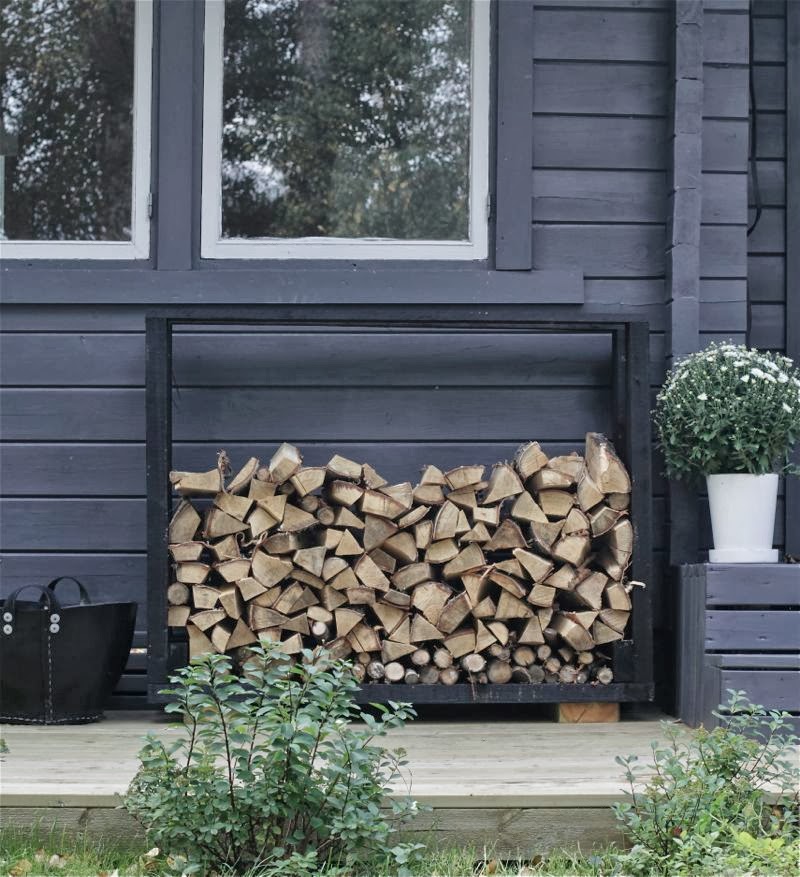 This firewood holder outdoor project blends with the house. It's a simple storage option that is similar to the rolling cart that I shared earlier but I just adore how this one is a part of the decor. This whole exterior is so inspiring.
9. Vertical racks for wood storage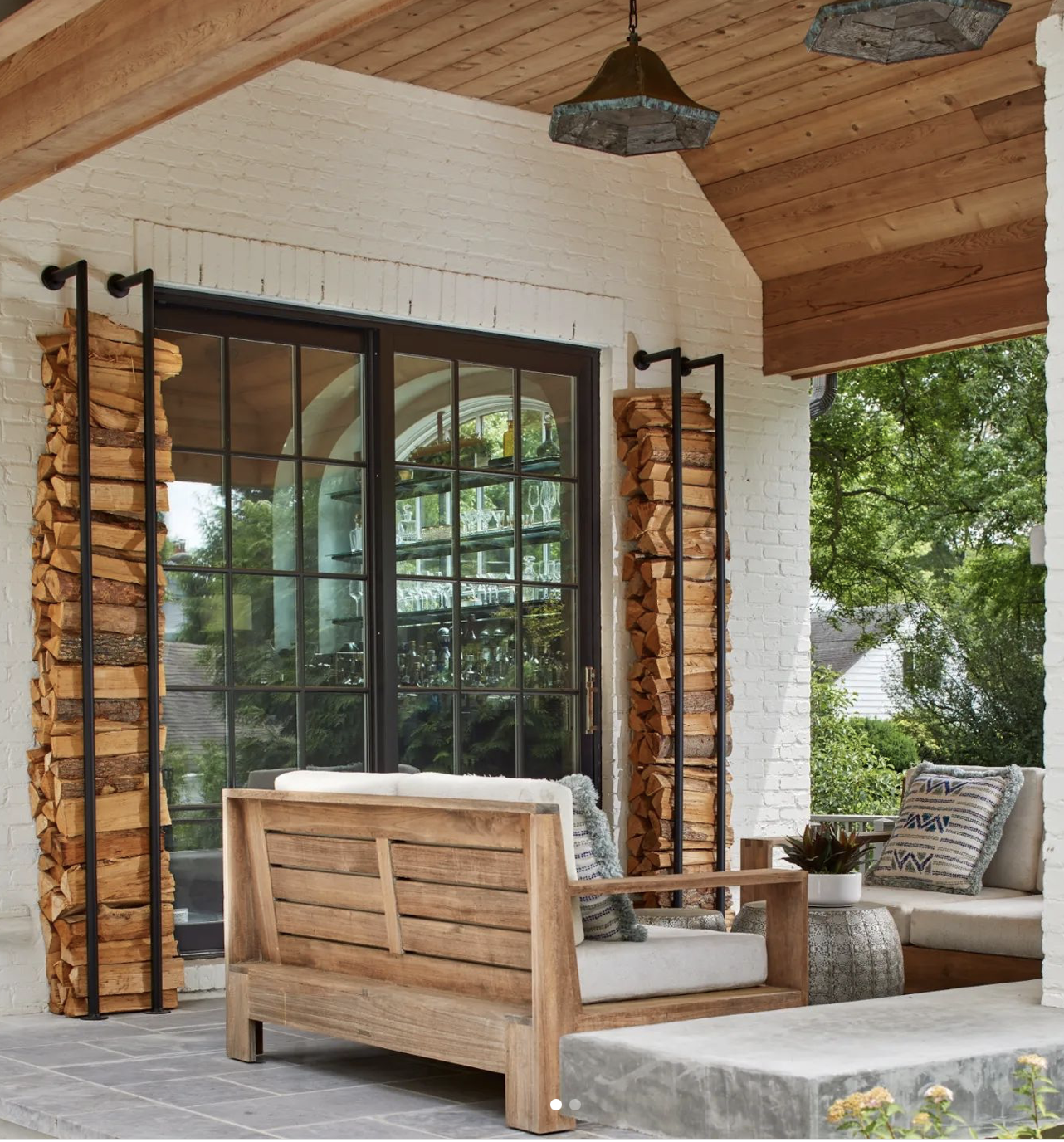 I love the idea of using vertical racks for wood storage outside! I've seen setups like this by indoor fireplaces but never on a patio. In this Instagram post, there's a swipe over to see a closer view of how the steel is attached to the house. The downside to this setup for us would be that we have more kindling and random branches than actual wood to burn. But if you were buying cords of wood, I would definitely consider this outdoor firewood rack!
10. Incorporated Firewood holder in outdoor fireplace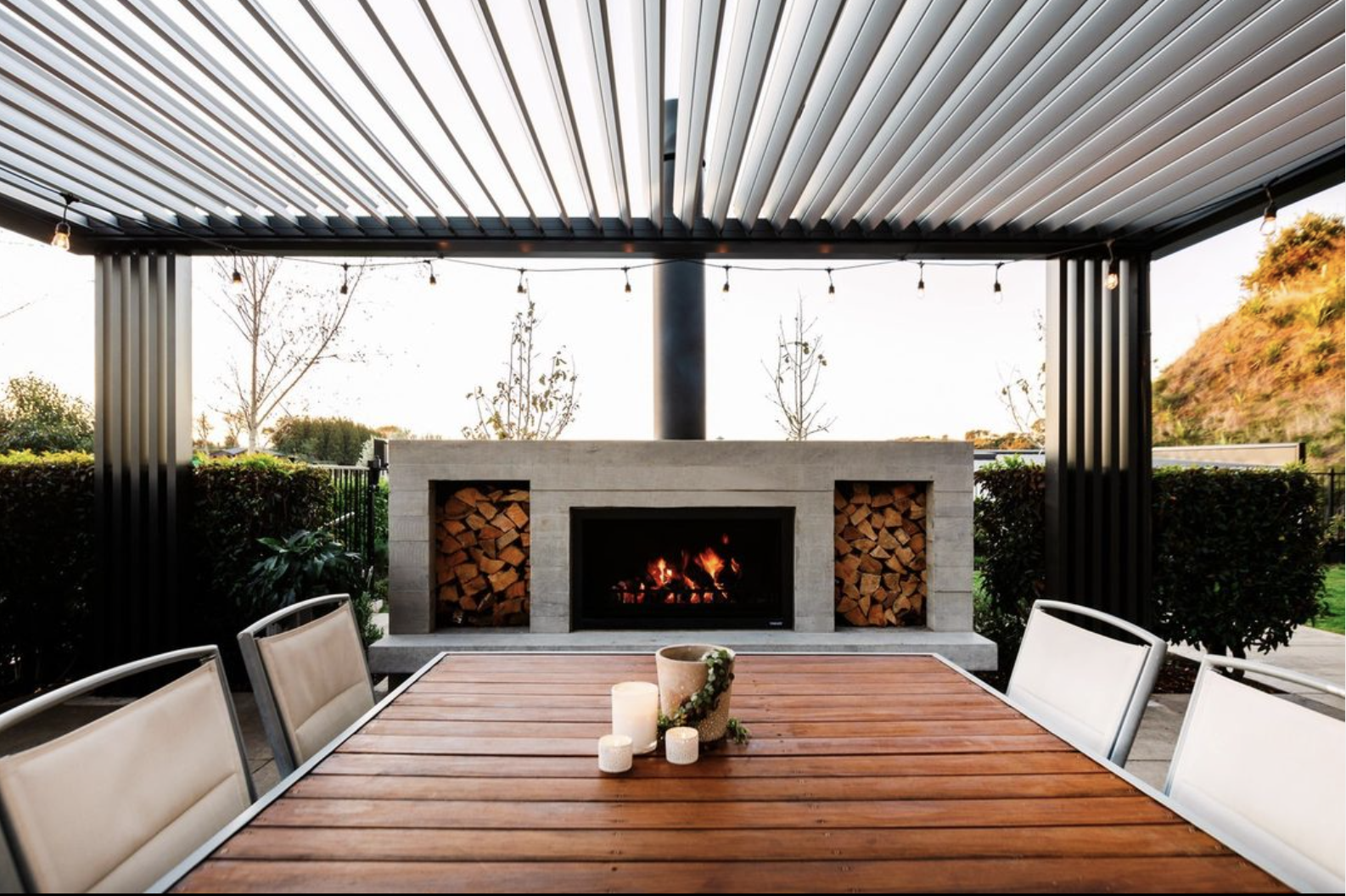 Why not end the firewood storage inspiration with the dreamiest outdoor patio setup, right? I see lots of inspiration for a more traditional outdoor fireplace made out of stone with outdoor wood storage built in on each side. I wanted to show you an example that felt different than those examples though! Gah, I love it.
Outdoor Firewood Racks to Purchase
Ready to buy a firewood rack? You've seen the outdoor firewood storage ideas and know what will work best for you. Let's look at some great wood rack options!
Photo Credit: Shop Terrain
I adore this circle firewood holder. I actually considered this one because it has separate spots for kindling. It's a bit on the pricier side but if you want a statement log holder, this is it.
Photo Credit: Burke Decor
Although this log rack doesn't have a kindling shelf, I love how modern and striking it is!
Photo Credit: Metal Brainn
Love supporting small shops and this rack says it can be used indoor or outdoors!
There's two sizes on this fire wood rack. They are both large but seem really nice! I actually considered this option pretty strongly before I bought the wood rack below.
This is the firewood holder that we bought. I really wanted a kinding shelf as well as a cover. We've had it over 6 months now and it's been great!
I gave you lots of outdoor firewood storage ideas to consider. I really am so pleased with making this change at our home so hope you find something that will work as well!