Our front porch makeover has evolved over time including replacing the double front doors, installing a brass doorbell, adding faux planters and making the lights a visual impact to the space.
It's a pinch-me moment over here. I can't believe I'm saying this, but our front porch is finally done! I'm a HUGE believer in upgrading dated hardware, doors and lighting and in this space we needed to do all of those things. After each new piece was installed, we got closer and closer to a space that I loved. To be honest, I love adding a piece here and there over time, because I appreciate it that much more.
Let's take a look at where we are and then I'll explain some of the upgrades, why we did what we did and what I'd highly recommend!
Modern Front Porch Makeover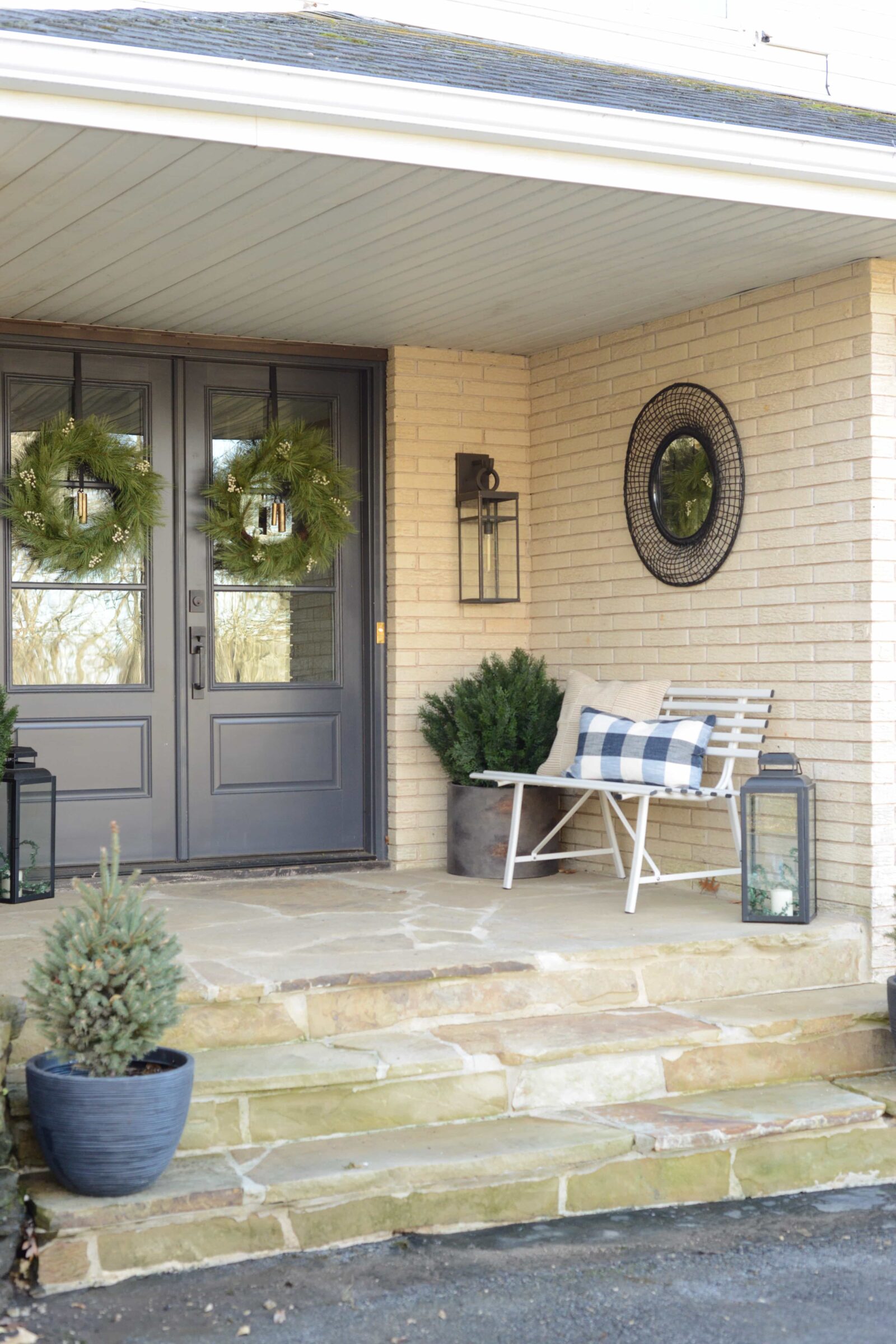 Isn't it beautiful? Let me help you really see how beautiful it is compared to where we started five years ago!
Here's the BEFORE Front Porch: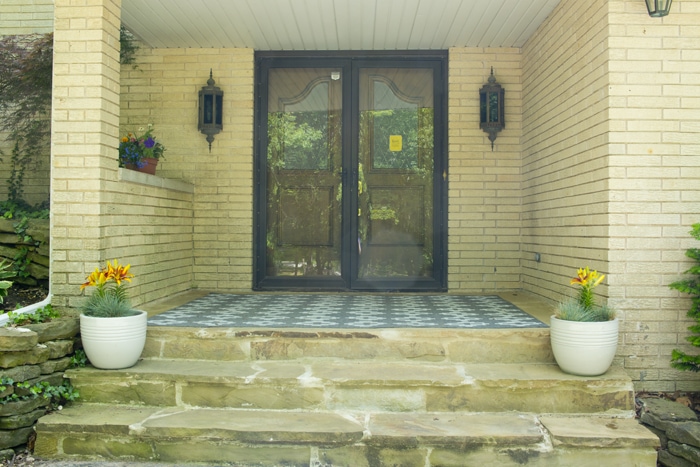 When we first moved in, there were storm doors over the double wood front doors. They were broke and didn't add any visual interest, so I quickly took them off. After that, I tried to improve the space by adding decor (an outdoor DIY rug and some plants!).
A few months later, I made some plywood house numbers, DIY planters to flank the doors and added a few other pieces (like the bench and wall decor).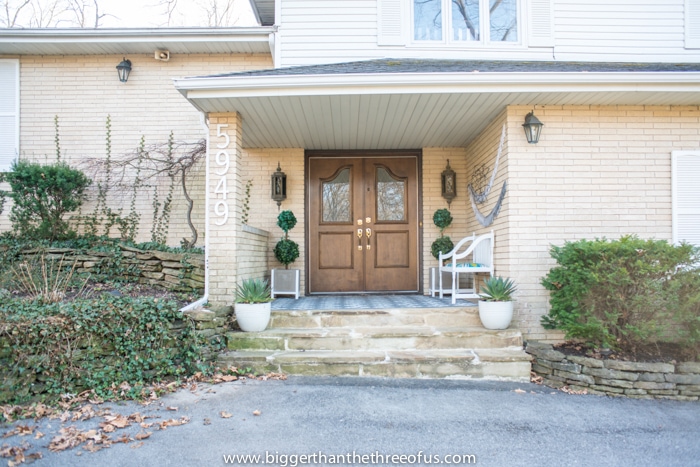 As you can see from this pulled back picture, the landscape was out of control, the doors looked ok from far away but the handles were installed incorrectly and, overall, the space just looked dated.
The covered front porch stayed at this stage for a few years.
Two years ago, we decided to replace the front doors. We debated trying to save them but, ultimately, they were unable to be saved and modernized. The fresh new look of the glass and the dark doors, made the front so much more inviting! Plus, it added some much-needed light in our entryway.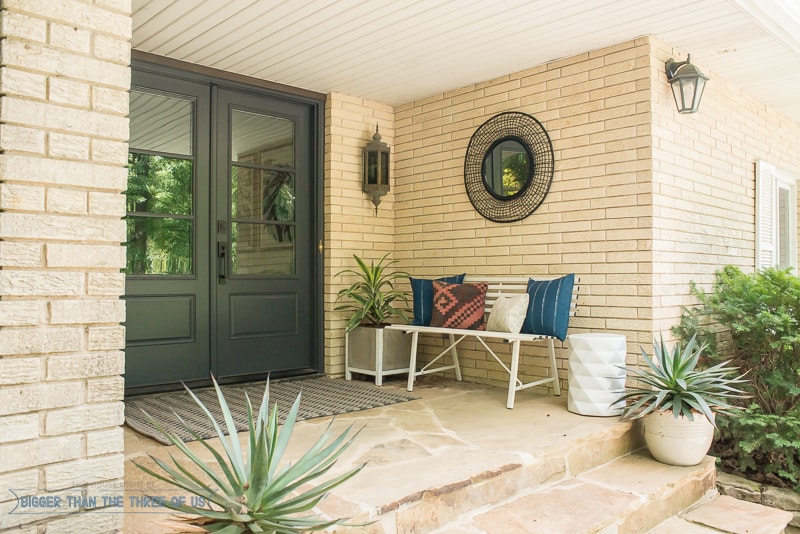 As you can see here, the space got updated a bit with decor as well. As much as I loved those plants by the front door, they just didn't last. We have so many squirrels and chipmunks around here (and deer too – we live by a lake) that everyday, I would go outside and those plants would be dug up and on the ground.
After repotting them, covering the soil with rocks, etc., I finally gave up and replaced the plants with fake ones! Our Fall Front Porch is pretty much how the space looked for another six months or so!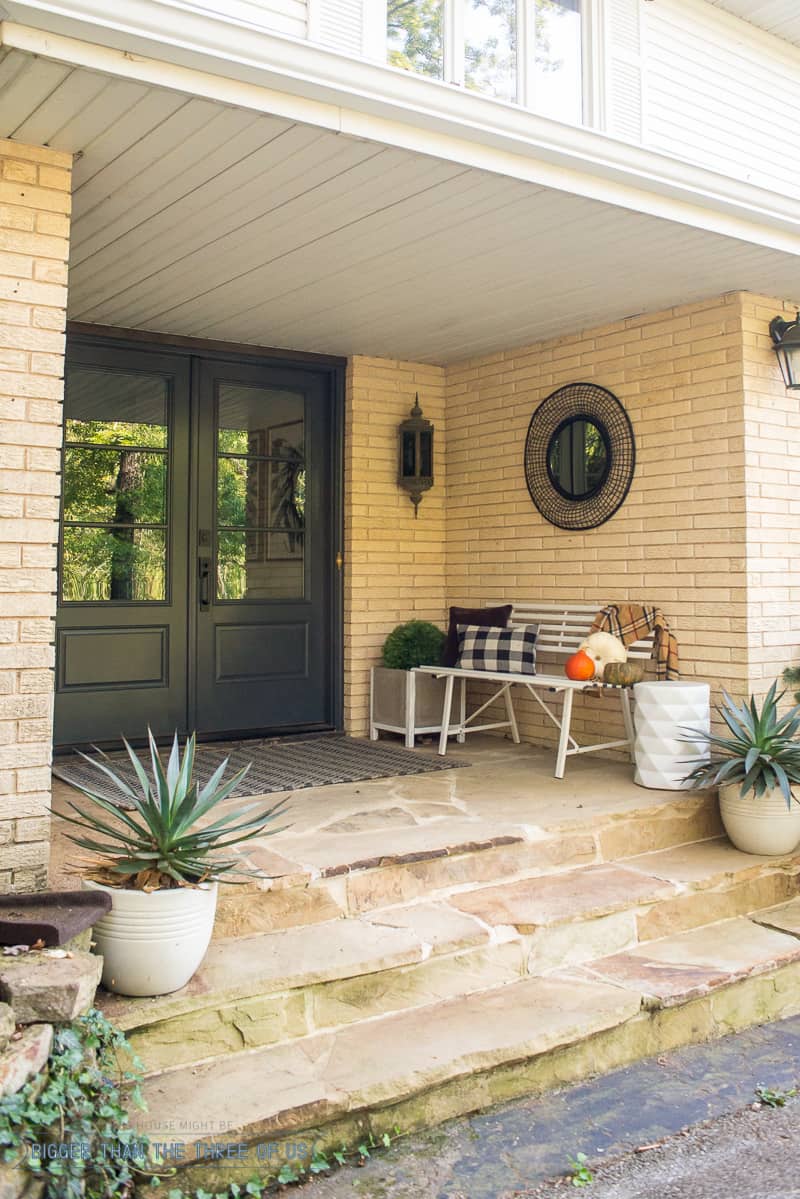 Christmas rolled around again, and I found a better style for my porch. You can see more sources of the Modern Christmas Front Porch in the blog post last year if you are curious!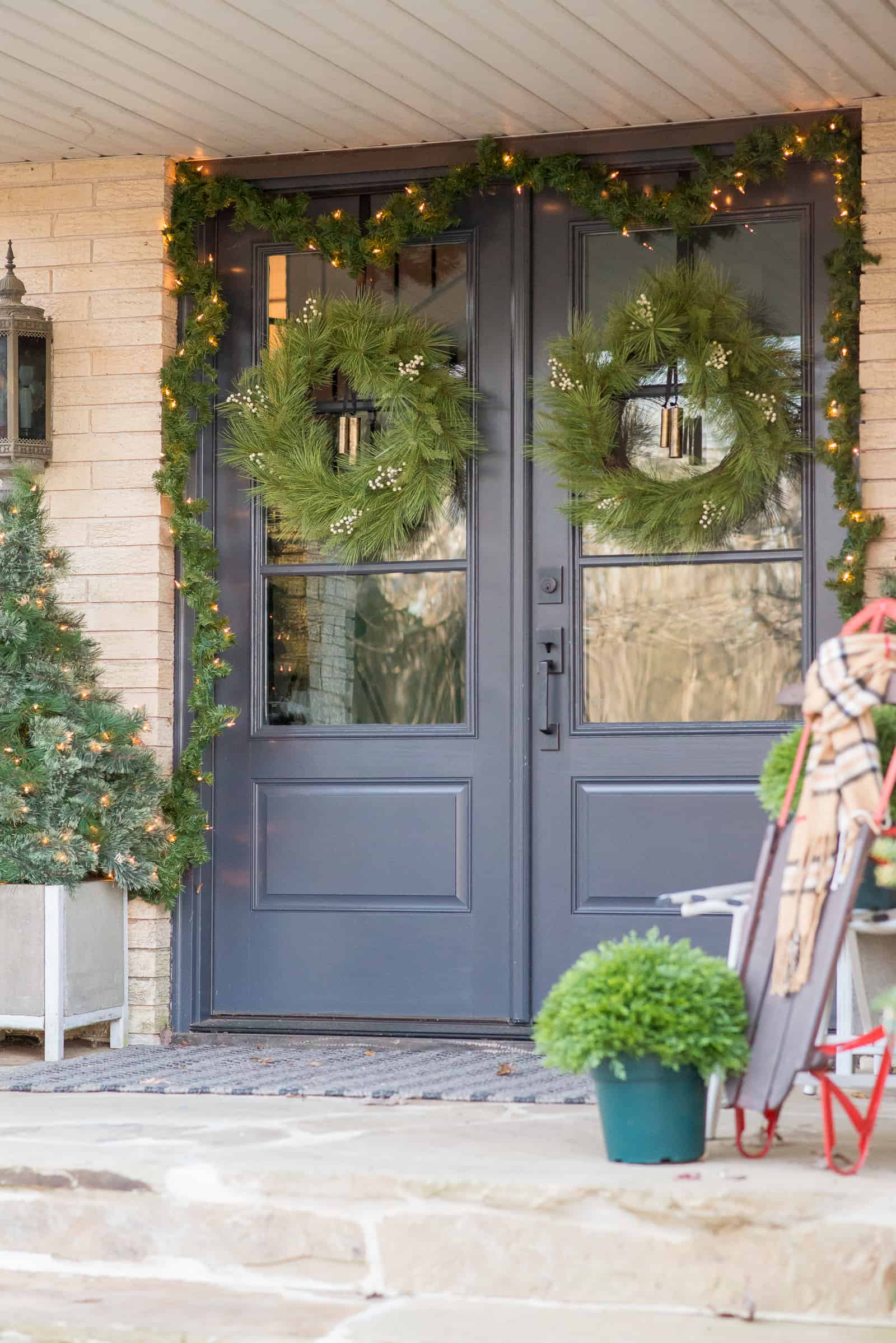 Spring rolled around again (2018) and I decided to update the doorbell button. This was the easiest and cheapest project and I LOVE it!
Finally, there was only one last thing to update (minus decor which is always changing) and that is the lights! A few of you loved the lights; and although they are very high quality and unusual, they just didn't speak to me!
I was able to partner with Lumens to replace the lights and boy, do the new ones shine!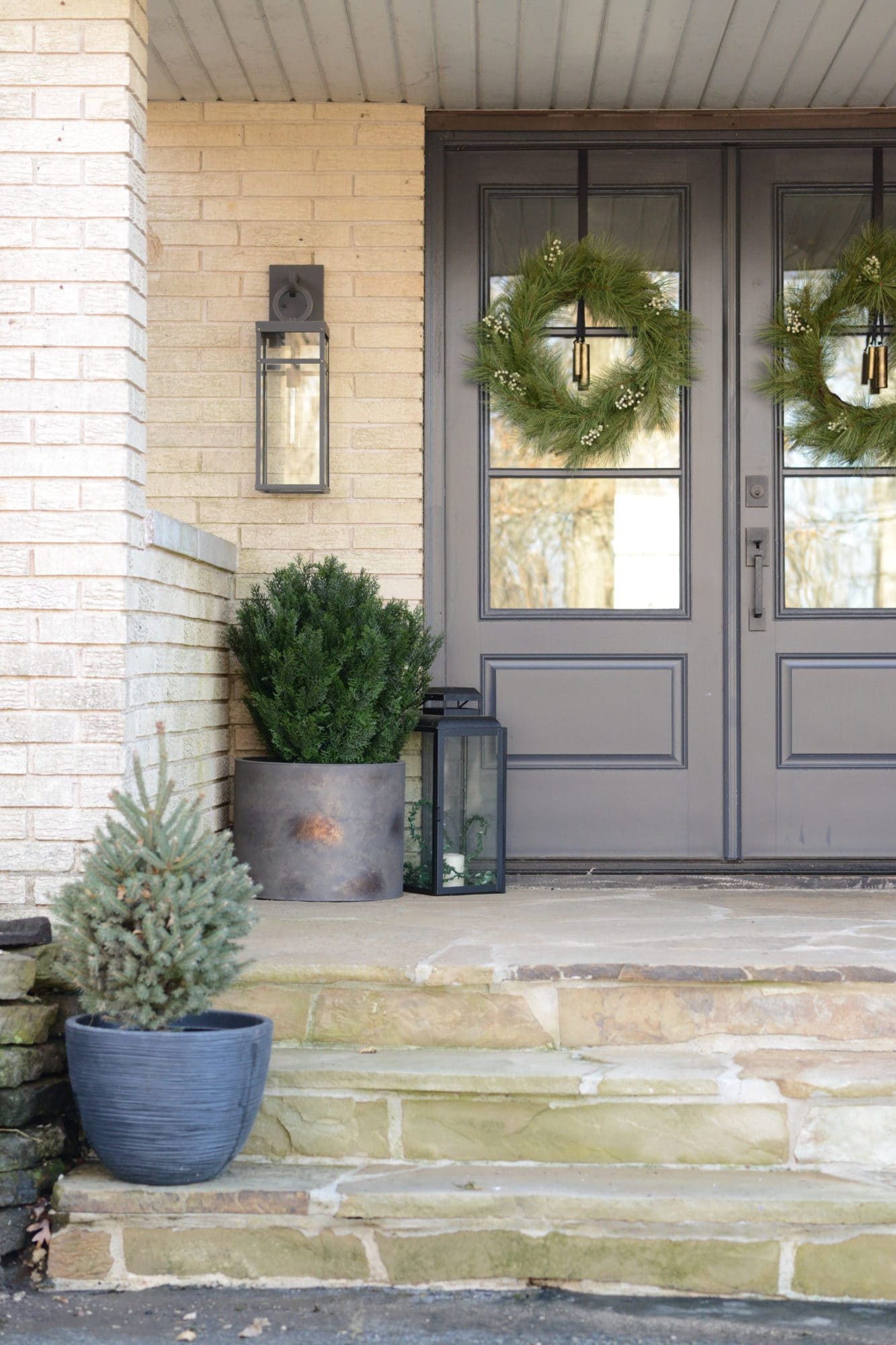 As I replaced the lights, I decided to replace the old planters that I made as well as upgrading to larger faux plants for the new planter pots that I bought. It all came together so well! One thing that I really kept in mind for the front porch makeover was making sure to choose items that would go with all seasons! The wreaths on the front door will, of course, change when it warms up a bit as Spring comes and the pillows will change as well. Other than that, the rest of the items are timeless.
As I've gotten more and more into the house renovation projects, I know my style is a balance between modern and classic traditional. I love to find the balance and, although sometimes it can be hard, I think the porch is a perfect balance of how my style and the house aesthetic come together.

Can you spot the one ugly piece here? It's not *technically* on the front porch, but it's close! Ha! Our exterior lighting around the house will all eventually be getting upgraded. I took down the shutters this past year and updated some of the landscaping. Maybe this year, it's the year to update more landscaping and the rest of the exterior lighting. We shall see what this year brings, but for now I'm soaking in the transformation of the front porch.
Shop The Front Porch Makeover

Front Porch Before and After
BEFORE: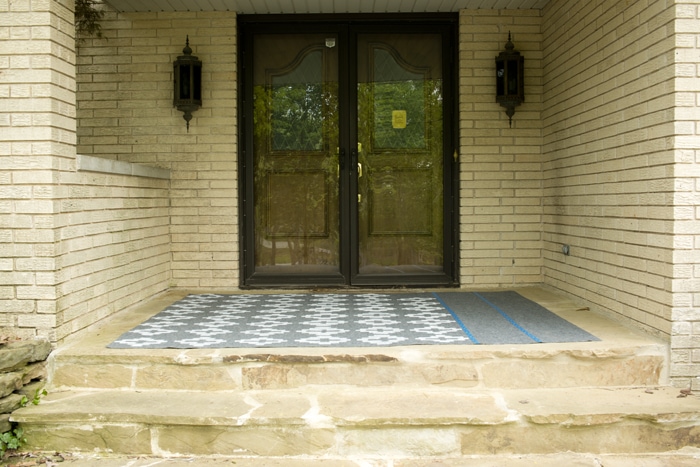 AFTER:

I thought I would leave you with a few ideas that might help you get started on thinking about how to update your dated front porch!
Front Porch Makeover Ideas
Replace or upgrade your front doors
Install a New Doorbell Button that matches your aesthetic
Consider replacing your lights
Consider decor purchases that will work for all seasons

ie. My black mirror
ie. My white bench
Fake Bushes
Wreaths that will work for all seasons (this is a great macrame wreath DIY)
I hope the evolution of my front porch space inspires you to make small steps towards working on a space in your home and appreciating it as each new phase happens. Renovations don't happen overnight and the best thing you can do is stay encouraged by being excited about each new thing as it happens.