Have you ever wanted a full tutorial on how to install floating shelves? Here is all you need to know for installing floating shelves with floating shelf hardware. Plus, I'll share details on other types of kitchen shelf brackets, what type of wood to use for wood shelves, how deep to make your kitchen shelf and more!
When I first started dreaming of a kitchen renovation on a budget, I knew I wanted wall mounted shelves. I was comfortable taking down most of my upper kitchen cabinets (which is honestly the first step to determine if kitchen shelves are a good option for you!) and felt like floating wall shelves would really add a pop of visual interest to my space.
As I started narrowing down what I liked and didn't like about other hanging wood shelves, it quickly became obvious that liked the look of long floating shelves; ones that were thin and not chunky wood. It was important to me to have hidden shelf brackets for the shelves but also to have really heavy duty floating shelves that would hold a lot of weight.
So, after lots of research, I'm sharing how to hang floating shelves!
If you want a similar look to what I have in my kitchen, continue reading. =)
Back in 2016, the concept of large floating shelves was new. There were a lot of things on my end to figure out, such as: width of wood, where to buy the wood, installing the floating shelves and more! I'm going to share everything I learned along the way in hopes that it helps you out! Plus, make sure to hit my shelf guide if you want to see more DIY open shelving kitchen ideas!
Once you have the brackets bought and the wood sourced, it's time to install!
The heavy duty floating shelf brackets have hanging guides. It's basically up to you to find your studs and position brackets in the right place on the wall that correctly matches up with the holes you've drilled or had drilled in your wood shelves. Let me show you more and explain!
We installed the brackets at 20" from the countertop and 33" up from the countertop. I have a whole post on different options for shelf height options, so definitely check that out to understand what would be best for you.
As you can see, we chose to hang the brackets before the tile and then cut tile to around each bracket. We felt like this was the easiest option and would give us the cleanest look.
We finished the tile and then grouted with the brackets still up. Next, we pulled the shelf brackets down to make a template for where we needed the wood store to drill into the wood shelves for the exact fit on the wall.
We had the wood holes bored and then were ready to hang the floating shelves.
Luke had measured and diagramed out the wood with which bracket went to what (the brackets were just a tad off from each other). So, when we went to hang the brackets back up, we had to pay attention to which bracket went where.
Each bracket had two screws that hit studs. We used heavy-duty wall anchors in the areas where we couldn't hit studs.
Since they say they hold up to 143 lbs and we used (6) plus two stud screws... I felt pretty confident that the DIY floating shelves were going to stay put!
Getting the wood on the brackets was quite the experience. The wood shelving weighs quite a bit because they are large floating shelves. You'll definitely need an extra set of hands for this if you decide to go with longer shelf sizing like we did.
To secure the shelf, we wiggled and pushed it on and then finally tapped both shelves in with a mallet. We were confident that, once we got the wood shelfs up there, they weren't going anywhere.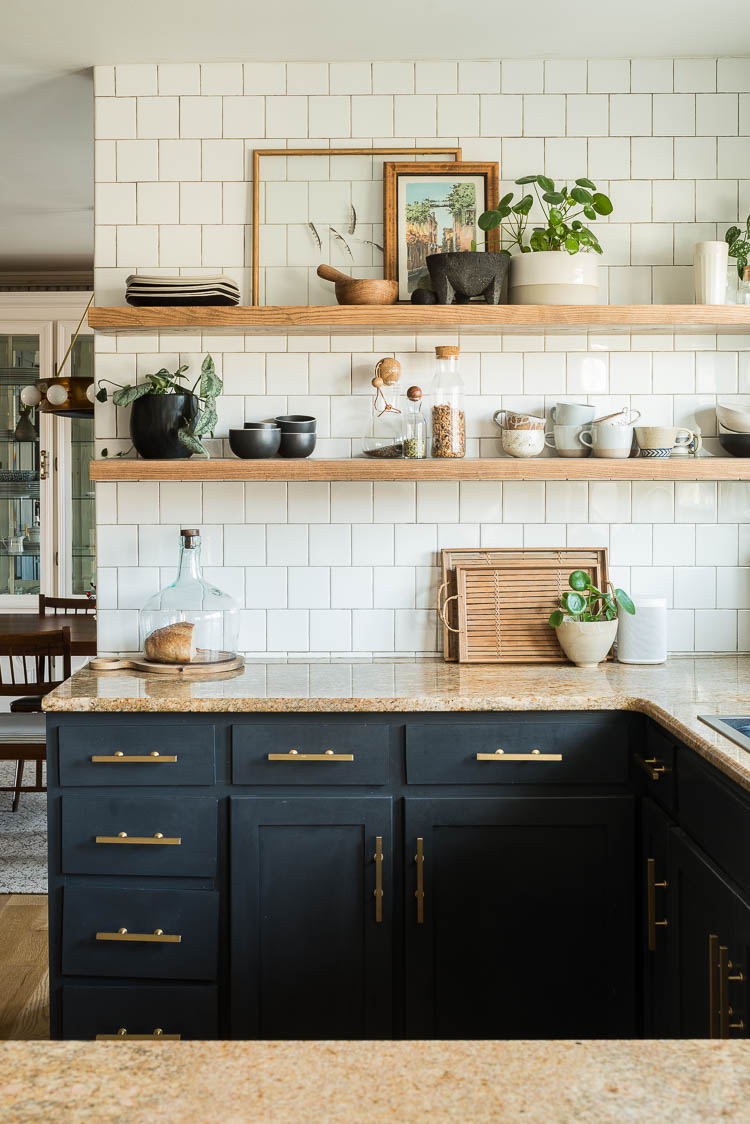 I didn't seal the wood originally, but I did talk about sealing it awhile back. I'd recommend sealing from the get-go and not do as I did. Here's the post about sealing the wood for the shelves.
Don't forget to check out my kitchen shelf guide if you have more questions or leave a comment below and I'll try to answer.
How To Install Open Shelves In The Kitchen (Pin for Later!)
If you liked this post, then you may like: