Today is confession day. Yep. I have a confession to make on the open kitchen shelving. This confession is going to help you NOT cut corners with your kitchen shelves when you put them up.
We all make mistakes. We all cut corners. We are all human and this is my way of showing you all that. You love me for it, right?! Ha, hope so! So, here we go... How I Cut Corners with the Kitchen Shelving.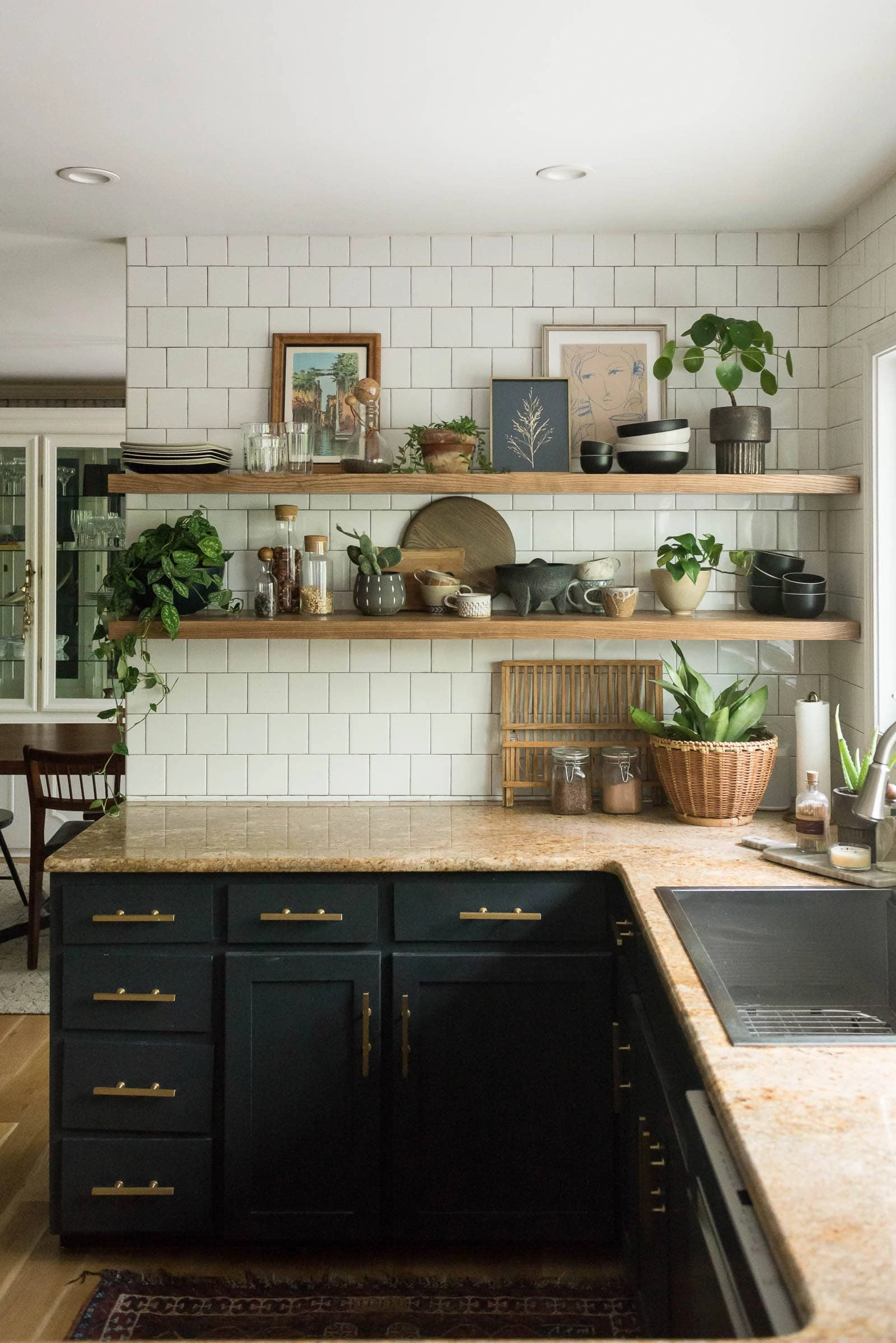 If you don't know, Luke and I installed the shelving ourselves. See our tutorial for the Heavy-Duty Floating Kitchen Shelves if you missed it the first time. Or, if you need measurements for your open shelves, or anything else, I have a big open shelving guide that will give you lots of information.
The install wasn't too hard but it was also before anyone online was installing their own open shelves. So, we had to kinda figure them out was we went. Once we got them up, it was very exciting. It felt like it had been a long time coming because, really, the kitchen remodel took us a long time. The shelves were basically one of the last things to get finished.
*Affiliate links below. Thanks for supporting this blog. Click to read my privacy and disclosure.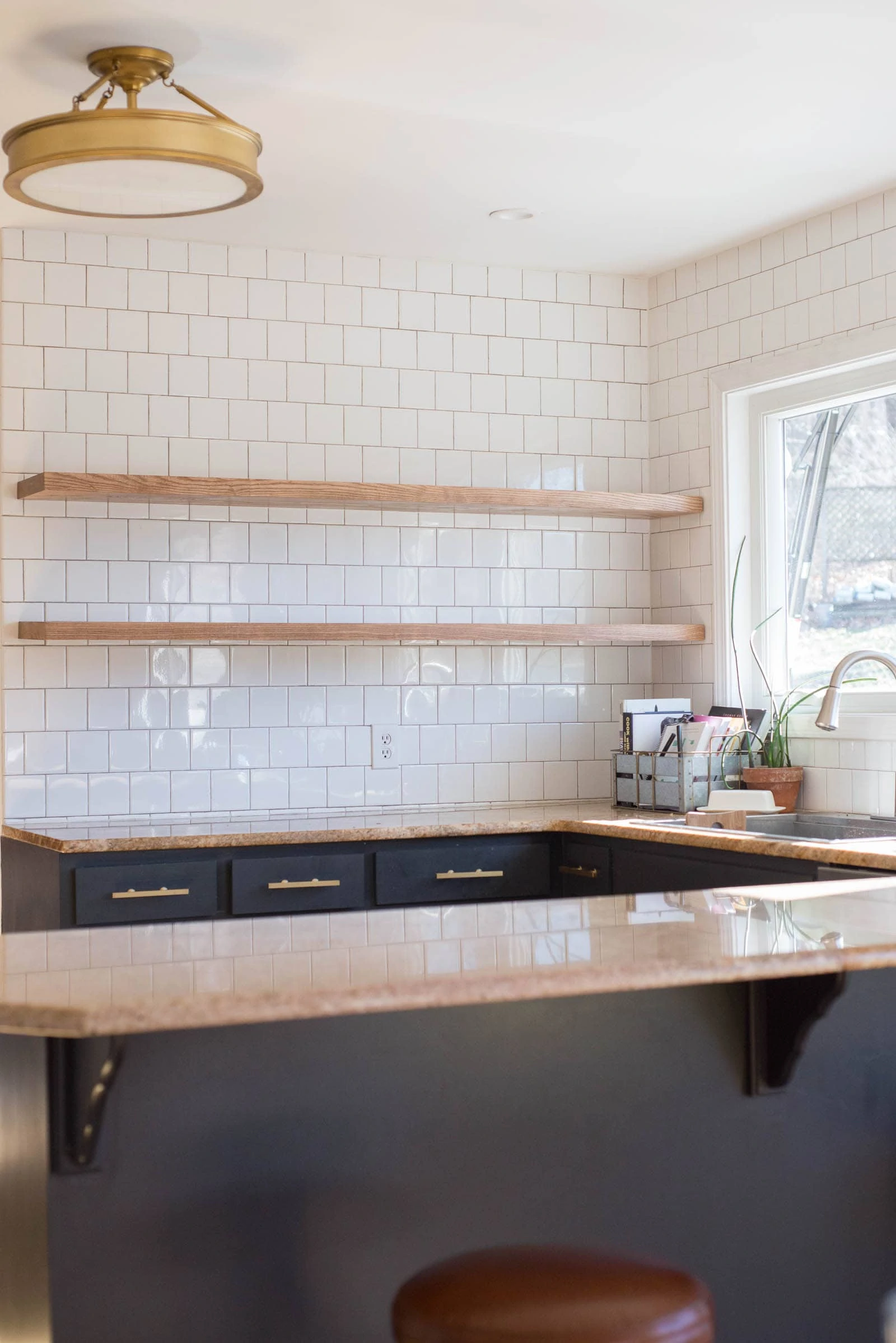 Luke and I hung up the shelves and then I was in charge of staining and finishing them. Well...
I might have cut a corner and decided not to put poly on the shelves. My thought process was that they weren't going to get messy. Well, that's kinda right and kinda wrong. You see, weirdly enough, they don't accumulate lots of dust. I know, strange! BUT, as much as I'm careful about what I'm putting on them, this happened: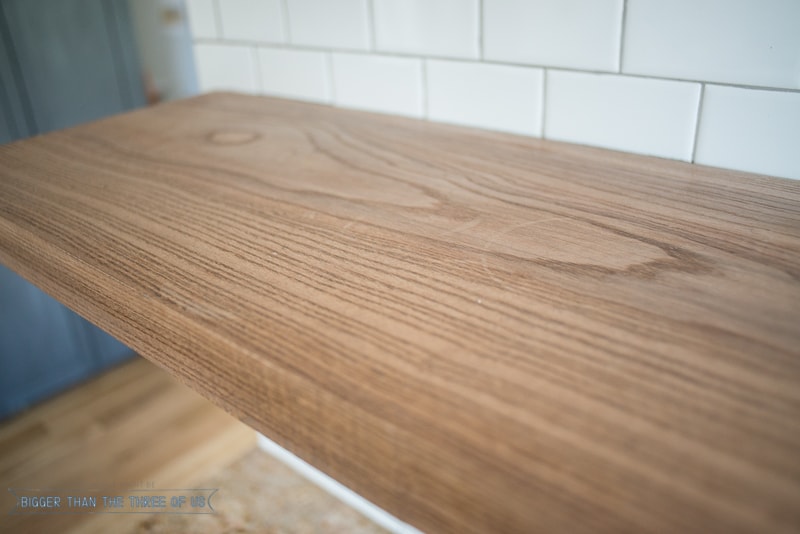 Do you see the coffee cup rings? There are two of them side by side.
Well, to be frank, I was annoyed with myself but not heartbroken about it. BUT, I am smart enough to realize that I'm lucky that nothing terribly bad happened to the shelves.
So, after reaching out to Brit over at House Updated (she's my go-to for asking questions or chatting design) she encouraged me to go with matte poly.
How to Finish Open Kitchen Shelving
Wipe the shelves down with a clean microfiber cloth
Prep your supplies. You will need a paint brush and Polycrylic. I used Minwax water based Polycrylic.
Brush a light coat of Polycrylic on all sides of wood showing. Allow dry time.
Once dry, sand gently with a sanding pad. Wipe down again with the microfiber cloth. Apply another coat of Polycrylic.
Let dry and abide by curing times before putting any dishes on your shelves.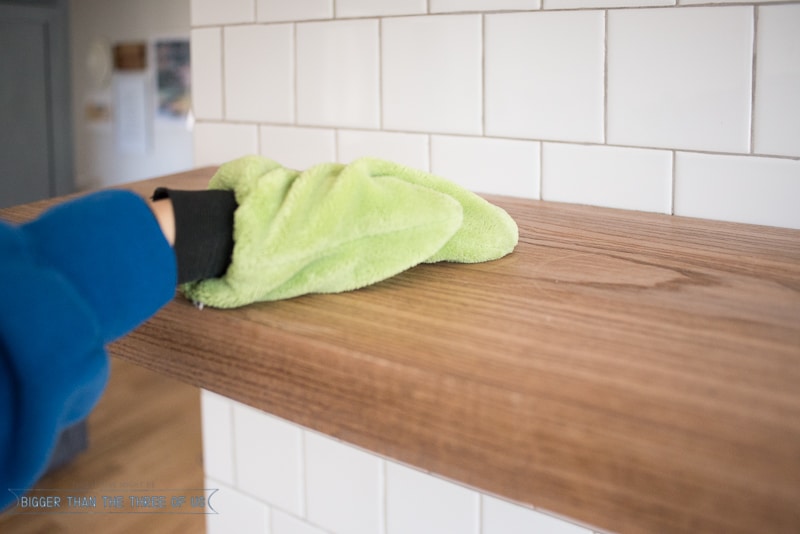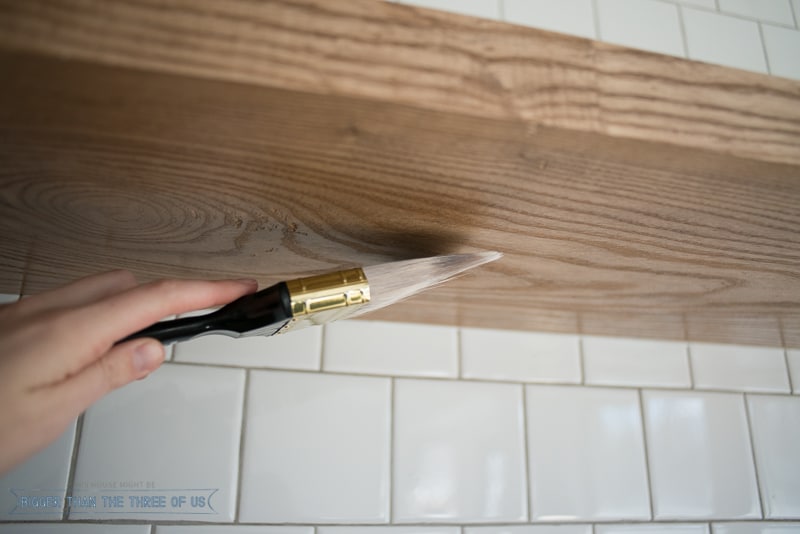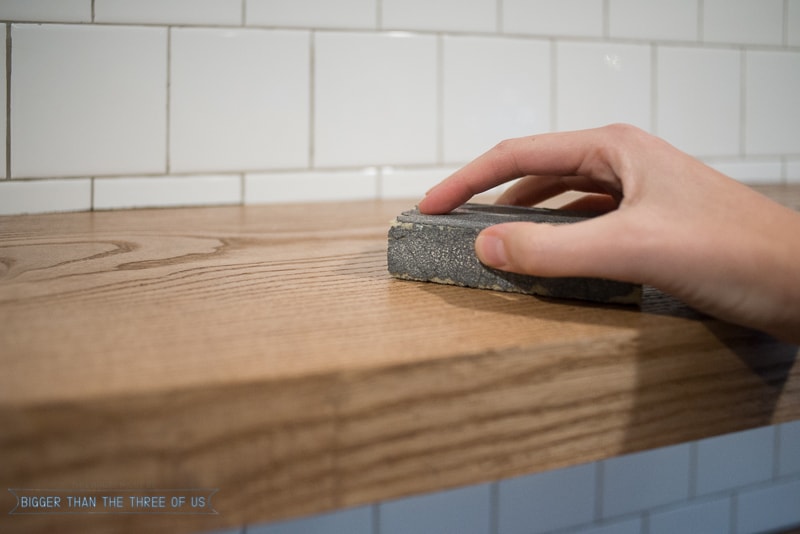 What about the coffee cup rings? Well, I left them. They really don't bother me. If you had staining on your shelves and you wanted to get the staining out then you would have needed to sand them before you applied poly. Here's a great tutorial on sealing butcher block that would help you do this process for your shelves!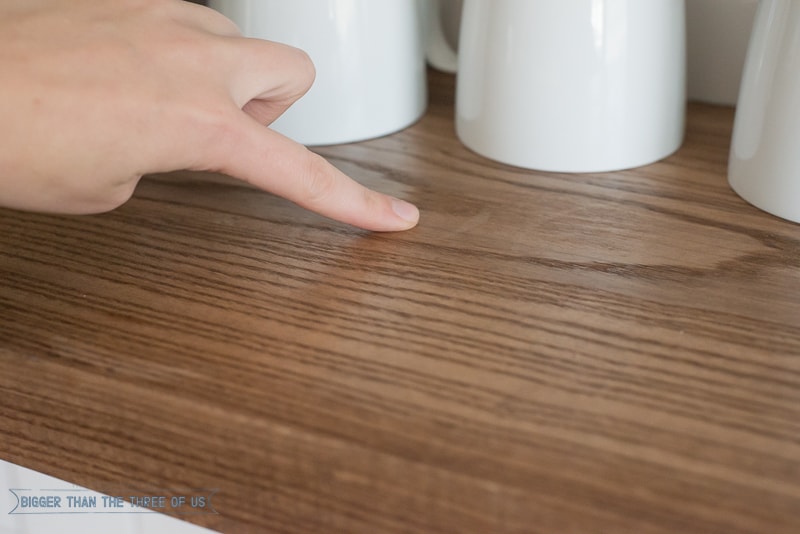 So, I encourage you to not be like me and to do things right the first time.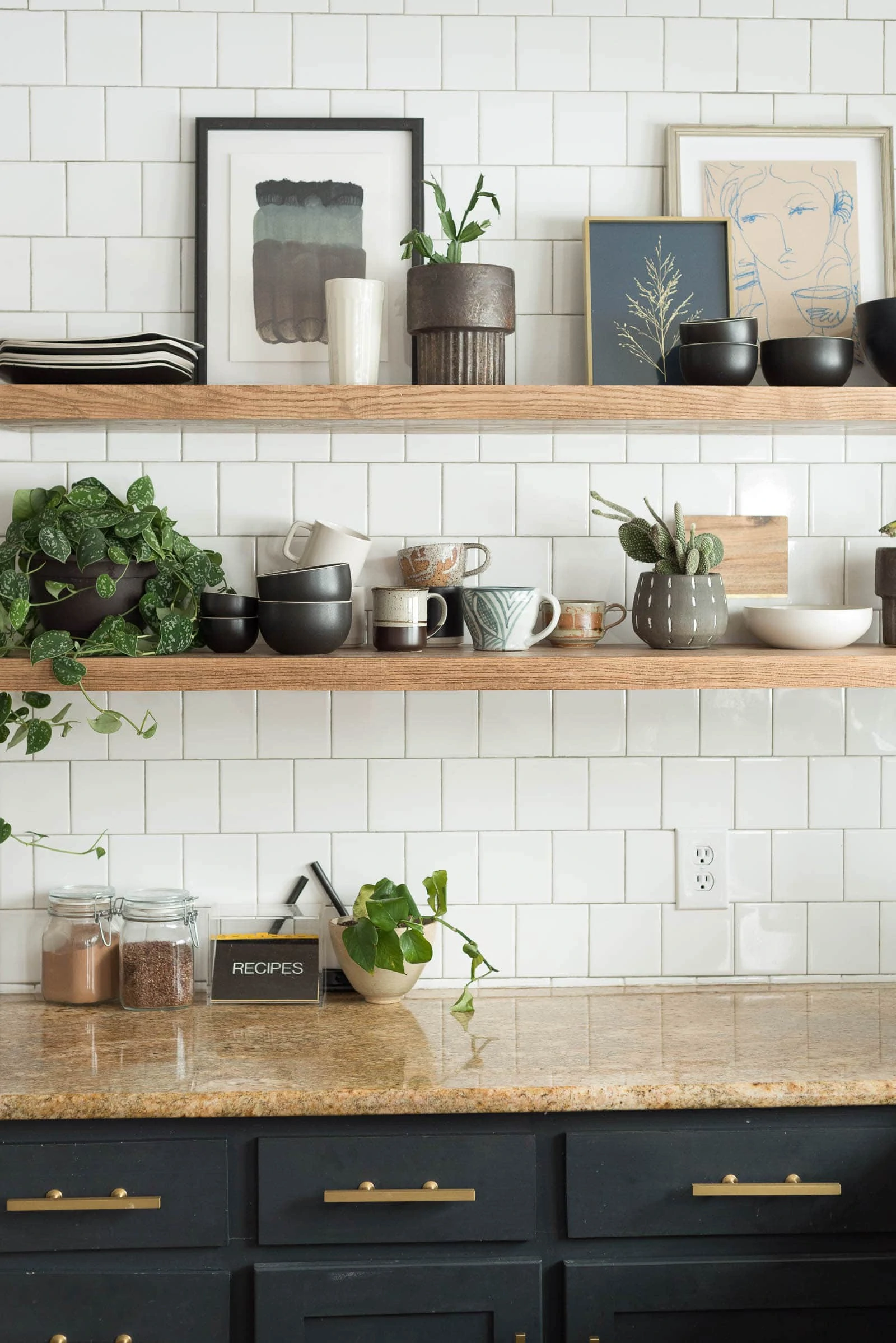 SaveSave