How do you determine the height of floating kitchen shelves? How high should a kitchen shelf be over a countertop? What are standard kitchen wall shelf measurements, etc? Keep reading for floating shelve placement ideas and more!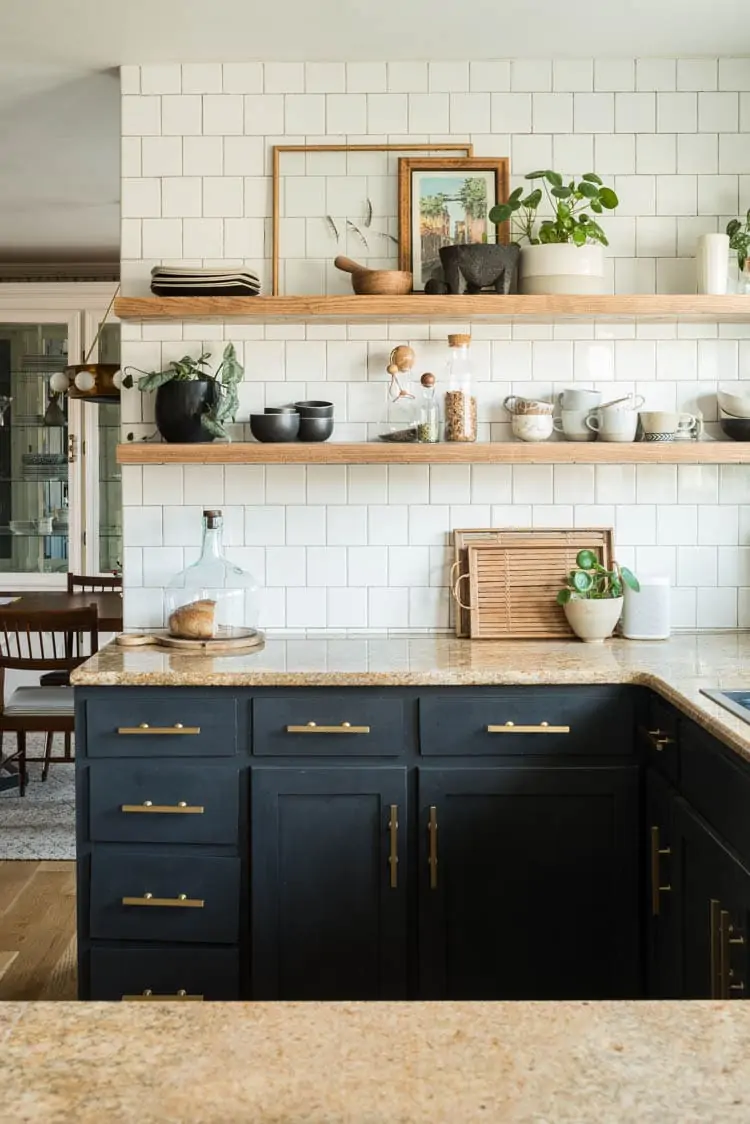 Determining Height For Kitchen Shelves
There are so many decisions to be made when you are installing kitchen wall shelves. Questions like:
Should you use heavy duty floating shelf hardware or should you DIY your own brackets?
What type of wood should you use for your floating shelves?
What thickness of that wood and what stain?
Seriously, the list goes on and on. Today, I'm hoping to help you with part of your dilemma: how to hang kitchen shelfs by walking you through different options for what height you should install the floating shelves at.
After reading today's post, if you want even more information, inspiration, and how-to details, check out my Heavy Duty Open Shelving Guide. It contains the links to all the posts that I've done on our floating kitchen shelves.
Ok, let's get to today's post. I'm so excited!
6 Examples With Floating Shelf Placement Ideas
I know when I'm trying to make a decision on specific sizing, finishes, etc., it's always extremely helpful when I find a tutorial that lists EXACTLY what I'm looking for. I'm really hoping that this post with examples of kitchen counter shelf heights will walk you through your options and help you decide what will work best in your space.
If you haven't decided on hardware for your shelves, then you will also want to take a look at how we installed the heavy duty floating shelving.
Higher wall shelves for the kitchen
The first image is by Aniko from Place of My Taste. Her shelf placement on the wall is a bit higher than some of the other inspirations. Since she has mounted her DIY shelving a bit higher from the countertop, she has plenty of room on the counter for taller accessories.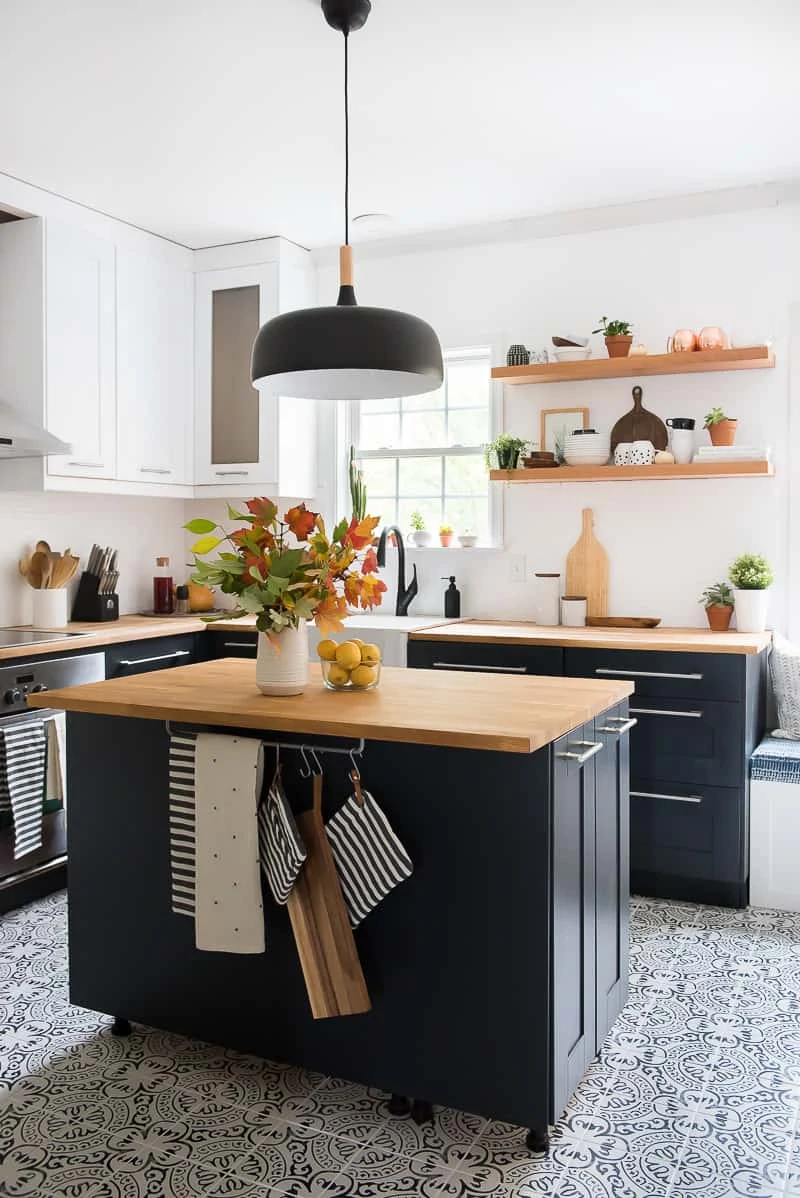 The space between shelves is 15" which allows for a large vase, cutting board and still gives you the illusion of negative space, which can valuable.
Kitchen shelf dimensions with exposed brackets
These lovely two shelves are by Megan from Every Davis Moments and have more of a coffee bar shelving vibe. Megan's kitchen counter shelves have exposed brackets with the brackets hanging down closer to the countertop.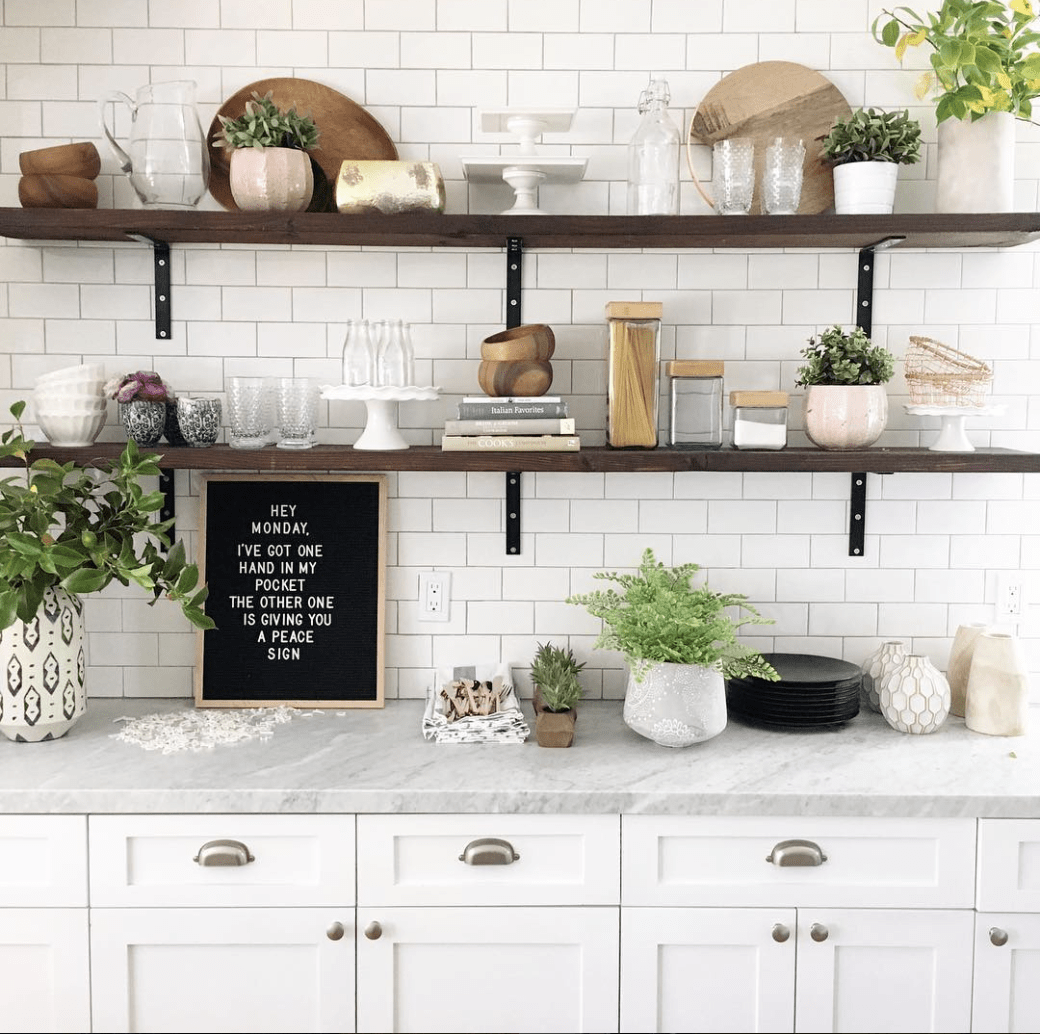 Megan's space is a really good representation of a buffet with shelves above it. If you've been wanting to add a shelf in the dining room, you could mimic this look.. The two floating shelves add visual impact in her space.
A shorter distance above kitchen counter to shelf
If you prefer the look of having a lower countertop shelf, then check out this one by Kasey Durbin. One thing that I keyed in on for this kitchen was that the wood kitchen shelves are skinny, which feels balanced in the overall kitchen.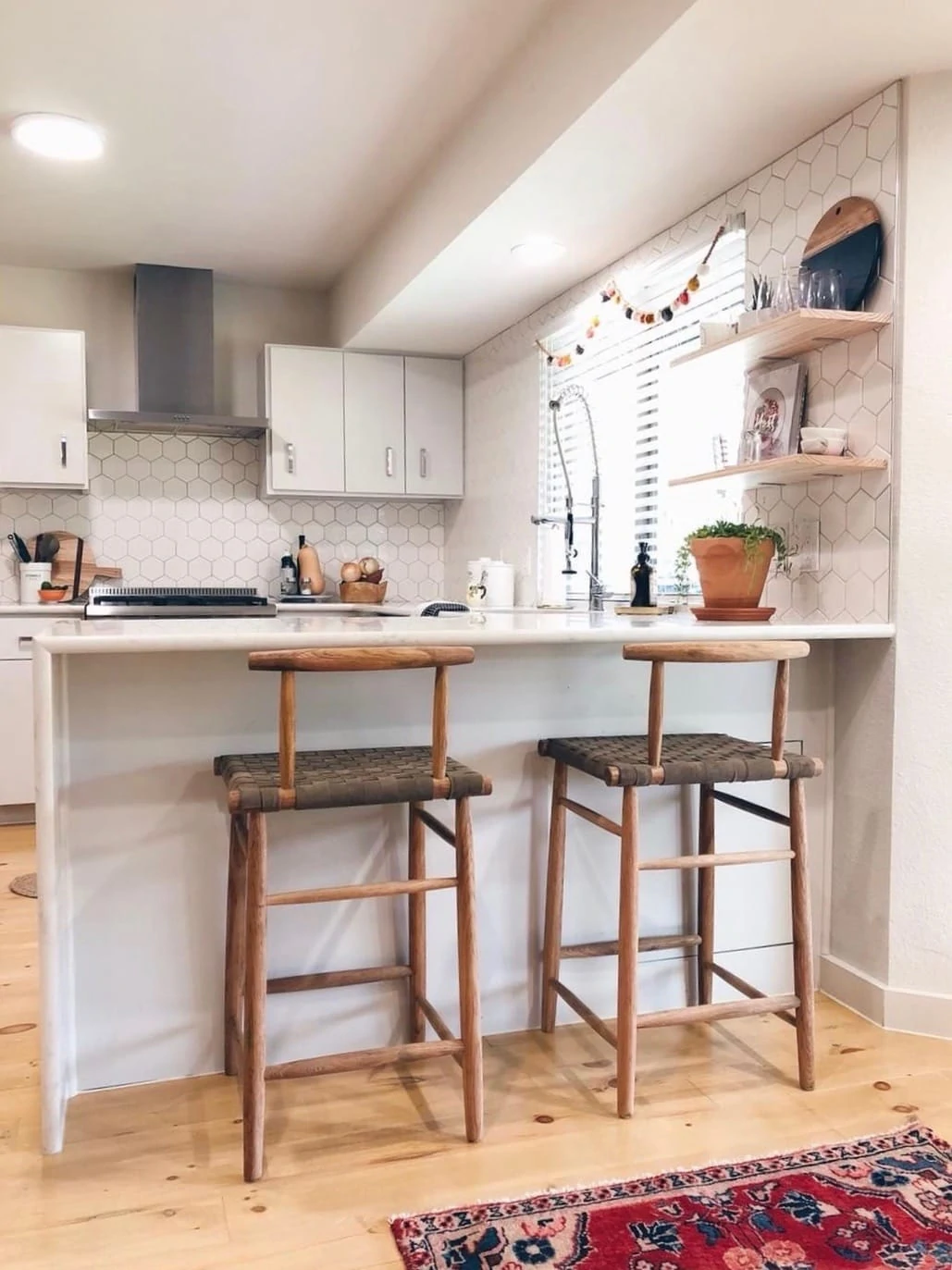 If you notice, the kitchen window is centered in the space and the wood shelves are to the right of the window. On the left side of the window, there's just open wall that is covered with tile. If she would have done chunky wood shelves, I think the overall space could have felt un-balanced.
Kitchen wall shelves that are closer together on wall
These beautiful, chunky wood floating shelves belong to Bridget from the Instagram handle @becrowbe.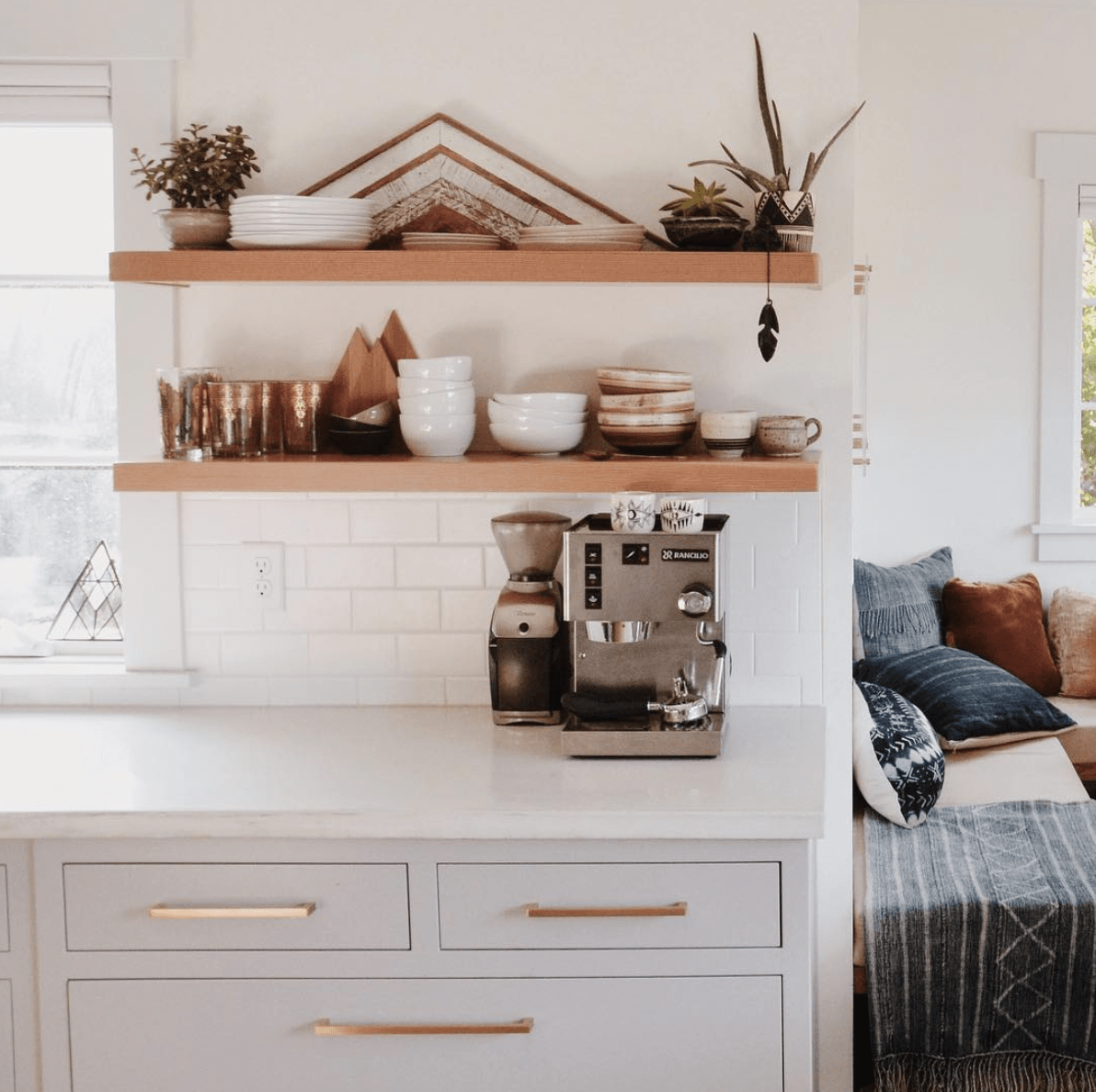 I think it's so nice that that her expresso machine fits underneath her shelves! That's definitely something to consider when you are trying to decide what height to put your shelves up at.
Height of hanging kitchen shelves with three shelves
Next up is @kassandradekoning and her beautiful open shelves!
I really love how her open shelves look! If you have tall ceilings like she does, then mounting three hanging shelves is a great option.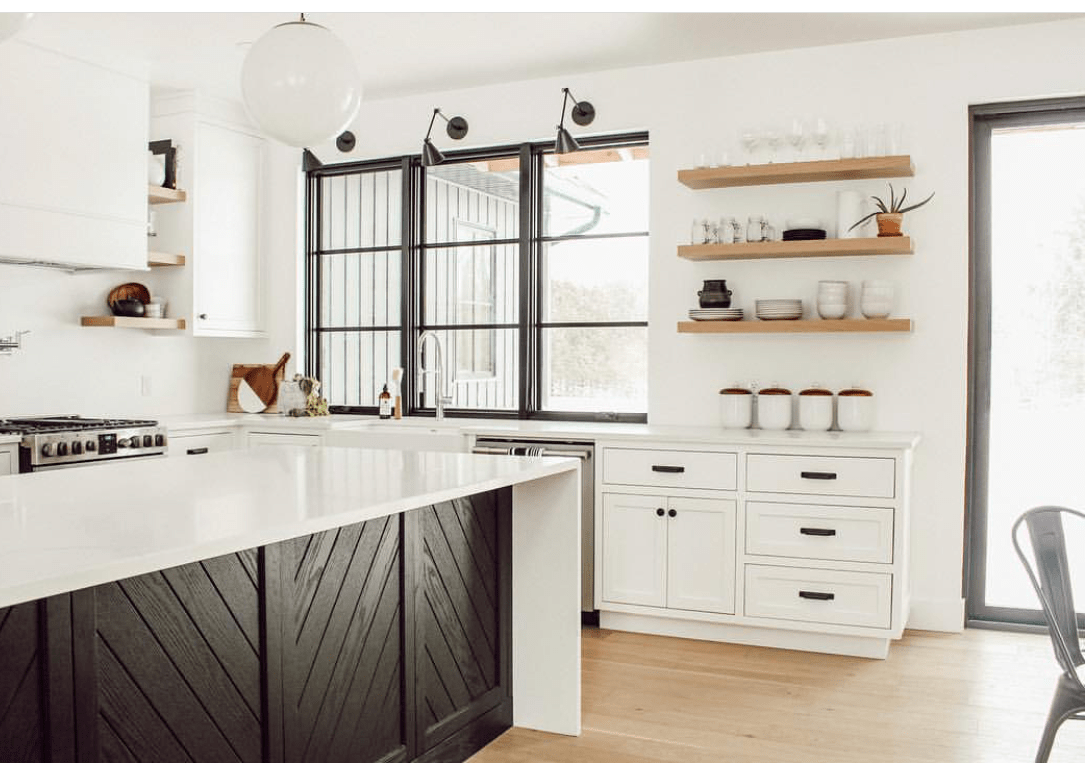 8' ceiling and kitchen wall shelves
I'm sure you realize that this last DIY kitchen shelving inspiration is from my own kitchen (see my kitchen reveal if you want to see all the before photos!).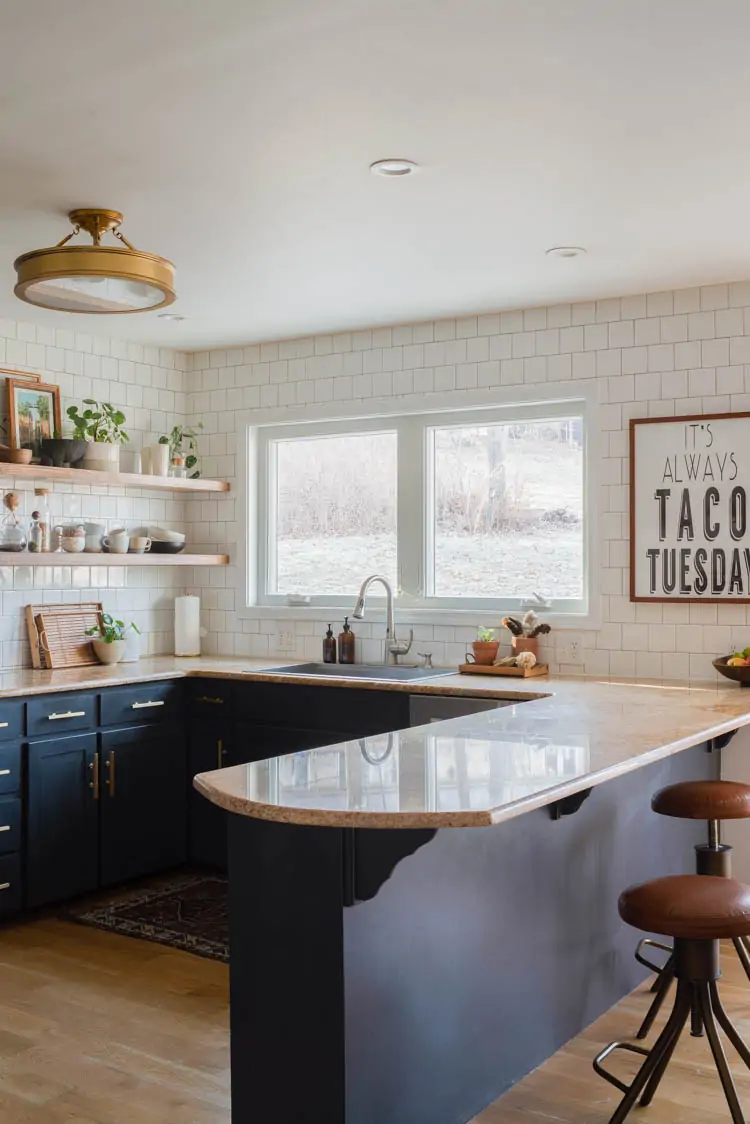 I love playing around with styling the open shelves and, also, the ease of grabbing dishes off them everyday. I would 100% put them up again if we were back at the point where we were deciding whether to do floating shelves in the kitchen or upper cabinets.
What to Put on Floating Shelves if they are high?
If your shelf height is too high to use daily, you need to consider how you want to style your shelves for both functionality and design before putting them in.
For me, if I had high ceilings and a floating shelf at a high height, I'd plan to use that shelf for artwork, glass pitchers, or other serving items that weren't used daily.
Yield: 1
How high off the counter should floating shelves be?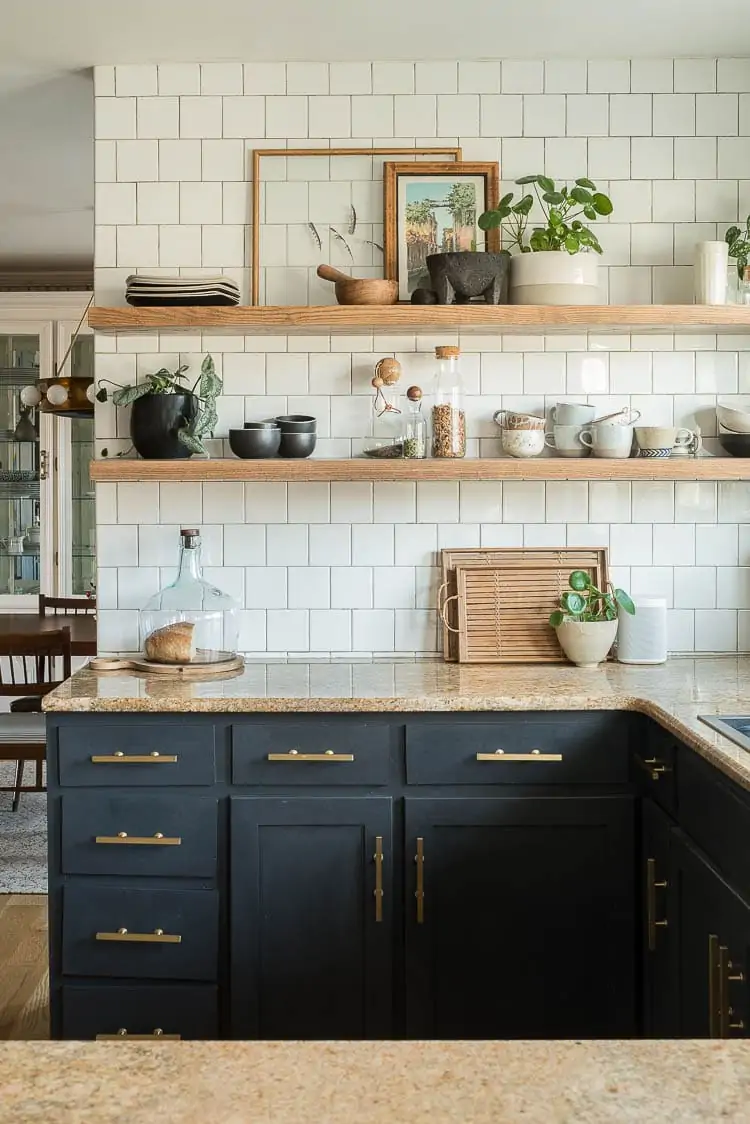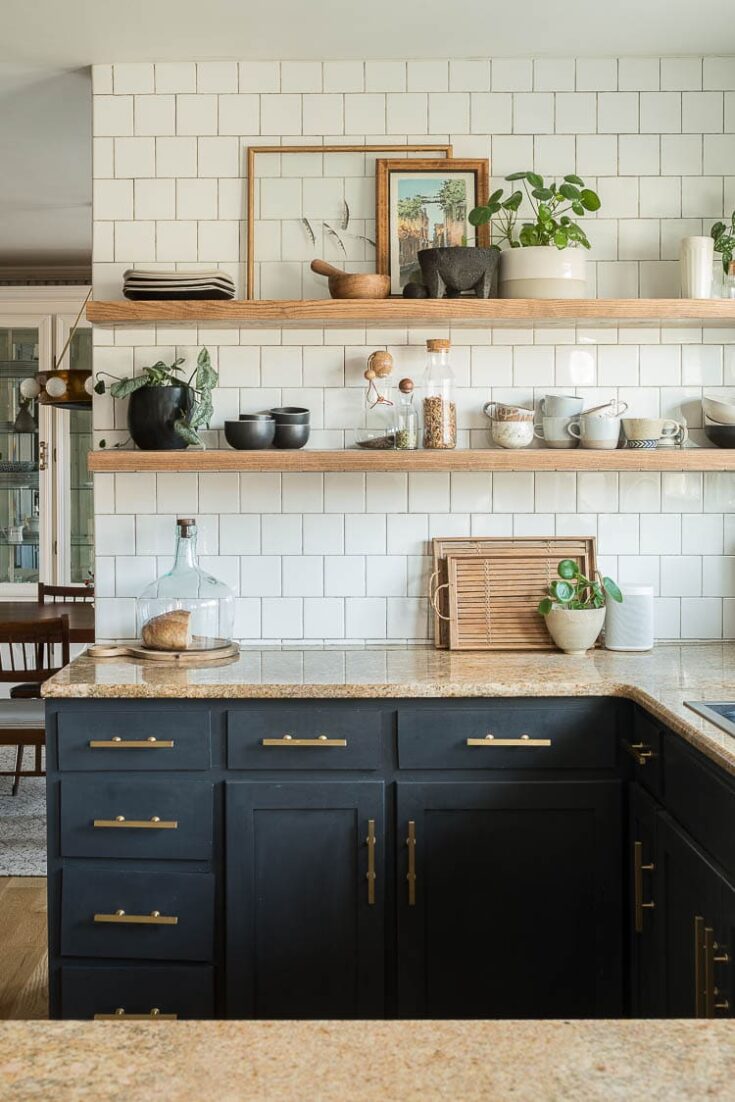 Learn how to determine the height of floating kitchen shelves including how high a kitchen shelf should be over a counter. Learn more about standard kitchen wall shelf measurements as well!
Instructions
Look at kitchen wall shelves and determine whether you like the look of one, two or three kitchen shelves.
Take into consideration the height of our ceilings when determining how many shelves to add in your kitchen. In most kitchens with 8' ceilings, one or two shelves will work best.
Now, consider how you want to use your countertops under the open shelving. Do you need to store a coffee maker or Instapot on the counter? If so, measure those pieces to help guide your shelf height above the counter.
Look at the inspiration images in this blog post and you'll see that the bottom shelf in each kitchen is hung between 13.5"-23.5" above the countertop.
Make a decision based on inspiration images as well as your personal kitchen setup and use.
Notes
See blog post for six kitchens with different dimensions for shelving height with dimensions for each shelf in the kitchens listed.
I hope this post really gave you lots of valuable information for how far above the counter to mount your floating shelves and how far to space your shelves on the wall. I didn't share an inspiration for a shelf over a kitchen window, but that's another option if you like that look.
If you want more resources for installing floating shelves, then make sure to check out my floating shelving guide!