When I set out to make over my hallway travel gallery (check out the old travel gallery wall if you haven't seen it), I knew that the project could get really pricey, really fast. I priced out a few amazing options for large-scale, framed photographs, but all the options came up to over $120 per frame. I knew I wanted at least five frames so $600+ for a gallery wall was not going to cut it. After quite a bit of research and going back and forth on what to DIY or how to DIY part of this project, I decided on DIYing the mats themselves. There was a ton of interest on cutting your own picture mats on my Instagram stories (follow me on Instagram if you aren't!), so I thought I'd spend a bit of extra time making a video for you. Here's How to Cut Your Own Picture Mats to save you LOTS of MONEY! I saved over $50 per mat!!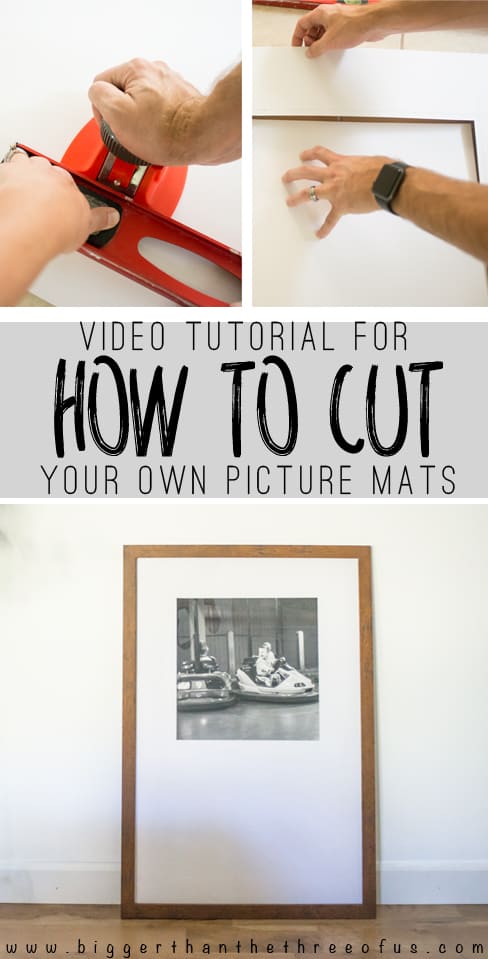 Like, I just said, I saved over $50 per mat. The savings here comes from the size of the frame that I was needing a custom mat for. This frame is 24×36, which is LARGE. If you were going 11×14's or under, you could probably find affordable mat options. When I priced out having the mats cut in store (at our big box stores), I was quoted over $50 PER MAT! That would be over $250 just for the mats alone.
After looking online for a mat cutter, I decided that we'd just buy one and try it. The mat cutter was around $16, so if it didn't work out, then we weren't losing much. Well, it DID work out so we didn't lose anything!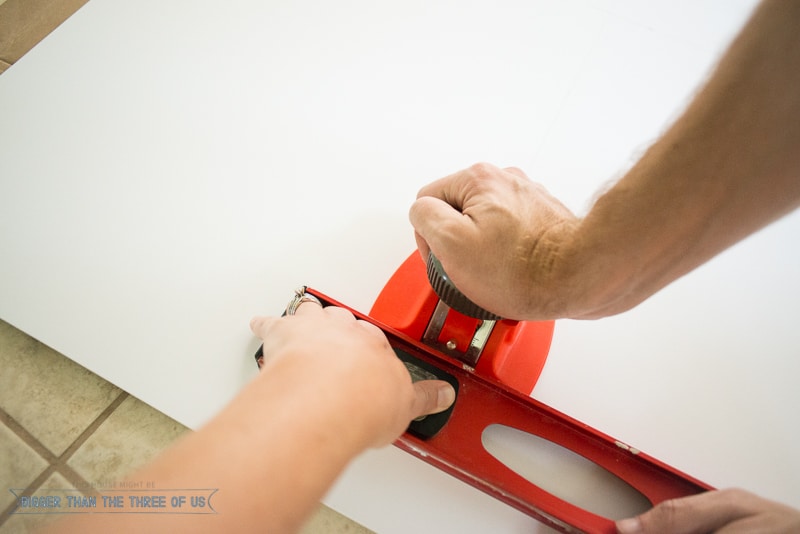 First things first, you have to gather your supplies.
Supply List
Affiliate links below. As always, clicking on a link doesn't cost you ANYTHING! I make a small percentage based on what you buy and it's how I continue to run this blog. Thanks for supporting this blog. Click to read my disclosure policy.
Belmont 24×36″ Frame – Honey  (these go on sale for $16 quite frequently)
24″ by 36″ White Mat board – In store at Michaels for around $8
Photo – For irregular, large sizes : Nations Lab does a GREAT job and I've found them to be the most affordable.
Cardboard (to protect your floor)
Extra set of hands (you need one person to hold the level and another to use the cutter)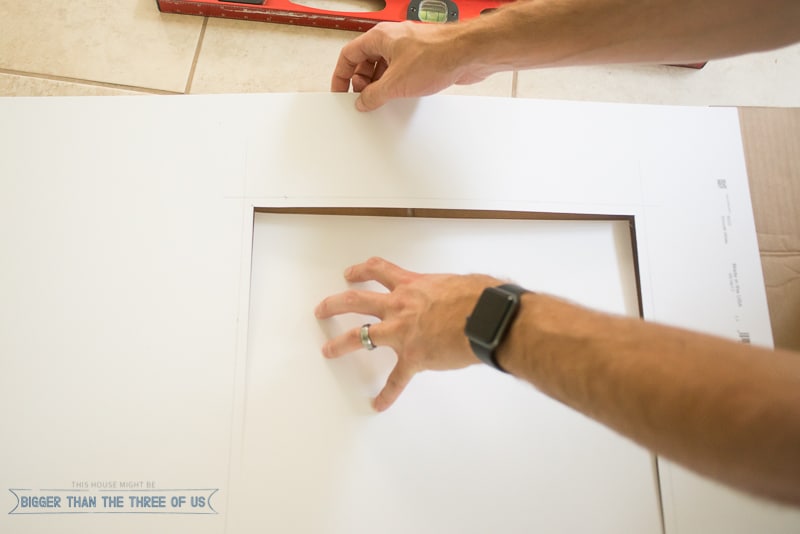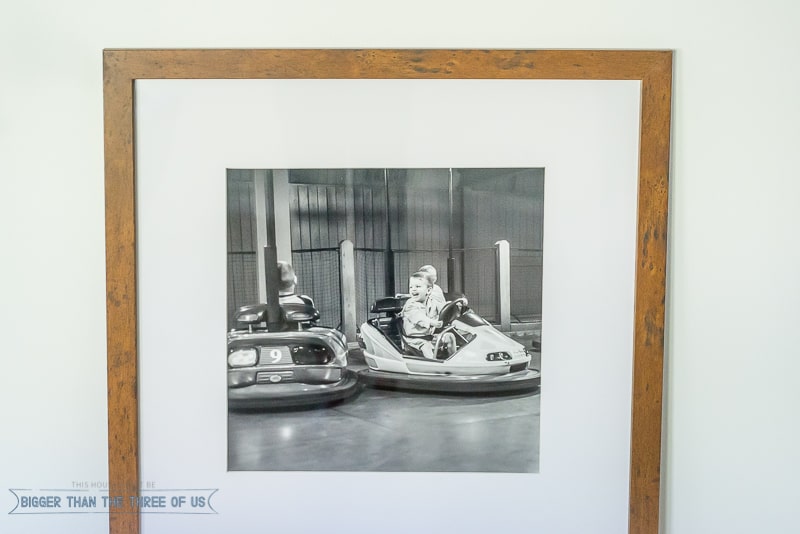 Ready for the full tutorial?
How To Cut Your Own Picture Mats Video Tutorial
All in all, this project took us about 15 min per mat (after the first one). I ended up with five frames for my new travel gallery wall (reveal next week) and the total cost per finished frame (including all supplies from list above) was $40. I got a deal on my frames (so make sure to get them on sale)!
Here's a sneak peek of one of our DIY mats in the hallway. If you want to see how the hallway reveal turned out then check out the Travel Wall Gallery Reveal!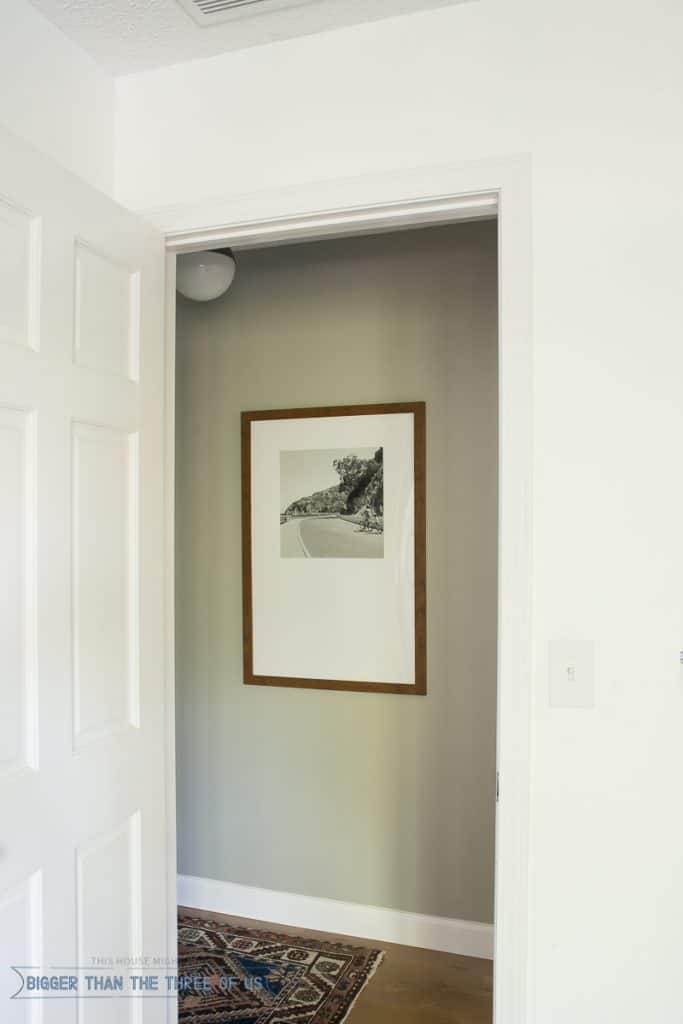 Another post that I have that you may love is how to print Staples Engineering Prints including my thoughts on them, what they cost, what sizes you can print and more!
PIN FOR LATER: