You guys, I'm so excited about today's post, Modern Travel Gallery in Hallway. Our hallway has come soooooooooo far from where it was. I can't wait to show you some of the progression. To be honest, it's not a space that has good natural light, so it's a challenging space for me. I liked our original travel-themed hallway but, as with anything, my style aesthetic has changed over the years.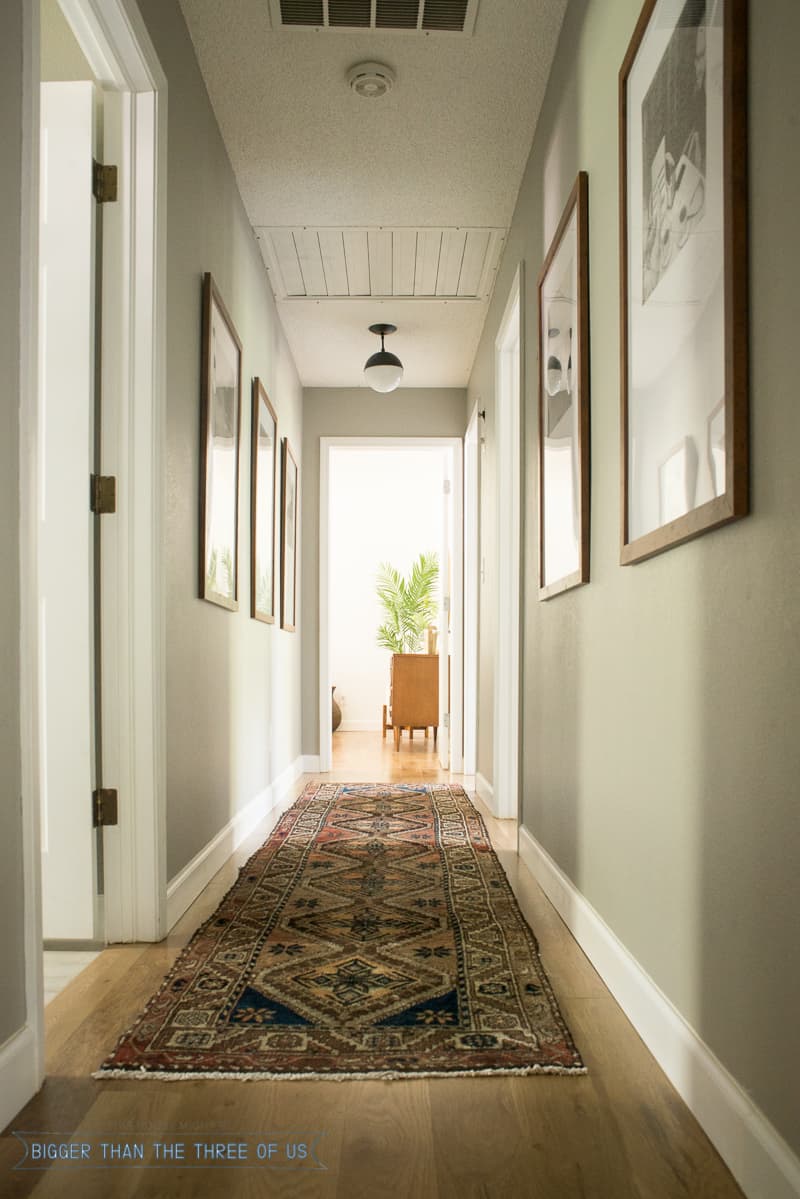 The space started to take shape last year after we got our hardwood flooring installed. I get asked about the color of our hardwoods quite a bit; so, if you are curious, you can check out my post on how we chose our hardwood flooring.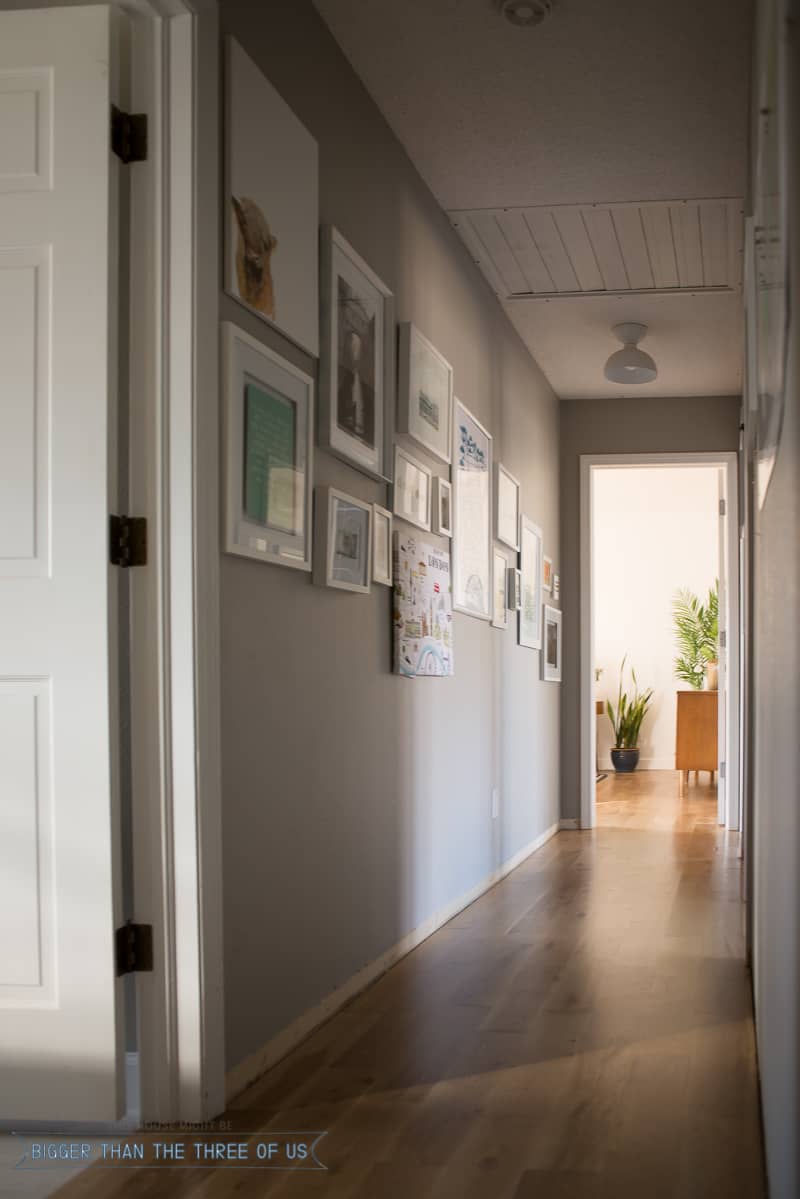 This picture was from last year. New flooring, old travel gallery, no rug, no baseboards and with the lighting that we moved to the closet.
So, like I said, the space started to take shape after the flooring was installed but promptly stalled because of time, money and just general direction of how to make the space feel more cohesive. Earlier this year, two things happened. eSaleRugs reached out to me to see if I'd be interested in reviewing a rug. I ended up choosing a rug that is beyond perfect for the hallway. The hallway needed a rug that was around 13ft, which can be a bit challenging to find. So, when I finally found "the one"... it was super exciting! The second thing that happened was that I decided to steal the lights that we had in the hallway for our closet makeover.
AFFILIATE LINKS BELOW. AS ALWAYS, CLICKING ON A LINK DOESN'T COST YOU ANYTHING! I MAKE A SMALL PERCENTAGE BASED ON WHAT YOU BUY AND IT'S HOW I CONTINUE TO RUN THIS BLOG. THANKS FOR SUPPORTING THIS BLOG. CLICK TO READ MY DISCLOSURE POLICY.
The lights were great in the hallway, but they didn't add any interest. Taking them down and installing them in the closet was a HUGE win because our closet needed new lights and that allowed me to buy two affordable lights that would add interest to the hallway.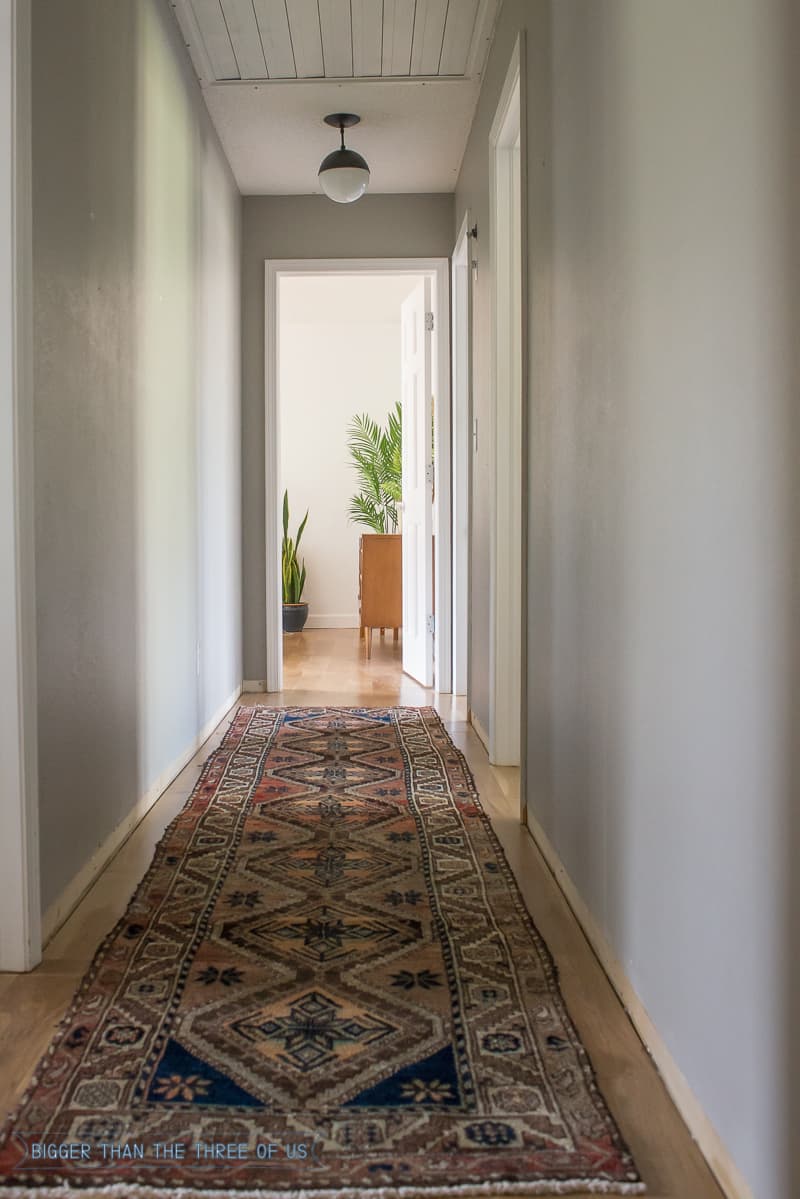 This photo is from earlier this year after I got the rug and the lighting was installed.
A few weeks ago, we finished installing the baseboards in the hallway. I shared a post on how to cope baseboards, which we photographed while we were installing the hallway baseboards.
After that, it was all about trying to figure out how to get the gallery look that I wanted in a price that I could afford. I fell in love with Brit's gallery wall in her master bedroom reveal. She had the exact look that I wanted but I wanted my frames to be a bit bigger.
I sourced and sourced for affordable options for a large-scale frame/mat combo but couldn't find anything less than $125 per frame. I couldn't justify that price when I wanted at least five frames. So, I decided to DIY the mat board (see how to cut your own mat board for the full tutorial). A reader informed me that Michaels was having a huge sale on their 24x36 frames. I snagged a few for under $20 a piece.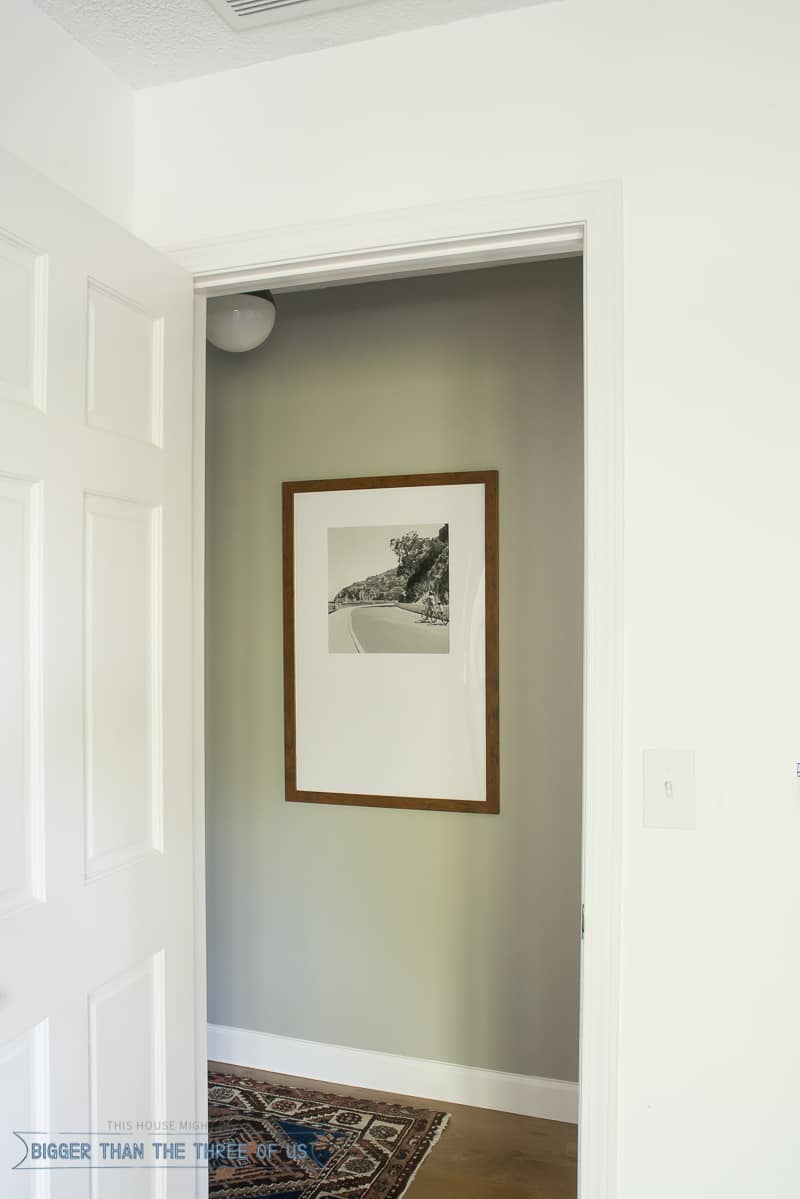 After cutting all the mats, it was as simple as hanging them all on the wall.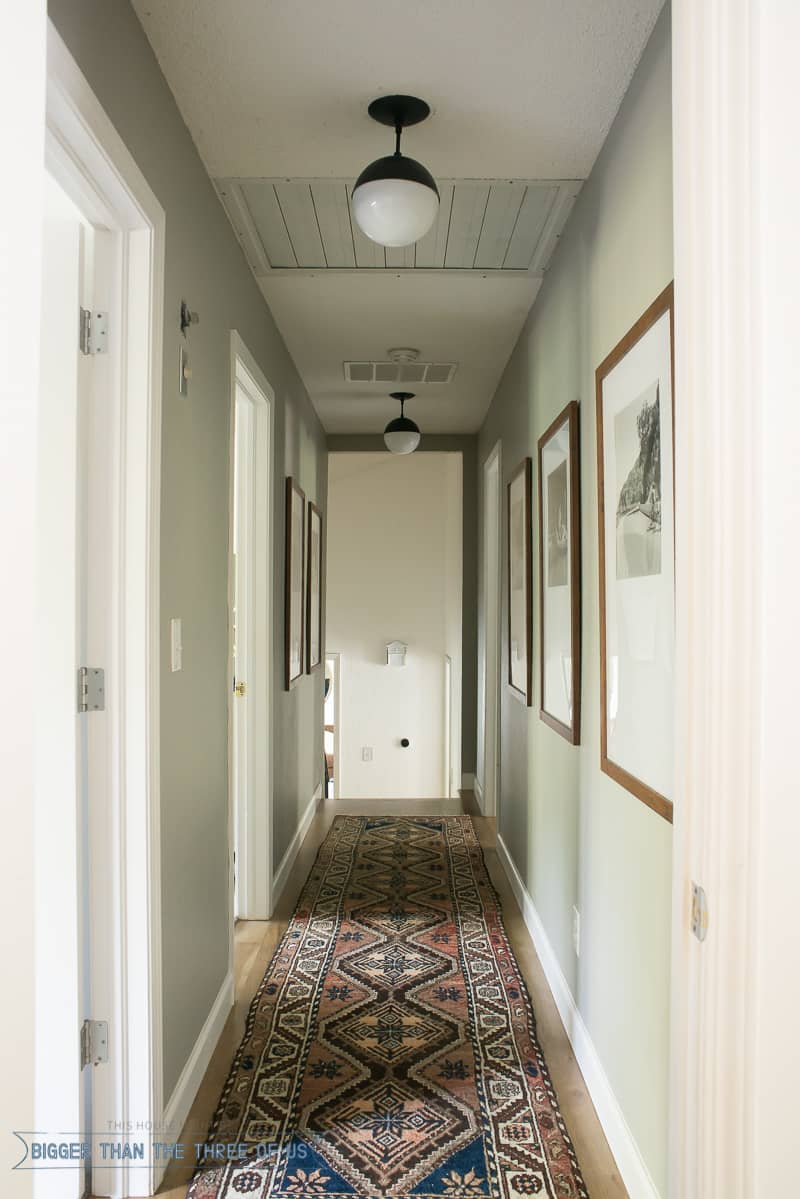 The hallway is far from perfect, with all the disgusting asbestos-filled popcorn, multiple grungy ceiling add-ons, etc. BUT, it makes me smile and I really love where it's at.
You gotta appreciate how far it's come, too. Want to see it on move-in day?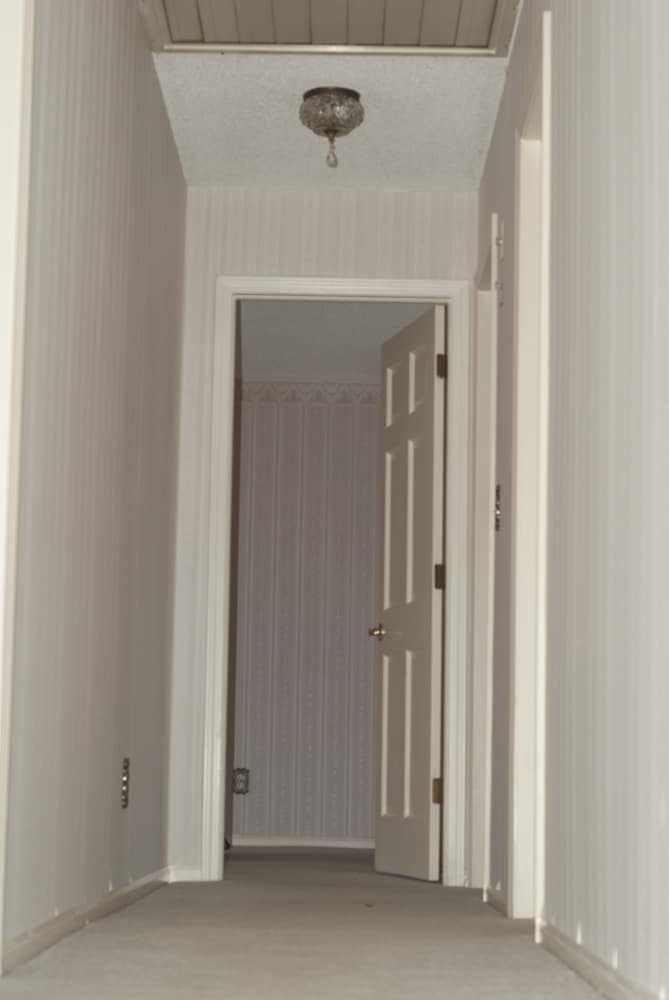 Crazy, right? Gosh, I think so!
Don't forget to go over and PIN the tutorial for cutting your own photo mats. You are going to want it!