Two reveals within just a few days? Actually, three reveals if you are counting the $87 Minimal Modern Bathroom Nook Reveal from last week.  I've been a bit of a busy bee lately trying to wrap all these spaces up. Today, I am so excited to share our Mid-Century Bedroom with you all. It's a bit, or a lot, Mid-Century; a bit, or a lot, plant-filled; and feels like us. It makes me smile every time I see the corner of the room from the hallway.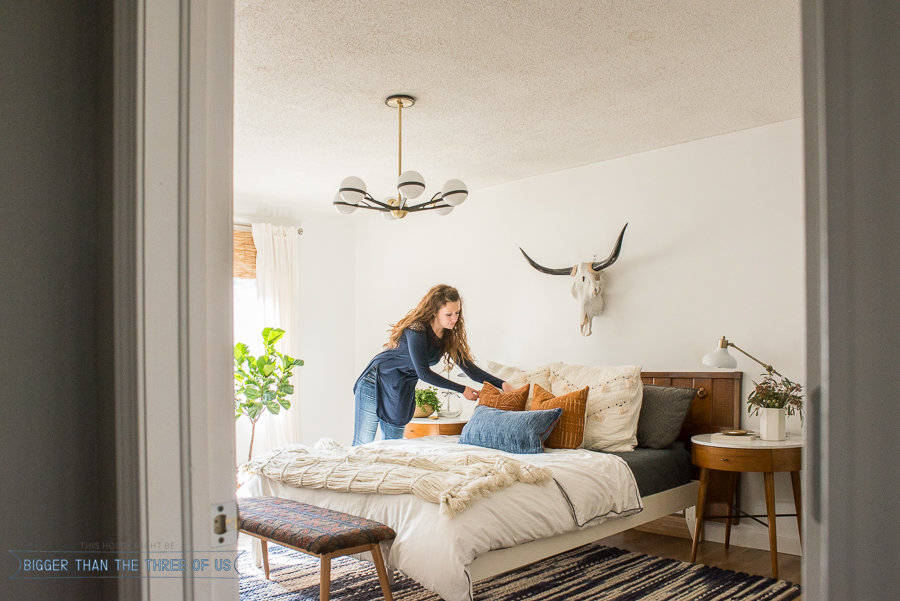 If you are a longtime reader, then you might have seen our Light and Airy Aqua Bedroom. It was one of the first projects that we did and one of the first where I realized that I LOVED the process of starting, conceptualizing, DIYing and finishing a space. We really enjoyed that space (and so did many of you); but, of course, our styles change over time.
Sometime around two years ago, we slowly starting changing that original space. I'm not sure what piece came first or when the space started looking completely different, but I'd say it happened when I started really honing in on my love of mid-century pieces.
*Affiliate links below. Thanks for supporting this blog. Click to read my disclosure policy.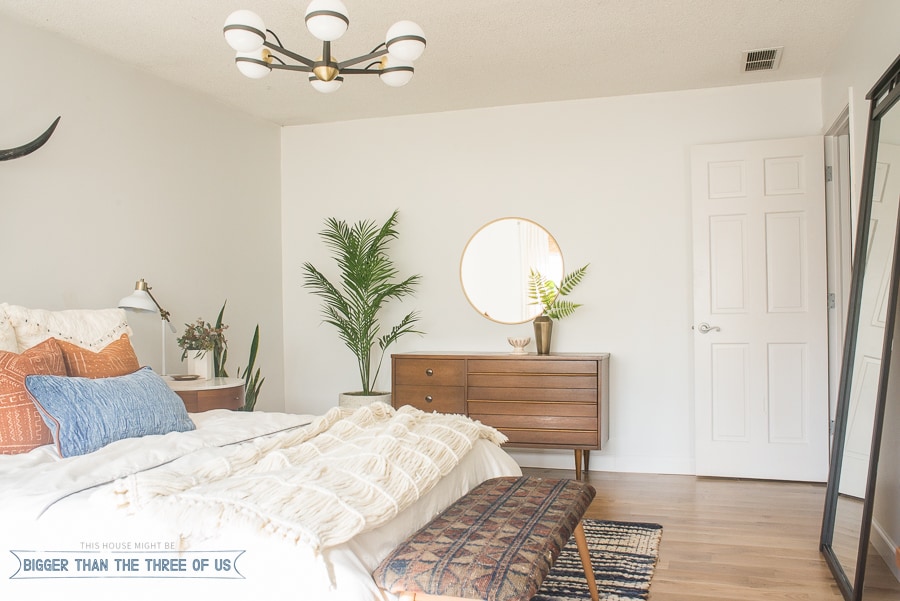 I found the dresser (above) on Craigslist for around $50. We started playing musical furniture pieces and then I found an amazing vintage headboard at a garage sale.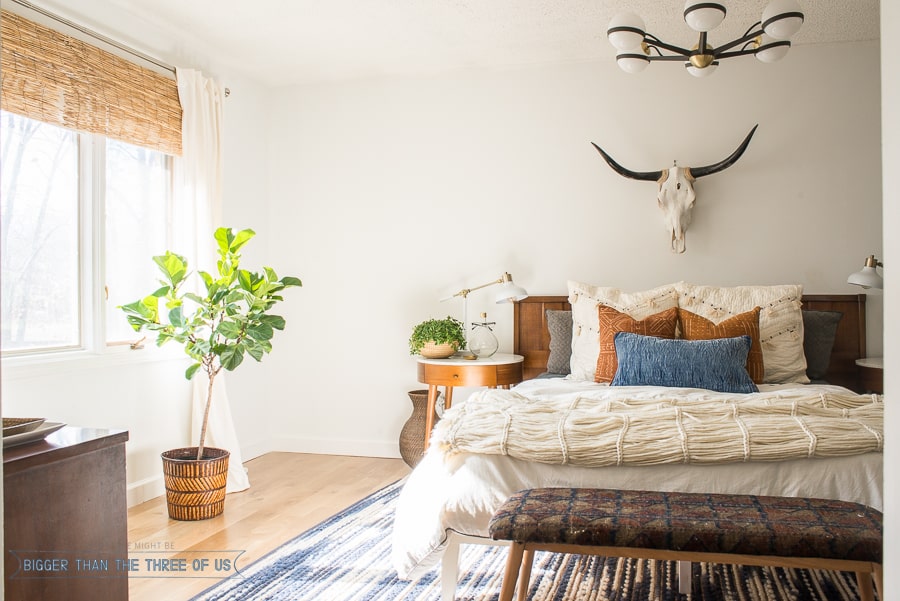 Don't hate me for telling you that I paid $15 for the headboard. Crazy beans, right?!
Anyways, the layers just kept changing and, for awhile, I couldn't figure out how to make the pieces work together.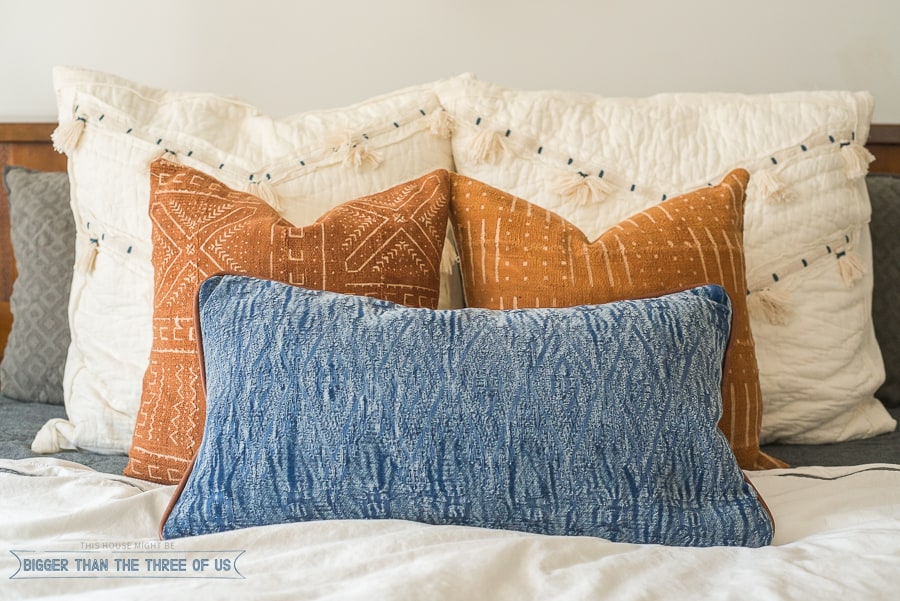 I tried to makeover the bedroom for the One Room Challenge last spring but ran into complications with timing. I did make progress with the space through that challenge, yet the space didn't feel cohesive to me.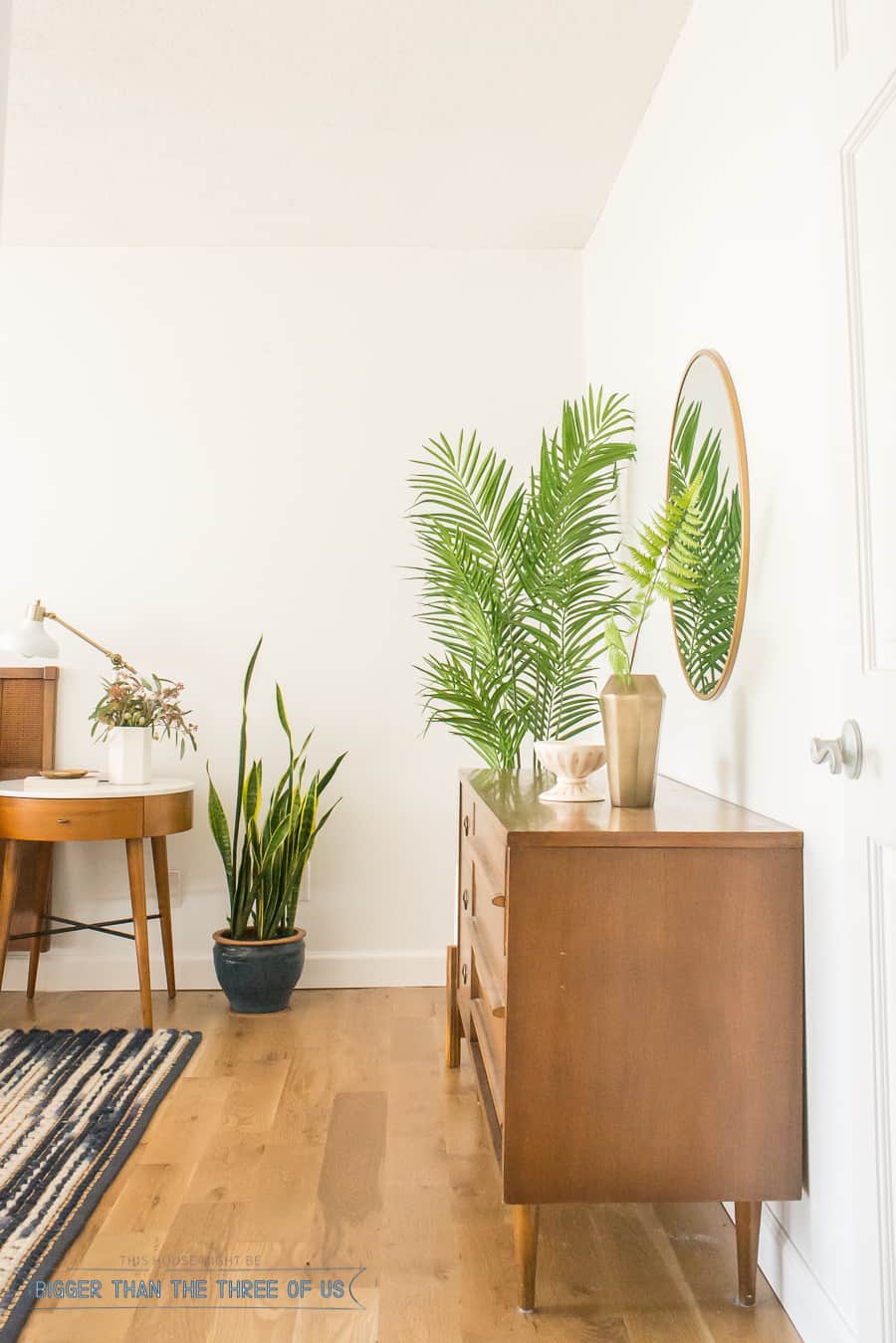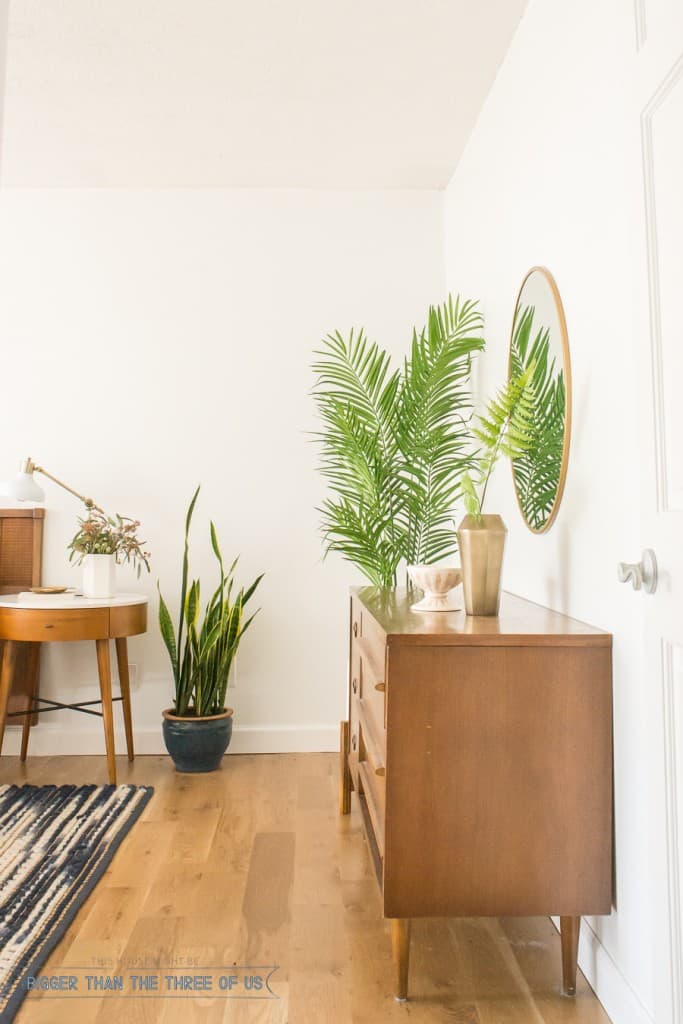 I do the best when I can collect pieces over time. If I try to force pieces, then the end result just feels a bit more forced.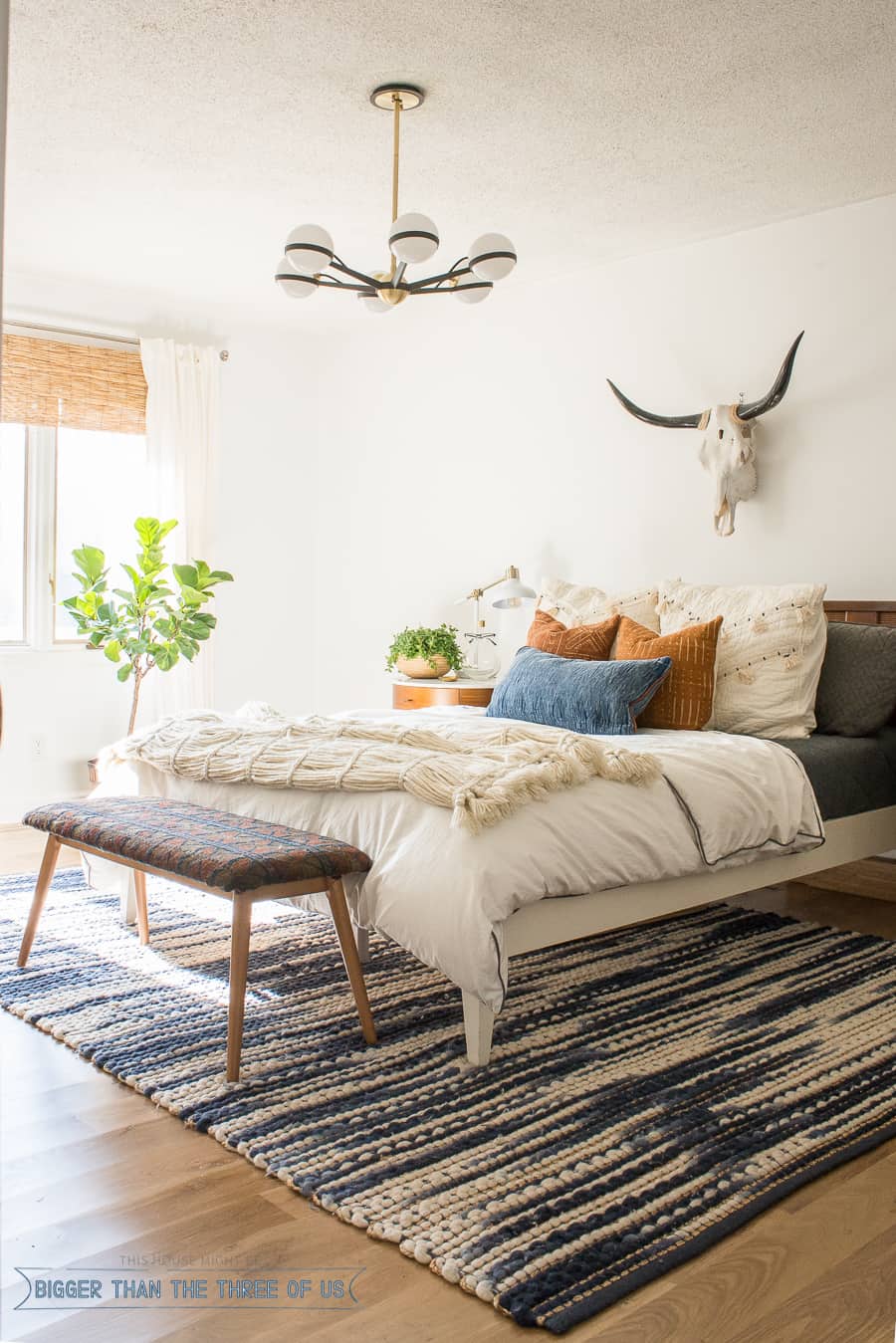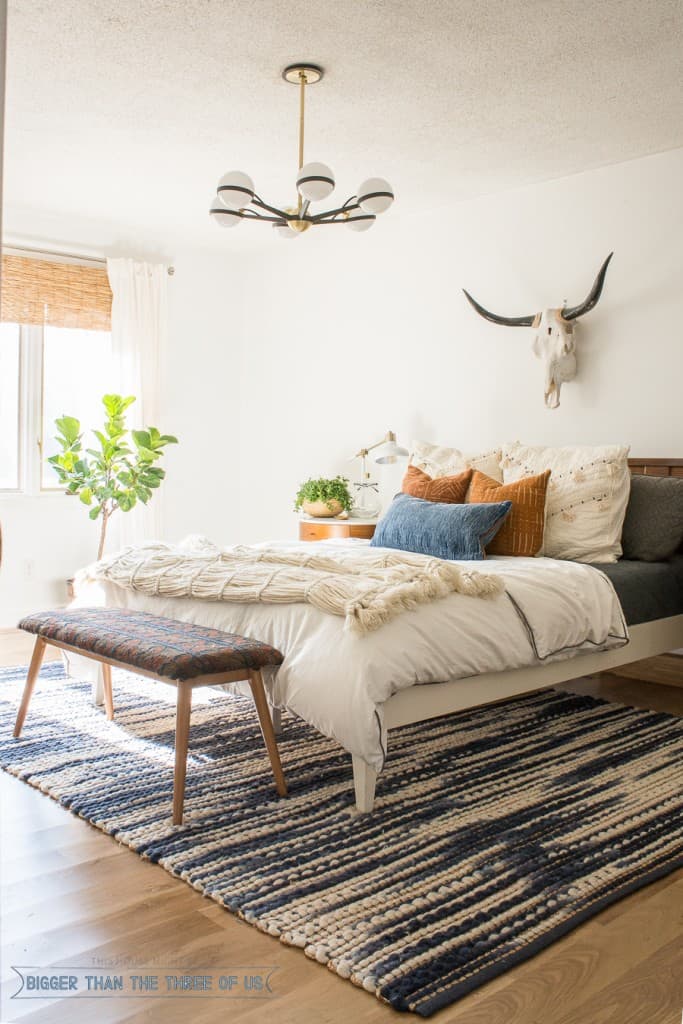 So, since May of last year, I've been thinking about this space. I've been slowly adding a piece here or there. It slowly started to come together. Each added piece felt right.
The piece that made everything click into place was the overhead light. I adore the brushed brass and how the steel mimics the steel of the leaning mirror that we've had forever.
I was nervous when I ordered it because it comes in three sizes and I wasn't sure which one would be best. The smallest option was the one that I picked and  it's the perfect size for our low ceilings.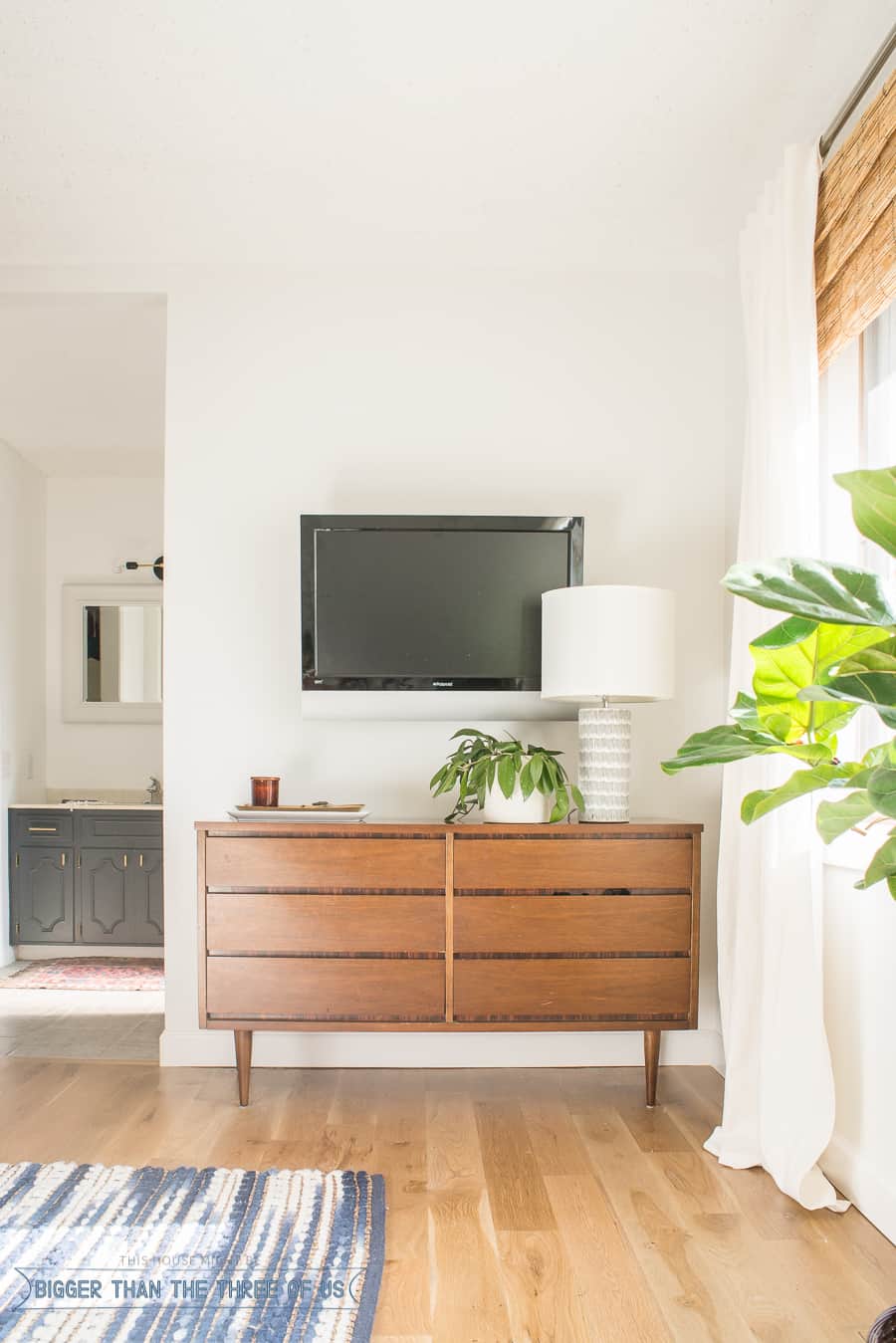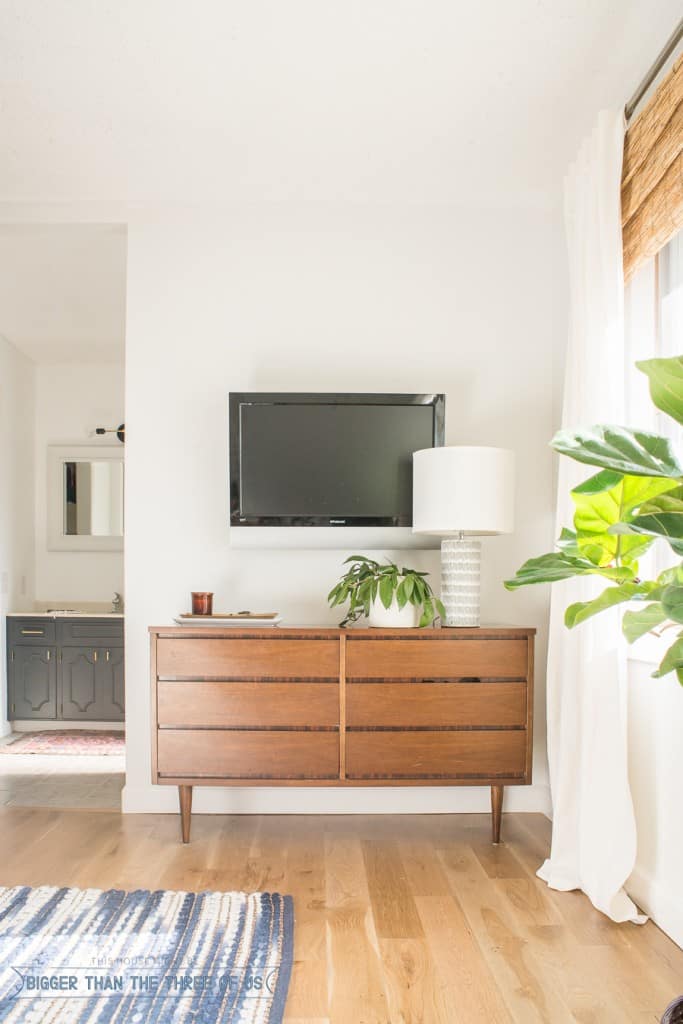 Mounting the tv on the wall drastically changed the look of this little corner. I'm really surprised at that fact, but it's true. I think being able to put something on the dresser to take the visual interest off the tv is what makes it work.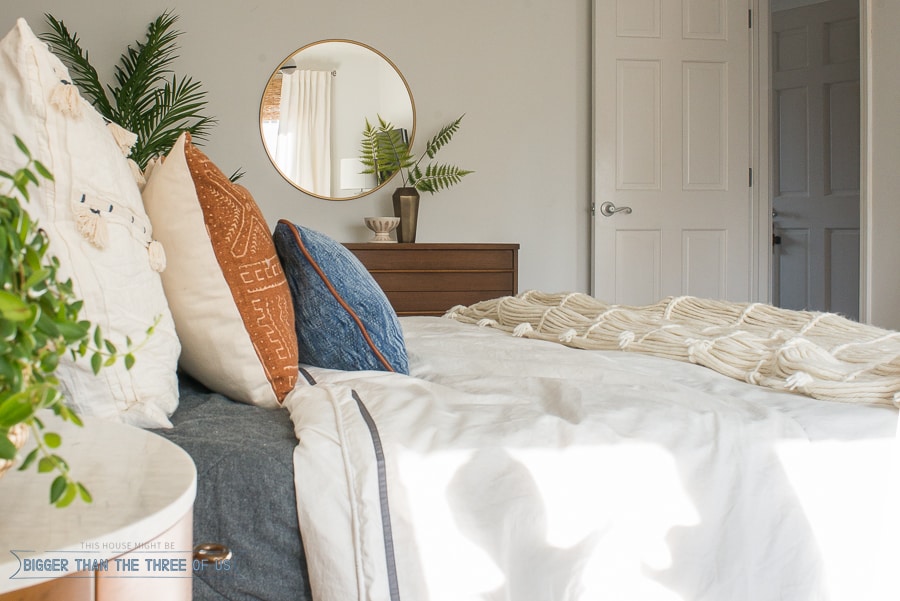 I felt like I couldn't find the perfect bed linen combination and then I just said screw it. Funny thing is that my friend, Bridget was saying that she had to purge some decor items. I'd been eyeing some rust mud cloth pillows for quite some time but just hadn't pulled the trigger and ordered them. Anyways, I was thrilled to buy them from her because I've been eyeing them for months from The Ivory Gull (where Bridget bought them).
In my mind, I pictured the pillows working in our eat-in kitchen on the bench seat. When I opened the box though, I just knew they were the missing link to the bedroom.
I love it when that type of thing happens.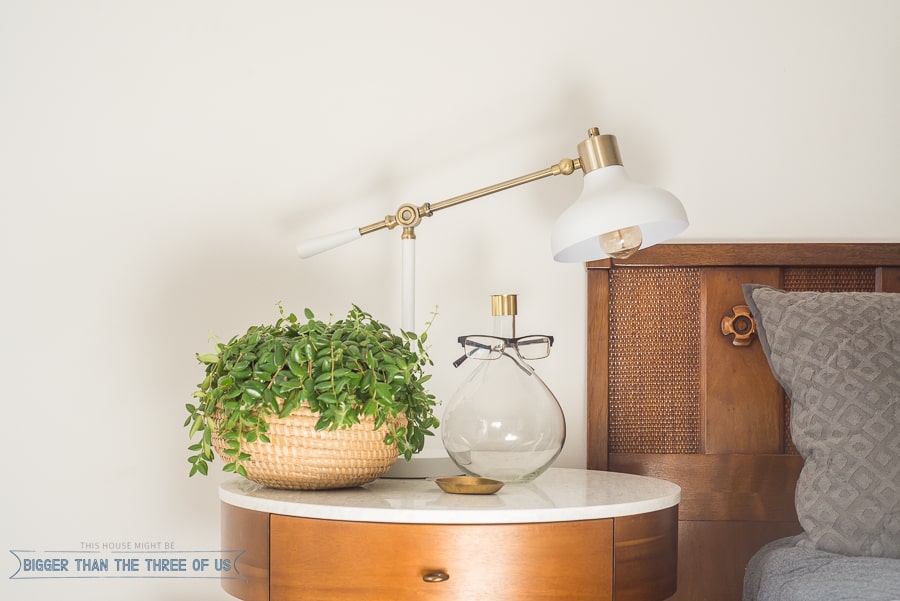 Lamps | Basket (similar) | Coin Tray | Nightstand | Headboard (similar)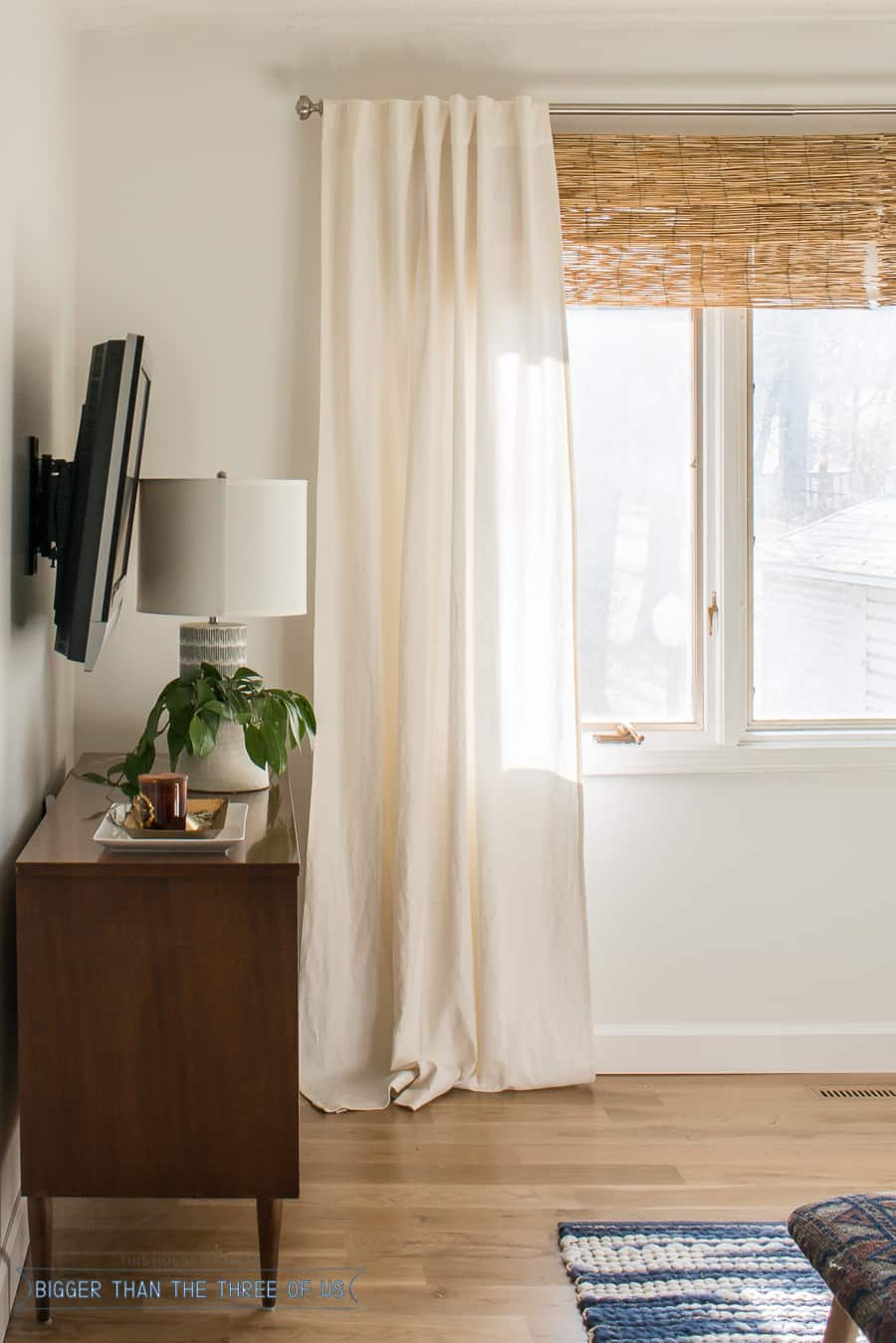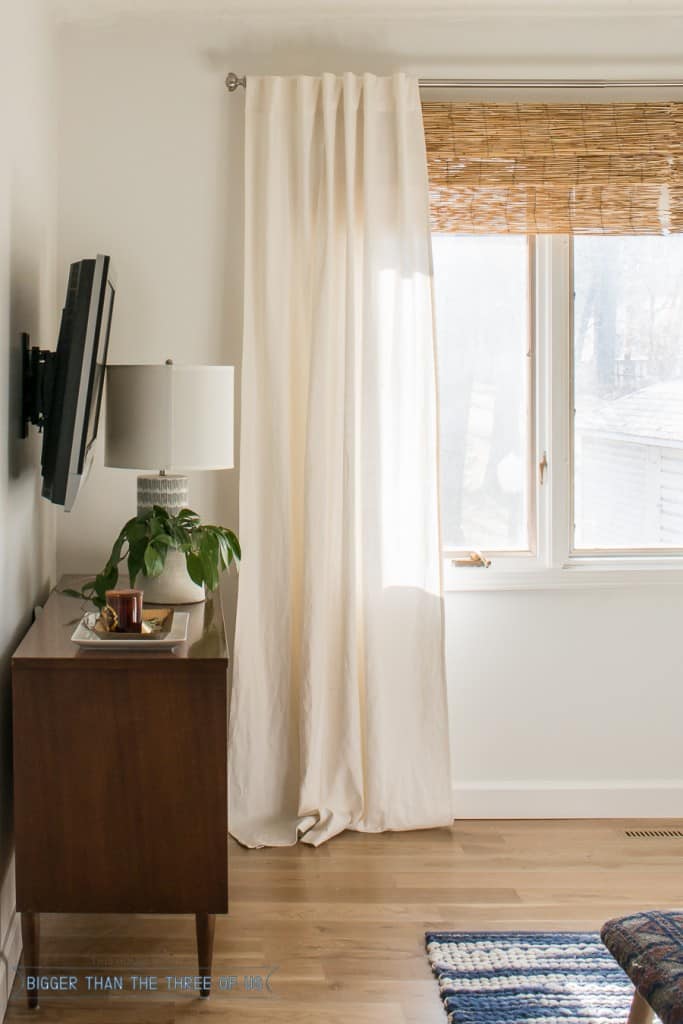 The curtains used to be in our living room and, although they'd still work great in there, I'm loving them in our master. Forever ago, I did a simple DIY for the bamboo shades (see the fencing to bamboo shades post for the tutorial) and it's working fine still. Eventually, we will probably spring for some sort of custom roman shade (because we do have to pull the shades down at night) but, for right now, this setup is working for us.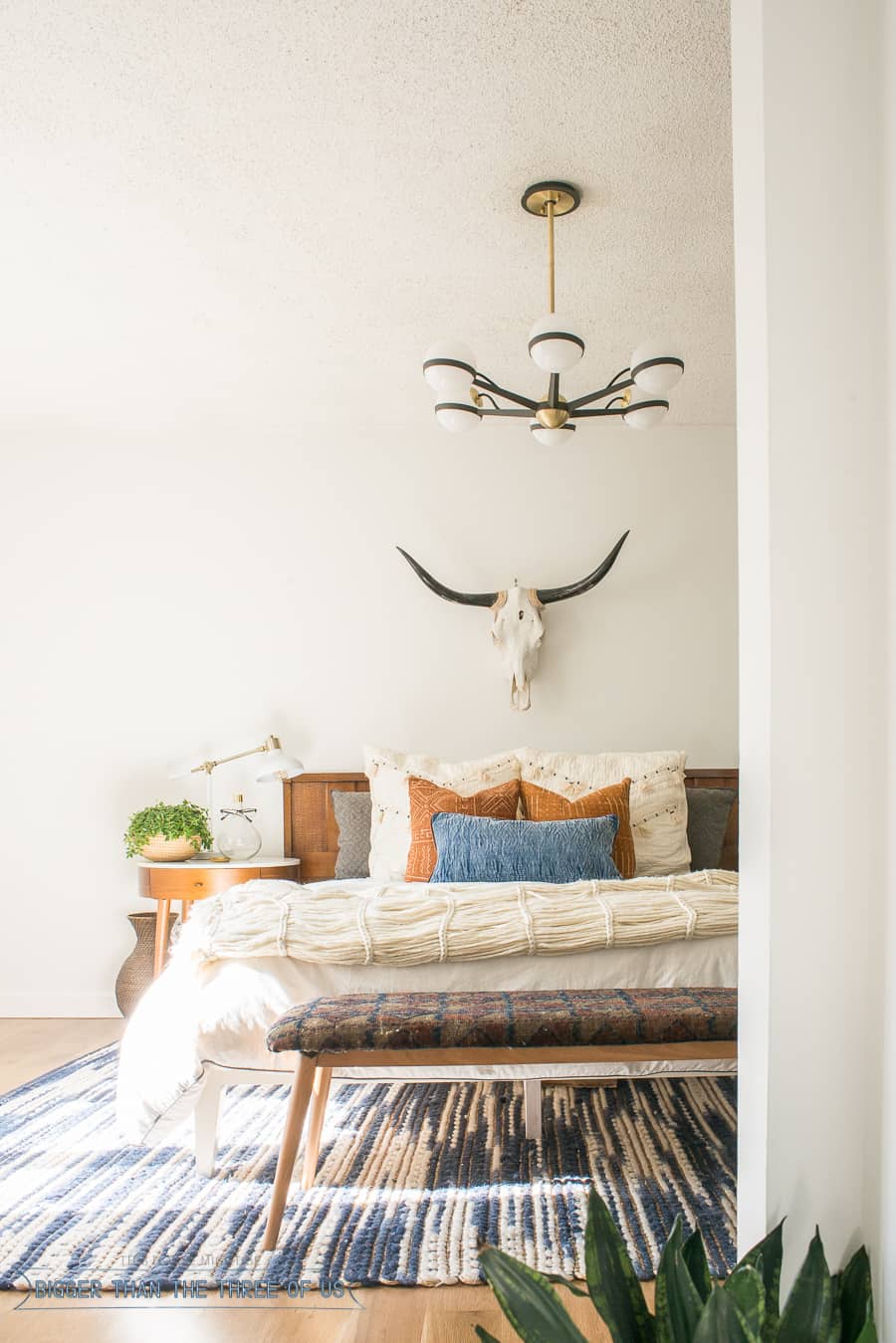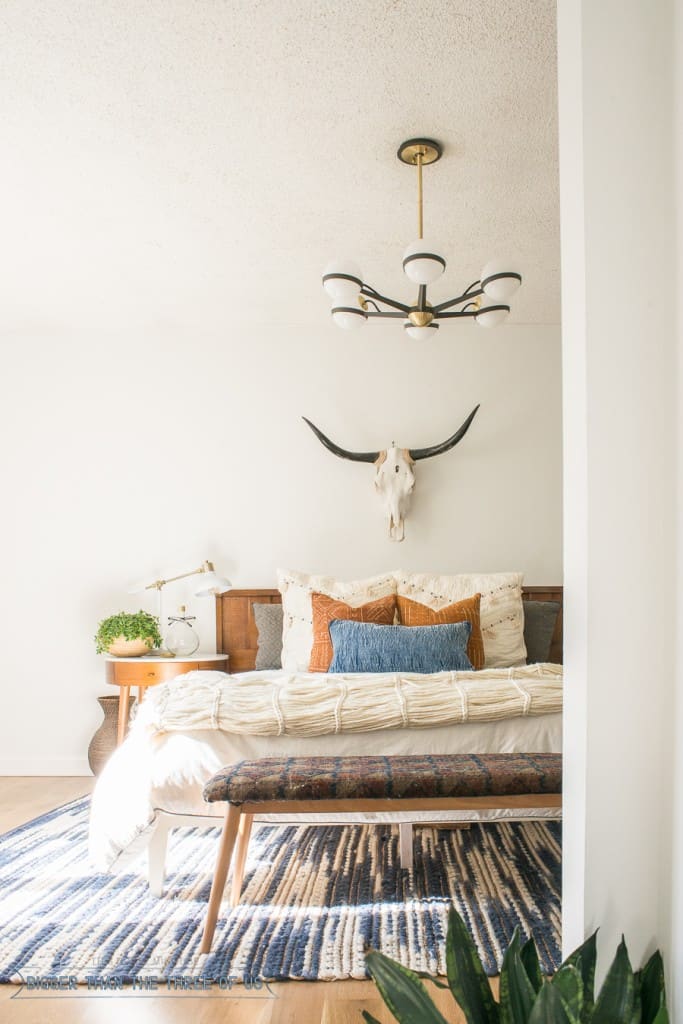 I think my DIY vintage rug to bench really adds some interest to the end of the bed. We like having a bench in our room to put on and take off shoes. I had a plain one in there for awhile and it was just kinda blah. When I saw the torn and dirty rug on eBay - I just knew it would be perfect for recovering the bench.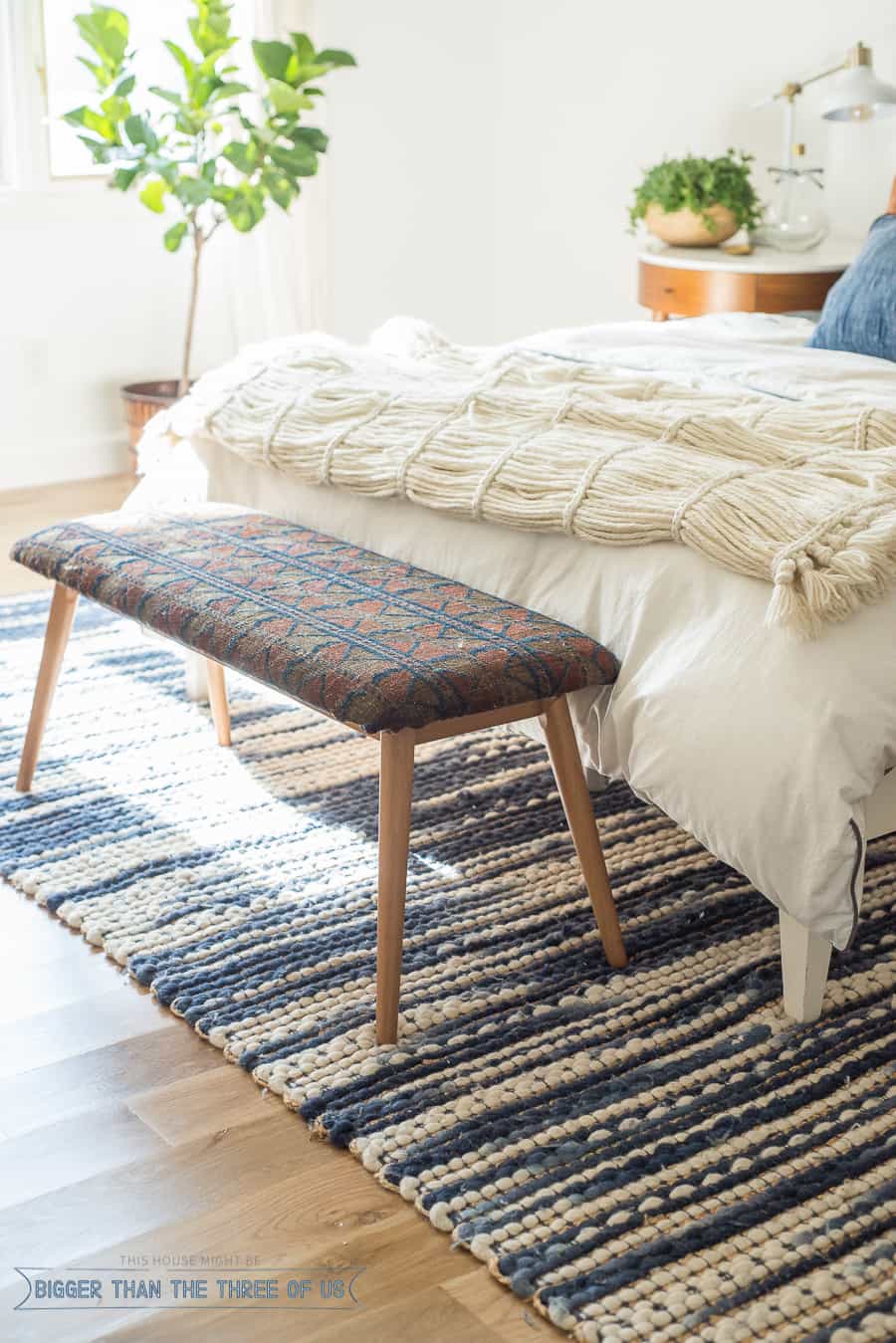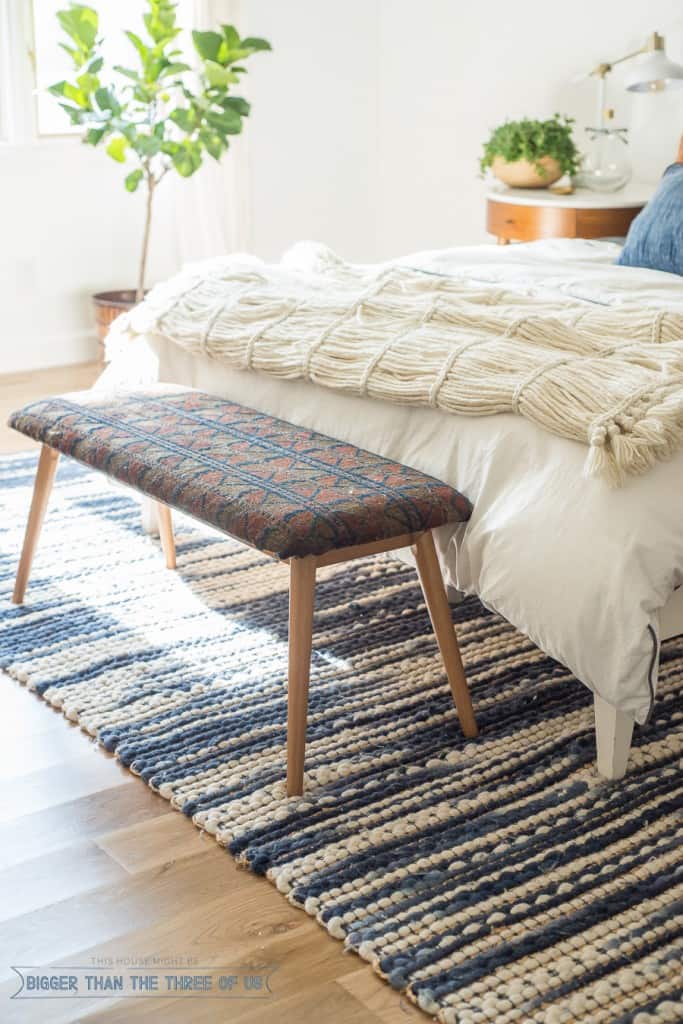 I've said that I'm never going to be a collector of stuff. I just can't handle having to keep it up nor storing it all. BUT, I do find myself drawn to the vintage pocket change trays.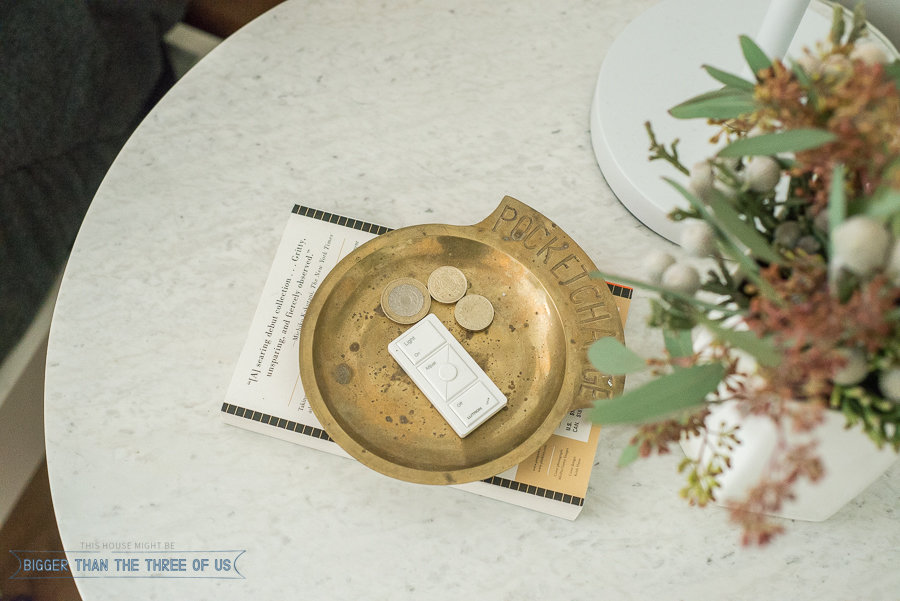 I didn't even know that I loved them until a few years ago when another blogging friend (Cassie) shared one on her blog. I begged her to sell it to me and she was a super sweetheart and just mailed it to me.
After that, I looked for them here and there at flea markets. Interestingly enough, the next time I found one in person was with Kyla (another blogger) while we where at the Randolph Street Flea Market in Chicago.
Both of those treasures made it to this room. Now I know that the brass trays used to be pretty popular and you can always find them on Etsy. I told Luke that I'm not going to buy one off of there though because the ones that I have in my house have to have a fun story behind them. =)


I've had this fiddle leaf fig for about six months now and it's going strong. I'm afraid to move it so I just gently rotate it every once in awhile. On watering day, I move it for a day and then move it right back. Can't mess with a good thing, right?


I've been using the trays below the tv for my everyday jewelry. I take off my ring and earrings when I get home and plop them right there. I used to use a little cup (and I do have a small jewelry organizer) but I like just having them sitting on the tray.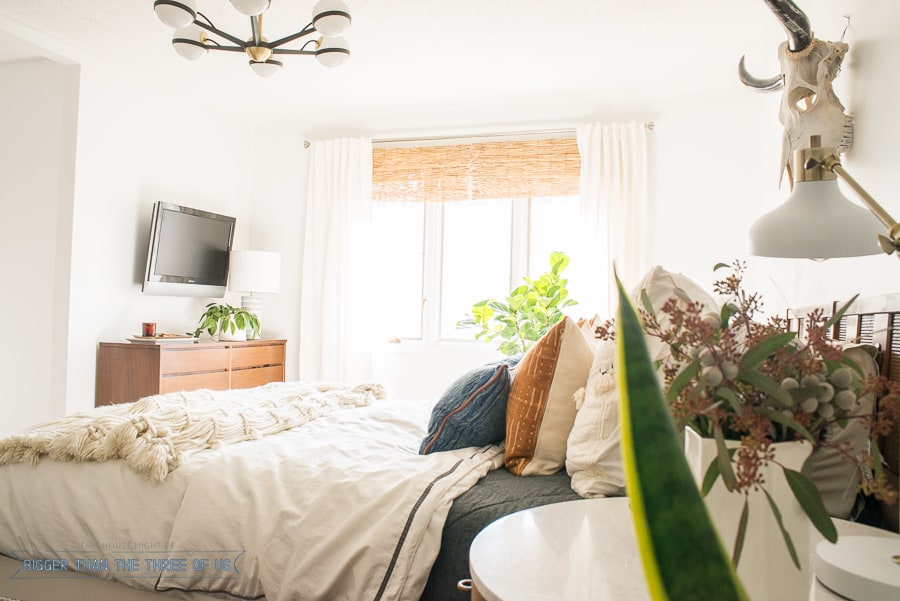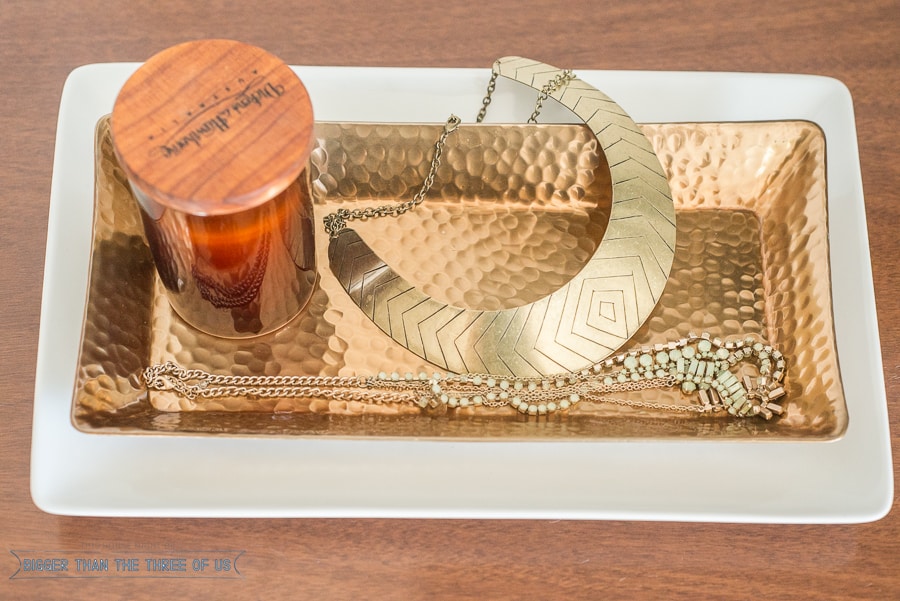 Here's a really good view of the open bathroom nook. I'd love to eventually do a BIG renovation on the bathroom/closet, but for now it at least kind of goes with the bedroom.

I know I'm going to get questions on this large planter. Isn't it fabulous? I ran into Marshalls to get a towel and ended up coming home with two giant fake planters. We have a few areas in our house that are pretty dark and I knew that they would be perfect accent pieces for those areas. The rest of the plants in our room are real, but this large palm (is it a palm?) is fake; although I do think it looks real.


 I plopped some flowers in a vase for our nightstand and called it good. Have you ever seen dried flowers that look like the live ones on our nightstand? Do share, if so! I'd love to be able to add some that would look good all year around.


I guess one of the only things I haven't chatted about is the skull. I'd been on a hunt for one for about a year and a half. Early in the fall, I found it at a flea market and it's been above our bed ever since.

I think that's just about everything in our bedroom. We are absolutely thrilled with the space and are 100% ok with it taking years to get a space that we love. Sometimes, it just takes time and that makes it even better.

*This is not a sponsored post but Lamps.Com did provide the amazing ceiling light for this reveal. I truly love it and love working with companies that I'd 100% recommend.
If you guys are looking for a light, stop by Lamps.com and use BIGGERTHAN310 to get 10% off any order.
Shop the Look of this Mid-Century Bedroom