If you've wanted the layered bamboo shade with curtains look in your bedroom but don't have the budget to buy all new, this DIY bamboo shades hack might be perfect for you.
I loved the look of the layered bamboo over windows with curtains on top of them, but couldn't afford the $120 price tag. For just $10, I made my own bamboo window shades and five years later, they are still going strong!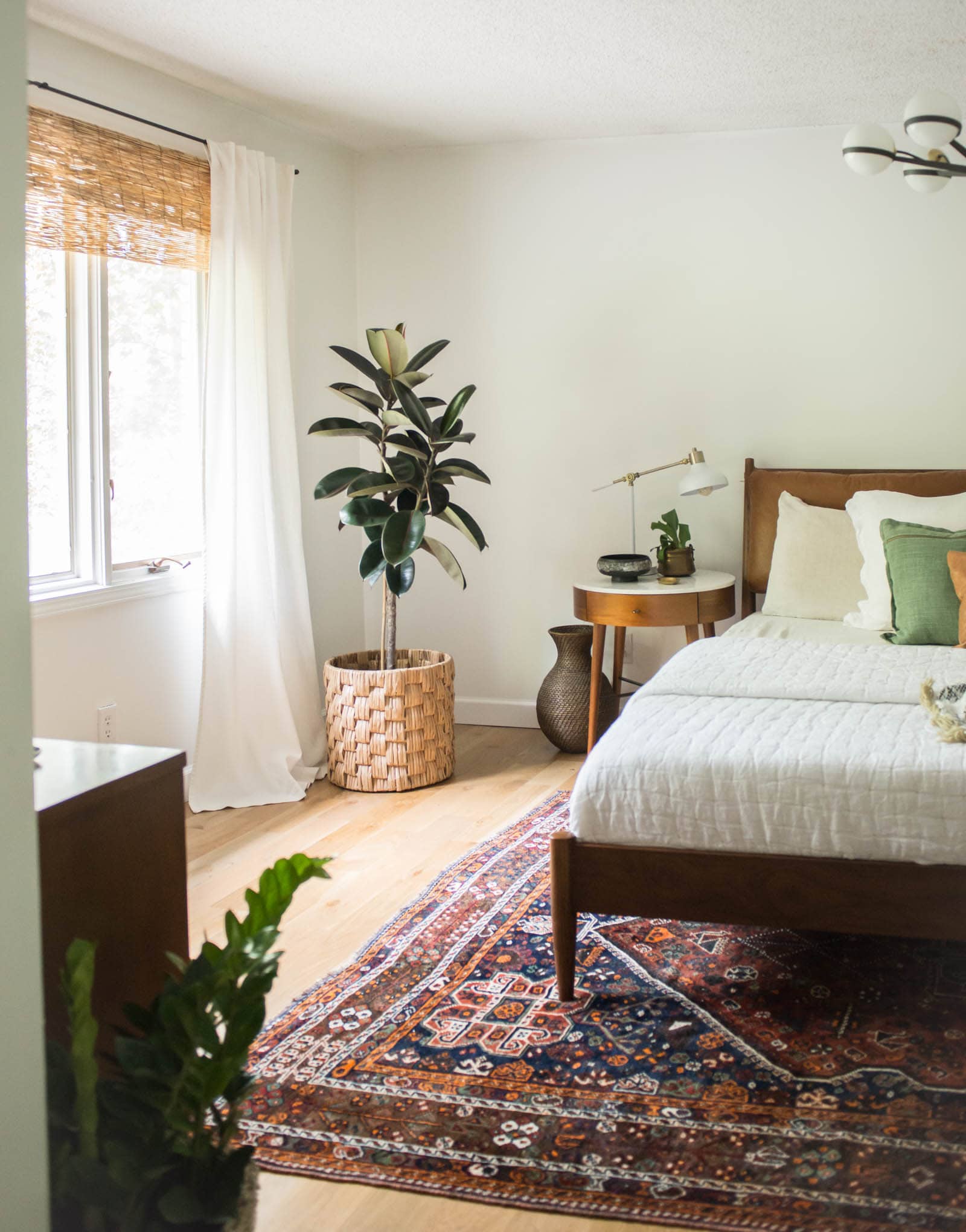 I figured it was time to update you on this project, since I first did it about 6 years ago. It's still going strong. If you can't tell from the photos, this is a faux bamboo shade, meaning the shade doesn't lower. If you need privacy, you'll have to close your curtains or, like we did, install roller blinds on your windows. Roller blinds are not cute, but during the day, they are hidden behind the bamboo shades.
Our faux bamboo shades are just for looks. We pull our curtains every night and I have to say that the bamboo shades are holding up great, even years later. So, if you are in the market for something similar to the look we have and don't really want to adjust the bamboo blinds every day, then I'd definitely still recommend this bamboo shade hack!
Hilariously enough, we are no strangers to window privacy hacks. We cut bamboo shades to fit our living room windows (that was such an easy project) and have also applied privacy window film on multiple bathroom windows. You have to get creative when you have a small budget, for sure!
Like I mentioned earlier, the project is from years ago, so the photos below are from when our bedroom looked completely different; but it's fun to see that the layered window look still looks great in our bedroom today! If you want to see the current version of our bedroom, check out our Tricorn Black master bedroom for more pictures and all the sources!
Supplies Needed for DIY Bamboo Shades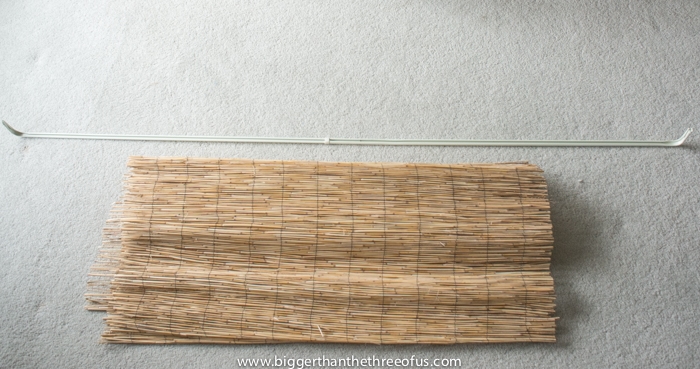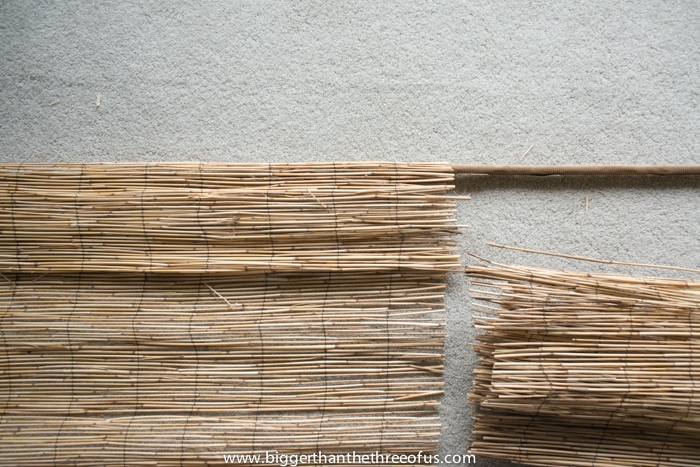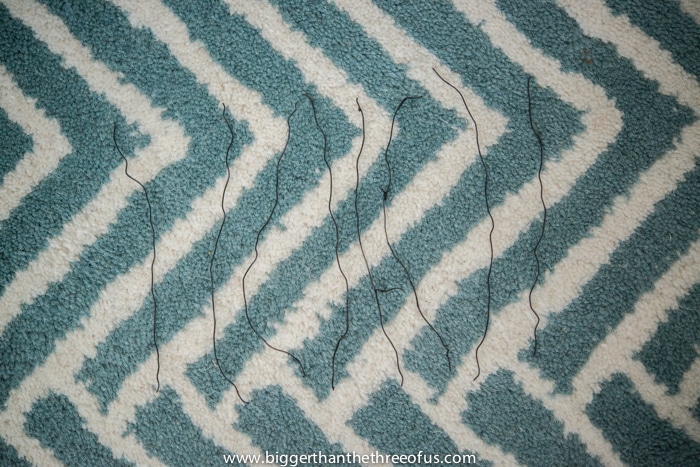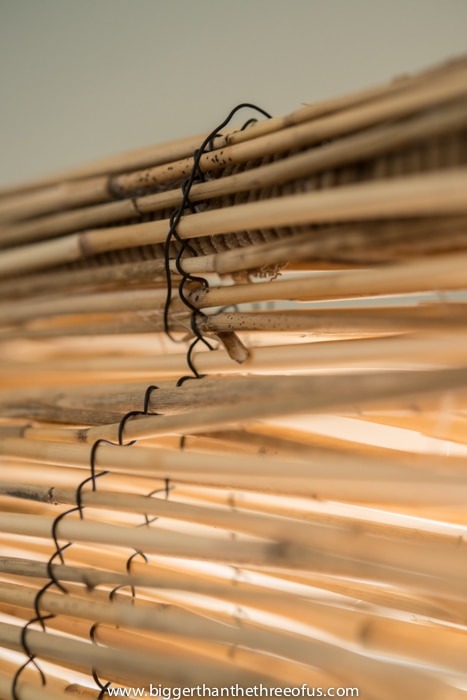 The full tutorial is below, but on this next visual step, just make your "folds" how you want them to look visually.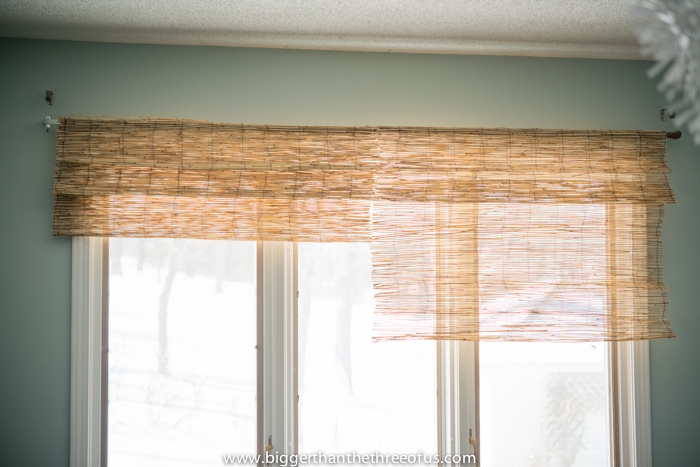 DIY Bamboo Shades Hack for $10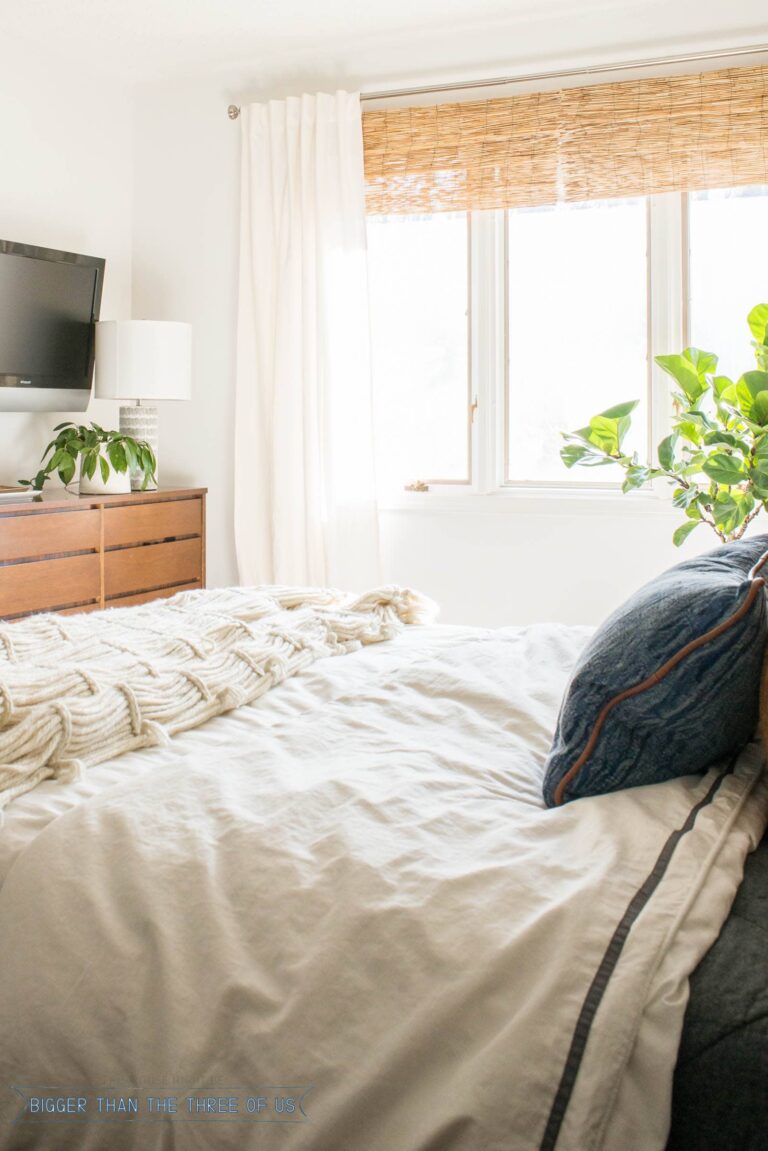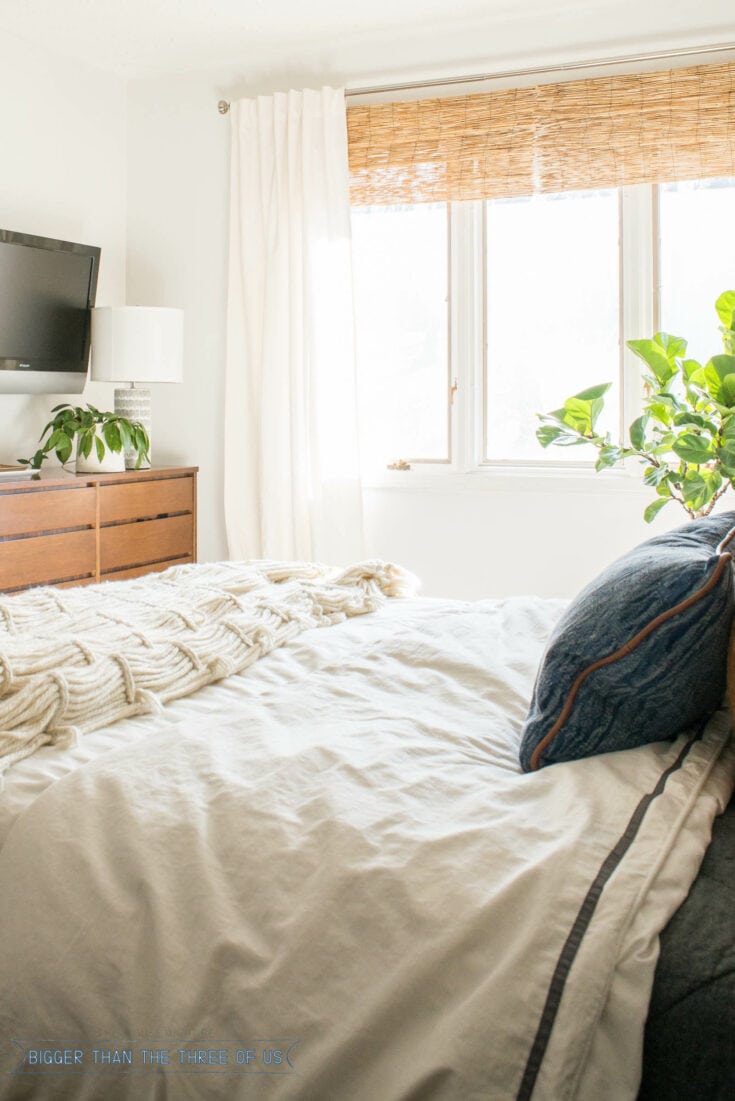 Want the layered bamboo shades look but don't have the budget? Make these for just $10!
Materials
Instructions
Measure your window (I wanted an outside mount so I accounted for extra). Cut the bamboo with scissors.
Hot glue scrap fabric around the curtain rod. Do this so the white curtain rod doesn't show through when you hang the bamboo shade up.
Place your curtain rod over your bamboo about 8 inches (this accounts for the fold over the curtain rod). Gently fold the bamboo over the rod and check to see if you like the amount of bamboo that you have hanging (this is the top of your bamboo shade).
If you like the amount of hanging bamboo, then hot glue the bamboo to the rod. I don't have a picture of this, but make sure to overlap your second piece of bamboo (if you have an oversize window like me) so that your bamboo shade looks seamless. I overlapped about 1/2 inch.
Hang your rod up so that you can determine where you would like your folds to be.
Add a cup hook in the middle of the window where the curtain rod is to help support it.
Using wire from where you cut your bamboo shades, separate it and cut it in to 5 inch pieces.
Gently bend your shade where you would like your bend to be.
On the seams (I did every other), wrap wire from the front of the fold to the back piece to create the fold. You can see how this is done in the pictures.
Once you get to the second shade (if you have an oversized window), keep in mind that you are trying to match the folds. Repeat.
From start to finish, this project took around 2 hours. I'm in love with the results. If you wanted to actually be able to raise and lower the blinds, then this isn't for you. If you want the added layer of blinds for visual purposes, then this is the perfect thing.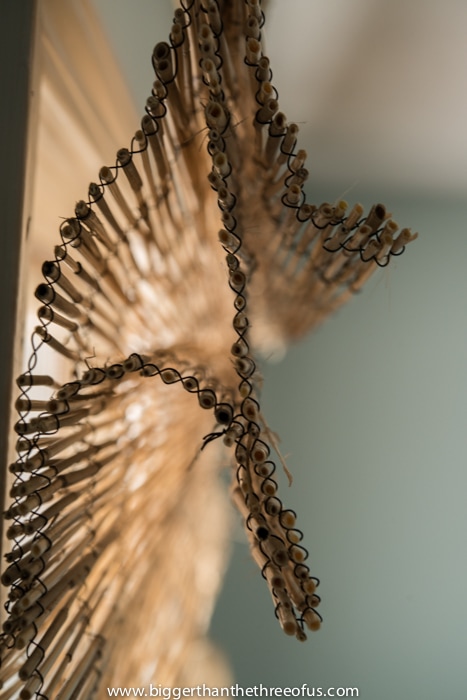 Pin for later: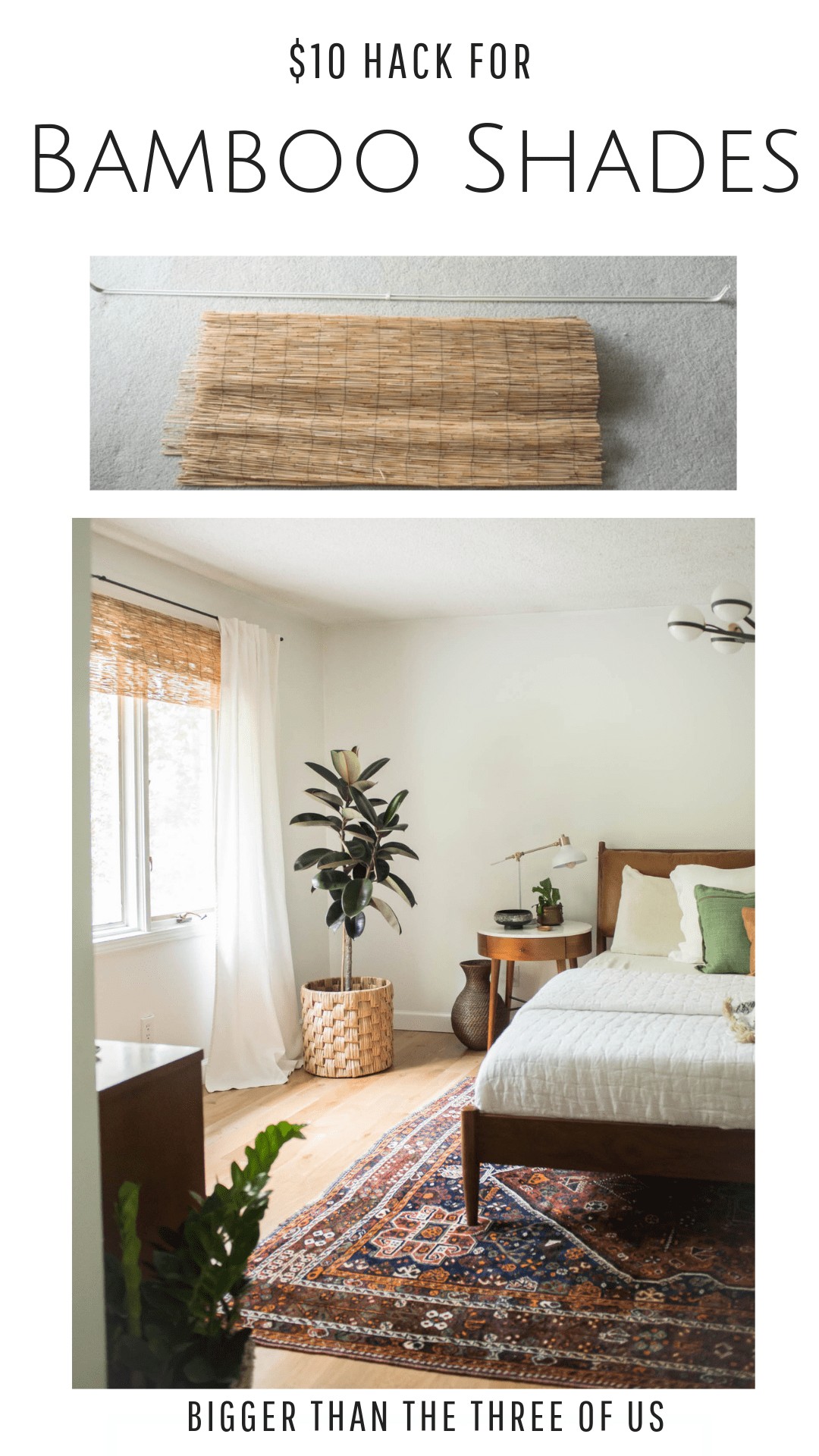 I teamed up with a few other ladies to share hacks and repurposed tutorials. Check them out below.
Thrifty and Chic – Ikea Hack (Hamper to Side Table)
All Things G & D – DIY Boot Socks from Old Sweater Sleeves
Life as a Thrifter – Quick and Easy Candle Holders