I'm pretty excited about today's post… well I WAS pretty excited until I googled "How to Cut Bamboo Blinds" and then realized that there are lots of different posts on this. Well, I'm going to choose to be excited, because this project saved us tons of money and is so effective!

About 6 months ago, someone on IG posted that Lowe's was having the deal of the century on roman/bamboo blinds. I hustled up there and bought quite a few (ok, a carload!). We changed the blinds out in Greyson's room and have some extras for the guest bedroom. The blinds for the living room just sat behind the couch. Yep, for like five months. Then, I finally got motivated to get them hung up and that's when I realized that I made a mistake on the sizing. They were about 14 inches too wide.
The windows are big. I believe they span 130 inches.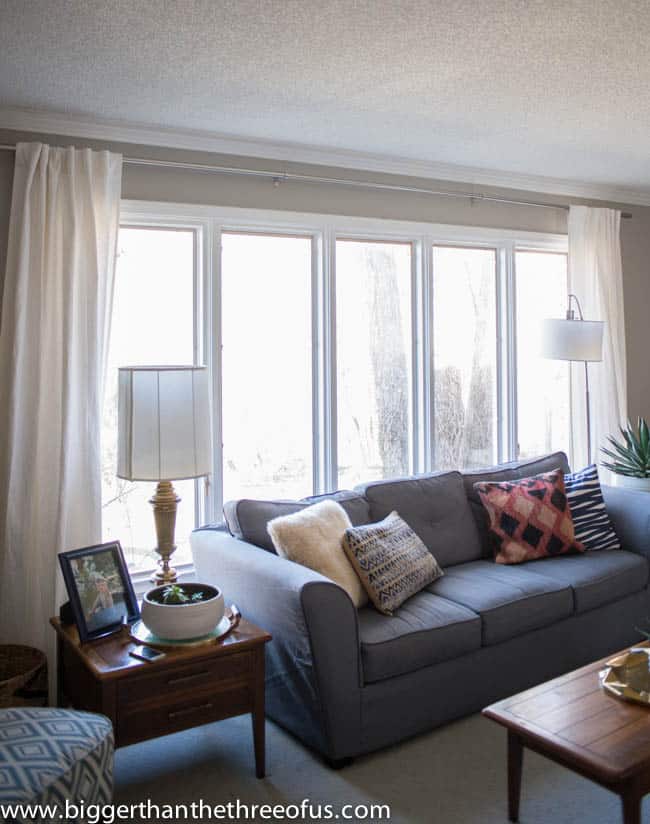 Even with counting in extra overhang for the sides (where the curtains were going to cover it) the blinds were just too long. I was about to throw in the towel and garage sale them but then I happened across this tutorial by Leigh Anne over at Houseologie. With a miter box and a hack saw, she was able to trim hers to fit.
We have a miter saw, so I basically used her tutorial and went to work. We had a few extra steps, so I thought I would share our process.
1. Measure how much you need to take off. We needed to take off a bit over three on each side. We needed between 12-14 inches (give or take) off the total. We decided to get those inches by taking them off of the sides of the outside sets of blinds. We left the middle set as is.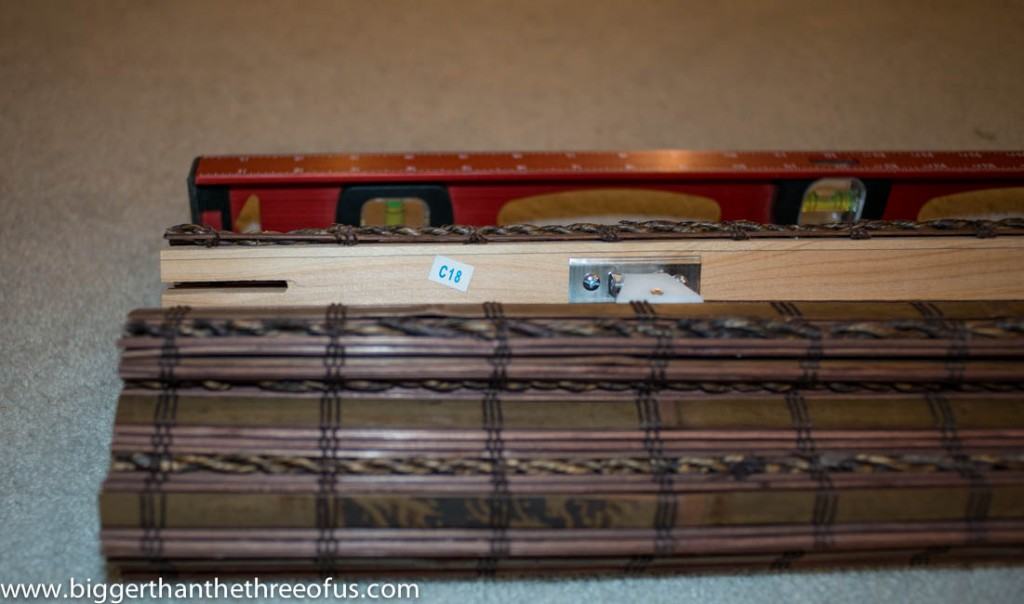 2. Tape off your blinds. We did this around the general area where we were cutting. Then we added another tape section about 3 inches in. The second set of tape just helped stabilize the whole piece. While taping, make sure to gather your string and pull it out of the way. You wouldn't want to accidentally cut the mechanism to lower/raise it.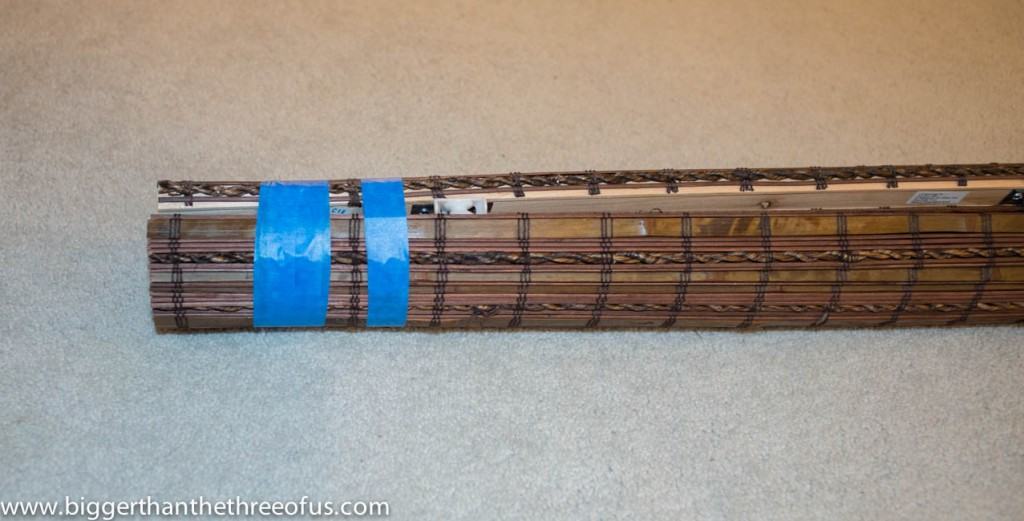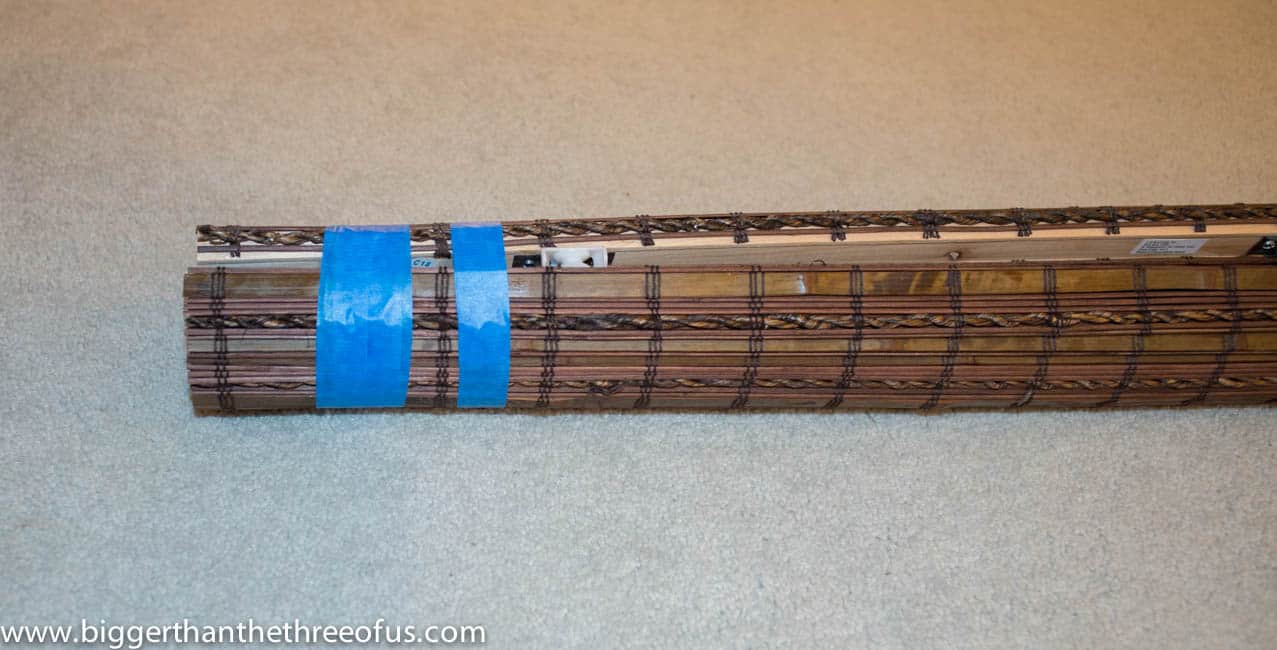 3. Carefully cut through the blinds.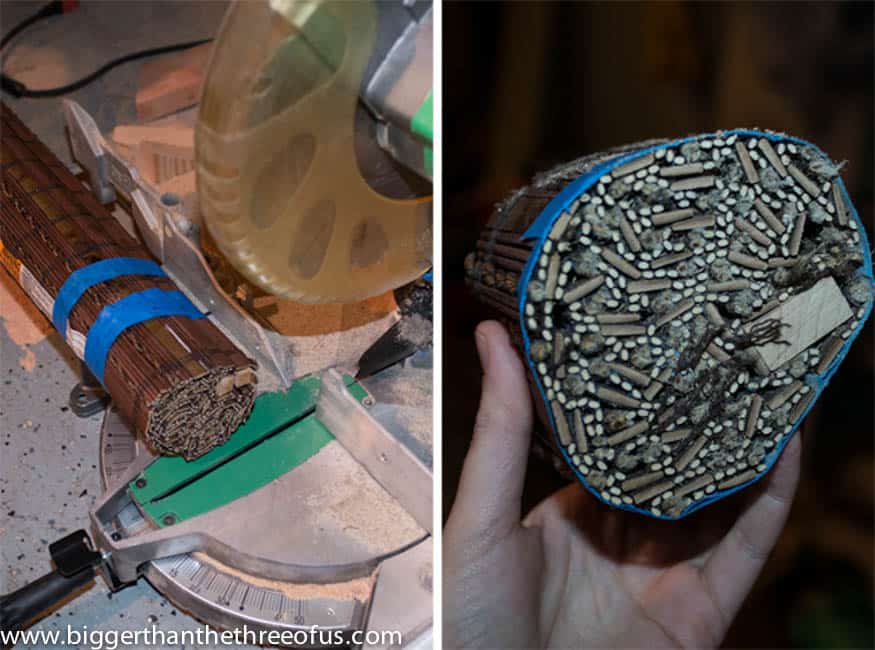 4. Because of how much we needed to cut off, we ended up cutting off the area that secures the blind to the bracket. To fix this, we drilled a new hole next to the blind mechanism that the bracket would screw in to once it was mounted on the wall.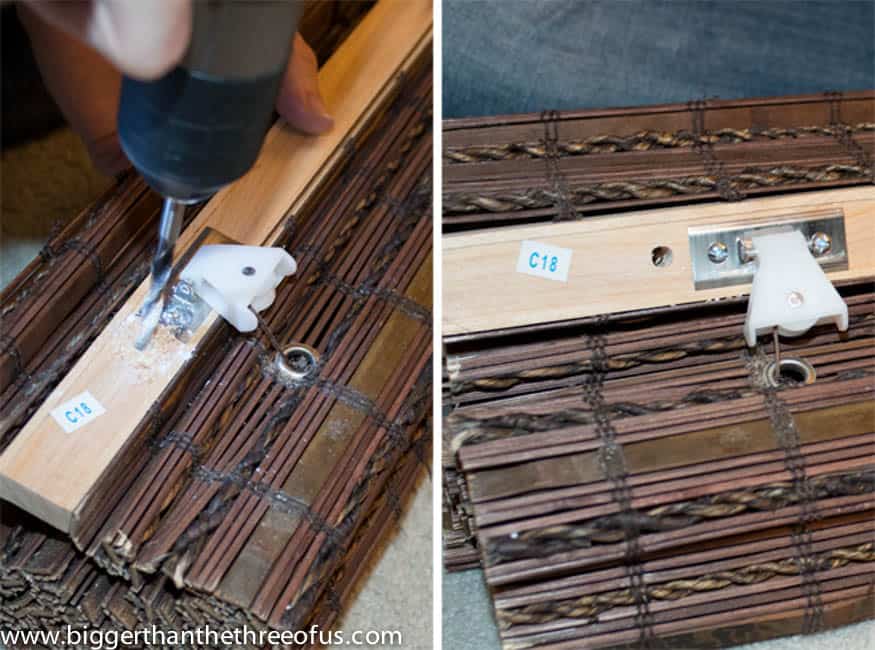 5. Hang your blinds. =)
This picture shows you the difference that the six+ inches makes (left one is trimmed and middle is original).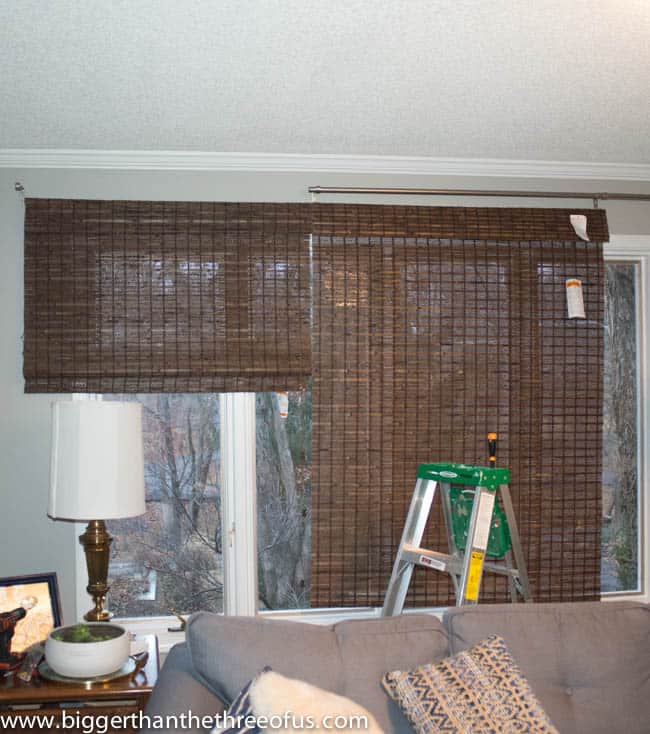 Not that noticeable, right? I knew it wouldn't matter to me either because I was going to rehang my window curtains over it.
Also, here is a view of the cut side of the blinds.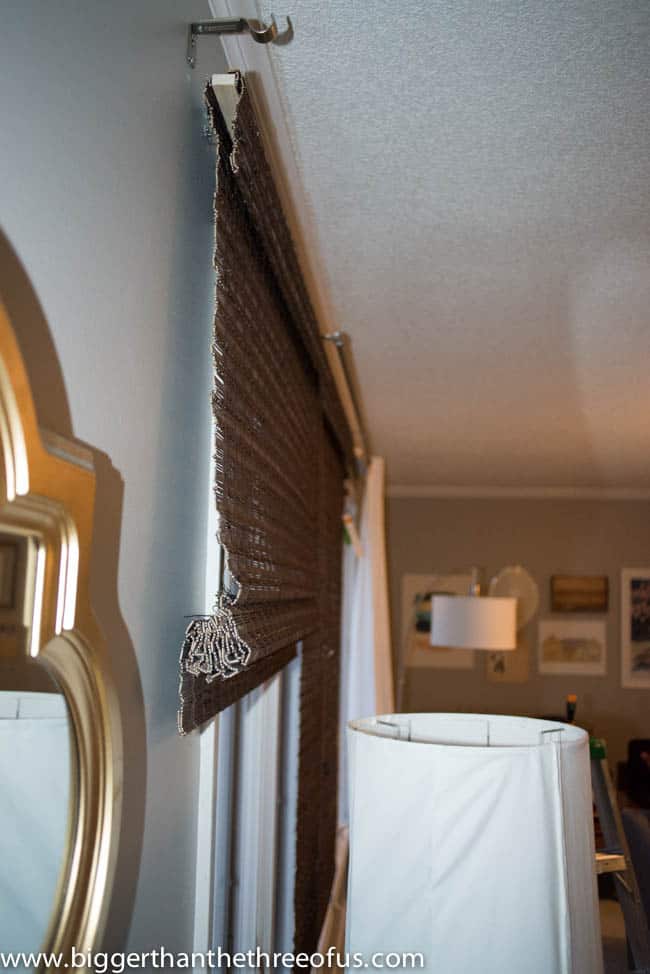 A few of them chipped a tiny bit but nothing that anyone would ever notice.
I'm super happy with how they turned out. In a perfect world, I would have left the windows bare. I love the natural light that streams in and our view. But, we've desperately needed something on the few days that the tv is on in the afternoon. The glare is crazy bad. So, this fixed something that we needed and it looks great!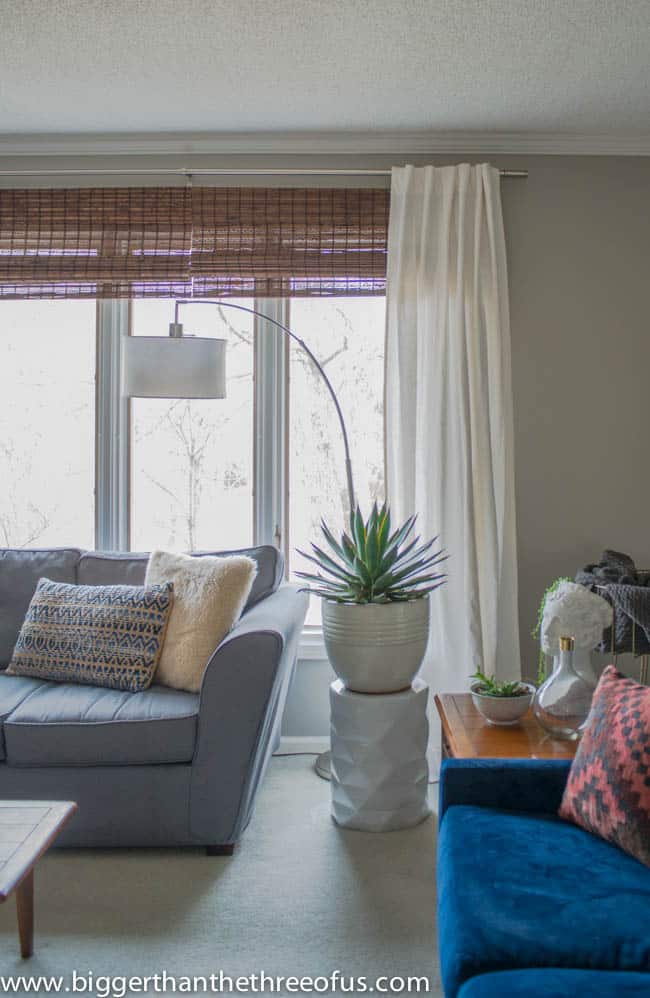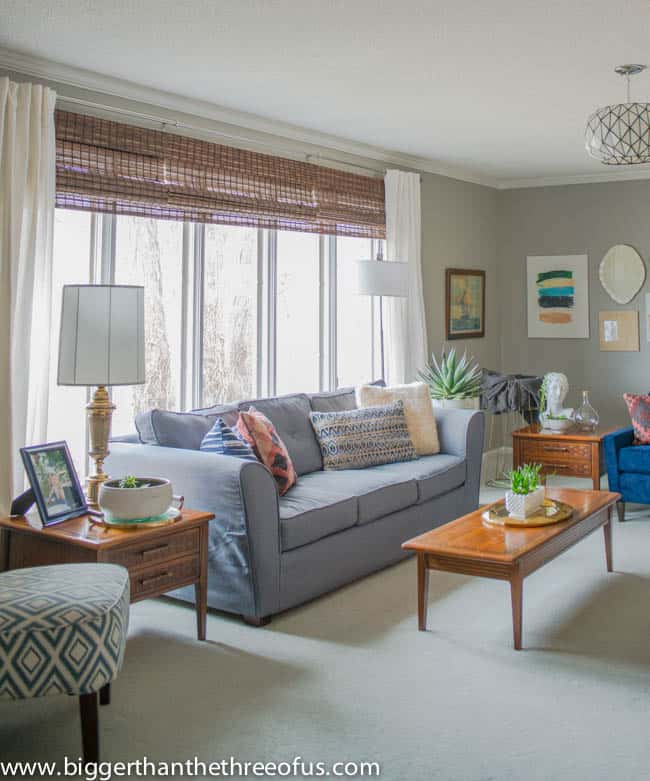 I have a few other ideas for the living room, so you may be seeing it pop up soon on the blog!


Linking up to:
Found and Foraged,  Your Designs This Time, The Makers, The Winthrop Chronicles, Home Stories A-Z, Hit Me With Your Best Shot, Outside the Box,  Work It Wednesday,  On Display Thursday, Think and Make Thursday, Fry Sauce and Grits, Liz Marie Blog, The Inspiration Gallery, Creativity Unleashed – The Bold Abode, Remodelaholic, Whipperberry, The Creative Collection, Tatertots and Jello, and Frugal Crafty Blog Hop.
Make It Pretty, Made by You Monday, Create Link Inspire,  Tip Me Tuesday, Whimsy Wednesday,  The Creative Circle, Pin Me, Creativity Unleashed, SITS Sharefest and  DIY Sunday Showcase