I'm finally giving you an update on my living room and how it's evolved or hasn't evolved. I can't decide what style to call it so I'm just going to call it my Vintage Modern Living Room.
I think it's lost a bit of style over the last year or so as I've been trying to transition it to my current aesthetic. I haven't quite figured out what the next few steps for the space are, but I like the living room's in-between stage, so I thought I'd share.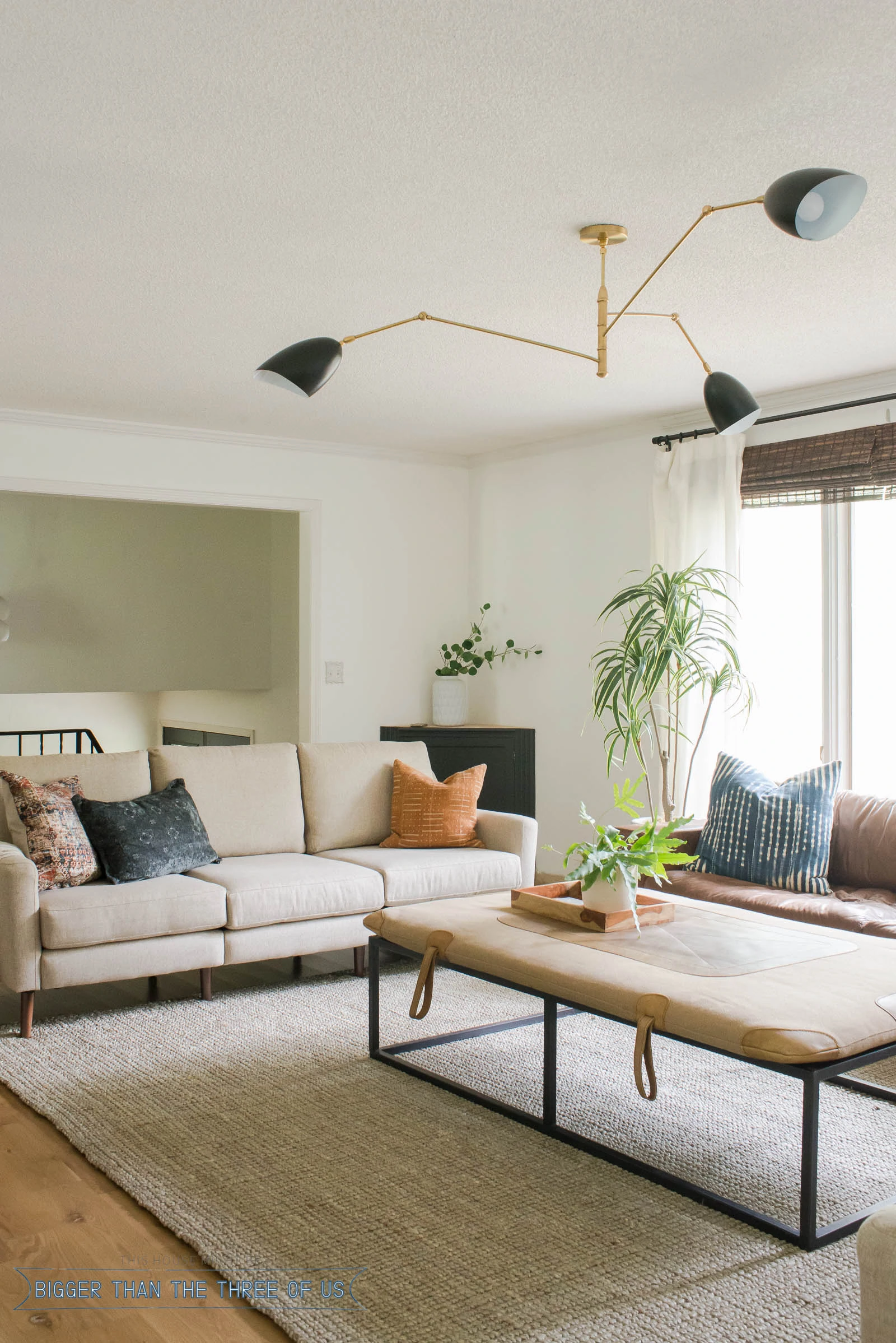 Before, I get too far into the Vintage Modern Living Room as it is right now, let me show you my design board that I'm working off of.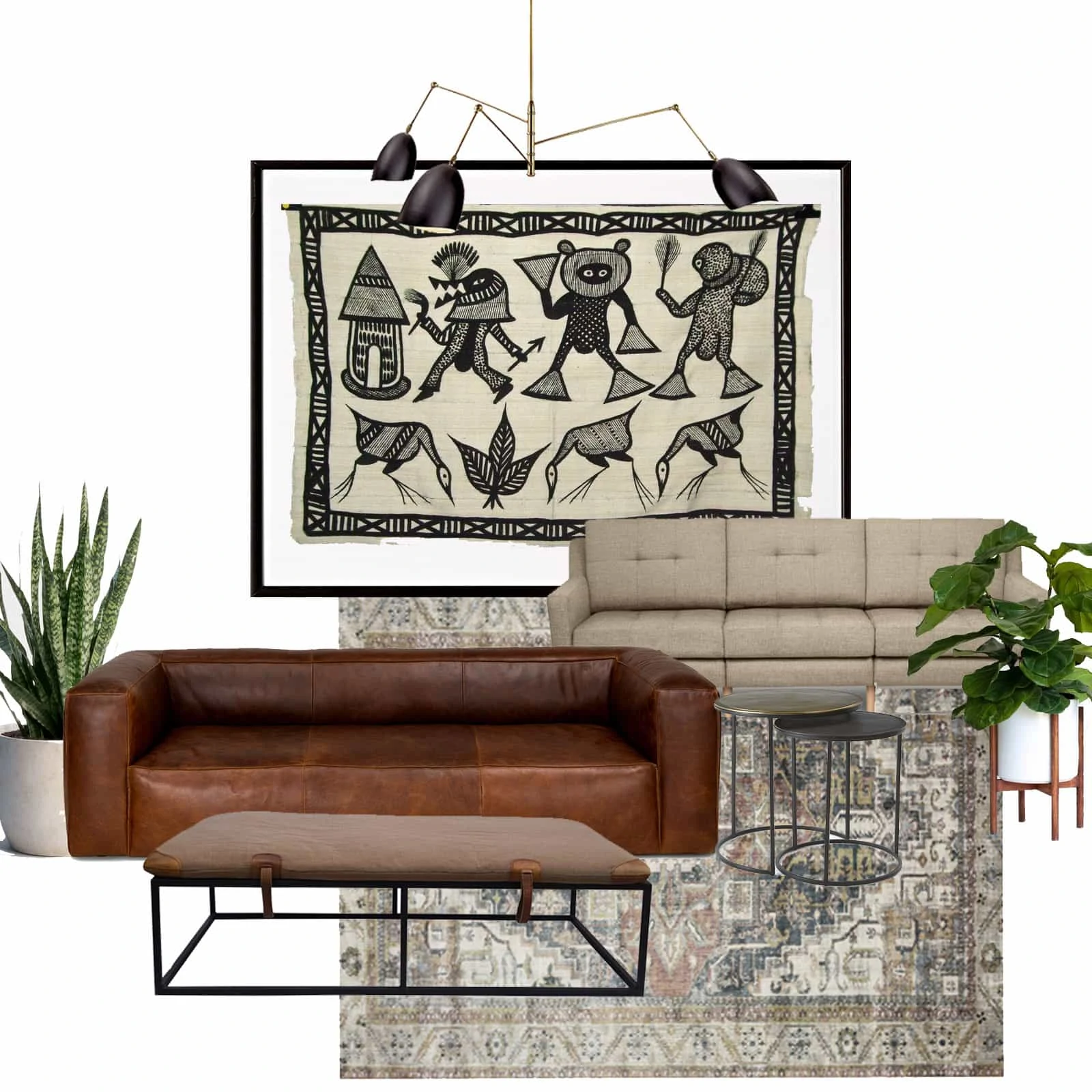 Do you love the design? Of course, since I'm showing it to you, I'm pretty smitten with it. 😌 Most of the items I own, but I'll talk about that more in a second. A few items are placeholders; and don't even get me started on the whole living room wall color debate. If you can hear it in my voice, I STILL haven't decided on the paint color for our living room.
I think I've pretty much decided that until I find the "right" rug. Which, by the way, I ordered a rug with free shipping and free returns. I got a steal of a deal, so I thought I'd try it. It's not the ideal size nor is it vintage - both of which I wanted - so we will see. I'm not holding my breath on it working.
But, let's get onto what our living room currently looks like!
Vintage Modern Living Room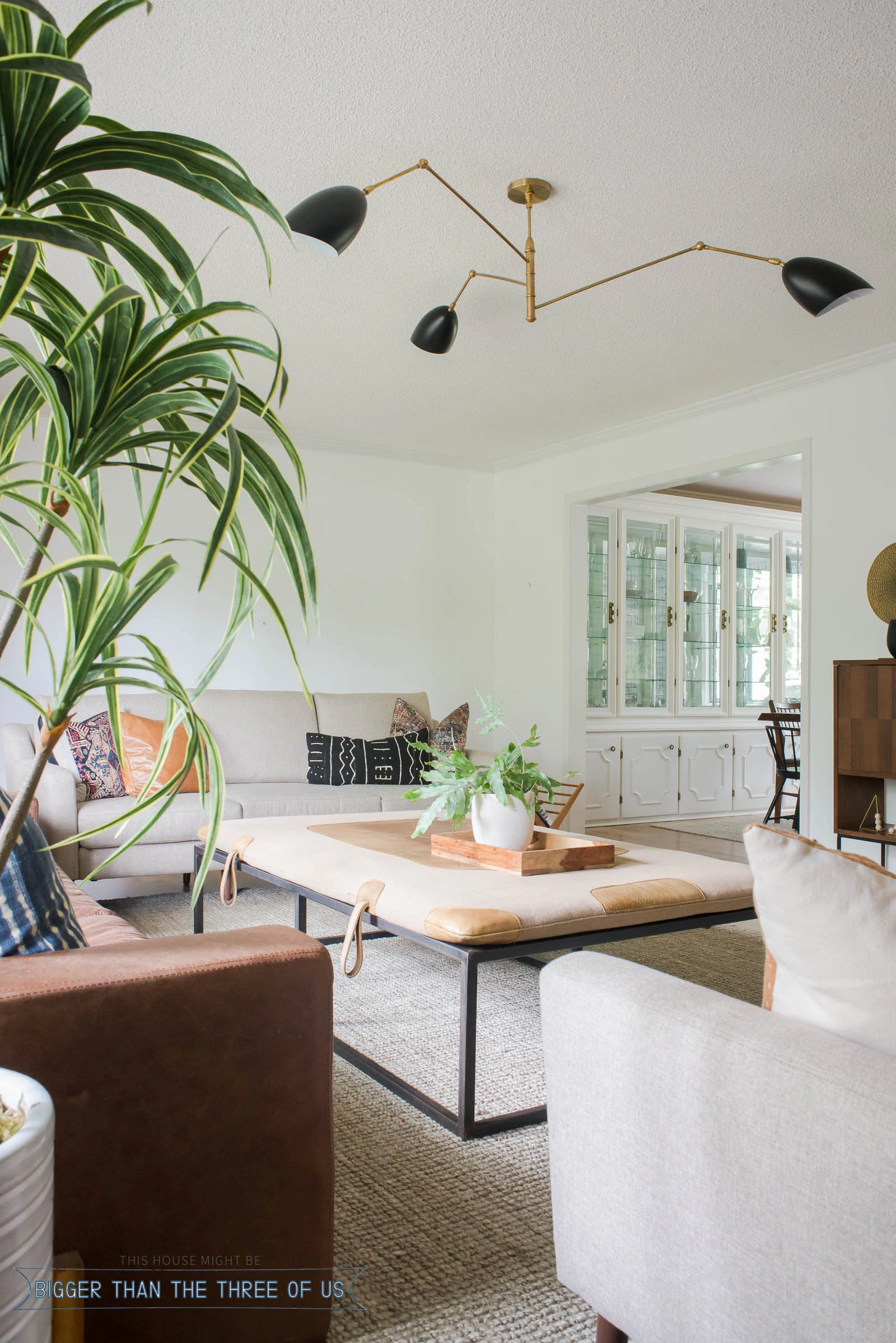 *Burrow graciously gifted me with two sofas for our living room. I'd been wanting to try the matching sofa look in our large living room for quite some time, so it was a perfect fit for us to work together. Feel free to read my privacy and disclosure policy if you'd like more information. 
First up, we got two matching three-seater sofas from Burrow. The beige fabric looks like a natural linen in person and is the perfect base color to pull the rest of the living room pieces together in our space.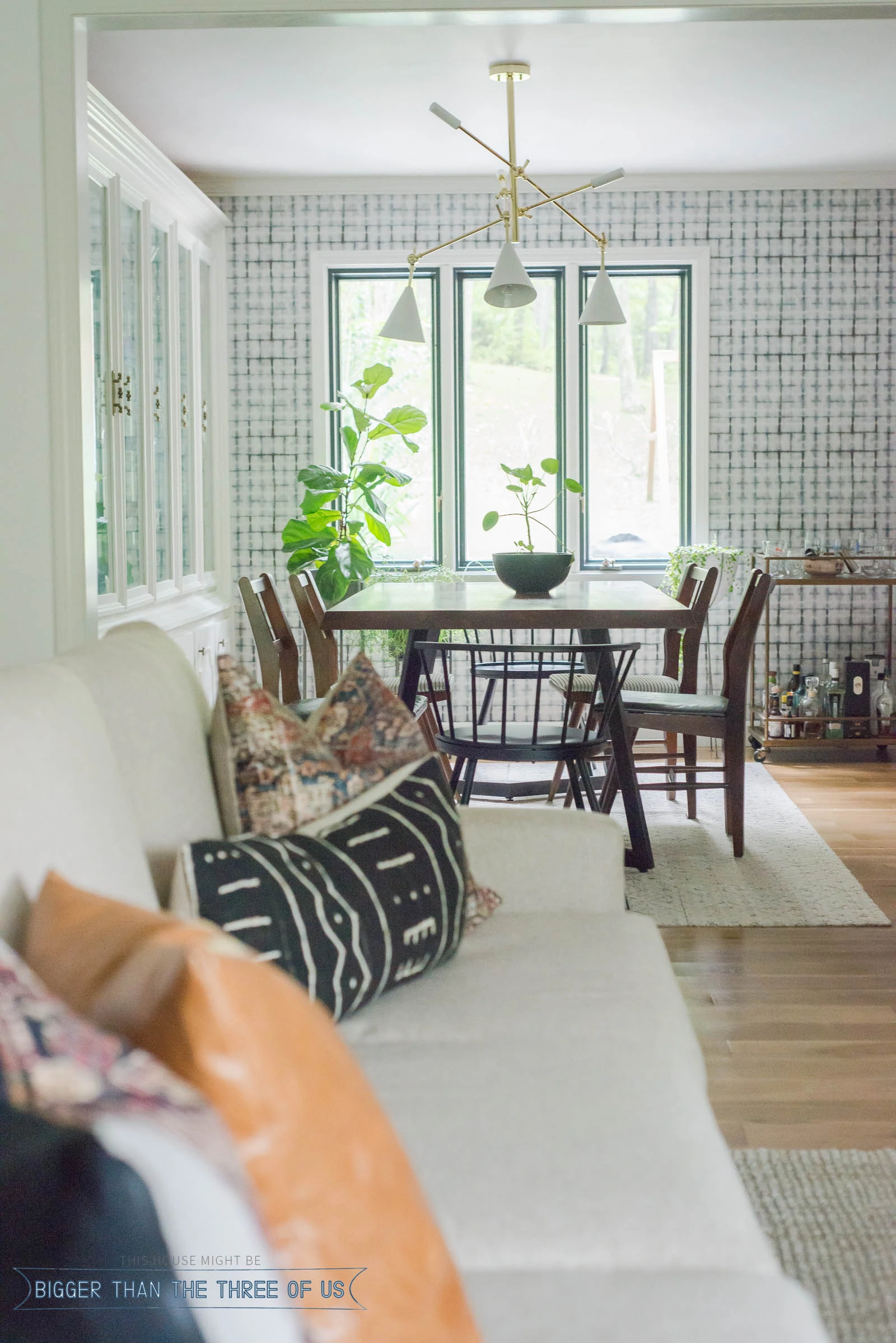 Burrow has different options that you can pick on each piece, such as low arms or high arms (I went with low arms) and wood leg colors (I went with dark).
Each sofa comes with a built-in charger and flippable back cushions (so that you can have a tufted look or a more streamlined look) both of which are pretty neat!
So, at first glance our living room looks way different because of the sofas, but I think it also looks different because of the new coffee table.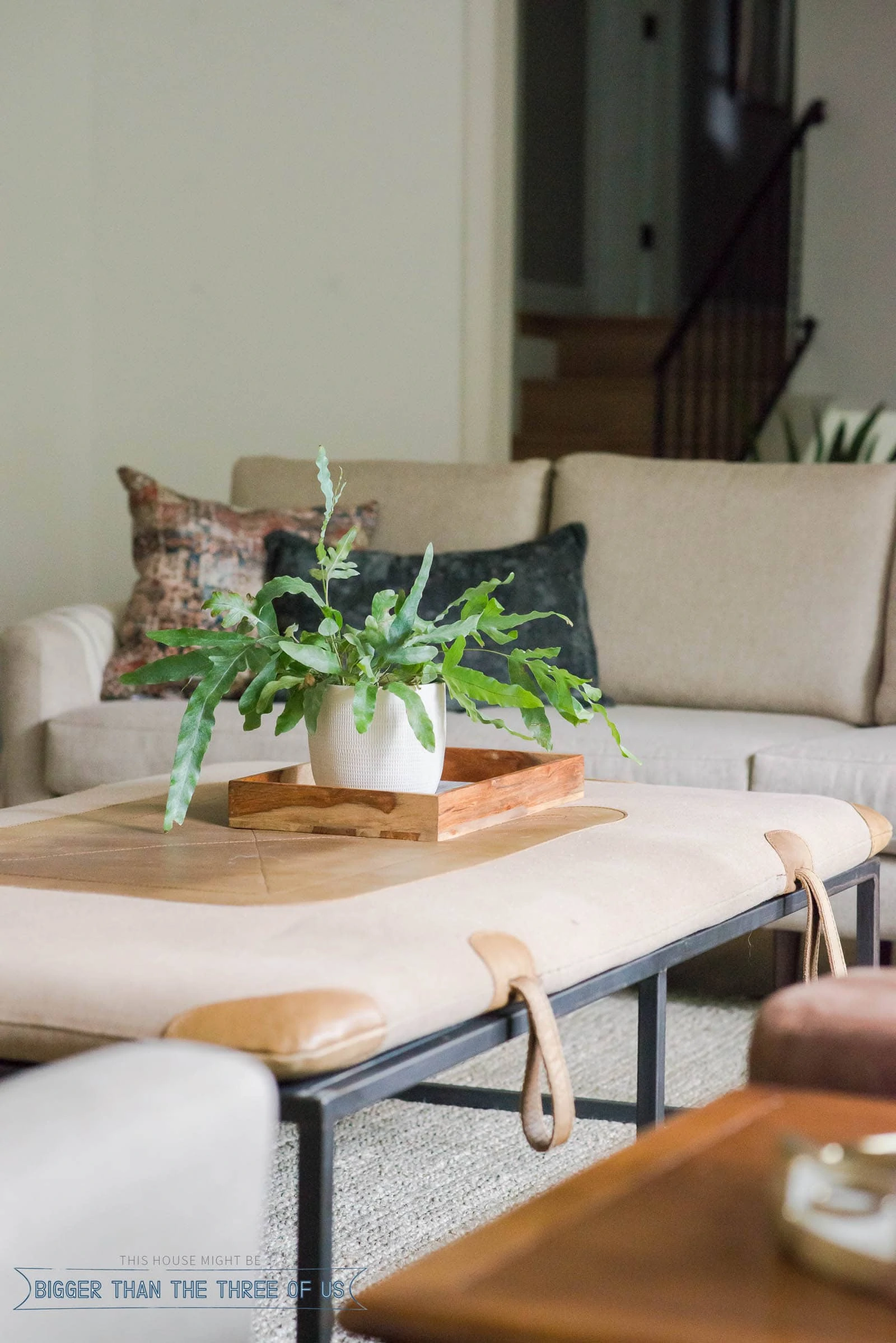 It's quite the unusual coffee table, right?! I think the verdict is still out on it, if I'm completely honest. It's a vintage find that I bought online. I knew that it was large and I wanted large so that's a big win for it. It's massive, like almost the size of the sofas!
I love the black steel base and actually love the equestrian vintage mat on top. I'm not sure that the color scheme goes with the space though. It's a bit too much in the same family as everything else. That said, I don't think it's a dealbreaker and I could just take the mat off the top and everything would be great, but that kinda defeats the purpose of the really cool vintage coffee table. By taking the mat off, I'd have a coffee table that would be perfect size-wise and would go with the color scheme but I'd lose the uniqueness of the piece.
So, basically, I'm waiting to see what rug I end up with to see if that helps break up the color scheme in the space a bit more. What do you think though? Do you like the coffee table? Luke (the hub's) is definitely against the piece. He thinks it's odd. Ha!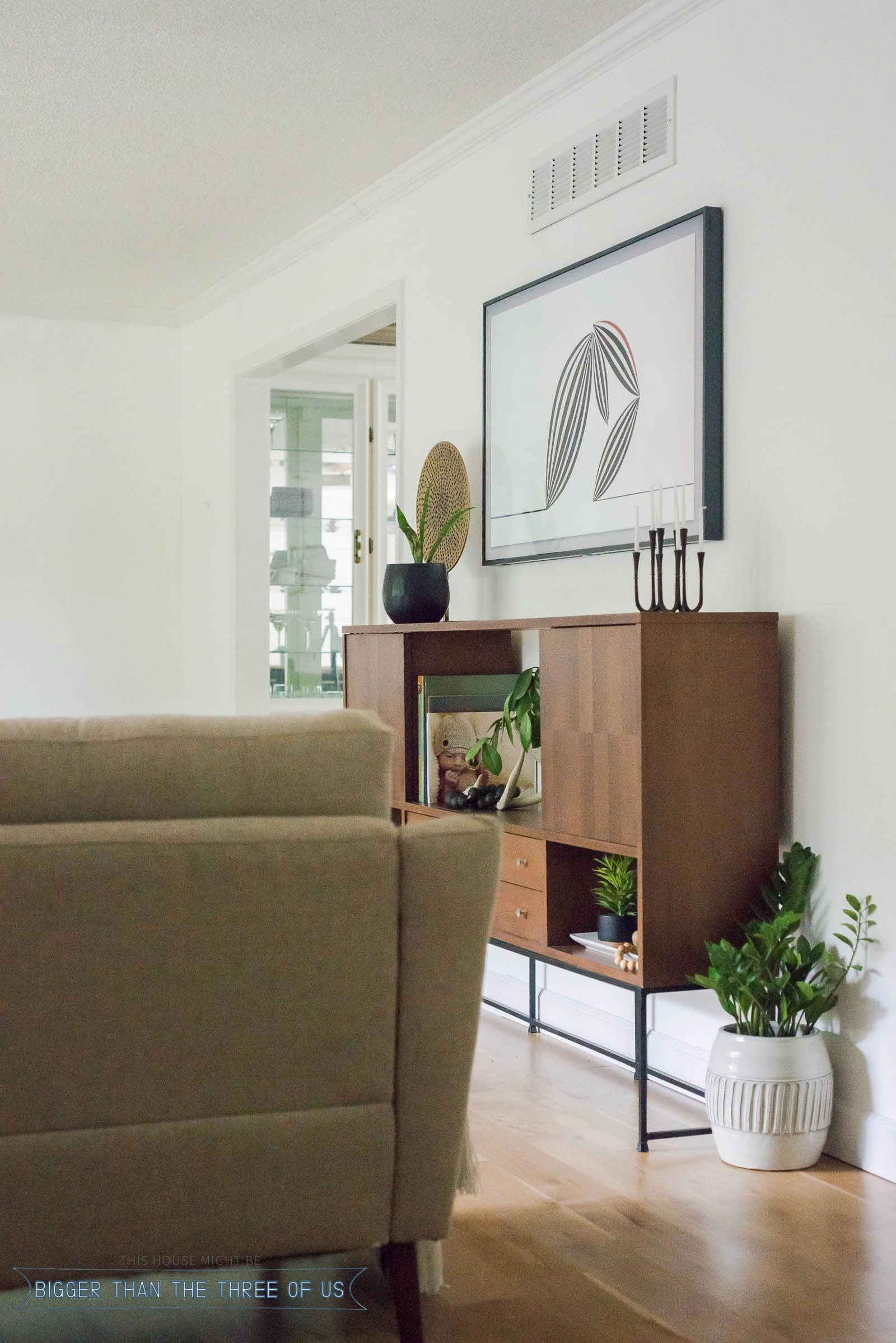 I believe I've shared my newest media cabinet but I don't think I've done a complete post on it. The backstory on this guy is that I found him earlier in the year at a local vintage shop. The danish modern piece was marked $675 and, although I think that's a fair price, it was too steep for me especially when I couldn't figure out exactly how I'd use it.
Well, fast forward a few months and I popped back into the store and it was still there and marked to $600. I wanted it and wanted it badly. I started envisioning different ways that I could use it in my space. I figured out a plan but still couldn't pull the trigger.
Fast forward another month or so and I hear that that vintage store is going out of business and they've marked their inventory down. Well, with a bit of negotiating, I think I ended up paying $450 for the piece.
Hilariously enough, a few days after the purchase but before I picked it up, I saw the exact same piece in a house tour in Better Homes and Gardens. I swooned over it there too.
When I find a vintage piece that I love (which doesn't happen often), I really love it and this piece just speaks to me. The plan was to try it in the living room for our media cabinet. I wasn't sure how well it would work because it's tall and the tv would have to be mounted up much higher than we were used to. So, we tried it and tried it for a few months to see. As you can probably tell, the tv being up a bit higher wasn't a problem and the cabinet itself ended up being the perfect dimensions for our space.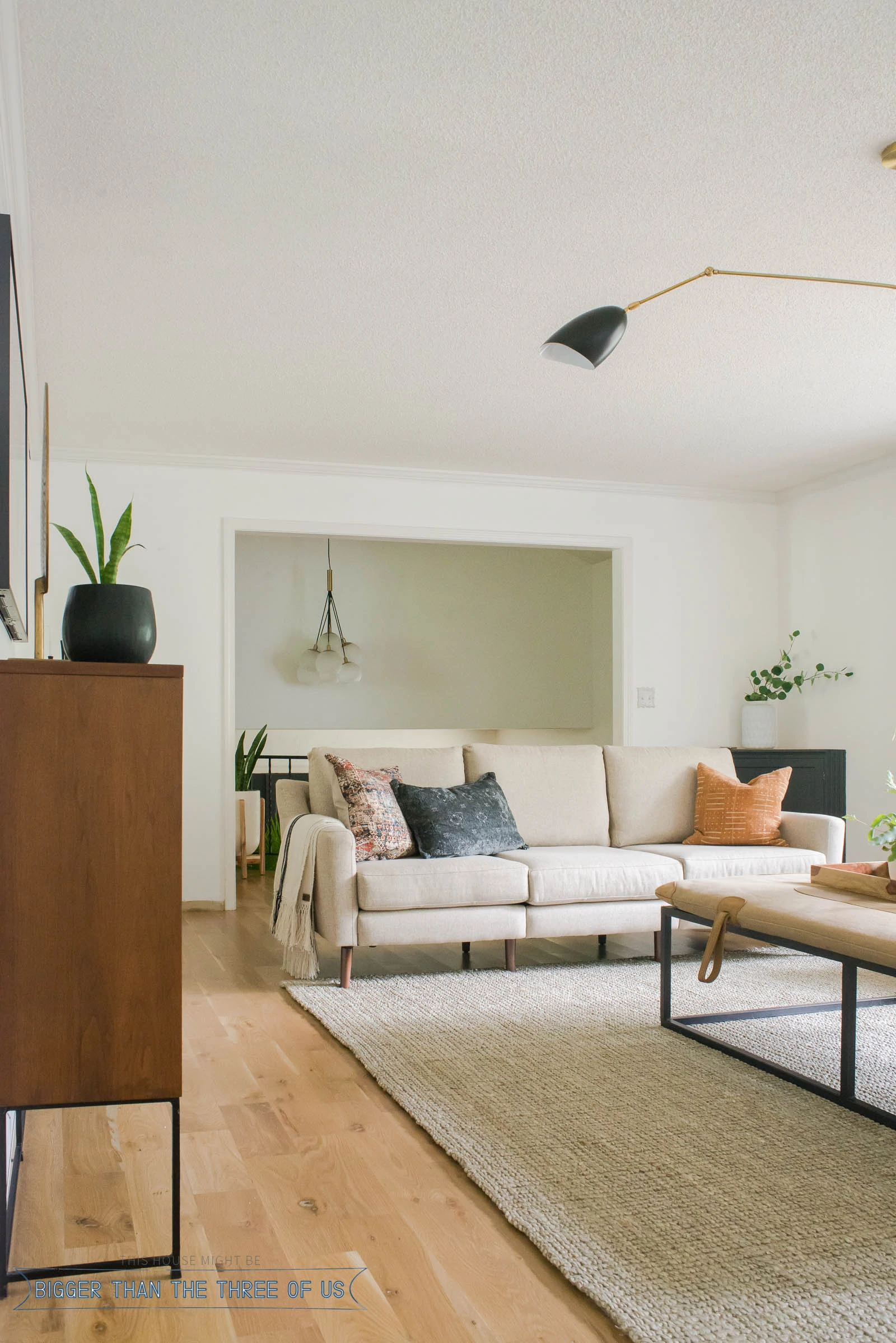 From this angle of our living room, you can definitely tell that I have a style, but it doesn't feel collected enough yet. I'm working on it, but I'm also trying not to rush this phase of the space either.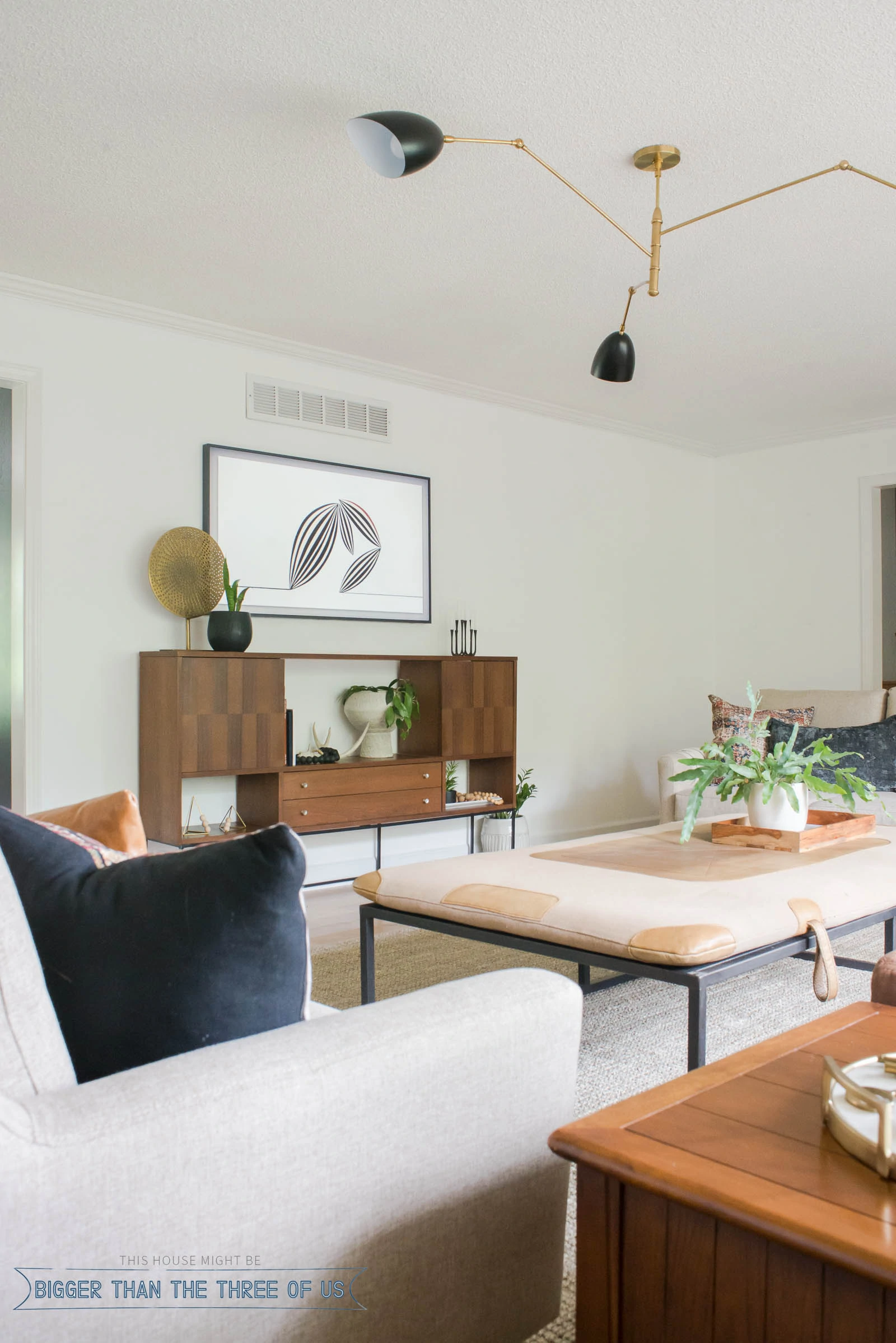 One thing I didn't mention when talking about the danish vintage piece that I got was that I also got The Frame tv. I went back and forth on getting it, but in the end, didn't want to rerun our cable management stuff in the wall and re-drywall for a tv that was going to get changed out in a year or two.
Luke had felt like our tv was too small for our space anyways and, to be honest, I couldn't read the Netflix titles from the couch (I know, #Firstworldproblems), so it seemed like now was the time to just make a change.
As a home decor blogger, there was really only one tv that I could get... I mean, having a tv that looks like a piece of art is pretty dreamy, right?
So, that's a new addition to the living room as well.
So, many additions but also a few things that still needed to be done or changed, for sure. Let's chat about those for a second.
Changes for the Vintage Modern Living Room
Baseboards! Yep, we still need to finish the baseboards. This will get done, sometime.
Corner cabinet issues. Well, I've finally decided that I just can't live with the corner cabinet. I'm going to rip it out.
Drywall patching above window. See if you can see where the fixes need to happen below.
Decide on paint color. Let's not talk anymore about this. I'm annoyed with myself on this one still.
None of those are decor tweaks, who knows where the decor will go in the next few months. I am looking forward to knocking out a few of those pesky DIY projects so I'll share when I do!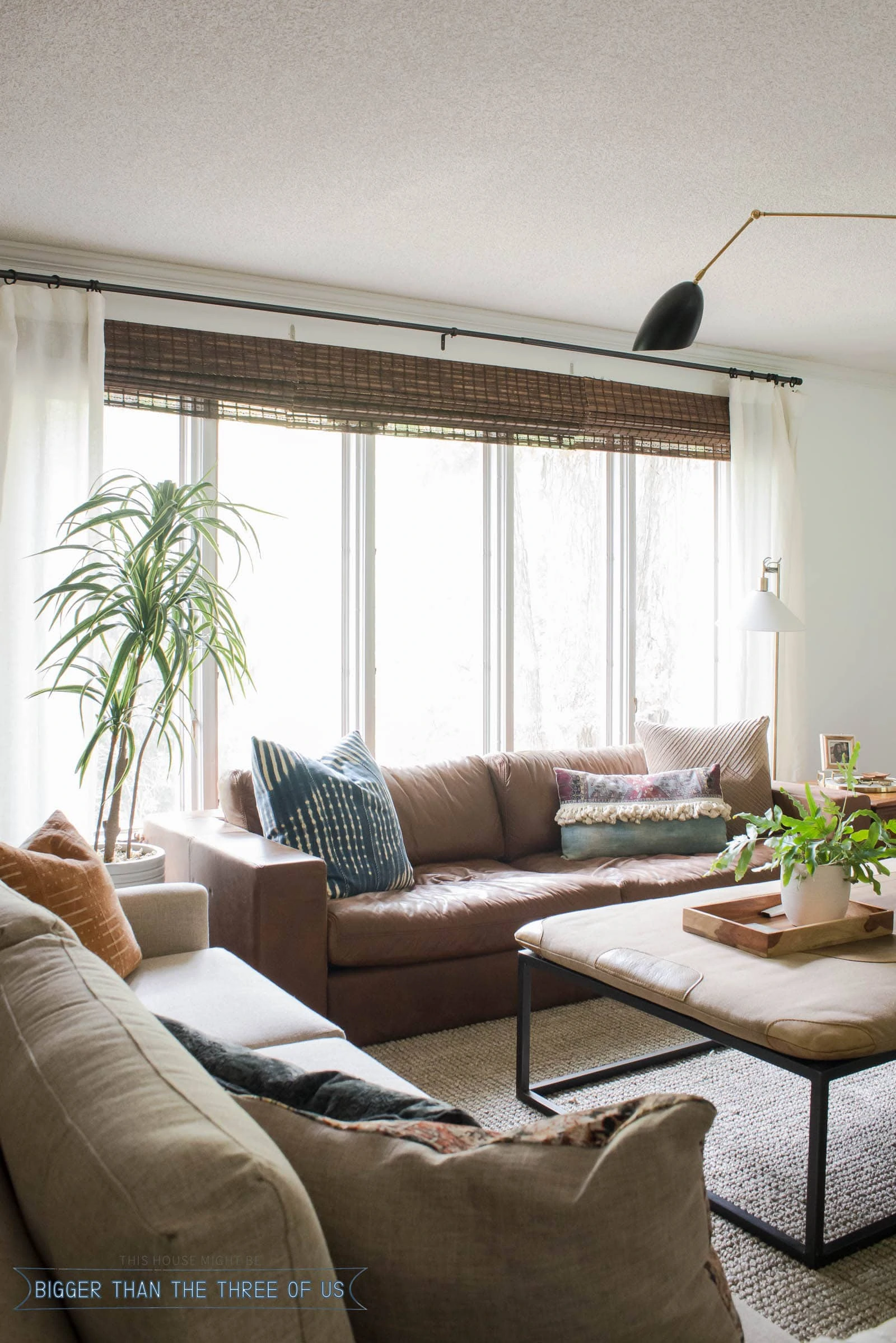 On another note, did you notice that this space still doesn't have my Korhogo piece in it? We still haven't gotten around to building the frame. I need Luke to help me with the frame part, mainly because I'm horrible when things have to be exact (and when building a frame, you need each corner to be square). Life has just gotten away from us these past 10 weeks or so and, to be honest, the next two months are shaping up to be hectic as well. So, it'll happen when it happens and I'll be excited to share with you guys once we get it done!
I was looking back at our living room though and am pretty darn pleased with the small updates that I've shared and done over the past year and a half! If you want to walk down memory lane with how the living room design has changed, then here's a few fun posts to check out:
It's always a good thing to look back on progress. This is by far my hardest room in the house to decorate but I see a ton of progress which cheers me on.
Shop The Vintage Modern Living Room