I don't know about you but I have to constantly tell myself that things don't have to be perfect. Sometimes, for me it takes things to be imperfect to figure out what might be perfect. Does that make sense? For example, let's take our master bedroom. We have come pretty far in there and it is by far the most calming room of our house. However, there are quite a few things in there that don't jive with the space. Is the room perfect? No. Is it relaxing and does it feel like us? Yes. So, that's how we know we're on the right track.
Ever since we finished the headboard, I've felt like the headboard wall was too bare. We have the room setup for optimal tv watching (or so he says…), so the bed is on the long wall making the room feel a bit unbalanced.
On the left side of the bed  is a table and about three feet extra space. On the right side, you see a table, 3ft mirror and then a corner chair (not pictured is a small dresser on the right).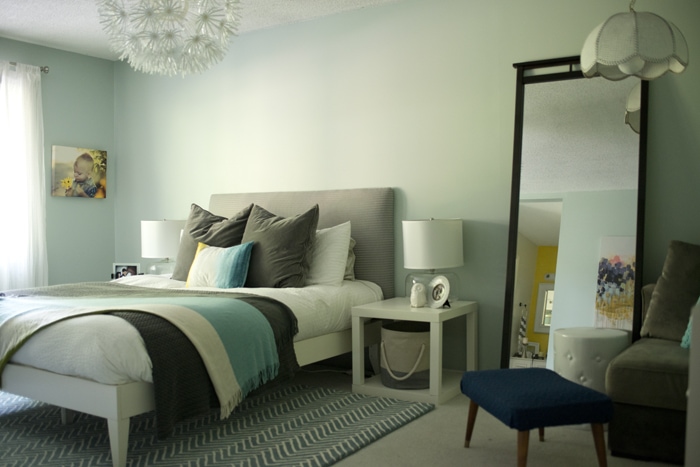 I really like the leaning mirror in the bedroom and to keep it in there it has to go on the wall that it's on. So, I felt like putting another mirror above the bed would be weird.  Instead of putting a mirror or some large piece or art (which I don't have), my next option was to do some frames.  I would really like to have something non-uniform draping side to side. To be honest, we just don't have the frames or the budget to do that right now. So, I'm embracing the imperfect and just using what I have.
We had a canvas made of one of our wedding pictures and I hung that in the middle. Then, I flanked the canvas with two graphic art filled frames (which I'll share more about later this week).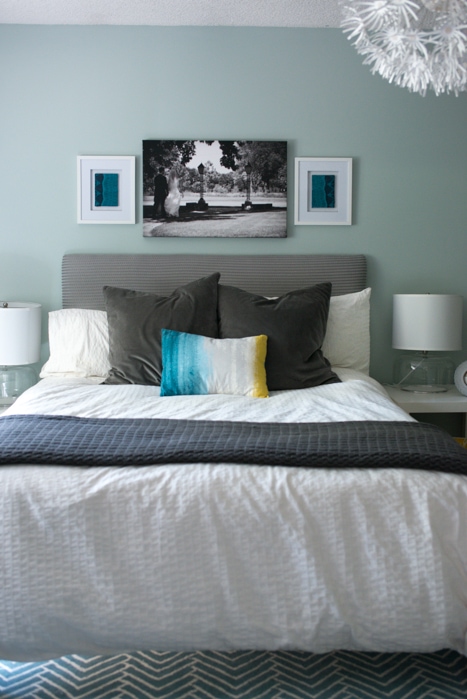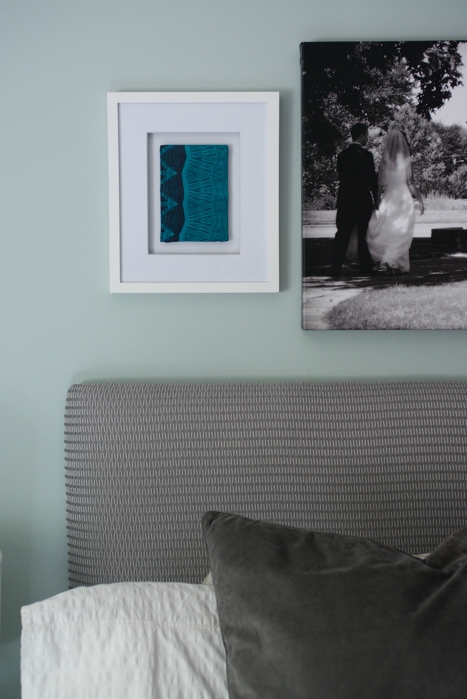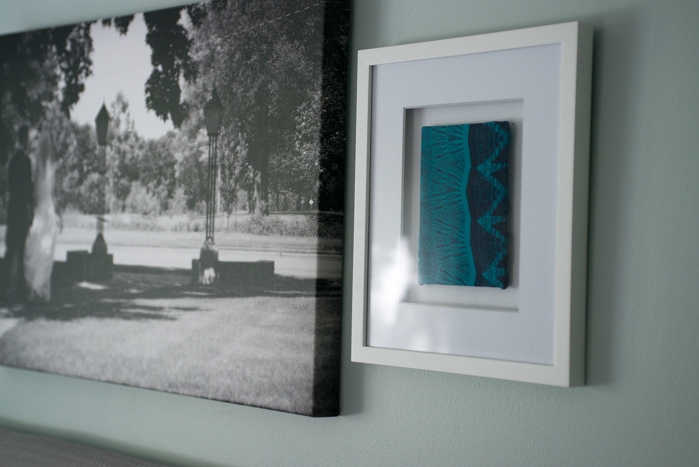 Then I came back later and decided that I didn't like them. I like them, but I felt like the b/w canvas and the frames were all a bit stark. So, I hunted around until I found something else.
Luke experimented with watercolors a few months back. I grabbed the sheet that he experimented on and framed it.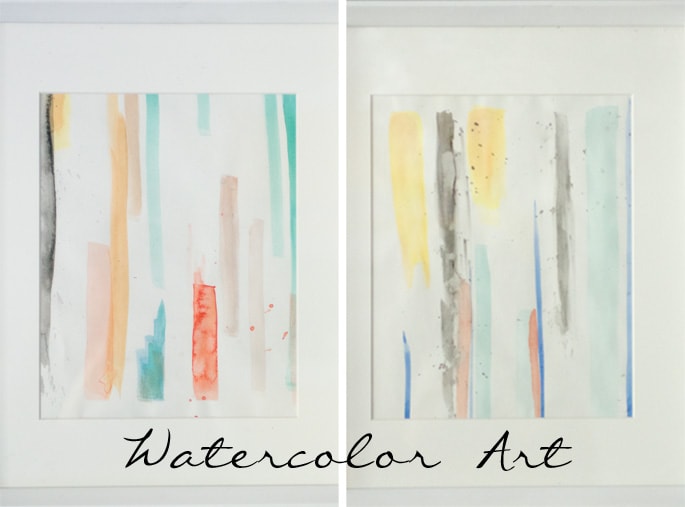 It's really amazing how well the colors of the painting work with the room. What a happy accident.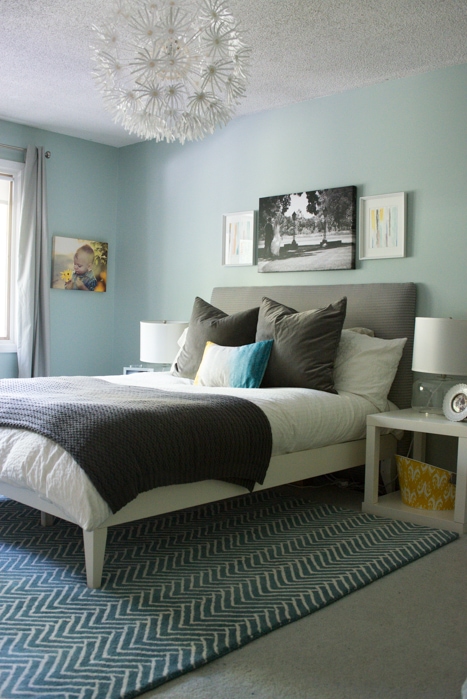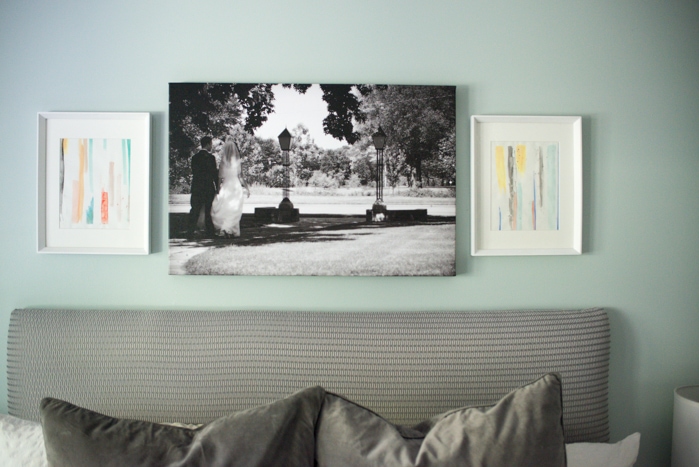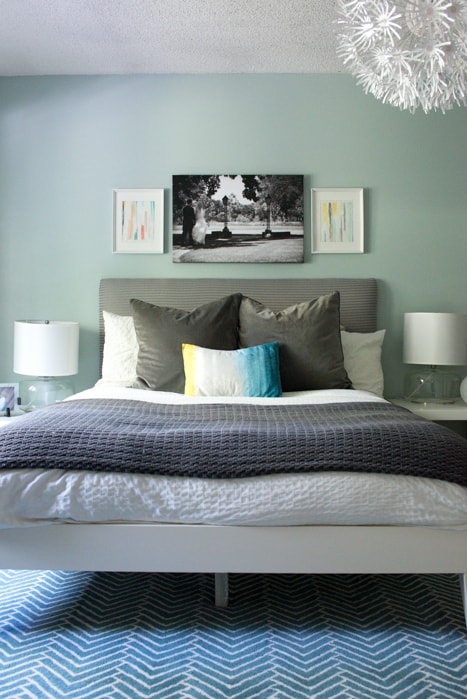 I won't say that I love it, but I definitely think it's going in the right direction.
Total cost: Free (The art was DIY and the frames were already on hand)
What do you guys think? Any other ideas for things to do above the headboard?
Linking up to: