I'm excited to share how you can embrace Halloween decorating without it feeling overwhelming. Today, I'm sharing a simple Halloween craft for those cute pictures you have of your kids, or pets, in their costumes. Plus I share how to focus your holiday decorating on a space that will really POP, instead of lots of little pieces all over your house.
*I've partnered with Tuesday Morning to bring you these Halloween decorating ideas. From the paper bats to the jumbo bowl of my favorite chocolates, they had everything to make my Halloween Decorating in the Kitchen come to life. Grab a cup of coffee (I'd make it for you if you were coming over in real life) and let's chat about how you can take some of these Halloween decorating ideas and implement them in your space!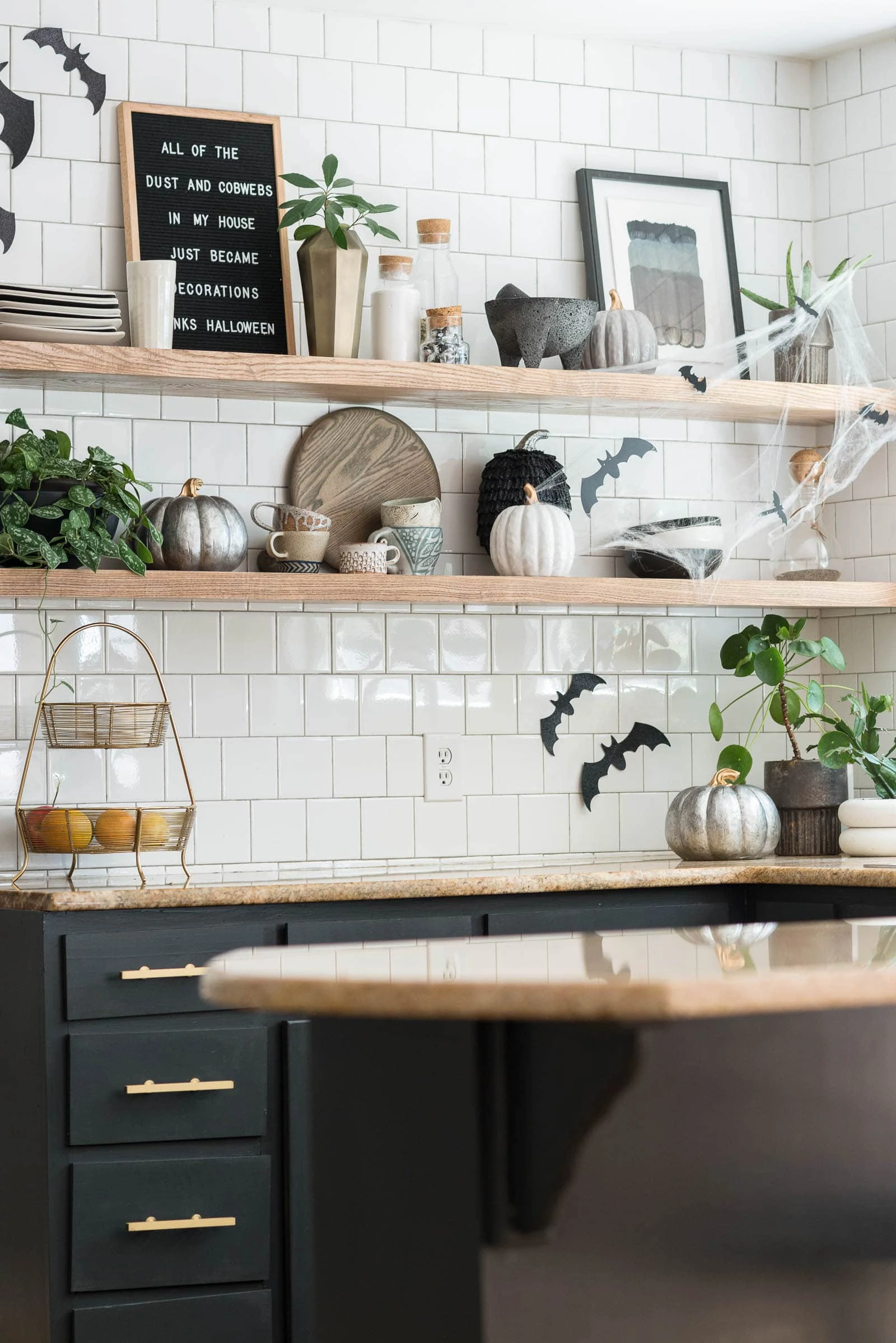 I've mentioned many times over the last few years that holiday decorations don't come naturally to me. I'm not quite a minimalist in my home decor but I'm definitely not a maximalist either. When it comes to adding more decor for the holidays, I have really struggled to find the balance between what I love (not having a ton of extras around the house) and what feels seasonally fun and fresh.
My little guy, Greyson (who is nine), has really helped me with this because he has found the joy in all seasons and in all holidays. Holiday decor makes him smile and I know he feels the festivity of each season by seeing "special decor" in our house and that has helped me find my rhythm in decorating for each holiday. I've had the most fun decorating for Halloween for sure. There's just something quirky about being able to embrace the cobwebs, bats and pumpkins.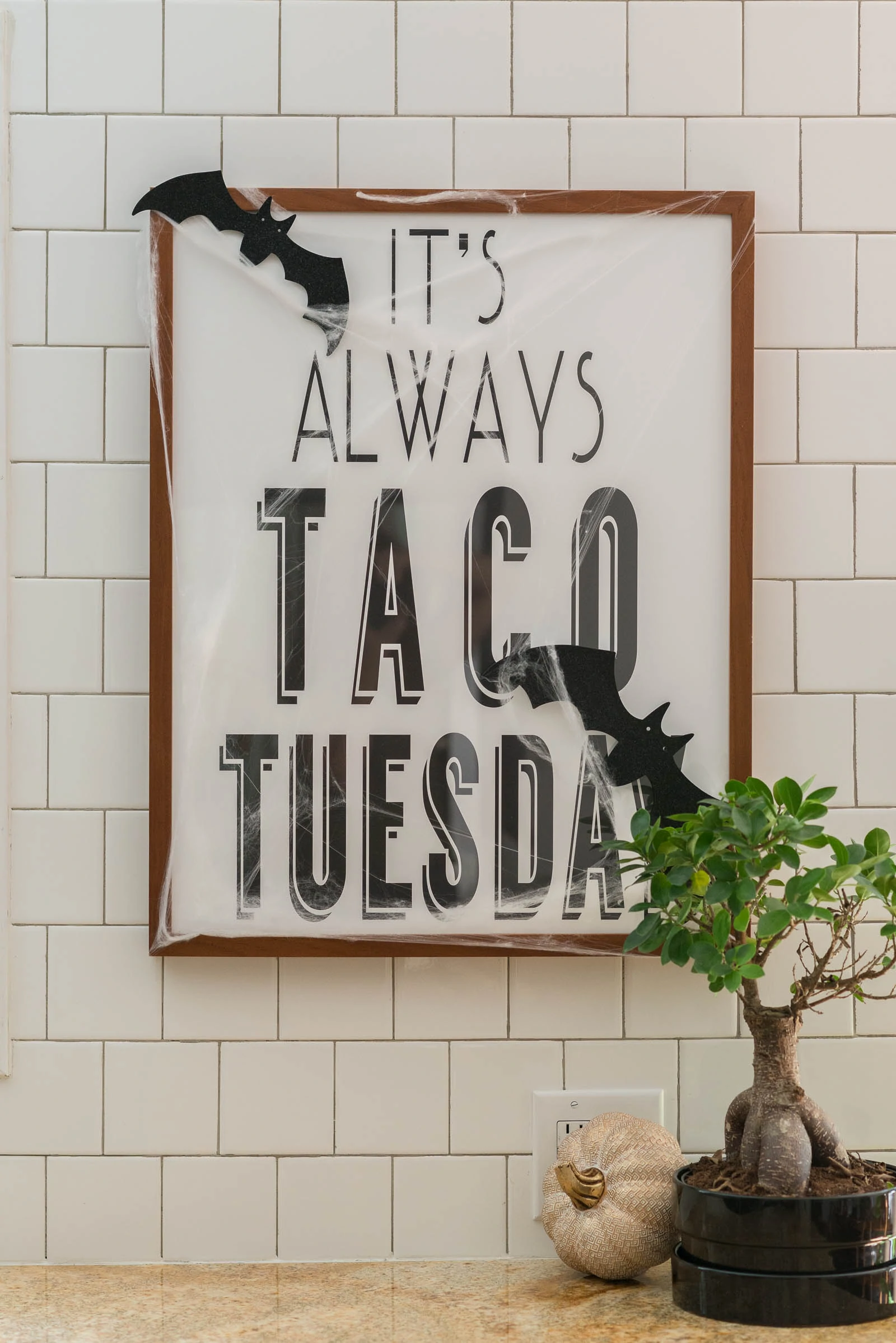 Do you spy a common theme with the decor yet? I LOVE LOVE LOVE looking through paper crafts to find seasonal decor. I found so many different sizes and types of bats in the scrapbook/craft section at Tuesday Morning. Just a small piece of tape on the back of each bat holds it to the wall tile. It makes it simple to put up and take down. For the bats that are in the cobwebs, you don't even need tape.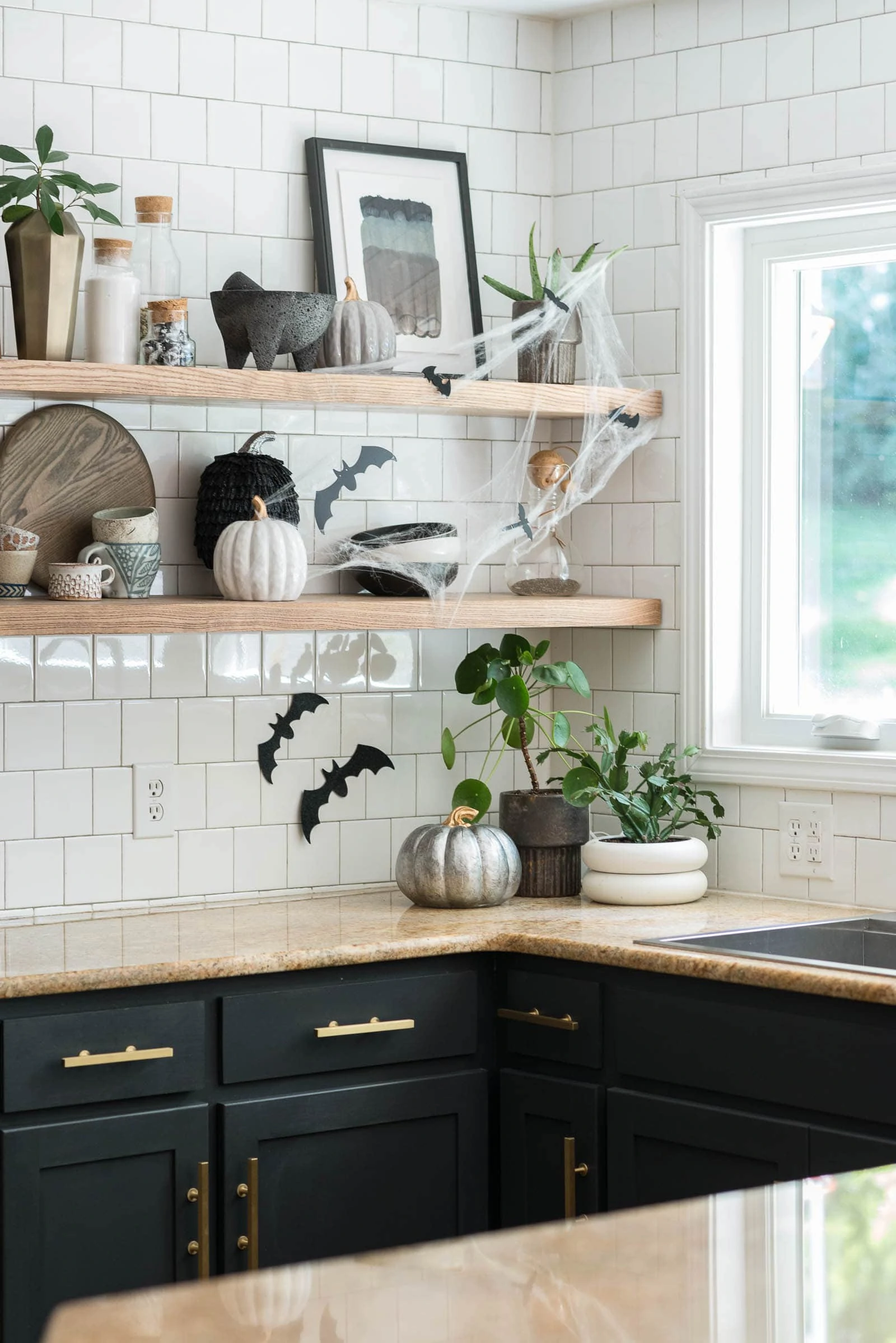 Personally, I like a bit of decor that screams "Halloween" and then a few nods to the season that you slowly see. For example, did you notice the dark chocolates on the top shelf in the glass container? The pop of black up there and the nod to trick-or-treating is fun yet not over-the-top. Also, the black, white and gray pumpkins feel the same way. They are in my kitchen color scheme so they work well with my decor yet provide that touch of whimsy for the season that I was going for.
I've always been a huge lover of photos. They spark so much joy for me so when I decorate for seasons, I tend to try to bring photos of past years into the mix. This year, I did the SIMPLEST craft project. You know how I mentioned that I found the bats in the craft/scrapbooking section? Well, I also found bats on little clothespins! They are cute as-is and would be adorable clipped onto just about anything but I thought it would be fun to add some cheer to our fridge. We never have anything on our fridge, so I knew a little photo craft would really be a fun add-on for our house.
Here's what I did: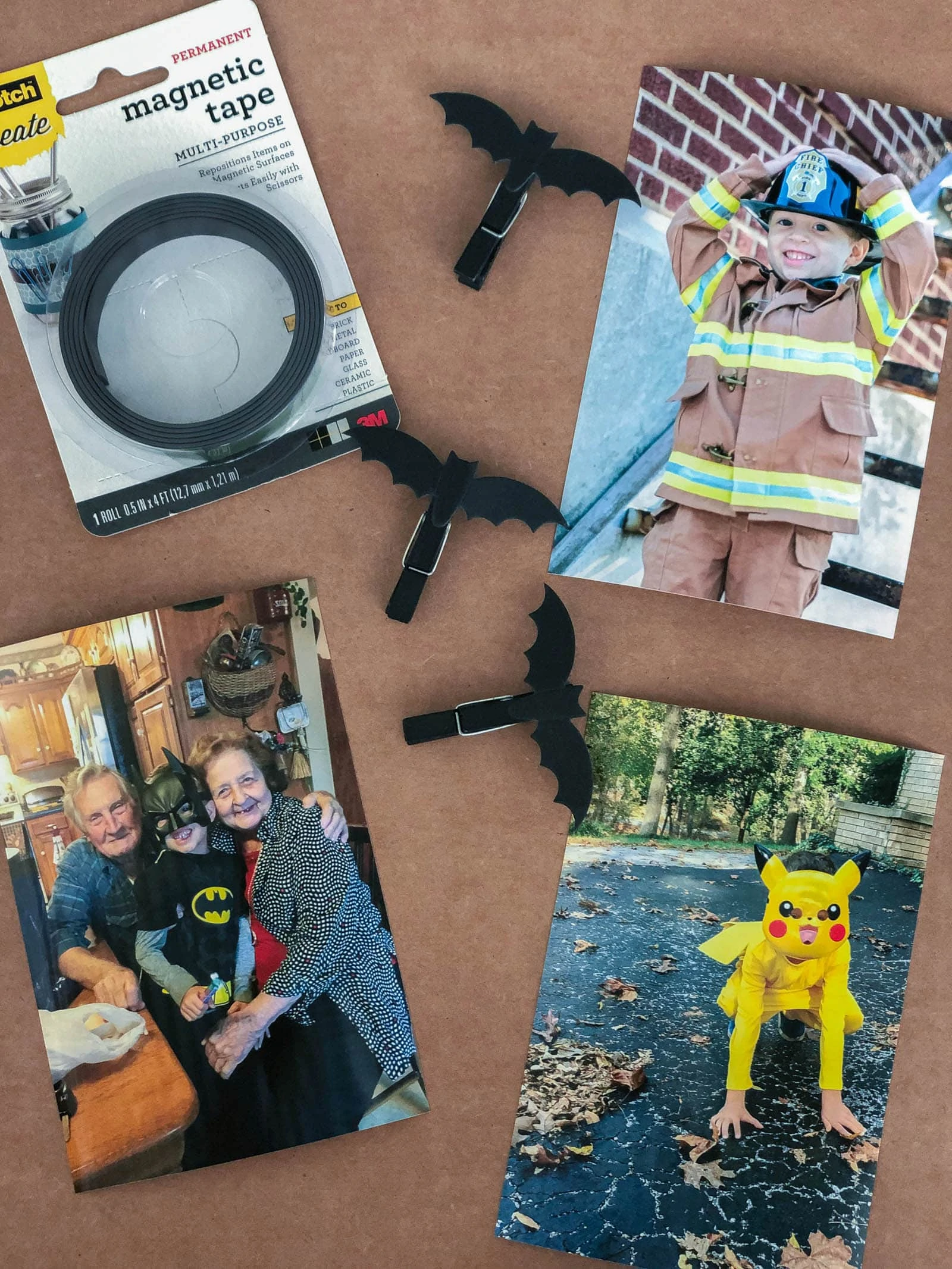 I printed a few past Halloween pictures, picked up the bat clothespins and grabbed some magnetic tape.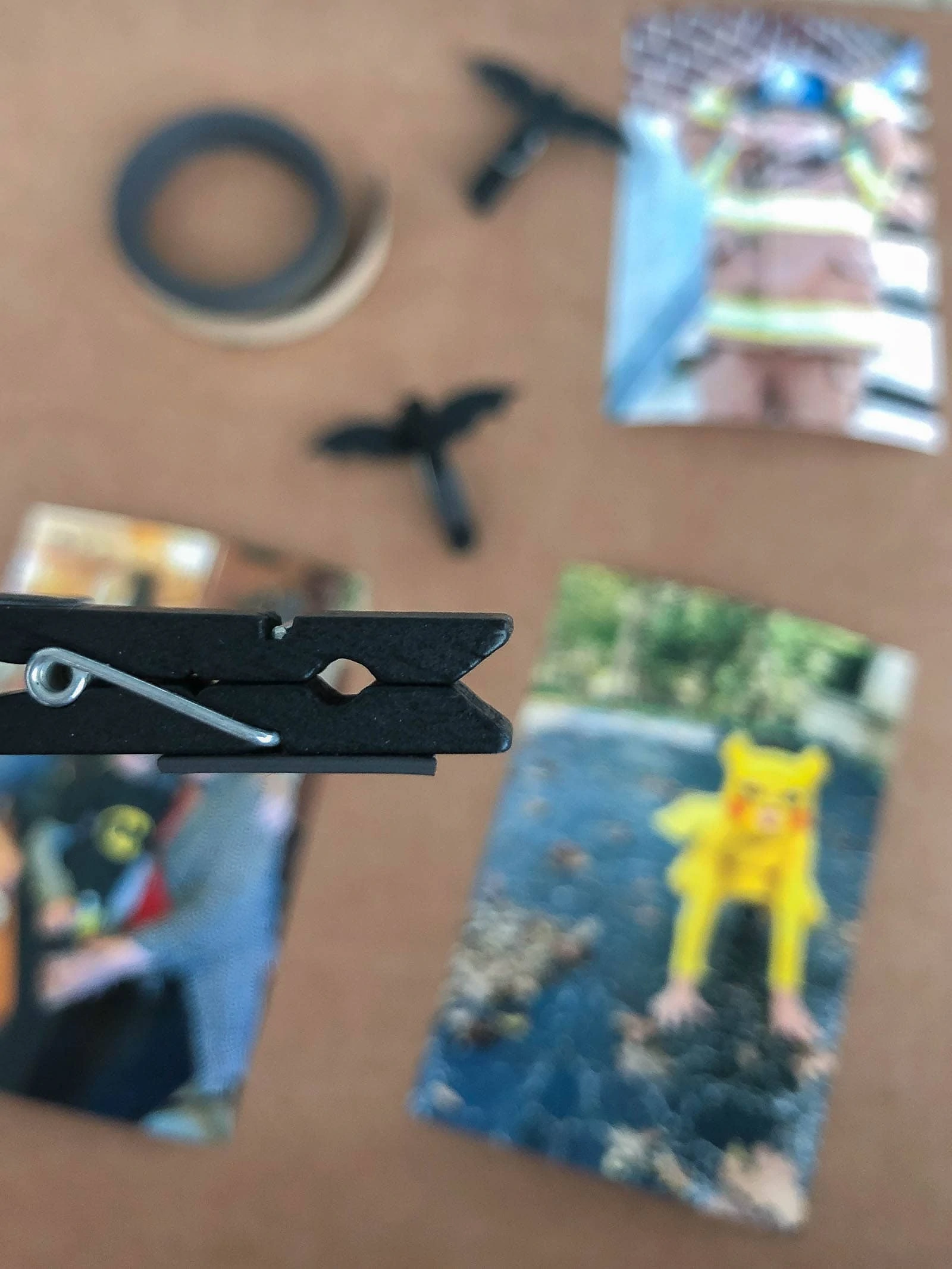 Cut the magnetic tape and place on the back of the clothespin. Press for a few seconds. Clip your pictures on and put on your fridge. Enjoy!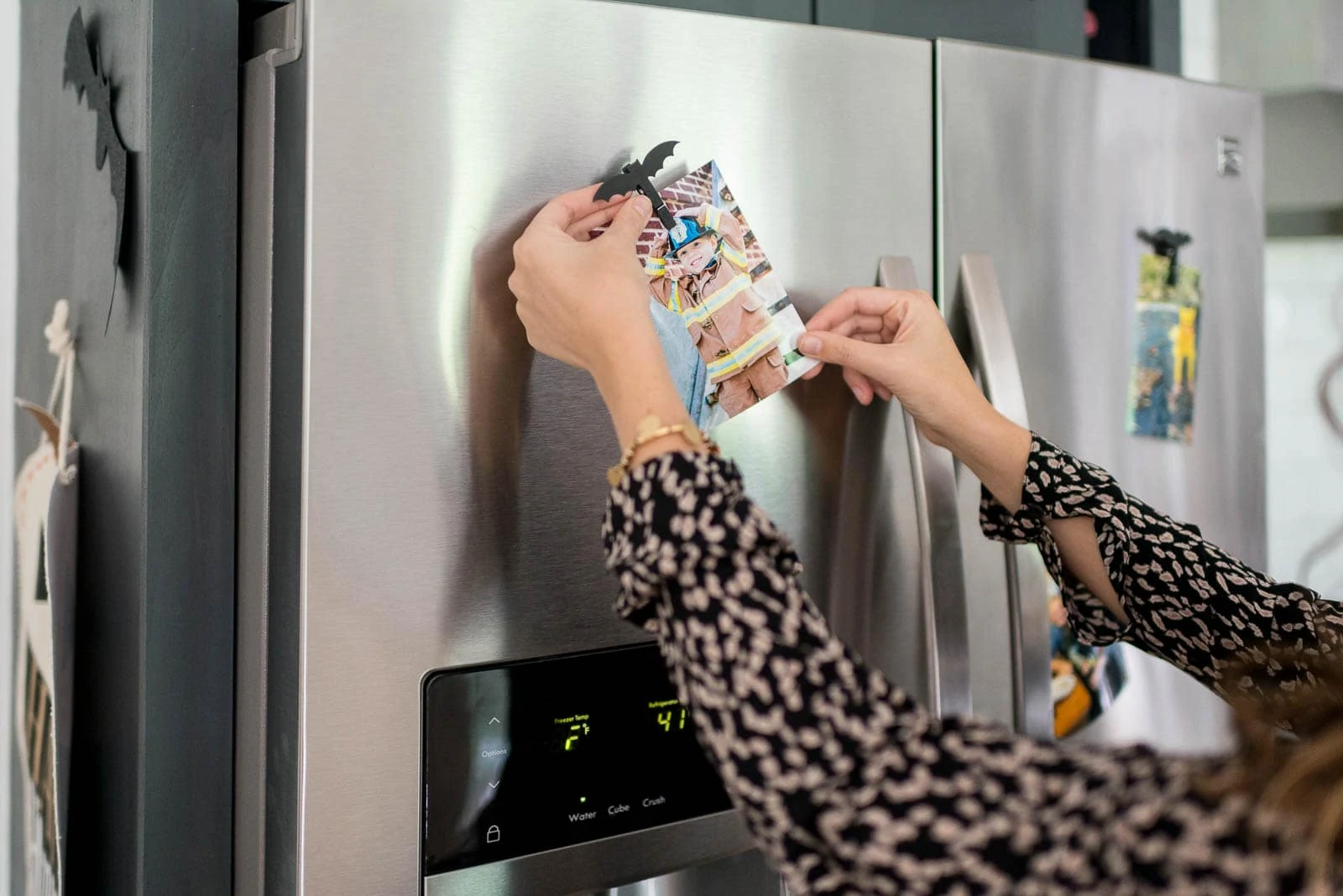 Seriously, this little halloween project was so simple yet, how cute is it?! I freaking love it. =)
Another idea that fits for me for the season (and maybe you) is to think about how you are decorating with what you have and tweak the vessels (talking planter pots here) or wall art that you have. Take this next view of our kitchen for example.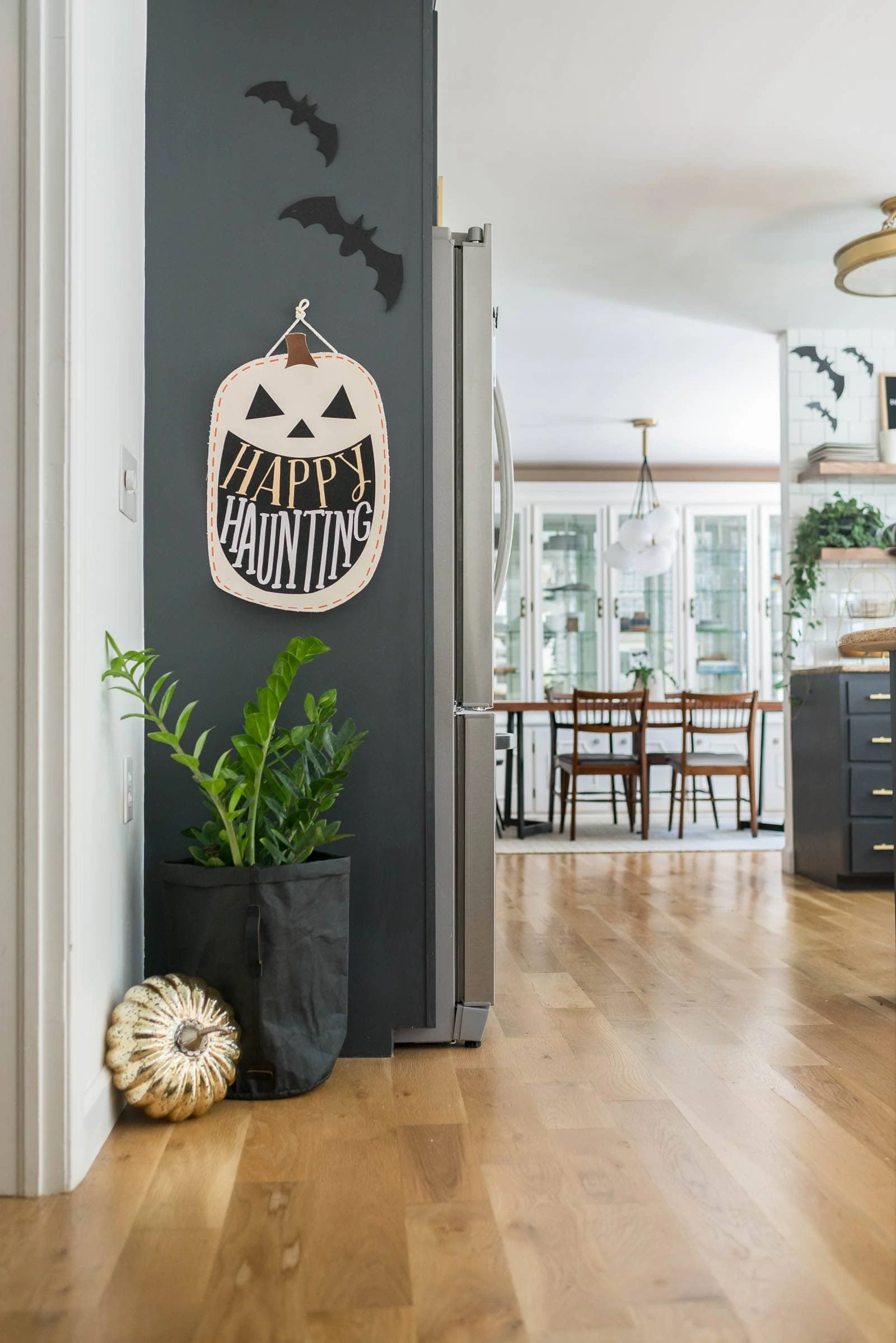 I love plants and a way to bring more charm in for the season, was to use this cute black bag (from the Magnolia line from Joanna Gaines!) that I found at Tuesday Morning instead of the woven basket that it used to sit in. Although this bag doesn't scream Halloween, it does fit within the color theme. Think outside of the box with pieces like this to really make it fit your decor style. For example, if you lived in a neighborhood that got a lot of trick-or-treaters, fill that sucker with candy (#hostesswiththemostess) or if you just adore pumpkins (either fresh or fake) fill it with pumpkins. It could look cute exactly where I have it filled with pumpkins. For me, the key is working with your decor style for holiday decor. Think what makes sense for you and incorporate touches of whimsy into that.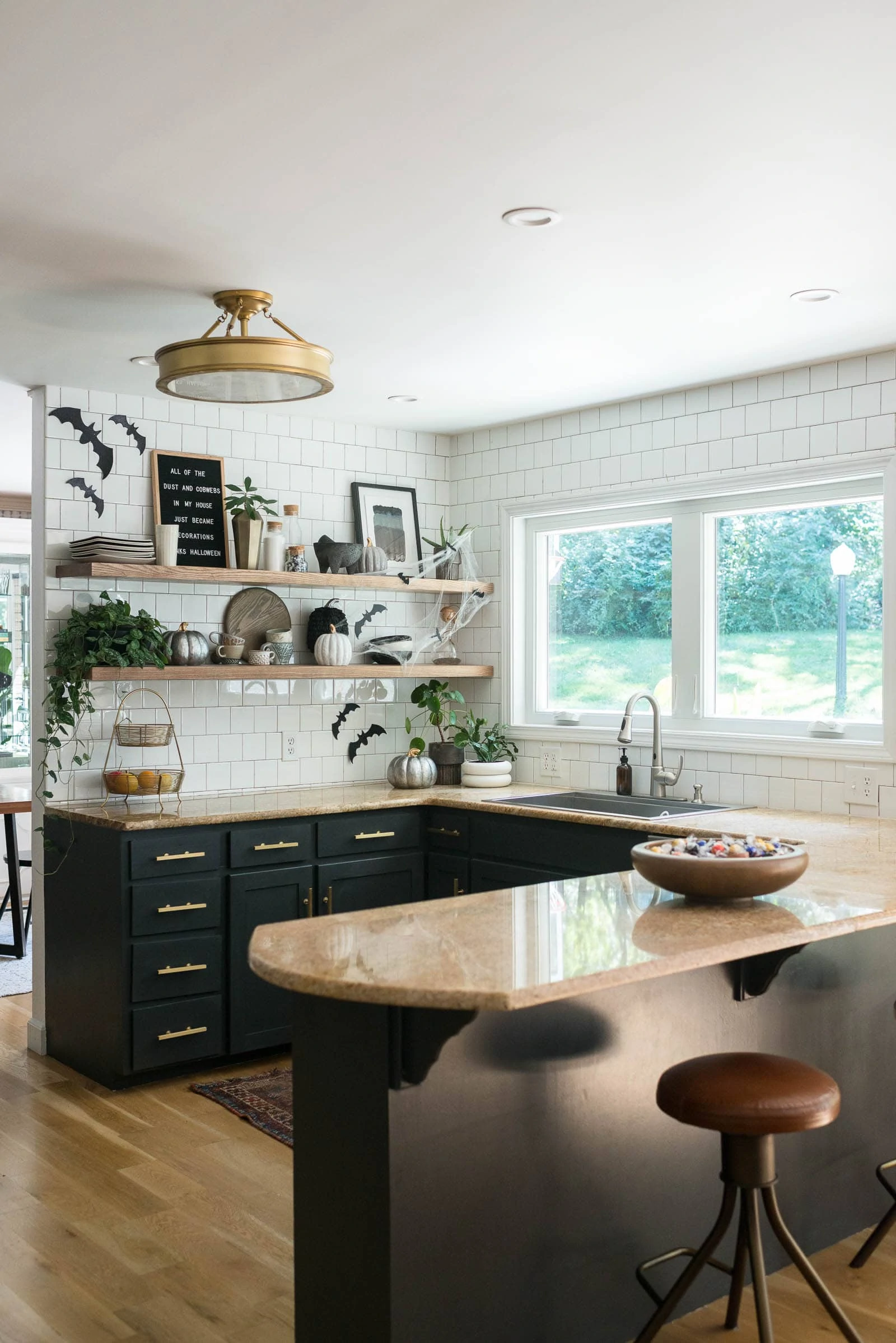 A simple Halloween craft, touches of spooky Halloween decorations, my favorite treats to spoil the trick-or-treaters... that's all it takes.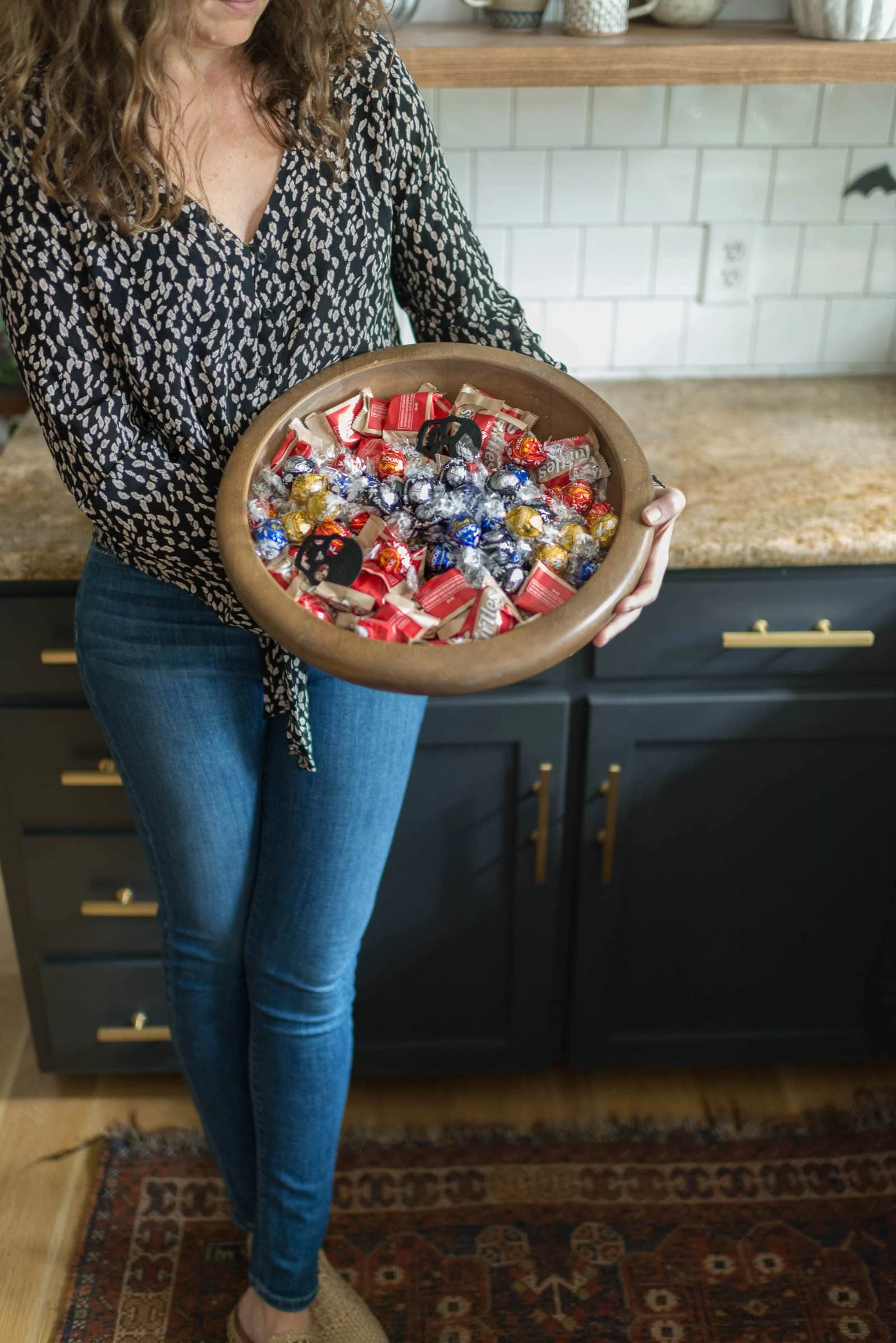 If you don't know where your local Tuesday Morning is, use this store locator to find one and go snag some great pieces!
ps. If you want a jumpstart on your Christmas decorations, then check out my Modern and Minimal Christmas decor from last year.