Hi Guys! Lately my mind has been overrun with all kinds of ideas, thoughts, to-do lists, and more. Sometimes, when my mind won't settle down, I'll make a drink, sit on the patio and think through everything that's going on. You should join me. Make yourself a drink and join me for a Happy Hour Chat.
If you were coming over to my house, I'd make some margaritas or open a bottle of wine. I love a good lime margarita but I am itching to try this jalapeño margarita. Luke always orders one of those at our favorite mexican restaurant and I'd like it a lot if it wasn't quite as spicy. At home, we could make it as spicy, or not, as we wanted.
If you'd rather not have margaritas then I'd open my favorite bottle of wine – 19 Crimes.
Now, that we've settled on a drink – let's relax on the patio and just chat.
What's been going on with your life? Any craziness with work, school, kids, activities, DIY projects, etc.? I know the answer to that is 'yes', but please tell me more.
Our life has felt overwhelmingly full the last two weeks. We have worked and worked on moving every.single.thing.that.we.own out of the kitchen, dining room, eat-in kitchen, living room, hallway, loft, master bedroom and playroom/library. All the furniture, decor, plants and more got relocated to the sunroom. We did this so that our floors could be installed. But, that was just round-one. Round two involved taking up all the carpet, padding, tack strip and staples to prep for the floor. To say that I have a crick in my neck is putting it mildly.
The flooring guy just called and said that he'll be a day later than he thought to install. One of the jobs is going a bit late. I really wanted to get frustrated. We've had our oven and fridge moved out of the kitchen, gas lines capped off and are now eating every meal on the patio. Anyways, you know this already because we are having happy hour on the patio. =)
If I can get through this next week, then it will be good. Amazing in fact.
Do you have any trips planned for the summer? Where's your favorite place to travel?
I'm headed out to NYC next week for a blog trip. I'm excited and nervous. I'm going by myself which is never as fun as going with the hubby. Other than that, Luke and I are going to Costa Rica in about a month. It's our 10 year anniversary this year – can you believe we've been married 10 years? How long have you been married?
I won't keep you, but in honor of a 10 year marriage and a love of wine… this is pretty perfect for me.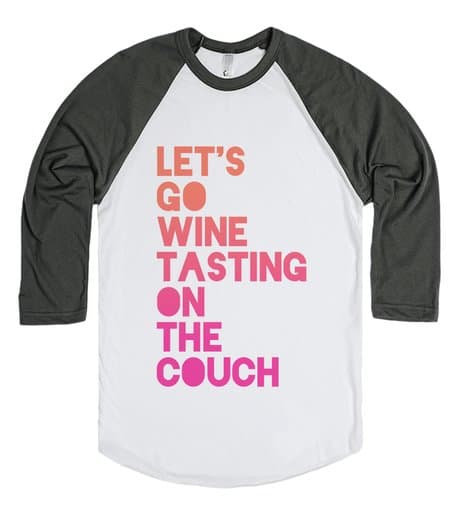 Want to keep having happy hour chats? Anything in particular you'd like to chat about?