It's Week 3 of the $100 Room Challenge hosted by Erin at Lemons, Lavender and Laundry. If you are like, what? Week 3? Where was week two of the sunroom makeover? I totally missed posting last week. Sorry about that! We've had a crazy month. Greyson just wrapped up summer swim team, which has been so nice. No more daily two hour practices and weekly four hour meets. I mean, it was great, it really was, but life has been so hectic lately.
On top of just normal day-to-day summer activities, I've also been working behind-the-scenes on blog stuff. Part of which was me hosting an event for the Container Store in Overland Park, Kansas this past Saturday. Luke and I decided to make the trip a three day weekend anniversary getaway. It was nice to get away from everything and, after my event, I even unplugged from all social media. It was amazing. It's kinda interesting to be a blogger where part of the job is to maintain and post on social media. For the most part, I really enjoy it, but its been awhile since I've really unplugged from it all; so this past weekend was nice.
Anyways, enough chatting about this and that, right? Let's get onto the progress in the sunroom makeover.
There's definitely been some progress in the sunroom. Two weeks ago, we were here:
The first week, I cleaned the space out. It needed some purging and organizing for sure. Next, I taped off all the electrical outlets (and covered them with plastic) to prep for a deep clean.
Together, Luke and I power washed the space. Yes, you heard that right... we power washed the inside of the sunroom (well, actually, we did the outside too).
*Affiliate links below. Thanks for supporting this blog. Click to read my privacy and disclosure.
A few months ago, we bought this power washer off of Amazon. It's well-rated and affordable. We've used that sucker about 5 times over the past two months and every time we get it out, I wonder why it took us so long to buy one. Definitely my favorite "tool" to date!
I used the largest head on the power washer and got to work. It took us about two hours from start-to-finish to get the whole thing done. Luke used a large squeegee to push the water out the door while I washed the inside and out.
** The next two pictures are courtesy of Greyson. We were busy working so I quickly asked him to take a few.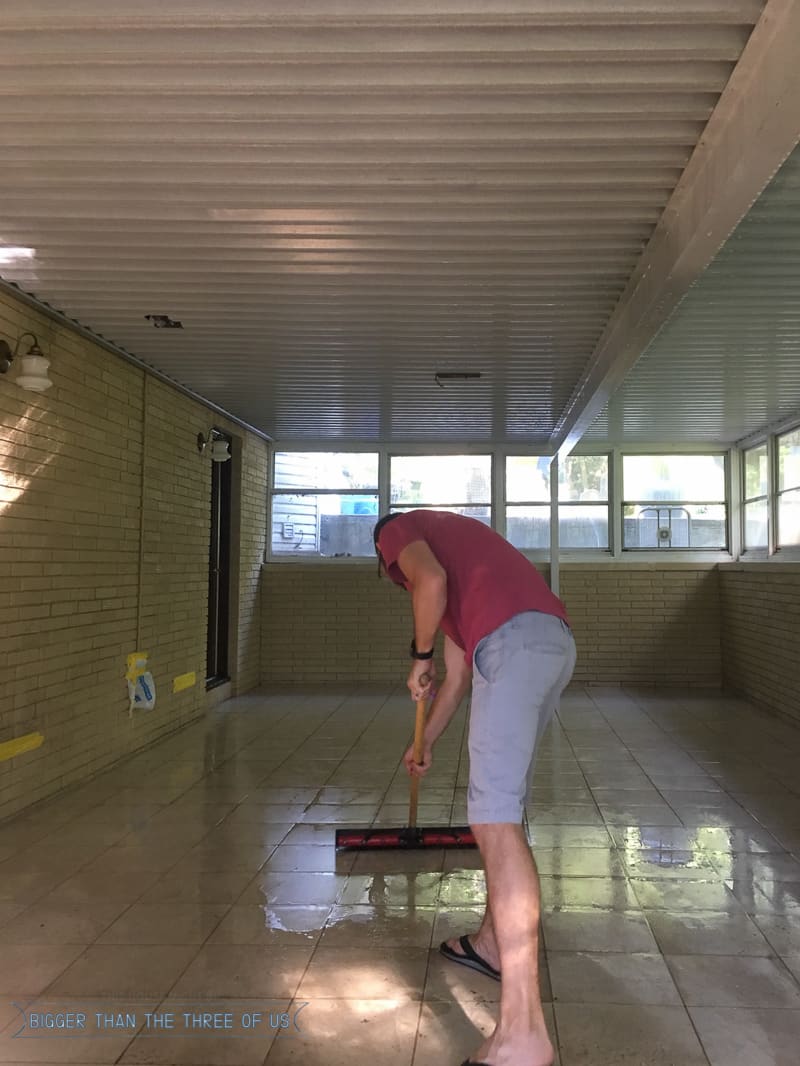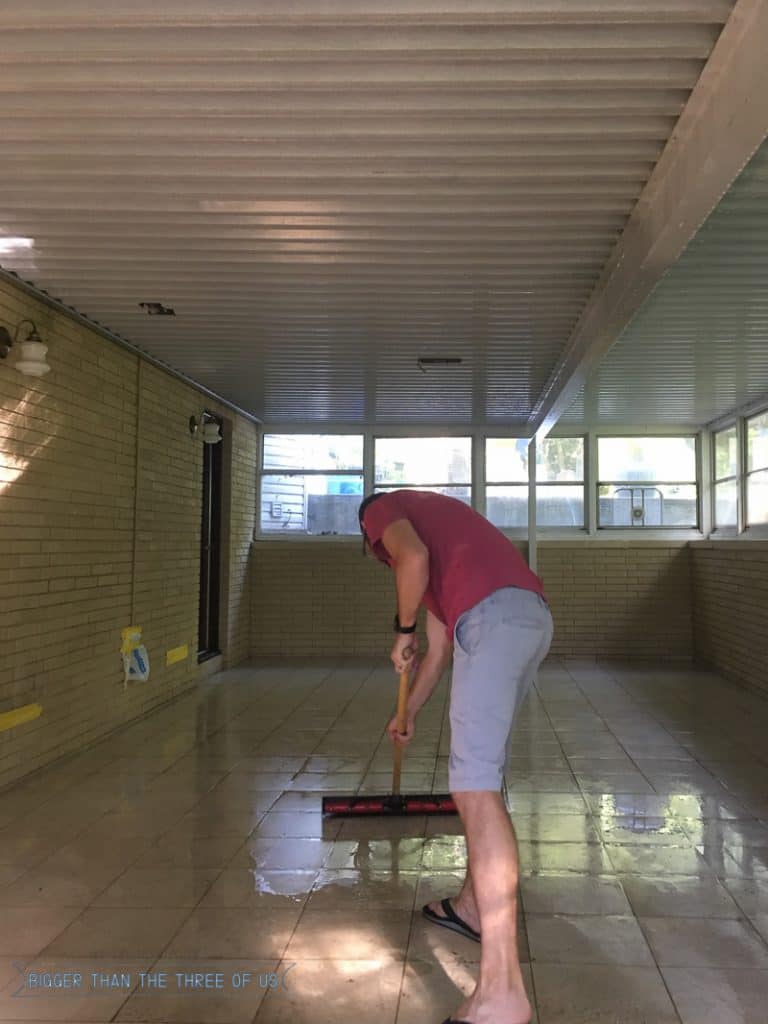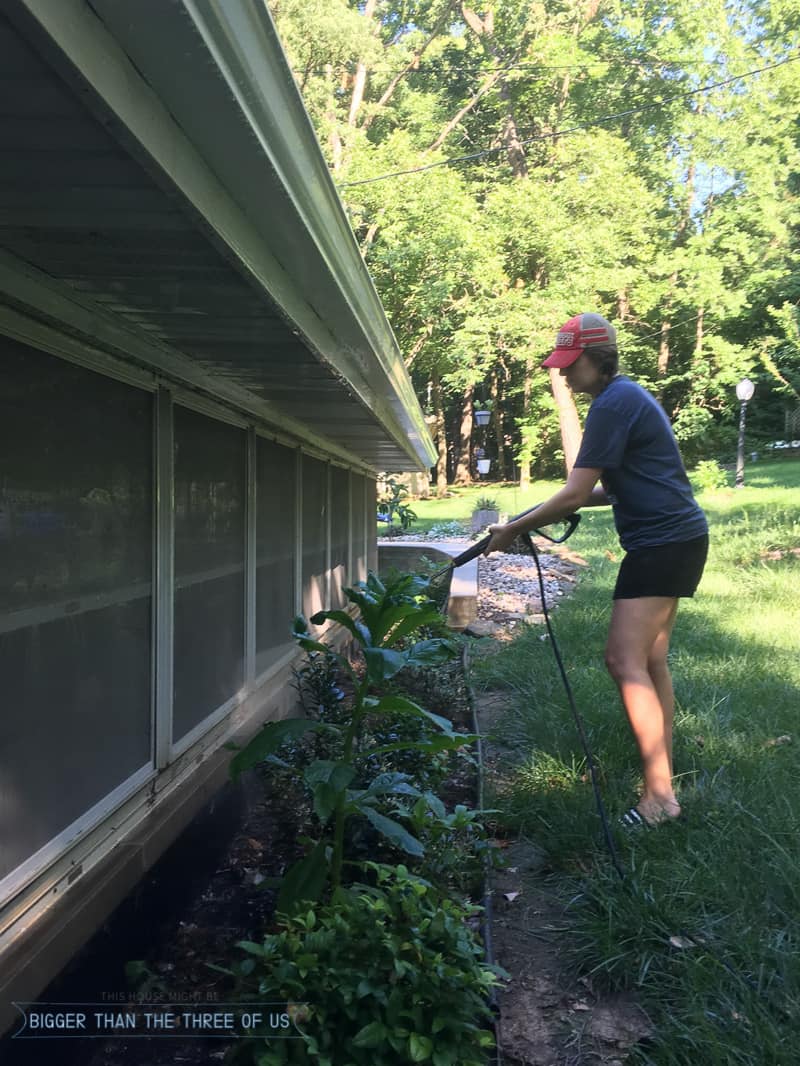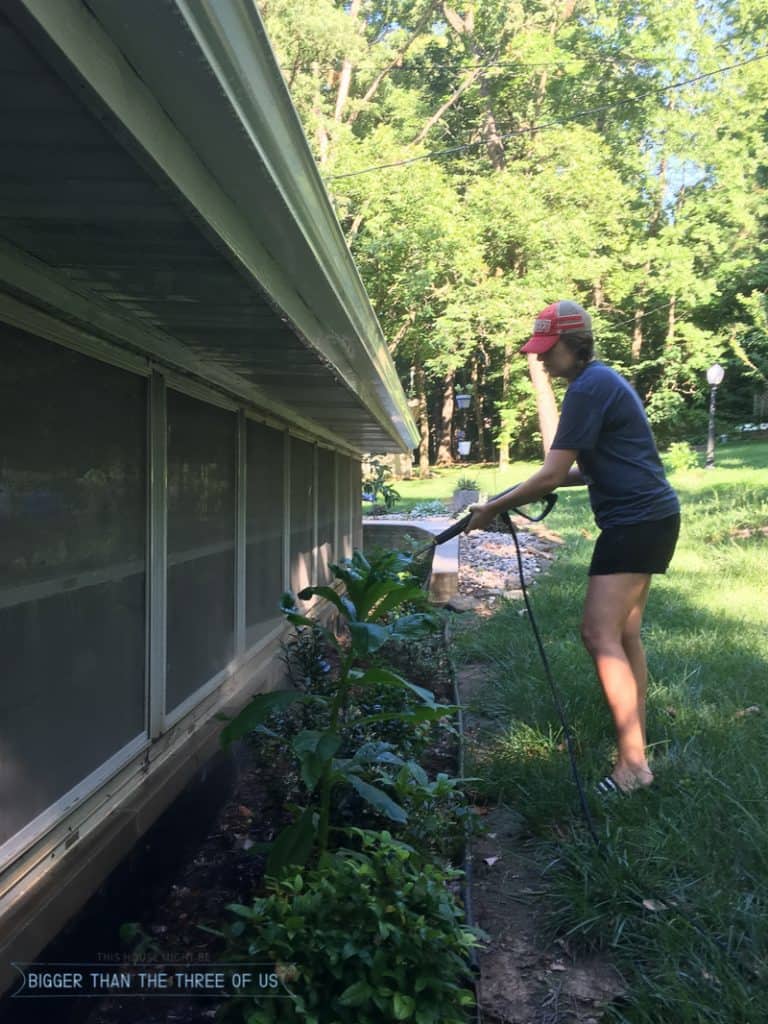 Doesn't it look so much better?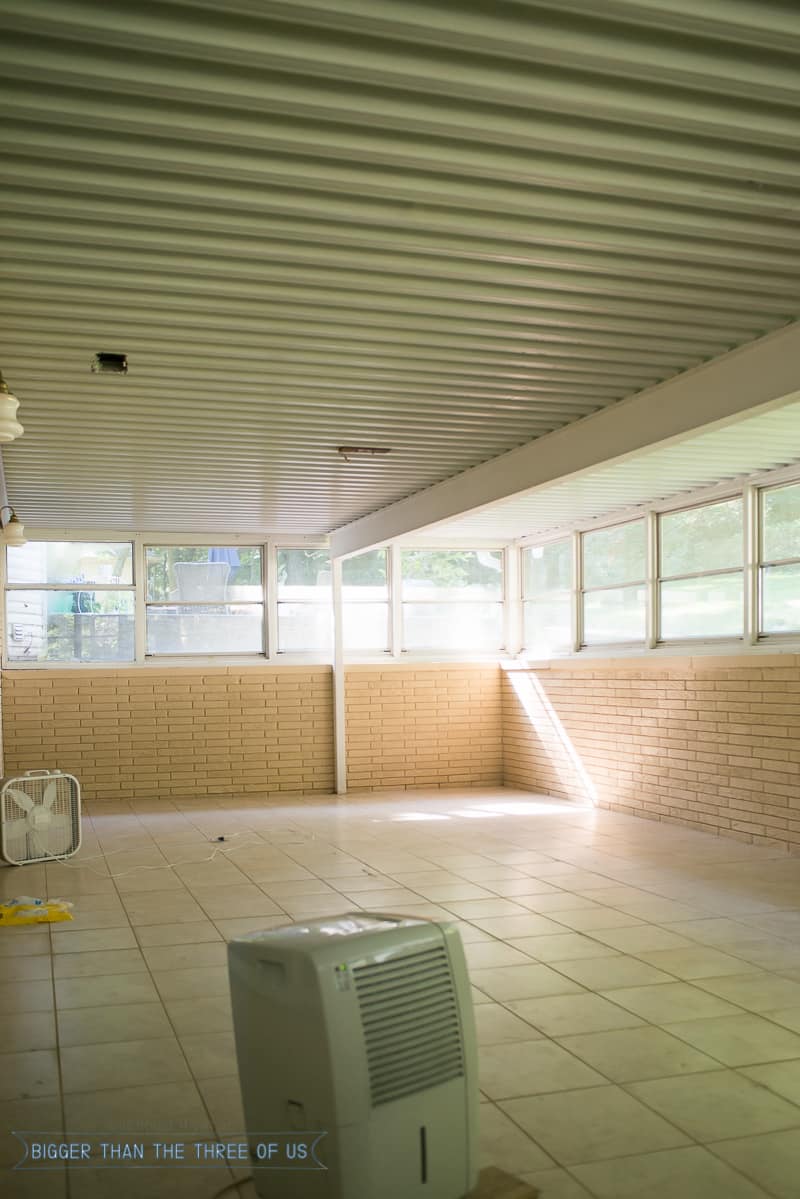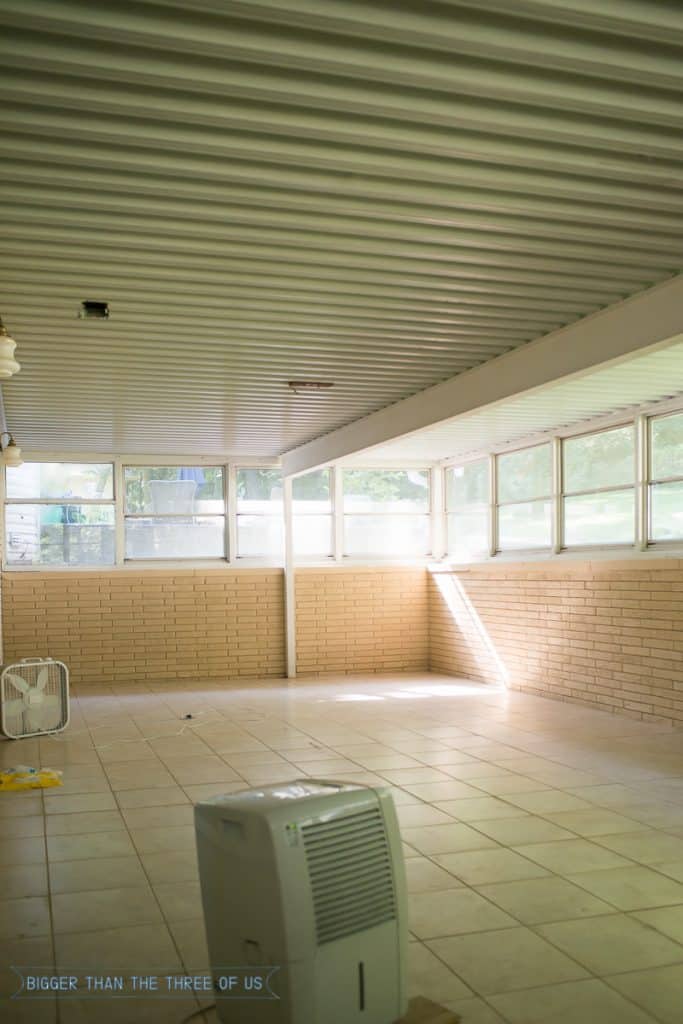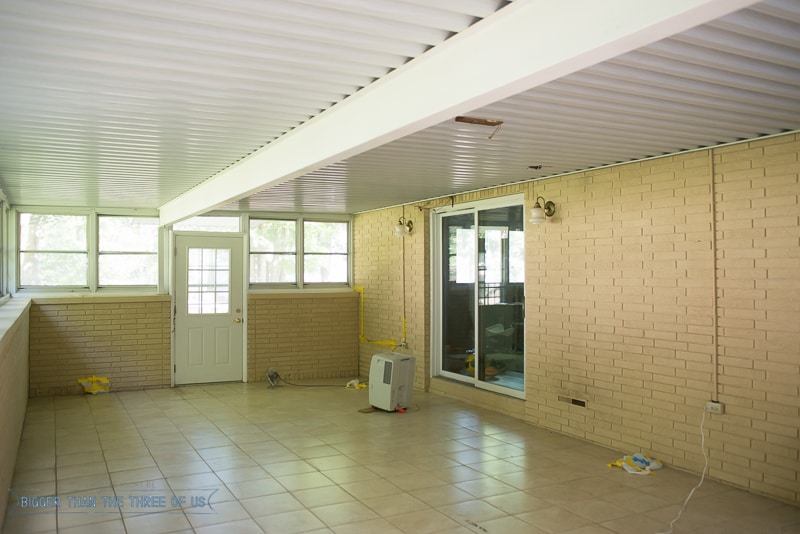 Next up, we caulked the space. I actually just finished last night. I ran out of caulk (you'd have thought I stopped making rookie mistakes by now, but no!) and couldn't get it done earlier.
Up next, is figuring out replacement globes for these lovely lights.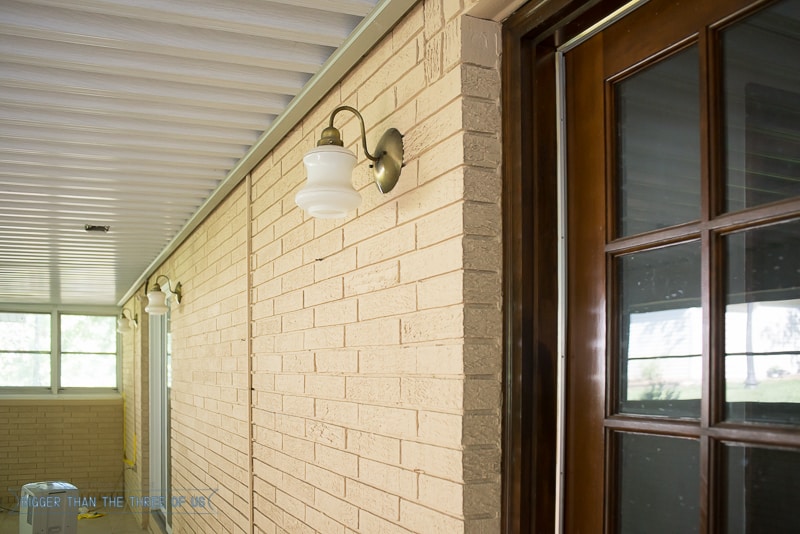 Then, we have to figure out how to patch the ceiling.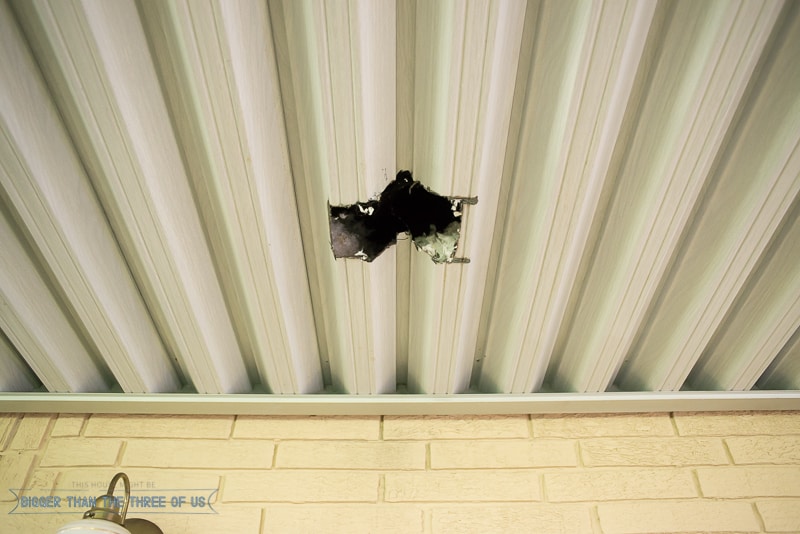 Add: paint the space, hang lights, hide electrical wires and decorate; all to the to-do list. I'm pretty positive on the fact that I'm not going to get all of that done; but, progress is definitely progress and I'm enjoying the changes in this space so far.
Make sure to hop around and see where everyone else is at with their makeover!